Saam at The Bazaar (Los Angeles, CA)
Saam at The Bazaar
465 S La Cienega Blvd, Los Angeles, CA 90048
310.246.5555
www.thebazaar.com
Fri 04/17/2009, 08:05p-11:50p
Ahh The Bazaar...the source of so much acrimony, notoriety, and animosity. I visited the restaurant on opening night last November, and
wrote it up
on this blog, noting the presence of a few weak dishes and on overly restrictive photography policy. I caught
a lot of flak
for the post, and surprisingly, the news even made to José Andrés himself. Andrés contacted me shortly afterwards, and invited me to dine again at the restaurant two weeks later.
That evening
was noticeably better food-wise, and we had the added pleasure of hearing Andrés expound his philosophies on restaurants and gastronomy. I hadn't been back since, but was eagerly awaiting the opening of Saam (named after SBE founder Sam Nazarian perhaps?), which had its soft opening on Thursday, April 9. Saam is The Bazaar's "secret" higher-end private "tasting room," basically a small 40-seat restaurant within a restaurant, sort of like Andrés much-lauded
Minibar
at
Café Atlantico
in Washington DC.
Yelpers will be familiar with the term
UYE
, or Unofficial Yelp Event. Well, I'm going to dub Saam the first Unofficial
FoodDigger
Event--a
UFE
.
Will
had originally planned an event at
K-Zo
, but was very receptive to Saam after I'd mentioned it to him; after all, he was one of the people present with me on The Bazaar's opening night. Other attendees included Brian of
FoodDigger
, Brian's wife Jan, Javier of
Teenage Glutster
, Mike of
Right Way to Eat
, and Ryan of
Only Eats What Feeds Your Soul
.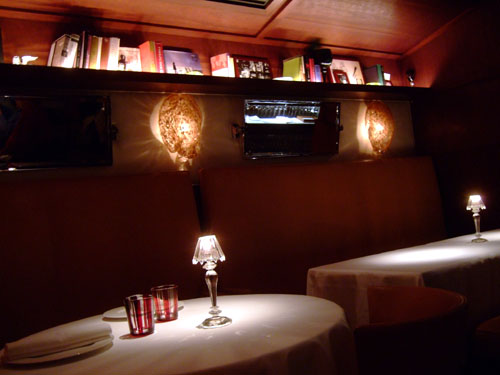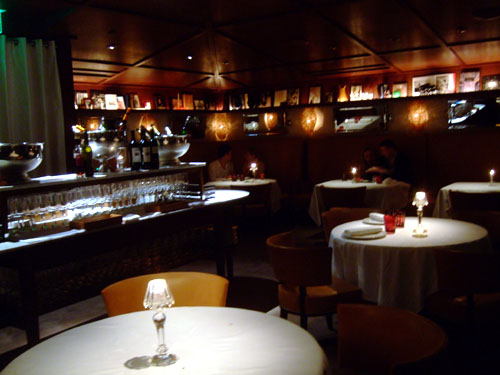 Saam is located in a separate room behind Bar Centro. According to our server Carolina, the entire space, from the Murano glass sconces to the ceiling, was designed to be reminiscent of the legendary Harry's Bar in Venice, Italy. However, from the photos I've seen of the original, I don't really see the resemblance--the space looks more like Philippe Starck's reading room to me. No matter, what's important is that it's much more intimate, and much more serious, than either Rojo or Blanca of the main restaurant.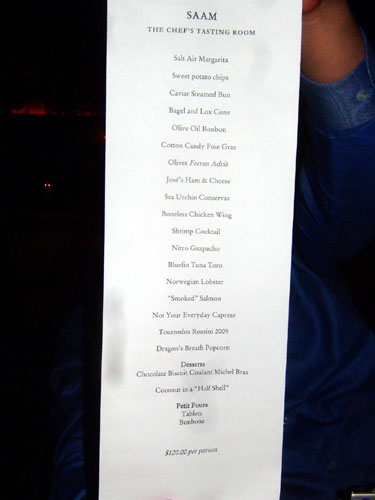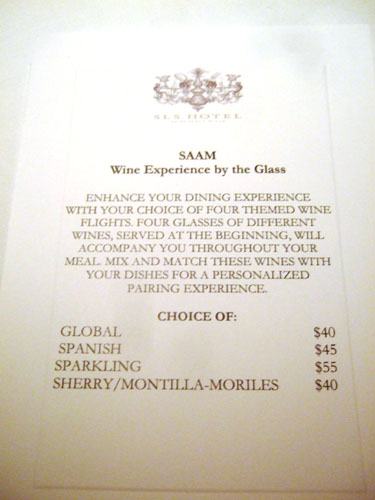 The sole dining option is a 20-course tasting menu for $120. The fare consists of original courses, dishes from The Bazaar, and even food from Minibar. As for booze, there's no traditional wine pairing; rather, you're given the option of four wine flights. This makes some sense, as it wouldn't be feasible to pair 20 glasses of wine given the nature of the menu. However, it also means that your sparkling wine will be flat well before the meal draws to a close--a pity. Click for larger versions.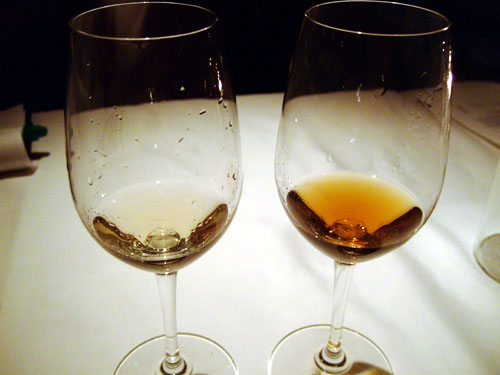 Surprisingly, three of my dining companions were interested in the sherry flight, so we decided to order up a couple bottles. First was the Manzanilla La Gitana, Bodegas Hidalgo, Palomino Fino [$51]. It reminded me of the Emilio Lustau Manzanilla at
Giang Nan
, with crisp, refreshing notes of apple, citrus, and brine. To counter this sherry's lightness, we also ordered the Amontillado Napoleon, Bodegas Hidalgo, Palomino Fino [$54]. This was a much more intense wine, with a rich caramelized sugar structure balanced by a pronounced nuttiness.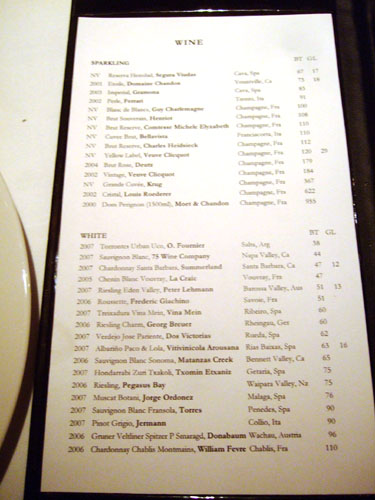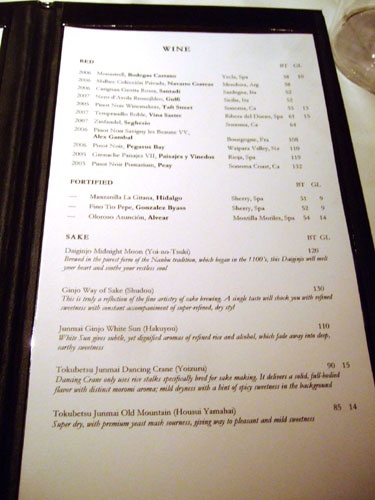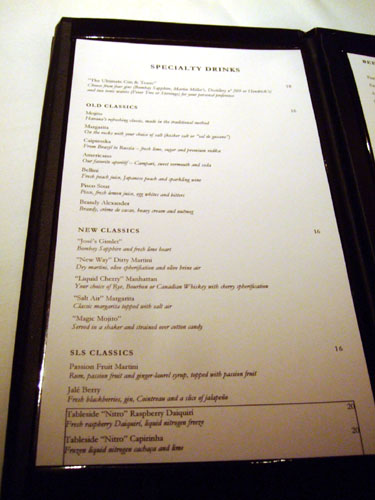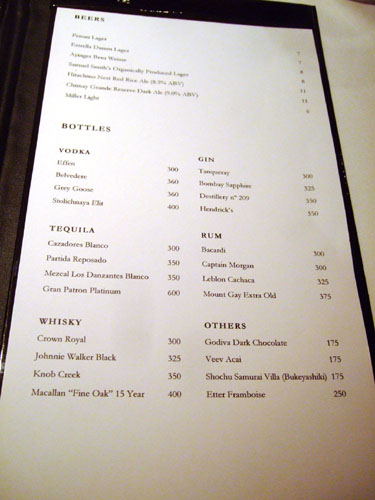 I, on the other hand, was interested in doing a cocktail pairing, and was thus brought the Bar Centro drink menu above; click for larger versions. Yes, the prices for bottles of liquor are obscene.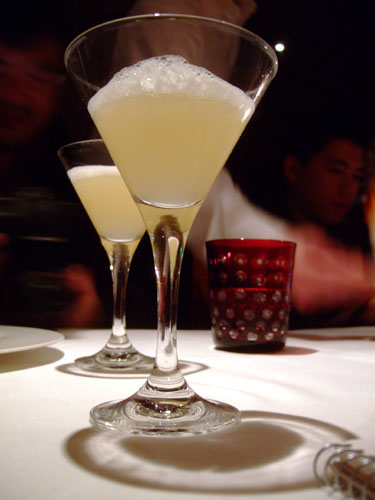 1: Salt Air Margarita
Interestingly, the first course of the tasting (described as a "welcome cocktail") was actually a drink from Bar Centro. The Salt Air Margarita is basically your classic margarita, but topped with a salt air. This layer of salty foam effectively takes the place of a salt rim and gives the drink an intensely salty attack, tempering the burn of the alcohol. The cocktail's sweet/sour interplay comes shortly afterwards, followed by the woody flavor of tequila. Overall, a balanced, sophisticated, margarita.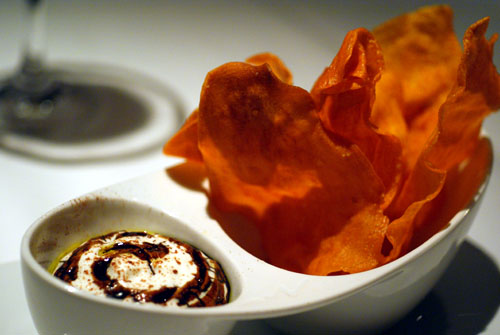 2: Sweet Potato Chips
Served along with the margarita, what we have here are chips made from sweet potato along with a dip made from Greek yogurt foam, tamarind reduction, and star anise. We were told that the chips were indeed fried, but removed from the fryer while still soft. They then sit, letting the sugar crystallize, petrifying the chips. By themselves, the chips were nothing special; however, they were great when paired with its dip, allowing the interaction between contrasting sweet and sour flavors to sing. This is an item off The Bazaar's menu.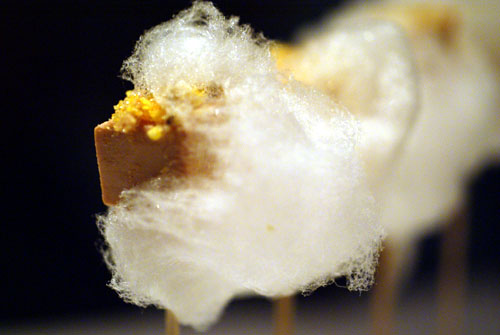 3: Cotton Candy Foie Gras
A popular dish from The Bazaar as well as Minibar, these lollipops consisted of speared foie gras, coated with chili, and wrapped in corn chip cotton candy. Upon eating it, I had an initial sensation reminiscent of sweet popcorn, which then gave way to the mild creaminess of the terrine. What was fascinating was that the flavor of the liver got stronger and stronger after the effect of the cotton candy faded away.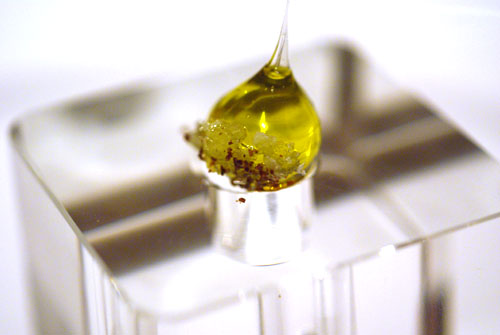 4: Olive Oil Bonbon
Taken from the Minibar menu, this was extra virgin olive oil, encapsulated in isomaltose (or isomal, a disaccharide sugar), and dusted with sumac and Maldon sea salt. Upon mastication, the bonbon exploded in my mouth, coating my tongue with rich olive oil. The sea salt and sumac then became apparent, giving the dish a contrasting salty/sour finish. I loved the presentation here, with the bonbon perched in an indentation atop a Lucite block.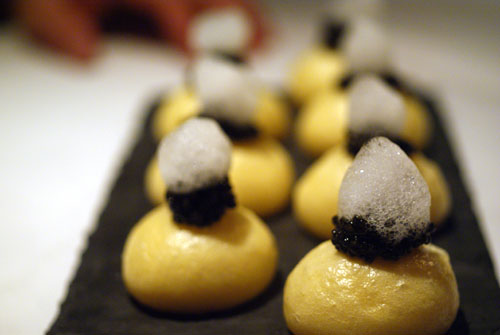 5: Caviar Steamed Bun
A bun topped with paddlefish roe, crème fraîche, and lemon air. The brininess of the caviar was well-tempered by tangy crème fraîche and more importantly, the subtly sweet bun. Unfortunately, the bun was a bit too large for the amount of caviar, and became rather monolithic toward the end. Quite good, though not as good as the steamed brioche buns with trout roe I had on my
second visit
.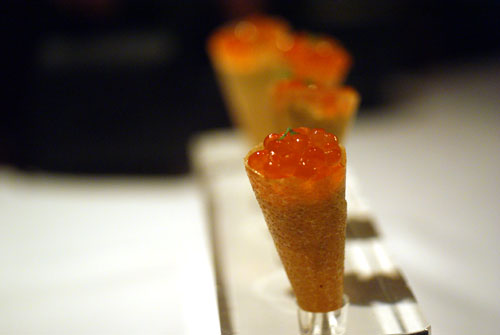 6: Bagel and Lox Cone
Smoked salmon roe, fresh dill, crème fraîche, all in a "feu de brique" (not quite sure of the name) cone. The cool, sharp brininess of the roe was deftly countered by the crème fraîche, while the cone provided a great texture contrast. This is also available in the main room, as well as Minibar.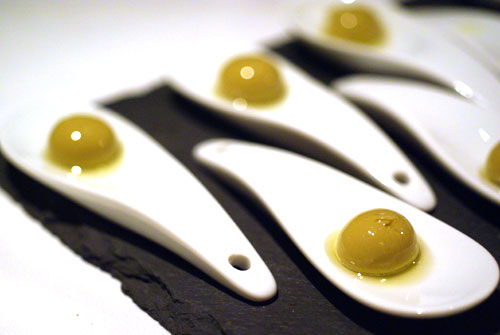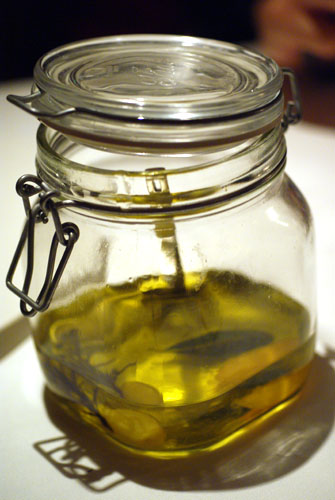 7: Olives Ferran Adrià
These "liquid olives" are perhaps The Bazaar's most famous dish, basically olive-flavored liquid mixed with sodium alginate, put into a bath of calcium chloride to create the encapsulating thin membrane. The "olives" were then marinated in a mixture of olive oil, rosemary, garlic, and orange peel. I've had this on both my prior visits, and the effect is getting old. I'm really looking for the kitchen to do something new with this.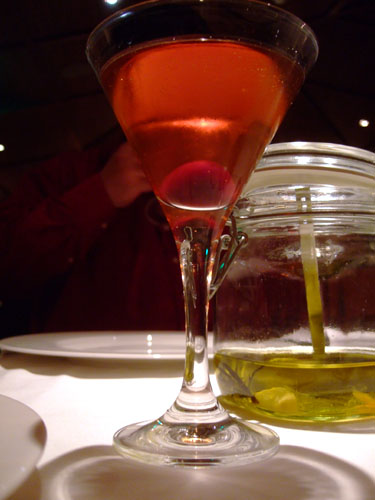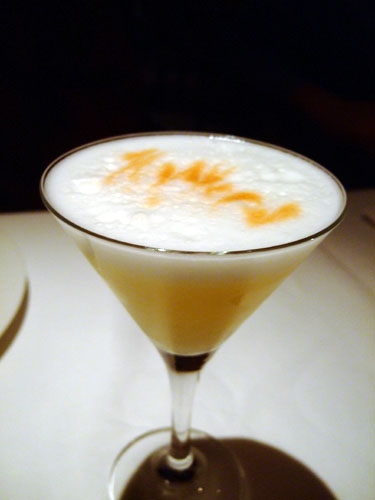 Our first round of cocktails consisted of a "Liquid Cherry" Manhattan [$16] for me and a Pisco Sour [$16] for Ryan. The Manhattan was basically your classic version, but with the maraschino replaced by a cherry spherification. The cherry provided a subtle, but overarching sweetness to the drink, which expertly accented the cocktail's whiskey base. The cherry explosion upon finishing the drink was an added bonus. The Pisco Sour was comprised of Pisco (a South American liquor distilled from grapes), fresh lemon juice, egg whites and bitters--a traditional preparation. I loved the light, ethereal foam and the drink's mildly sweet flavor. Very good!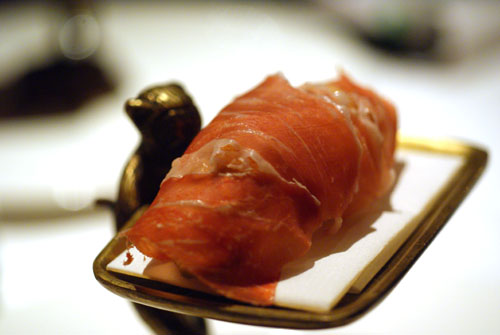 8: José's Ham & Cheese
This was basically a revised version of The Bazaar's famous "Philly cheesesteak," but made with Jamón Ibérico de Bellota and La Serena sheep's milk cheese instead of Wagyu and cheddar. I preferred this version, as the cheese, with its delicate bitterness and saltiness, really complemented the jamón without overpowering it (as was the case with the "Philly"). The ham and cheese really formed a great balance, and was set off nicely by the light, crunchy air bread.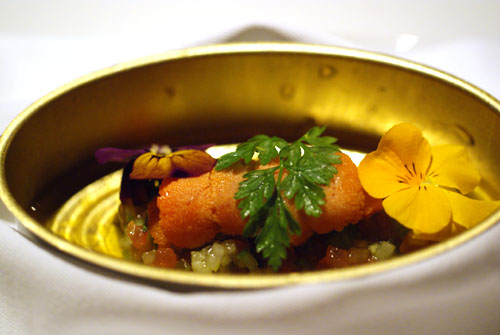 9: Sea Urchin Conservas
This was another dish that I'd had on both my previous visits; fortunately, it was also one of the strongest. The uni was served with
pipirrana
(a salad of diced onion, tomato, and cucumber), which lent a lovely tang that contrasted the rich, subtly sweet creaminess of the roe. This "pico de gallo" (as described by Javier) also provided a great crisp texture contrast.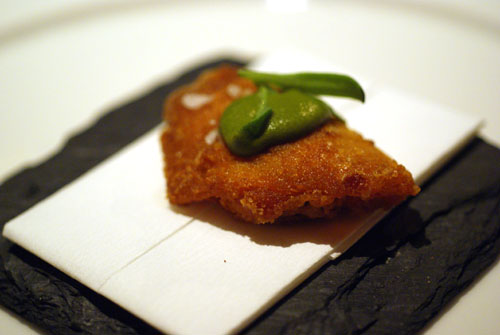 10: Boneless Chicken Wing
Another holdover from The Bazaar, the wings were served with green olive purée and ice plant. As before, the chicken itself was immensely flavorful, succulent, and tender, while its accoutrements provided a great counterpoint that elevated the dish above mere fried chicken. Great with the Amontillado.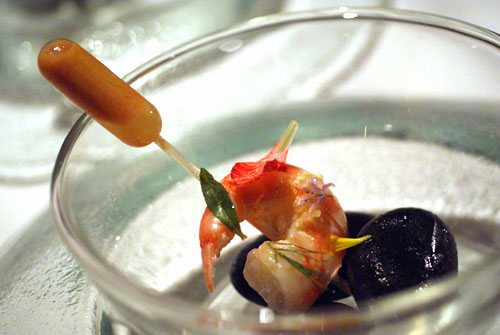 11: Shrimp Cocktail
Known as "Just Shrimp Cocktail" on The Bazaar's menu, this was a near-perfectly cooked Santa Barbara spot prawn coated with lime juice and sesame seeds. The "cocktail sauce," replete with shrimp essence, was contained in a plastic pipette, which was squeezed at the same time that I put the shrimp in my mouth. The natural sweetness of the prawn was heightened and contrasted by the tangy sauce, though I would've preferred a bit more spice. A bit of sesame flavor even came through. Everyone seemed to love this one.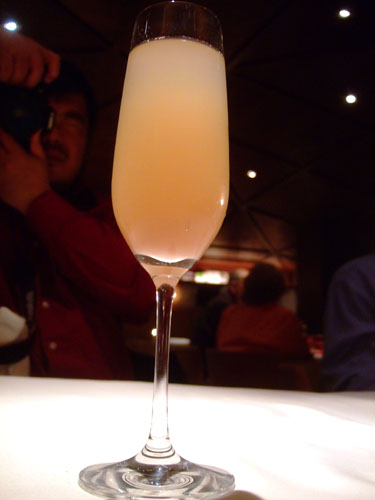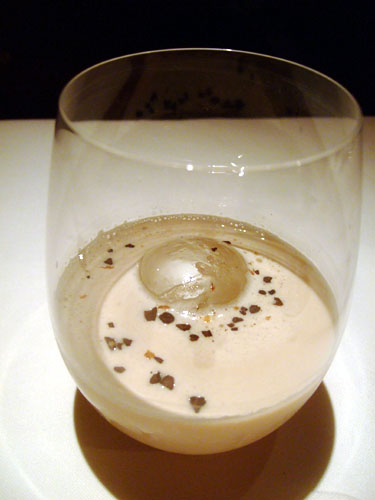 At this point, I requested a Bellini [$16], made from fresh peach juice, Japanese peach, and sparkling wine. It was a gritty, viscous example, with plenty of peach mixed in, resulting in a taste that was heavy on peach, and light on alcohol. Ryan had a Brandy Alexander [$16], with brandy, crème de cacao, heavy cream, and nutmeg. It had a strong, pure chocolate and coffee flavor, and even contained bits of what I believe was cacao bean; the amalgam of cacao, cream, and nutmeg effectively tempered the power of the brandy.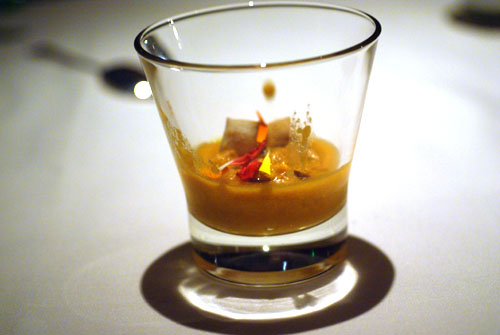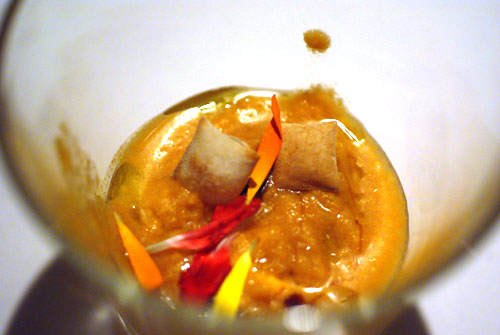 12: Nitro Gazpacho
A new dish, this was a playful take on traditional gazpacho, a cold Spanish tomato soup typically made from water, olive oil, garlic, vinegar, salt, and stale bread. The "Nitro" comes from the use of liquid nitrogen to chill the soup, resulting in a viscous, slushy consistency. Meanwhile, instead of stale bread, small pieces of air bread were utilized, providing a superb textural contrast. Taste-wise, the gazpacho had an intensely tomato flavor, which was a bit overwhelming actually; perhaps some more olive oil would've been in order.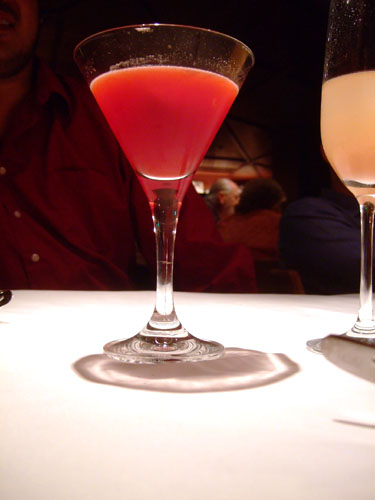 At this point, Jan ordered up a Jalé Berry [$16], consisting of fresh blackberries, gin, Cointreau, and jalapeño. This was delicious, with nearly no alcoholic taste, but instead a sweet, herbaceous flavor with just a hint of spice.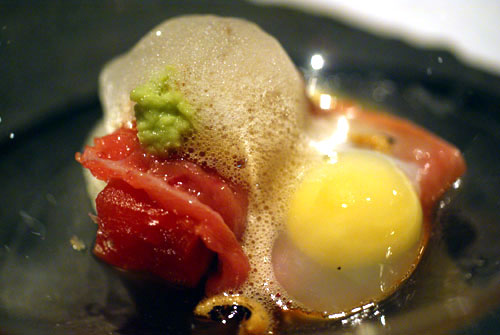 13: Bluefin Tuna Toro
This was toro served atop compressed watermelon infused with sushi rice wine vinegar, finished with soy air, wasabi, puffed rice, and a 63°C quail egg. I felt that the sweetness of watermelon overwhelmed the delicate flavor of the toro, though others would disagree with me on this point. I did, however, enjoy the complexities provided by the soy foam and wasabi, the richness of the egg, as well as the crispy texture contrast imparted by the puffed rice. A note about the 63°C egg: we were told that 63°C was chosen because egg white coagulates at 61°C and the yolk at 65°C; hence 63°C is right in the middle of that range, allowing the yolk to remain runny.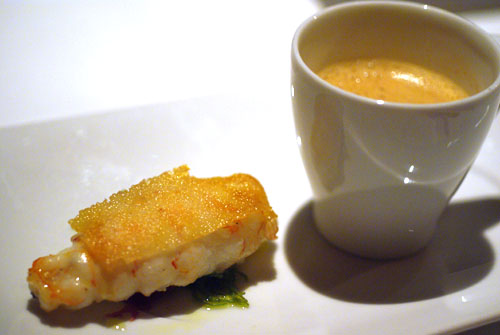 14: Norwegian Lobster
From The Bazaar menu, this was lobster with seaweed salad, sea beans, toasted bread, and a lobster-head soup. The lobster itself was immensely rich and buttery, with its signature sweetness intact; it was nice to experience the contrast when eaten with the sea beans. The broth, meanwhile, was akin to a heady lobster bisque--very heartwarming. This whole course went well paired with the Manzanilla sherry.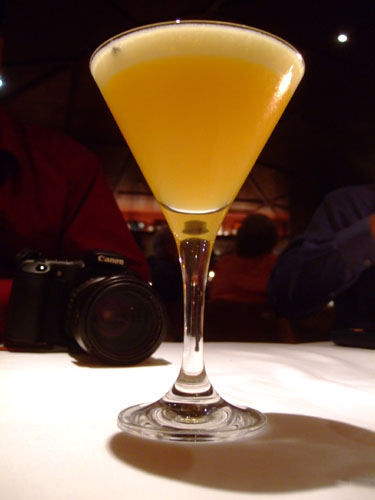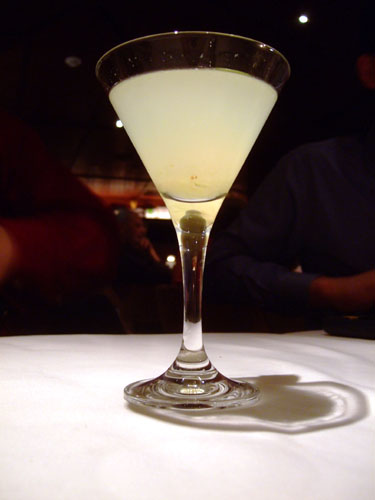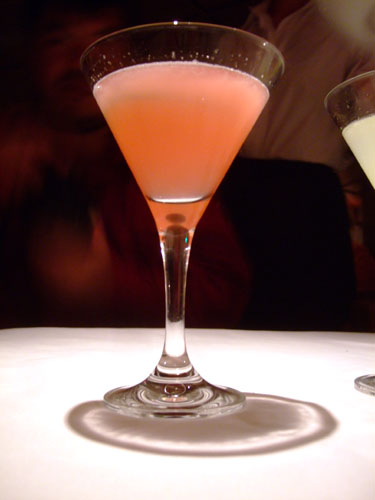 For our fourth round of cocktails, we first requested a Passion Fruit Martini [$16], made with rum, passion fruit, and ginger-laurel syrup. I really don't see how they can call this a martini will a straight face, but nevertheless, it was pretty tasty, with the sweetness of passion fruit very apparent; I could barely taste the rum. The drink was also topped with passion fruit seeds, which added a bit of a sour counterpoint. We also got two off-the-menu drinks: the Uva Bella [$16] and the Cucumber Pom Deluxe [$16]. Now, they're not on the menu at The Bazaar, but they
are
on the menu at Foxtail in WeHo, another SBE establishment. I preferred the Uva Bella (muddled grape, Hendrick's gin, St. Germain--French elderflower liqueur, lemon juice, orange bitters), with its floral, herbal flavor balanced by the sweetness of grape. That being said, the Cucumber Pom Deluxe (Effen vodka, cucumber, mint, lime juice, pomegranate juice) was also quite good, with a mild cucumber backdrop accentuated by the mint and tangy sweetness of pomegranate.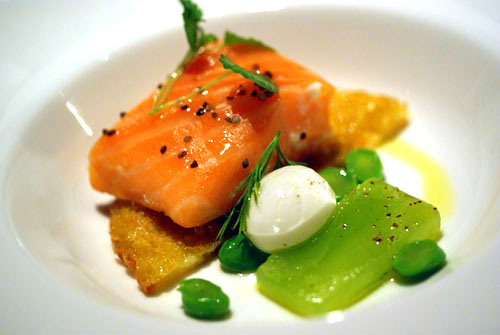 15: "Smoked" Salmon
Salmon, tzatziki sphere, compressed cucumber, chickpea pancake, green chickpeas, olive oil, dill. This was one of the highlights of the meal for me. The natural flavor of the fish was accentuated here to great effect by the cool, creamy tzatziki and refreshing cucumber. And texture-wise, the salmon had a tender, sous vide consistency that went superbly with both forms of chickpea.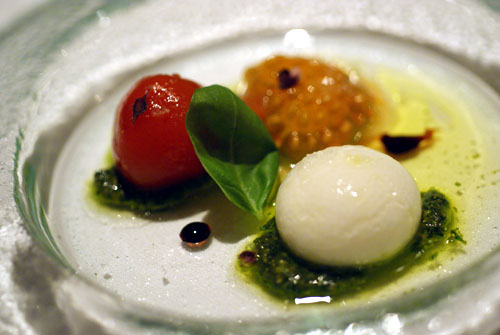 16: Not Your Everyday Caprese
A traditional insalata Caprese is made from mozzarella, tomato, and basil, seasoned with salt and pepper, along with olive oil and balsamic vinegar. Here, we have a mozzarella sphere, peeled cherry tomato, sexy tomato seeds (i.e. tomato caviar), balsamic dressing, Maldon sea salt, and pesto extra virgin olive oil. So basically, we have pretty much the same ingredients, but in different forms. We were told to eat all the ingredients in one bite, and the end result was that it tasted just like a standard Caprese salad. Another holdover from the regular menu.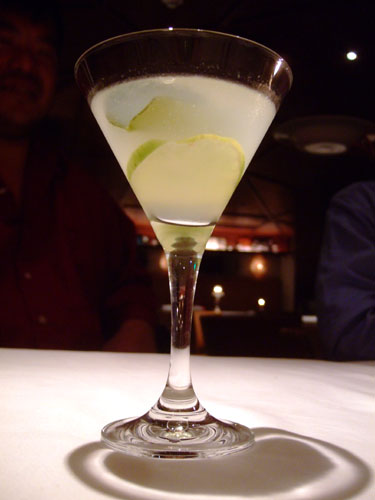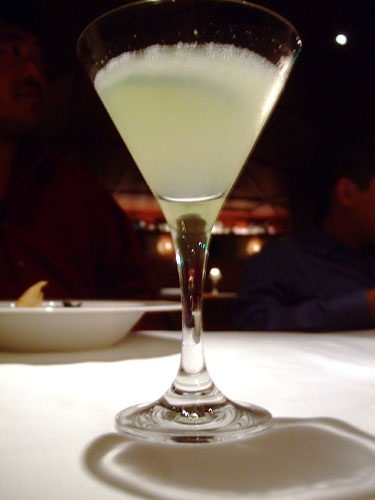 On the left we see "José's Gimlet" [$16], made from Bombay Sapphire gin and fresh lime heart. A fairly traditional interpretation of the classic drink, the sourness of the lime was the perfect complement to the gin--simple but very effective. On the right is the Cucumber Smash [$16], basically a cucumber martini with Effen vodka. It was nice, but was very similar to any other cucumber martini I've had.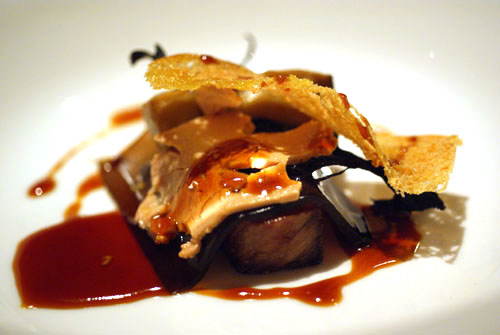 17: Tournedos Rossini 2009
Named after Italian composer and gourmand Gioacchino Rossini, Tournedos Rossini traditionally is comprised of steak topped with foie gras and Madeira sauce. Andrés' update consisted of A5 Wagyu beef, truffle gelée, shaved foie gras, trumpet mushrooms, and dry brioche bread. The beef itself was phenomenal--tender, juicy, and fatty--but when eaten together with the various accompaniments, the natural flavor of the beef was simply overpowered.
The final drink of the night, the "New Way" Dirty Martini [$16] was a dry martini served with olive spherification (as in the Olives
Ferran Adrià
) and olive brine air. The olive component was thus much more apparent than in a typical martini, but it was nevertheless well-balanced, making for a solid drink.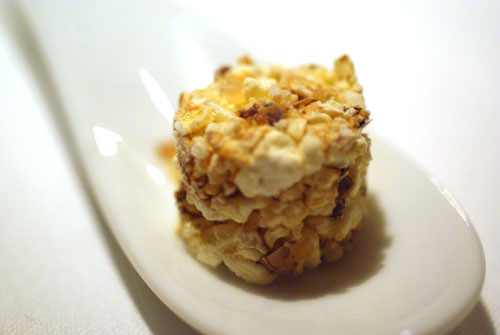 18: Dragon's Breath Popcorn
Served tableside, this was caramel corn dipped in a liquid nitrogen bath. To eat, put one morsel in your mouth, close it, and breathe through your nose; smoke will be expelled through your nostrils, à la fairy tale dragons. The dish is more for the effect, rather than for the taste, which is just like caramel corn. Dragon's Breath gained some infamy when it was recently taken off the menu at The Bazaar, becoming a Saam exclusive. Apparently, it was only given as a treat to VIPs, which angered some of the restaurant's more plebeian clientele.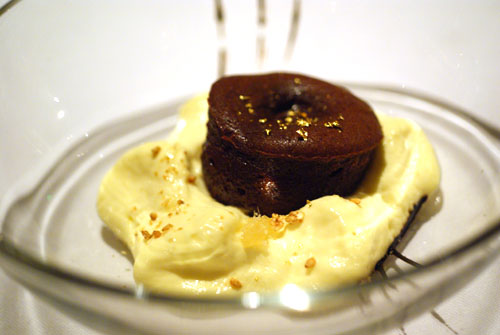 19: Chocolate Biscuit Coulant Michel Bras
Named after its inventor, French chef Michel Bras (owner of the much-lauded Bras in Laguiole, France), this was basically a molten chocolate cake topped with gold paper, served amid a vanilla and cardamom foam with candied ginger. The biscuit itself wasn't notable, though the use of cardamom resulted in a spicy, almost savory flavor component.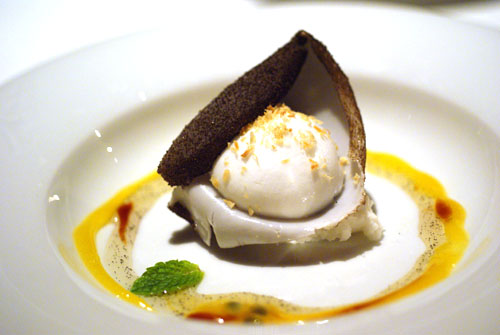 20: Coconut in a "Half Shell"
Coconut sorbet, liquid nitrogen chocolate-coconut shell, chocolate cocoa foam, caramelized banana, passion fruit sauce with seeds, chocolate sauce. The most interesting thing here was the shell, which provided a unique texture to augment the sorbet. In terms of flavor, the mildness of the coconut was complemented by the sharp sweetness of the passion fruit--good, but nothing groundbreaking.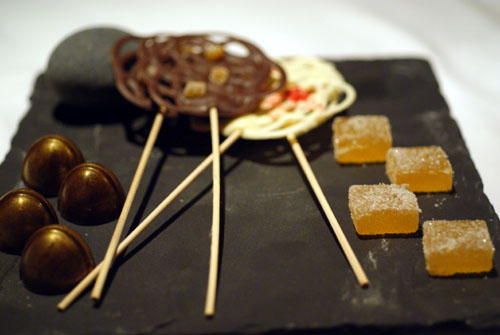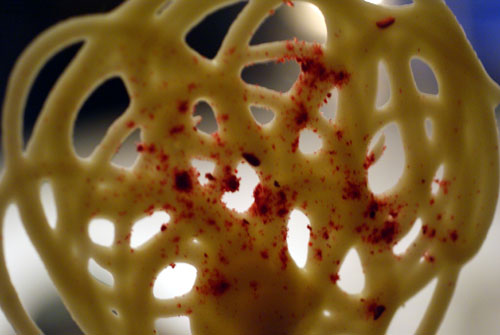 Petit Fours - Tablets, Bonbons
To end the meal, we were given a plate of candied passion fruit gumdrops, saffron bonbons, and lollipops of white chocolate-raspberry and chocolate-candied orange. The most interesting were the bonbons, which had an almost alcoholic tinge to them.
We requested a tour of the kitchen, and, as can be seen in the video above, Chef de Cuisine Michael Voltaggio was happy to oblige. The restaurant was still quite busy at this time, so our tour was brief.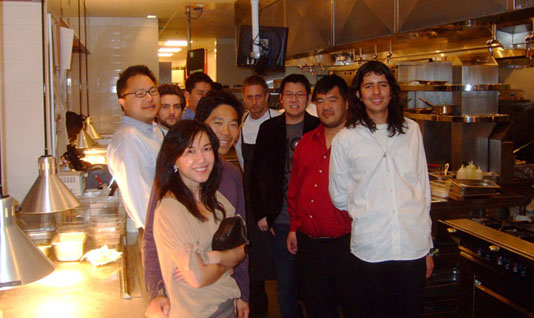 The requisite group photo after the kitchen tour. Clockwise from left: Jan,
Brian
,
Will
, Sous Chef Marcel Vigneron (of
Top Chef
fame),
Ryan
, Chef de Cuisine Michael Voltaggio,
Kevin
,
Mike
,
Javier
.
Despite a rough start at Bazaar, I must say that I was quite pleased with my experience at Saam. The food was sharper and more focused, the service more on point, and the whole experience gave me the impression of a serious restaurant, with serious food. Since the place had just opened, I accept the fact that many of the items we had were repeats from Bazaar; however, this has to change in the future. I want to see a more or less exclusive line up of dishes, something that will bring us closer to having our own Minibar in Los Angeles, which is what I originally wanted The Bazaar to be. The bottom line is that, after dining at Saam, I'm going to have a hard time going back to The Bazaar. Leave the glitz, the ostentation, and the douchebaggery to the throngs of scenesters and poseurs that fill up Bazaar on a Friday night--as far as I'm concerned, Saam is
the
way to experience José Andrés in LA.