Pizzeria Ortica (Costa Mesa, CA)
Pizzeria Ortica
650 Anton Blvd, Costa Mesa, CA 92626
714.445.4900
www.pizzeriaortica.com
Fri 04/24/2009, 05:50p-08:00p
In January of this year, Chef David Myers (of
Sona
and Comme Ça fame) opened Pizzeria Ortica in Costa Mesa--Orange County's culinary epicenter--situated right across the street from
Mastro's
, just east of South Coast Plaza (home to
Marché Moderne
and
Charlie Palmer
), and just south of the Renée and Henry Segerstrom Concert Hall (which houses
Leatherby's Cafe Rouge
). Described by many as a sort of Pizzeria Mozza-esque concept, the restaurant serves up Neapolitan-style pizzas and other traditional Italian fare. Apparently, Myers also plans to open Ortica, a higher-end Italian eatery (his take on
Osteria Mozza
?), in Los Angeles, as well as a second Comme Ça, down in Orange County.
Pizzeria Ortica is helmed by LA-born Executive Chef and Partner Steve Samson. Samson attended culinary school at the Institute of Culinary Education in New York, and helped along by Piero Selvaggio (of
Valentino
fame), Samson was able to secure a position cooking at the Michelin 3-star Dal Pescatore in Canneto sull'Oglio, Italy. Upon returning to the US, Samson worked as sous chef at Selvaggio's Valentino Las Vegas and later at the now-shuttered Posto in Sherman Oaks. He then traveled again to Italy, this time to the South (working at Il Duomo, Quattro Passi, and Torre del Saracino), before returning in 2000 to the kitchens of Valentino in Santa Monica. Samson's next job in Los Angeles was at Sona under Myers, hence his current position here at Ortica.
So, I'd known about Pizzeria Ortica (FYI: "ortica" means "nettle" in Italian) for some time, and was mildly interested in giving it a try, but only made it out because Aaron of
Food Destination
happened to be on an assignment in the area, and invited me and Ryan of
Only Eat What Feeds Your Soul
out to dinner after work. Interestingly, later on in the evening, we also met up with Ila of
I Nom Things
at the nearby
Kitsch Bar
.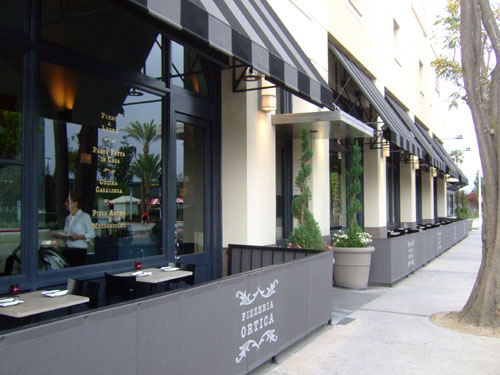 Pizzeria Ortica is housed in the former Turner New Zealand space. Before Turner, the space was occupied by Luongo, and before that, Il Fornaio--hopefully Ortica lasts longer than its predecessors. Parking is available in the structure attached to the restaurant.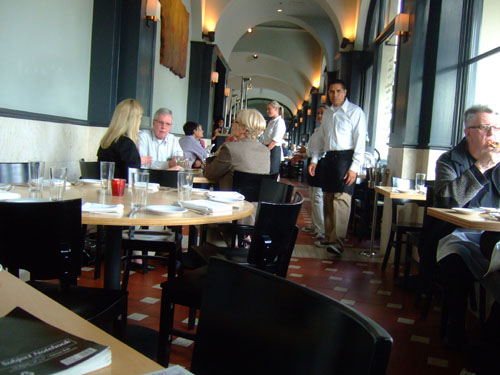 The restaurant is somewhat oddly-shaped, basically one long room. However, the space is fairly inviting, with high, arched ceilings, large, bright windows, and quaint Tuscan red tile floors.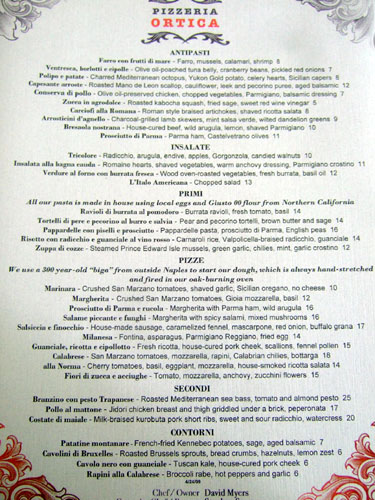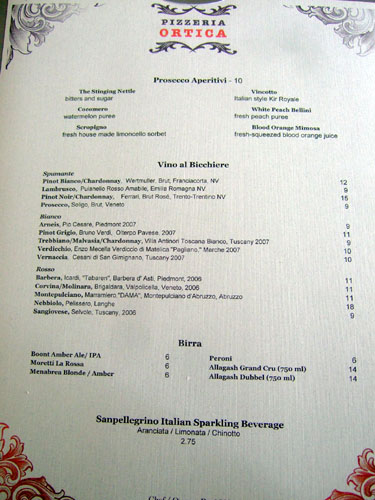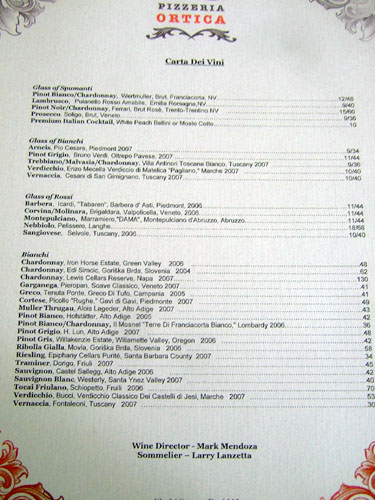 The menu is comprised of an appealing selection of antipasti, pasta, and of course, pizza. A small but focused list of mostly Italian wines is available, but I was disappointed to find out that no liquor is served, putting a damper on cocktails. Click for larger versions.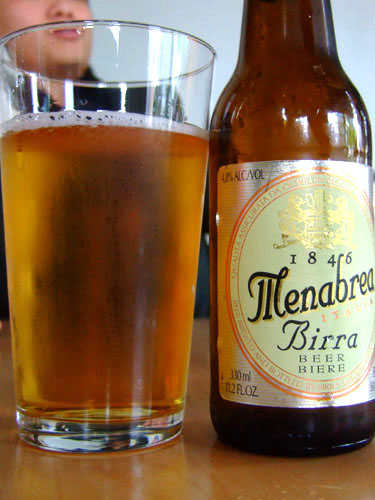 Given the lack of liquor, our cocktails were restricted to the Prosecco-based variety. I thus started with a White Peach Bellini (Fresh Peach Purée) [$10]. A strictly by-the-book preparation, even down to the
white
peach, it tasted exactly as it should. Ryan went with the Cocomero (Watermelon Purée) [$10]. "Cocomero" means "watermelon" in Italian, so this was basically just watermelon and Prosecco; it had pronounced watermelon notes initially, followed by a sour finish--pretty good. Aaron ordered a beer, the Menabrea Blonde [$6], a pale lager from Birra Menabrea in Biella, Piedmont. It was a crisp, clean, easy-drinking beer, but without much flavor--very little hops, some malt, and slightly floral.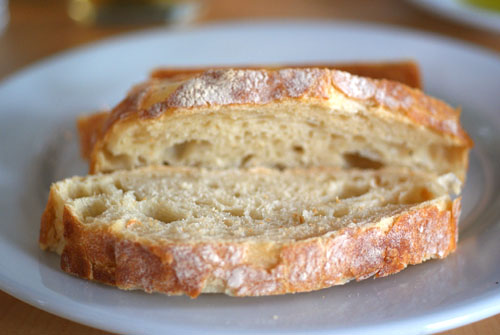 The bread was fairly unexceptional. Aaron was looking for some balsamic to go with the olive oil, but it was nowhere to be found.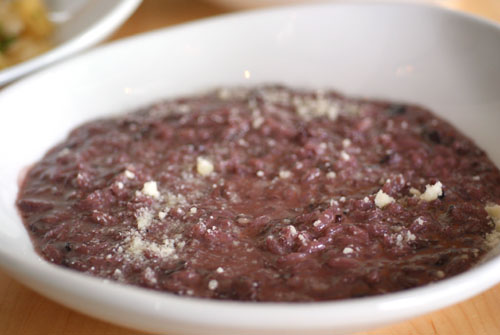 Risotto con radicchio e guanciale al vino rosso [$14.00]
|
Carnaroli rice, Valpolicella-braised radicchio, guanciale
When this came out, we all thought that it looked like refried beans topped with Cotija cheese! The rice here, of the traditional medium-grained Carnaroli variety, was mixed with Valpolicella, a type of red table wine. The wine gave the risotto an interesting aubergine hue, but unfortunately not much flavor. The
guanciale
, an unsmoked bacon, was nearly invisible as well. Instead, the risotto had a blunt, cheesy taste to it, without any focused flavors. Tasty, but one-dimensional.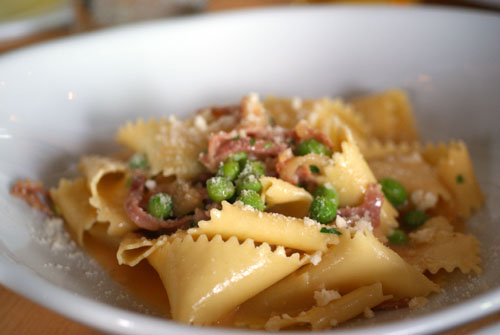 Pappardelle con piselli e prosciutto [$16.00]
|
Pappardelle pasta, prosciutto di Parma, English peas
Arguably my favorite dish of the meal, pappardelle are basically a wider version of fettuccine, with a nicely firm, al dente texture here. The peas were an excellent accompaniment, and the prosciutto provided a great, salty counterpoint. Simple, but effective.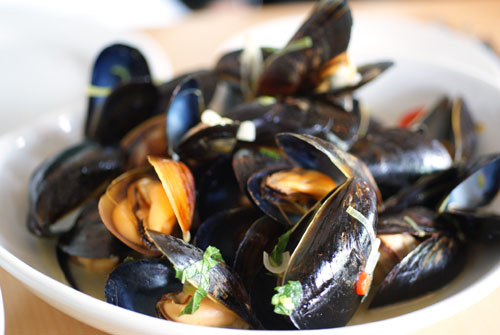 Zuppa di cozze [$12.00]
|
Steamed Price Edward Isle mussels, green garlic, chilies, mint, garlic crostino
The mussels, unfortunately, were a bit of a letdown. They lacked the sharpness and crispness that we wanted, but were instead rather nondescript; the broth didn't help much either. The crostino, meanwhile, turned out a soggy, unappealing mess at the bottom of the bowl.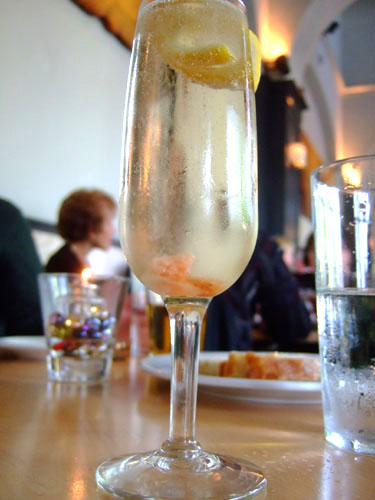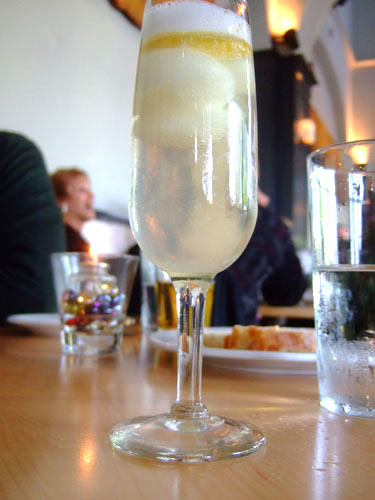 For our second round of cocktails, I went with the Stinging Nettle (Bitters and Sugar) [$10]. The stinging nettle is a type of edible flowering plant with a bitter flavor. I guess the name makes sense then, as the drink had a bittersweet flavor to it that was actually quite fascinating. Ryan went with the Scropigno (Fresh House Made Limoncello Sorbet) [$10], which I suspect was a misspelling of
Scopigno
. In any case, it was quite delicious, with the sorbet providing a acidic, lemony complement to the Prosecco, while also giving the drink an interesting textural contrast.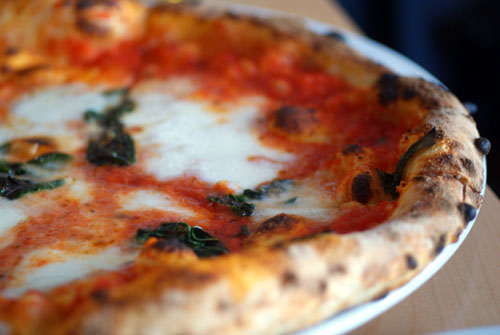 Margherita [$12.00]
|
Crushed San Marzano tomatoes, Gioia mozzarella, basil
The most traditional variety of pizza, an authentic Neapolitan Margherita is topped simply with San Marzano tomato, mozzarella, basil, and extra virgin olive oil, and cooked in a wood-burning oven. Pizzeria Ortica thus has all the necessary ingredients here, resulting in a solid interpretation of the classic. The Gioia mozzarella (from El Monte, CA) was especially enjoyable, and the basil proved a fitting contrast to the sweet tomato sauce. The crust, arguably the most important aspect of a pizza, was nicely thin, but could've been crispier. I still like the Margarita at
Lombardi's
in New York best.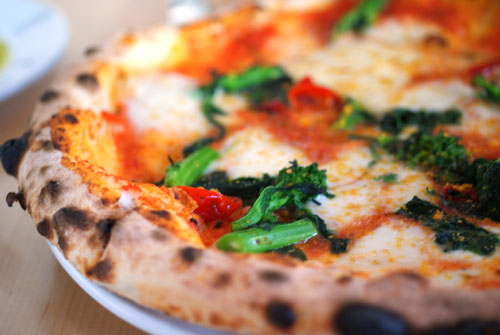 Calabrese [$18.00]
|
San Marzano tomatoes, mozzarella, rapini, Calabrian chilies, bottarga
Named for the Calabria region of Southern Italy, the Calabrese starts with a Margherita base, but adds a few more ingredients. The rapini, or broccoli rabe, provided a great, bitter flavor contrast as well as a crisp textural element. Meanwhile, the
bottarga
, a type of cured fish roe in the same vein as Japanese
karasumi
, added a nice briny flavor. My favorite pizza of the trio.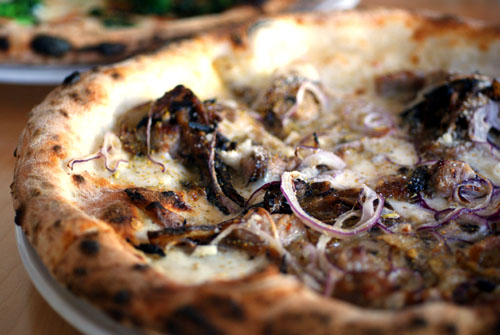 Salsiccia e finocchio [$17.00]
|
House-made sausage, caramelized fennel, mascarpone, red onion, buffalo grana
This pizza sounded the most interesting on the menu, but didn't quite live up to my expectations. The sausage was actually sweet and quite mild and, combined with the caramelized fennel and red onion, gave the pizza a rather muddled flavor.
Grana
refers to hard, grating cheeses (think Parmigiano-Reggiano), and its application here provided somewhat of a sharp flavor contrast, but it wasn't enough to balance out the rest of the ingredients.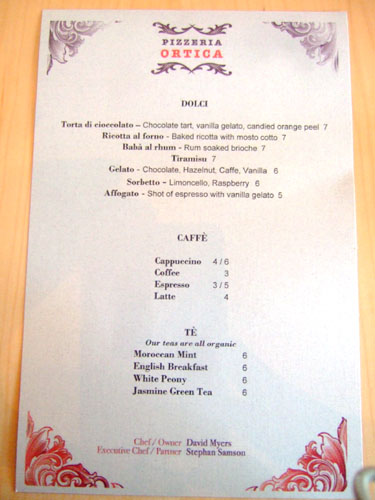 A meal just wouldn't be complete without dessert. Click for a larger version.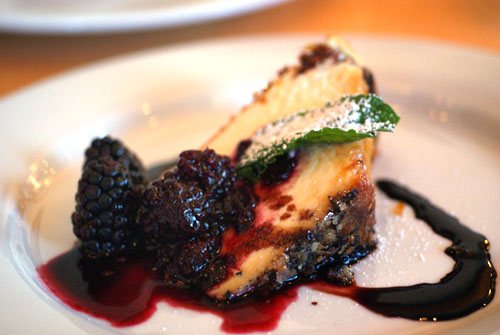 Ricotta al forno [$7.00]
|
Baked ricotta with mosto cotto
The baking of the ricotta cheese gave it a somewhat warm temperature and a soft, pleasing consistency.
Mosto cotto
is basically reduced grape juice, and here it provided a tart contrast to the mild ricotta, but I would've preferred it a bit sweeter. A decent dessert, but nothing spectacular.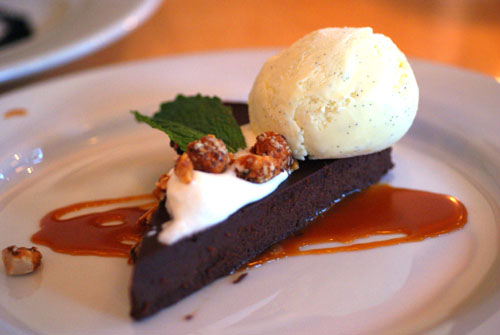 Torta di cioccolato [$7.00]
|
Chocolate tart, vanilla gelato, candied orange peel
The cake itself was rich, decadent, and dense--it would've been quite good on its own; the gelato was simply fantastic as well. Indeed, the pairing of vanilla ice cream and chocolate cake has been done to death, but it works. The use of nuts here added a salty flavor contrast, which was a nice counterbalance to the intense sweetness of the rest of the dish.
In the end, my experience at Pizzeria Ortica left me wanting. I like the concept, it sounds good on paper, but the execution needs to be fine tuned--the place has the
potential
to be great. But as of now, it is merely decent; I expected more from Mr. Sona. Maybe it's time for me to check out Pizzeria Mozza?