Church & State (Los Angeles, CA)
Church & State
1850 Industrial St, Los Angeles, CA 90021
213.405.1434
www.churchandstatebistro.com
Thu 04/23/2009, 08:15p-12:10a
You can't talk about Church & State without talking about the man: Walter Manzke. Manzke brings a wealth of experience to Church & State, having hung his toque at such notable restaurants as Alain Ducasse's Le Louis XV in Monte Carlo, Ferran Adrià's El Bulli in Spain, and Joachim Splichal's
Patina
right here in LA (where he was Executive Chef). Our last encounter with Manzke was at
Bastide
, and we were shocked when Manzke was inexplicably forced out by its notoriously mercurial owner, Joe Pytka, only to be replaced by Paul Shoemaker (of
Providence
fame). And we were saddened once more, when Pytka decided to shutter Bastide
yet again
.
After his tenure at Bastide, Manzke was supposed to head up Celestino Drago's Drago Centro (now helmed by Ian Gresik), but ended up landing at Church & State. In late 2008, Manzke replaced opening Executive Chef Greg Bernhardt, who left the restaurant with some rather harsh words for owners Steven Arroyo and Yassmin Sarmadi. Though Church & State is strictly a bistro affair, Manzke has brought along his knack, his panache, his creativity, and even his old general manager at Bastide, Josh Goldman, who serves as Maitre d'-
cum
-Sommelier.
I'd been interested in trying out Church & State ever since I heard the news of Manzke's arrival. This desire finally came to fruition thanks to food enthusiast site
FoodDigger
, which sponsored this blogger dinner. In addition to FoodDigger staff (Chris, Eddie, Marshal, Will), joining me were bloggers Cathy of
Gastronomy Blog
, Danny of
Kung Food Panda
, H.C. of
L.A. and O.C. Foodventures
, Ila of
I Nom Things
, Kathleen of
Kat's 9 Lives
, Mike of
Right Way to Eat
, and Sharon of
More Fun Than a Barrel
.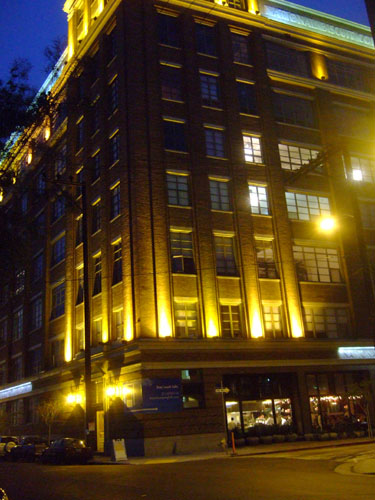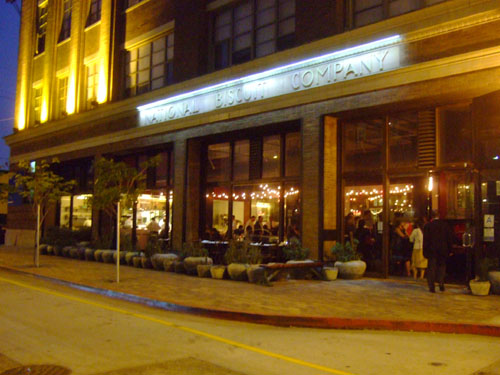 Church & State is located on the ground floor of the Biscuit Company Lofts, which itself was once a bakery for the National Biscuit Company (now NaBisCo). Designed by E.J. Eckel and constructed in 1925, the seven-story building was conceived as the west coast headquarters of National Biscuit. The restaurant occupies the space formerly used as the building's loading dock, and is situated right across the street from the Toy Factory Lofts and it's restaurant,
Royal Clayton's
.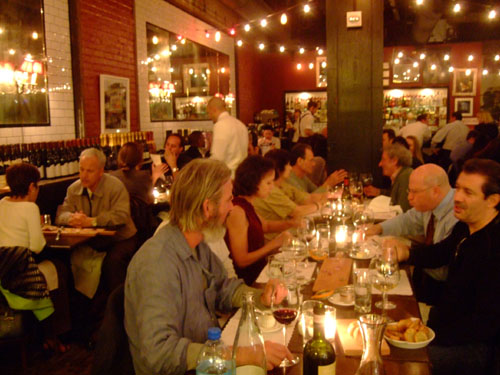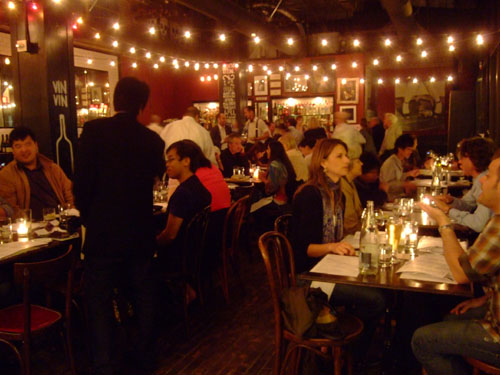 Church & State consists largely of one big dining room, with the kitchen on one end, and the bar on the other. The space has a fun, festive feel, with artwork-adorned brick walls, quaint furnishings, and strands of lights hung across the room. Unfortunately, the noise level was a bit overwhelming at times--the place was alive with energy--and at exactly 10:00, the sound system even began blasting Daft Punk's house classic, "Around the World."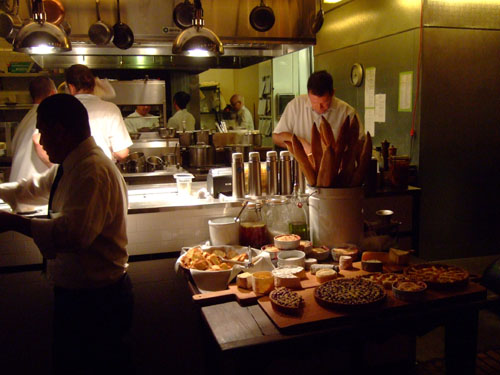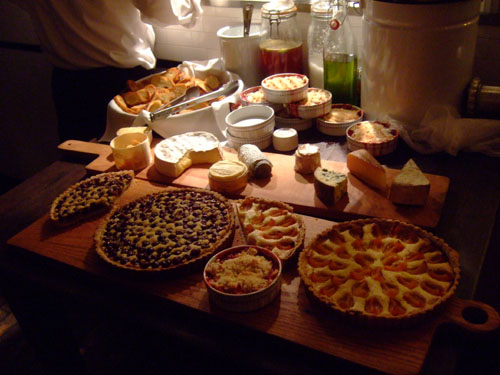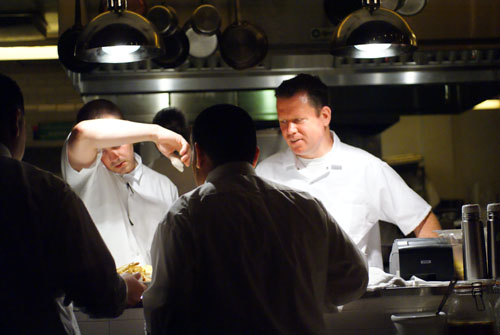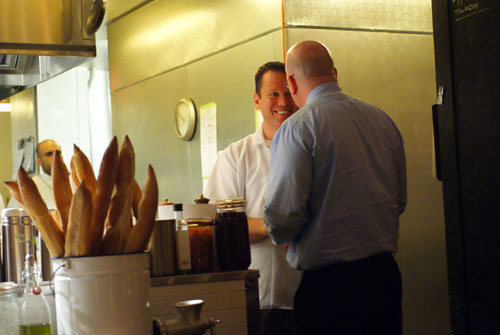 We were given primo seats, the best table in the house, situated right in front of the open kitchen. From this vantage point, we could properly experience the sights, sounds, and smells (perhaps most important!) of the kitchen. It was fun to watch Manzke shouting out an order, plating a dish, or just talking to a satisfied customer.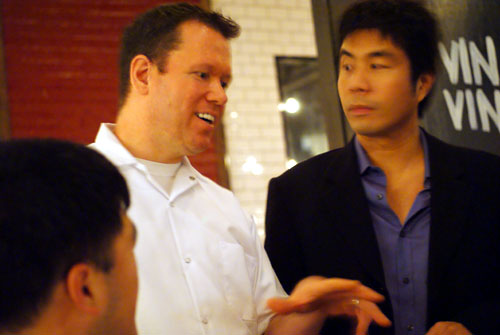 At the beginning of the meal, Marshal from
FoodDigger
introduced Walter to the table. It turns out that Marshal and Walter go way back; in fact, Marshal's company, Wilshire Select Seafoods, used to supply Patina when Walter was there.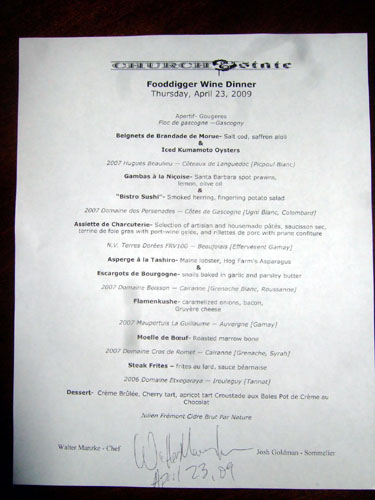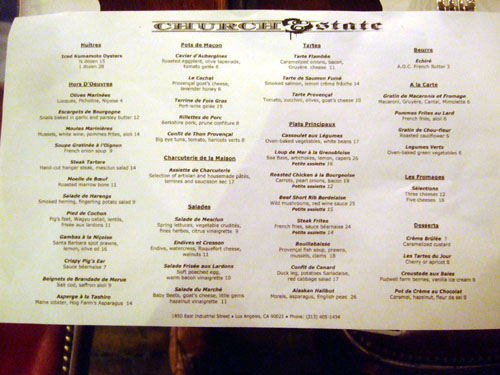 As a throwback to that former relationship, Marshal had provided Walter with some lovely lobsters this evening, which were utilized to create a special, exclusive, one-night-only dish:
Asperge à la Tashiro
. This dish and others from the menu were used to craft a special wine-centric tasting menu, pictured on the left; on the right is the standard menu; click for larger versions.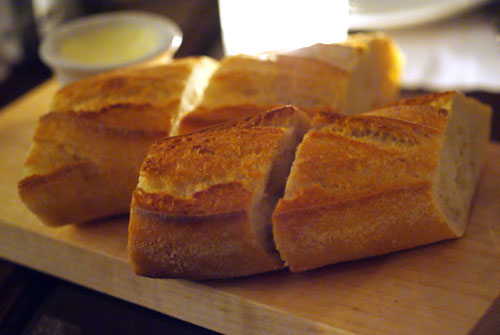 We started with a slices of baguette bread. Served with a subtly sweet, delicious butter, the bread was a quintessential example of the style, with a soft, fluffy, chewy interior surrounded by a wonderfully crisp crust. Some us even used the bread to sop up the aioli provided with the cod fritters (below)!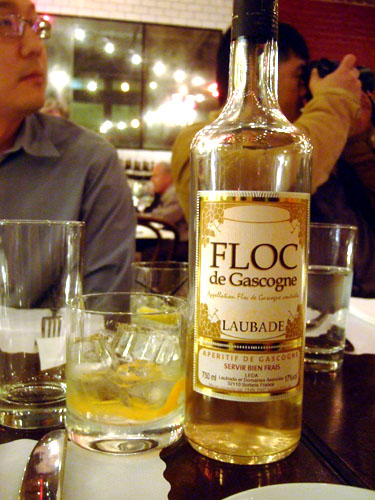 NV Château de Laubade Floc de Gascogne
- Our first drink of the night was meant to be drunk with the gougères. Floc de Gascogne is an apéritif, a fortified white wine made from a concoction of unfermented grape juice and Armagnac. Here, it was served on the rocks, with a bit of orange peel. The end result was like fresh squeezed orange juice with an alcoholic kick! The presence of the fruit really neutralized the drink's 17% ABV. Delicious!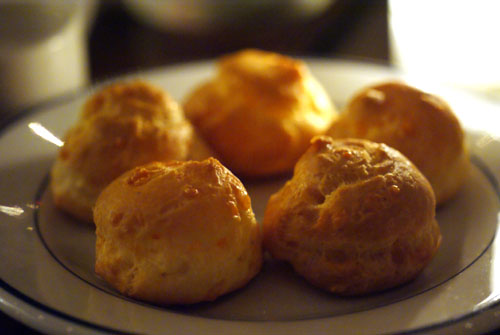 Canapé
We started things off with a plate of gougères, or more informally, cheese puffs. The cheese in question was the most traditional variety used for gougères, Gruyère, which gave the puffs a delightfully salty flavor. Very good, though I think I'd still have to give the edge to the rendition at
CUT
.
2008 Cave de Pomérols Coteaux du Languedoc Picpoul-de-Pinet Hugues Beaulieu
- Paired with the cod and oysters, the Hugues Beaulieu is a wine made from Picpoul Blanc, a varietal which was new to me. The wine was somewhat like an Albariño in some sense, with light, refreshing notes of apple and citrus, backed by a great acidity. It was pleasingly dry, but with just the right amount of sweetness--fantastic.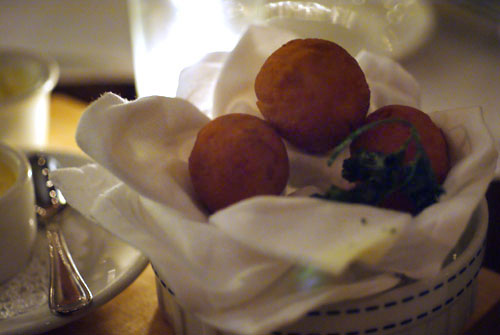 1: Beignets de Brandade de Morue
|
Salt Cod, Saffron Aioli
These were fried fritters of salt cod, potato, and garlic--
bacalao
basically. Now, I was famously not a fan of this dish at
The Bazaar
, but I'm happy to report that the version here was much more to my liking. The fishiness of the cod was well-tempered, and the spheres had an almost sweet flavor to them, with the whole amalgam reminiscent of Chinese-style fish balls. Light, delicate, and delicious on their own, they were nicely accented by the saffron aioli.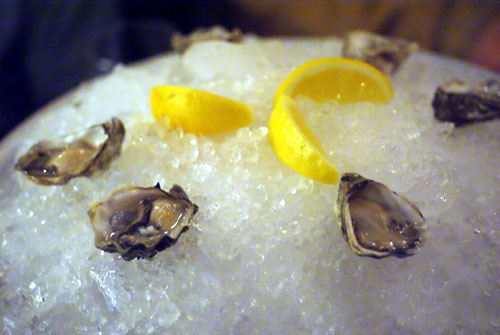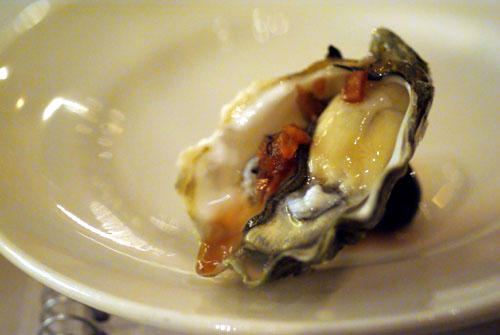 2: Iced Kumamoto Oysters
As regular readers know, Kumamotos are my favorite type of oyster. These examples, from Taylor Bay, Washington, were crisp and briny, with a touch of sweetness, as they should be. A dash of the included red wine mignonette elevated these mollusks even further.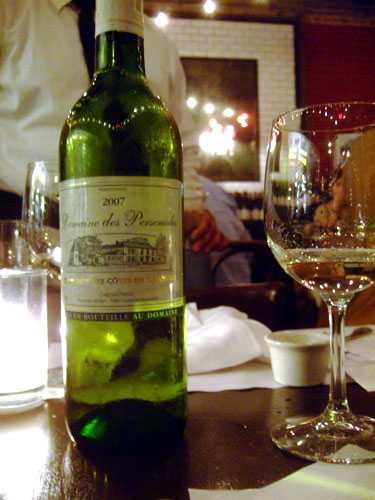 2007 Domaine des Persenades, Vin de Pays des Côtes de Gascogne
- A blend of Ugni Blanc and Colombard, this was another new one for me, meant to go along with the herring and prawns. I rather liked its apple bouquet, sweet acidity, crisp body, light minerality, and tart finish. Another winner.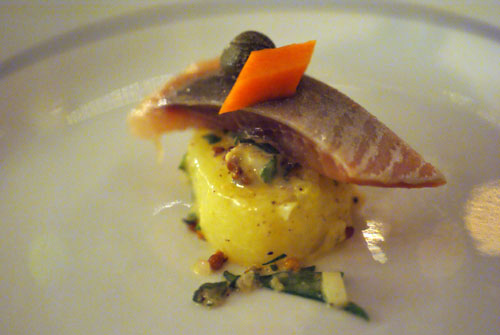 3: "Bistro Sushi"
|
Smoked Herring, Fingerling Potato Salad
A fanciful take on the restaurant's
Salade de Harengs
, this was basically smoked herring atop a slice of potato dressed with mustard and
fines herbes
. The result was quite nice; the attack was sweet and sour, dominated by the fingerling, while the smoky herring became apparent on the midpalate, and the whole thing finished with nice salty tang. A great interplay of tastes and textures.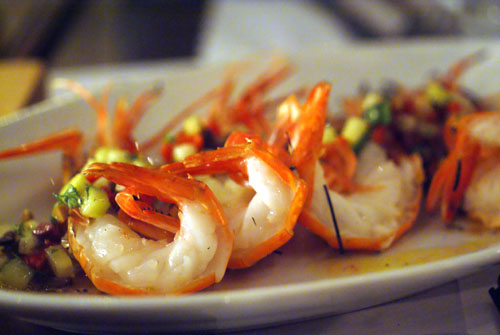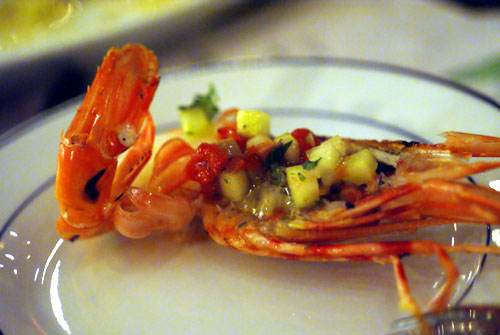 4: Gambas à la Niçoise
|
Santa Barbara Spot Prawns, Lemon, Olive Oil
We were told that the prawns were cooked for about a minute, then dressed with olives, cucumber, tarragon, and extra virgin olive oil. The shrimp's accoutrements really accentuated its natural sweetness, but this was balanced out by a nice bit of brine as well.
NV Domaine des Terres Dorées (Jean-Paul Brun) Beaujolais FRV 100
- I think this wine caught everyone off guard, including me. It was a sparkling Gamay, a rosé
vin mousseux
that was viscous, amazingly sweet, and imbued with rich flavors of strawberry. A relatively low-strength drink at 7.5%, I liken this to a more refined version of a wine cooler--a fun, fruity wine!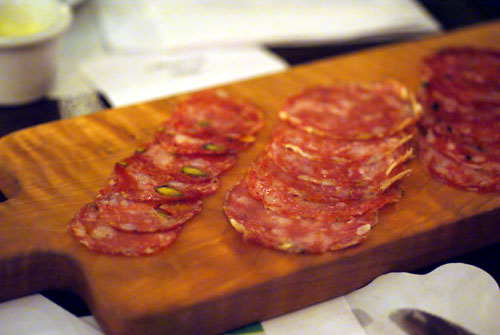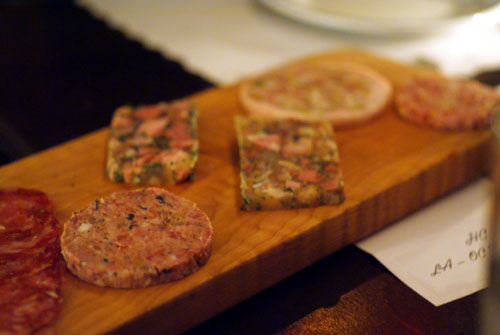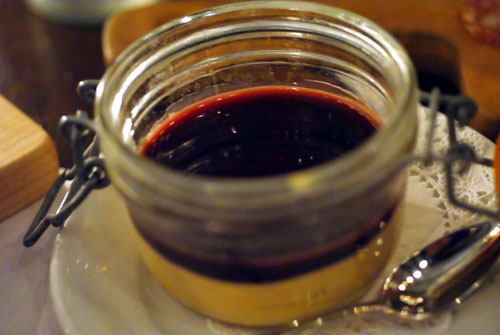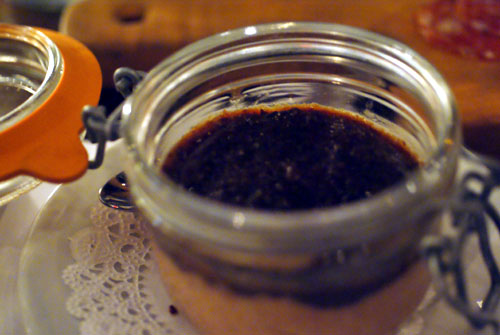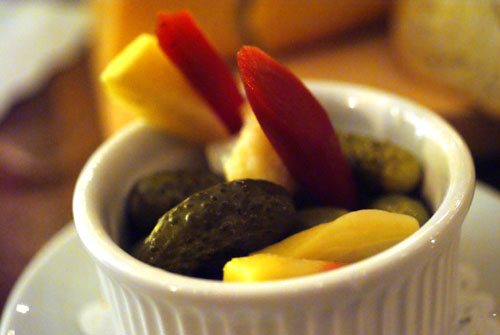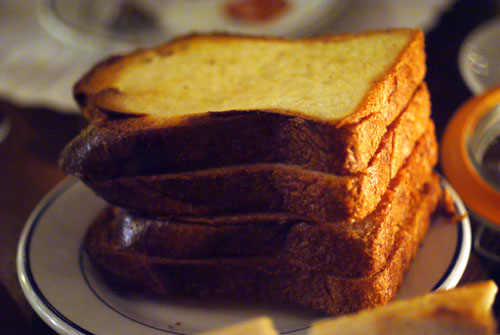 5: Assiette de Charcuterie
|
Selection of Artisan and Housemade Pâtés, Saucisson Sec, Terrine de Foie Gras with Port-Wine Gelée, and Rillettes de Porc with Prune Confiture and Armagnac
Quite a nice spread here as we can see. From left to right, we have
saucisson sec
(all three types of salami were delectable, with each one having a distinct taste and composition), an unknown pâté,
jambon persillé
(molded cooked ham and parsley held together with gelatin--fruity yet savory), lamb with espelette pepper (lovely pepper finish), and rabbit galantine with pistachio (this had a great nuttiness complementing the meat). Moving on, we opened two canning jars. The first was filled with foie gras, which had a pure essence of liver countered by the sweetness of the port gelée. The second was a preparation of pork rillettes, or pork cooked in its own fat until tender; it was made from Berkshire pork and had a consistency not unlike that of canned tuna, with a great pork flavor balanced by the sweetness of prune. Unlike everyone else, I actually preferred it to the foie. The whole assortment was served with pickles and toasted brioche.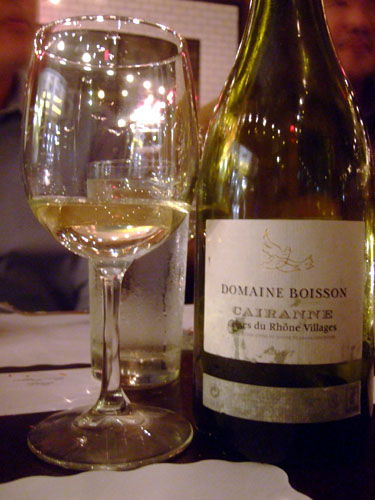 2007 Domaine Boisson Côtes du Rhône Villages Cairanne
- A white Rhône blend of Grenache Blanc and Roussanne, this reminded me of a Bourgogne blanc upon first taste (which made sense given that it was paired with lobster and escargot). It was dominated by notes of minerals and smoke, with subtle hints of melon as well. The wine was rather hot on the palate, but its alcoholic tinge was tempered by the lobster.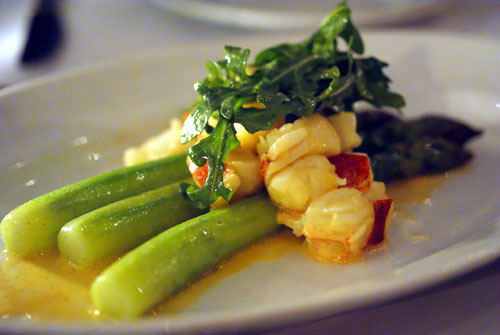 6: Asperge à la Tashiro
|
Maine Lobster, Hog Farm's Asparagus
This was a special named in honor of Marshal, who donated the lobsters used in the dish. The lobster itself was luxurious, buttery (but not overwhelmingly so), with a lovely sweetness and a great crunch. The asparagus comes from Ray and Dan Franscioni's Hog Farms near Salinas, CA and was something to behold. The spears were uncharacteristically thick, but also remarkably juicy, tender, and imbued with the rich essence of lobster. Gorgeous.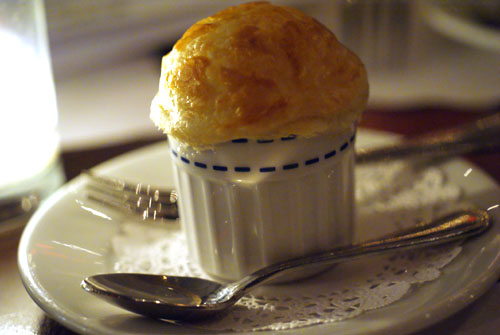 7: Escargots de Bourgogne
|
Snails baked in Garlic and Parsley Butter
This was a traditional preparation of escargot, but the kitchen mixes things up a bit by including a puff pastry shell (like an
en croute
preparation). Upon puncturing the top of the pastry, I was overcome with the intoxicating aroma of butter and garlic; this decadence continued onto the snail itself, which was one of the best I've had in recent memory. The pastry was key, soaking up the richness of the butter and becoming quite delicious even on its own.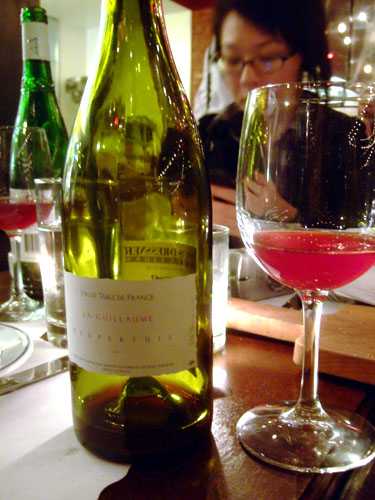 2007 Jean Maupertuis La Guillanume, Auvergne
- Now this was arguably the most interesting wine of the night; the color itself should tell you that much. It was an unfiltered
vin de table
, or table wine, the lowest classification of French wine. Made from Gamay, it was very light in body, with a decidedly rustic flavor that was hard to pin down. What was most interesting was that its nose was reminiscent of Chinese
xiang chang
sausage!
8: Flamenkuche
|
Caramelized Onions, Bacon, Gruyère Cheese
Also known was
tarte flambée
, this is an Alsatian dish in the same vein as a thin pizza. I quite enjoyed the gruyère and lardons, but the caramelized onions were a tad too sweet for me. However, it did do a good job of countering the power of the
La Guillanume
.
2007 Domaine Boisson Côtes du Rhône Villages Cairanne Cros de Romet
- A blend of Grenache and Syrah (80%/20%), this was actually a barrel sample according to Josh. It was a powerful wine (good thing, given its pairing with the bone marrow), with a bouquet filled with dark fruit and chocolate, leading to a tart attack and plenty of currant on the midpalate. Finishes strong.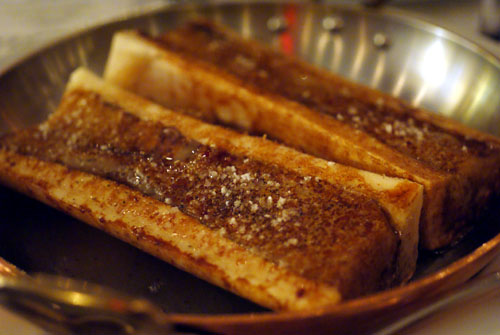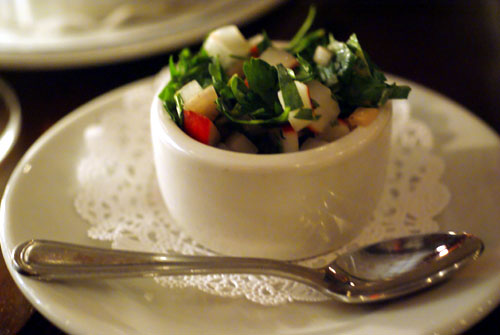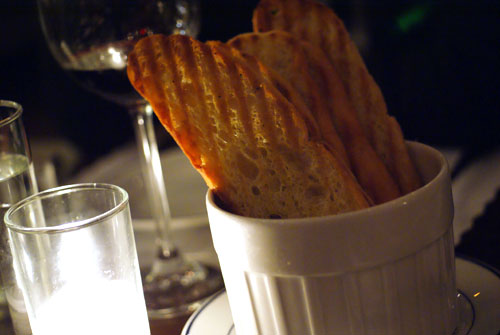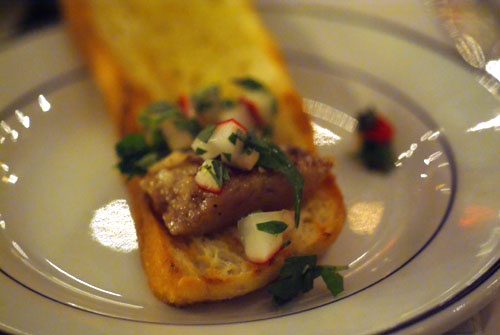 9: Moelle de Boeuf
|
Roasted Marrow Bone
These were huge pieces of bone marrow, roasted and seasoned with salt and pepper. They came with crouton bread and a salad of radish and parsley. Our server told us to spread the marrow on the croutons, then apply the salad. The marrow itself was incredibly unctuous on its own, so the radish and parsley were absolutely critical in tempering the marrow's gravity with their sharp acidity; furthermore, they also added a nice crisp textural contrast to the dish. Two bites were enough for me!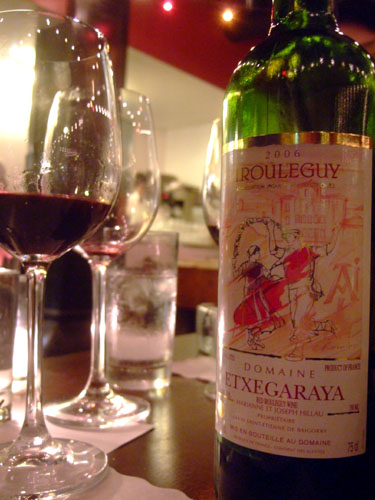 2006 Domaine Etxegaraya Irouléguy Cuvée Lehengoa
- Made from the Tannat grape, this was another varietal I hadn't had before. Tannat is typically planted in regions of France near the Pyrénées, close to Basque Country. In any case, it was a heavy, full-bodied wine, with loads of dark fruit, earth, smoke, and licorice, with a finish that was rather tannic and minerally.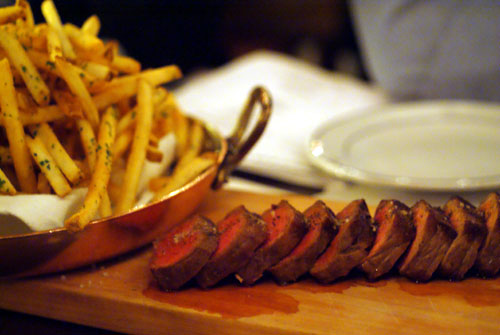 10: Steak Frites
|
Frites au Lard, Sauce Béarnaise
The steak itself was seasoned simply with salt and pepper, and had a lovely taste on its own. The béarnaise sauce (butter, egg yolk, tarragon, shallot) was simply too much for the beef, overpowering the meat's delicate flavor; there was also an au jus sauce provided, which I preferred, but which was still unnecessary. Unfortunately, the steak was a bit tough, and could've been cooked rarer. More impressive were the pommes frites, which, upon first taste, reminded me of McDonald's fries heightened with herbs! They really were about as good as it gets.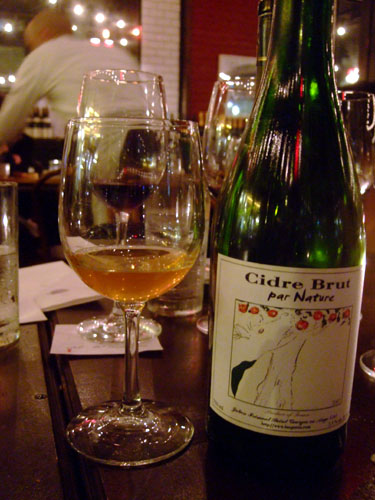 2007 Julien Frémont Cidre Brut par Nature
- This was an apple wine from Normandy, a major cider-producing region in France. It wasn't what I was expecting, with a rather funky nose and a dry, earthy flavor, backed by fleeting apple notes.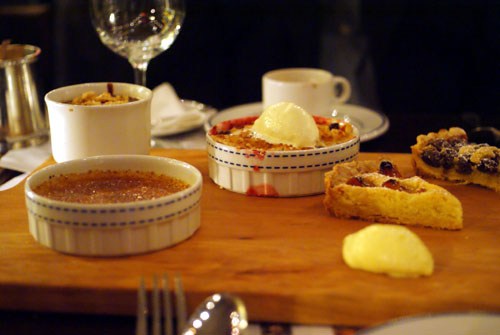 11: Dessert
|
Crème Brûlée, Cherry Tart, Apricot Tart, Croustade aux Baies, Pot de Crème au Chocolat
Our dessert spread consisted of every dessert on the menu. I started with the duo of tarts, which I ate with the dollop of
sabayon
(or
zabaglione
, a type of custard); I preferred the cherry version, soaked in brandy, for its tarter flavor. Next, I had the
croustade aux baies
, basically a berry crisp made with Pudwell Farm berries. The vanilla ice cream topping was a great contrast to the tangy fruit. The crème brûlée was a fairly standard preparation, though it did have vanilla beans on the bottom of the ramekin. Finally, we have the chocolate pot de crème, nicely flavored with caramel, hazelnut, and fleur de sel; the salt was especially interesting, as it gave the dish a slightly salty smack that countered the sweetness of the rest of the dessert.
Though Church & State got off to a rough start, Manzke has made his indelible mark here, and the restaurant is buzzing along just fine. Having dove in head first, he seems to have found a niche here; he's committed, totally hands-on, and after seeing him in action, Manzke just seems
happy
in this environment. If you're looking for French bistro-style cuisine, it's hard to go wrong at Church & State--the place truly is a welcomed addition to the Downtown dining scene.
However, as good as things are going here, I miss the old Walter, the one that turned out courses such as a bracing
Kumamoto Oyster with Green Apple Gelée, Wasabi, Yuzu, and Daikon Radish Granité
. The format of Church & State
necessarily
limits what Walter is allowed to do. This may be perfect bistro fare, but in the end,
it is still just bistro fare
. I still yearn for a stage where he can cook with the inexorable flair, unbridled enthusiasm, and relentless ingenuity that I know he has in him--time will tell whether or not my hunger is satisfied.