The Restaurant at Meadowood (St Helena, CA) [2]
The Restaurant at Meadowood
900 Meadowood Ln, St Helena, CA 94574
707.967.1205
www.meadowood.com/winecuisine/the-restaurant/
Wed 04/07/2010, 06:15p-10:40p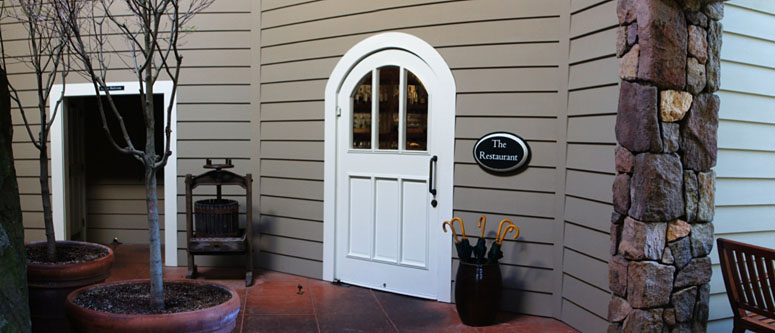 After a great experience last time at
Meadowood
, I was eager to return to the Bill Harlan-owned resort. Harlan, a real estate developer turned wine mogul (he's the Harlan behind Harlan Estate), established Meadowood in 1979 and opened its signature restaurant two years later. The restaurant eventually shuttered, but reopened in 2006 under Chef Joseph Humphrey. Humphrey, however, left in 2007, only to be replaced by current chef Christopher Kostow.
Born in 1976, Kostow started his culinary career at the tender age of 14, working the kitchens of the Ravinia Festival in his hometown of Highland Park, Illinois, just outside of Chicago. Kostow continued to cook throughout high school and college, but eventually ended up earning a degree in philosophy from New York's Hamilton College. Cooking, however, beckoned, and the Chef was quick to return to his first passion. He moved down to San Diego to work at Georges at the Cove in La Jolla, under Trey Foshee. Kostow stayed there for a year, before moving to France in 2001. The Chef lived in Europe for three years, working at numerous restaurants including Chez Georges in Paris, Le Jardin des Sens in Montpellier, and La Terrasse on the Côte d'Azur (under mentor Christian Morriset). In between, he returned to the US to work for Daniel Patterson (of
Coi
fame) at Elisabeth Daniel.
Kostow eventually settled in San Francisco, where he signed with Daniel Humm (who's now at the much-lauded Eleven Madison Park) at Campton Place. Then, in 2006, Kostow took over the reigns of Chez TJ in Mountain View--his first Executive Chef position--earning two Michelin stars for the place. He left in late 2007 to helm The Restaurant at Meadowood (Humphrey went to Cavallo Point in Sausalito; Kostow was replaced by Bruno Chemel at Chez TJ). In the process, Kostow took along with him five of his line cooks, and even his old Sous Chef at Chez TJ, Christopher Dettmer, eventually joined him after a stint at Bouchée Carmel.

The light, airy, white-washed room can handle 44 diners, and there's also a Chef's Table for up to four (we must do this next time). If the weather's warm, patrons may also dine al fresco on a large patio overlooking the resort's golf course.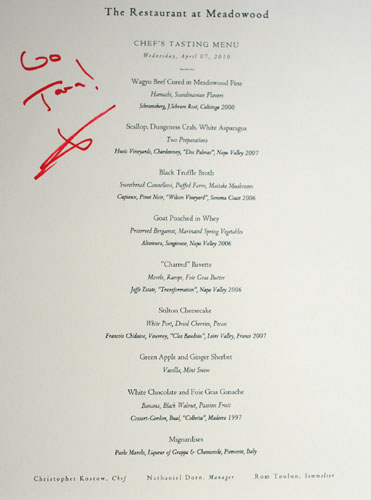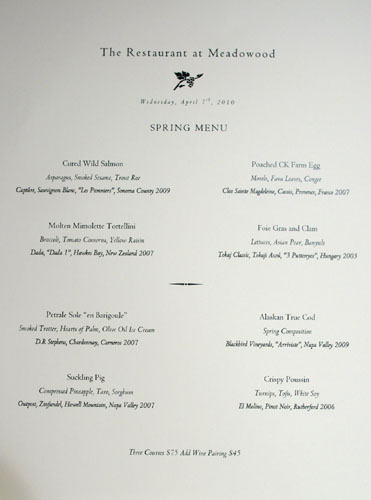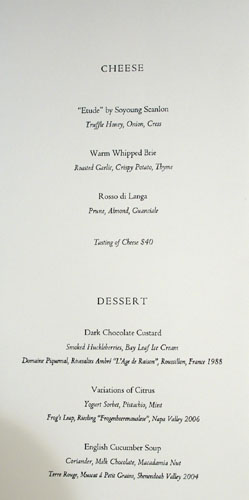 Diners can chose from a seasonal three-course prix fixe selection for $75 (add $45 for wine), or opt for the Chef's Tasting Menu at $155 (add $115 for wine). We opted for the tasting, with supplements. Click for larger versions.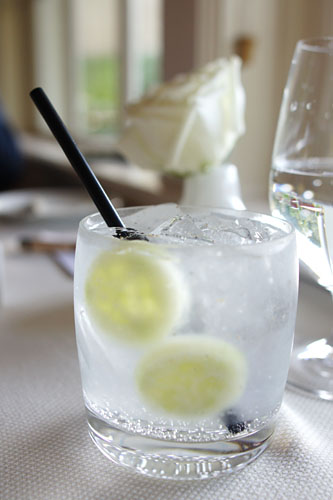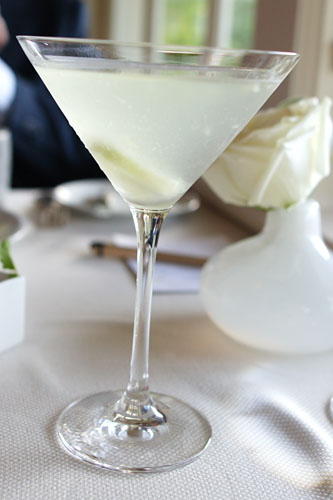 Meadowood doesn't have a printed cocktail list, so I asked the bar to "surprise me." The resultant concoction was a Hendricks Gin & Tonic with English Cucumber and Pepper, a very apt interpretation of the ubiquitous drink, with the cool cucumber taking off a bit of the bite from the gin. One of my dining companions, meanwhile, also went with a cucumber cocktail: a classic Cucumber Martini.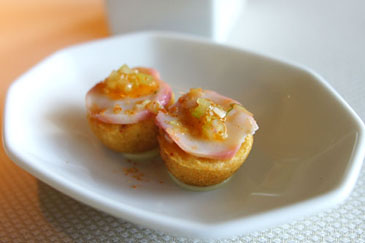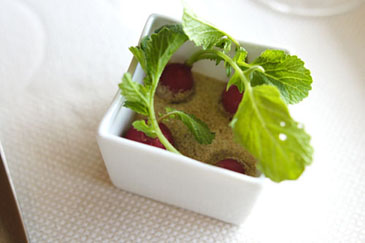 Canapés
A trio of canapés greeted us on the dining table. First up was a fromage blanc-stuffed pillow cracker topped with herbs from Meadowood's garden. This was a great little bite, with the tang of the cheese playing perfectly with the crispy bread. Next was squid. Unfortunately I don't recall the exact preparation, but I do remember that it was
fantastic
, simultaneously savory and slightly sweet, with a delightfully briny finish--superb. Finally, we had some Lilliputian radishes from the restaurant's grounds. These were fresh, bitter, and tart, a refreshing jolt to the palate heightened by the use of a caraway-rye-sea salt "soil."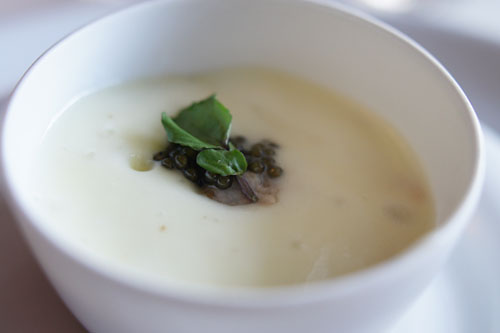 Amuse Bouche
For the amuse bouche, we were presented with a baked potato "parfait," composed of layers of baked potato confit, watercress and chive gelée, potato chip, oyster, caviar, and baked potato foam. Upon first taste, the dish immediately conveyed to me the essence of starchy potato, which then led to the sharp, vegetal tang of the gelée. The finish, meanwhile, was imbued with the salty sapor of the potato chip and the briny tang of caviar. Excellent.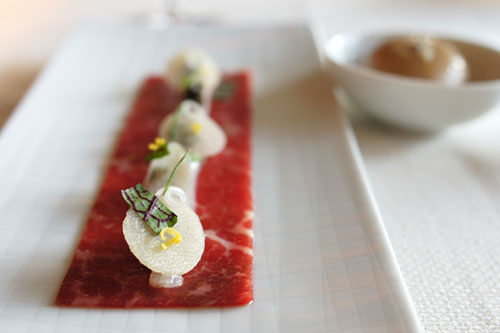 1: Wagyu Beef Cured in Meadowood Pine
| Hamachi, Scandinavian Flavors
Schramsberg, J.Schram Rosé, Calistoga 2000
Our first proper course was a sheet of wagyu, paired with hamachi, sea beans, dill, kohlrabi, and a pumpernickel steamed bun, a presentation that instantly recalled the "Cold Smoked Toro" dish that I had on my
first visit
. The beef demonstrated a marked, tart attack, with a bit of bitterness in the middle, closing out with a somewhat briny smack. The steamed bun, meanwhile, instantly reminded me of a Chinese style preparation, and really worked in bringing out the flavors of the dish, though I did think that the course could've more strongly emphasized the beef's intrinsic character.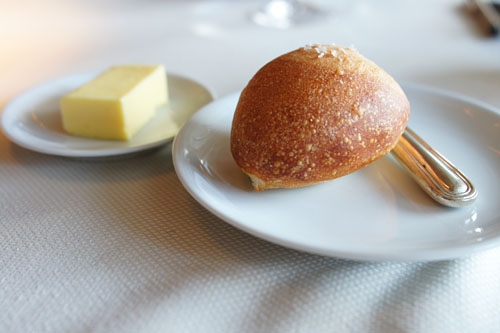 A sole French style roll, paired with a sweet, soft Normandy butter, was the only bread on offer, but it was tremendous. Coming out freshly baked and piping hot, I devoured four of the rolls before coming to my senses!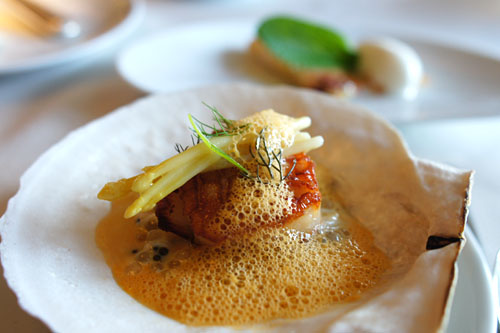 2: Scallop, Dungeness Crab, White Asparagus
| Two Preparations
Husic Vineyard, Chardonnay, "Dos Palmas", Napa Valley 2007
Next up was a two part dish--think
Pierre Gagnaire
. First was a Massachusetts diver scallop--savory with a lovely caramelized flavor--nicely balanced by its tapioca tinged foam. It was tasty, especially when paired with the white asparagus, but a bit indistinct. Part two was more memorable: a block of seared Dungeness crab topped with a thin layer of rare scallop. I appreciated the tempering effect of the white asparagus ice cream, the great textural play of the
paté de fruit
crumble, as well as how the use of citrus linked up with the crab's natural sweetness.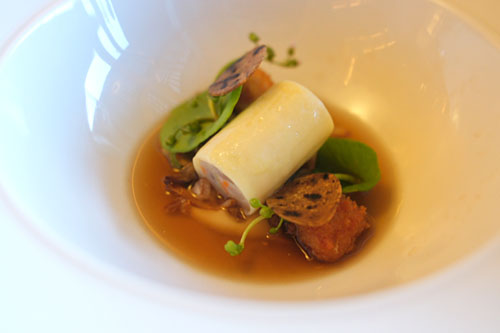 3: Black Truffle Broth
| Sweetbread Cannelloni, Puffed Farro, Maitake Mushroom
Capiaux, Pinot Noir, "Wilson Vineyard", Sonoma Coast 2006
Black truffle rarely disappoints, and this was no exception. The key was the sweetbread cannelloni, which had a (too) delicate, almost "hammy" savor to it. I liked the power and heft provided by the truffle and maitakes, while the use of turnip and greens lightened the course up a bit. The farro, meanwhile, gave things a bit of a crunch.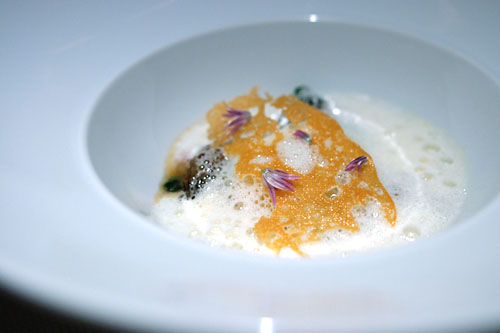 Supplement: Poached CK Farm Egg
| Morels, Fava Leaves, Congee
Clos Sainte Magdeleine, Cassis, Provence, France 2007
It's hard to go wrong with a poached farm egg, so this was a no-brainer supplement for me. I absolutely adored the interaction between the earthy morels and creamy, luscious egg. The fava leaves, at the same time, provided a necessary balance. I ended up sopping up the left over ambrosia with my bread!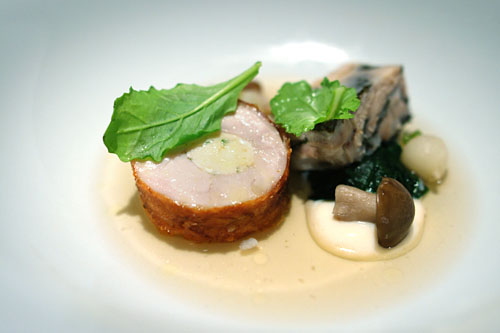 Supplement: Crispy Poussin
| Turnips, Tofu, White Soy
El Molino, Pinot Noir, Rutherford 2006
During my
last Meadowood visit
, I had a fantastic preparation of poussin, a type of small chicken. And once again, the poussin was one of the stars of the meal. When it was brought out to the table, I could immediately smell its heady, chicken-y aroma. This continued onto the palate, where I greatly enjoyed the meat's immensely flavorful, savory sapor and delectable skin--I wanted a bigger piece! I wasn't quite sure about the necessity of the mushrooms, but I did appreciate the use of turnips.
4: Goat Poached in Whey
| Preserved Bergamot, Marinated Spring Vegetables
Altamura, Sangiovese, Napa Valley 2006
When this arrived, I couldn't help but compare it to the "Bolinas Goat, Different Forms" dish that I had at
Coi
. It even uses the same goat, raised by famed rancher Bill Niman. As with the previous goat, I quite liked the meat's tangy, gamy, almost "wild" flavor, heightened by the use of goat and chicken stock. Given the power of the goat, the whey, with its balancing acidity, was absolutely essential, and I appreciated the levity contributed by the vegetables, as well as the tart tang of the bergamot. I think I would've liked this a bit rarer, though.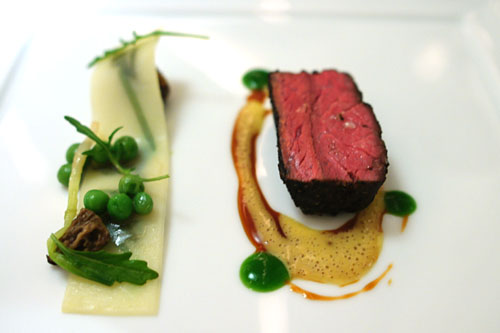 5: "Charred" Bavette
| Morels, Ramps, Foie Gras Butter
Jaffe Estate, "Transformation", Napa Valley 2006
Our final savory was a beautiful block of wagyu flank steak, compressed and cooked sous vide, served with charred onions, ground truffle, and trumpet mushrooms. The steak was fantastically tender, breaking apart instantly upon mastication--I'm not even sure if chewing was absolutely necessary! Its flavor, meanwhile, was complemented by a subtly spicy, almost coffee-esque crust. Accompanying the beef was a "laminated" potato with peas, parsley, and morels; it was delightfully vegetal in savor--a great accoutrement to the beef.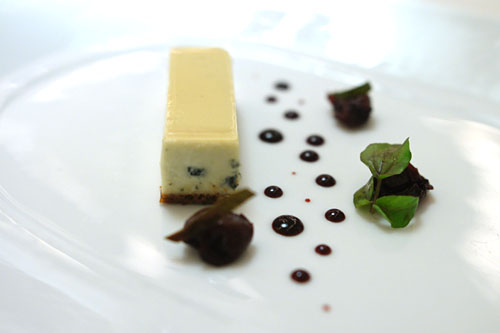 6: Stilton Cheesecake
| White Port, Dried Cherries, Pecan
Francois Chidaine, Vouvray, "Clos Baudoin", Loire Valley, France 2007
The cheese course is almost always interesting here, and today, we had a lovely cuboid of cheesecake, replete with pecan crust. Flavor-wise, it showed a salty blue cheese tang to counter the expected sweetness, which was heightened by the use of port-soaked cherry.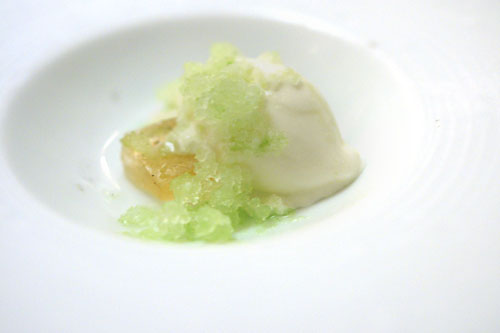 7: Green Apple and Ginger Sherbet
| Vanilla, Mint Snow
Our intermezzo consisted of a tart, piquant apple and ginger sherbet, paired with a slightly caramelized vanilla gelée. A nice prick to the palate, finishing strong with notes of ginger.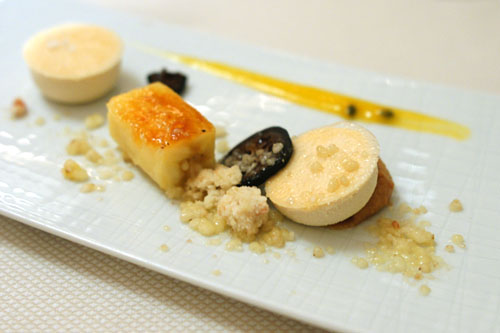 8: White Chocolate and Foie Gras Ganache
| Banana, Black Walnut, Passion Fruit
Cossart-Gordon, Bual, "Colheita", Madeira 1997
I couldn't resist comparing this to a foie gras parfait that I had at
Per Se
. I actually preferred this version better: delicate hemispheres of caramelized foie gras, topped with a sugary chocolate disk; the flavor was suitably chocolatey with a slight hint of liver-y flavor--very nice. The use of gritty, saccharine walnut paste, meanwhile, was fantastic and fascinating. Finishing off the piece was a block of sous vide banana and some passion fruit puree.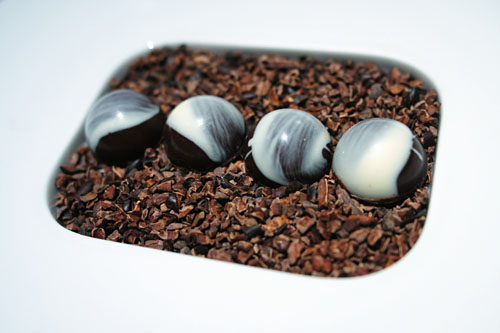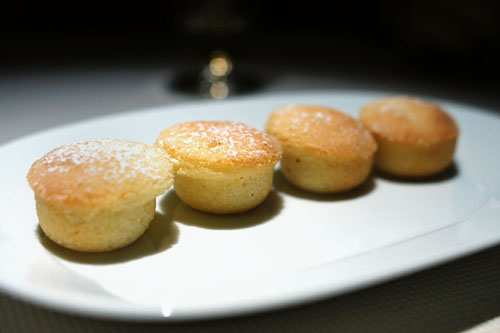 Mignardises
Paolo Marolo, Liqueur of Grappa & Chamomile, Piemonte, Italy
Our first after dinner treat consisted of four marble-like spheres: chocolate bon-bons with white-tipped earl grey tea ganache and bergamot, in a pile of bitter-sweet cocoa nibs. Next were "snickerdoodles," with Devonshire cream and raspberry.
The experience this time around seemed a bit more subtle, a touch more innovative, a tad more avant garde--riskier, but with more missteps unfortunately. Kostow seems more experimental now in terms of his juxtapositions of tastes and textures, but still manages to showcase the inherent character of his ingredients. Previously, I'd stated that the cuisine here "would not seem out of place at Mr. Keller's place 10 miles south. In that sense, the awarding of two Michelin stars is definitely warranted." That much still stands.