Wolvesmouth Underground Dinner (Los Angeles, CA)
Wolvesmouth Underground Dinner
Los Angeles, CA 90069
www.wolvesmouth.com
Thu 08/12/2010, 07:20p-12:20a

I found myself summoned to a home high in the Hollywood Hills, not for some A-lister wrap party shindig, but for an underground dinner, one helmed by Chef
Craig Thornton
(a.k.a.
Wolvesmouth
), former
Bouchon
staffer and private chef to Nicolas Cage. I'd been somewhat familiar with Thornton's culinary machinations before, so I jumped on the opportunity to attend, to sample his ambitious, oft audacious cuisine firsthand.
Also present this evening were some of the usual suspects:
Christine
of
Folie à Choisauce
,
Toque
editor
Elina Shatkin
and her beau
Rob
,
Julian
of
Jewelz, What Are We Doing Today?
(who informed me of the event), and
Neil
of
Food Marathon
. Surprisingly, we were also joined by actor
Jason Biggs
and his better, hotter half, actress
Jenny Mollen
. Most of us probably remember Biggs as the lovable,
premature-ejaculating
Jim Levenstein from
American Pie
. However, he absolutely loves food, and not just in a pie-raping way. The couple are legit foodies, to be sure.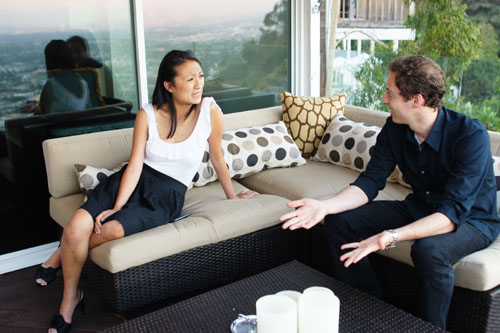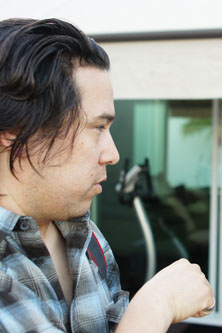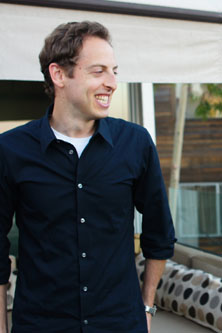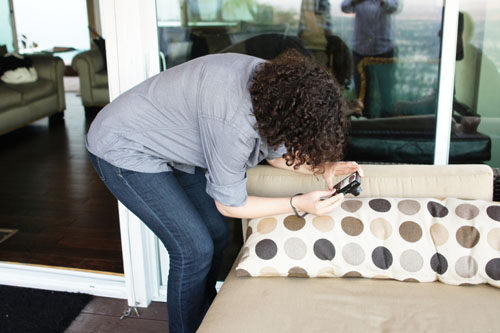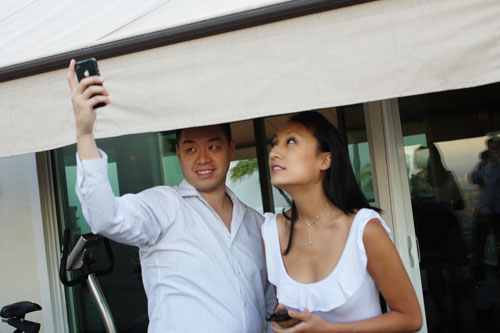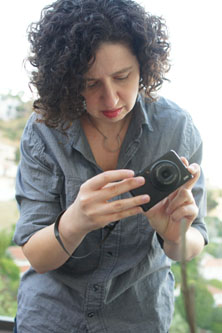 Pre-dinner milling about on Thornton's expansive terrace, where we enjoyed each other's company, as well as sweeping vistas of the LA basin.
And now, on to the victuals: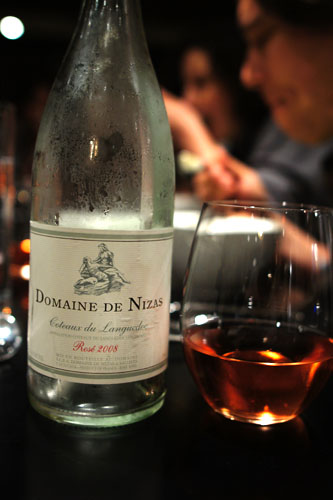 This was strictly a BYOB affair, so we began with a sparkler, the 2008 Domaine de Nizas Coteaux du Languedoc Rosé. A crisp, dry Grenache blend, this was delightfully refreshing, showing off subtle hints of strawberry--perfect for quaffing on a hot summer's night.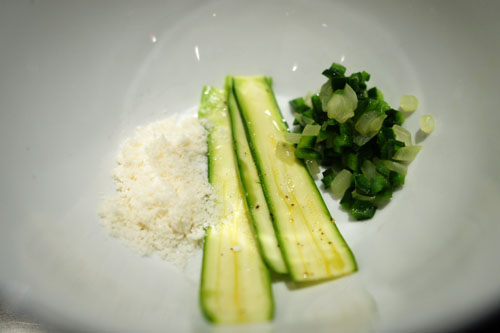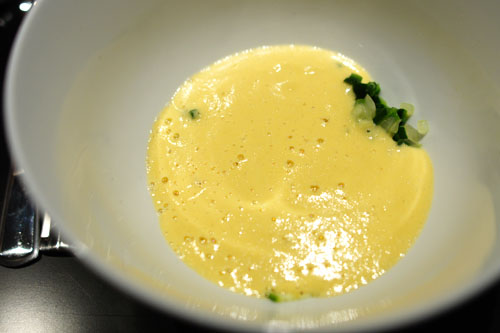 1: corn. zucchini. cotija. poblano. white onion.
Befitting the season, we began with a corn soup. Though the sugary essence of corn was distinctively conveyed, it wasn't overpowering. Rather, the vegetal relish of zucchini, in concert with the slight heat of the poblanos and the weight of the cotija, managed to successfully moderate it, allowing a lovely amalgam of flavors to form.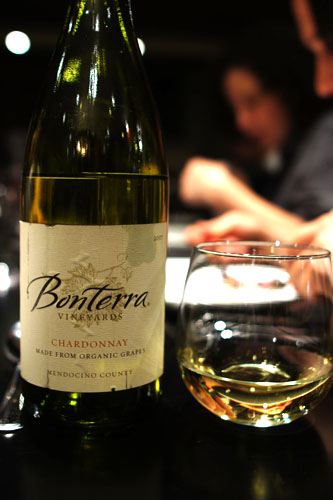 Our next wine was the 2007 Bonterra Vineyards Chardonnay, from California's Mendocino County. It was a viscous, prototypical California Chard, teeming with flavors of vanilla, pear, and oak.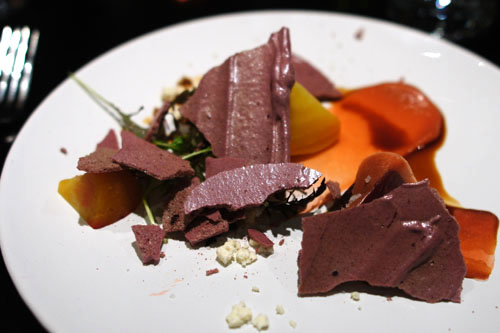 2: beet. saba. feta. rhubarb roll up. rhubarb campari puree. wild greens. beet meringue.
Beets, my bane. Actually, this wasn't bad at all. The beets, augmented by the saba, had a marked sweetness to them, and were deftly tempered by the tangy wild arugula and gravity of the feta. I appreciated the airy, ethereal texture of the beet meringues, which seemed to dissolve instantly upon mastication, but my favorite element here was actually the rhubarb "Fruit Roll-Up," bringing back memories of my youth!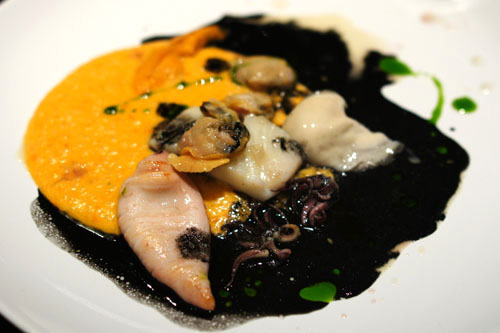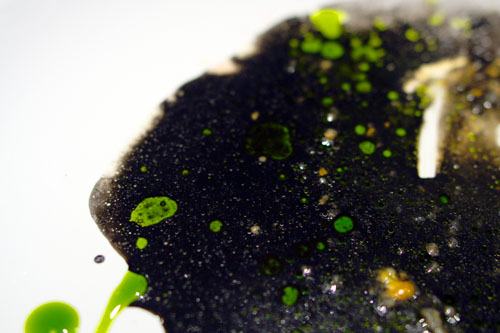 3: fuck bp. uni "polenta". squid. uni. oyster. fluke. mussel. clam. squid ink dashi "sludge". parsley oil. clam mussel juice reduction. (meant to be overwhelming)
A commentary on current events. Thornton created an "oil slick" from a mixture of dashi broth and squid ink, which lent a briny, umami-tinged sapor to the different types of dead sea life washed ashore. I appreciated how each item--clam, mussel, oyster, uni, squid, octopus, fluke--was distinct, with their individual, ocean-y characteristics preserved and highlighted. The best part of the dish for me was actually the "beach" of uni "polenta," basically rice blended to a fine grain, mixed with urchin roe. I loved its interplay of sweet and brine, and how its finish so articulately conveyed the essence of rice; in fact, I had an extra serving of it!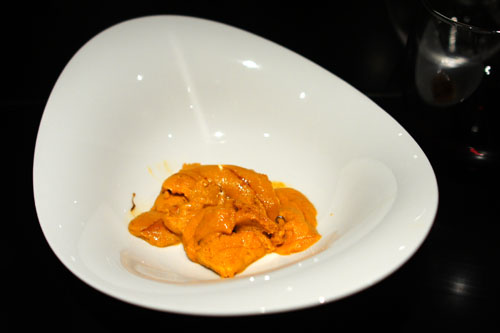 Extra uni? Yes please!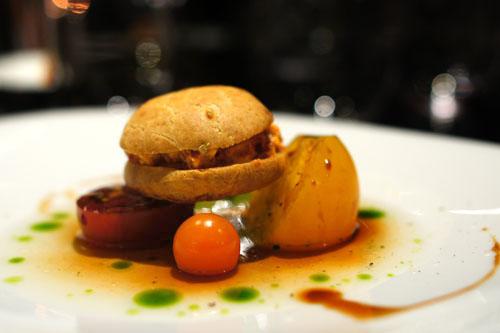 4: tomato. chorizo piquillo goat cheese torta. tomato water. sherry gastrique. chive oil.
"Fuck yeah!" That was Biggs upon biting into the torta. Such an exclamation, fortunately, was warranted. I absolutely adored the sweet-spicy savor of the chorizo-piquillo, and how that was so aptly accented by the creaminess of the paired chèvre, while the bread served as a moderating base. This was all balanced by the refreshing nature of tomato, as well as the light prick of flavor courtesy of chive.
Moving on to the reds, here we had a bottle of the 2007 Sokol Blosser Pinot Noir, from Oregon's Willamette Valley. This was a light, yet lush wine, with a good amount of acidity and notes of cherry, leather, and spice intermixed with a noticeable heat on the midpalate.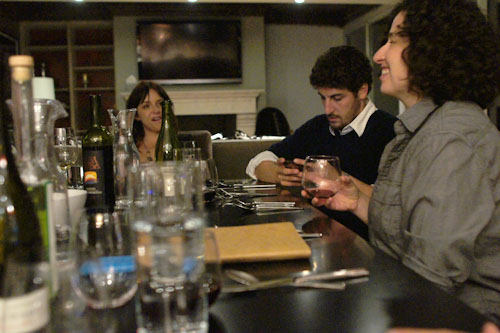 Throughout the course of the night, between the eating and rants about anal sex and "cat rights," Jason was busy
tweeting
.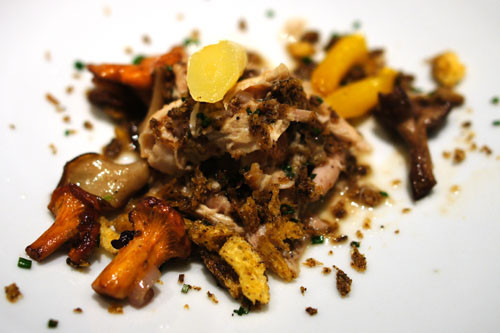 5: wandering the forest. braised rabbit. juniper. doug fir brandy. onion. doug fir gelee. glazed carrot. brioche black truffle soil. chive. chanterelle. bluefoot. hen of the woods.
The rabbit, braised in juniper berry to a delightfully tender consistency, showed off a heady, savory relish that was backed by a piney, almost astringent flavor. This was further augmented by the use of Douglas fir, which added even more green, citrus-y notes. The weighty, earthy mushrooms, meanwhile, completed the "forest" theme of the dish, while the brioche truffle "soil" added a palpable crunchiness. A table favorite.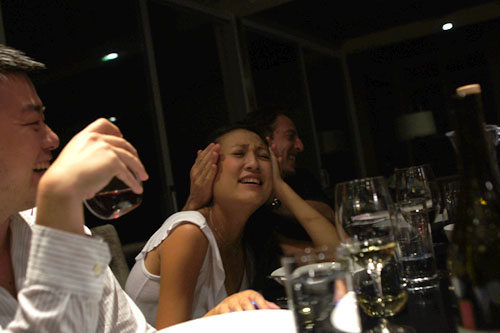 My virgin ears!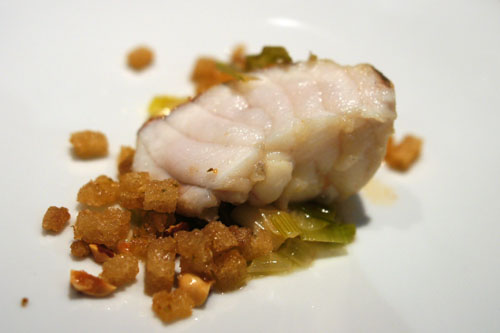 6: monkfish. chicken skin. chicken tail. leek. onion. fennel chew. fennel pollen. sourdough. hazelnut.
Next up was monkfish, which
Biggs actually helped fillet
! This demonstrated a superb, succulent, almost "spongy" texture that Christine likened to lobster. Its savoriness was heightened by the application of chicken skin and tail, while the sourdough "croutons" added some textural variation.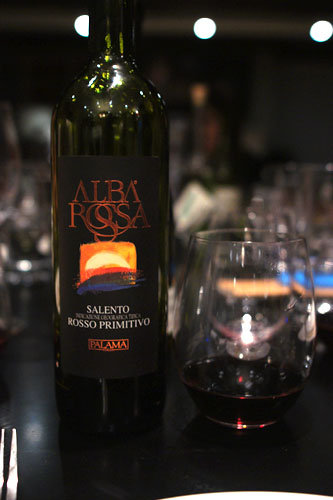 Here was the 2007 Palamà Alba Rossa Salento IGT, a Puglian wine made from
Primitivo
, otherwise known as Zinfandel. This was a heady, almost rustic
vino
, showing off loads of fruit and pepper, with a strong bit of alcoholic burn to boot.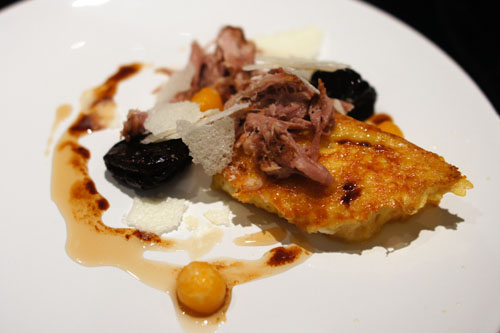 7: milk braised pork shoulder. maple french toast. blis maple. coffee sorghum poached prunes. coffee sorghum sauce. glazed rutabaga. dehydrated milk flakes.
Having been braised in a mixture of milk and allspice, the pork was simultaneously sweet, cinnamon-y, and falling-apart tender. The saccharine nature of the course was further augmented by the inclusion of French toast, maple syrup, and prunes, and in fact, taking in each element of the dish separately, things were overly sweet, disjointed even. It was only when everything was eaten together that the dish fell into place. As one of my dining companions stated, it "tastes like breakfast!"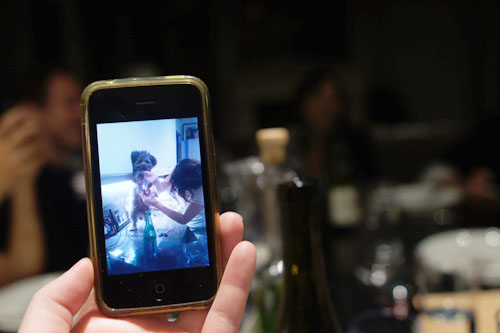 Jenny and Jason have three dogs: Mr John W Teets, Gina, and Harry. This is Teets, an "asshole dog."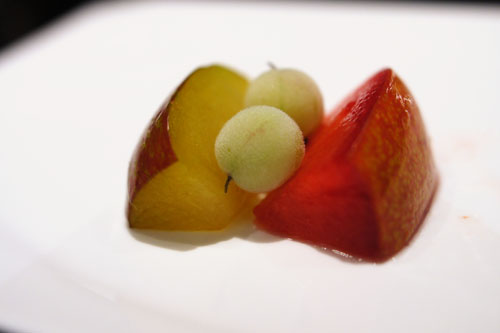 8: compressed plum. pluot. elderflower. frozen gooseberry.
A bit of an intermezzo, a palate cleanser here. The gooseberries, frozen solid, showed off a tart, bitter, almost savory disposition that was countered by the sweetness of the pluot and herbaceousness of the plum.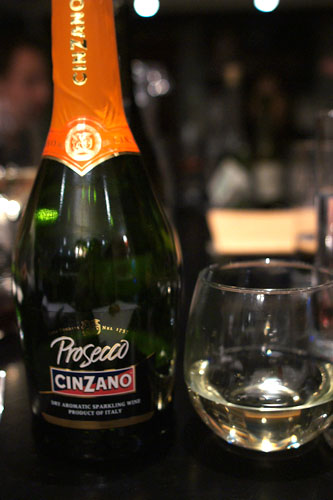 Cinzano Prosecco was up next. An easy-drinking, though somewhat dry tipple, with a floral nose and fruity notes of melon and apple on the palate. Not bad.
9: lamb. eggplant sheep yogurt puree. radish. compressed cucumber. purslane.
Our final meat course of the evening was lamb, which, if I remember correctly, was cooked sous vide in its own caramelized-then-frozen fat. As you'd expect, the meat was suitably tender, with a fantastic "lamb-y" savor that went perfectly with the cooling eggplant-yogurt purée, while the cucumber and radish added a fantastic vegetal counterpoint. Apparently, there was supposed to be a
spicy lamb sausage
to go along with the dish. It's unfortunate that it was forgotten, as I'm sure that it would've added a great bit of heat to the course.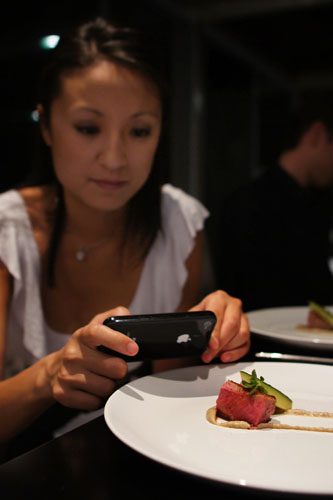 Christine misses her
sausage
.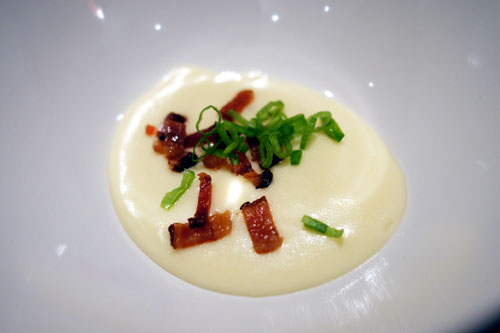 10: wisco cheddar potato puree. bacon. scallion.
Our "cheese course." This was like a liquid baked potato, with the heavy essence of cheddar leading to the mildness of the mashed potatoes, finally finishing with the salty tang of bacon, all moderated by the overarching tang of scallion. I wanted a bigger bowl!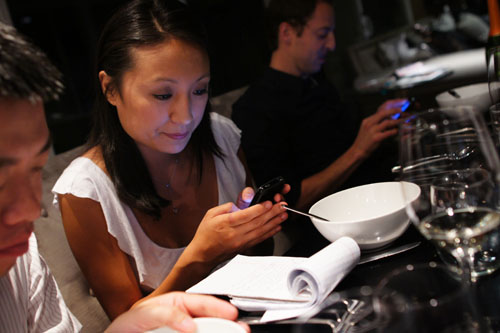 Throughout the night, she was cribbing notes off my notepad so that she could
live tweet
the meal.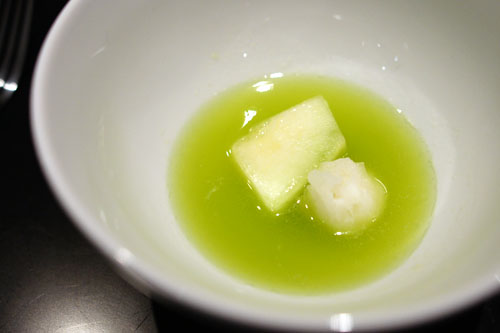 11: anana melon. lemon verbena ice.
For our pre-dessert, we were given compressed anana melon, which I'd never even heard of prior. The melon showed off a stupendous sugary, almost honeydew-like flavor, which was balanced by the tart jolt to my palate provided by the lemon verbena granita.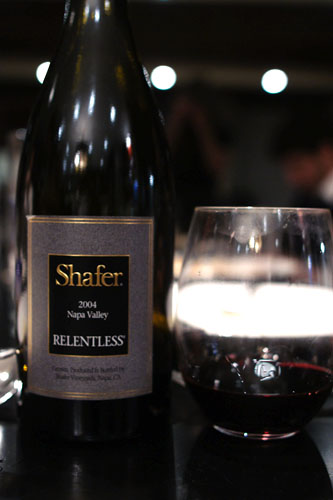 Our final wine selection, the 2004 Shafer Relentless Syrah, came from my private cellar. It was arguably my favorite libation of the night (no bias, really!), showing off complex traces of dark berry, minerals, smoke, wood, and chocolate, balanced by fine tannins and just a hint of alcoholic burn. Very well integrated, but might be even better in a few years.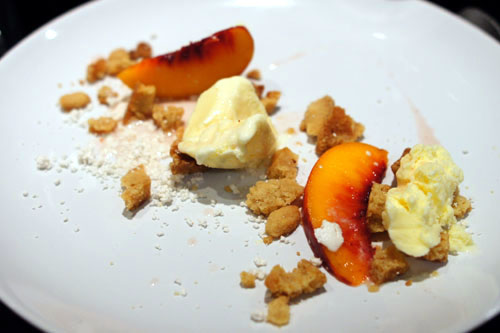 12: compressed peach. warm. cold. brown butter fleur de sel shortbread. creme fraiche fleur de sel ice cream. peach juice. hazelnut oil powder.
This was a very effective dessert indeed. I enjoyed the unbridled sweetness of the peach, and how this was so deftly matched by the crunchy, slightly-salty brown butter shortbread. At the same time, the fantastic fleur de sel-crème fraiche ice cream linked everything together beautifully. A fitting conclusion.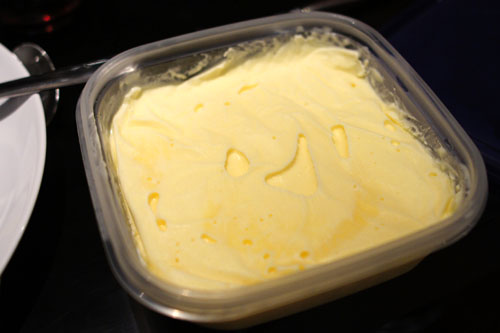 I liked the aforementioned crème fraiche-fleur de sel ice cream so much that I asked for more. I then got the bright idea of topping it with the bacon and scallion from our cheese course. Thornton then suggested I throw
katsuobushi
into the mix! The result was actually shockingly effective, with the toppings drawing out and focusing the inherent savoriness of the ice cream perfectly, all while preserving the character of the crème fraiche.
This was my first "underground" dinner, but hopefully not my last. Thornton did a great job in showcasing his range, his technique, and his creativity, leaving us thoroughly sated and satisfied. Hopefully he'll continue his dinner series, an ode to great food, great company, great times.