Feastiality (Los Angeles, CA)
Feastiality Underground Dinner
3500 Overland Ave, Los Angeles, CA 90034
310.202.6866
www.facebook.com/FeastialityLA
Sun 08/21/2011, 08:30p-12:25a

There are underground dinners, and then there are underground dinners with guest chefs operating out of a place that was on
Throwdown with Bobby Flay
. This was the latter. Yes,
Feastiality
is run out of Sushi Central in Palms. Its owner, Philip Yi, opened the place in 2003, and
handily defeated Bobby Flay
in a sushi battle on Season 5 of the show.
Food Network
appearance notwithstanding, the dinner series is helmed by one Dino Severino. On this particular occasion however, he handed over his kitchen to his compatriot
Michael Neflas
, who's currently Sous Chef under Ian Gresik at
Drago Centro
. It just happened to be Severino and his girlfriend's birthday, and I was invited to witness Neflas create a special tasting menu featuring the couple's favorite ingredients.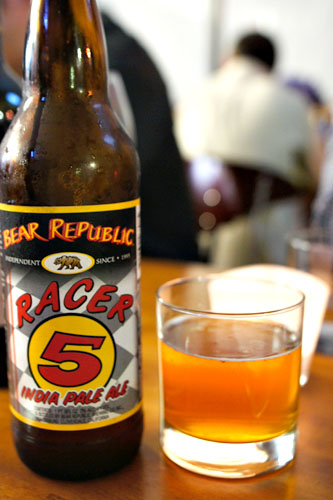 Feastiality is strictly BYOB, so everyone made full use of that. Something light to start:
Bear Republic Brewing's Racer 5 India Pale Ale
, a good example of the style, with a marked hoppy character tempered by hints of herbs and citrus, all with undertones of malty goodness.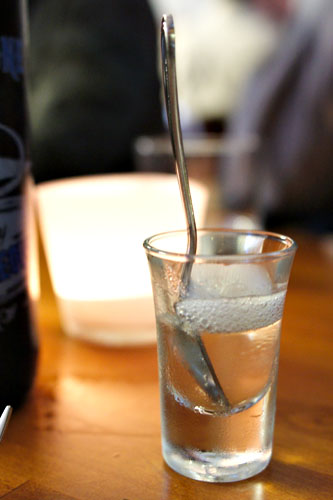 Amuse Bouche: Gin and Lime Espuma, Champagne Gelée, Powdered Effervescence
Served in a shot glass, our subtly fizzy amuse bouche displayed a mix of sugary and tart flavors, all leading to a slightly astringent, booze-tinged finish.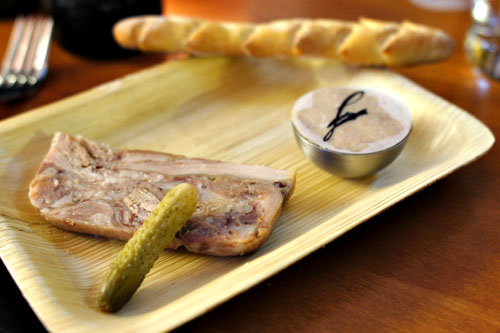 1: Duo of Charcuterie: Pork Rillettes and Head Cheese
I began with the rillettes, which was superb. I loved its rich, rustic flavors and creamy, luscious consistency--a classic preparation of charcuterie, perfectly executed. The
fromage de tête
, meanwhile, didn't quite reach such stratospheric heights, but was enjoyable nonetheless, showing off a keenly porcine relish that went wonderfully with the paired cornichon; I just wish that it had a grittier, more interesting texture.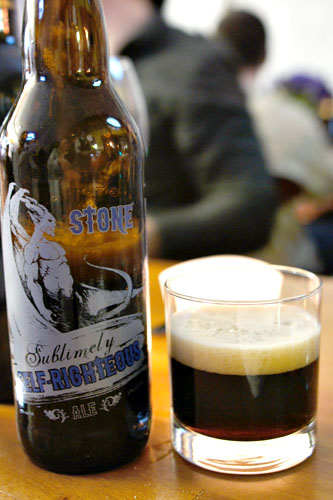 The next beer up was
Stone's Sublimely Self-Righteous Ale
, which was akin to an IPA with more a pronounced maltiness and a touch of smoke.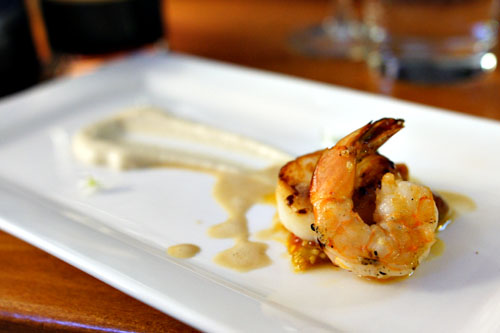 2: Pan Seared Diver Scallop and Grilled Prawn with Brown Butter Cauliflower Puree, Vanilla Beurre Blanc and Tomato
A singular scallop arrived deftly cooked, with an adroitly seared crust and a nice saline sweetness that was heightened by the lush flavors of the oven roasted tomatoes. At the same time, the prawn added additional complexity and depth to the dish, while the beurre blanc served to tie everything together.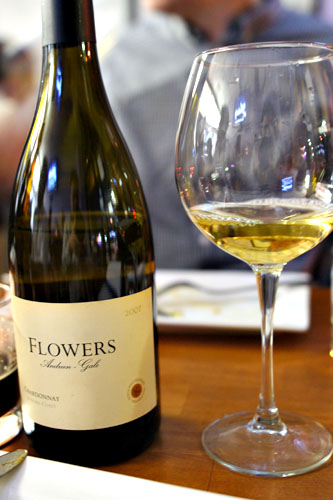 The
2007 Flowers Chardonnay Andreen-Gale Cuvée
was a lovely example of a California Chard from the Sonoma Coast, nicely crisp and a bit hot, with lemon-y and grass-y notes to boot.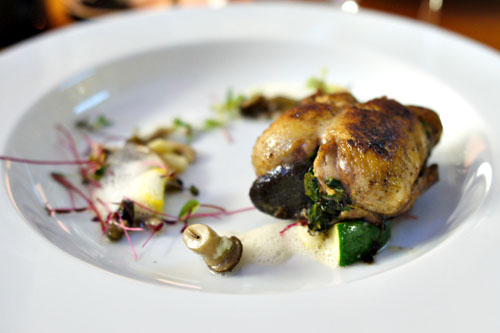 3: "Faux Gras" Stuffed Quail with Parisian Gnocchi, Summer Squash and Mushrooms
Next up was one of the more interesting presentations of quail that I've had. The bird was expertly cooked to a tender, succulent consistency, and came stuffed with an admixture of chicken liver, spinach, and mushroom, then was finished with a garlic foam. The quail's inherent savor was nicely augmented by the weight of the liver, while the spinach added a touch of bitterness to the fray. The gnocchi, simultaneously, did an admirable job in moderating the dish, and squash contributed a bit of levity to things as well. Quite nice.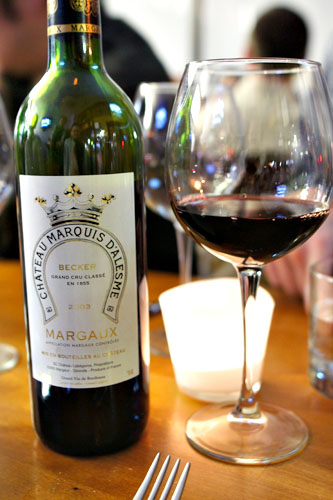 For the beef course to follow, we went with Bordeaux: the
2003 Château Marquis d'Alesme Becker Margaux
. This was sort of a classic wine from the region, with lots of dark fruit, earth, and wood showing up on the nose and palate.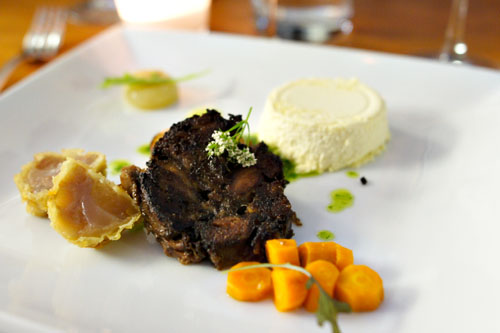 4: Trio of Beef: Oxtail, Marrow and Tendon with Pomme Fondant and Salsa Verde
A troika of oxtail, tendon, and marrow graced our plates for our main course. The oxtail was positively delicious, showing off prototypically deep, dark, rich flavors along with a consistency that flawlessly married tender and crisp textures. The tempura'd crust of the tendon, meanwhile, did a great job in balancing out its rather toothsome bite, but unfortunately, I wasn't as smitten with the bone marrow flan, which I found rather overwhelming and one-note.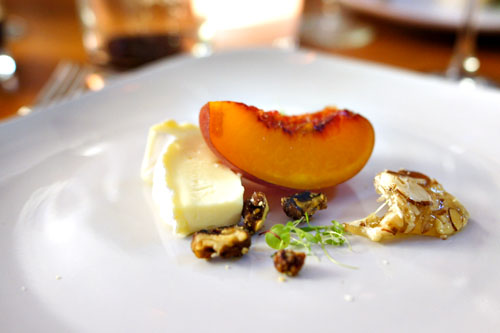 5: Cheese: Brie, Compressed Apricots, Honey Almond Nougatine
Brie is one of my favorite cheeses, and did not disappoint us. Its absolutely lush, luxurious character was on full display here, and went swimmingly with the fruity sweetness of the apricot, while the nougatine added a delectable nuttiness and crunch to the mix.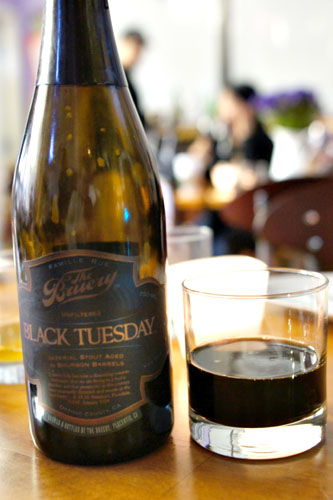 We ended the evening with
The Bruery's Black Tuesday
. This was a limited-edition bourbon barrel-aged stout, and was expectedly full-bodied and viscous, with loads of coffee and chocolate flavors along with a bit of savoriness that recalled soy sauce!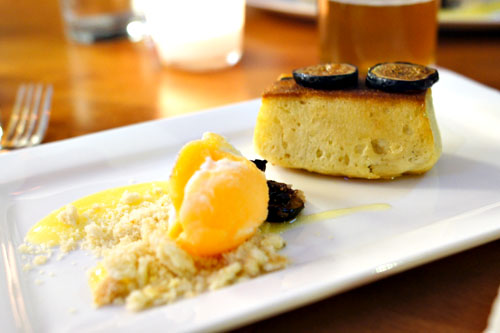 6: Jameson Baba: Currants, Figs, 50/50 Ice Cream
Given that dessert advertised Jameson, I really wanted the cake to be
soaked
in the Irish whiskey, but it wasn't. As such, it was a touch dry, and the boozy notes weren't nearly as apparent as I'd hoped for. Nevertheless, the brûléed figs provided a smack of smoky sweetness that worked with the cake, and I quite enjoyed the "Creamsicle" ice cream.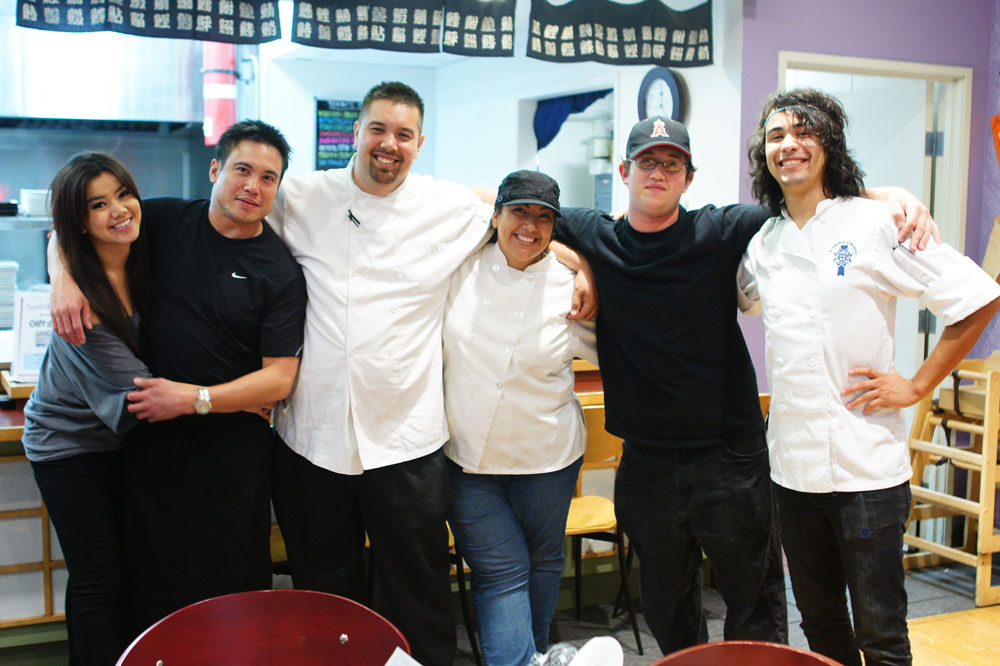 Dino Severino
, along with
Michael Neflas
, Pastry Chef
Jaclyn Neflas
, Arpie Aroian, and
Phillip Martin
(also from Drago).
Overall, a solid meal with great company. I certainly had a some quibbles, but given that we had a guest chef in the form of Michael Neflas however, I can't really comment on Feastiality itself unfortunately. For that, there's always the next dinner on December 18th.