LudoBites 7.0 at Gram & Papas (Los Angeles, CA)
LudoBites 007 at Gram & Papas
227 E 9th St, Los Angeles, CA 90015
213.624.7272
www.ludobites.com
Wed 08/03/2011, 06:30p-08:30p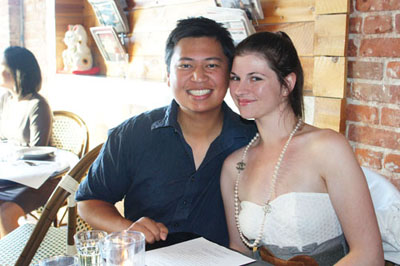 This was the Ludo Bites that almost didn't happen.
I, like thousands of other Angelenos, logged on to
Opentable
at precisely 4:00pm PDT on Thursday, July 14 to try my luck at booking the most coveted reservations in all the Southland. Surprisingly, Opentable actually worked quite well this time around, but sadly, I, like thousands of other Angelenos, was unsuccessful in the endeavor. Never one to just accept defeat, I tried
bartering reservations
; I even tried
buying reservations
, but to no avail.
Hmmm...time for Plan B: arrive at Gram & Papas at 6:00 sharp opening night and hope to god that someone cancels. Lo and behold, just as we predicted, a six-top at 6:00
dropped out
. But alas, due to a variety of circumstances, we weren't able to snag that table. As we were just about ready to give up, we were saved by the likes of
Aly
and
Ernesto
(pictured to the left). Aly, you see, was the winner of Darin Dines' recent LudoBites reservation
giveaway
. However, two members of their party of four ended up not being able to make it this evening, and as a result, Aly and Ernesto graciously invited us to join their reservation.
Oh vey
did we ever luck out! Perseverance really does pay off I guess.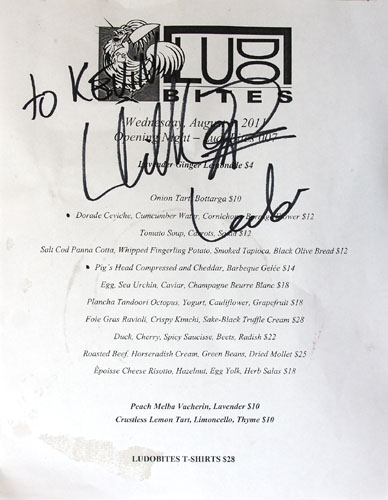 The menu follows the classic LudoBites format, though with the added wrinkle of featuring some dishes from the current
Ludo Bites America
TV series. Click for a larger version.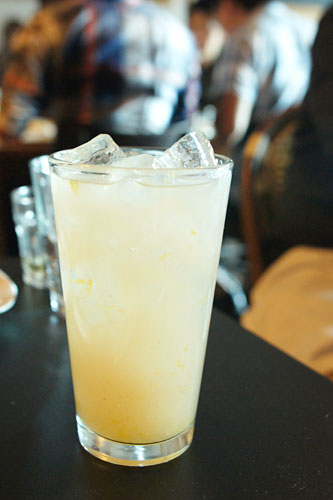 Lavender-Ginger Lemonade [$4.00]
The drink special this time around was a lavender- and ginger-spiked lemonade. It was a pretty straightforward concoction at first, but conveyed a lovely bit of creeping ginger spice on the finish, while the lavender provided subtle floral undertones throughout. Very nice.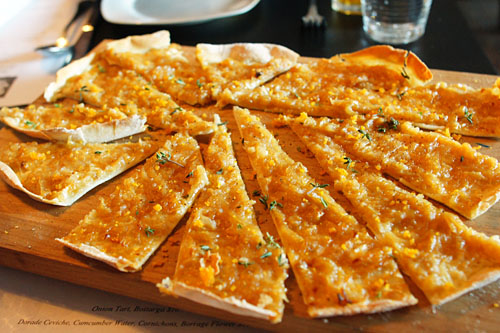 Onion Tart, Bottarga [$10.00]
I think the onion tart surprised us all by being so unexpectedly large. We weren't complaining
too
much though, as it proved to be quite tasty, with a delightfully crisp crust and a sweet onion relish, all accented by a soft salinity from the bottarga (cured fish roe).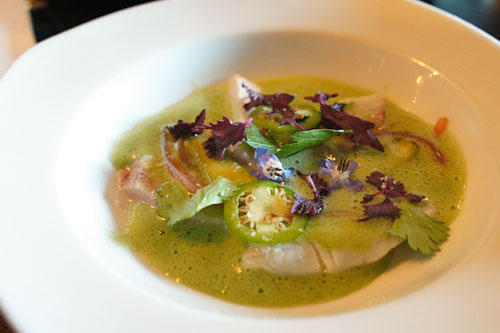 Dorade Ceviche, Cucumber Water, Cornichon, Borrage Flower [$12.00]
The ceviche was a redux from the recent
LudoBites America dinner at Casa Pulido
, and I gotta say that I probably preferred the version tonight. The dorade was a subtle, supple fish, and thus acted as a canvas for the other ingredients at play. I enjoyed the refreshing essence of the cucumber water here, as well as the tanginess from the cornichons, but the key was the whisper of heat from the chili peppers, which just completed the dish for me.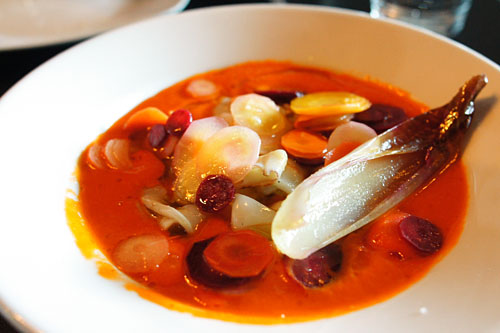 Tomato Soup, Carrots, Squid [$12.00]
The tomato soup, fortunately, wasn't overly saccharine, but rather, quite tart. It played nicely with the inherent flavors of the sweet, supple squid, while the carrots added a deft, disparate textural element.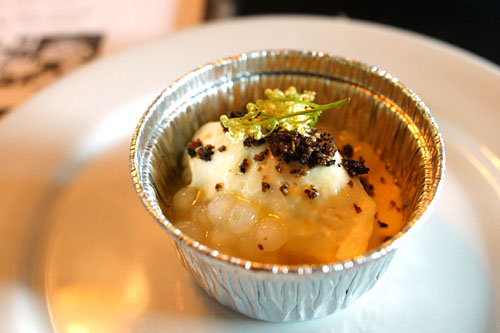 Salt Cod Panna Cotta, Whipped Fingerling Potato, Smoked Tapioca, Black Olive Bread [$12.00]
I'm a bit of a salt cod slut, so I was really looking forward to this course. However, the panna cotta left me wanting, as I really needed to taste
more
from the
bacalao
to balance out the relative austerity of the whipped fingerlings. I did appreciate the hint of smoke from the tapioca though.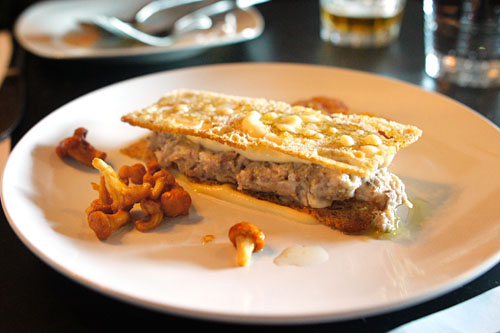 Pig's Head Compressed and Cheddar, Barbeque Gelée [$14.00]
The
tête pressée
was one of the stars of the meal, showing off a complex savoriness from the meat and cheese, all finished with a superb spiciness on the close. In fact, it sort of reminded me of a chicken salad! In any case, the pork stood on its own, but I didn't mind a touch of piquancy from the barbeque jelly either.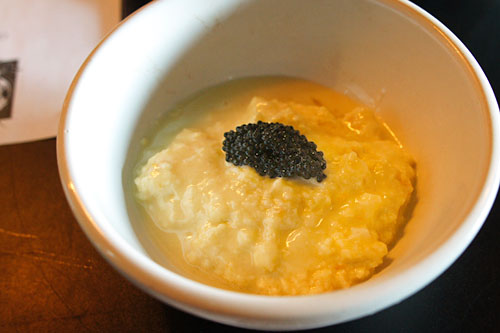 Egg, Sea Urchin, Caviar, Champagne Beurre Blanc [$18.00]
Egg, uni, caviar. It's pretty much impossible to go
too
wrong with those three ingredients, and indeed, Ludo didn't disappoint, making this one of our favorite courses of the evening. The pairing of egg and caviar is classic, and worked perfectly here, with the ocean-y tang of the fish roe balancing out the fluffy
œuf
beautifully. The sea urchin, meanwhile, added a wonderful heft and lusciousness to the egg, and I really appreciated how the beurre blanc tied everything together.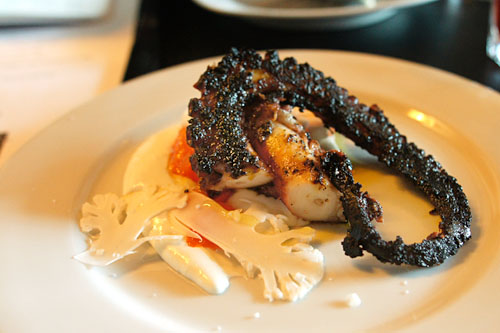 Plancha Tandoori Octopus, Yogurt, Cauliflower, Grapefruit [$18.00]
Octopus was one of the most tender preparations that I'd had in a while, and conveyed a delectable sweet brine, tinged with just a touch of spice. The yogurt helped countervail the substantial flavors here, but the most surprising element was that grapefruit, which had a fantastic, sweet juiciness that worked gorgeously.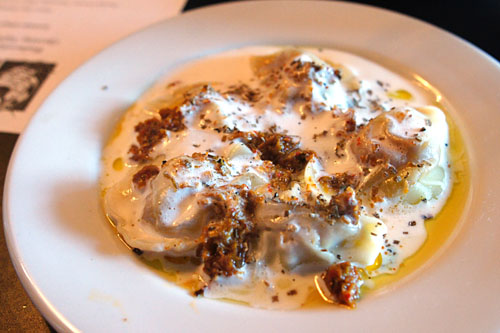 Foie Gras Ravioli, Crispy Kimchi, Sake-Black Truffle Cream [$28.00]
This wasn't a pretty dish, but did have a lot of flavor. There was loads of truffle earthiness initially, while the foie came in later but grew and grew, and lingered on the palate too. Certainly, a very true expression of foie, but I would've liked a more forceful presentation of the kimchi.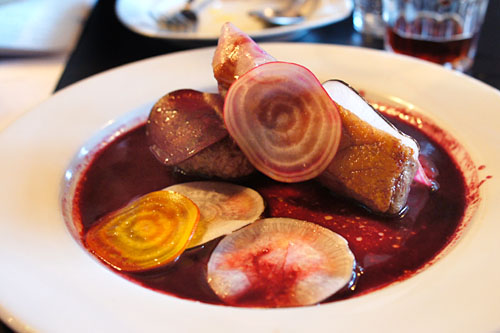 Duck, Cherry, Spicy Saucisse, Beets, Radish [$22.00]
Duck was another highlight of the meal, showing off a considerable depth of flavor and a savoriness that actually reminded us of squab. At the same time, the
saucisse
(sausage) was just as delicious, with a lovely creeping spice that I found irresistible, and I also enjoyed how the radish helped to counterbalance the gravity of the meat. This was very likely the best duck dish that I've ever had from Ludo.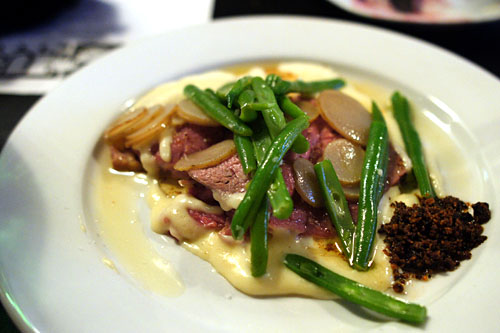 Roasted Beef, Horseradish Cream, Green Beans, Dried Mollet [$25.00]
I approached the beef course with some trepidation, but was pleasantly surprised by it. The meat itself was suitably tender, and when taken with the tart horseradish, I was reminded a little of prime rib, but refined. Finishing things off were the potato and green beans, which expertly tempered the power of the beef while mixing things up texturally.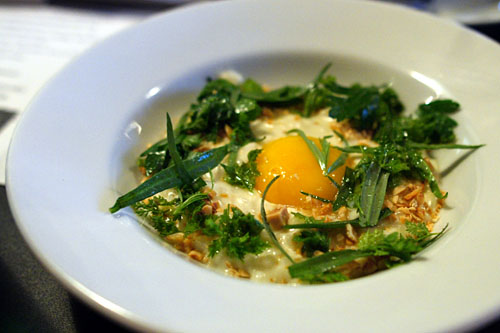 Époisses Cheese Risotto, Hazelnut, Egg Yolk, Herb Salsa [$18.00]
Our final savory course of the evening brought us risotto, my favorite. It was delightful, with the
al dente
rice melding with the cheese wonderfully, all while the egg added even more luxuriousness to the dish. We're talking bold, rich flavors here, with a marked undercurrent of Époisses funk, all moderated by the astringency of the various herbs utilized.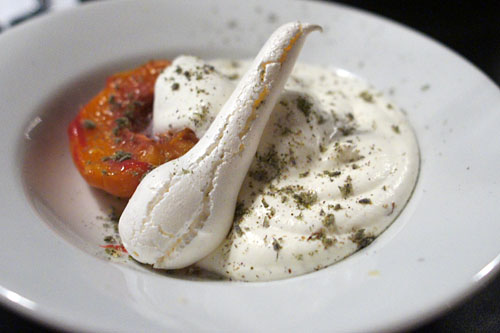 Peach Melba Vacherin, Lavender [$10.00]
Our first dessert was Ludo's riff on the classic melba, an Escoffier-era dish of peaches and ice cream. I liked it, quite a bit in fact. The interaction between peach and vanilla was spot on, while the lavender added an extra layer of complexity with its floral overtones.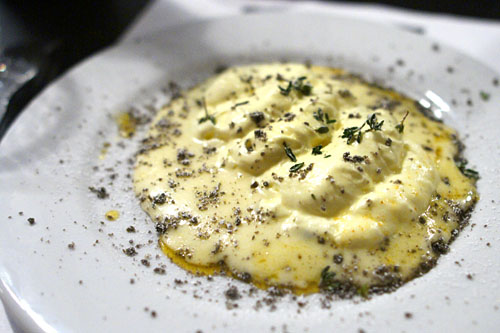 Crustless Lemon Tart, Limoncello, Thyme [$10.00]
The lemon tart, on the other hand, didn't quite reach such stratospheric heights. The sourness of the lemon and Limoncello worked well with the aromatics of the thyme, but I really was missing the textural component of the crust.
And with that, we come to the end of another rousing LudoBites opening night. The evening went off pretty much without a hitch, and despite having an eight month gap from last time, Ludo was back in classic form, turning out dishes that managed to surprise, shock, and entertain us. Thanks again to
Aly
and
Ernesto
, and I'll see everyone back on September 10th!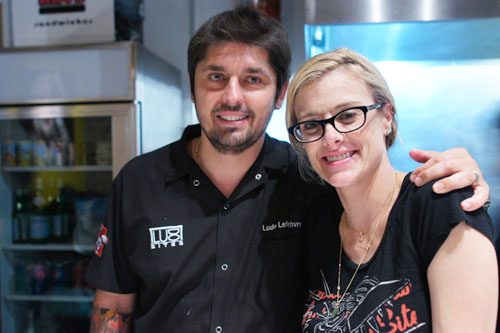 Previous LudoBites posts: LudoBites America, v6.0 at Max [1], v5.0 at Gram & Papas [1], v4.0 at Gram & Papas [1], v3.0 at Royal/T [2] [1], v2.0 at Breadbar [1]
.