Sushi Shibucho (Costa Mesa, CA)
Sushi Shibucho
590 W 19th St, Costa Mesa, CA 92627
949.642.2677
www.yelp.com/biz/sushi-shibucho-costa-mesa (restaurant has no web site)
Sun 08/14/2011, 06:05p-08:50p

To tell the story of Sushi Shibucho, we have to examine the history of that
other
Shibucho, the one situated in the Westlake neighborhood of Los Angeles. The O.G. Shibucho on Beverly was opened way back in 1976 by Sakae Shibutani, making it one of the earliest sushi restaurants in the area. Shibutani-san (a.k.a. Shibuya-san) did well enough there to allow for the opening of a second location in Little Tokyo: stall #317 in Yaohan Plaza (now
Little Tokyo Galleria
) at 333 South Alameda.
However, due to the stresses of running two restaurants concurrently, he sold the original Shibucho to one of his employees, Shige Kudo, who still runs the place. In 2000, Shibutani-san ended up selling the Downtown eatery to one of his employees as well, a fellow named Kawasaki-san. As such, the restaurant was renamed Tsukasa Sushi, which in turn was rechristened Sushi Bar Kawacho. Kawacho would transform into the well-regarded Sushi Go 55 in September 2004, and Kawasaki himself would stay there until late 2006. Shibutani subsequently moved back to Japan to train his son, Naga, in the art of sushi, and in 2002, the two came back to the States, opening the current Sushi Shibucho in Costa Mesa.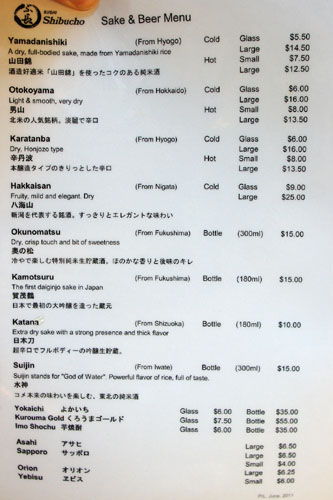 Given that we were going omakase with Naga-san, we didn't see Shibucho's regular menu. However, we did peruse the restaurant's sake and beer selection. Click for a larger version.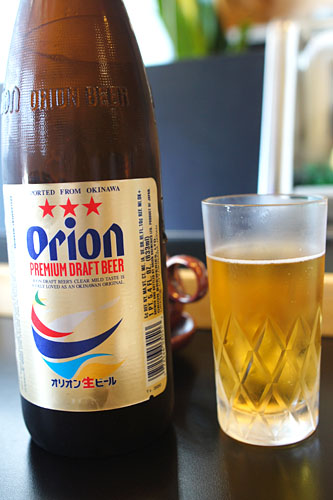 We started with an
Orion Premium Draft Beer [$6.50]
, sort of a prototypical rice lager from Okinawa.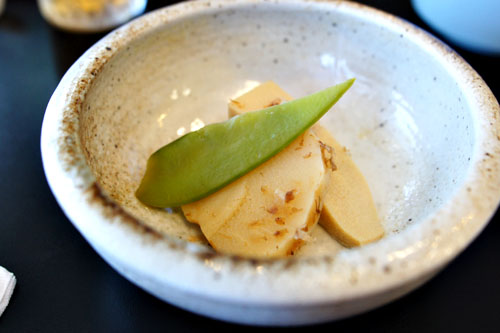 1: Marinated Bamboo and Tofu
To start: a simple duet of crisp, crunchy bamboo and soft, pillow-y tofu, both enrobed in sweet, umami-soaked flavors and accented by the comparatively bright relish of the snap peas.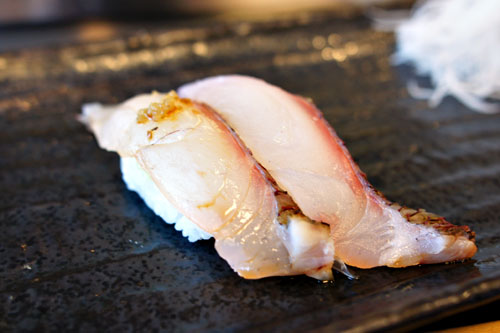 2: Tai
Our sushi gauntlet began with two types of tai: one unsauced, and one brushed with
yuzukosho
. I tasted the naked snapper first, and quite appreciated its toothsome texture and wasabi-tinged taste. It, however, paled in comparison to its neighbor, which showed off a delightful saltiness and pepperiness that did a perfect job in balancing out (but not overwhelming) the fish.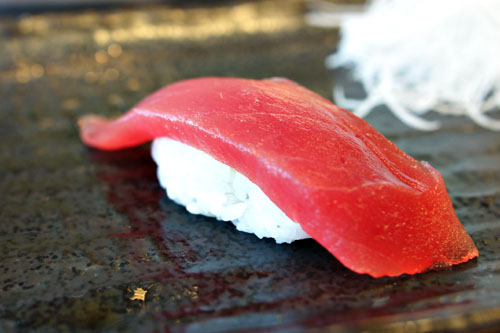 3a: Maguro
Up next was a pretty much faultless cut of tuna--textbook taste with a silky, supple consistency. Nice.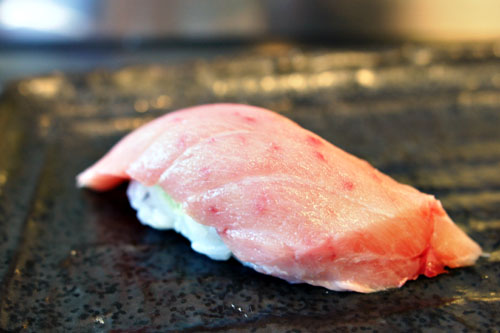 3b: Toro
Along with the maguro came its overweight cousin, toro. This was a solid, though not standout example of tuna belly, with an appropriately fatty flavor attached to a melt-in-your-mouth consistency and fortunately little sinew.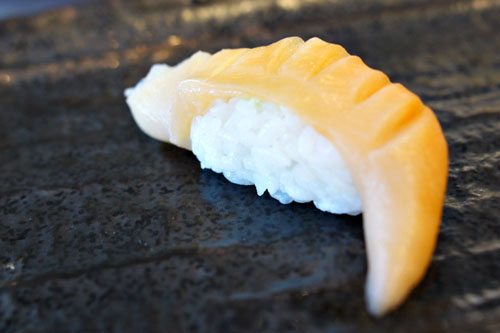 4: Aoyagi
Aoyagi was quite nice, with a soft, spongy body and a subtly sweet, saline savor that played rather well with the marked burn of the wasabi.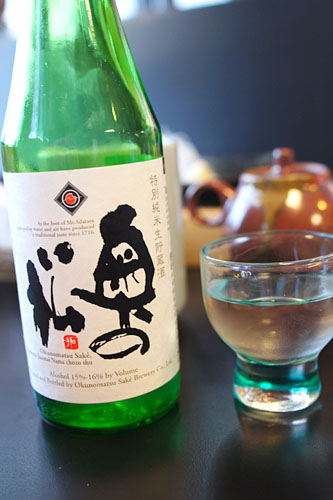 Moving on from beer to sake, we ordered up a 300mL bottle of the
Okunomatsu Tokubetsu Junmai Nama Chozo Shu [$15]
from Fukushima. This was a pretty easy-drinking sake, with a crisp dryness accented by a touch of floral character. Smooth, but also a tad hot and spicy.
5: Aji
Aji's one of my favorites when it comes to sushi, and here it did not disappoint, with the Spanish mackerel conveying a delightfully mild brine that lingered long on the finish. Loved the tempering tang from the scallion and ginger, too.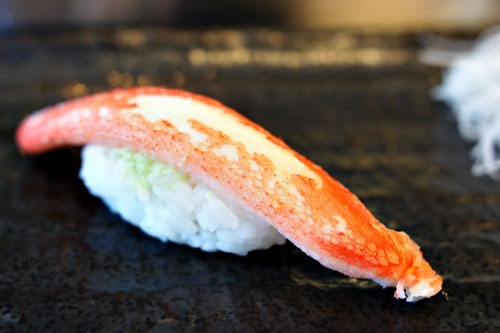 6: Zuwaigani
A rarity in
nigirizushi
form, snow crab was delectable with its sweet, juicy flesh that formed a great contrast with the relative austerity of the rice.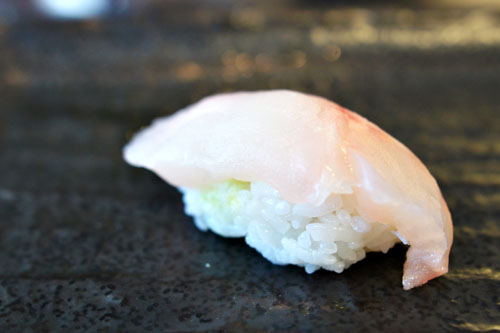 7: Kinki (Kichiji)
Kinki fish was another hard-to-find
neta
. Also known as kichiji or rockfish, it showed off a slightly spongy, snappy, and chewy consistency that I found immensely enjoyable. Taste-wise however, the fish didn't really stand out.
8: Kanpachi
The amberjack, meanwhile, was also primarily about the texture: lush, creamy, palate-coating, dare I say
unctuous
even, with a bit of bite.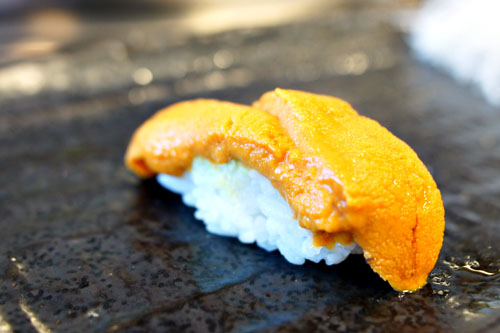 9: Uni
Uni was sourced from Santa Barbara, and was particularly sweet today. The wasabi, thus, really did a nice job in balancing out that sugariness.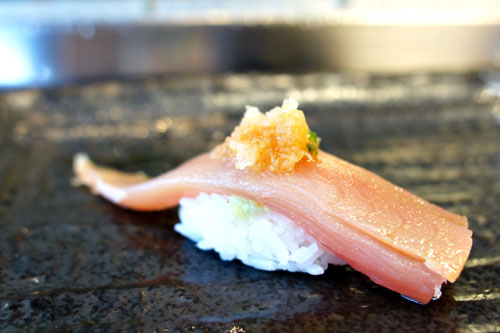 10: Binnaga
Albacore was one of the more interesting preparations that I'd had in a while. Usually the fish is served slightly seared, but we had none of that here. Instead, the tuna was creamy and cool, with a satisfying flavor that was heightened by a topping of what I believe was grated daikon.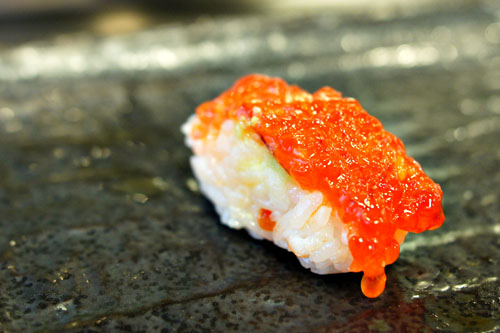 11: Sujiko
Here was a first for me. At first glance, this looks like some sort of ikura, or salmon roe, and indeed it is. However, unlike ikura, the
sujiko
is marinated in its original sack, resulting in a saltier, lingering, more in-your-face sapor. In fact, it almost reminded me of
pressed caviar
.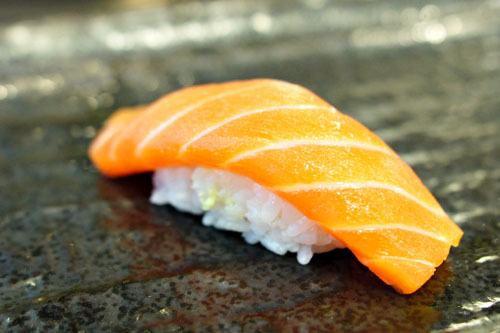 12: Sake
Salmon was about what I expected: simple and straightforward in its lusciousness, with a slightly tendonous texture.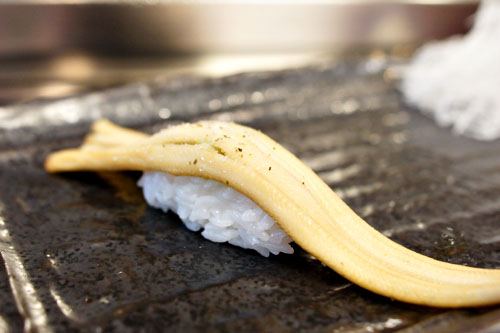 13: Anago
Anago, on the other hand, was a surprise, and one of the better versions that I've had. The eel showed off a fitting fishiness that was deftly countered by a touch of salt. At the same time, a whisper of sweetness served to ground the sushi.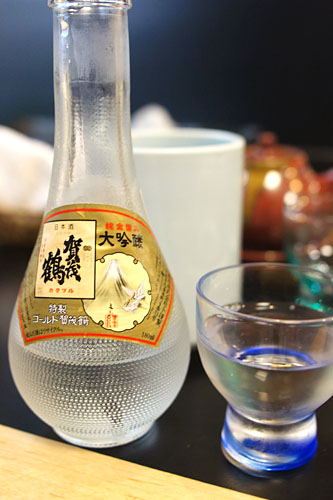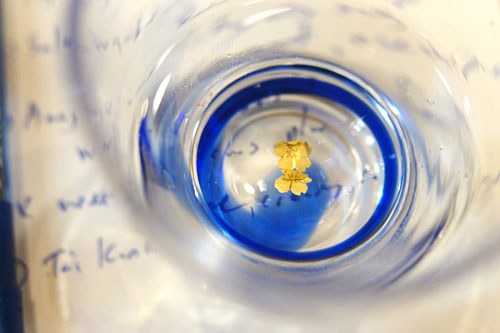 With the Okunomatsu all drunk up, we moved on to the
Kamotsuru Tokusei Kinpaku Gold [$15]
, a
daiginjo
from Hiroshoma. Kamotsuru was one of the first brewers in Japan to produce
daiginjo-shu
back in the early 1900's, and the company continues that tradition with this sweet, viscous, melon-tinged sake that features two cherry blossom-shaped gold flakes in each bottle (like a high-class Goldschläger!).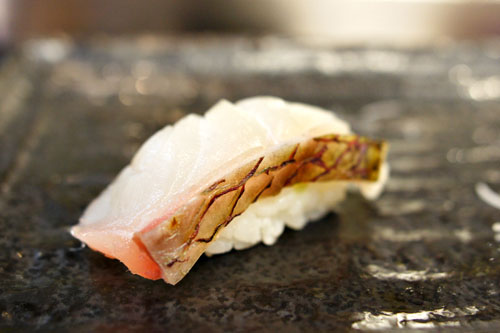 14: Tai Konbujime
Konbujime
refers to the kelp-treatment of fish, and here, the effect was a deeper, more complex, more concentrated flavor from the snapper. Very nice.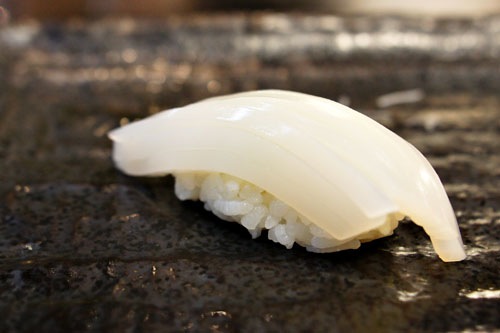 15: Ika
Squid conveyed its typical chewy-creamy consistency, along with a delicate flavor nicely finished by the burn of wasabi.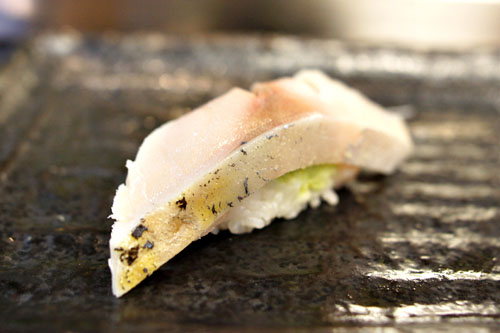 16: Saba
A meaty, almost fatty cut of mackerel, with a superb, creeping touch of fishiness that I rather liked. A surprisingly satisfying saba!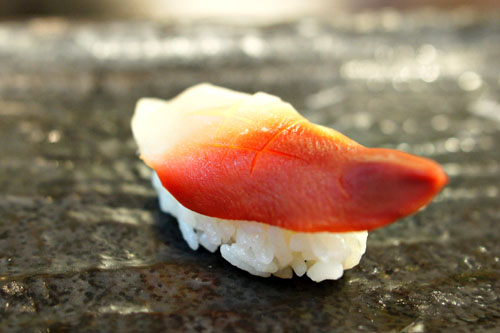 17: Hokkigai
Next was surf clam, which you don't see all that often. Here we're talking a soft, squishy texture joined by a delightful sweet brine.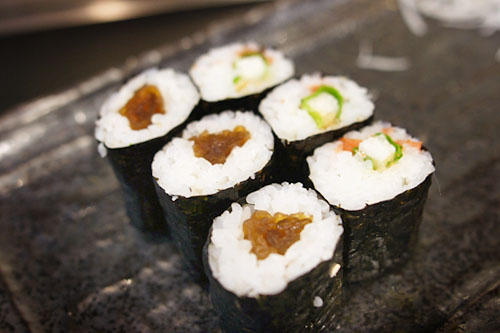 18: Kanpyo Maki & Ume Shiso Maki
Two types of
hosomaki
. The first was filled with
kanpyo
, basically strips of calabash gourd, making for a sweet, crunchy eating experience. Meanwhile, the other roll conveyed a refreshing mintiness from the shiso that balanced out the sweet-sour-salty smack of the ume nicely.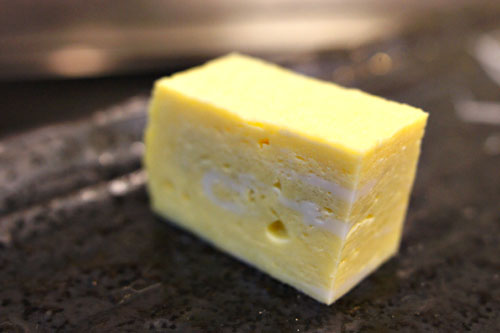 19: Tamago
To round things out: a cool, eggy, slyly sugary tamago egg omelet.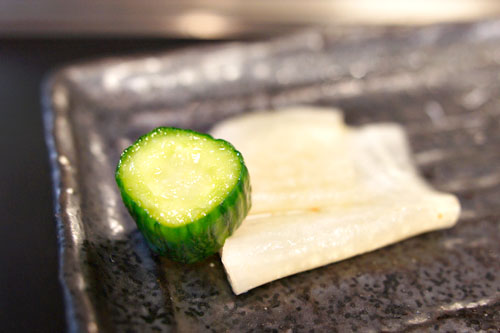 20: Marinated Cucumber and Daikon
A final course from Naga-san: crisp, piquant cuts of
kyuuri
and daikon radish.
I approached Shibucho with a bit of apprehension, but I'm happy to report that my trepidations were all for naught. This was some
legit
sushi to be sure--high quality, with a few unexpected twists thrown in for good measure. And at only $55.80 per person, Shibucho wasn't a bad value either. As such, I do not hesitate in calling this one of my strongest sushi experiences yet in OC. Local sushi fiends, you owe it to yourself to give the place a try; just be sure to sit at the bar, and trust the chef!