Drago Centro (Los Angeles, CA)
Drago Centro
525 S Flower St, Los Angeles, CA 90071
213.228.8998
www.dragocentro.com
Wed 07/01/2009, 06:50p-09:45p
Drago Centro's chef patron Celestino Drago, a native of Sicily, first arrived on the LA dining scene in 1979, at age 22. This venerated, veritable veteran of victuals experienced his first major breakthrough in 1991, upon the opening of Drago Ristorante in Santa Monica. Its smashing success led to the founding of other restaurants in the Drago family, including Il Pastaio in Beverly Hills, Dolce Forno Bakery in Culver City, Enoteca Drago in Beverly Hills, and of course, the $7 million Drago Centro in Downtown Los Angeles (opened in 2008). This latest concept aims to reinvent traditional, local cuisine, the backbone of Italian gastronomy, by incorporating modern techniques and flourishes, representative of the culinary diversity of Italy.
The man in charge here is Ian Gresik, who started out as a Pastry Chef at
Patina
, eventually moving up to the position of Sous Chef. Following a stint as a food consultant, Gresik moved to Europe for a sabbatical, where he immersed himself in the culinary traditions of Italy, France, Greece, and Spain, after which he returned to LA, ready to head up the kitchen at Drago Centro.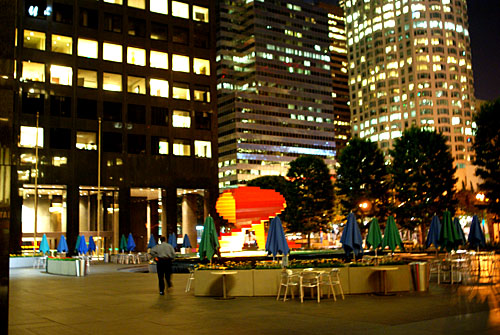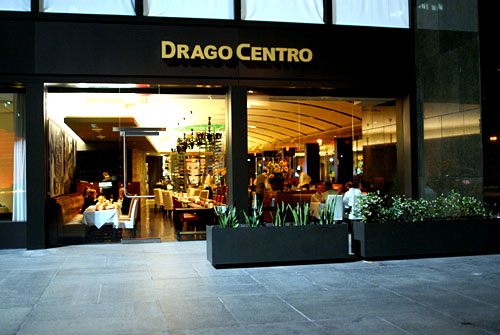 Under the watchful eyes of a canyon of soaring skyscrapers, Drago Centro sits at National City Plaza in the heart of Downtown's Financial District, situated on the site of a former Bank of America.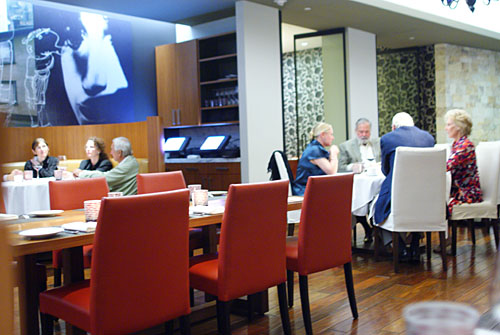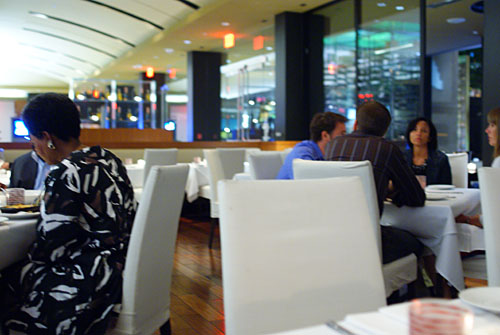 Inside, the interior was transformed from a bank branch to its current glory by Stanley Felderman of Felderman Keatinge + Associates. Inspired by the Rialto Bridge and market in Venice, as well as artists Giorgio de Chirico and Giorgio Morandi, the space combines contemporary, metropolitan flair with the warmth of Italy. The expansive windows invite the surrounding architecture into the restaurant, while the arched ceilings, post-modernist art, stone walls, and a 15-ft high glass wine tower complete the look.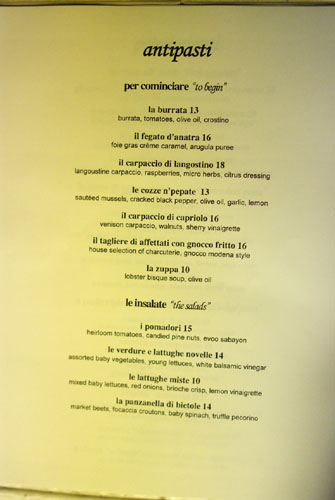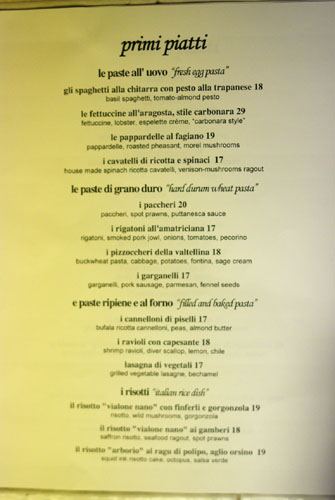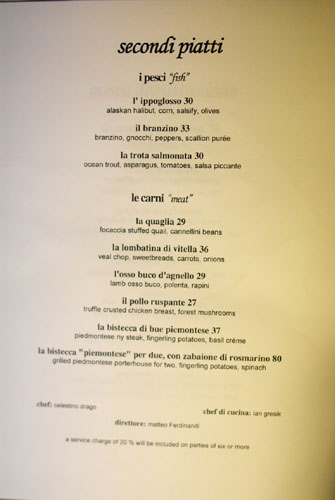 We decided to forego the six-course tasting menu [$75] and order à la carte. The menu, shown above, features an appealing selection of appetizers, pastas, and mains from which to choose from, though, predictably, the starters do tend to outshine the entrées; click for larger versions.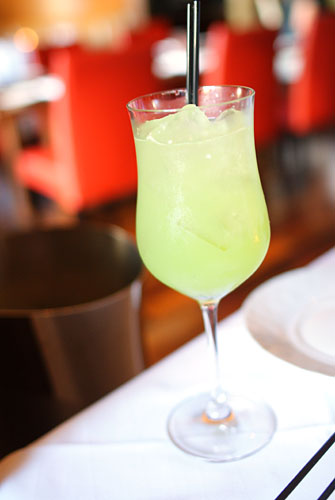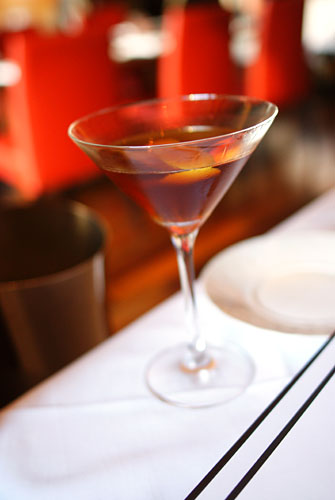 Not in a wine mood, we decided to start off with cocktails. I wanted something light, hence the Sotto Sopra [$12], comprised of Plymouth Gin, Massenez Crème de Pèche, Kiwi, and Fresh Lime Juice. It was indeed quite refreshing, as our server stated, with a sweet, tangy, fruity attack not unlike that of a tropical fruit punch, leading to a slightly hot finish. My dining companion chose the Centro [$12], a more serious drink made with Woodford Reserve Bourbon, Mirto Amaro, and Orange Bitters. It was a powerful concoction that was somewhat reminiscent of a Manhattan, with subtle orange hints over a strong backdrop of whiskey.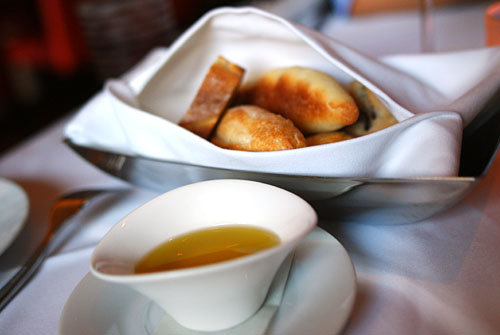 Bread service consisted of breadsticks, olive bread, and wheat bread (excellent), served with olive oil.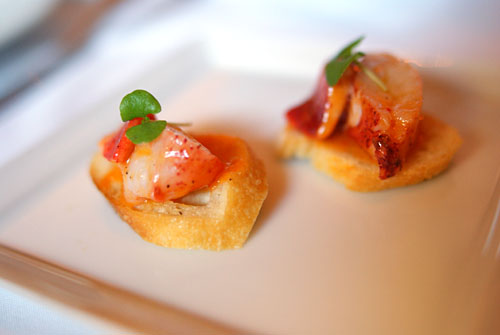 Amuse Bouche: Lobster Crostino
Amuse bouches consisted of a thin, crisp crostino topped with lobster in an apricot purée. The natural sweetness of the crustacean paired wonderfully with the sugariness of the stone fruit, finishing with a slight brininess. The toast, meanwhile, packed a great crunchy textural contrast.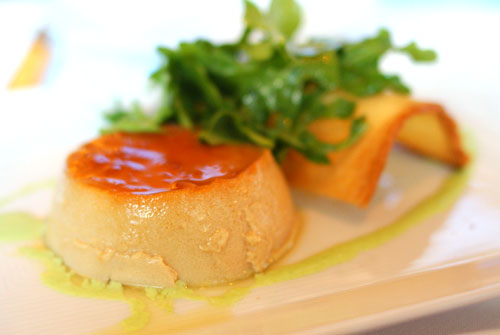 Il Fegato d'Anatra [$16.00]
| Foie Gras Crème Caramel, Arugula Purée
Think of this as a savory flan. Surprisingly, the flavor of the foie gras was more apparent in aroma than in taste. On the palate, the crème caramel was rather mild at first, with the foie's sapor intensifying with time, leading to a rather strong, lingering finish. The crisp bread and bitter arugula were key in tempering the gravitas of the liver.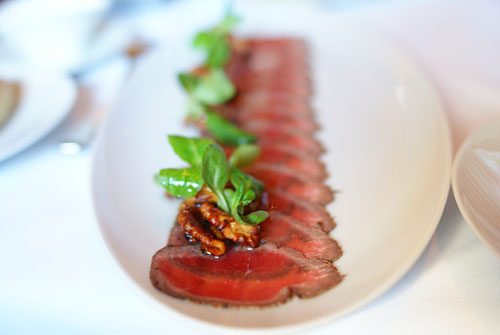 Il Carpaccio di Capriolo [$16.00]
| Venison Carpaccio, Walnuts, Sherry Vinaigrette
Carpaccio is usually a safe choice. Here, the venison proved delicious, though at the same time, it wasn't distinctive--you could've easy told me that it was beef. I appreciated the use of the greens (arugula?), which balanced out the richness of the meat and olive oil, but the walnuts, with their sweet nuttiness, were a bit too heavy-handed.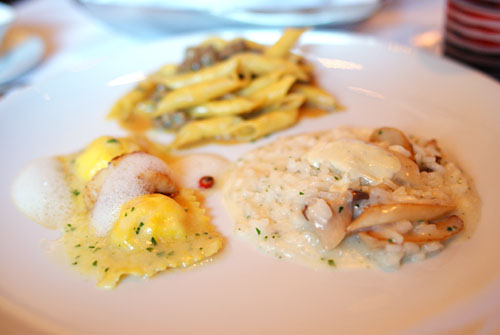 With our starters finished with, we moved onto the pasta. We ended up ordering three types, and the kitchen, knowing that we were planning to share, decided to serve the pasta as shown above, portioned out for the two of us.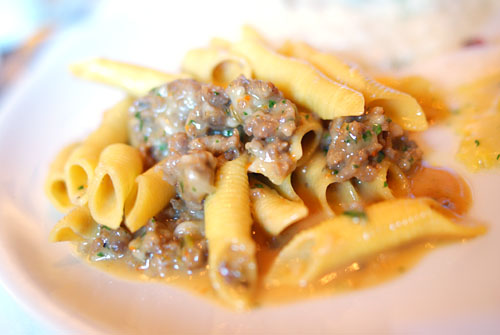 I Garganelli [$17.00]
| Garganelli, Pork Sausage, Parmesan, Fennel Seeds
I believe this may have been my first experience with garganelli, basically a tubular pasta rolled from a square egg noodle. Though it wasn't particularly unique (it could've just as easily have been penne), it did have a fantastic al dente bite to it, and did well in supporting the rest of the dish. The pork was key were; immensely flavorful, it had a subtle sweetness as well as a great fennel kick that reminded me of the fennel sausage pizza I'd had recently at
Pizzeria Mozza
. Very nice.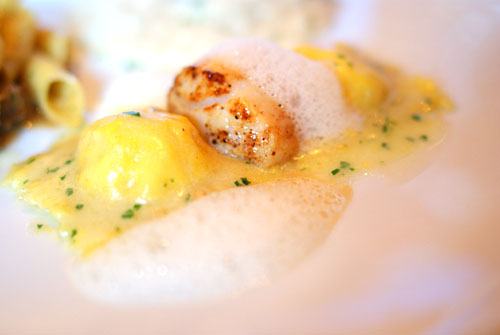 I Ravioli con Capesante [$18.00]
| Shrimp Ravioli, Diver Scallop, Lemon, Chile
Next was shrimp ravioli, served with scallop. The ravioli were quite nice on their own, with the slight sweetness of the shrimp complemented by the sourness of lemon, with the chili providing a pleasing lingering spicy finish. The pasta could've stood on its own without the scallop, but the mollusk did add a complementary savoriness and weight to the dish.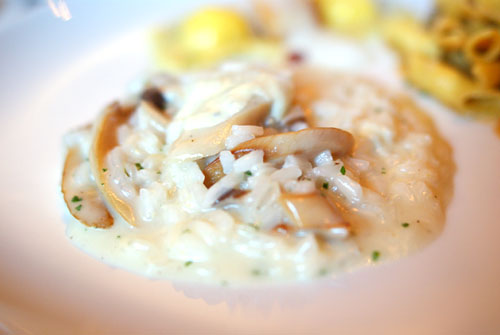 Il Risotto "Vialone Nano" con Finferli e Gorgonzola [$19.00]
| Risotto, Wild Mushrooms, Gorgonzola
The risotto was made from "Vialone Nano" rice, from the Veneto region of Italy. The short-grain rice is well-known for its ability to absorb flavor, and is a choice selection for risotto duty. The example here was extremely rich and creamy on account of the Gorgonzola, and was deftly balanced by the toothsome, earthy mushrooms. A very straightforward, but effective risotto.
With ours cocktails downed, we decided to do beers next, and fortunately, Drago Centro had a pretty comprehensive selection. We both did Belgians; I went for the Tripel Karmeliet [$9] from Brouwerij Bosteels, which showed tasty notes of citrus, barnyard, honey, and spice--the hallmarks of a great Tripel. My dining companion's Belgian was Brasserie de Rochefort's strong dark ale, the Trappistes Rochefort 6 [$10]. Another great beer, a combination of chocolate, fruit, yeast, and dark malt was the ticket here.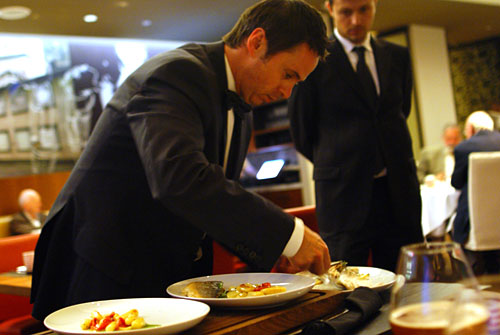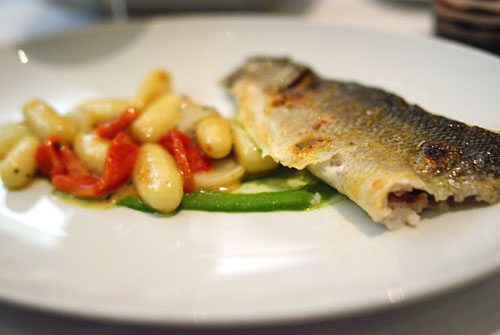 Il Branzino [$33.00]
| Branzino, Gnocchi, Peppers, Scallion Purée
Branzino, or European seabass, is often served whole, so it was a fantastic change of pace to have the fish prepared tableside (saves me the trouble of dealing with the bones!). In the photo on the left, we see the fish being filleted by a rather nervous-looking server, under the watchful eye of who I believe must be his superior. In any case, the fish itself was superb, easily the best branzino I've ever had, with an intoxicating aroma, intensely saporous flesh with just a hint of pepper, excellent texture, and wonderfully savory skin. The accoutrements provided were key in balancing the relish of the fish, with the lettuce especially proving to be a fitting contrast.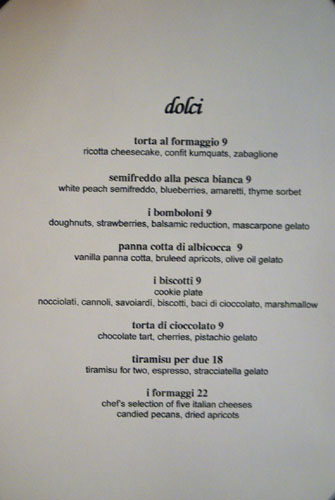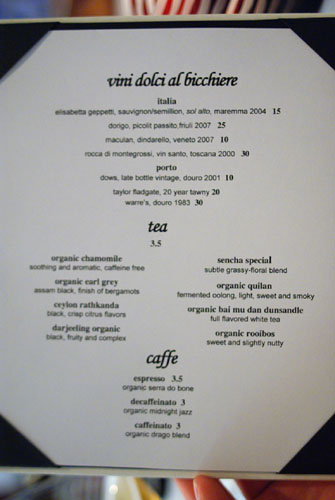 As seen in the menu above (click for larger versions), desserts here are a bit more interesting than those at your typical Italian eatery.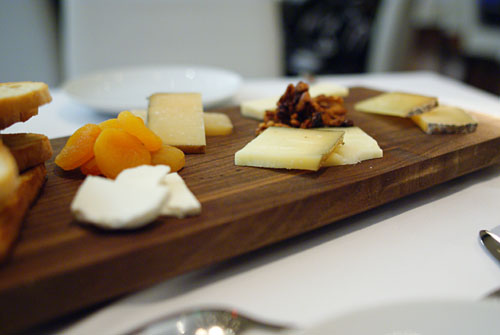 I Formaggi [$22.00]
| Chef's Selection of Five Italian Cheeses, Candied Pecans, Dried Apricots
Provolone - One of the most well-known Italian cheeses, Provolone is a semi-hard cheese made from whole cow's milk. Here, it had a mild flavor with a light sweetness and subtle smokiness.
Caciocavallo - Caciocavallo means "horse cheese," and anecdotally, it was originally made from mare's milk. Today, the milk is from sheep or cow, resulting in a musky, tart, strong-tasting cheese.
Bianco Sardo di Moliterno - From Sardinia comes this sheep's milk cheese. It was rather mild, especially compared to the Caciocavallo, with a marked earthiness and herbaceousness intertwined with a delicate tang.
Pecorino Foglie di Noce - Next was this pressed sheep's milk cheese from Tuscany, which is wrapped in walnut leaves and rubbed with olive oil, making for a dry, crumbly cheese with a slight nuttiness.
Goat Cheese - Our final cheese was identified by our server as merely a "goat cheese;" I should've pressed him further. No matter, it was a very creamy one indeed, almost like cream cheese, with a light saltiness backed by a very pleasing zest. Immensely spreadable.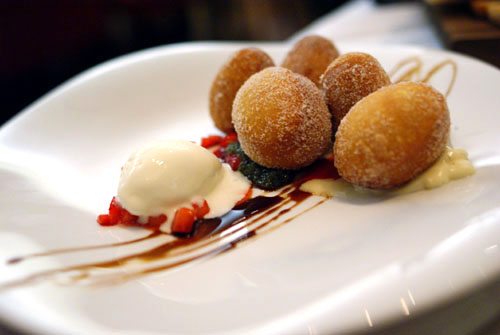 I Bomboloni [$9.00]
| Doughnuts, Strawberries, Balsamic Reduction, Mascarpone Gelato
Looking at the dessert menu, this was the one item that we both
knew
we had to try. The reason? We were both thinking of the amazing doughnuts we had at our last excursion to
CUT
. Though the
bomboloni
didn't quite reach the loftiness of that experience, they were delicious nonetheless. The doughnuts themselves were appropriately dense, and covered in sugar, they would've been fantastic on their own. However, the counterpoint provided by the creamy gelato and tangy fruit proved very apt, while the use of basil added that extra touch to take the dish to the next level.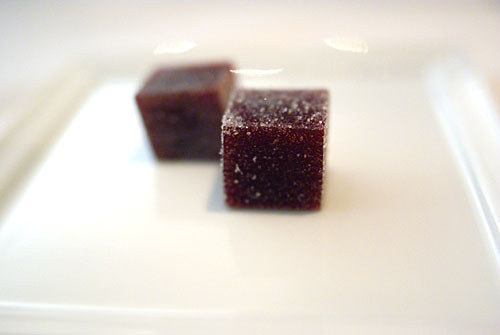 Closing out the meal were two cubes of raspberry gelée. Extraordinary rich and jammy, eating them was not unlike eating raspberry preserves.
There's no question that, with Drago Centro, Celestino takes Italian fare a step above the norm. And I can see why people say that Drago Centro has outshone its brethren, in the process giving Downtown its first serious Italian eatery. That being said, I can't say that I was exactly wowed by the experience. I think that that's a problem with me, as I've
never
been really blown away by
any
Italian place; for some reason, something about the food just seems inherently pedestrian. I guess I'm still waiting for that one transcendent Italian experience...