Night + Market (West Hollywood, CA) [2]
Night+Market at Talesai
9041 Sunset Blvd, West Hollywood, CA 90069
310.275.9724
www.nightmarketla.com
Sun 08/07/2011, 06:45p-09:15p
Hot on the heels of
Night+Market
's successful participation in this year's
Plate by Plate
tasting benefit, Chef/Owner Kris Yenbamroong held a special Northern Thai BBQ at his Sunset Boulevard eatery's back patio. On a recent trip to Thailand, he had hauled back a trio of coconut shell-fueled sausage grills, and thus was eager to try them out.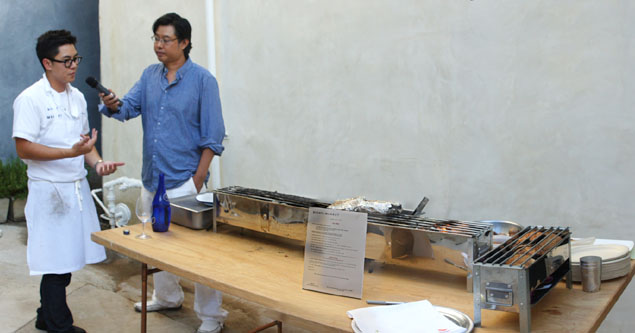 When we arrived, Yenbamroong was being interviewed by none other than Eddie Lin of the O.G. L.A. food blog
Deep End Dining
.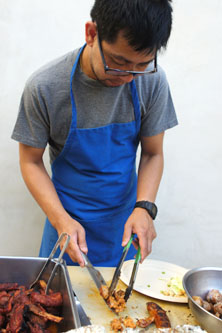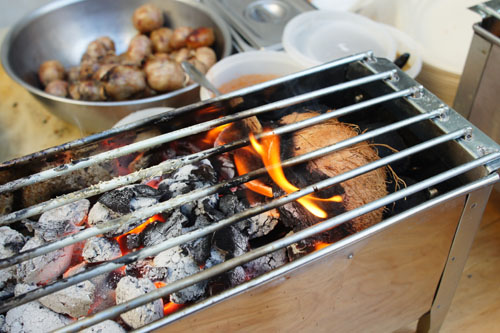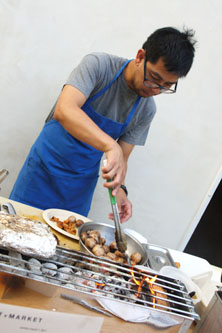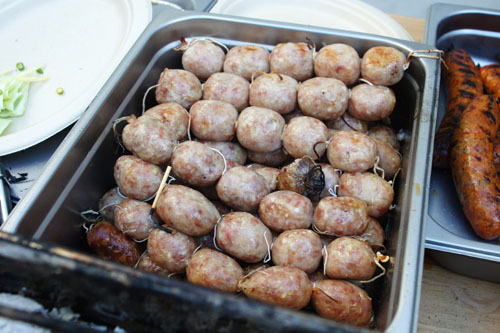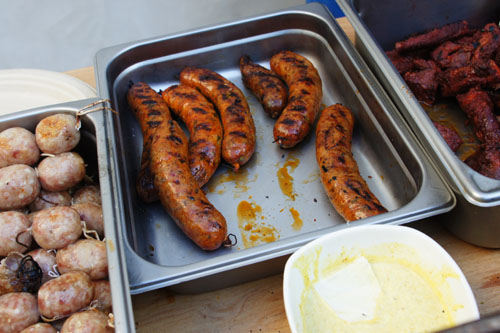 With Yenbamroong occupied, cooking duties became the charge of Sous Chef Chris Napaamporn.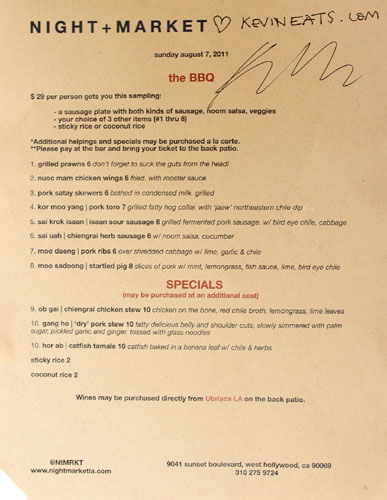 The pork-centric menu was focused on two types of sausage:
Sai Uah
(Chieng Rai herb sausage) and
Sai Krok Isan
(Northeastern fermented pork sausage), both of which are made in-house. $29 got us a plate of both meats, with accompaniments, as well as three more items of our choosing. Click for a larger version.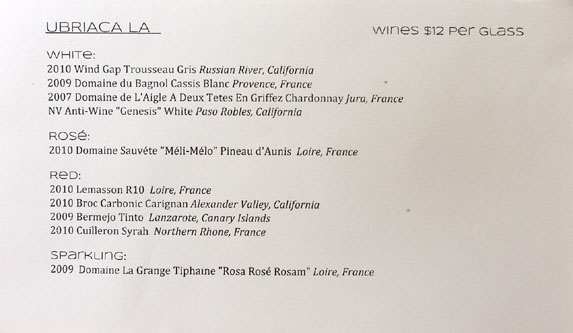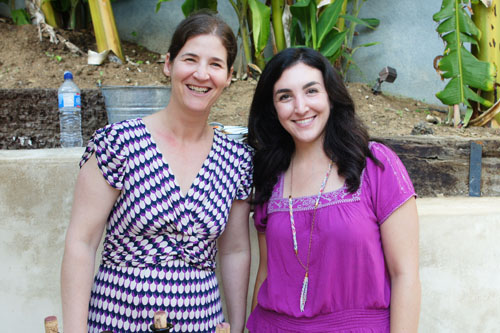 Joining the barbeque was a pop-up wine bar hosted by
Ubriaca LA
, a new joint venture by
Domaine LA
's Jill Bernheimer and
Brunellos Have More Fun
's Whitney Adams. The duo presented a wine menu of Thai-appropriate wines (all priced at $12) that managed to stay away from the predictable pairing of Riesling. Click for a larger version.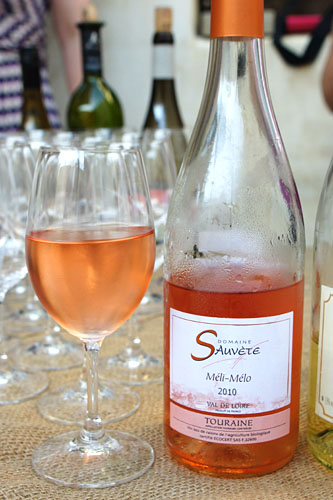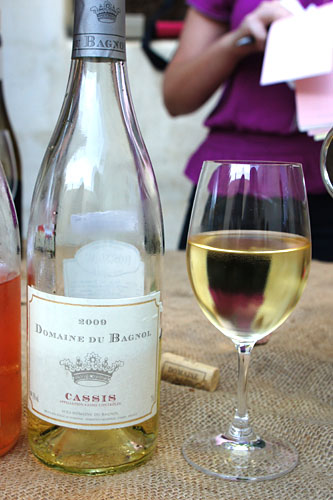 Wanting to go with something very light and summer-y, we started with the
2010 Domaine Sauvéte "Méli-Mélo" Pineau d'Aunis, Loire, France
, a bright, crisp, citrus-kissed rosé with a savory side, along with the
2009 Domaine du Bagnol Cassis Blanc, Provence, France
, a lovely blend of 50% Marsanne/35% Clairette/15% Ugni Blanc with subtle hints of stonefruit and a slight mineral essence.
sai krok isaan / isaan sour sausage
| grilled fermented pork sausage. w/ bird eye chile, cabbage
sai uah / chiengrai herb sausage
| w/ noom salsa, cucumber
With our spot on one of Night+Market's backyard benches picked out, we headed straight for the meat. Popularly known as Chiang Mai sausage, the
sai ua
was superb, a gritty amalgam of salty, spicy, and pork-y flavors beautifully permeated by loads of herbaceous character. The Northeastern
sai krok isaan
, meanwhile, could be viewed as more "challenging" with its distinct sourness. I, however, really appreciated the sausage's tanginess and how its weight was so deftly complemented by the combination of bird's eye chili, cabbage, and peanut.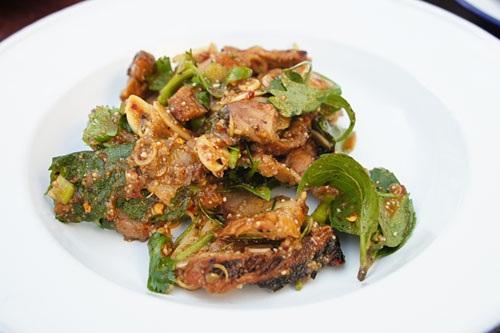 moo sadoong / startled pig
| slices of pork w/ mint, lemongrass, fish sauce, lime, bird eye chile
I'd be curious to learn the history behind the name "startled pig," because the
moo sadoong
was delicious. I loved the in-your-face presentation of lemon grass and the pungency of the
nam pla
here, as well as the dish's sharp prick of spice. Despite all the the fireworks going on though, the pork still remained the hero.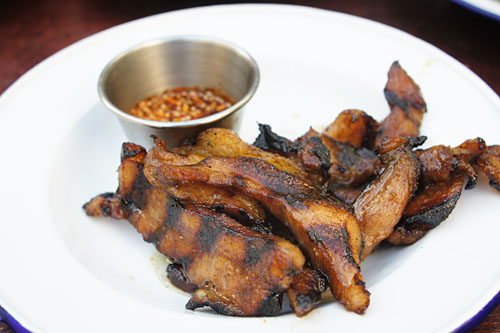 kor moo yang / pork toro
| grilled fatty hog collar. with 'jaew' northeastern chile dip
What we have here is the fatty portion of pork collar, grilled. The "toro" showed off a supple, spring-y consistency along with a noticeable, but not overwhelming amount of fat. The heavy, rich flavor of the meat was accented nicely by a tinge of char bitterness, but the key was that
jaew
(a dried chile condiment with galangal), which did an admirable job in countering the considerable gravity of the pig.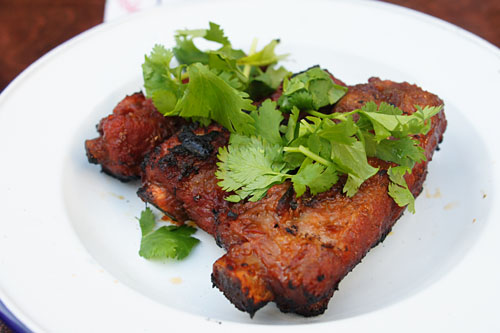 moo daeng / pork ribs
| over shredded cabbage w/ lime, garlic & chile
Ribs were absolutely delightful--tender and toothsome, with a delectable piggy goodness joined by an adroit touch of sweetness. I could've taken a few more of these.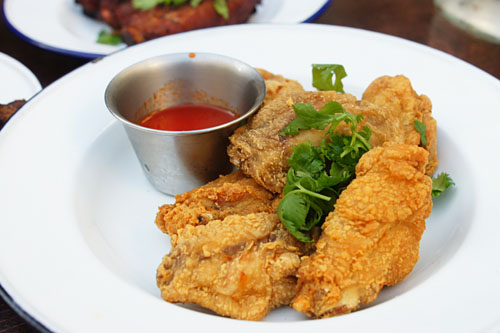 nuoc mam chicken wings
| fried. with rooster sauce
It's hard to go
too
wrong with fried chicken, and indeed, these wings did not disappoint. The bird itself was tender and succulent as expected, and I really liked the additional complexity and depth contributed by the use of
nuoc mam
here, as well as the bit of heat from the cock sauce.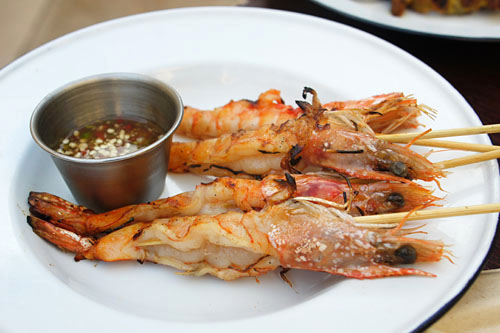 grilled prawns
| don't forget to suck the guts from the head!
Prawns were grilled on the same apparatuses as the sausage, and were some of the best I've had. They were prepared simply, and thus brilliantly conveyed the sweet, saline quintessence of the crustaceans. Fantastic texture on them too, and of course, I made sure to suck out all the good stuff from the heads.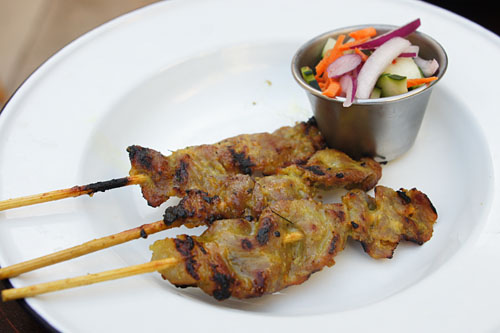 pork satay skewers
| bathed in condensed milk. grilled
Up next was the ubiquitous dish of satay. Here, it conveyed a tasty porcine flavor tinged by just a hint of condensed milk sweetness, as well as a whisper of astringency from the char. The skewers alone were solid, but even better when taken together with the crisp, bright flavors of the accompanying veggies.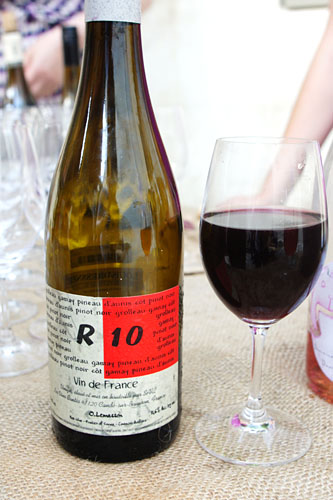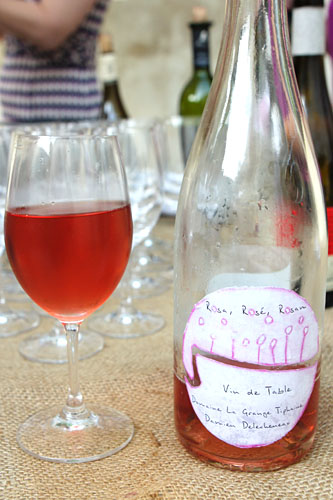 For round two, we went with the
2010 Lemasson R10, Loire, France
, a light, spicy red with a marked minerality, as well as the
2009 Domaine La Grange Tiphaine "Rosa Rosé Rosam", Loire, France
, an eminently quaffable sparkler loaded with juicy strawberry and cherry flavors.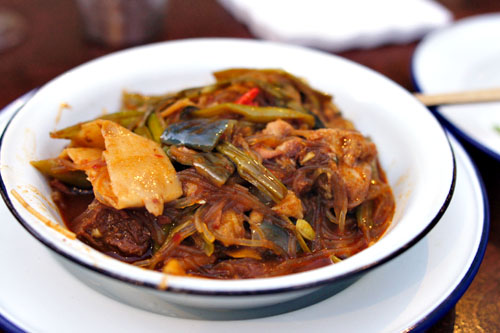 gang ho / 'dry' pork stew
| fatty delicious belly and shoulder cuts, slowly simmered with palm sugar, pickled garlic and ginger. tossed with glass noodles
At this point, we were brought out a complementary bowl of
gang ho
. A heavy, hearty stew, it showed off a lovely interplay of tastes and textures, with the noodles and bamboo shoots being particularly appealing. My only concern was that the pork was a touch overshadowed at times by all the flavors at play.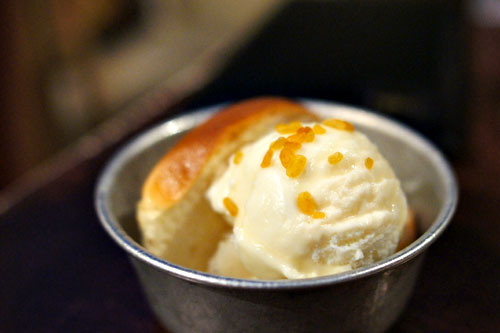 ice cream sandwich
| enjoyed in ghettos throughout bangkok. coconut ice cream, sweet sticky rice, condensed & evaporated milk, toasted mung beans on a sweet roll
Night+Market's signature "ice cream sandwich" is easily the best Thai dessert that I've had. The sweetness of the coconut ice cream and sticky rice, heightened by the power of condensed and evaporated milk, was just about perfect, and I appreciated the temperature contrast here as well. The roll, meanwhile, served to moderate and ground the dessert--nice!
I've been a fan of Night+Market ever since my
first visit
, and this BBQ just continues that trend. The food is bold and robust, yet conveys a certain finesse, and I really appreciate how the dishes are a bit different than what you typically find at Thai restaurants. I'm not sure if Chef Yenbamroong is planning any more backyard outings in the future, but even if he's not, Night+Market's definitely worth a visit nonetheless.