Fat Spoon (Los Angeles, CA)
Fat Spoon Restaurant
329 E 1st St, Los Angeles, CA 90012
213.621.7890
www.fatspoonfood.com
Mon 08/16/2011, 07:20p-09:45p
Following in the footsteps of
Aburiya Toranoko
and
Lazy Ox Canteen
,
IDG
head Michael Cardenas debuted his latest passion project,
Fat Spoon
, this past Monday. Taking over the space of the former
East Japanese Restaurant
next door to Daikokuya ramen, Fat Spoon is a Japanese curry-centric venture created in partnership with Chef Hiro Fujita, Eugene Inose, and Jeffrey Louie.
About the Chef
: A Tokyo native, Hiroyuki Fujita first fell in love with food while working at his mother's restaurant. Later, he cooked at
Cardenas
(an eatery opened by a former associate of the Cardenas clan) in Ginza, where he developed a style that fused Japanese culinary tradition with European flair. In 2000, he was lured to Los Angeles to open the Michael Ovitz-backed Hamasaku with GM Toshi Kihara (Ma Maison,
Spago
). Hamasaku was a success, and Ovitz once again tapped Fujita to head the kitchens at Kumo in West Hollywood (located at 8360 Melrose, coincidentally the former site of Ma Maison, as well as Tulipe, Itameshi Ya, Jozu, and Citrine). Kumo opened in September 2007, but never really caught on, and was shuttered in July 2008 after a car slammed into the building. A month later, the restaurant was turned into another outpost of Hamasaku, but even that ended up closing in April 2009 (the space is currently home to
Michael Voltaggio
's
Ink
, which is slated to debut this September). Post-Hamasaku, Fujita landed a position at Cardenas' Sushi Roku, and the two worked together to conceptualize Fat Spoon.

Fat Spoon isn't exactly a large space, with a smattering of tables in the front and a reclaimed sushi bar in the back seating eight. The bar, unsurprisingly, is the best seat in the house, affording diners a front-row view of the happenings in the open kitchen.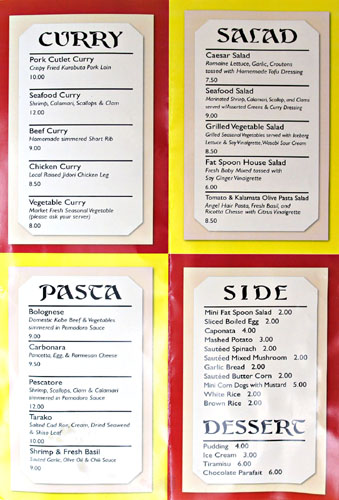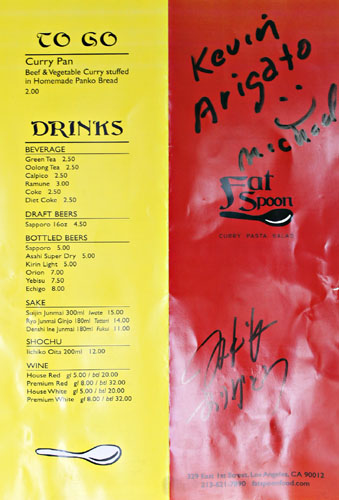 The menu, like the restaurant itself, is compact. Clearly, curry is the star here, but Japanese-inflected salads and pastas, along with a smattering of comfort food sides, also make a good showing. Prices, meanwhile, are fortuitously low (though that didn't really matter in this instance, as Cardenas ended up comping the entire meal!). To drink, look out for a prototypical selection of Japanese beers, including Sapporo on draft, as well as a handful of sakes, shochus, and wines. Click for larger versions.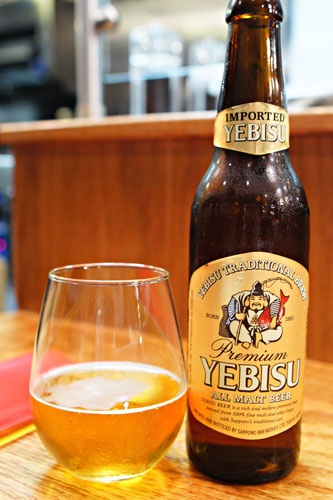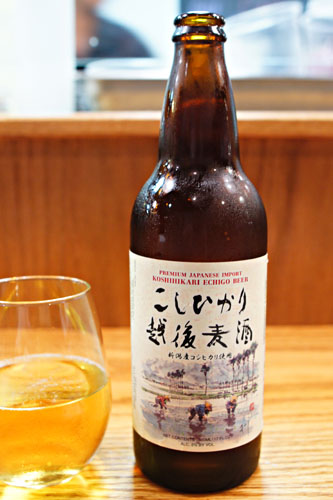 Some
biru
to start: Sapporo's luxury brew
Yebisu
[$7.50], along with
Echigo
[$8] from Niigata.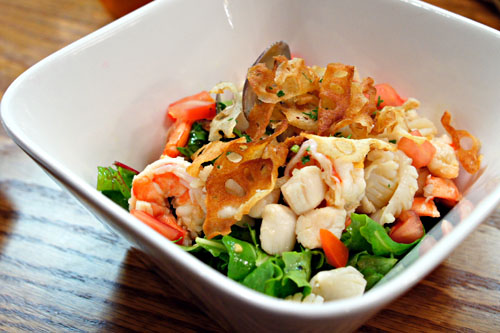 Seafood Salad [$9.00]
| Marinated Shrimp, Calamari, Scallop, and Clams served w/Assorted Greens & Curry Dressing
We began with a seafood salad, a fitting preface for the heavier curry and pasta courses to follow. I found the various seafood items deftly prepared, lightly cooked, and still distinct and delicious. At the same time, the piquant curry dressing did a great job tying all the flavors together, while the greenery served as a nice counterpoint to the dish. My favorite element here, though, were the bits of fried lotus root, which added a fantastic crunchiness to the salad.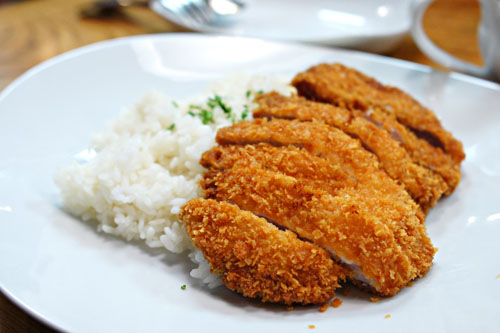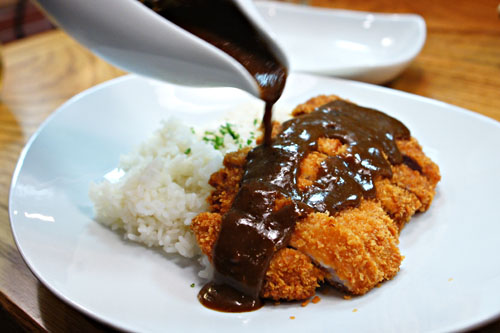 Pork Cutlet Curry [$10.00]
| Crispy Fried Kurobuta Pork Loin
I do not hesitate in calling the
katsu kare
here the best that I've had. The pork itself was cooked perfectly--tender and moist on the inside, with a crisp, crunchy, yet lightweight coating. The curry sauce added considerable depth and complexity to the cutlet that kicked the flavors at the play up another notch, while the rice did an excellent job in moderating the dish.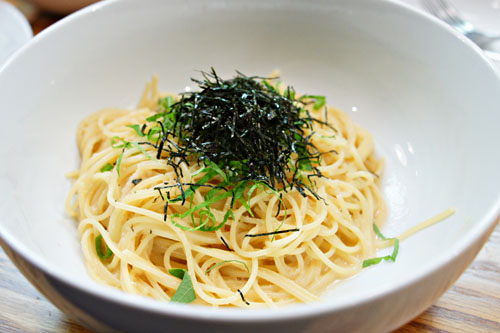 Tarako [$10.00]
| Salted Cod Roe, Cream, Dried Seaweed & Shiso Leaf
Tarako
refers to a Japanese preparation of salted cod roe, and here, it made itself known in a big way, contributing a considerable salty, briny note that, when combined with the umami-rich smack of the nori, overarched the entire dish. At the same time, the
al dente
pasta, aided by a dollop of cream, helped temper the weight of the
tarako
, while the shiso added a refreshingly minty note to the fray.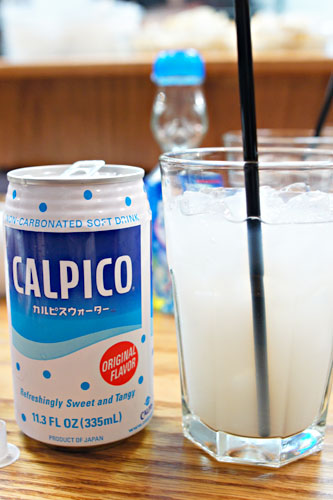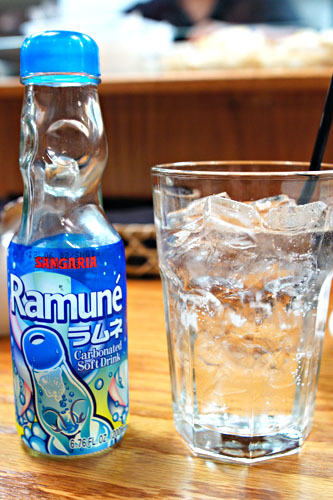 And now for some Japanese soft drinks:
Calpico
[$2.50], a.k.a. Calpis, was sweet, acidic, and refreshing, with a distinct lactic tang that recalled the essence of yogurt. The
Ramune
[$3], meanwhile, was also quite delicious, showing off a tart citrus-y flavor that I found reminiscent of bubble gum.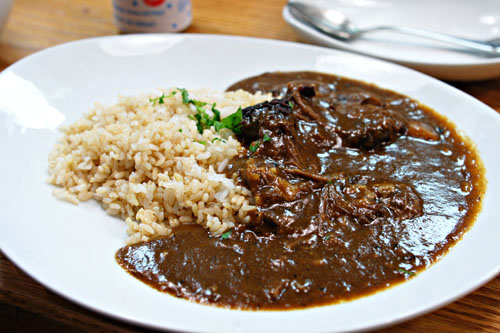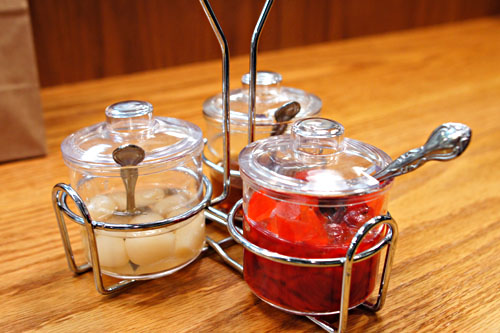 Beef Curry [$9.00]
| Homemade simmered Short Rib
As much as I liked the
katsu kare
above, the beef curry might have been even better. The short rib was expectedly tender, and showed off loads of deep, dark, curry-tinged flavors that worked wonderfully with the brown rice that we requested with the course. I especially appreciated how the beef displayed a bit of char, which added a nice bit of crunchiness on the palate. A trio of accoutrements--radish, pearl onion, and hot sauce--were provided to balance out the heavy savors of the course, but weren't strictly necessary.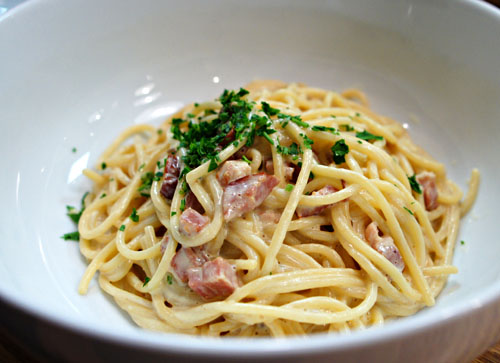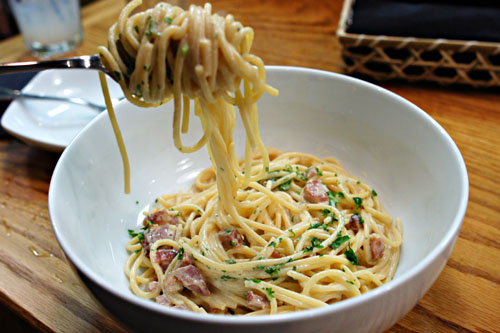 Carbonara [$9.50]
| Pancetta, Egg & Parmesan Cheese
A carbonara is an Italian pasta dish focused squarely on the holy trinity of bacon, eggs, and cheese. Fujita's version stayed true to the essence of the original, putting forth a lush, luxurious mound of Parm- and egg-enveloped spaghetti, all accented by a whisper of salty smokiness from the pancetta.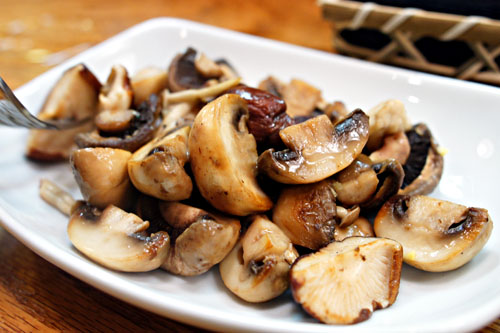 Sautéed Mixed Mushroom [$2.00]
Given my penchant for mushrooms, this side dish instantly jumped out at me. Three types--cremini, shiitake, and enoki--were expertly sautéed here, conveying their earthy, umami-rich flavors beautifully. Lovely textures, too.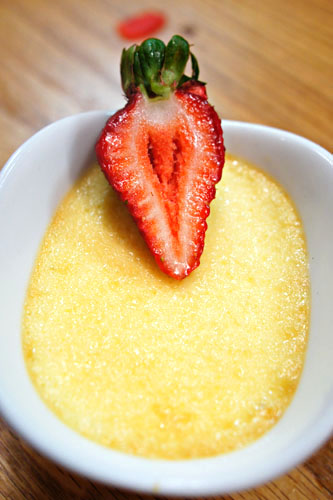 Pudding [$4.00]
A custard pudding served as our lone dessert. It was actually surprisingly satisfying, sort of like a
crème caramel
-meets-
crème brûlée
type of deal, with a delightfully egg-y character balanced by the overt sugariness of caramel sauce.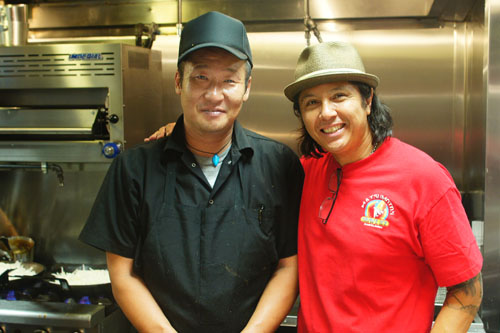 Chef Hiroyuki Fujita with Michael Cardenas.
It's been a while since I'd had a good Japanese-style curry, and in that regard, Fat Spoon really delivered, dishing up
kare
that was soulful, satisfying, and delicious, while the rest of the menu was nothing to sneeze at either. As for what's next for Cardenas and company, there's still that Spanish tapas concept with
Perfecto Rocher
. It was supposed to occupy the space left vacant by Beacon in Culver City, but that deal fell through, leaving the team still searching for a location. In the meantime, we have another spot in Downtown to enjoy, so be sure to give Fat Spoon a try if you're finding the line outside Daikokuya a bit long!