Osteria Mozza (Los Angeles, CA)
Osteria Mozza
6602 Melrose Ave, Los Angeles, CA 90038
323.297.0100
www.mozza-la.com
Tue 02/03/2009, 09:10p-12:00a
Mozza is the brainchild of three giants in the restaurant scene. The first, and most famous, is, of course, Mario Batali. Batali is perhaps best known for his television stints: Mario hosted
Molto Mario
and
Ciao America
on Food Network, and also battled on
Iron Chef America
(where he remains the winningest chef). In his spare time, he runs his empire of restaurants (which number around a dozen or so), of which the flagship is Babbo in New York, or perhaps the Michelin two-star Del Posto. Most of Batali's restaurants (Babbo, Del Posto, and Mozza included) have been opened in partnership with Joseph Bastianich, restaurateur, winemaker, former Merrill Lynch bond trader, and son of TV chef Lidia Bastianich. Bastianich owns wines estates Azienda Agricola Bastianich in Friuli-Venezia Giulia and La Mozza in Maremma, Tuscany, and isn't shy about featuring their wines in his restaurants. The final leg in this three-legged stool is Nancy Silverton, Le Cordon Bleu graduate, ex-pastry chef at
Spago
, co-founder of La Brea Bakery and Campanile, and fixture of the LA culinary scene.
Given the pedigree of its owners, Mozza opened in 2007 with an almost insurmountable amount of hype, which continues in part to this very day. In fact, it's this incessant buzz that has, to a certain extent, kept me away from the place for so long...until now.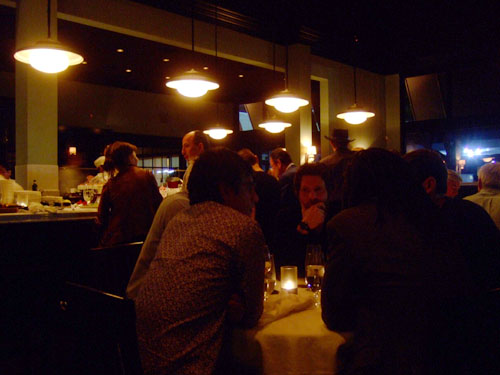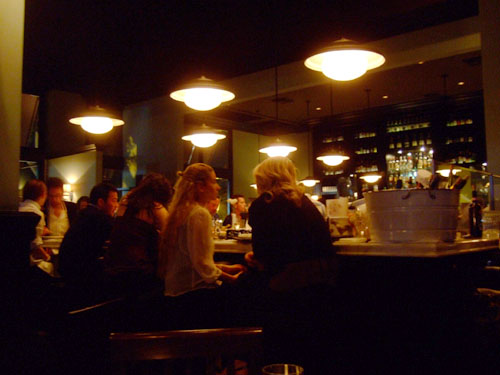 The interior is awash in alternating tones of light and dark, grey and black. It's classic, yet contemporary, and doesn't exactly scream "LA." The room is dominated by the mozzarella bar in the center of the space, where fresh mozzarella is prepared daily, and where Silverton herself can often be spotted.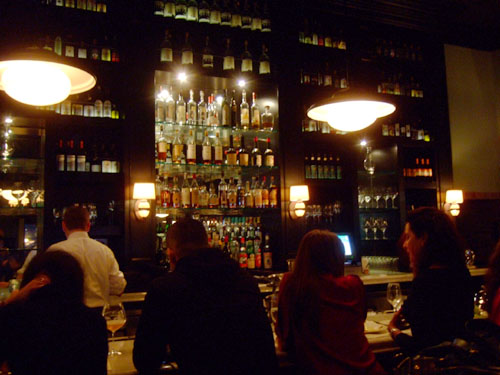 Our table wasn't quite ready when we arrived, so we waited for about five minutes at the other bar in the restaurant--the one serving booze.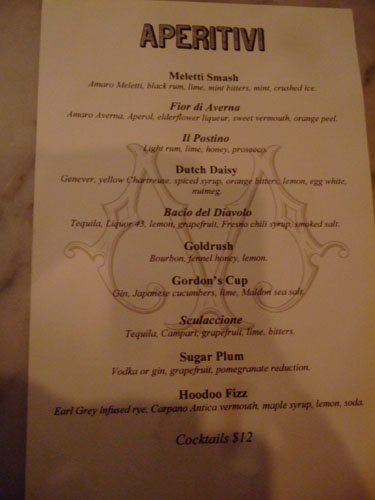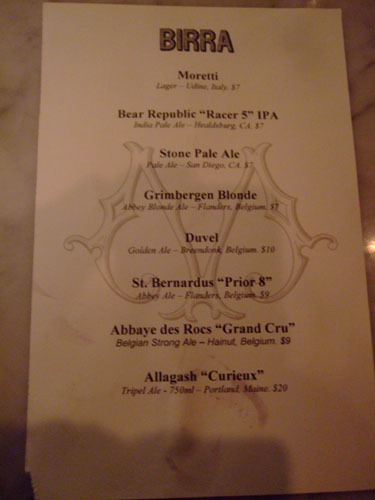 The bar menu is shown above, replete with a fascinating selection of cocktails and beers. Click for larger versions.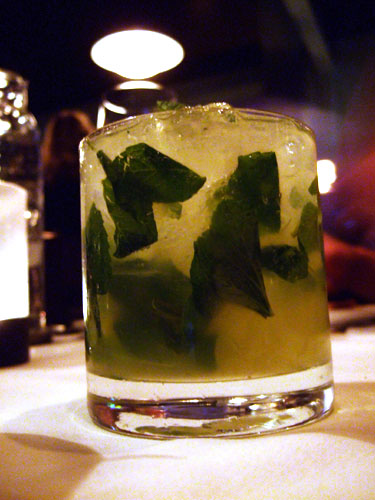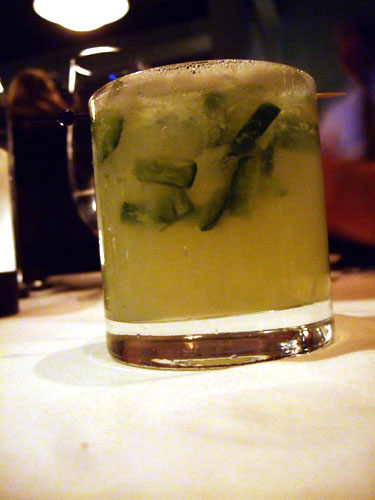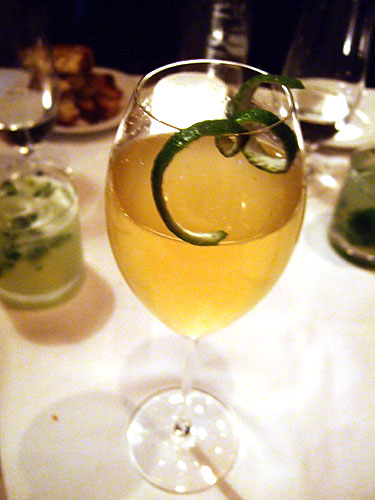 One of my dining companions ordered a Mojito [$12.00], so I didn't have to; it was a solid example, with sophisticated and subtle flavors of lime, sugar, and mint. Next was the Gordon's Cup [$12.00], made with gin, Japanese cucumbers, lime, and Maldon sea salt; quite delicious, it was very similar to a Cucumber Gimlet, with a distinctive cool cucumber nose and mild, tangy flavor. Finally, I ordered the Il Postino [$12.00], with light rum, lime, and honey Prosecco; it reminded me of a Bellini, with a sweet, honeyed stone fruit nose and palate, a crisp acidity, and a good amount of refreshing fizz.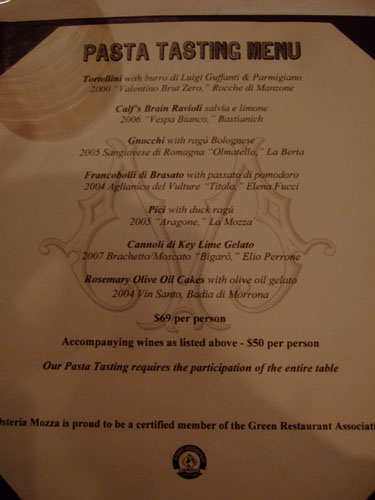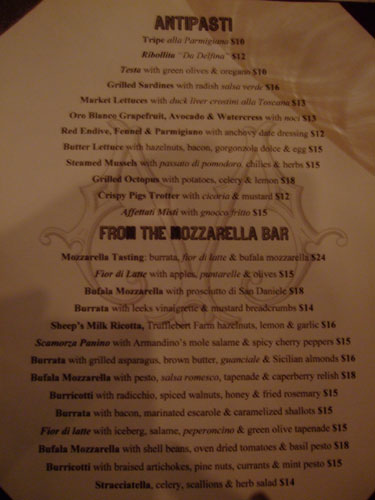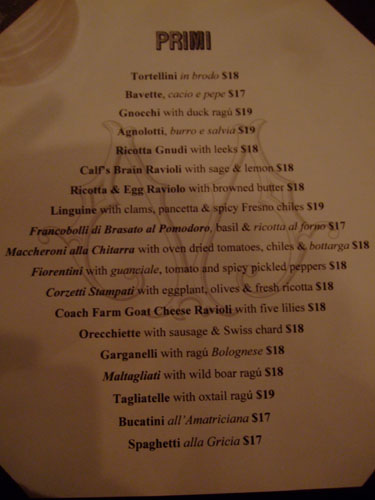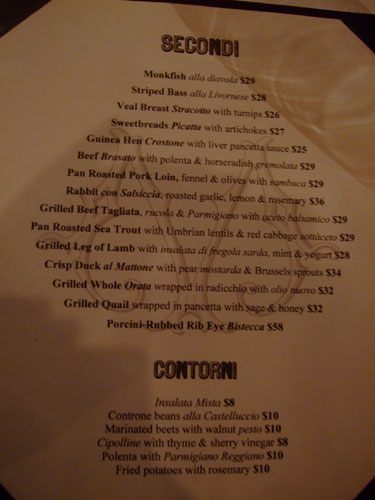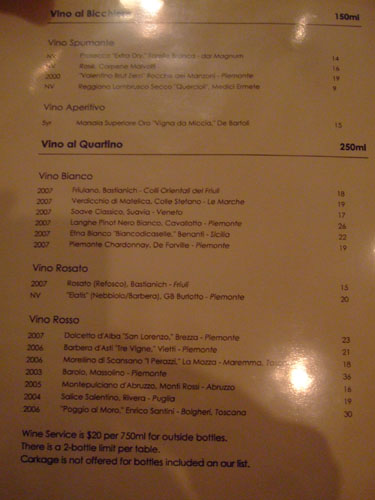 The menu is large, and is split amongst appetizers (note the large number of mozzarella dishes), first, and second courses; click for larger versions. We each chose the Pasta Tasting Menu [$69.00], along with two supplemental courses (the mozzarella tasting and bistecca). For libations, we ordered one wine pairing [$50.00] and a selection of beers (documented below).
As for the bread, counterclockwise from the lower-right, we have white, multigrain, and wheat; they were solid, but nothing outstanding. I must point out that the bread is served sans butter, which I've heard some people complain about. Keep in mind, however, that this is actually the more traditional way to serve bread in Italian meals.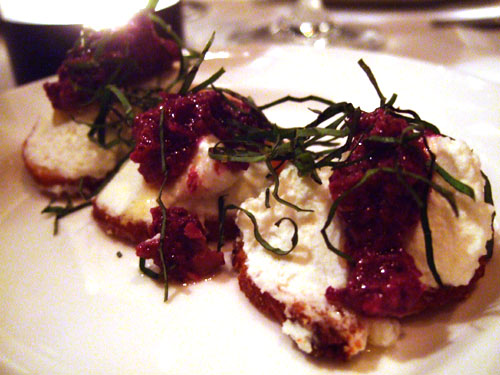 Amuse Bouche: Ricotta, Black Olive Tapenade
The basil and olive oil hit me initially, then the sourness of the olive tapenade, which then gave way to the mild creaminess of the ricotta. Meanwhile, the toasted crostini base provided some textural contrast to liven things up. A simple, but effective bite to start off the meal.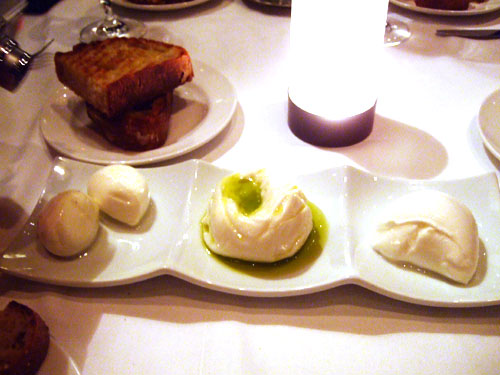 Supplement: Mozzarella Tasting: burrata, fior di latte & bufala mozzarella [$24.00]
We were all very excited to try out the mozzarella. First up was the Fior di Latte ("flower of milk"), which is mozzarella made from 100% cow's milk from Giulia. It had a simple mild milkiness as well as a bit of sourness, all with a slightly gritty texture. Next was a domestic Burrata ("buttered" in Italian) from an artisanal cheese maker in Los Angeles, served with olive oil. Burrata is basically mozzarella along with cream, so not surprisingly, we found it creamier, but also milder, more subtle, and firmer in consistency. Personally, I thought it could've done without the olive oil, which distracted from the natural flavor of the cheese. Finally up was the Mozzarella di Bufala from Campana, made from water buffalo milk. Such milk is heavier and higher in protein than cow's milk, and resulted in a super soft consistency, along with a tart flavor that reminded me of yogurt. It was my favorite of the trio. All this mozzarella was served with grilled olive oil toast ("fett'unta"), an absolutely lip smacking accompaniment not dissimilar to garlic bread.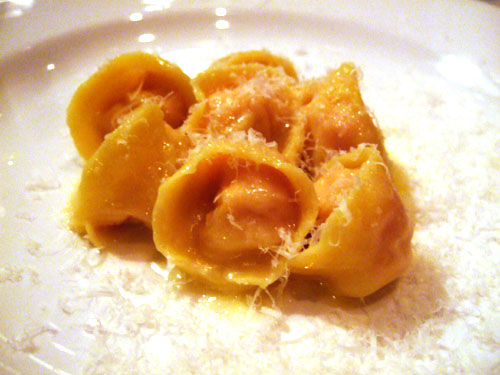 1: Tortellini with burro di Luigi Guffanti & Parmigiano
2000 "Valentino Brut Zero," Rocche di Manzone
Reading the description on the menu, we were left to wonder exactly what type of tortellini this was. Turns out Luigi Guffani is a leading cheese maker from Arona, Italy, and the "burro" refers to a butter made by them. This revelation still didn't help with the filling, which one of my dining companions likened to Chinese
shaomai
stuffing! In fact, that wasn't far from the truth, as it was filled with an amalgam of chicken and pork. In any case, whatever it was, it was very tasty, with the flavor of the meat becoming apparent over a pungent backdrop of Parmesan cheese. The wine here was a sparkler, a 100% Chardonnay Brut from Piedmont. It was done in the
méthode champenoise
style, and was intensely yeasty, toasty, and heavy almost like an old Krug Champagne (like I had at
Charlie Palmer
or
Sushi Sasabune
).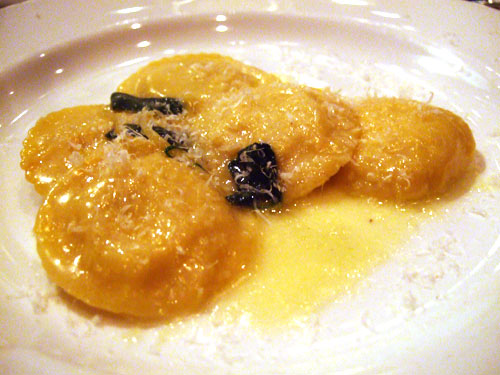 2: Calf's Brain Ravioli salvia e limone
2006 "Vespa Bianco," Bastianich
Interestingly, the only other two times I've had calf's brain were at
French Laundry
and
Per Se
--both Thomas Keller establishments. I must say, though, that this was easily the least offensive preparation; it actually reminded me of Chinese style dumplings, or
jiaozi
! Believe me, you wouldn't even know that this was brain if you weren't told so. Though the brain wasn't distinctive, it was delicious, with the sage and lemon complementing it wonderfully. For wine, we were given one of owner Joe Bastianich's wines. It was a Chardonnay- and Sauvignon Blanc-dominated blend, with a splash of Picolit. It had the roundness, the body, and the weight of Chard, but the other grapes made it more approachable, adding hints of tropical fruit and pear.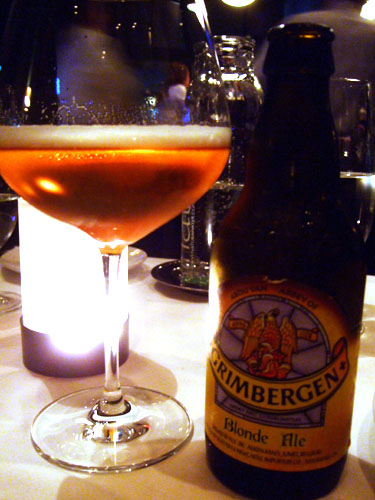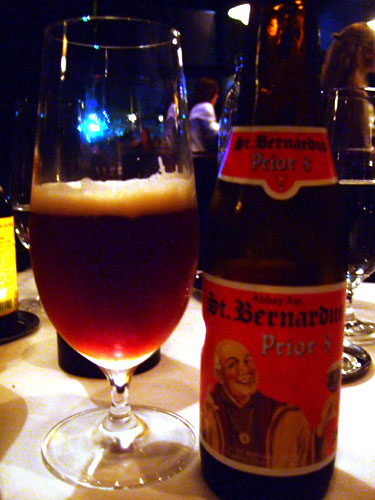 At this point, we decided to order up a couple of beers. The first was the Grimbergen Blonde [$7.00], a Belgian abbey pale ale from Brouwerij Alken-Maes in Flanders. I liked this one, and found it rather easy-drinking and light, with plenty of honey, fruit, and bread. Next up was the St. Bernardus Prior 8 [$9.00] from Brouwerij St. Bernardus, also of Flanders. This was a Trappist beer done in the Dubbel style. Though also an abbey ale, this was completely different than the Grimbergen; it was a heavier, more viscous concoction, loaded with smoke, toffee, and chocolate.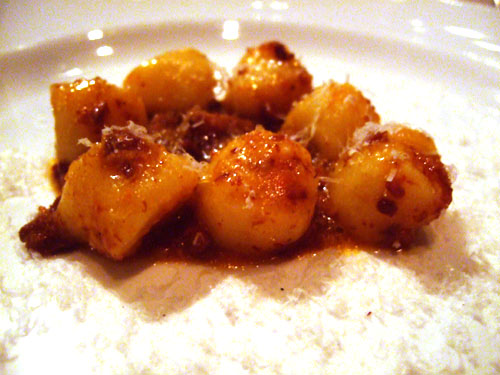 3: Gnocchi with ragú Bolognese
2005 Sangiovese di Romagna "Olmatello," La Berta
Bolognese sauce is a meat-based (typically beef and/or pork) sauce originating from Bologna, Italy. Its hearty flavor, along with the zest of Parmesan, accentuated the pasta nicely, and the whole commixture tasted like Chinese
niu rou mein
beef noodle soup. I found it very fascinating that the first three dishes of the tasting menu reminded me of Chinese food! Overall quite good, though the gnocchi were a bit soft for me. As for the vino, we had a Sangiovese. A simple, approachable wine, its tart, but deep fruity flavors worked beautifully with the rich flavors of the meat sauce.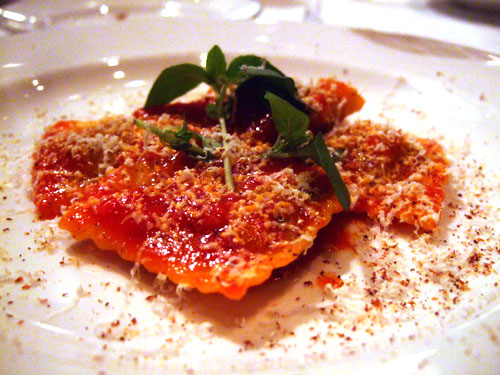 4: Francobolli di Brasato with passato di pomodoro
2004 Aglianico del Vulture "Titolo," Elena Fucci
"Francobolli" literally means "stamps," and as can be seen in the photo, they were in the same vein as ravioli. Here, they were stuffed with "brasato," a Milanese braised beef mixture. The end result was delicious, with all the rich flavor of braised meat, balanced by an herbally tang and the sweet/sour interplay of the tomato-based sauce. The wine here was an Aglianico from Basilicata, a first for me. It had a nose of grass intermingled with dark fruit, while smoke and wood became apparent on the palate. It was an aggressive wine that was perhaps a touch strong for the dish.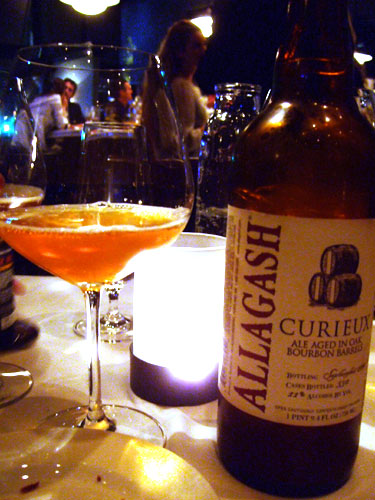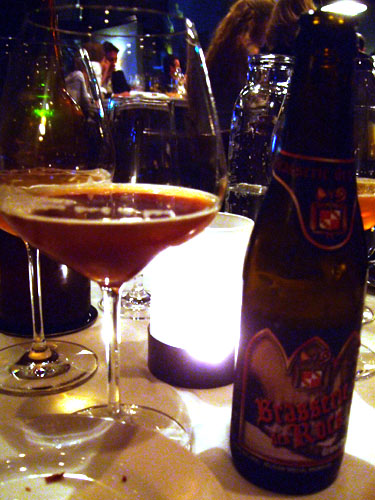 For the next two beers, we first chose an Allagash Curieux [$20.00], brewed by Allagash Brewing Company in Portland, Maine. Aged in Bourbon oak and done in a Tripel style, the beer packed a punch at 11% ABV, but carried its weight nicely, with light, crisp flavors of apple and lychee over a layer of Bourbon and spice. Though my dining companions didn't care for it, I rather enjoyed it. Finally, we had the Abbaye Des Rocs Grand Cru [$9.00], another Belgian, this time a strong dark ale from Hainaut. It was somewhat similar to the St. Bernardus we had earlier, showing distinctive notes of chocolate, toffee, and smoke, along with dark fruit and spice. Not bad!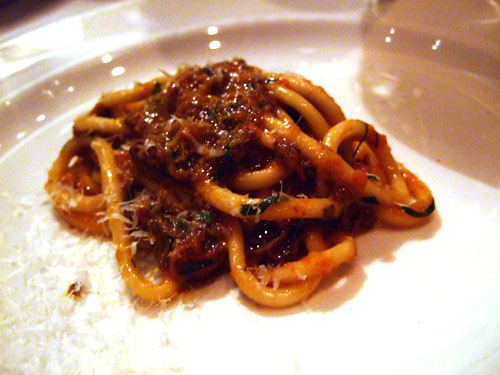 5: Pici with duck ragú
2005 "Aragone," La Mozza
Though this looks like spaghetti, it was actually pici, basically a fatter version of the omnipresent pasta, originating from Tuscany. It was somewhat denser and firmer than its thinner counterpart and is traditionally eaten with a game-based sauce, so the use of duck ragú here was appropriate, complementing the pici and sharp Pecorino cheese topping nicely. Interestingly, one of my dining companions thought that the duck sauce had a "fishiness" to it, but I didn't find such a flavor distracting here. For this course, we were paired a Sangiovese blend from Maremma, Tuscany, again from Bastianich. It was almost Cabernet-like in character, giving up a dark, jammy nose, which continued onto the palate, along with smoke and tobacco; it stood up well to the heavy nature of the pici.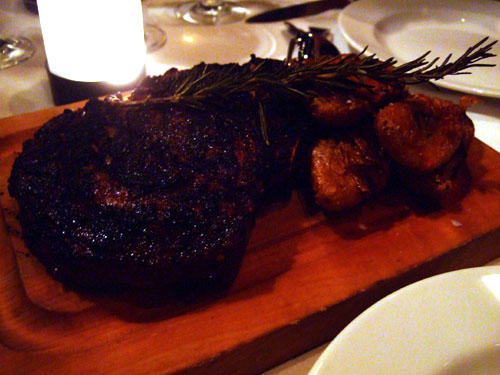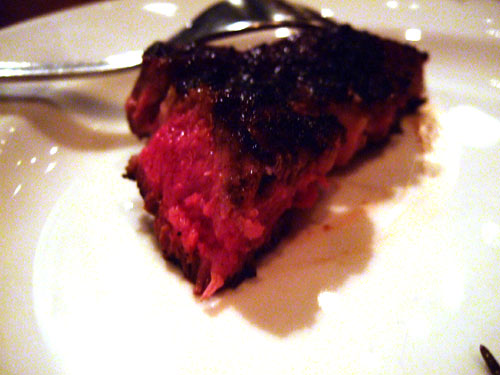 Supplement: Porcini-Rubbed Rib Eye Bistecca [$58.00]
Done medium-rare, this turned out to be a decent, though not outstanding, steak. It was suitably tender and flavorful, but was a touch too fatty for me; meanwhile, one of my dining companions found the charred exterior bothersome. The steak was served with aged balsamic and olive oil dipping sauces, both of which proved unnecessary. The most interesting part of this was actually the potatoes, which were cooked to a crunchy, almost candied exterior, but still hiding a soft, sweet, creamy interior. I'll leave my steaks to
CUT
next time.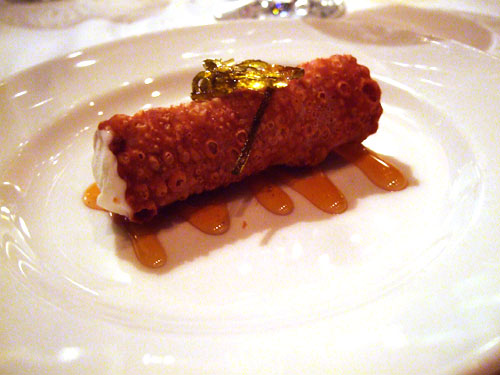 6: Cannoli di Key Lime Gelato
2007 Brachetto/Moscato "Bigarò," Elio Perrone
Cannolis ("little tubes") are perhaps the most popular Italian dessert item, originating from Sicily. I found this version too tart, too acidic, with the coldness of the key lime gelato far too jarring a contrast. The caramel went some way in tempering this excess, but overall the dessert didn't quite work with me. The wine here was supposed to be the Bisarò, but we were given the Vin Santo (meant for the next course) instead. The wine was heavy on the toffee, but turned rather bitter when consumed with the cannoli. Not a good pairing.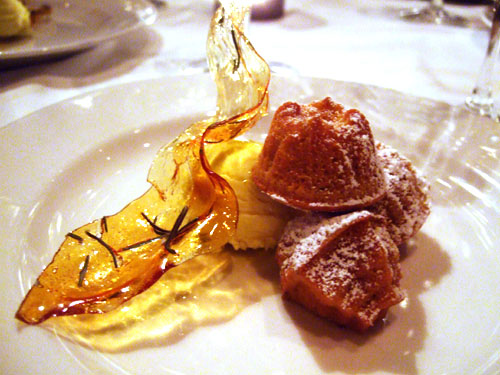 7: Rosemary Olive Oil Cakes with olive oil gelato
2004 Vin Santo, Badia di Morrona
I loved the consistency of the olive oil cakes, with their hard exteriors yielding to soft, fluffy interiors (almost like a madeleine). I wasn't as keen on their flavor, however--they were lemony, herbal, and heavy, with a bitter finish. The olive oil gelato didn't help much either; I would've liked a lighter gelato, to balance the gravity of the cakes. The hardened piece of sugar was infused with rosemary, which also contributed to the rather overwhelming nature of the dessert. I was not a fan of this. The Vin Santo worked better here, taking on an almost Sherry-like nature, counteracting the strength of the dessert. Meanwhile, we were also given a glass of the Brachetto/Moscato sparkling rosé blend meant for the previous course. It was light, spicy, gingery, and almost tasted like Squirt! It would've been much better with the cannoli.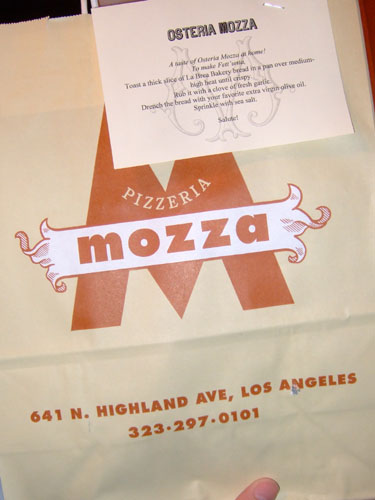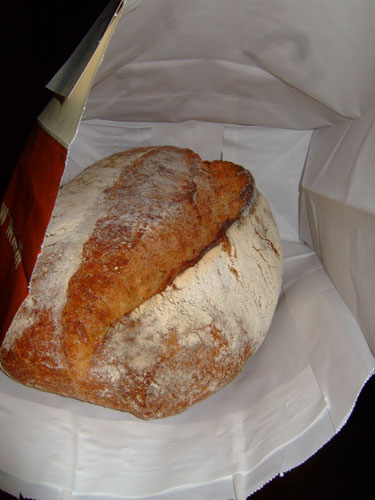 Instead of mignardises, we were instead given a large loaf of bread from Silverton's La Brea Bakery, replete with instructions on how to make fett'unta ("bread soaked"), the delectable "garlic bread" we had with the mozzarella tasting.
All in all, this was a solid meal. I enjoyed all the pasta dishes I tasted, as well as the mozzarella. In fact, I could see coming back just for the cheese. On the other hand, the steak was only passable, and the desserts really didn't work at all. It was skillful, tasty (for the most part) cuisine, but I really didn't see anything particularly creative or unique, nothing that screamed "hey, this is a Michelin-starred restaurant." Next time, I think I'll need to order, à la carte, some of the more interesting items on the menu, before I can make a definitive judgment about Mozza. For now, I'll just say that the restaurant serves up competent, high-quality Italian fare...but not that much else.