Beachwood Brewing & BBQ (Long Beach, CA)
Beachwood Brewing & BBQ
210 E 3rd St, Long Beach, CA 90802
562.436.4020
www.beachwoodbbq.com
Sun 02/19/2012, 06:20p-10:30p

When Chef Gabriel Gordon debuted the original
Beachwood in Seal Beach
in December 2006, he wanted to open a standout BBQ place to fill a void in Orange County's culinary landscape. Instead, with Beachwood's two dozen brews on tap and stellar bottle list, he ended up re-energizing the region's nascent craft beer scene, firmly establishing the restaurant as one of the top beer bars in all of Southern California. It was almost inevitable, thus, that the place would expand. Beachwood took over the space next door, but even that wasn't enough. A completely new, much bigger location was needed, and therefore, Gordon partnered with aerospace engineer-
cum
-homebrewer Julian Shrago to launch Beachwood Brewing & BBQ on Long Beach's Promenade in July 2011. Pay special attention to the "Brewing" in the name, as this new Beachwood will feature eight of Shrago's beers made
in-house
and served on-tap.

Inside, things are much, much larger, so you shouldn't have a problem finding a seat here, unlike at the original location; there's even outdoor patio seating. The bar, of course, dominates the space, and features an enlarged (36 instead of 24 taps) version of Gabe Gordon's "Flux Capacitor" dispensing system, which famously allows for individual control of pressure and temperatures for each beer.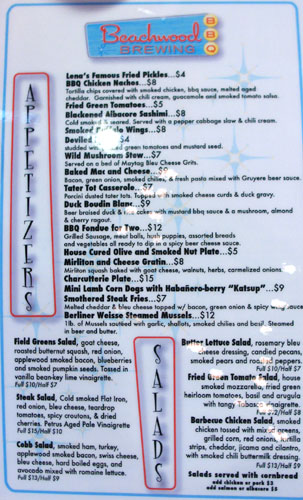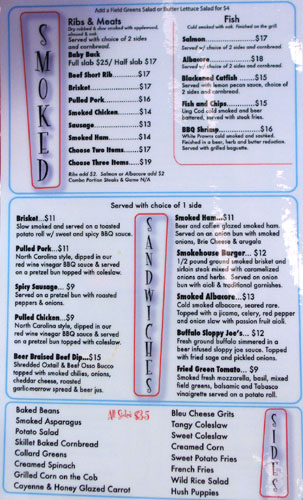 Beachwood's menu is pretty much a carryover from the original Seal Beach location, though there is a separate Wild Game menu now. Click for larger versions.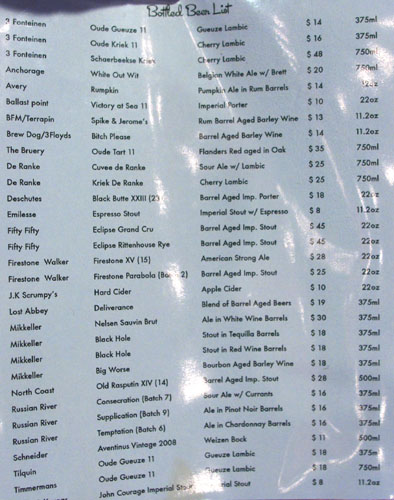 Here, we see Beachwood's selection of in-house brews, along with the restaurant's bottle list, which, at the moment, isn't quite up to par with the one in Seal Beach. Of course, don't forget about the other
two dozen
or so beers on draught either. Click for larger versions.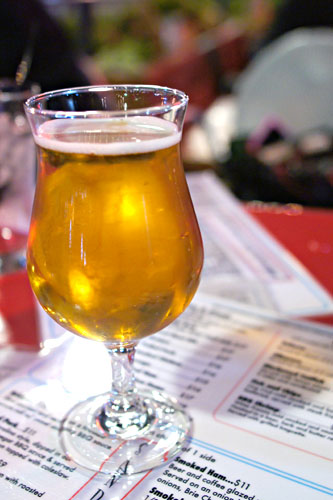 Given my love of Belgians, I began with Shrago's Rubia Belgian Blonde [$5.50], a pale ale done in a classic style. I quite liked it, finding the beer easy-drinking and refreshing, with a good balance of spicy, malt, and floral character. I was also able to sample Beachwood's Rose Royce Saison, Alpha Master Pale Ale, and Onyx Imperial Stout, and enjoyed them all as well.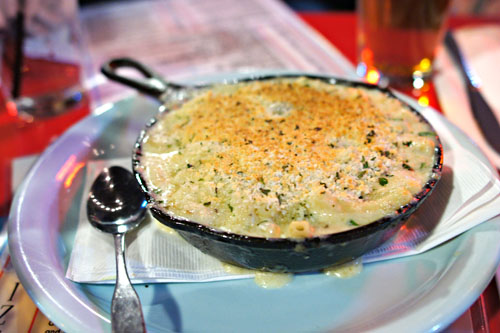 Baked Mac and Cheese [$9.00]
| Bacon, green onion, smoked chilies, & fresh pasta mixed with Gruyere beer sauce.
It's hard not to like mac 'n' cheese, and this was no exception. The pasta was just about perfect, and went superbly with the immense cheesiness in the dish. The key, though, was the inclusion of onion and chile, which added a certain piquancy to things that balanced out the sheer heft of the macaroni beautifully. Finishing things off were the bacon bits, which contributed a pleasing saltiness and crunch.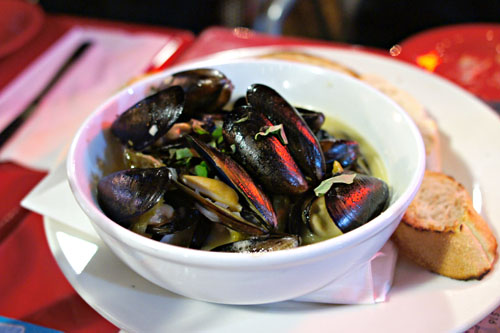 Berliner Weisse Steamed Mussels [$12.00]
| 1lb. of Mussels sautéed with garlic, shallots, smoked chilies and basil. Steamed in beer and butter.
Mussels, meanwhile, were totally on point as well. Plump and succulent, they were wonderful when paired with a broth teeming with heady notes of beer and butter, while the basil and chilies provided a spicy, aromatic counterpoint to the course.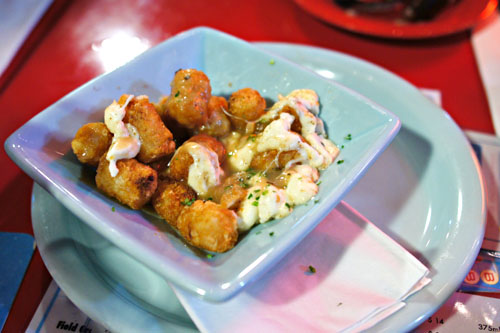 Tater Tot Casserole [$7.00]
| Porcini dusted tater tots. Topped with smoked cheese curds & duck gravy.
This was tasty, with the cheese and gravy adding a level of enveloping richness and savoriness to the crisp, mild taters--you could almost think of this as Beachwood's take on poutine. I apologize for the picture here, and some of my dining companions had already gotten into the dish before I could snap the photo!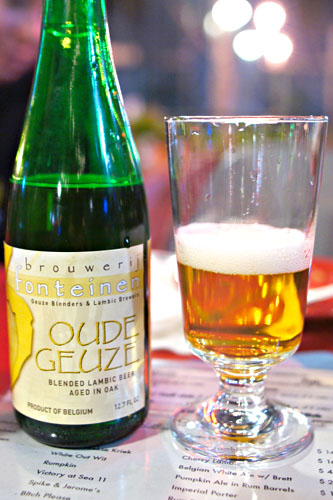 With my mains, I wanted to move on to something sour, so I ordered up a bottle of the 3 Fonteinen Oude Gueuze [$14], vintage 2011. It was exactly what I was looking for: definitely sour, somewhat fruity and citric, with a oaky, funky flair as well.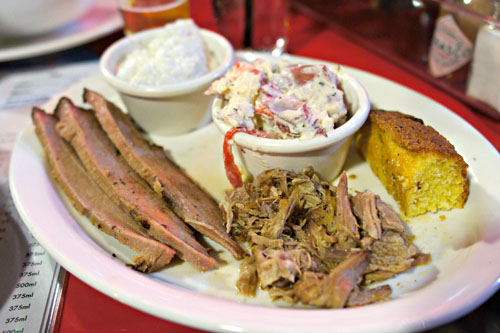 Brisket and Pulled Pork Combo Plate with Potato Salad and Bleu Cheese Grits [$17.00]
Naturally, I had to sample the barbeque, which is done here dry-rubbed and smoked low and slow with applewood, almond, and oak. I tried the pulled pork first, which was very soft, and very smoky. The brisket was more subtle in flavor, though lean, and still tender. In both cases though, I wanted more succulence, more decadence in the meat. As for the sides, I quite appreciated the potato salad with its delectable tanginess from the various veggies at play, and enjoyed the cheesy, gritty grits as well.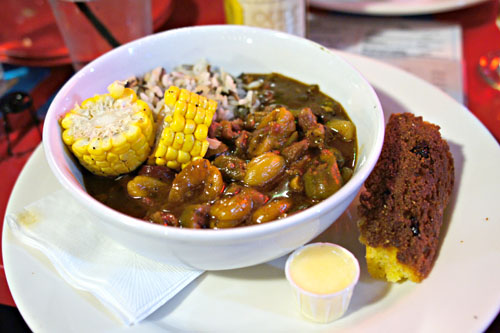 Alligator and Tasso Stew [$15.00]
| Alligator Andouille, braised pork and tasso ham stewed w/ okra, corn, tomatoes, onions, dried apricots. Smothered in a rich brown gravy. Served over rice.
The last course of the evening was sort of a riff on gumbo. It was actually quite tasty, with lots of deep, rich flavors amped up by the spicy, savory essence of the andouille sausage and tasso, while the apricots gave the dish an interesting sweetness. Very nice over rice.
The new Beachwood pretty much delivered exactly what I was expecting, with solid food joined by an outstanding selection of beers. It's the same combination that made the original a success, but in a bigger space, so I guess I can't complain.