Momed (Beverly Hills, CA)
Momed Restaurant
233 S Beverly Dr, Beverly Hills, CA 90212
310.270.4444
www.atmomed.com
Mon 02/13/2012, 06:55p-10:15p

Momed (a contraction of "Modern Mediterranean") is the brainchild of Iranian-born Armenian-American Alex Sarkissian, a former VP of Retail at famed fashion house Dolce & Gabbana who once operated stores for Benetton back in the 1980's. Interestingly, Momed isn't his first foray into the restaurant biz, as Sarkissian once ran a mini-chain of three Cleo & Cucci coffee/sandwich shops in Pasadena, Sherman Oaks, and Glendale (the Glendale outpost is still open). Nevertheless, the restaurant, housed in the former space of middling Italian eatery Rosti Tuscan Kitchen (which closed at the end of 2009), is easily his most ambitious venture. Architects Johnston Marklee completely revamped the space, leaving only the wood burning oven and vent hood intact. Momed debuted in April 2010, helmed by California Culinary Academy graduate Matt Carpenter, who previously had worked at David Haskell's Bin 8945, in addition to Josie (Le Balch had actually introduced the Chef to Sarkissian),
Bastide
(under
Ludo Lefebvre
), and
Citronelle
. The place was pretty well received, and even gained a modicum of notoriety for getting Irene Virbila a
$90 parking ticket
. I'd been interested in trying out Momed for a while now, especially after enjoying their signature shawarma at the
Taste of Beverly Hills
, but made it out only recently after being invited to sample the restaurant's revamped dinner menu.
The new menu is the work of Consulting Chef Jeremy Strubel, who took charge following Carpenter's departure from the restaurant (apparently for health reasons). Strubel, for his part, was previously heading up things at Public Kitchen & Bar at the Hollywood Roosevelt, the latest project from Domaine Restaurants' Tim Goodell. Before that, he worked at The Libertine at the Gild Hall Thompson Hotel in New York, replacing former chef Todd English, and also served as CdC at Public's predecessor, Dakota, in 2008.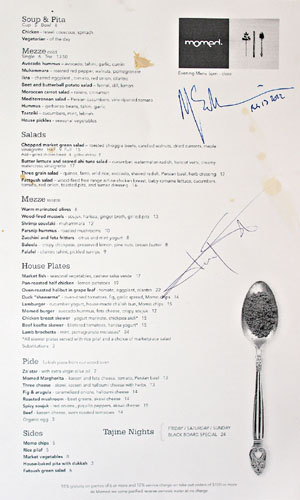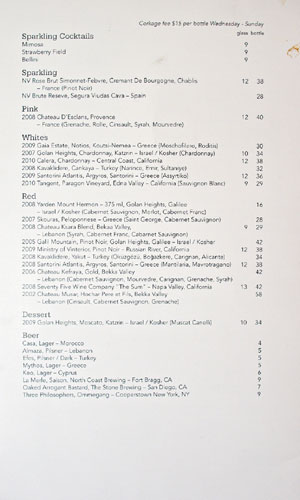 Momed is basically an all-day eatery, with casual, counter-service breakfasts and lunches featuring the restaurant's own interpretation of Mediterranean- and Middle Eastern-inspired fare. Dinner is a slightly more formal affair, and now, with Strubel's revisions, features its own separate menu. To pair with the food, there's a focused selection of reasonably-priced wines and a small beer list, in addition to coffees by Intelligentsia and a serious tea program. Click for larger versions.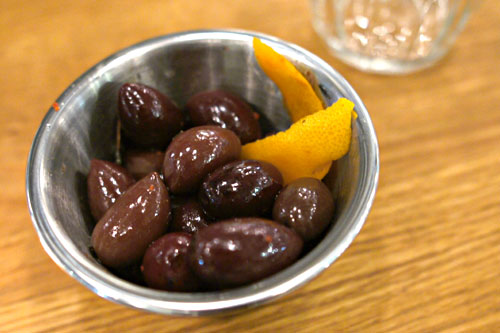 Warm marinated olives [$6.00]
Marinated olives were exactly as they should be, delightfully piquant, with a subtle citrus-y kick.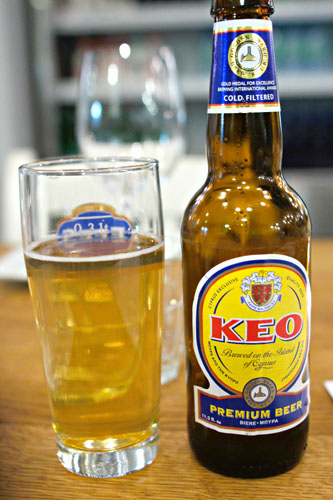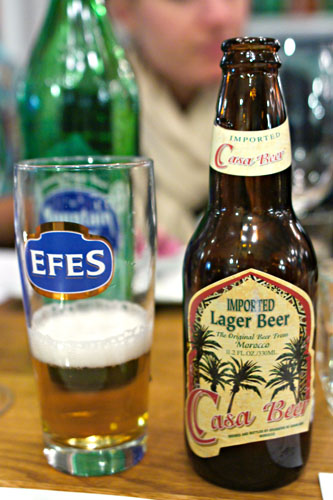 To wet our whistles, we opted for some beers to start, specifically the Keo lager [$6] from Cyprus and the Casa(blanca) lager [$4] from Morocco's Brasseries Du Maroc.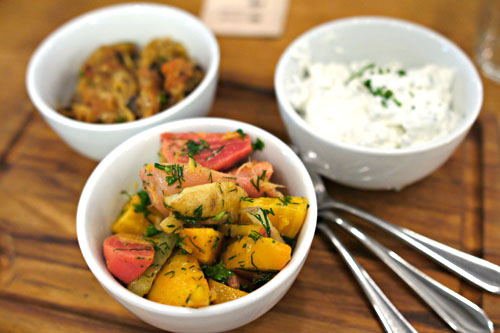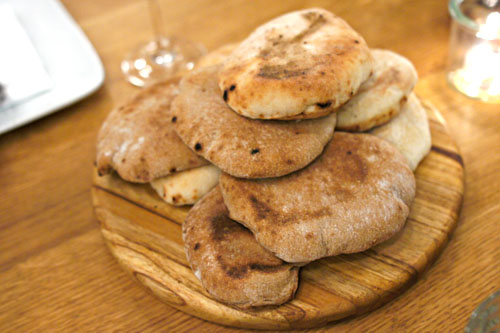 Beet and butterball potato salad [$6.00]
| fennel, dill, lemon
Tzatziki [$6.00]
| cucumbers, mint, lebneh
Ikra [$6.00]
| charred eggplant, tomato, red onion, cilantro
We began with a troika of
mezze
, served with a pile of fantastic, fluffy house-baked pita, made fresh in the wood-burning oven. A salad of beet and butterball (the potato, not the turkey) was better than I expected, with the herbs and hearty taste of the taters tempering some of the sugariness of the beets. Much more to my liking was the
tzatziki
, a yogurt-based dish that was probably the best version I've had, with a superb mix of creamy, cool, and tart flavors. The
ikra
was also top notch, light and refreshing, with a great sweet and sour essence balanced by just a whisper of smoke.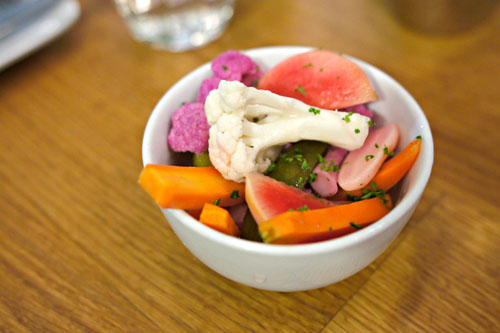 House pickles [$6.00]
| seasonal vegetables
A selection of house-made pickles was nice enough. The veggies had a great crunch to them, but they needed a touch more sourness.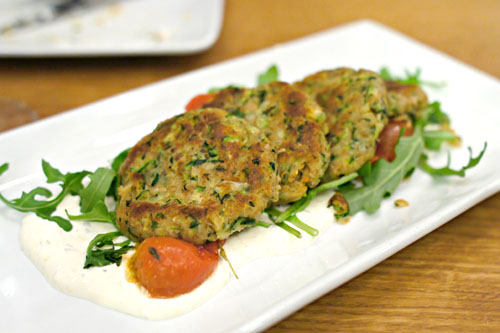 Zucchini and feta fritters [$8.00]
| citrus and mint yogurt
Moving on now to some more substantial courses, patties of zucchini and feta were rather tasty, with a great savory flair augmented by the weight of the cheese and the creamy yogurt, while the arugula served to provide a countervailing bitterness to the mix. I would've liked a firmer, more substantial texture on the fritters though.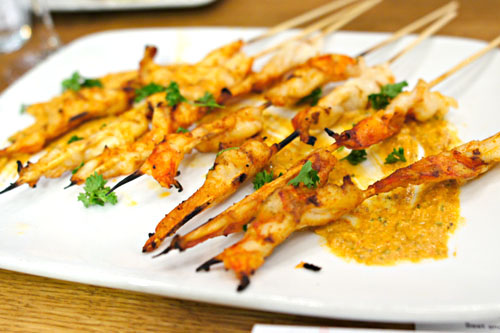 Shrimp souvlaki [$12.00]
| muhammara
Souvlaki
refers to a Greek dish of skewered meat, traditionally lamb. Shrimp, however, was used here to great effect, arriving at our table at the proper temperature, not overcooked and still slight snappy, with a nice sweetness and touch of astringent char. The skewers were delectable alone, but even better when paired with the multifaceted
muhammara
condiment accompanying the dish.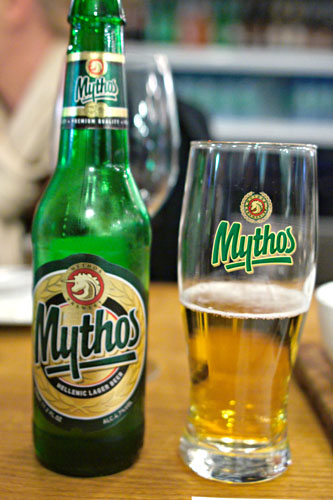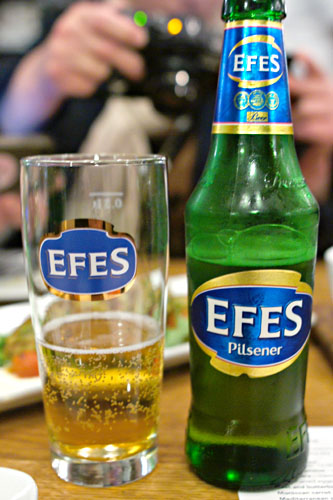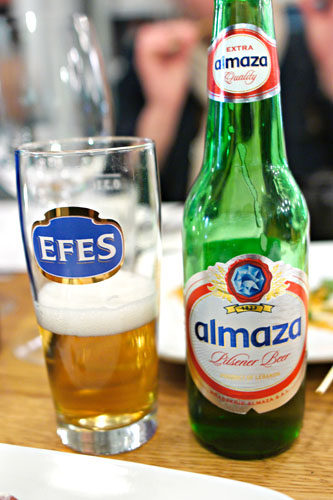 Time for more beer: Mythos Hellenic lager from Greece [$5], Efes pilsener [$5] from Efes Brewery in Turkey, and Lebanon's Almaza pilsner [$5].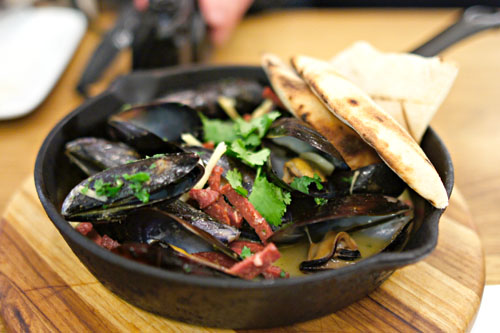 Wood-fired mussels [$13.00]
| soujuk, harissa, ginger broth, grilled pita
Mussels were absolutely delightful, easily some of the best I've eaten in a while. Cooked to a perfectly plump, supple, yet substantial texture, they showed off a wonderfully refined salinity, and were deftly played against the spicy combination of
sujuk
sausage and harissa, while the ginger broth served to tie all the flavors together.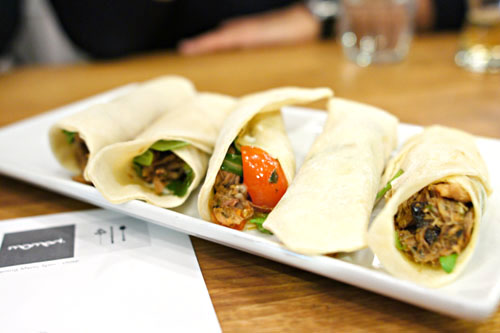 Duck "shawarma" [$16.00]
| oven-dried tomatoes, fig, garlic spread
Next up was Momed's most well-known dish, the duck
shawarma
. It did not disappoint, with its wonderfully tender, juicy, savory bits of duck meat, loaded with sweet cinnamon-y spice, all tempered by the various veggies in the mix, and nicely integrated by the application of a garlic spread. Not to be missed.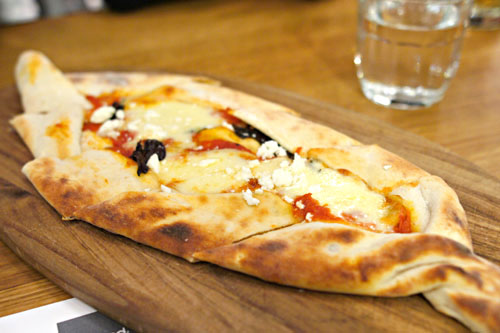 Momed Margherita [$13.00]
| kasseri and feta cheese, tomato, Persian basil
Whenever I try out a
new place
that serves pizza, I like to go with the basic margherita to start, so it was great to be able to sample Momed's take on this classic, done up as a
pide
(Turkish flatbread). It was actually a great riff on the original, with all the traditional flavors well represented, but with a slight Middle Eastern twist. Nice crust, too.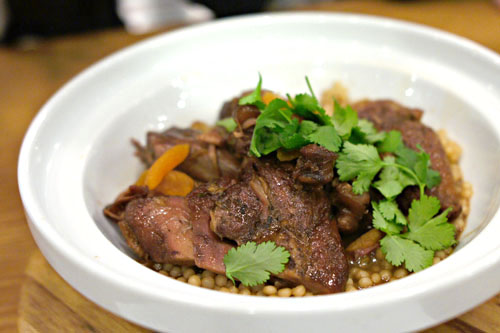 Duck tajine [$24.00]
We capped off the meal with a Moroccan
tagine
, usually served Fridays through Sundays only. The choice of meat rotates regularly, and tonight we enjoyed a preparation of pomegranate-braised duck, over a bed of Israeli couscous. It was a fitting conclusion to the evening, conveying the deep, dark, sweet-yet-spicy flavors of the tender, fatty, falling-off-the-bone duck, while the semolina served to ground and moderate the dish.
Very
nice.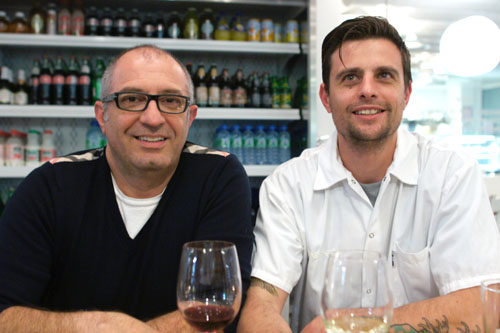 Alex Sarkissian, along with Chef Jeremy Strubel.
All in all, this was an enjoyable meal, and I came away from Momed pretty impressed. The dishes seemed well-conceived, well-executed, and were almost universally delicious, much better than the restaurant's all-day, casual café, grab-n-go nature would suggest. If I lived in the neighborhood, I could see Momed's refreshing, modern interpretation of eastern Mediterranean fare being something that would keep me coming back.