The Royce (Pasadena, CA) [3]
The Royce at The Langham
1401 S Oak Knoll Ave, Pasadena, CA 91106
626.585.6410
www.roycela.com
Thu 02/09/2012, 07:50p-11:30p
There's no doubt in my mind that David Feau's cooking at
The Royce
is among the finest in the City, even though he tends not to get much attention for it. The place sort of flies under the radar, though I suppose that the restaurant has begun picking up a little steam in the past several months, with a recent nod from
Los Angeles magazine
naming it one of the top picks of the year. In any case, after my superlative
17-course dinner
here last time, I wasn't planning on returning quite so soon, but an invitation to try out the Chef's new truffle menu (offered on February 8th and 9th only) was difficult to resist.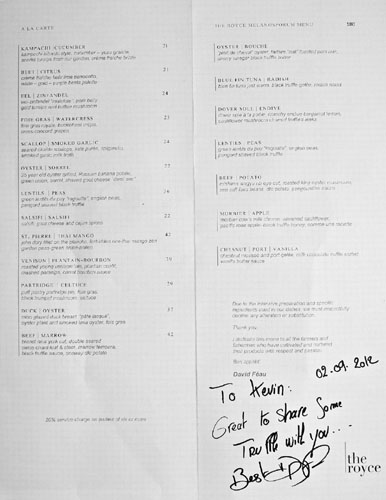 The Royce's "Melanosporum Menu" featured seven courses highlighting Black Diamond Truffles, priced at $180 per head, plus $70 for masterful wine pairings from one of the best sommeliers in town, Eric Espuny (though sadly, I forgot to request a list of the wines at the end of the meal). Click for a larger version.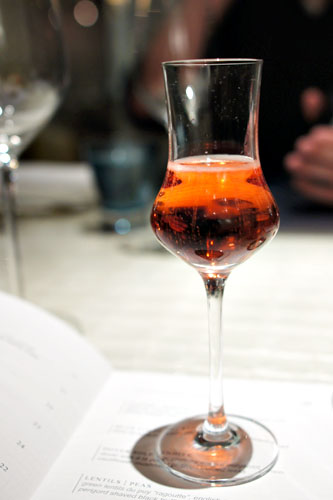 An apéritif to begin: the delicious El Plata sparkling merlot from Argentina's Mendoza region.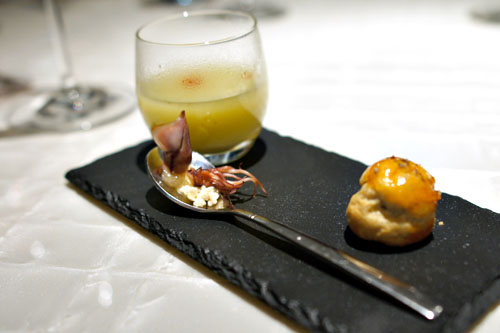 Chef Féau prefers to start the meal off with a trio of amuses. A cup of potato-leek soup with espelette was hot, hearty, and heartwarming, with a satisfyingly savory smack. We also had tofu served with firefly squid; here I loved the supple texture of the cephalopod, and how its natural sweetness and brine paired with the tartness of the accompanying ponzu. Finally, there was a profiterole filled with duck mousse and caramel
au poivre
, with its delightfully heady, liver-y essence forming a perfect balancing act with the sugary, peppery taste of the caramel.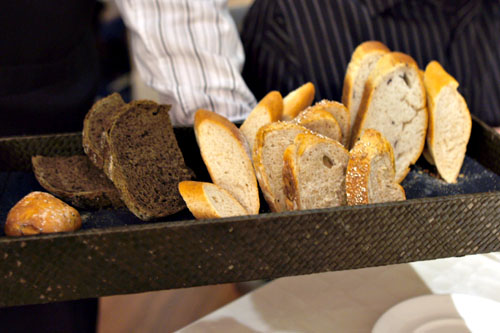 The bread at The Royce is some of the best in the City, and, as I understand it, is made daily in-house. Varieties on offer tonight included bacon brioche, baguette, pumpernickel, and olive.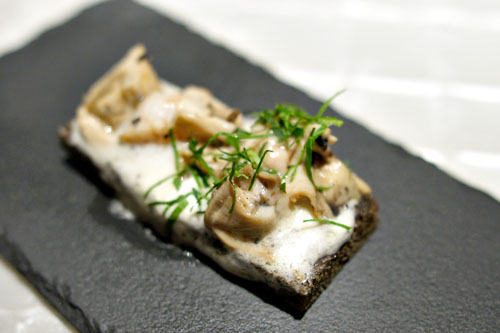 1: OYSTER | BOUCHÉ
| "pied de cheval" oyster, tartare "cuit" toasted pain noir, sherry vinegar black truffle butter
The dinner proper kicked off with something that I'd never had before, the so-called
pied de cheval
, or horse's hoof, a particularly large, particularly old (25 years!) type of oyster, typically from Europe but coming to us tonight from Washington State. Prepared
à la plancha
with salt and pepper, it had supple, yet very satisfying consistency, with a richer, more complex, nuttier flavor than I'm accustomed to, finished with a marked, lingering salinity. The
huître
paired nicely with the luxuriousness of the accompanying truffle butter, as well as the comparatively austere character of the toast, while bits of parsley on top added a fitting point of levity to the mix.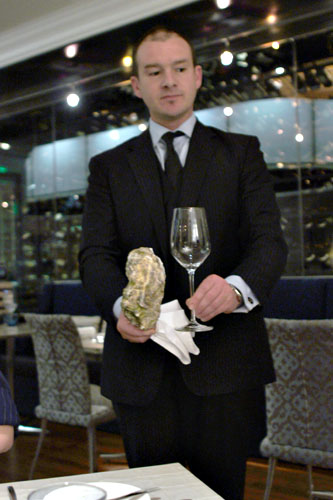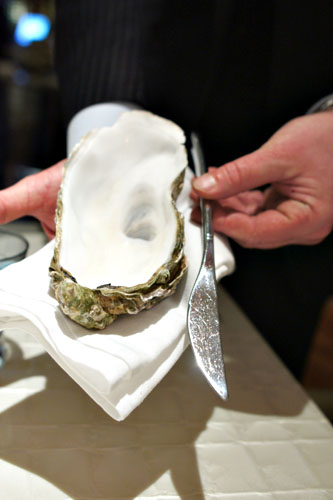 Above, General Manager/Sommelier Eric Espuny (whom I first encountered at
Patina
way back in 2007) shows off the considerable size of the oyster.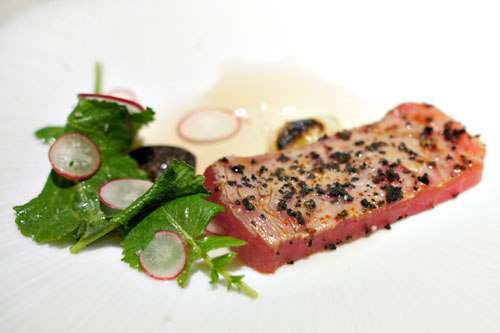 2: BLUE FIN TUNA | RADISH
| blue fin tuna just warm, black truffle gelée, radish salad
Tuna was warmed not by searing, but by a drizzle of Périgord truffle oil, then accompanied by leeks, truffle jelly, watermelon radish, and greens. It was tremendous, with the smoky, earthy essence of the truffle perfectly permeating the mild tuna, while the various vegetables on the plate provided an overarching lightness to balance and complete the dish.
3: DOVER SOLE | ENDIVE
| dover sole à la poêle, crunchy endive bergamot lemon, cauliflower mushroom charred truffled leeks
The presentation of Dover sole was likely the strongest I've had, coated with crème fraîche and then pan-seared. The fish was tender, yet showed off a delightfully springy bite that I adored. Its flavor was smooth, buttery, and slightly sweet, excellent with the snappy endive but even better when paired with the astringent relish of those leeks. When I was done, I eager supped up the remaining truffle butter with my pumpernickel.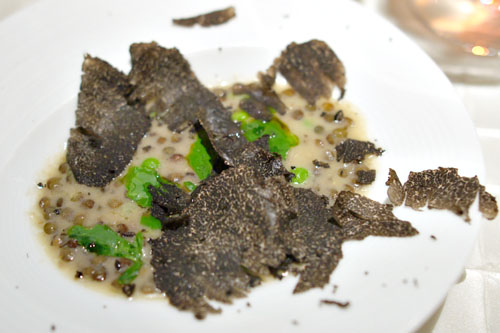 4: LENTILS | PEAS
| green lentils du puy "ragoutte", english peas, perigord shaved black truffle
The lentil dish that I was served on my
last visit here
was the best I'd ever eaten. This one rings in at number two. Cooked in a vegetable stock, the
lentilles
themselves were spot on,
al dente
in bite with a wonderfully satisfying flavor that paired deftly with the earthy essence of the truffle, while the bright, vegetal tang of the peas provided a perfect counterpoint. A beautiful exploration of such a humble ingredient.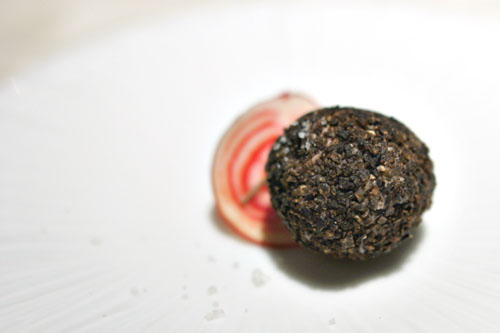 An intermezzo comprised a "bonbon" of foie gras custard, encrusted in a dusky layer of Périgord truffle, then sprinkled with truffle salt. It was as incredible as you'd expect, sort of the epitome of luxury, with the lush, creamy foie playing off the heady
melanosporum
in regal fashion, tempered only slightly by the greenery on the plate.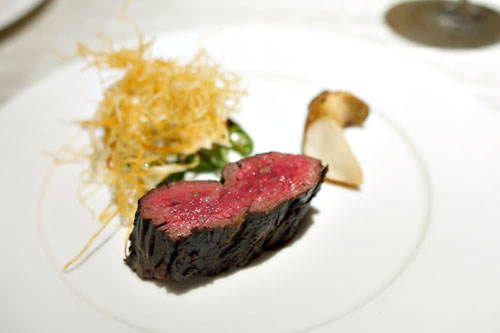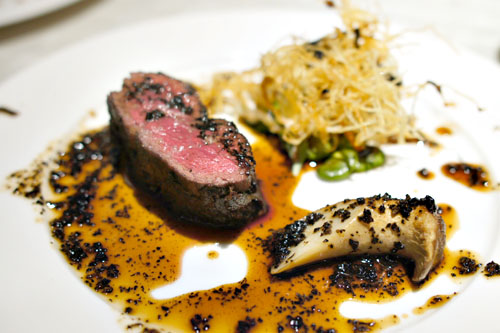 5: BEEF | POTATO
| mishima wagyu rib eye cut, roasted king oyster mushroom, sea salt fava beans, dfc potato, perigourdine sauce
For our final savory course, Féau brought out a gorgeous
côte de bœuf
of Hawaiian Mishima wagyu beef. The steak was one of the best I'd had in a while: tender, fatty, beautifully charred, and brimming with bovine sapor. The meat easily stood alone, but I appreciated the depth of flavor contributed by the brandy-truffle sauce too. The fava beans
à la plancha
were a nice touch as well, but what was even better was the smoky threeway of potato, replete with espuma and crispy strings.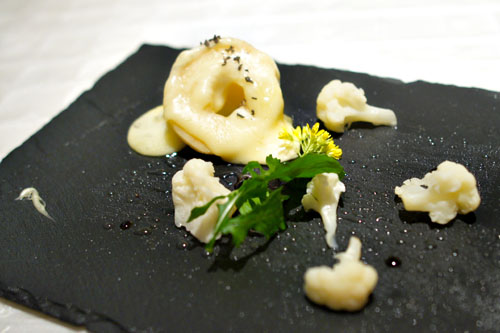 6: MORBIER | APPLE
| morbier cow's milk cheese, steamed cauliflower, pacific rose apple, black truffle honey, comme une raclette...
Féau's preparations of cheese are always something to look forward to, and the Chef did not disappoint us this evening. The hot, melty cheese was almost fondue-like in nature, its rich, creamy, salty flavor pairing adroitly with the sweet, soft demisphere of steamed apple. I also loved the aromatic whispers of truffle here, while the arugula finished off the course with a great tinge of bitterness.
Surprisingly
good.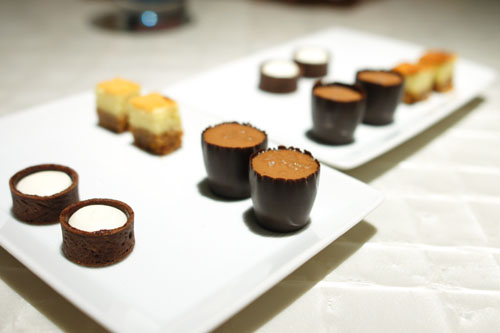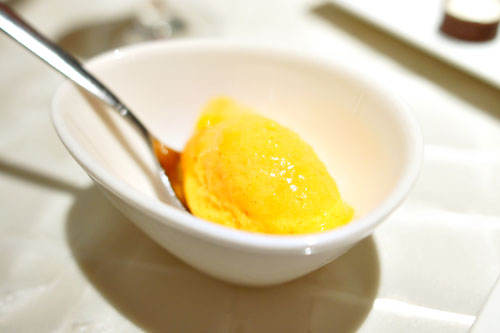 Two plates of mignardises were brought before us, containing miniature fleur de sel
pots de crème
, ricotta cheese tarts (think cheesecake), and kaffir lime tarts. They were joined by a lovely persimmon sorbet, which showed off a tea-like sweetness that I found rather intriguing.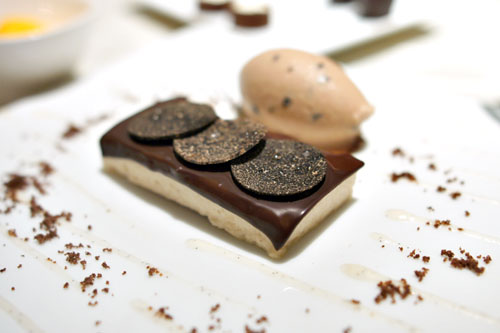 7: CHESTNUT | PORT | VANILLA
| chestnut mousse and port gelée, milk chocolate truffle sorbet, vanilla butter sauce
And finally, dessert proper. I don't think I'd ever had this much truffle in a dessert, but the end result was pretty special. The interplay between the
truffe
, chestnut, and port was pure elegance, a delicious, yet debonair amalgam of flavors that just worked, while the chocolate sorbet served to further integrate the dish.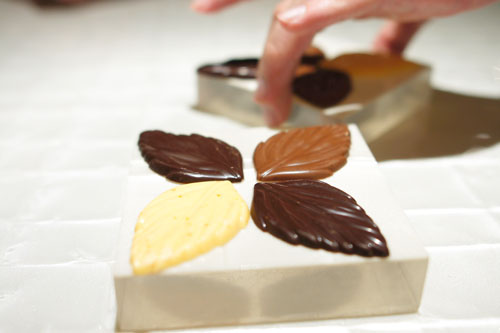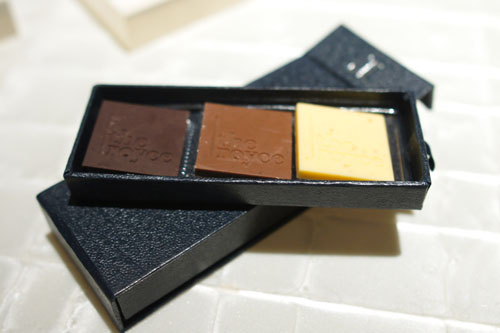 To conclude: The Royce's signature chocolate "leaves" and a box of chocolate tabs to take home. Varieties included a fleur de sel dark, an Illy espresso milk, and an espelette pepper white.
The Royce continues to impress, showing us just how well the kitchen can execute. This was pretty much a flawless meal, delicious sure, but also inventive and utterly sophisticated. This is about as "fine" as dining gets these days in LA, so you owe it to yourself to make the trek over to Pasadena and give one of Chef Féau's tasting menus a shot sometime.