Tradition by Pascal (Newport Beach, CA)
Pascal Restaurant
1000 N Bristol St, Newport Beach, CA, 92660
949.263.9400
www.pascalnpb.com
Sun 02/12/2012, 06:55p-10:05p

It's the end of an era in OC fine dining. Pascal Olhats' perennial French favorite is finally closing its doors after 24 years of business. I'd been curious about Pascal for
ages
now, so I wanted to make sure to give the place one last shot on its second-to-penultimate day of service (the final day being Valentine's).
About the Chef
: Pascal Olhats was born in Rouen, a city in the Normandy region of France. He was inspired by his mother from an early age, taking great joy in painting, writing, and of course, cooking. His father also played a pivotal role in Olhats' development, bringing freshly-hunted meat to the table and schooling Olhats in traditional Normandie cooking. By high school, he was already proficient in the kitchen, and spent his summers at a local Michelin-starred restaurant. After his apprenticeship, he attended Hotel School in Brussels, Belgium, then served his mandatory military service working as a maitre d'hotel for a high-ranking French general. Olhats then traveled to Lyon, landing a position at Paul Bocuse's legendary L'auberge du Pont de Collonges. He would work here for two years before moving to Jean-Paul Lacombe's Léon de Lyon. Following, the Chef relocated to St. Tropez, where he cooked for three years at the posh Club 55 beach club.
Through a connection at the restaurant, Olhats ended up in Newport Beach on vacation in 1983, and during his stay, served as a guest chef at the now-defunct Paula's on the Balboa peninsula, revamping the menu with his authentic flavors of Provence. He subsequently returned to France, but moved back to Orange County permanently in 1984. His first gig after Paula's was at Piret's Bistro in South Coast Plaza (on the site of the current Z'Tejas), but he really made a name for himself at the Le Meridien in Newport (now the Fairmont), running the hotel's restaurants Antoine's and Cafe Fleuri. Olhats left in 1986, becoming the Chef at the longstanding Chanteclair in Irvine (which shuttered in 2007, becoming Z Mario, iLounge, Chateaux Lounge, and most recently, Posch). In 1988, he opened up his eponymous eatery Pascal not too far away, in a humdrum strip mall right across from the 73 Freeway. Featuring the so-called
cuisine reelle
, the Chef showed off his style of light, unadulterated, California-inspired Provençal cooking.
The restaurant garnered its share of accolades over the years, and also served as an incubator for a number of notable OC chefs, including Greg Daniels of
Haven Gastropub
, Florent Marneau of
Marché Moderne
, David Kesler of The Cellar, Tim Goodell of Domaine Restaurants, and Bernard Althaus of Basilic. In November 1993, Olhats opened Pascal Épicerie & Wine Shop with wife Mimi right next door to the original restaurant. This was followed up in May 1997 by the lunch-only Café Jardin at the Sherman Library & Gardens in Corona del Mar, which, as of November 2008, transforms into Pascal's Tea Garden Creperie on the weekends. Then, at the end of 2001, Olhats launched casual eatery Cafe Pascal near South Coast Plaza's Bridge of Gardens, but the place would last only until the middle of 2005. In 2008, the Chef changed the name of his flagship to Tradition by Pascal, to allow for more future "by Pascal" concepts and to signal a return to his more classical French roots. At the end of that year, Pascal at Hutton Centre bowed inside Santa Ana's MacArthur Place. 2009, meanwhile, saw the Chef consult for David Wilhelm's bankrupt Culinary Adventures group before taking over French 75 in Fashion Island and turning it into Brasserie by Pascal.

The interior is a bit dated, but it's comfortable enough and gets the job done.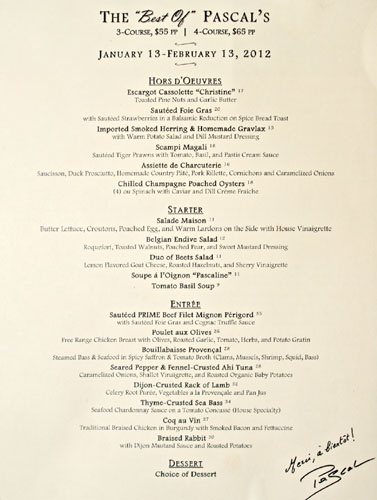 During these final weeks, the restaurant was offering up a "Best of Pascal's" menu of the place's greatest hits. Click for a larger version.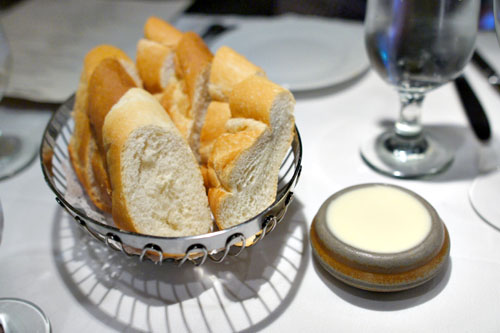 Bread was merely passable, though the butter fared better.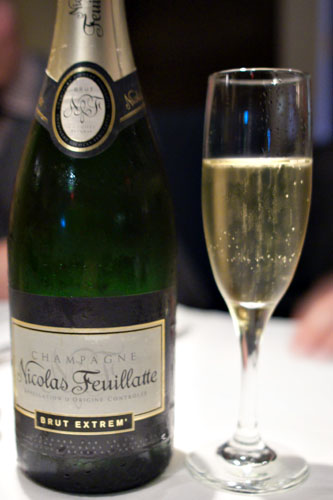 To drink, we started with some bubbly, specifically a bottle of the
NV Nicolas Feuillatte Champagne Brut Extrem' [$85]
. This was a very crisp, very dry sparkler, with a good effervescence and a palate filled with nutty, earthy, and toasty notes.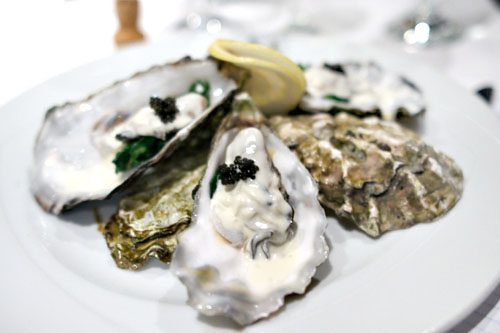 Chilled Champagne Poached Oysters [$18.00]
| (4) ou Spinach with Caviar and Dill Crème Fraîche
Some oysters to start, naturally. These were nice enough, meaty and supple, with a marked, lingering brine that I enjoyed. I also liked the slight touch of astringency from the spinach, though I didn't taste much from the caviar, and overall, I wanted more pop, more verve from the dish.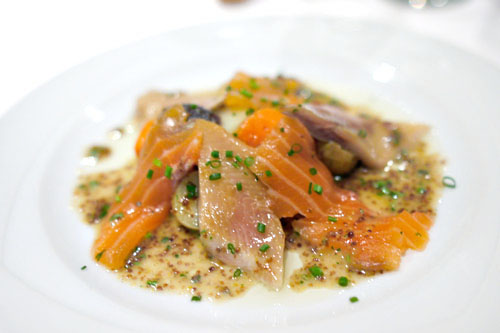 Imported Smoked Herring & Homemade Gravlax [$15.00]
| with Warm Potato Salad and Dill Mustard Dressing
A duet of salmon and herring showed off tons of saline, smoky flavors that I found rather endearing. The heft of the fish was tempered superbly by the moderating effect of the potatoes, while the dill-mustard dressing added pinpoints of piquancy to the mix.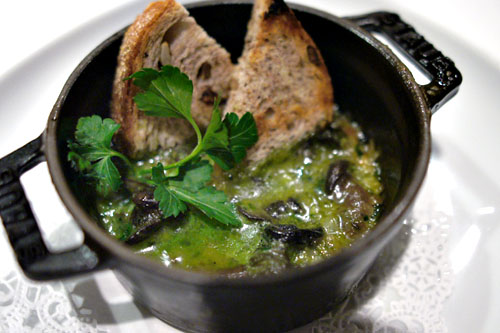 Escargot Cassolette "Christine" [$17.00]
| Toasted Pine Nuts and Garlic Butter
A
cassolette
of escargot was just about perfect, brimming with buttery, garlicky flavors. The texture of the snails was spot on as well, and I appreciated the nutty contrast and crunch from the
pignons de pin
as well. The epitome of escargot.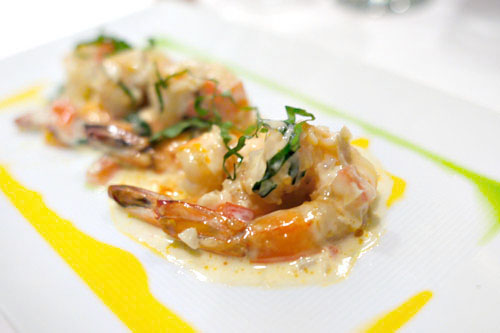 Scampi Magali [$18.00]
| Sautéed Tiger Prawns with Tomato, Basil, and Pastis Cream Sauce
The scampi, unfortunately, wasn't quite as successful, arriving at the table somewhat overcooked. The flavors here were certainly palatable, but I really wanted to taste more brightness, more acidity from the dish.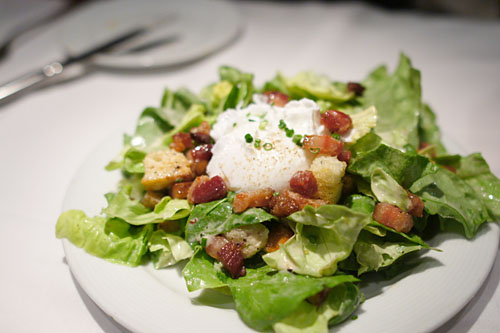 Salade Maison [$11.00]
| Butter Lettuce, Croutons, Poached Egg, and Warm Lardons on the Side with House Vinaigrette
Here was Ohlats' take on the traditional
salade lyonnaise
. It was pretty much flawless, and one of the best versions of the salad that I've had. I loved the sweet, lush character of the butter lettuce, and how that played with the salty lardons, crisp croutons, and tangy vinaigrette, all tied together by that runny egg.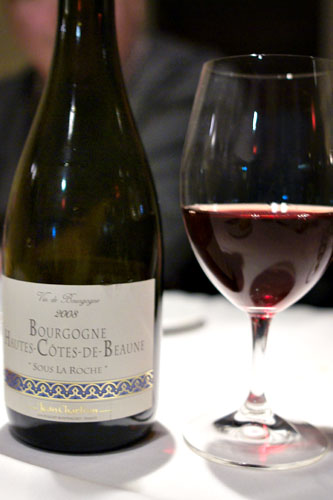 Our second wine, the
2008 Jean Chartron Bourgogne Hautes-Côtes de Beaune Sous La Roche [$65]
, was rather enjoyable as well. Imagine loads of light cherry flavors up front, transitioning to weightier nuances of spice and smoke.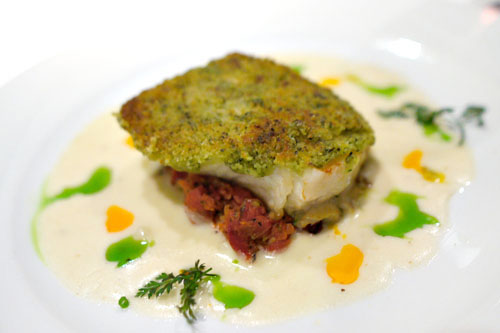 Thyme-Crusted Sea Bass [$34.00]
| Seafood Chardonnay Sauce on a Tomato Concassé (House Specialty)
The first of our main courses brought us Pascal's signature dish of sea bass. The fish came with a soft, supple, falling-apart tender consistency, along with an arrestingly bold, ocean-y savor that played nicely off of the herby zing of the thyme, while the Chardonnay sauce added depth and body to the course.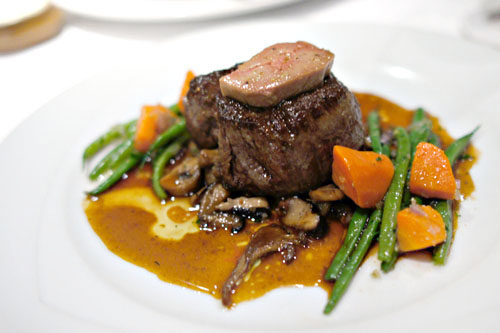 Sautéed Prime Beef Filet Mignon Périgord [$35.00]
| with Sautéed Foie Gras and Cognac Truffle Sauce
Next up was a classic French-style preparation of filet mignon. Think soft, flavorful beef, amped up by the inclusion of foie gras, with an additional gravitas imparted by the dark, earthy essences of truffle and mushroom.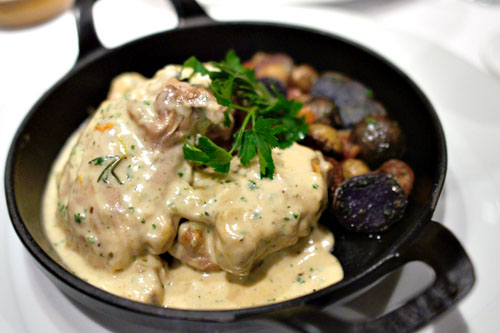 Braised Rabbit [$30.00]
| with Dijon Mustard Sauce and Roasted Potatoes
Rabbit was beautifully tender, though a touch drier than I would've liked (one of my dining companions likened it to
carnitas
). The taste was all there, however, and I really appreciated the tartness of the Dijon here and how it, in concert with the rosemary, balanced out the otherwise monolithic nature of the meat.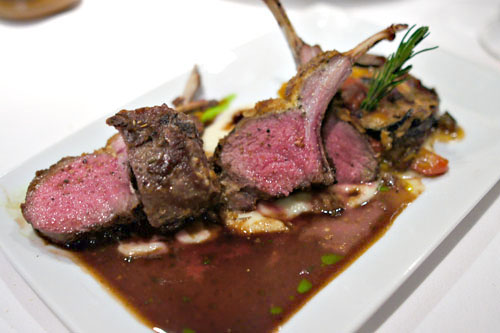 Dijon-Crusted Rack of Lamb [$32.00]
| Celery Root Purée, Vegetables a la Provençale and Pan Jus
Lamb was my favorite of the mains, with its perfect temperature, supple bite, and delightfully rich, gamey smack, gorgeously accented by the heady aromatics of rosemary in the dish.


For the final course of our prix fixe, we had our pick from the dessert menu. Click for larger versions.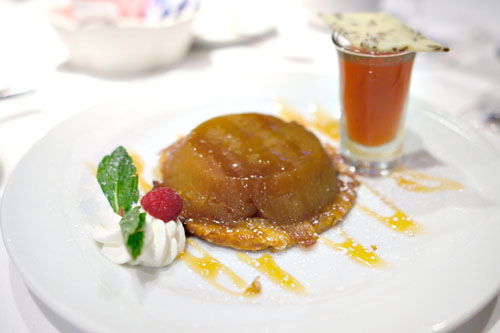 Warm Tarte Tatin [$11.00]
| With a Strawberry and Champagne Shot
A tarte tatin was surprisingly good, balancing the dense, sugary apples against the dish's wonderfully flaky, airy crust, while the strawberry Champagne added a further point of levity.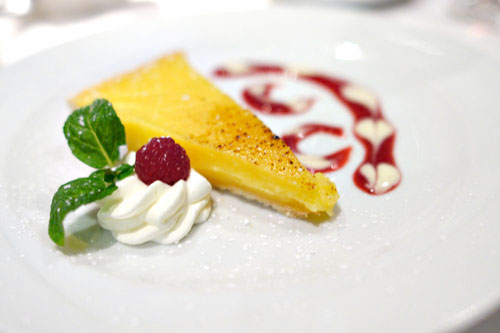 Classic French Lemon Tart [$10.00]
| Served with Raspberry Coulis
The lemon tart was exactly what you'd expect, with its distinct sourness only partly moderated by the sweetness of the accompanying raspberry sauce.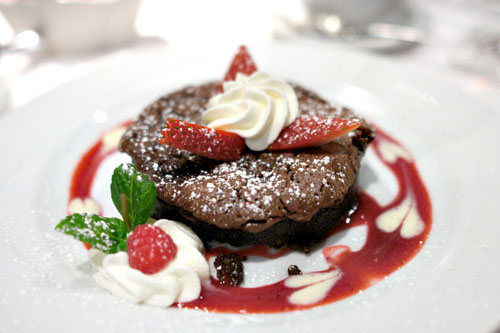 Chocolate Chestnut Torte [$11.00]
| Served Warm with Chocolate and Raspberry Sauce
What we had here basically amounted to a chocolate torte, as I didn't taste much at all from the chestnut. Nothing too exciting, with a classic interplay of flavors between the chocolate and berry.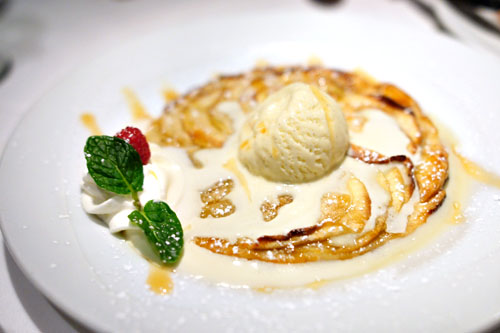 Warm Thin Apple Tart [$11.00]
| Ice Cream & Caramel Sauce
The apple tart was arguably my favorite of the desserts. I appreciated the crisp, sweet apples here, along with the dish's crunchy, flaky crust, all tied together by a tantalizing scoop of vanilla ice cream.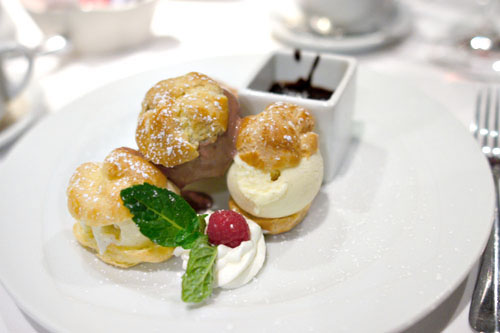 Profiterole au Chocolate [$11.00]
| Pastry Puff filled with Vanilla Ice Cream, Chocolate Sauce
We finished with profiteroles, which are always a treat. Chocolate and vanilla ice cream, puff pastry, chocolate sauce--can't go wrong with that. Delicious.
Somewhat to my surprise, I came out of this dinner pretty contented. The food
was
very classic in essence, and didn't bring much of anything new to the table per se, but the cooking was, for the most part, on point and the flavors satisfying. I can see why Pascal has remained so popular over the years, and Orange County really is losing one of its finer eateries--a shame. As for what's next for this ambassador of
cuisine Française
, Olhats will be busy with his other establishments, and is also considering expansion of the Pascal brand and empire. Also, he's working on a cookbook documenting his 30-year journey in the kitchen, to be completed when it gets completed. And as for the space, word
was
that a fellow Frenchman,
Ortolan
's Christophe Émé, was moving in to open a self-titled eatery called, simply, Émé, but that deal ultimately fell through. Another restaurant will be taking over the lease, however, and Olhats will be helping them out in a consulting role, so definitely be on the lookout for that.