Marché Moderne (Costa Mesa, CA) [2]
Marché Moderne
3333 Bristol St, Costa Mesa, CA 92626
714.434.7900
www.marchemoderne.net
Mon 03/29/2010, 07:30p-10:10p
Ever since debuting in 2006, Florent and Amelia Marneau's modern French bistro has garnered its share of accolades, and has firmly been entrenched as one of the top dining destination in Orange County. I'd had a very satisfying meal here
back in 2008
, but lured by the glitz and glamour of French eateries in LA, I'd not made it back since. Thus, I jumped on the chance to return when I was asked to go by readers Oanh of
It's More Than Just Eating
and Jin of
Love Me...Hate Me...Feed Me...
. In addition to being bloggers and all 'round foodists, the duo are also members of volunteer-run national non-profit organization
Project by Project
. Jin is the
Director of Events
for the SoCal region, and Oanh is in charge of recruiting local restaurants to participate in
Plate by Plate
, the group's annual tasting benefit featuring some of the Southland's most notable chefs and restaurants. The event is slated for August 14th this year, and past participants have included:
Bashan
,
Bastide
,
The Bazaar
,
Fraiche
,
Grace
,
Joe's
,
Melisse
,
Mo-Chica
,
Sona
,
Spago
,
Valentino
, and
Water Grill
!

Amazingly, I was seated at the
exact same corner table
as last time!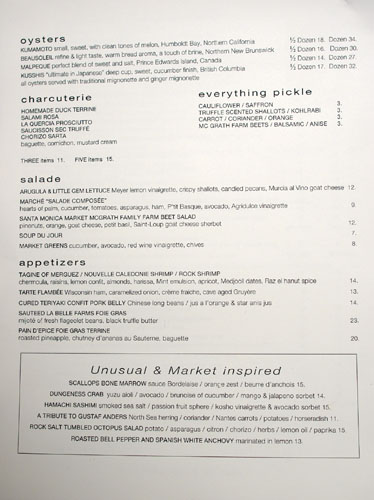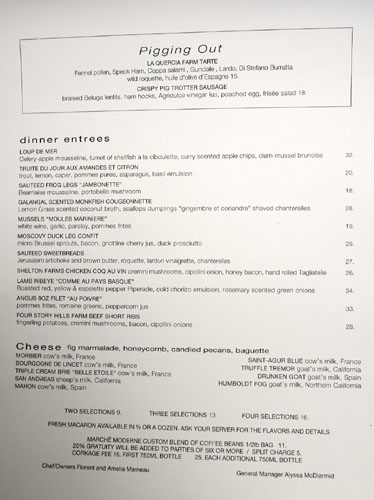 Marché's menu has always been large and varied, expanding well beyond your typical "bistro" fare. Click for larger versions.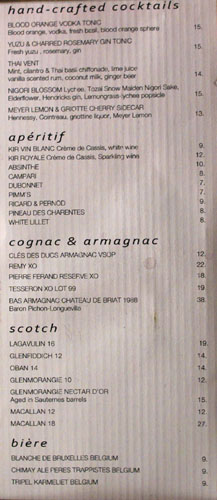 The cocktail list is short but sweet (literally). Click for a larger version.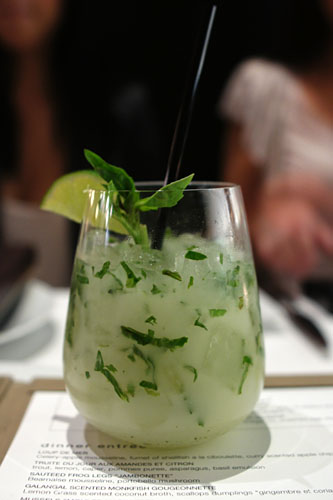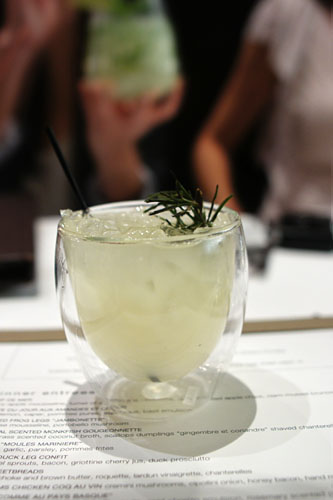 To start, I went with the Thai Vent (say
vahn
--French baby!) [$14], with mint, cilantro & Thai basil chiffonade, lime juice, vanilla scented rum, coconut milk, and ginger beer. I likened it to a mojito (Oanh was thinking more piña colada), with an unabashedly sweet attack leading to a lingering finish of vanilla-tinged heat. Jin ordered the Yuzu & Charred Rosemary Gin Tonic [$15], made from fresh yuzu, rosemary, and gin. It was a sour drink, with the gin nicely countered by the tang of the yuzu, and I really appreciated the use of the bitter rosemary.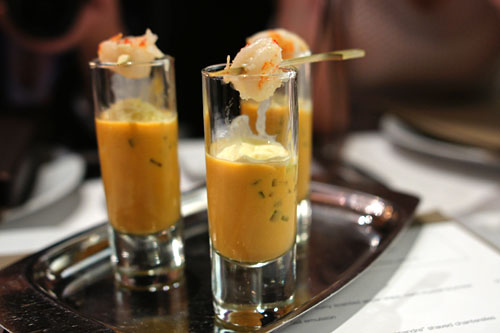 Amuse Bouche
Our amuse bouche consisted of a tomato bisque with pastis ice cream and rock shrimp. I loved the sweet/sour interplay from the bisque, which was a perfect complement to the shrimp, while the pastis lent a hint of astringency on the close. Very good.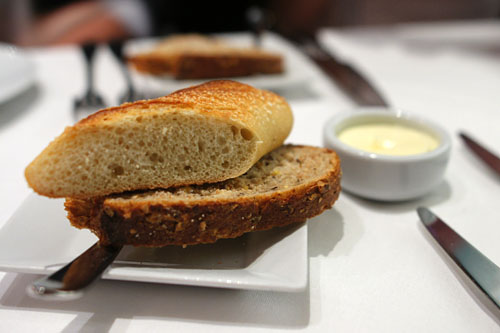 Bread service consisted of baguette and whole wheat, served with salted butter.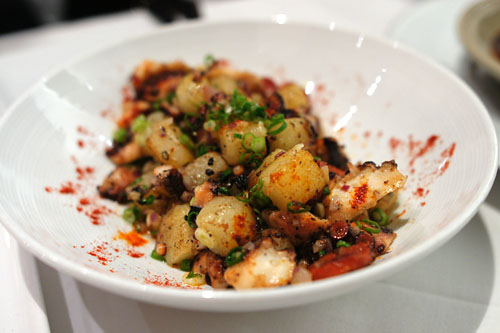 ROCK SALT TUMBLED OCTOPUS SALAD [$15.00]
| potato, asparagus, citron, chorizo, herbs, lemon oil, paprika
We began with what turned out to be my favorite course of the night. The spice of the paprika and the salty chorizo formed a superb complement to the beautifully tender, slightly sweet octopus, while the lemon added just the right amount of zestiness. The potato, meanwhile, moderated the flavors, and also added an excellent textural element. One of the best preparations of octopus I've had.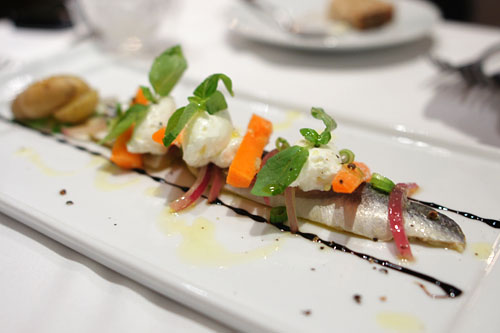 A TRIBUTE TO GUSTAF ANDERS [$11.00]
| North Sea herring, coriander, Nantes carrots, potatoes, horseradish
Gustaf Anders was a Swedish restaurant formerly housed at South Coast Plaza, and, in my opinion, it was one of the best in all of OC. In fact, in my formative foodie years, it was one of the first places where I really learned to appreciate the simple pleasures of a well-prepared steak. As such, this dish was a must-order for me, and beautifully captured the essence of the restaurant. The herring, expectedly, was suitably briny, but was tempered deftly by the crisp carrots and onions, creamy horseradish, and mild potato especially. The whole hodgepodge of flavors actually reminded me of the great
Salade d'Hargens
that I had not too long ago at
Church & State
.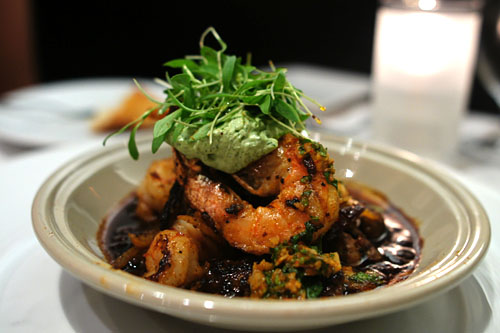 TAGINE OF MERGUEZ / NOUVELLE CALEDONIE SHRIMP / ROCK SHRIMP [$14.00]
| chermoula, raisins, lemon confit, almonds, harissa, mint emulsion, apricot, medjool dates, ras el hanout spice
This was a fascinatingly complex course, with a positively intriguing interaction between sweet and savory. I really appreciated the meatiness, the substantialness of the two kinds of shrimp, while the mint really helped uplift this very aggressively flavored dish. In fact, the whole amalgamation had an almost
chili
-like character to it! Very nice.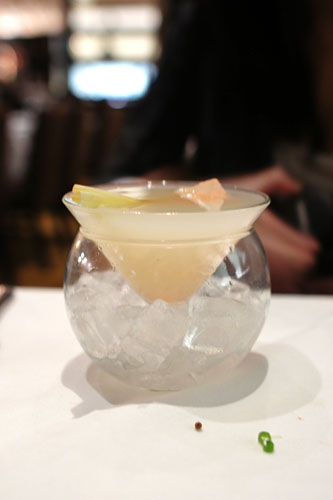 For our second round of drinks, Jin and I again went with cocktails, while Oanh stubbornly held on to her bubbly. I chose the Meyer Lemon & Griotte Cherry Sidecar [$13], comprised of Hennessy, Cointreau, griottine liquor, and Meyer lemon. It's a twist on the classic cocktail that adds balancing notes of sour cherry into the mix--nice! Jin had the Nigori Blossom [$15], a combination of lychee, Tozai Show Maiden nigori sake, elderflower, Hendricks gin, and a lemongrass-lychee popsicle. Think very strong, saccharine flavors of lychee, hiding most of the gin character.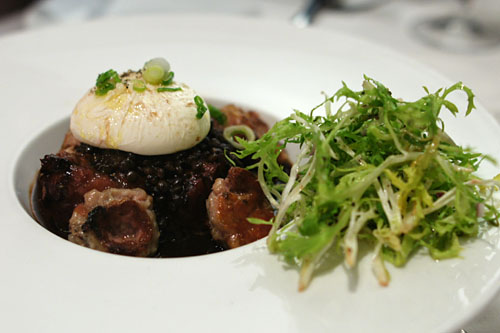 CRISPY PIG TROTTER SAUSAGE [$18.00]
| braised beluga lentils, ham hocks, agridulce vinegar jus, poached egg, frisée salad
As regularly readers might know, I'm somewhat of a sausage fiend, so this was a must-have dish (especially with those trotters!). It didn't, however, turn out the way I expected--not necessarily a bad thing, mind you. The sausage, naturally, was immensely flavorful (I wanted more), as was the ham, while the poached egg contributed an enveloping luxuriousness to the whole dish. The power of all this was lightened by the frisée, while the agridulce provided a nicely piquant counterpoint. My favorite part, though, was the great earthiness imparted by the lentils.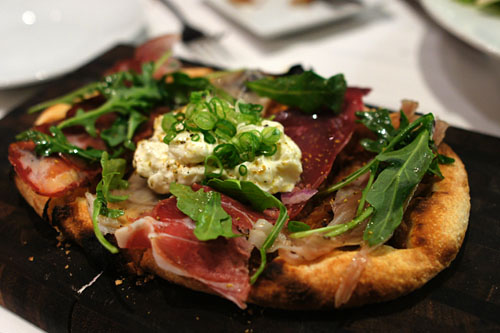 LA QUERCIA FARM TARTE [$15.00]
| fennel pollen, speck ham, coppa salami, guanciale, lardo, Di Stefano burrata, wild roquette, huile d'olive d'Espagne
La Quercia is one of the most respected names in cured meats here in the US, so how could I resist this tart, made with no less than
four types
of pork? We're talking about speck (smoked ham), coppa (shoulder/neck cold cut), guanciale (unsmoked jowl bacon),
and
lardo (cured backfat). I loved the way the salty, savory salume was complemented by the mild, creamy burrata and bitter rocket. Great crust, too.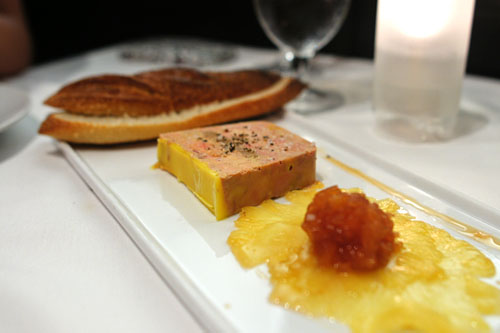 PAIN D'EPICE FOIE GRAS TERRINE [$20.00]
| roasted pineapple, chutney d'ananas au Sauterne, baguette
Both Jin and I prefer cold foie gras, so we chose this over the sautéed variety. The foie itself was textbook, with a strong liver-y smack balanced by the sweet-spicy flavors of its
pain d'épices
treatment--very nice with the baguette. The included pineapple and pineapple chutney, however, rendered the foie overly sugary for my tastes, and were superfluous for me.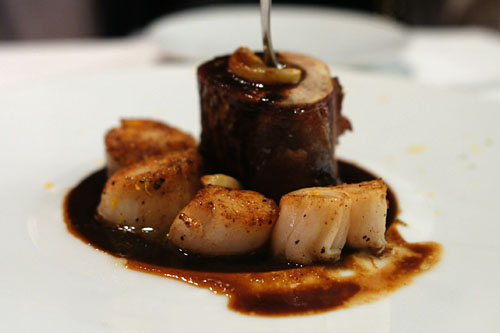 SCALLOPS BONE MARROW [$15.00]
| sauce Bordelaise, orange zest, beurre d'anchois
This was definitely one of the more interesting preparations of scallops I've seen. The bivalves are usually fairly delicate in flavor, so I was surprised to see them paired here with three very powerful accoutrements: bone marrow, Bordelaise, and anchovy butter. The marrow did add a considerable gravity to the otherwise tame scallops, but the Bordelaise was a bit strong for my liking, somewhat masking the scallops' inherent flavor.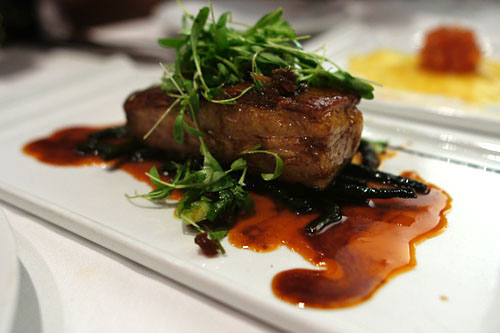 CURED TERIKYAKI CONFIT PORK BELLY [$14.00]
| Chinese long beans, jus a l'orange & star anis jus
Pork belly is all the rage these days, so I suppose it was fitting to have it as our final savory course of the evening. The pork alone demonstrated its typical tender, fatty, oleaginous character--that I had no problem with. However, the paired teriyaki sauce was far, far too saccharine, completely overwhelming the belly's natural porcine savor. I wasn't sold on those long beans, either. Fortunately, the greens did helped simmer things down, but even they weren't enough to save the dish.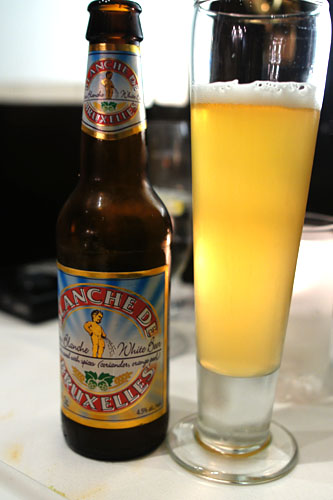 I decided to move on to beer at this point, and ordered up a Blanche De Bruxelles [$9] from Belgium's Brasserie Lefèbvre, the most interesting beer on an unfortunately short list. Done in the
witbier
, or white beer, style, the Blanche is spiced with coriander and orange peel, giving it a crisp, spicy, fresh and fruity flavor that we absolutely adored.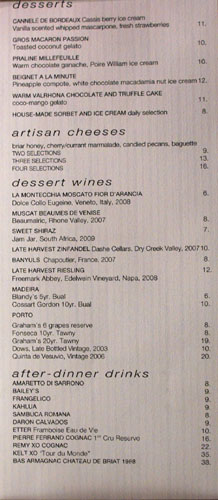 Though we were quite sated by this point, dessert was still a must. Click for a larger version.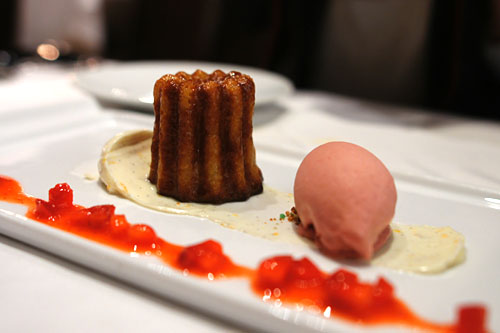 CANNELÉ DE BORDEAUX [$11.00]
| cassis berry ice cream, vanilla scented whipped mascarpone, fresh strawberries
Ever since dining at
Canelé
in Atwater Village, I've been somewhat intrigued by its namesake Bordelaise pastry. Here, I appreciated the canelé's soft, creamy insides, but the exterior could've been a touch more caramelized. In any case, the relatively heavy, rum-tinged flavor of the pastry was nicely balanced by the use of tart fruit.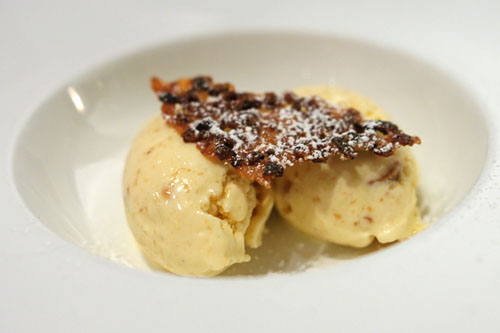 WHITE CHOCOLATE AND MACADAMIA ICE CREAM [$8.00]
Looking at dessert menus, I usually eschew ordering the "House-made sorbet and ice cream," but I'm glad we did this time, as this was truly some of the best ice cream I've had in a long while. Its sophisticated, sweet but not too sweet flavor, augmented by the use of macadamia, really spoke to me, and the tuile added a wonderful textural counterpoint. Delish.
Despite some missteps, I enjoyed this meal even more than my last experience here. Sure, the food is firmly rooted in French tradition, but the modern flourishes are really what set the place apart: classic flavors, juxtaposed with the Marneau's global, California-inspired influences. Once again, a meal that reinforces in my mind why Marché Moderne is considered one of the top spots in OC.