Milo & Olive (Santa Monica, CA)
Milo and Olive Restaurant
2723 Wilshire Blvd, Santa Monica, CA 90403
310.453.6776
www.miloandolive.com
Thu 05/03/2012, 07:45p-10:20p

The latest project from dynamic duo Josh Loeb and Zoe Nathan is the new Italianate eater Milo & Olive. It's named after the couple's young son Milo, and as for the "Olive," I can only assume that their daughter, if they were to have one, would be given that moniker. Following in the footsteps of
Rustic Canyon
, Huckleberry, and Sweet Rose Creamery, Milo & Olive melds Nathan's formidable baking skills with "third wave" pizza and a farmer's market-driven small plates menu not unlike that at Rustic. The bakery portion of the restaurant debuted on November 18th last year, with the rest of the place falling in line at the start of December. To helm the kitchen, Loeb and Nathan brought along Evan Funke from Rustic Canyon, but he would leave the restaurant at the end of February to pursue his own culinary goals. After a brief period of disarray, none other than longstanding Los Angeles chef
Walter Manzke
was tapped to take the reins.

Milo & Olive takes over the former home of the middling Marina Pastry, which has been completely revamped by local firm
Montalba Architects
. They've gone for a sort of "urban rustic" feel for the room, which holds eight at a kitchen-facing counter and twice as many over two communal tables. The space is
small
, and they don't take reservations, which means you can expect a wait (about half an hour in our case).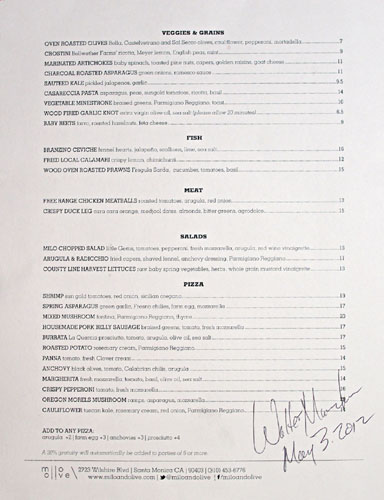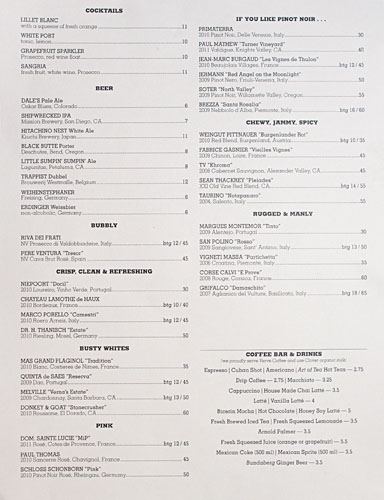 Milo & Olive's menu features around a dozen or so pizzas, fired in a Mugnaini wood-burning oven, backed by an array of small plates. To drink, think a focused list of bottlings from smaller wineries, as well as a compact list of beers and a smattering of lightweight cocktails. Click for larger versions.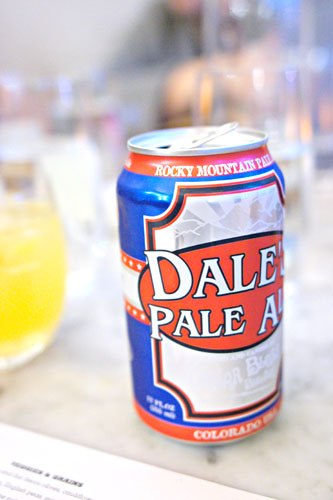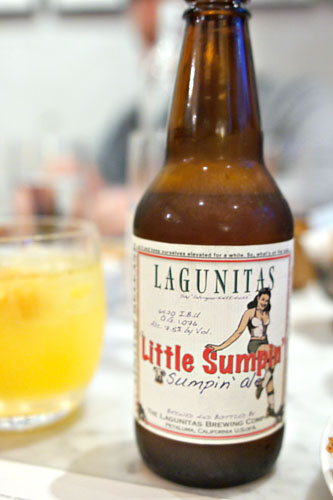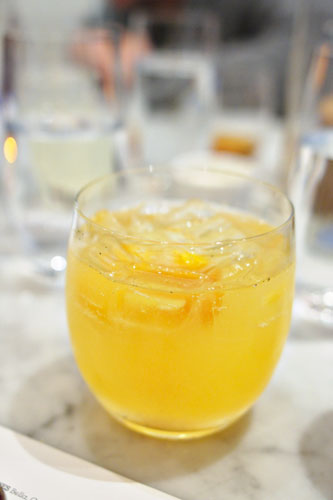 A couple of beers to begin. Dale's Pale Ale [$6] from Oskar Blues Grill & Brewery arrived in a can, which is unique to see in a restaurant setting. It was actually pretty tasty, sort of like an IPA but with a firmer, more apparent malt backbone. Lagunitas' A Little Sumpin' Sumpin' Ale [$8] was also rather enjoyable, with a tart, citrus-y character balanced by a good bit of fruity sweetness and moderating hops. To go along with the beers, we also ordered up the Sangria [$11], made here with fresh kumquat, white wine, and Prosecco. It was exactly what I'd expect: fruity, light, easy-drinking, and positively refreshing.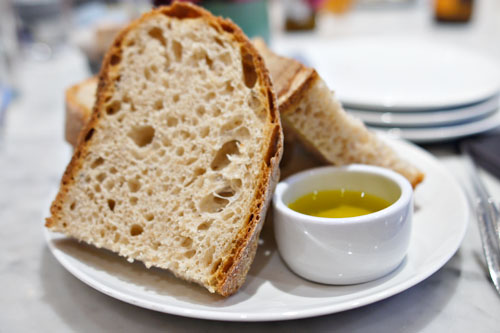 House-made bread arrived with olive oil, but we barely got to take a bite of it due to the massive amounts of food to follow.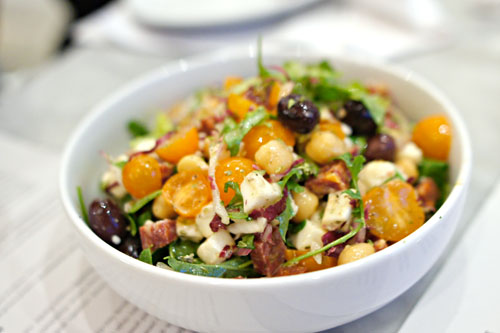 Milo Chopped Salad [$13.00]
| little Gems, tomatoes, pepperoni, fresh mozzarella, arugula, red wine vinaigrette
To start, Manzke sent out his newly-created chopped salad, the first of many gifts from the kitchen. I almost never order salads, but this was fantastic. The pepperoni was the star of the show here, with its spicy, salty kick playing off the bright flavors of the lettuce, tomatoes, and arugula, while the mozzarella added further body and heft to the dish. I also loved the use of chickpeas here, which added an interesting textural component and delectable earthiness, as well as the tangy vinaigrette, which did a wonderful job in tying all the disparate elements together.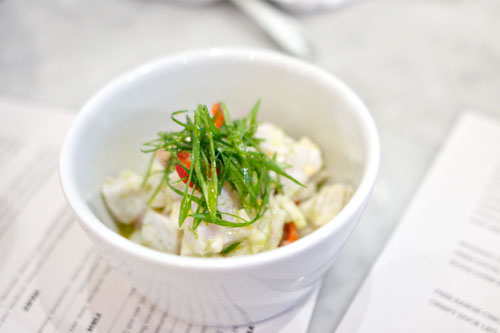 Branzino Ceviche [$16.00]
| fennel hearts, jalapeño, scallions, lime, sea salt
The ceviche was on point as well, with the firm, fresh cubes of branzino deftly enhanced by the spicy-sour combination of lime juice and jalapeño. Fennel hearts, meanwhile, offered up a delightful crunchiness to the course.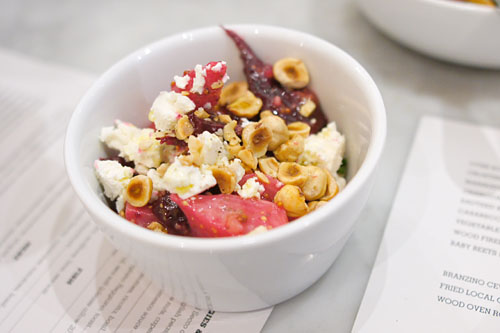 Baby Beets [$9.00]
| farro, roasted hazelnuts, feta cheese
This next dish was surprisingly palatable given my aversion to its main ingredient. The beets were actually quite nice here--not too sweet, with a very satisfying consistency. I appreciated the tangy, creamy temper provided by the feta, while the farro and hazelnuts represented earthy, nutty counterpoints to the root vegetable, and also did a great job mixing things up texturally.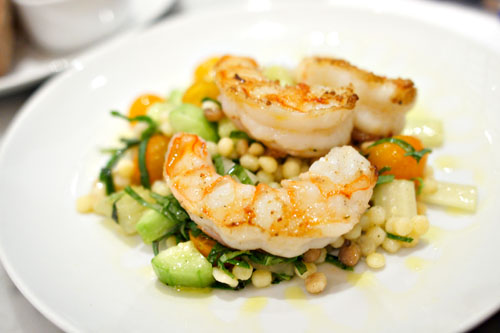 Wood Oven Roasted Prawns [$15.00]
| Fregula Sarda, cucumber, tomatoes, basil
As for the prawns, I would've liked them a touch rarer, but nevertheless, they were still delectable, with a rich, sweet brine accented by just a hint of char. A salad of
fregola
semolina pasta and vegetables, meanwhile, provided a light, bright contrast to the dish that I really appreciated.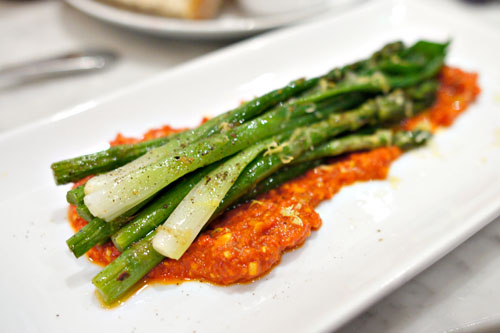 Charcoal Roasted Asparagus [$11.00]
| green onions, romesco sauce
Long, thin, supple spears of asparagus showed off their trademark vegetal tang, augmented by the slight bitterness imparted by their charcoal roasting. They were a fitting pair to the nutty, piquant flavors of the romesco, as were the tangy stalks of green onion (
calçots
I assume).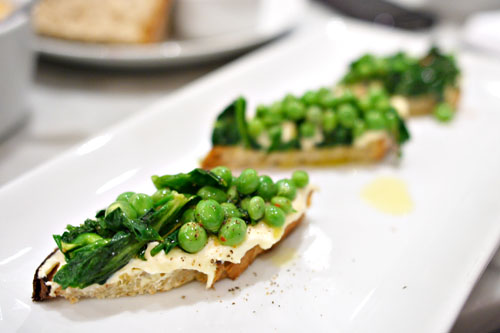 Crostini [$9.00]
| Bellwether Farms' ricotta, Meyer lemon, English peas, mint
Given my propensity for peas, it's no surprise that I enjoyed this next course. Their bright, verdant flavors went perfectly with the cool relish of the mint, and I appreciated how the ricotta lent weight and depth to the dish, serving as a fitting stage on which the other ingredients could really sing. Lovely overtones of citrus from the lemon, too.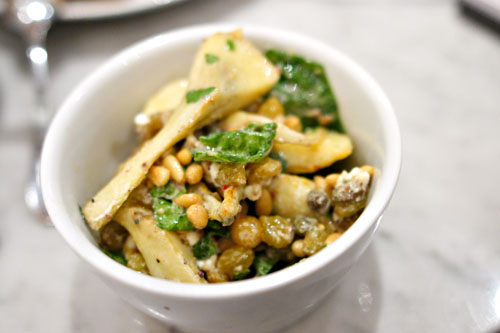 Marinated Artichokes [$11.00]
| baby spinach, toasted pine nuts, capers, golden raisins, goat cheese
One of my dining companions deemed this the best artichoke dish ever, and though I'm not sure I share quite that level of enthusiasm, it was certainly a very good one. The artichoke itself was spot on both in terms of flavor and texture, and I appreciated the countervailing gravity offered by the
chèvre
here. Capers added a focused tanginess to the dish, while raisins provided an undercurrent of sweetness to the fray. A lovely mix of dissimilar items, but with the artichoke firmly remaining the hero throughout.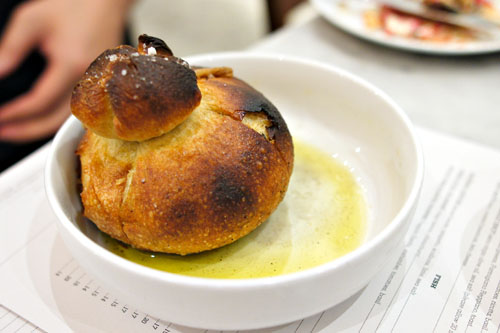 Wood Fired Garlic Knot [$6.50]
| extra virgin olive oil, sea salt
Milo & Olive's "ultimate" garlic knot is quickly becoming the restaurant's signature dish, and for good reason it seems. It's made with pizza dough, which is then stuffed with garlic and tied up with string. The whole shebang is then coated with olive oil and cooked in the wood-fired oven, the result of which is a delightfully crisp exterior leading to a warm, fluffy inside teeming with delectable cloves of garlic.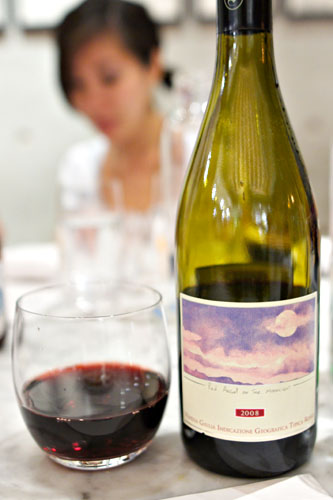 To pair with the heartier courses to follow, we requested a bottle of the 2009 Jermann Vinnaioli Pinot Nero "Red Angel on the Moonlight" [$50] from the Friuli-Venezia Giulia region of Italy. This was a nice presentation of pinot noir: fairly substantial, with lots of dark red fruit tinged by a pleasant earthiness and minerality.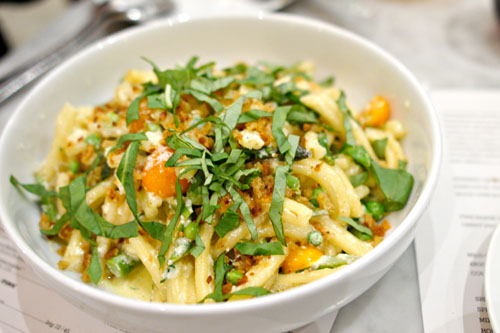 Casareccia Pasta [$14.00]
| asparagus, peas, sungold tomatoes, ricotta, basil
Casarecce
isn't a pasta that you see every day, and in fact, I'd only had it once before, at
Sotto
. It was delightful though, and I loved the bright, green flavors of the peas and asparagus here, combined with the aromatics of basil and the tart, juicy tomatoes. Ricotta, meanwhile, added lusciousness and weight to the dish, making for a lovely pasta course overall.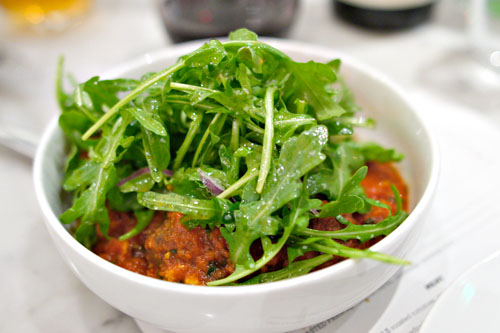 Free Range Chicken Meatballs [$13.00]
| roasted tomatoes, arugula, red onion
Chicken meatballs in a
pomodoro
-ish sauce was just as you'd expect, showing off a simple, subtly sweet savoriness moderated in part by the peppery tang of the arugula.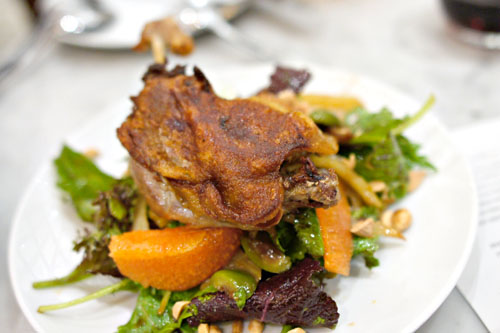 Crispy Duck Leg [$15.00]
| cara cara orange, medjool dates, almonds, bitter greens, agrodolce
Duck arrived perfectly cooked: succulent and tender, yet with a wonderfully crisp, salty skin, and teeming with the deep, heady relish of the bird. The accompanying fruits and vegetables, meanwhile, served to balance out the weight of the meat, though there was a bit too much of it on the plate it seemed.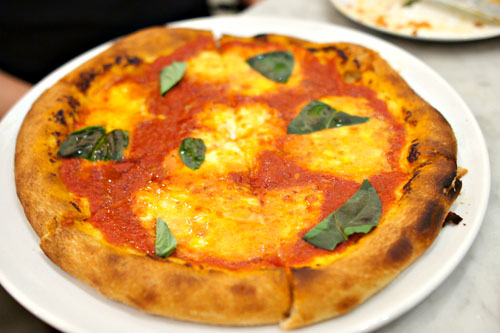 Margherita [$14.00]
| fresh mozzarella, tomato, basil, olive oil, sea salt
It was time for some pizza, and naturally, we had to try the basic
margherita
(and no, it wasn't inspired by Manzke's wife Margarita!). The flavors here were straightforward and uncomplicated, with the Gioia mozzarella and tomato playing off each other in classic fashion, joined by the sweet perfume of basil leaves. As for the crust, it's made in-house with whole grain dough (replete with olive oil and honey), and thus is noticeably heftier than usual, with a nice crispness and far less astringency (which I think actually would've worked well in this particular pie) and no leopard spotting à la
Sotto
.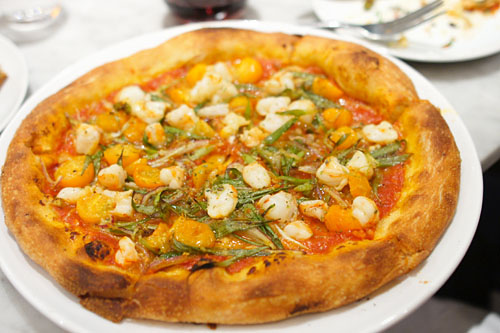 Shrimp [$19.00]
| sun gold tomatoes, red onion, sicilian oregano
Up next was a shrimp pizza, with the crustaceans coming in cooked through, but still with a bit of snap to them. Their subtle sweetness paired well with the tart-ish tomatoes here, and I appreciated the crunchy tang of the red onion. The key, though, was that oregano, which contributed an enveloping, herbaceous, and aromatic zing that did a great job in tying all the various ingredients together.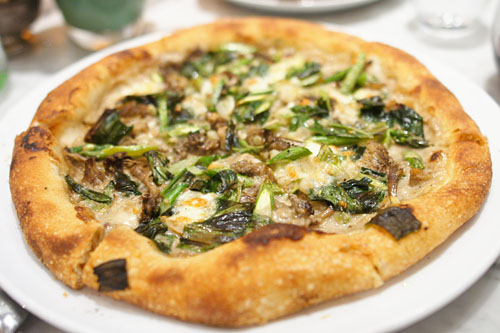 Oregon Morels Mushroom [$29.00]
| ramps, asparagus, mozzarella
We eagerly snatched up the last Oregon morel pizza in the restaurant, which, at $29, just might've been the most expensive pie that I'd ever eaten. It was worth it though, with the mushrooms proudly displaying their intense, nutty, earthy flavor in spades, while the asparagus and ramps served as fitting foils to their considerable, umami-laden gravity. Yum.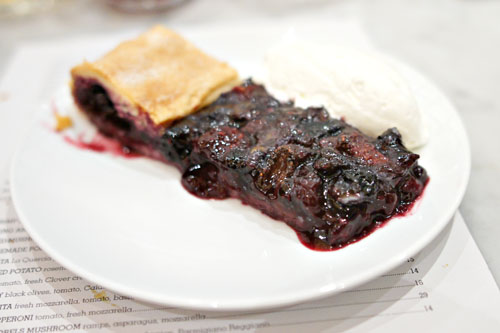 Blueberry and Blackberry Galette
Our first of two desserts was a fabulous galette of both blackberry and blueberry. I thoroughly enjoyed the dense, mouth-watering, sugary smack of the fruit here, especially when taken with the crusty, flaky pastry. At the same time, a dollop of whipped cream added further levity to the dish.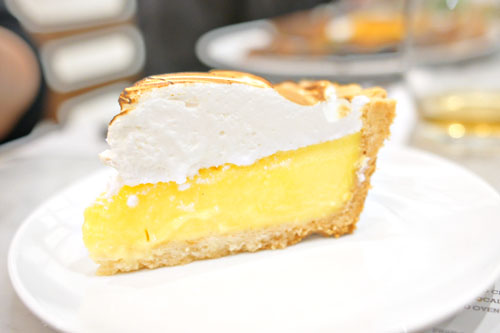 Lemon Meringue Pie
And to finish things off: a classic lemon meringue pie, with a bracingly sour curd and sweet, airy meringue on top.
With Milo & Olive, Loeb and Nathan have done an admirable job in nurturing a neighborhood bakery and pizzeria concept, combining approachable, Italian-ish cooking with Loeb's market-driven, Cal-Med sensibilities. The restaurant represents a fitting expansion of their burgeoning culinary empire, and continues the power couple's trend of bringing a semblance of decency to the Santa Monica dining scene. As for Walter Manzke, you can tell that he loves working here, and he's doing a bang-up job running the kitchen as interim Executive Chef. However, at the same time, we must realize that this really isn't the Chef's own food
per se
, and I do really hope to see République come to fruition in the near future.