Cooks County (Los Angeles, CA)
Cooks County Restaurant
8009 Beverly Blvd, Los Angeles, CA 90048
323.653.8009
www.cookscountyrestaurant.com
Mon 04/23/2012, 07:45p-10:30p

It seems fitting that I followed up the recent
LQ+SK 420 Weed and Herb Dinner
with a meal at Laurent Quenioux's
former stomping grounds
, now transmorphed into Cooks County. The new, market-driven, hyperseasonal restaurant, which debuted on November 7th, is the work of husband-and-wife duo Daniel Mattern and Roxana Jullapat, both late of AMMO in Hollywood. They are joined by another husband-and-wife team, Barbrix owners Claudio Blotta and Adria Tennor, who serve as Beverage Director and General Manager, respectively. Interestingly, all four partners worked at Campanile at one point or another.
About the Chefs
: The man in charge of Cooks County's kitchen is Daniel Mattern, who was raised in Chicago but spent most of his adult life here on the West Coast. He went to college in Eugene, Oregon in the early 1990's, studying political science, and during his tenure there, started his culinary career at a Mediterranean-Middle Eastern restaurant called Cafe Soriah. A few years later, Mattern moved down to Southern California to attend the CSCA in Pasadena, where he graduated near the top of his class. It was also here where he would meet his future business partner and love interest, Roxana Jullapat. After graduating, he returned to Mark Peel and Nancy Silverton's Campanile, where he had previously apprenticed. From there, Mattern went to Suzanne Goin's seminal
Lucques
, then became opening Sous Chef (and later CdC) at Goin's
AOC wine bar
. In early 2007, Mattern relocated to South East Portland to take over the kitchens at Clarklewis, replacing former chef Morgan Brownlow. While there, he befriended Casey Lane, who would later open
The Tasting Kitchen
in Venice in 2009. Mattern returned to LA to work at Axe, then took the lead position over at Amy Sweeney's AMMO in December 2009 (replacing Julia Wolfson) before leaving to work on Cooks County, his first solo project.
Roxana Jullapat, for her part, runs the pastry department at Cooks County. She's a native Angeleno, but spent her childhood in Costa Rica. After pursuing a career in journalism during college, she started baking at Cafe Figaro in Los Feliz. Jullapat then attended the California School of Culinary Arts, and followed Mattern to Campanile, Lucques, and AOC. She also worked a stint at Opaline with
David Lentz
(Suzanne Goin's husband), then cooked at
Bastide
under
Alain Giraud
. In 2007, Jullapat joined Mattern at Clarklewis in Portland, and started working at AMMO in March 2010 as well, before leaving to conceptualize Cooks County.

The old Bistro LQ interior, replete with its white tablecloths and monumental cheese cart, has been completely revamped. The ceiling has been opened up, revealing a tapestry of wooden beams and air ducts, resulting in a brighter, airier, warmer, more rustic ambiance. A hole has been carved into one of the walls as well, allowing for a view into the kitchen and counter seating for six. One drawback to the renovations: the place is
loud
.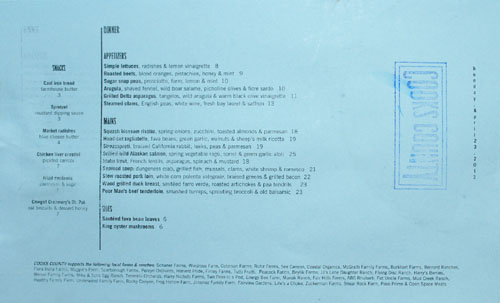 Cooks County's menu focuses heavily on "urban rustic," Cal-Mediterranean-ish, market-driven fare, as evinced by the litany of farms and ranches listed on the bottom of the
carte
. To drink, think a focused selection of eclectic wines from across the globe, not to mention a small smattering of beers. Click for a larger version.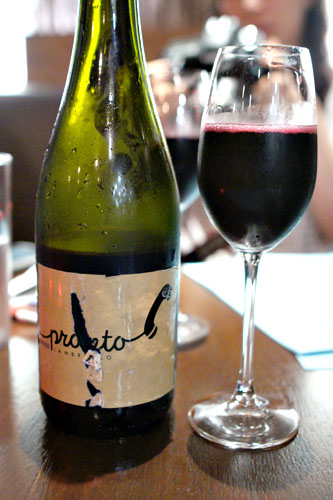 Given our recent, pleasant experience with Lambrusco over at Ari Taymor's excellent
Alma pop-up
, we started with more of the same. The non-vintage Rinaldini Pronto Secco [$30] from Emilia, Italy fit the bill nicely. It was consummately balanced, with a boatload of berry character, but still dry and with a good bit of minerality. Yum.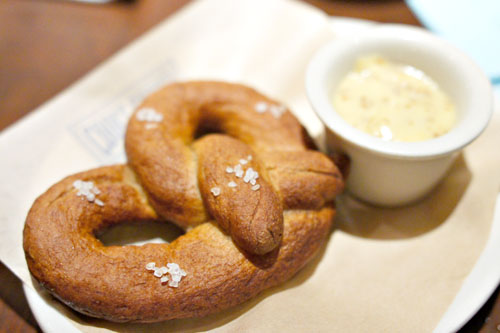 Spretzel [$3.00]
| mustard dipping sauce
We began with the restaurant's signature "spretzel," basically a pretzel made with spelt wheat flour. It was marvelous, with a fantastically crisp, yet supple texture and a satisfying relish beautifully amplified by sharp pinpoints of salt. The spretzel was certainly tasty alone, but the accompanying mustard added a great, tangy kick to things as well. A must try.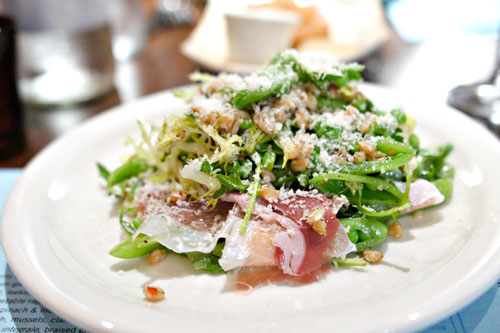 Sugar snap peas [$10.00]
| prosciutto, farro, lemon & mint
A salad of sorts showed off the bracing, green, unmitigated flavors of pea, which I adored. Lemon and mint, meanwhile, added lightness and an additional piquancy to the fray, while the prosciutto lent weight, body, and salt. Farro, finally, served as an interesting textural component, and also worked to ground the dish. Quite nice.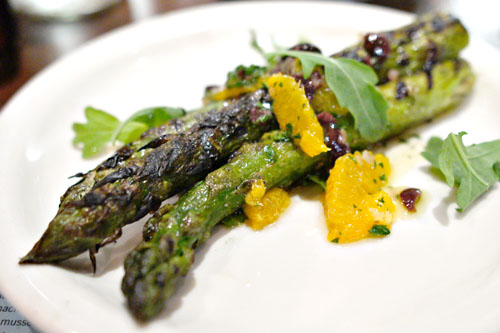 Grilled Delta asparagus [$11.00]
| tangelos, wild arugula & warm black olive vinaigrette
Thick spears of asparagus were sweet, succulent, and supple, teeming with their signature astringency and perfectly amped up by a tinge of bitter grill char. Citrus and arugula functioned to subdue the potency of the Deltas, but the crux of the dish for me was the black olive, which offered an amazing, countervailing piquancy that just set off the asparagus wonderfully.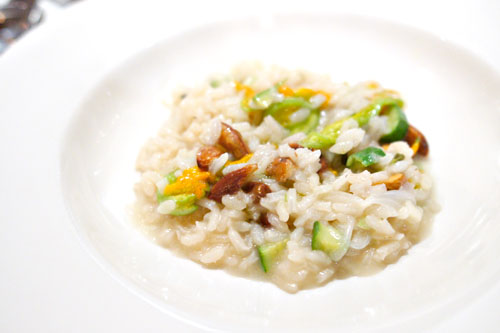 Squash blossom risotto [$18.00]
| spring onions, zucchini, toasted almonds & parmesan
Given my penchant for risotto, this course came as no surprise. It was perhaps the lightest version of the dish that I'd ever had, and I actually wanted more heft, more lusciousness from the Parmesan here to go against the fresh, bright taste of the onion and zucchini. I was also unconvinced about the presence of the almonds, with their crunch seeming a tad discordant to me.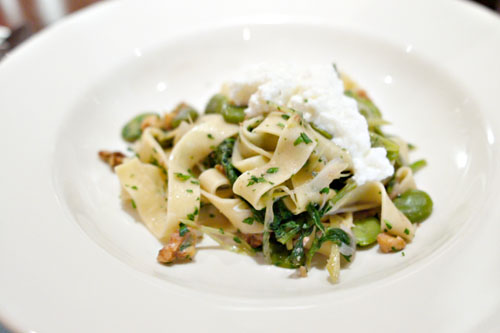 Hand-cut tagliatelle [$19.00]
| fava beans, green garlic, walnuts & sheep's milk ricotta
Tagliatelle arrived expertly cooked, supple in consistency, yet with a bit of a bite as well. The pasta was enrobed in a saline, vegetal bitterness (which some will find overwhelming) from the greens utilized, while the ricotta contributed a counterbalancing, creamy, luxurious heft to the dish. Favas, meanwhile, added a textural element, and the walnuts, an overarching note of nuttiness.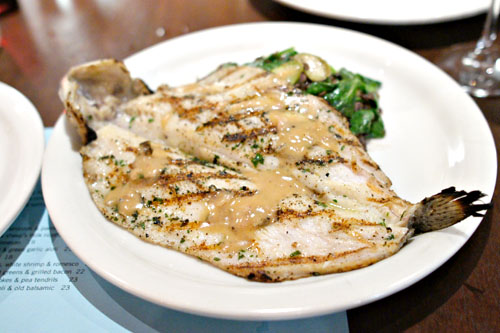 Idaho trout [$18.00]
| French lentils, asparagus, spinach & mustard
Trout came to the table fanned out flat, and its flesh was mild and white, with a nice char, but unfortunately, the fish was marred by numerous pieces of bone. As such, I actually found the accompanying "salad" more enjoyable, with its lovely mix of tangy flavors from the greenery, all tempered by the savory, earthy weight of lentil.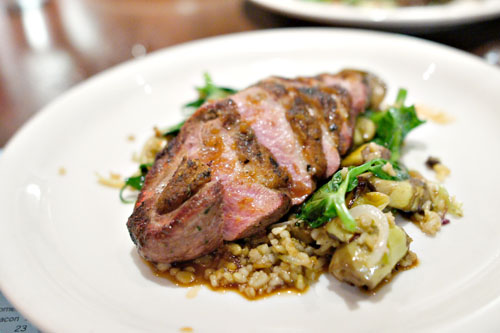 Wood grilled duck breast [$23.00]
| sautéed farro verde, roasted artichokes & pea tendrils
We chose the duck for our final savory course, and it came out pretty much flawless. The bird itself was cooked spot on: tender, juicy, and teeming with deep, duck-y flavor. I also appreciated the farro here, and how it formed a delicate base for the meat, as well as the considerable brightness of the pea tendrils. Easily one of the highlights of the meal.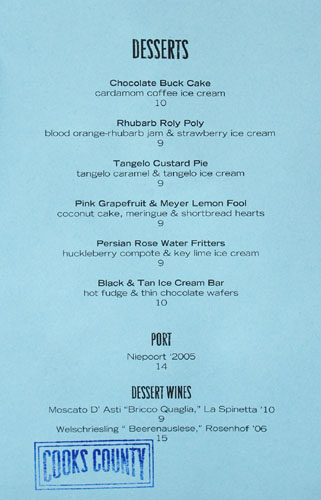 Naturally, we saved room for some of Roxana Jullapat's desserts. Click for a larger version.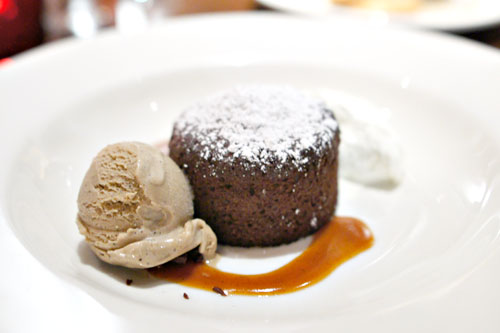 Chocolate Buck Cake [$10.00]
| cardamom coffee ice cream
We'd originally requested the "Black & Tan Ice Cream Bar," but given that the kitchen had run out of it, our server suggested this instead. The cake itself was tasty enough, though not particularly interesting despite the incorporation of buckwheat. Far more intriguing was the cardamom-coffee ice cream, with its delectable mix of sweet and spicy flavors.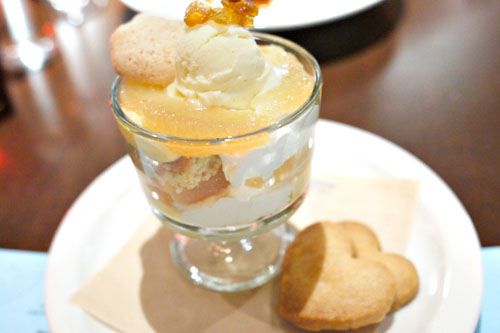 Pink Grapefruit & Meyer Lemon Fool [$9.00]
| coconut cake, meringue & shortbread hearts
Jullapat's so-called "Fool" is akin to her take on the classic trifle. It was absolutely lovely, with the tartness from the citrus fruit playing faultlessly against the delicate sweetness of the coconut cake, while the shortbread cookies served to moderate the dessert. This one came together oh so nicely.
Though we didn't see the culinary fireworks that once inhabited the building under Laurent Quenioux's rule, Mattern and Jullapat have put together what seems like a winning combination here. The meal wasn't perfect, but was enjoyable nonetheless, with straightforward, approachable fare featuring uncomplicated presentations of product that really let the ingredients shine. Fans of
Bistro LQ
may bemoan the less involved preparations now, but fans of the
Lucques
school of cooking, meanwhile, will feel right at home.