Freddy Smalls (Los Angeles, CA)
Freddy Smalls Bar and Kitchen
11520 W Pico Blvd, Los Angeles, CA 90064
310.479.3000
www.freddysmalls.com
Sat 04/07/2012, 05:30p-07:30p

Old school readers might recall that I'm no huge fan of
The Counter
, so when I first heard that build-you-own-burger impresario Jeff Weinstein was opening his own gastropub, I was dismissive. However, when I found out that Jeremy Fox (of
Ubuntu
fame) was on board as consulting chef (he has since left and ceased involvement with the restaurant), my interest was piqued. Freddy Smalls may be one of the latest gastropubs to hit LA, but it might also just be the best. The name comes from a fragment of stained glass with the word "Freddy's" on it, discovered during construction, and though Fox may have gotten people talking about the place initially, the real man in charge of the kitchen is one Charlie Parker. Interestingly, Parker is joined these days by Mario Alberto Orellana (
Lazy Ox
,
Mo-Chica
,
Gjelina
), late of the shuttered Peruvian eatery Chimu in Downtown.
About the Chef
: Parker was born in 1983, and raised in the NorCal enclave of Menlo Park. He developed a keen interest in cooking early on, and started his professional culinary career at age 17, working as a dishwasher at a local Italian joint. After graduating from Woodside High School in 2002, he worked his way up to a line cook position, then attended the California Culinary Academy in San Francisco, finishing up there in 2003. At age 20, Parker got his big break, landing an externship at David Kinch's
Manresa
in Los Gatos. He stayed there for three years, eventually becoming Sous, and would also work with
Jeremy Fox
during this period. Parker was greatly influenced by both Kinch and Fox, and toward the end of his tenure at Manresa in 2006, he even secured a
stage
at Heston Blumenthal's The Fat Duck, but couldn't make it through customs when he arrived in England!
From there, he went to Village Pub in Woodside, and then worked at Severino Community Butcher in Santa Cruz. Parker followed up by becoming Jeremy Fox's opening Sous Chef at
Ubuntu
in 2007, while 2009 saw him work a four-month stint at Rene Redzepi's celebrated Noma in Copenhagen. Upon returning to the US, Parker, through his connection with former employer David Kinch, became Executive Chef at Bonny Doon's Cellar Door Café in Santa Cruz. However, he would leave in October 2010 to serve as CdC at
Daniel Patterson
's Plum in Oakland, a role that Fox was originally slated to fill. Parker was recognized by the
San Francisco Chronicle
as one of their "Rising Star Chefs" for his work at Plum, but he decamped after a year, replaced by corporate chef Ron Boyd. Shortly thereafter, he moved down to LA to work on Freddy Smalls, with the bar/bistro debuting on December 12th last year.

Freddy Smalls takes over the former space of Mexican eatery El Sarape, and the light-and-dark tiled space exudes classic American design.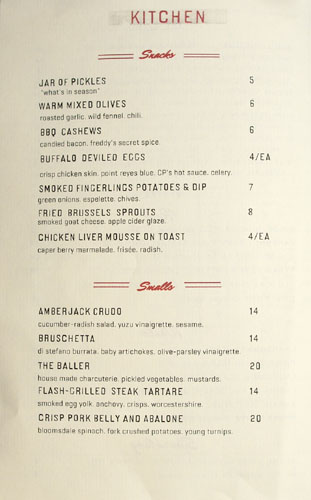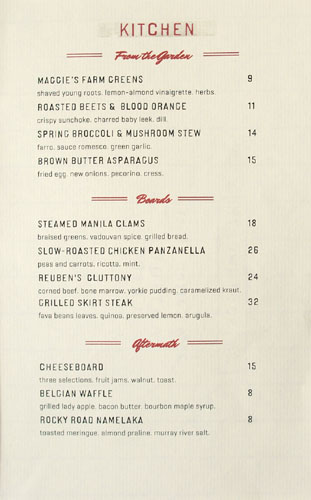 Freddy Smalls' menu is short but sweet, a well edited list of appealing dishes by Chef Parker, and no burger in sight! Click for larger versions.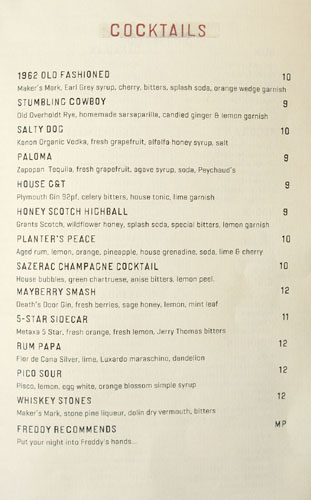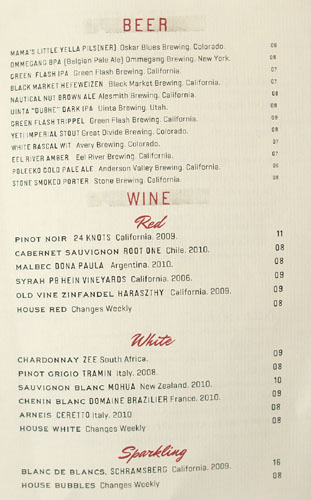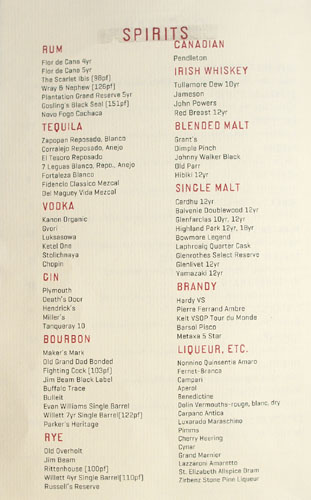 To drink, cocktails from former Seven Grand bartender David Fleisher (who also serves as GM) are the main draw, but there's also a small list of beer and wine on offer as well. Click for larger versions.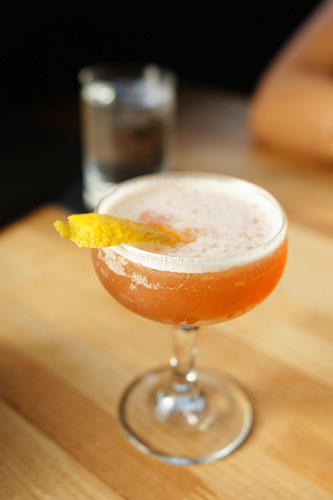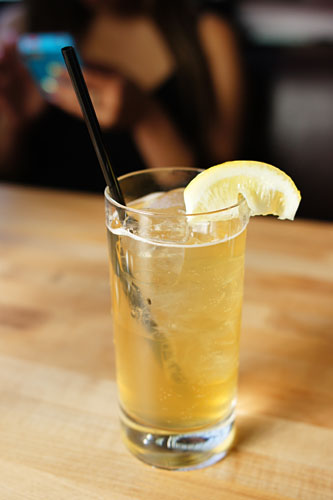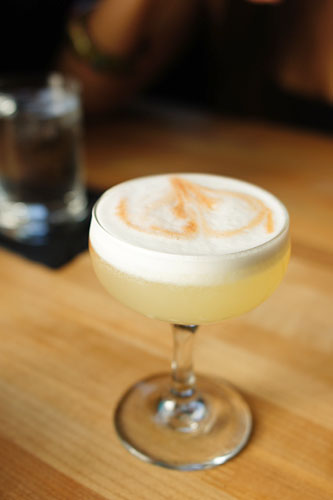 Whiskey Stones [$12.00]
| Maker's Mark, stone pine liqueur, dolin dry vermouth, bitters
Honey Scotch Highball [$9.00]
| Grants Scotch, wildflower honey, splash soda, special bitters, lemon garnish
Pico Sour [$12.00]
| Pisco, lemon, egg white, orange blossom simple syrup
Speaking of those cocktails, we started with a threesome. The Whiskey Stones showed off a keenly aromatic nose of citrus, leading to a boozy, bitter midpalate with the pine coming in on the finish. The Honey Scotch Highball was a neat one as well, with a great interplay between the weight of the Scotch and the sugary smack of honey, all leading to a long, lingering finish loaded with more of the sweet stuff. Finally, we had the Pico Sour, a tasty riff on the original, with a lovely, eggy froth up front, transitioning to a delightful balance of sour, sweet, and spicy flavors.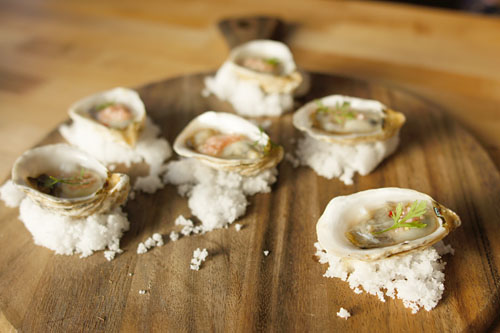 Kusshi Oysters [$3.00/each]
| champagne mignonette. fresno chile.
Kusshis are one of my preferred oyster types, and here they were spot on: snappy and meaty in body, crisp and clean in taste, with a wonderful tanginess from the mignonette and subtle overtones of chile heat on the close.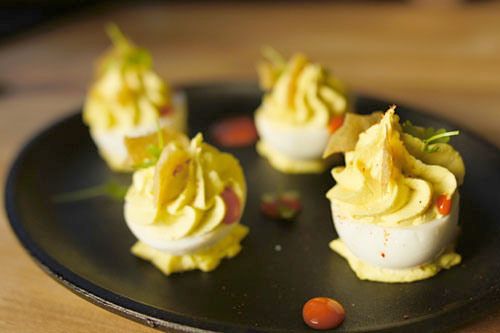 Buffalo Deviled Eggs [$4.00/two]
| crisp chicken skin. point reyes blue. CP's hot sauce. celery.
Given that I'm a notorious
egg slut
, these were an absolute must-order, and some of the best deviled eggs I've had in fact. The kick of the blue cheese was a great change of pace, and I loved the countervailing touch of heat from the hot sauce as well. The crunch and saltiness of the chicken skin were divine, too.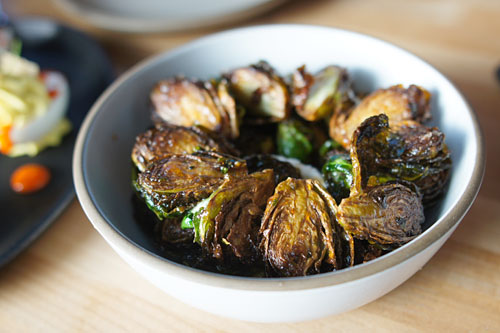 Fried Brussels Sprouts [$8.00]
| smoked goat cheese. apple cider glaze.
Brussels sprouts were on point as well, with their signature astringency on proud display here, played against the subtle sweetness of apple cider and the in-your-face creamy lusciousness from the
chèvre
.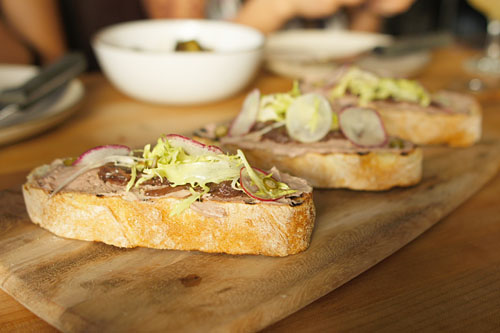 Chicken Liver Mousse on Toast [$4.00/each]
| caper berry marmalade. frisée. radish.
Chicken liver conveyed its expectedly rich, heady flavors, definitely present but not overwhelming. The sweetness of the caper berry formed a fitting foil to the power of the offal, while the frisée and radish offered up much-needed points of levity, and also mixed things up texturally. Tasty, though I must say that this didn't reach the lofty levels of the chicken liver toast that I'd had recently at
Black Hogg
.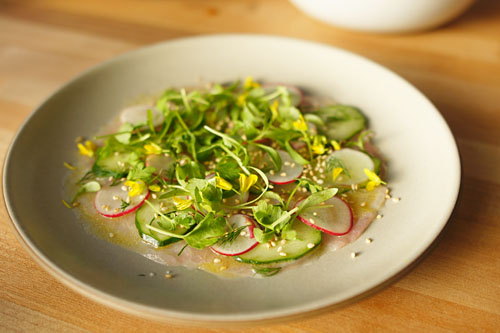 Amberjack Crudo [$14.00]
| cucumber-radish salad. yuzu vinaigrette. sesame.
A crudo of amberjack was marvelous, with the fish remarkably fresh, clean, and supple, beautifully contrasted against the starkly vegetal tang of the greenery on the plate, all while the yuzu served to integrate everything together. My favorite thing here, though, was that sesame, with its earthy, counterbalancing relish that just lingered long on the palate.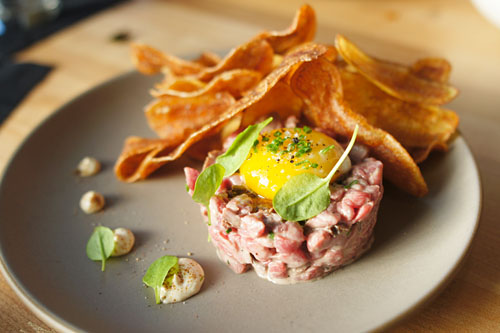 Flash-Grilled Steak Tartare [$14.00]
| smoked egg yolk. anchovy. crisps. worcestershire.
A tartar of steak was among the strongest that I've had. The meat itself was pretty much flawless, with a wonderfully snappy, meaty bite and clean, lean sapor, deftly augmented by the luxuriousness of egg yolk. What made this really special for me, though, was the use of anchovy and Worcestershire sauce, which added a fantastic undercurrent of salinity to the dish. And those
chips
crisps? Phenomenal--I wanted a bag to take home.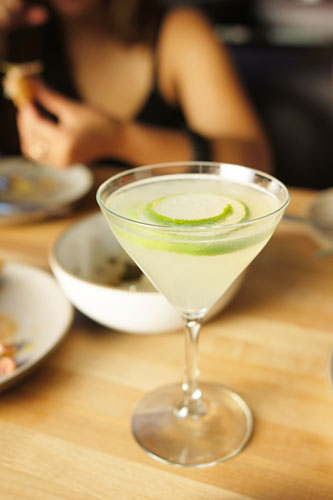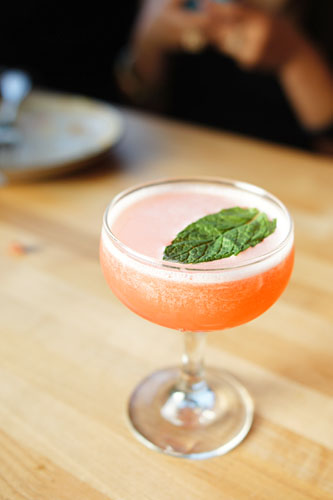 Rum Papa [$12.00]
| Flor de Cana Silver, lime, Luxardo maraschino, dandelion
Mayberry Smash [$12.00]
| Death's Door Gin, fresh berries, sage honey, lemon, mint leaf
For our next set of cocktails, our server recommended the Rum Papa, which was a very well-balanced drink, with a flawless interaction between the rum and the tangy combo of maraschino and lime. The Mayberry Smash was also quite delish, with bright, herbal, almost medicinal notes on the fore, all played against the sugary components of the honey and fruit.
Brown Butter Asparagus [$15.00]
| fried egg. new onions. pecorino. cress.
Egg and asparagus--hard to go too wrong here. And indeed, this was one of the highlights of the meal for me. The thick, hearty stalks of asparagus were perfect: crisp and softly astringent, adroitly heightened by the saltiness of the pecorino and expertly accompanied by the whispers of bitterness from the onion. And the egg? Stupendous with its luxurious, overarching, enveloping richness.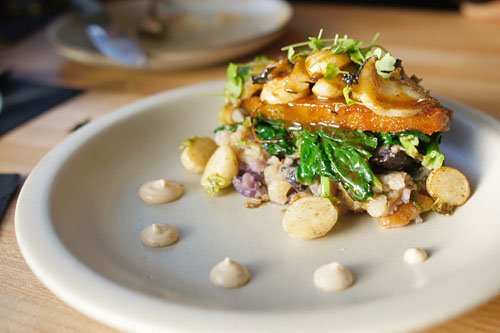 Crisp Pork Belly and Abalone [$20.00]
| bloomsdale spinach. fork crushed potatoes. young turnips.
Pork belly was delightfully crisp here, with a good mix of lean and fat and a mouth-watering savoriness to boot. Meanwhile, spinach, turnips, and potato served as fitting tempers to the gravity of the pig, and I loved the use of abalone here, which added a great textural element to the course.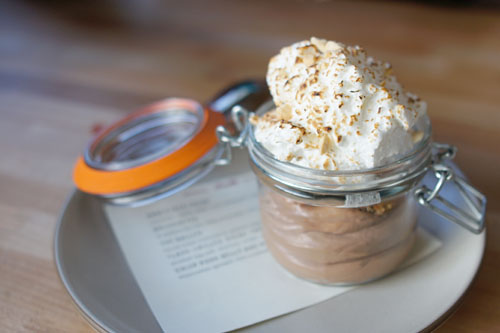 Rocky Road Namelaka [$8.00]
| toasted meringue. almond praline. murray river salt.
Here was the kitchen's play on the classic rocky road ice cream, substituting praline for almond and meringue for marshmallow. I found the dessert quite fetching, not surprisingly, with the sugariness of the creamy chocolate ganache balancing out the relative lightness of the meringue, all with a lovely touch of saltiness and crunch from the praline.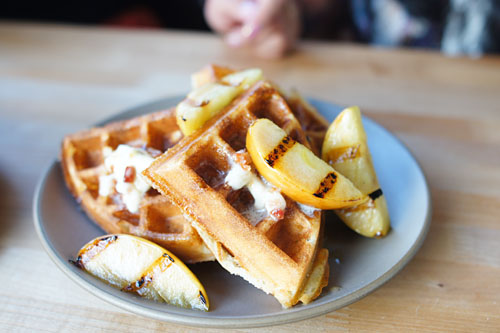 Belgian Waffle [$8.00]
| grilled lady apple. bacon butter. bourbon maple syrup.
We concluded with a plate of Belgian waffles, which really capitalized on the current trend of mixing savories in with your sweets. The waffles themselves were everything that I wanted: light and crisp, with creamy, fluffy interiors. Their inherent sweetness was duly amped up by the maple syrup, while bacon butter added a smoky, salty tint to things.
I know we're all getting a little sick of gastropubs at this point, but Freddy Smalls truly does it right. In fact, that label doesn't really do the place justice (
LA Weekly
has gone so far as to deem the restaurant an "anti-gastropub"). You can easily taste Chef Parker's NorCal influence here, and there's so much more finesse, more purity of flavors, more cohesiveness than at pretty much anywhere else. The food is casual, yet clearly composed and thought out--perfectly thrown together if you will. If you're jaded from the "burgers 'n' beer" movement that seems to be taking over LA, this might just be the cure.