Kali Dining (Los Angeles, CA)
Kali Dining Underground Restaurant
Los Angeles, CA 90035
www.kalidining.com
Wed 04/04/2012, 07:35p-09:55p
When we last caught up with Kevin Meehan, he was running the show over at
Cafe Pinot
. Since then, he's left the Downtown eatery, supplanted by none other than
LudoBites
protégé Sydney Hunter. After his departure, Meehan traveled to Asia seeking culinary inspiration, and came back apparently reinvigorated by the new flavors and experiences that he encountered. Since returning, he's started up his own series of underground dinner parties. They kicked off in February in Culver City, then moved to Venice in early March. The Chef asked me to come to this last run, which took place at a private residence in the Carthay district near Fairfax.
The menu is a five-courser at $65. As for beverages, it's strictly a BYOB affair, and sharing with your fellow diners is strongly encouraged. Click for a larger version.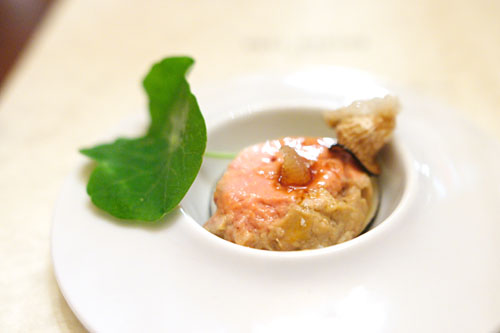 Amuse Bouche
| Monk Fish Liver / Wild Nasturtium / Black Radish
We began with an amuse of poached
ankimo
. The so-called "foie gras of the sea" really lived up to its moniker here, displaying a silken, velvety texture and rich, ocean-y savor that paired beautifully with the tang and crunch of the radish. I really appreciated the peppery bite of the nasturtium on the finish too. Very well integrated and balanced, and an excellent start to the meal.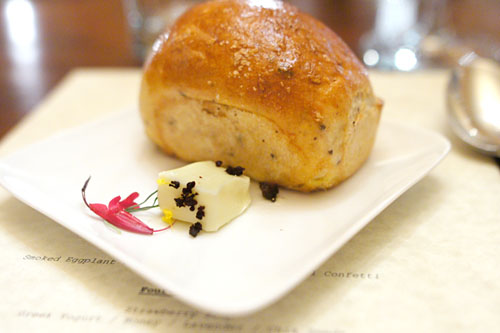 Meehan prepares his own bread, and it was delightful this evening: hot, crisp, and fluffy on the inside, tasty alone and even better with the super soft dehydrated olive butter.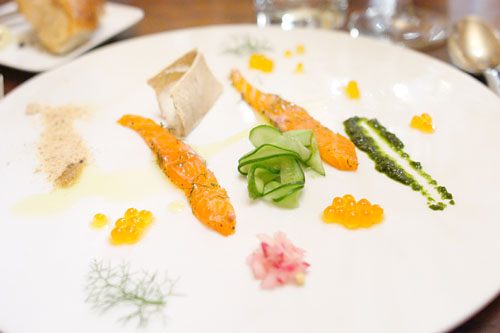 1: Cured Sea Trout
| Cucumber / Crème Fraiche / Roe / Anise / Rye Crumble
Strips of sea trout were spot on, supple and fresh in body with a great touch of lush, satisfying salinity. It was certainly enjoyable alone, but it was wonderful to take in the fish with its bevy of accoutrements, with the various salty, vegetal, and tangy flavors all showing off different facets of the trout. Lovely crispness from the rye, too. Very nice.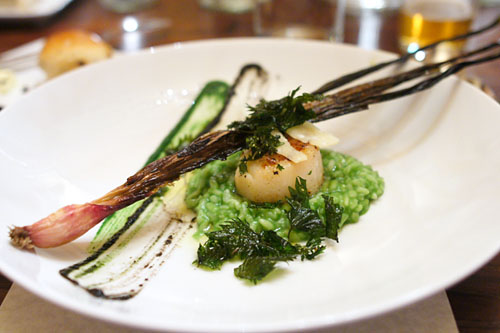 2: Scallop
| Nettle / Risotto / Ash / Spring Onion / Parmesan
Scallop arrived perfectly cooked: soft, sweet, and briny, with a nice touch of caramelization and an additional bit of saltiness from the cheese. It was delicious on its own, but also went swimmingly with the slightly astringent risotto, made with foraged stinging nettle. A charred stalk of onion added additional textural variety and bitterness, but far more was provided than actually needed in the dish; I would've been fine with one-fifth the amount.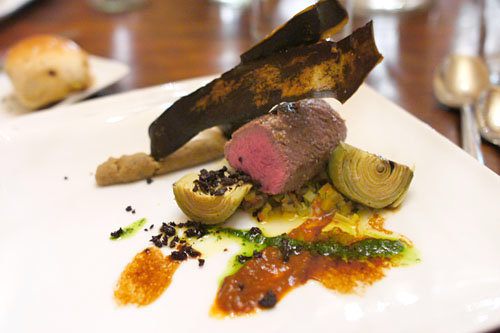 3: Ram Loin
| Smoked Eggplant Paste / Artichoke / Provencal Confetti
Our final savory course brought out a loin of wild ram, prepared sous vide from a specimen that the Chef personally hunted himself. Now, we're all used to eating lamb at this point, but
ram
is a completely different animal (figuratively of course--it's still sheep in the end). Its taste was much, much, much more intense, with a gaminess that just smacks you across your face, while the consistency of the mutton was noticeably tougher as well. Given the considerable potency of the meat, the veggies were key in bringing balance and levity to the dish. I see now why we usually prefer lamb!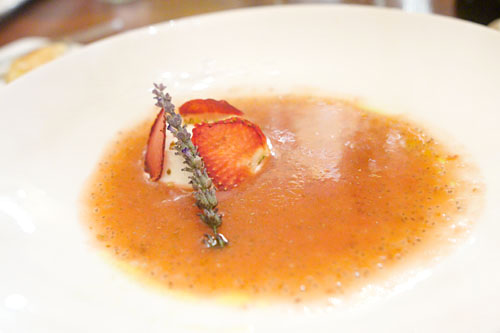 4: Strawberry Soup
| Greek Yogurt / Honey / Lavender / Chia Seeds
After the heft of the preceding course, the light, bright, refreshing flavors of dessert were welcomed. A strawberry soup conveyed a jammy sweetness on the palate, augmented by honey yet countervailed by the tanginess of yogurt. Chia seeds lent an interesting textural element to the dish, but my favorite thing here was the fantastic floral essence of the lavender flower.
Compared to what he was making at Cafe Pinot, Meehan's food here seemed much more assertive, more personal, and easily bolder and more brazen in nature. Taking some time off from the
Patina
Group seems to have worked wonders and given the Chef a fresh new perspective, and it was great to see how his cooking has evolved and matured.