Plan Check (Los Angeles, CA)
Plan Check Kitchen and Bar
1800 Sawtelle Blvd, Los Angeles, CA 90025
310.288.6500
www.plancheckbar.com
Tue 04/03/2012, 07:15p-10:15p

If there's one thing that this City doesn't need more of, it's burger places and gastropubs, so I greeted Plan Check (the name's a nod to the
LA Department of Building and Safety
, which sits next door to the Little Osaka restaurant) with some trepidation. The man behind Plan Check is SoCal native and real estate developer
Terry Heller
, who, like many successful individuals, decided one day that he was going to open a restaurant. It would be a neighborhood-y type of place, low-key and casual, serving updated versions of American classics with Asian influences.
To that effect, Heller brought on board the Argentinean-born and Paul Smith's College-educated Ernesto Uchimura as consulting chef. Uchimura is best known as the former Corporate Executive Chef for
Umami Burger
, a position he held from February 2009 to May last year. Prior to that, he was Executive Chef at Punch Grill in Santa Monica (which closed in late 2007), and also worked as a Sous at Sunset Beach in West Hollywood (also shuttered). Lest the food outshine the drink, to pair with the Uchimura's cooking we have cocktails created by noted barmen Pablo Moix and Steve Livigni (of La Descarga, Harvard & Stone, and Black Market fame).

The 1,800-square-foot space formerly held a liquor store, but has been completely revamped by LA-based Raveled Studio (oddly, they don't seem to have a web site). The building is anchored by a lengthy bar-slash-open kitchen on one side, a bank of four-seater booths on the other, with a communal table in the middle. There's room for about 55 diners inside, while patio seating accommodates another 44.

By the time we arrived, the place was already pretty packed (note that they don't take reservations), so we took a seat at the counter--not a bad vantage point, actually.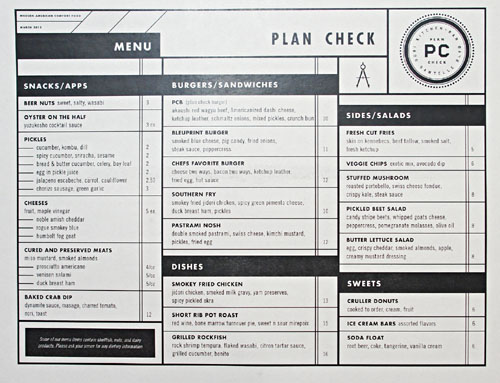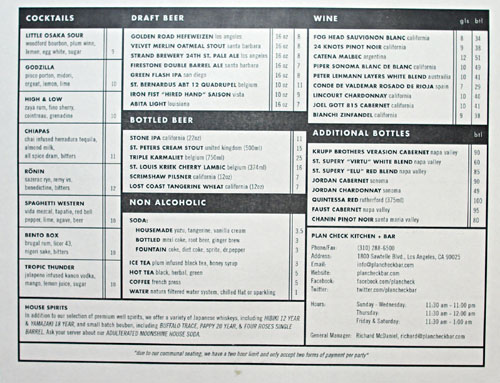 Plan Check's menu is a surprisingly compact selection of old school favorites, centered around burgers. To wet your whistle, you'll find a short but sweet mix of beer, wine, and of course, cocktails. Don't forget to check out the
specials
board either. Click for larger versions.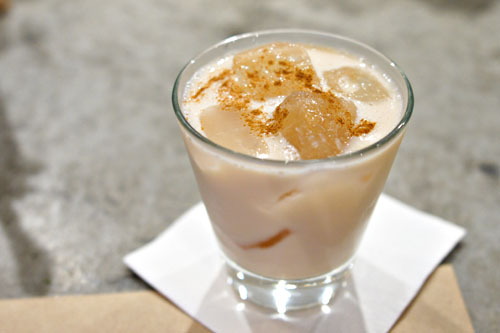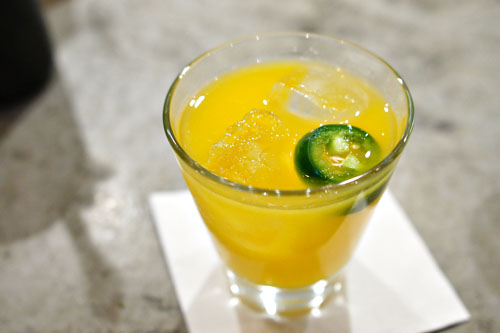 Chiapas [$11.00]
| chai infused herradura tequila, almond milk, all spice dram, bitters
Tropic Thunder [$10.00]
| jalapeno infused kanon vodka, mango, lemon juice, sugar
Cocktails were our drink of choice here, and we began with the Chiapas. I rather liked it, enjoying the interplay between the lushness of the almond milk and the boozy, bitter flavors in the drink, all leading to a delightfully sweet spice on the close. The Tropic Thunder wasn't quite as successful. It showed off a very apparent sweetness from the mango, as well as a growing, lingering heat from the jalapeño. However, the sugariness of the cocktail was almost cloying, and I wanted to taste more of the vodka's alcoholic backbone.
Baked Crab Dip [$12.00]
| dynamite sauce, masago, blistered tomato, nori, toast
We started with the Japanese-y baked crab, and you should as well. The dip showed off a great mix of sweet, saline flavors from the crustacean and tomato, intertwined with overarching notes of umami goodness from the nori and masago. A tasty topping for the accompanying toast.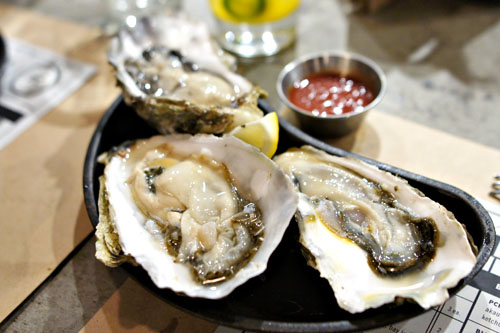 Oyster on the Half [$3.00/each]
| yuzukosho cocktail sauce
Oysters were much larger than I usually prefer, though they did convey a clean, fresh taste with an apt, lingering saltiness--good alone, and even better with a splash of heat from the
yuzukosho
cocktail sauce.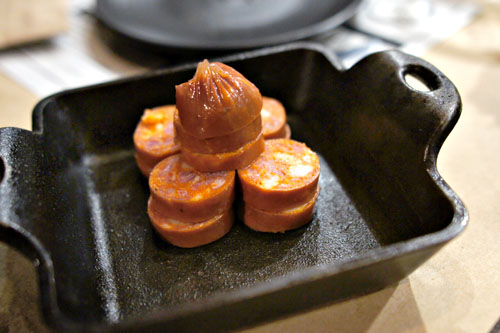 chorizo sausage, green garlic [$3.00]
Next up was a different take on chorizo. It was nice enough, though not particularly exciting: meaty with a slight bit of spice, countervailed by a bright, focused tanginess.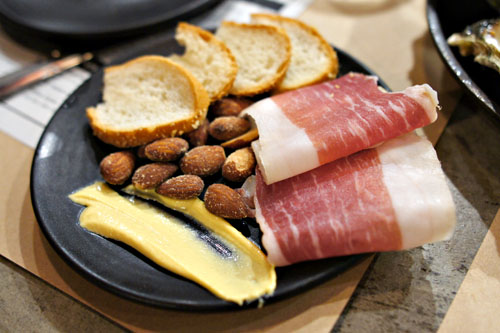 prosciutto americano [$4.00/oz]
| miso mustard, smoked almonds
A plate of prosciutto was as expected, with the meat showcasing a salty, supple, silken character. Almonds added a well-placed textural element, and I appreciated the punch of the mustard as well.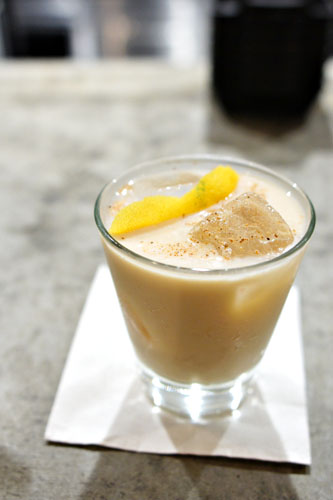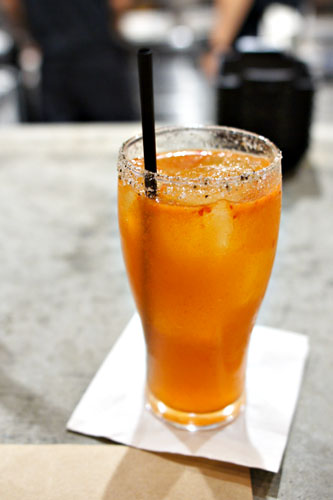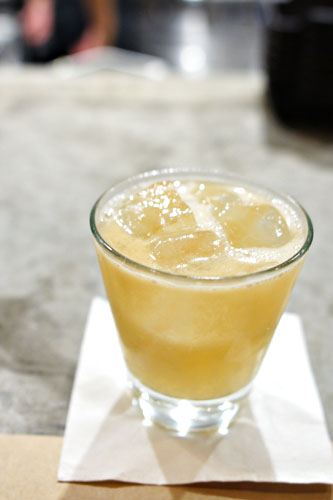 Bento Box [$10.00]
| brugal rum, licor 43, nigori sake, bitters
Spaghetti Western [$10.00]
| vida mezcal, tapatio, red bell pepper, lime, agave, beer
Fuji Apple [$11.00]
| yamazaki 12 yr japanese whiskey, apple brandy, almond syrup, fresh lemon, peach bitters
Our second round of cocktails brought us the Bento Box, which had a delicate base of rum played against the warm, sweet spice of the Licor 43, all under overarching notes of citrus; it was actually similar in essence to the Chiapas above. The Spaghetti Western, meanwhile, was the most intense libation of the night, with a marked sweetness on the attack leading to a woody, smoky midpalate and a finish teeming with sharp, lingering spice. We also had a drink special, the Fuji Apple, which balanced the fruitiness of apple with the bitter, complexity booziness of the whisky and bitters--not nearly as girly as the name would imply!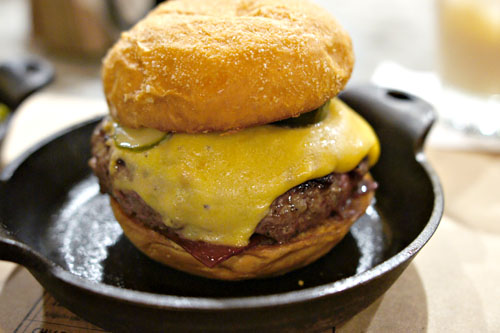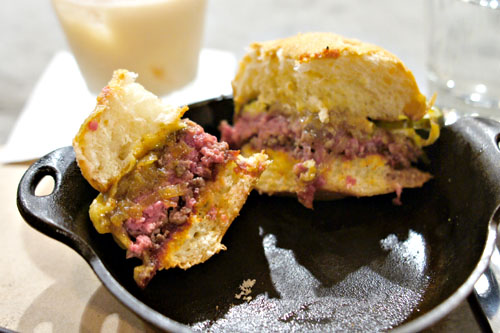 PCB (Plan Check Burger) [$10.00]
| akaushi red wagyu beef, Americanized dashi cheese, ketchup leather, schmaltz onions, mixed pickles, crunch bun
Naturally, we had to try Plan Check's signature, eponymous burger. The beef itself was pretty good, cooked to a medium-rare temperature and plenty tender, moist, and flavorful. However, the rest of the burger just didn't come together very well. I found the combination of ingredients a bit overwhelming actually, as they sort of drowned out the inherent goodness of the meat.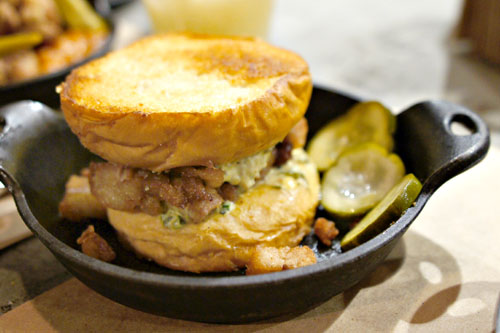 Pork Belly Pimento Grilled Cheese [$9.00]
| twice cooked pork belly, spicy green pimento cheese, inverted crunch bun
The pork belly grilled cheese from the specials board wasn't quite what I was expecting. The meat itself was fairly on point--fatty and savory, with a lovely porcine flair--and went well with the spicy overtones of the pimento cheese. At the same time, the pickles added a nice zestiness and crunch to the dish as well. My concern was the bread; there was just too much of it given the amount of pig present (and inverting the bun was uncalled for as well).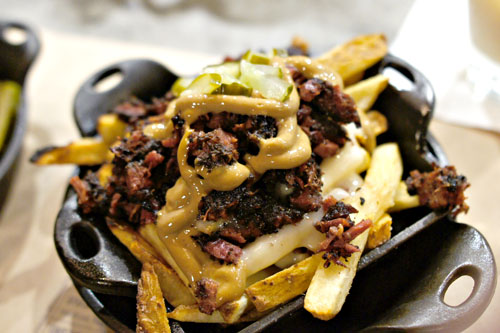 Pastrami Poutine [$7.00]
| pastrami bits, pastrami gravy, cucumber pickles, melted swiss
Poutine is usually a must-order for me on menus, but this one didn't quite hit the mark. The pastrami was tasty enough, but the miniscule bits sprinkled on the poutine just weren't satisfying; bigger, heartier chunks would've been better here. The pickles did add a pleasant crunch and counterbalancing piquancy to the dish, and I liked the moderating effect of the potato, but the whole thing lacked a unifying, integrating richness; the gravy and Swiss cheese just didn't cut it. I think the standard for poutine in LA is still
Animal
's.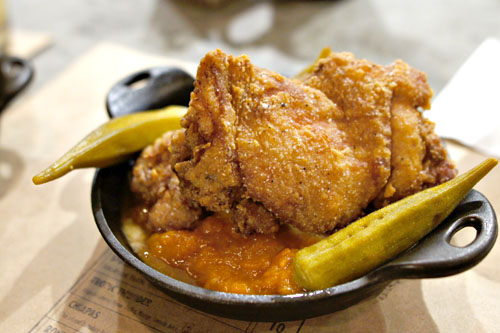 Smokey Fried Chicken [$13.00]
| jidori chicken, smoked milk gravy, yam preserves, spicy pickled okra
Chicken thighs were delectable: tender, succulent, and immensely flavorful, tinged with just a whisper of smoke. The bird was certainly delicious alone, but I really appreciated the okra as well, which did a great job cutting the weight of the chicken with its crunch and bright, tangy relish. I was concerned about the yam though, which I found unnecessarily sweet.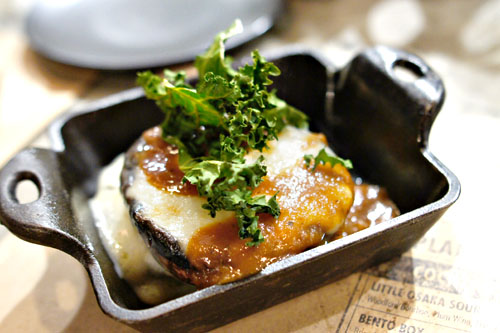 Stuffed Mushroom [$8.00]
| roasted portobello, swiss cheese fondue, crispy kale, steak sauce
I'm quite the mushroom fiend, but unfortunately, these fell flat: just too salty, dominated by the combo of steak sauce and cheese, and lacking in subtlety overall.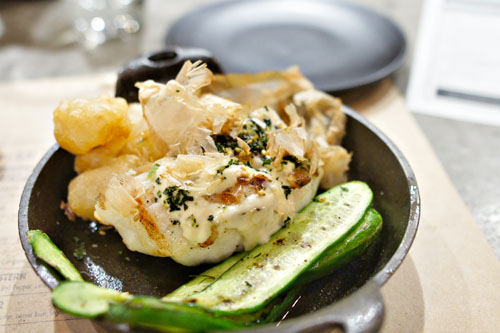 Grilled Rockfish [$16.00]
| rock shrimp tempura, flaked wasabi, citron tartar sauce, grilled cucumber, bonito
Rockfish arrived supple and springy in consistency, with a surprisingly ocean-y savor further augmented by the savory taste of the
katsuobushi
. The tartar sauce and cucumber were effective pairings to the fish, but my favorite element here was actually the tempura, which showed off perfectly crispy exteriors encasing still snappy, succulent insides; they should almost offer the tempura as a separate, standalone course.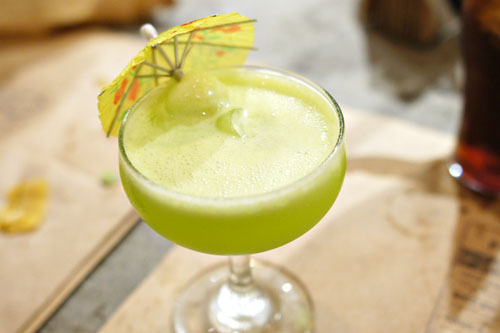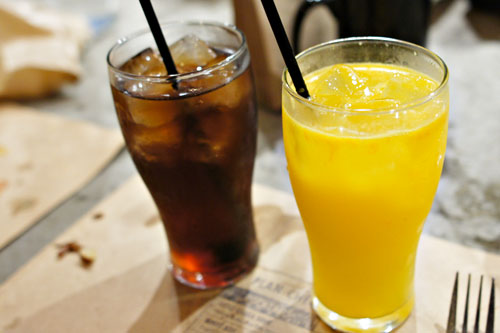 Godzilla [$10.00]
| pisco porton, midori, orgeat, lemon, lime
Adulterated Moonshine House Soda [$13.00]
For my last cocktail, I went with the Godzilla simply due to its incorporation of Midori, perhaps the most reviled liqueur out there. It did present a more complex side of the Midori's notoriously saccharine character, balancing it out with the sourness of lemon-lime and tempering its sweetness with the weight of pisco. We also tried a couple of Plan Check's "adulterated" sodas, which are basically sodas of various flavors (we had cherry cola and tangerine) mixed in with unaged whisky. They were about what you'd expect: sweet sodas with a boozy kick; I definitely preferred the tangerine, though.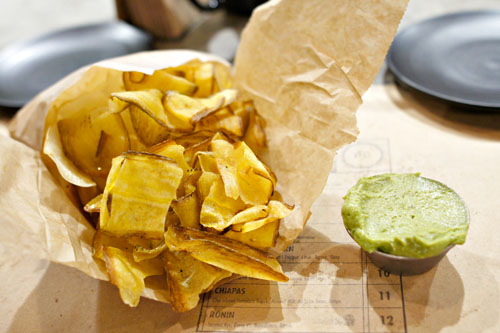 Veggie Chips [$6.00]
| exotic mix, avocado dip
The "exotic mix" of veggie chips was somewhat disappointing, comprising just yuca and plantain and arriving to the table in rather greasy fashion. They were reasonably tasty though, with a subtly sweet savor that paired surprisingly well with the cool, creamy avocado dip.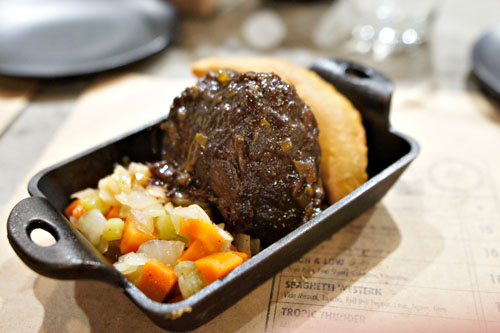 Short Rib Pot Roast [$15.00]
| red wine, bone marrow turnover pie, sweet n sour mirepoix
A tender, decadent beef short rib was an enjoyable end to the savories, displaying classically dark, rich flavors moderated by the well-placed lightness of the mirepoix. What was even better, though, was the bone marrow empanada, which conveyed an immense depth and body and a taste that recalled that of pot pie.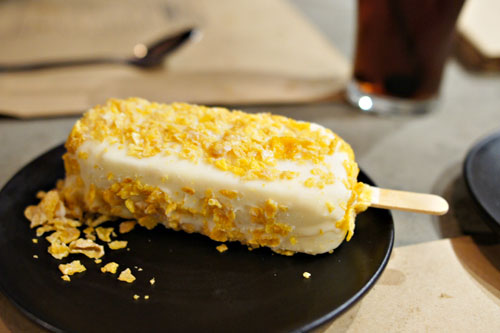 Ice Cream Bars [$6.00]
| assorted flavors
Moving on to dessert now, we had our pick of ice cream bars in five flavors: strawberry shortcake, cookies 'n' cream, banana de leche, vanilla, and our selection: milk cereal. It was nice and fun, with a delightfully luxurious, lactic character and a sweet, crunchy counterpoint from the cereal flakes.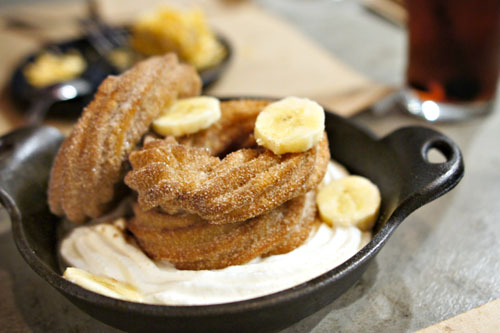 Cruller Donuts [$6.00]
| cooked to order, cream, fruit
We concluded with Plan Check's cruller doughnuts, which I definitely enjoyed. They were spot on texturally--crisp on the outside, with rich, creamy, warm interiors--and had a churro-like sweet 'n' spicy character to them that went beautifully with the whipped cream and fruit in the dessert.
Plan Check, sadly, wasn't as good as I'd hoped for, and we all left the restaurant feeling a bit underwhelmed. The place is a nice addition to the neighborhood and its plethora of Japanese eateries in that it fills a void. However, though the food is "good enough," the cooking was simply missing the verve, the finesse, the robustness and the refinement that I was looking for, and I do hope that Uchimura and company can really step up their game a little in the future.