Joël Robuchon (Las Vegas, NV) [3]
Joel Robuchon at MGM Grand
3799 Las Vegas Blvd S, Las Vegas, NV 89109
702.891.7925
www.mgmgrand.com/restaurants/joel-robuchon-french-restaurant.aspx
Fri 09/21/2012, 7:30p-11:30p
After enjoying dinner the previous night at Guy Savoy, it was only natural to pay a visit to the restaurant's arch rival, Joël Robuchon, to see how the place was holding up, especially given that
my first meal here
nearly five years ago remains one of the best that I've ever had. Unlike the kitchen at Savoy, which has been the charge of four different chefs, the stoves here have been manned by one man since the restaurant's debut in 2005: Claude Le Tohic.
About the Chef
: Le Tohic hails from a family of restaurateurs. His parents owned a
crêperie
in Brittany, and the Chef started working there when he was only five years old. He went to culinary school at Collège Charles Langlais in the nearby commune of Pontivy, and following graduation, secured employment at the Michelin-starred Les Hortensias After two years, he started working for Ghislaine Arabian at Le Restaurant in Lille. Soon thereafter, in 1987, Le Tohic met Joël Robuchon while serving as a restaurant consultant, and began cooking at Robuchon's three-star Jamin in Paris. He worked there until 1990, then spent some time in the kitchens of La Chaumière, L'Assiette Gourmande, Château de Locguenole, and Restaurant Yours Faithfully all the way in Kotturpuram, Chennai, India.
Le Tohic then took on the role of helming the apprenticeship program at the
Centre de Formation d'Apprentis Interconsulaire de l'Eure
, a vocational school in Val-de-Reuil, and even won the
Meilleur Ouvrier de France
award during his tenure there in 2004. However, at the request of Robuchon, he moved to the United States the following year to help open his mentor's eponymous restaurant inside the MGM Grand. Le Tohic has been doing quite well for himself since then. He's been given the honor of
Maître Cuisinier de France
("
Master Chef of France
"), and in 2009, was a semifinalist for James Beard's "Best Chef: Southwest" award, winning the title the following year.

Penned by noted French designer
Pierre-Yves Rochon
, the interior is as luxurious as you'd expect, modeled after the grandeur of a 1930's-era Parisian salon and awash in shades of aubergine. There's also an "outside" dining terrace replete with a wall of greenery, as well as a private dining room, which is where we were seated (note that there's a $250 fee for the privilege).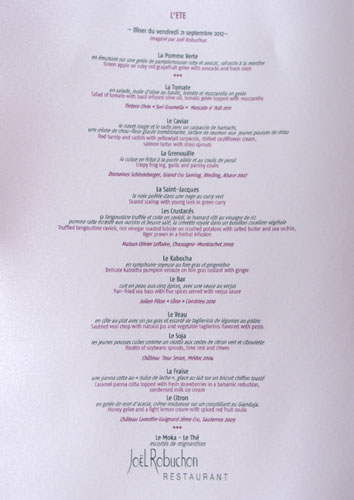 As far as Joel Robuchon's menu goes, you can order à la carte, and there are a few prix fixe options ranging from $120 to $240 per person, but we were clearly here for their flagship Menu Degustation, a 16-course tasting menu extravaganza priced at a wince-inducing $425 a head. Wine pairings, meanwhile, were an additional $295pp (and go all the way up to a blistering $995). Click for a larger version.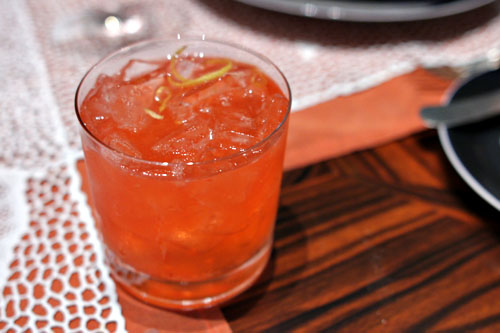 The "Right" Cocktail [$19.00]
| Right Gin, St. Germain Elderflower Liqueur, Raspberries, Fresh Squeezed Lemon Juice, Tonic, Lemon Zest
Arriving early, I began with a cocktail from the restaurant's posh, intimate bar. The "Right" Cocktail was a refreshing, summer-y drink, with an unabashedly fruity, floral essence and just enough countervailing tartness from the citrus. You could hardly taste the alcohol, which could be good or bad, but personally, I really would've liked a bit more gin character to show through the sweetness.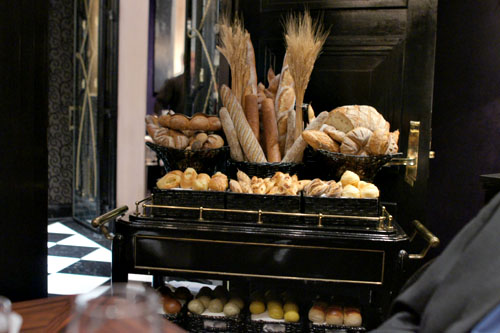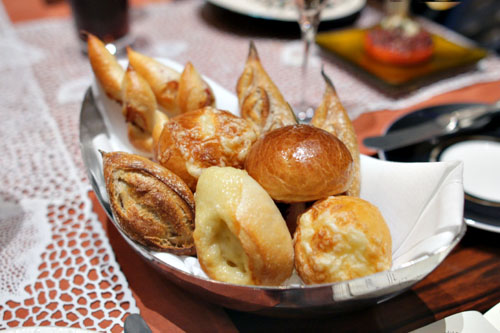 The City's best bread cart (though M. Savoy may have something to say about that) offered us over a dozen varietals: bacon-mustard, wheat, olive oil, Gruyère, Comté,
pain de campagne
, natural bread, olive bread, herb brioche, rustic brioche, rosemary-sea salt brioche, basil brioche, saffron brioche, and finally, a
pain au lait
.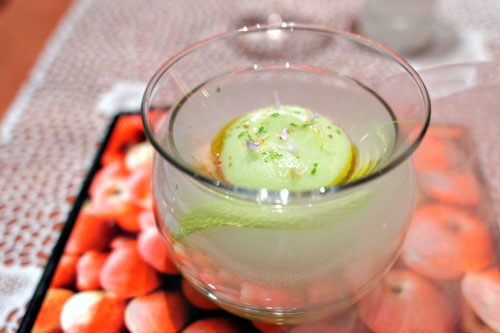 1: La Pomme Verte
| en émulsion sur une gelée de pamplemousse ruby et avocat, rafraichi à la menthe (Green apple on ruby red grapefruit gelee with avocado and fresh mint)
Tintero Elvio « Sori Gramella » Moscato d'Asti 2011
Our amuse bouche course comprised an emulsion of ruby red grapefruit and avocado, along with apples, set in a base of dry ice (and a
Playa
-esque plate) for the requisite theatrics. It was a refreshing, even bracing dish--effective as a palate opener--with a subtle avocado character balanced by the tart, tangy notes of apple.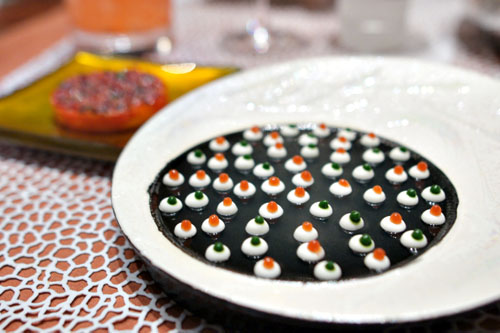 2: La Tomate
| en salade, huile d'olive au basilic, tomate et mozzarella en gelée (Salad of tomato with basil infused olive oil, tomato gelée topped with mozzarella)
Tintero Elvio « Sori Gramella » Moscato d'Asti 2011
One of my dining companions deemed this the best tomato that he'd ever had, and I can certainly see where's he was coming from (though I may have to call out the
momotaros
at
Totoraku
as superior). It was a two-parter: first, a stout cylinder of tomato topped with herbs and balsamic; then, a jiggly, labor-intensive tomato water jelly dotted with nipples of mozzarella and basil/tomato purées. I first tried the tomato by itself, and appreciated its tart balsamic character and weighty hints of olive oil. Taken with the tomato water, the overall effect was like a reimagined
insalata Caprese
, with the wonderful heft of the mozz tying everything together in commendable fashion.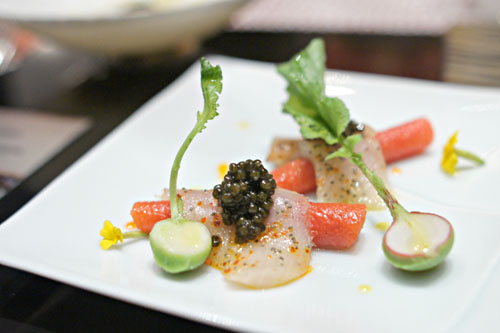 3: Le Caviar
| le navet rouge et le radis avec un carpaccio de hamachi (Red turnip and radish with yellowtail carpaccio)
Domaines Schumberger, Grand Cru Saering, Riesling, Alsace 2007
Our first of three caviar courses paired a fresh, supple cut of hamachi with the tangy, bitter crunch of turnip and radish, all while the caviar added a perfectly-placed kick of saltiness to the fray.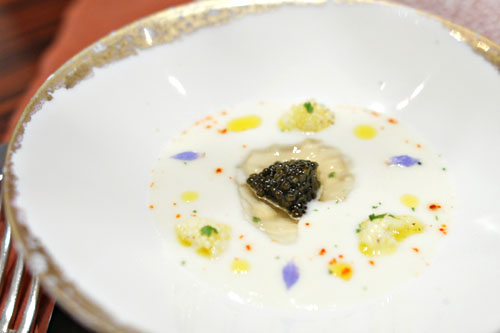 4: Le Caviar
| une crème de chou-fleur glacée tremblotante (chilled cauliflower cream)
Domaines Schumberger, Grand Cru Saering, Riesling, Alsace 2007
A chilled potage of cauliflower softly conveyed the inherent nature of one of my favorite vegetables. It was a cool, creamy, trembling soup that was beautifully set off by the included dollop of roe.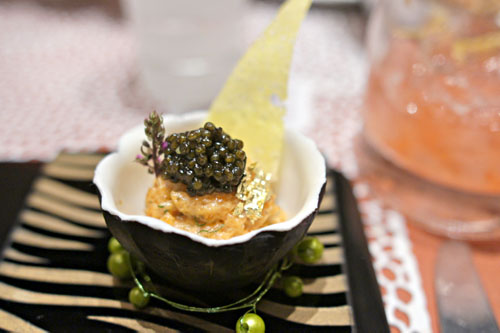 5: Le Caviar
| tartare de saumon aux jeunes pousses de shiso (salmon tartar with shiso sprouts)
Domaines Schumberger, Grand Cru Saering, Riesling, Alsace 2007
Here was perhaps the best salmon tartar that I'd ever had. The fish itself I found undeniably creamy, yet briny, with a great touch of caviar that deftly enhanced the natural salinity of the salmon, all while shiso provided an overarching tinge of mintiness to things.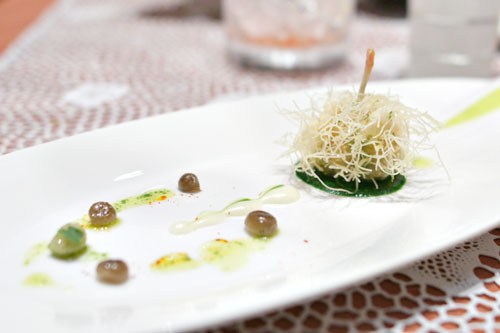 6: La Grenouille
| la cuisse en fritot à la purée aillée eu au coulis de persil (Crispy frog leg, garlic and parsley coulis)
Domaines Schumberger, Grand Cru Saering, Riesling, Alsace 2007
Speaking of bests, this might have been the best frog dish that I'd ever had. We had here a leg, wrapped in a nest of phyllo, then served with
shimejis
, garlic purée, and parsley. It was fantastic, with the
grenouille
showing off a superbly satisfying, straightforward savoriness and wonderful crunch, keenly accented by the tang of parsley, all while the garlic added a palpable heft to the dish. This is one of M. Robuchon's signature dishes, and it's easy to see why.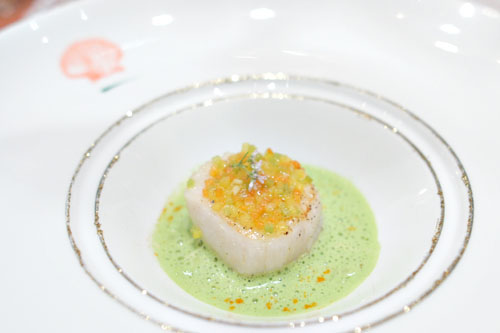 7: La Saint-Jacques
| la noix poêlée dans une nage au curry vert (Seared scallop with young leek in green curry)
Maison Olivier Leflaive, Chassagne-Montrachet 2009
A lone scallop arrived set in a green curry emulsion, topped with a brunoise of pepper as well as a pepper blossom. It was cooked spot on, with a delightfully sweet brine that was adroitly complemented by the tart 'n' tangy peppers. At the same time, the aromatic zest of the curry came through on the finish, and I quite enjoyed the astringency and crunch of the leeks here, too.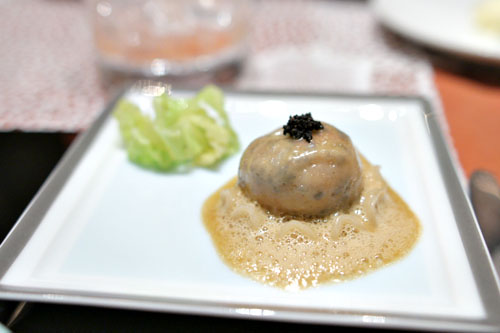 8: Les Crustacés
| la langoustine truffée et cuite en ravioli (Truffled langoustine ravioli)
Maison Olivier Leflaive, Chassagne-Montrachet 2009
Another mainstay of Robuchon is this plump, snappy raviolo of langoustine. I found it pleasingly sweet and saline, enhanced by the depth and weight of the paired foie gras butter, along with a hint of earthy truffle. It was delicious alone, but the small mound of savoy cabbage provided a well-placed crunch and lightness to the dish that took things up another notch.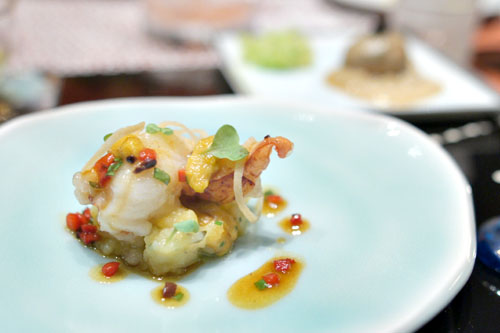 9: Les Crustacés
| le homard rôti au vinaigre de riz, pomme ratte écrasée aux oursins et beurre salé (rice vinegar roasted lobster on crushed potatoes with salted butter and sea urchin)
Maison Olivier Leflaive, Chassagne-Montrachet 2009
Lobster here was nicely crunchy, though slightly tough, with a delectably ocean-y relish that was adeptly set off by the bits of sea urchin incorporated within. Mashed Ratte potatoes (the same variety used in Robuchon's legendary
pommes purée
), meanwhile, formed a perfect base to the dish, grounding and moderating the seafood admirably.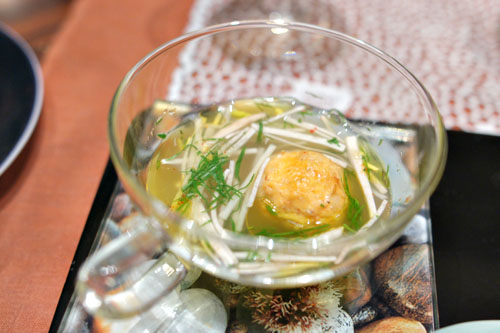 10: Les Crustacés
| la crevette royale dans un bouillon coralline végétale (tiger prawn in a herbal infusion)
Maison Olivier Leflaive, Chassagne-Montrachet 2009
A dumpling of tiger prawn was fantastic, really conveying the inherent sweetness and salinity of the crustacean. I loved it alone, but the accompanying broth of daikon and herbs was excellent, providing a bright, piquant, almost Asian-y counterpoint that keenly played off of the seafood.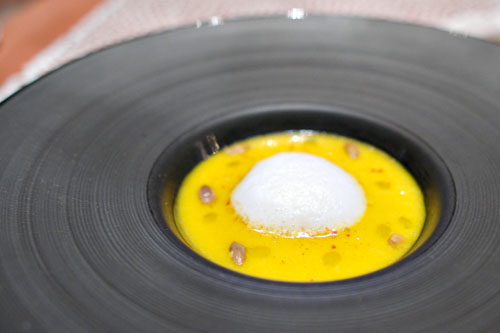 11: Le Kabocha
| en symphonie soyeuse au foie gras et gingembre (Delicate kabocha pumpkin veloute on foie gras custard with ginger)
Julien Pilon « Lône » Condrieu 2010
Given that I'm no fan of
kabocha
, I was a bit wary of this course, but it turned out surprisingly well. The saccharine nature of the Japanese squash was present, but not overwhelming at all, thanks in part to the contrast imparted by the ginger emulsion. Squash seeds, meanwhile, provided a lovely crunch and saltiness to the mix, and I appreciated the foie gras here as well, which added a palpable, countervailing gravity to the course. Probably the best
kabocha
dish that I've had.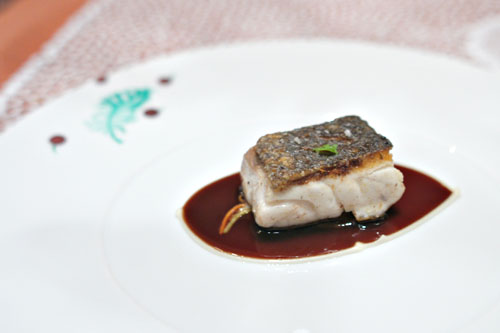 12: Le Bar
| cuit en peau aux cinq épices, avec une sauce au verjus (Pan-fried sea bass with five spices served with verjus sauce)
Julien Pilon « Lône » Condrieu 2010
A cuboid of sea bass was cooked flawlessly--supple and succulent--with a wonderfully refined brine and delightfully crispy, salty skin. Unfortunately, the paired sauce of five-spice and verjuice I found overwhelmingly tart, taking attention away from the natural goodness of the bass.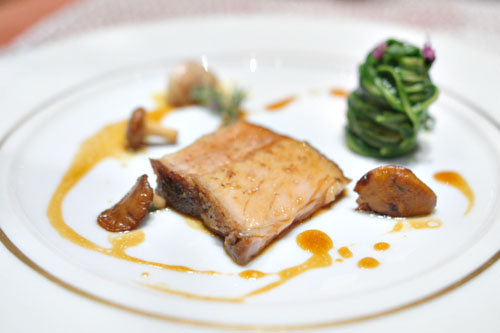 13: Le Veau
| en côte au plat avec un jus gras et escorté de taglierinis de légumes au pistou (Sautéed veal chop with natural jus and vegetable taglierinis flavored with pesto)
Château Tour Seran, Médoc 2004
I'm generally not a huge fan of veal, but this sous vide chop was pretty impeccable. In fact, it was one of the strongest I've had: expectedly tender in texture, but with an immensely satisfying, rich, deep flavor. The meat easily stood on its own merits, but its accoutrements of garlic, olive, and mushroom were on point as well, and I especially appreciated the herby, minty zing of the basil pesto pasta.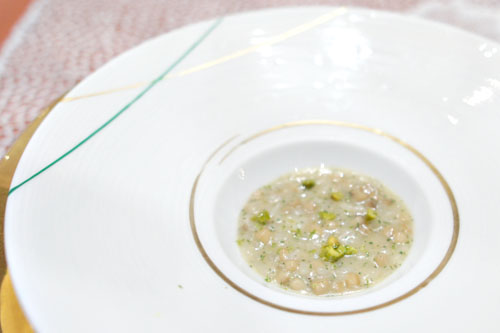 14: Le Soja
| les jeunes pousses cuites comme un risotto aux zestes de citron vert et ciboulette (Risotto of soybeans sprouts, lime zest and chives)
Château Tour Seran, Médoc 2004
Our final savory course brought out a wondrous "risotto" of soy bean sprouts, a completely new experience for me. I loved the sprouts' crunchiness, as well as how their bright, light, vegetal character was enhanced by the use of pistachio and lime, while, on the finish, the expected weight and lushness of a proper risotto showed through. Very nice--I could've eaten a big bowl of the stuff.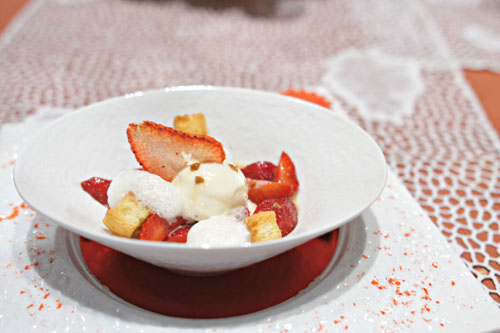 15: Le Fraise
| une panna cotta au « dulce de leche », glace au lait sur un biscuit chiffon toasté (Caramel panna cotta topped with fresh strawberries in a balsamic reduction, condensed milk ice cream)
Château Lamothe Guignard 2ème Cru, Sauternes 2009
The first of Pastry Chef Kamel Guechida's desserts was mélange of strawberry, balsamic, dulce de leche panna cotta, and toasted biscuit. It was marvelous, a perfectly integrated dish that smartly played the sweetness of the fruit against the caramel-y panna cotta and crisp, buttery biscuit.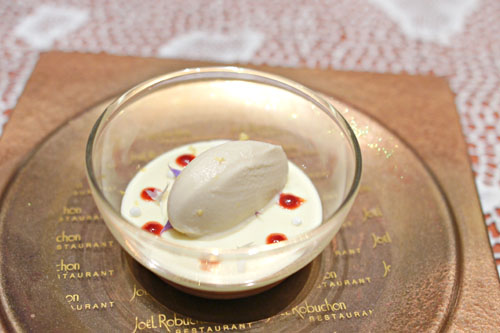 16: Le Citron
| en gelée de miel d'acacia, créme onctueuse sur un croustillant au Gianduja (Honey gelee and a light lemon cream with spiced red fruit coulis)
Château Lamothe Guignard 2ème Cru, Sauternes 2009
Finally, we had here a superb hazelnut ice cream, set in honey gelée and lemon cream, with a Gianduja crisp and dots of fruit coulis. The citric sweetness of the dessert struck me first, which then joined up with the nuttiness of the ice cream and transitioned to an intriguing complex of flavors that I couldn't quite put my finger on.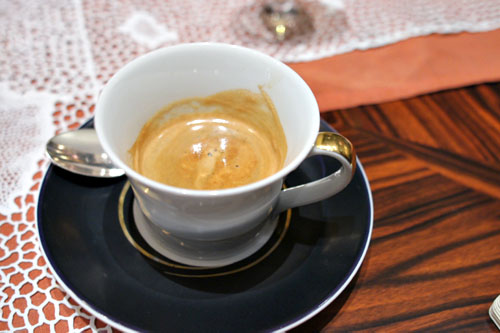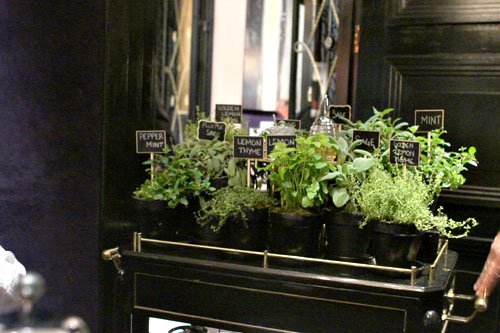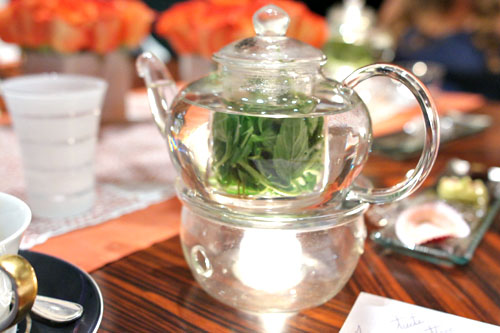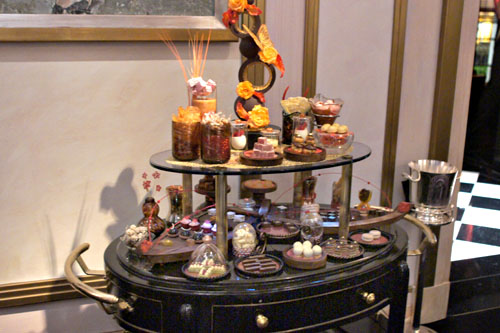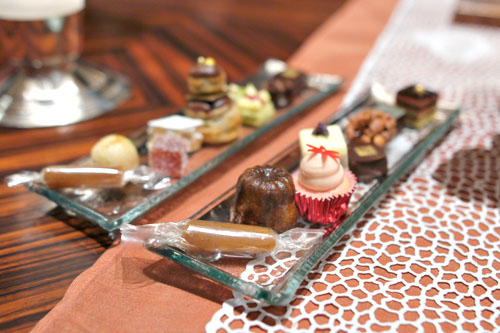 Le Moka - Le Thé
| escortés de mignardises
We closed with some coffee and, more interestingly, some excellent teas from the restaurant's tea cart, served with French acacia honey and brown sugar. Accompanying the after-dinner drinks was an impressive array of various candies from the restaurant's cart, though we did temper our consumption given the amount of food that we'd just had.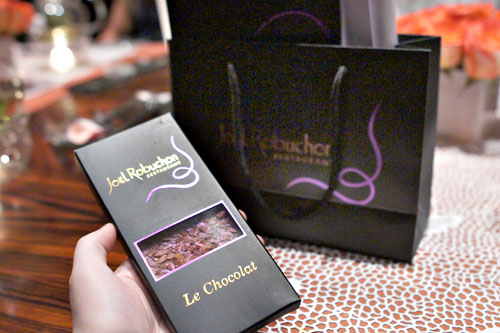 To take home: a bar of Robuchon-branded chocolate, a booklet with pretty pictures of the restaurant, and the evening's menu, printed on Robuchon's signature sparkly paper.
After a three year hiatus, it was great to be able to experience Robuchon once again. As far as the food goes, everything, with perhaps the exception of the sea bass, was commendable, and in fact, several of the dishes were among the best of their respective types that I'd ever had. What we're talking about is sort of the height of classically-leaning French haute cuisine. The experience, though, wasn't quite as enjoyable somehow, vis-à-vis my pervious meals here. I don't know if it was because we were seated in the private dining room, but the service in general seemed colder, and a little less affable than we'd remembered. We were also not provided the opportunity to select our own breads from the bread cart, nor were the tea cart and mignardises cart presented automatically. Perhaps my advice for next time should be: don't go with a large party (we had eight), and sit in the main dining room.