Starry Kitchen Nights (Los Angeles, CA)
Starry Kitchen Nights at Tiara Cafe
127 E 9th St, Los Angeles, CA 90015
213.814.1123
www.starrykitchen.com
Thu 08/30/2012, 07:45p-10:20p

If you're not familiar with the story of Starry Kitchen, here's a quick recap: The fable begins with Chef Thi Tran, born to a Chinese family in Vietnam, but raised in Dallas. She started cooking during her years at the University of Texas at Austin out of necessity, but really began developing her skills after hooking up with SK frontman Nguyen Tran (himself a UT Dallas grad) and moving out to Los Angeles in 2002. Nguyen worked for Cassian Elwes at William Morris, then dabbled in independent film sales, while Thi found employment in advertising, all the while infusing her cooking repertoire with the wide-ranging flavors of LA's culinary landscape. After being together for seven years, the two even got married in late 2008. However, following the advent of the Great Recession, Thi lost her job the next April, and, inspired by the Kogi-fueled food truck/fusion frenzy, decided to give cooking a real shot. The Trans named their start-up Starry Kitchen, after a Hong Kong cooking show that Thi used to watch.
Starry Kitchen debuted in June 2009 inside the couple's North Hollywood apartment, #205, serving lunch only initially. The operation was modest (a mere $5 donation was suggested), more akin to a
paladar
than the glitzy, polished demeanor of a high-end underground restaurant such as
Wolvesmouth
. However, word of Thi's cooking spread like wildfire on the Interwebs, and soon enough, the apartment was serving dozens of people at a time. Perhaps not surprisingly, the local health department got wind of SK, and an inspector left a cautionary note on their door. The Trans suspect that a jealous local restaurant owner ratted them out. Not too long after the scare, Nguyen and Thi decided that Starry Kitchen was ready for primetime. A friend of Nguyen's was one of the investors behind
8Fish
, a floundering sushi restaurant that had opened in Downtown's California Plaza in 2009. Given that the place was doing so badly, he invited the Trans to bring their concept to the 8Fish space, with no money up front. Starry Kitchen, thus, officially opened its doors for lunch service on February 16, 2010.
The place did pretty well for itself right from the get-go, and limited dinner service commenced in May. Thi wound up cooking a night at
Test Kitchen
later that year, and SK even took over the
Mandoline Grill
truck for a day. In early 2011, the Trans met Laurent Quenioux at Vertical Wine Bistro (where he had started consulting) and instantly hit it off. Quenioux ended up shuttering
Bistro LQ
in March, and was looking for a way to get back in the game. As such, the idea of
LQ @ SK
, a dinner-only guest cheffing series that kicked off in June, was born. The run brought considerable attention to both parties, and wrapped up this past March, punctuated at the end by two controversial
herb/weed dinners
.
The Trans were riding high (pun intended) at this point, so it came as a shock to many when Nguyen announced the restaurant's closure at the end of July, ostensibly due to a host of financial woes. He vowed that Starry Kitchen would return, though, and it did, just weeks later. Indeed, Starry Kitchen Nights bowed on August 16th, in a grand opening party replete with free Singha beer for all. This new iteration takes place inside Fred Eric's Tiara Cafe, the former home of
Le Comptoir
, Gary Menes' well-received pop-up. For now, it's a dinner-only affair, open between 5:00 and 10:00 on Tuesdays through Saturdays and said to be a permanent setup.

The inside of Tiara Cafe remains much as it's always been.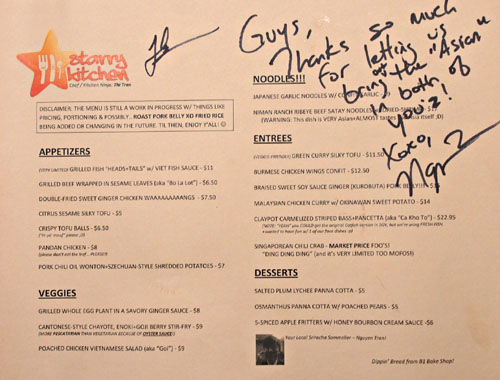 The Starry Kitchen Nights menu reads more refined than what the duo was previously offering. Nonetheless, it remains a hodgepodge of pan-Asian panache, a reasonably-priced suite of items meant for family-style sharing. Expect near-constant change, too, as the
carte
is a definite work in progress (Nguyen even teases a "Roast Pork Belly XO Fried Rice"). To drink, there's a limited selection of wines, beers, sakes, and even interesting non-boozy beverages on offer, and I've heard that lunch service might even be in the works. Click for larger versions.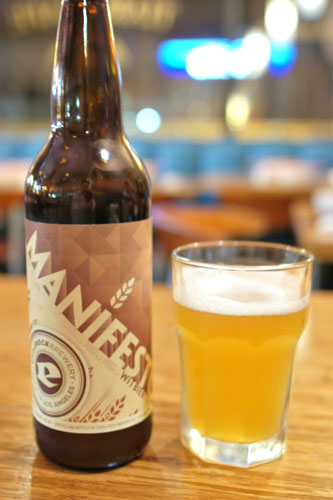 We chose the BYOB route (they're still trying to figure out how corkage is going to work--there was none tonight) and brought along a quartet of beers. The first was the Manifesto witbier from the nearby Eagle Rock Brewery. This was a light, easy-drinking beer, subtly sour and spicy, but it didn't really have much of the
witte
character that I was hoping for.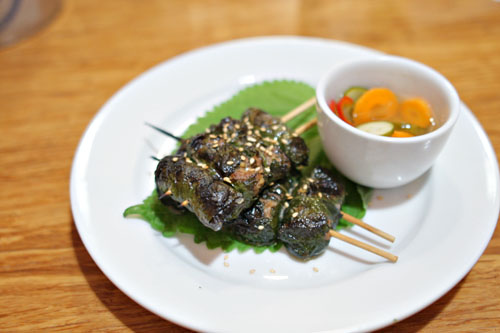 GRILLED BEEF WRAPPED IN SESAME LEAVES [$6.50]
To start things off, the Chef presented her version of
bo la lot
, or grilled beef in betel (lolot) leaves, one of the traditional items in the famed Vietnamese "seven courses of beef." Instead of
la lot
leaves, Korean sesame was used in its place, and the result was fantastic, with the medicinal, zesty greens playing off of the smoky, succulent logs of minced meat wonderfully. To go along with the course, we were also given a small cup of house-pickled Fresno chilies, carrots, and cucumbers, their tang and crunch much appreciated. A perfect start to the meal.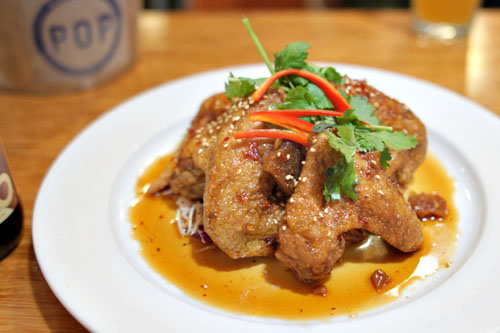 DOUBLE-FRIED SWEET GINGER CHICKEN WAAAAAAAAANGS [$7.50]
One of the restaurant's most popular dishes is the chicken wings, a holdover from the Cal Plaza days, and I can see why. The bird displayed a great crispness to it, yet the flesh was still tender and juicy, with a pronounced, but not overbearing sweetness that led to just a touch of creeping spice. Nice.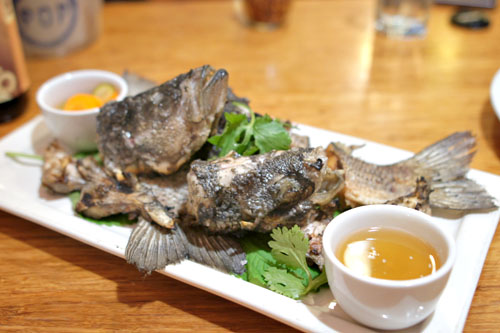 GRILLED FISH "HEADS+TAILS" w/VIET FISH SAUCE [$11.00]
Without a doubt, this was the most intimidating-looking dish on the menu, and even I was a bit taken aback given that I'm no good at handling fish heads in a graceful manner. We had here the odds and ends of the striped bass used in SK's
ca kho to
claypot, simply grilled and served with
nuoc mam
and more of those homemade pickles. Getting past the considerable "work" required to extract the meat from the bones, the bass was actually quite delicious: tender and silky, with a lovely char and smokiness that went swimmingly with the accompanying fish sauce.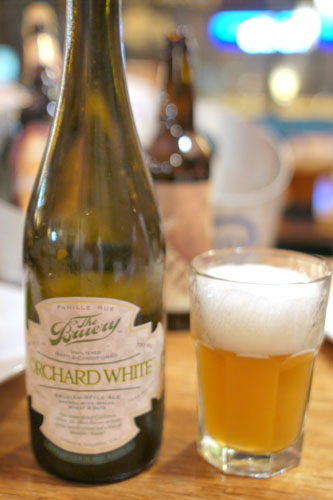 Up next was another witbier, The Bruery's Orchard White, one of my favorite examples of the style. It was actually discontinued last year, and this increasingly rare bottle was one of only two remaining in my collection (the last time I'd opened a bottle was during a
CR8 dinner
). Interestingly, the flavors this time around were quite different than I'd experienced before, a result of its age I'm sure. The beer was distinctly less floral, with less of its signature lavender notes coming through. Instead, it was earthier, weightier, but still with the spicy, citrus-y notes that I expected.
PORK CHILI OIL WONTON+SZECHUAN-STYLE SHREDDED POTATOES [$7.00]
Here, Thi paid homage to the Sichuan kitchen with this
hong you chaoshou
-inspired dish. The dumplings were spot on: meaty and supple, with a satisfying porcine relish. They were deftly augmented by the spicy "red oil" present, while the cilantro added an overarching lightness to the dish that I really appreciated. What I liked the most here, though, was the use of potatoes, which added a gorgeous texture and moderating element to the course. Yum.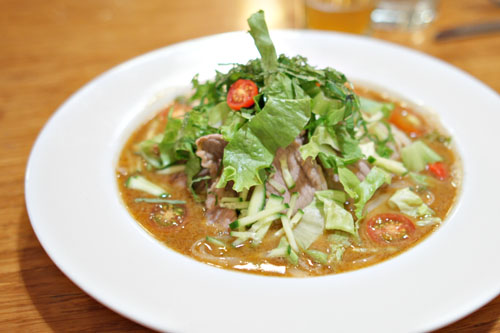 NIMAN RANCH RIBEYE BEEF SATAY NOODLES w/ DRIED-SHRIMP [$17.00]
Nguyen warned that this dish "almost tastes like Asia itself" and I could definitely see where he was going with that. Complementary flavors of sour, savory, and spicy enveloped the entire dish, creating a heady, aromatic veil that beautifully integrated every element together. Also commendable was the snappy, satisfying texture on the noodles, as well as the minty levity imparted by the various greenery on the plate. Hearty and homey, yet somehow contemporary--a must try.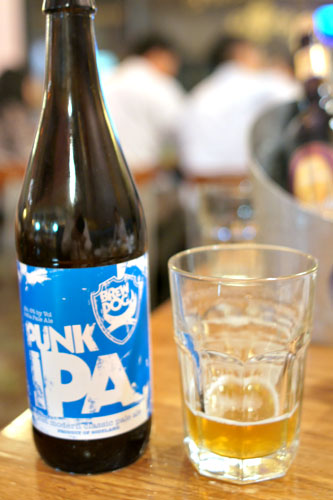 At this point, we moved on to an IPA, specifically the BrewDog Punk IPA, which I'd quite enjoyed during the last iteration of
LudoBites
. It was pretty subdued for the style, with an apparent, yet delicate citric bitterness intermixed with some delicious floral and malty notes.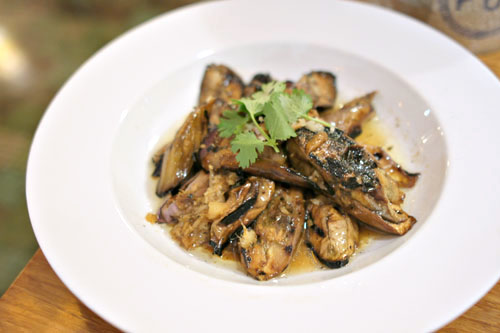 GRILLED WHOLE EGG PLANT IN SAVORY GINGER SAUCE [$8.00]
Regular readers will know that I'm not particularly a fan of eggplant, but we still went with this dish at our server's recommendation. I wasn't in love with the course, but it was certainly still quite palatable given my aversion to the main ingredient, with the ginger adding a well-placed counterpoint to the savory, smoky flavors at play.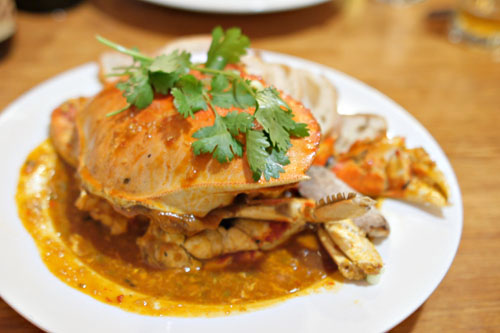 SINGAPOREAN CHILI CRAB [$60.00/MP]
And here we come to the night's
pièce de résistance
: the Singaporean chili crab that's quickly becoming Starry Kitchen's signature dish. It lived up to its reputation, with the roughly 3-pound Dungeness showing off its sweet, supple, spongy meat in stellar fashion. It was one of the tastiest preparations of cooked crab that I've eaten in fact. I would've had no trouble consuming it alone, but the accompanying sauce was excellent as well, with a sweet, savory, spicy kick that complemented but didn't overwhelm the delicate crab. Joining the sauce were cuts of bread from the new
B1 Breadshop
, which opened at the end of July. I even took the remaining liquid home to enjoy over plain white rice.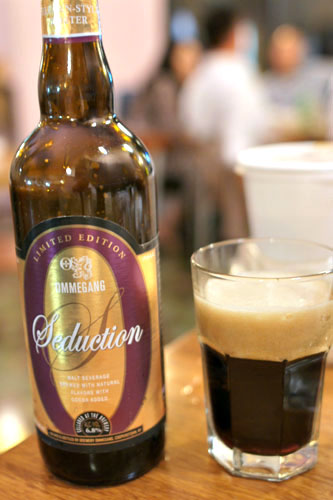 For dessert, we opened a bottle of the Brewery Ommegang Seduction, described by the producer as a "Belgian style porter," basically a dark ale blended with Callebaut chocolate and Liefmans cherries. It was quite something, with a subtly sweet base of malty, creamy cocoa leading to almost ethereal notes of tart, lambic-esque cherry fruit on the finish.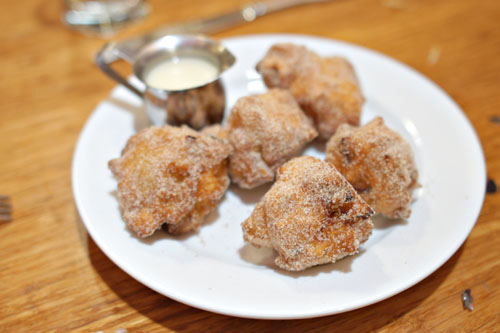 5-SPICED APPLE FRITTERS w/ HONEY BOURBON CREAM SAUCE [$6.00]
We were quite full at this point, but of course, we always save room for dessert (it's like a separate stomach right?). Apple fritters were something special, arriving at the table imbued with the spicy essence of
wuxiang fen
, a flavor profile that recalled the aroma of Cantonese roasted duck. Indeed, they showed off a wonderfully savory character initially, which then led to the fruity sweetness of apple toward the close. Though the fritters were certainly tasty alone, the paired honey-bourbon cream sauce was a superb complement, its boozy, heavy, unabashed sugariness balancing out the savory spice of the beignets wonderfully.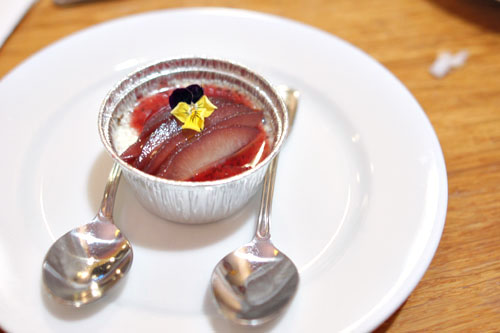 OSMANTHUS PANNA COTTA w/ POACHED PEARS [$5.00]
Interestingly, I'd had a similar dish during the last
LQ@SK weed/herb dinner
, but this version was much more successful. The panna cotta itself conveyed a delectably fragrant, herbal, tea-like flair, with a subdued sweetness that melded beautifully with the sugary cuts of pear. A humble looking dessert, but one that was definitely more-than-meets-the-eye in terms of finesse and complexity.
It appears as though our beloved Starry Kitchen has grown up. Our dinner here was, in fact, rather great, and it's clear to me that the Trans have upped their game considerably. Flavors were on point: bold, lusty, and eminently satisfying, really respecting and representing their Asian roots but still conveying a decidedly modern, of-the-moment twist. It was a deeper, more mature exploration of the
Kitchen Ninja
's culinary talents, and the outcome was very, very promising. As for what's next for Thi and Nguyen, they're hoping to stay put at Tiara for a while, but have already put in an application for a new space at California Plaza--stay tuned.