Restaurant Guy Savoy (Las Vegas, NV) [3]
Guy Savoy at Caesars Palace
3570 Las Vegas Blvd, Las Vegas, NV 89109
702.731.7110
www.caesarspalace.com/casinos/caesars-palace/restaurants-dining/restaurant-guy-savoy-detail.html
Thu 09/20/2012, 8:00p-11:55p
Ever since debuting in May 2006 with Executive Chef Damien Dulas at the helm, Guy Savoy has remained near the top of the heap when it comes to Las Vegas dining. Dulas, however, was supplanted by Eric Bost two years later in 2008, and it was with him that I experienced my
first two
,
glorious, meals here
. Given his expertise, Bost was tapped by Monsieur Savoy himself to open another outpost of his eponymous restaurant at the Marina Bay Sands in Singapore. As such, he left Las Vegas in the middle of 2010, replaced by his former sous Hugo Coudurier. Coudurier held down the fort for a while, but decamped early last year. Stepping up to the plate was his former Chef de Cuisine Mathieu Chartron, who now runs the show around here.
About the Chef
: Unsurprisingly, Chartron hails from France, specifically Saint-Donat-sur-l'Herbasse, a small town located about an hour south of Lyon. Growing up, his family owned a truffle-centric haute cuisine restaurant called
Chartron
, which still operates to this day. Father Bruno is the Chef, while mother Veronique runs the front-of-the-house. The family even owns its own truffle farm. Following completion of culinary school in Grenoble, Chartron relocated to Paris and found employment at the Michelin three-star Le Meurice under Yannick Alléno, then transitioned to the original Guy Savoy restaurant. He was only 19 years old at the time. There, he worked his way rapidly through the kitchen's various positions, and after a year, M. Savoy asked him to go to Vegas. Chartron began cooking in the desert in September 2008, and quickly rose up the ranks, becoming the youngest head chef on The Strip following Hugo Coudurier's departure. He's supported by his Chef de Cuisine Alain, who was running the kitchen on this particular evening.
The kitchen isn't the only place where things have been in flux, however. Back in October 2010, somewhat worryingly, Guy Savoy's son Franck left his post as GM to take the position of Director of Food and Beverage for Caesars Palace. Then, this past March, he and his wife Leigh Greenfield (herself the local rep for Urbani Truffles) departed to New York, where Franck took over the F&B program for The Four Seasons (the former home of
L'Atelier de Joël Robuchon
, which closed at the end of June). He has since been replaced by Alain Alpe, a former Captain who's been at the restaurant since day one.

Inside, things remain much as they have been before. The space was penned by designer
Jean-Michel Wilmotte
, who also did the original Rue Troyon location. It's a serious, sleek, almost stark room, anchored by the towering slatted doors of dark wood and set off by colorful contemporary arts pieces. Around six dozen diners are accommodated in the main dining area shown above, as well as in three semi-private rooms (where our party of seven was seated), the pricey Krug Room, and a chef's table in the kitchen seating six.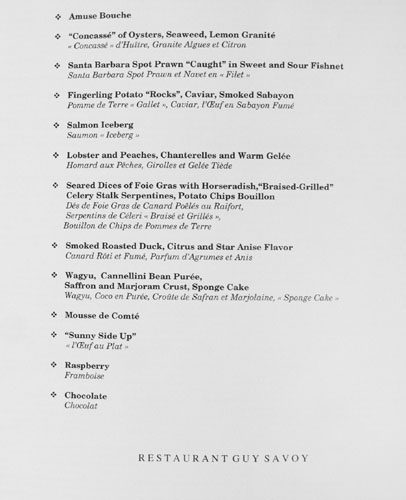 There's been quite a change to Guy Savoy's menu. The Menu Elegance and "Bites and Bubbles" have been nixed, while the Menu Prestige has been rechristened the Signature Menu, with a lower price to boot at $258pp. The former TGV menu has transformed into the $120 Pre-Theatre menu, and of course, there's also the option of the
über
-expensive Krug Menu ($750 per head, mostly due to the bubbly). However, we were here strictly for the new Innovation-Inspiration Menu, a 13-course degustation of novel dishes priced at $348 a head, with an additional $175 for wine pairings from Sommelier Phil Park. Click for a larger version.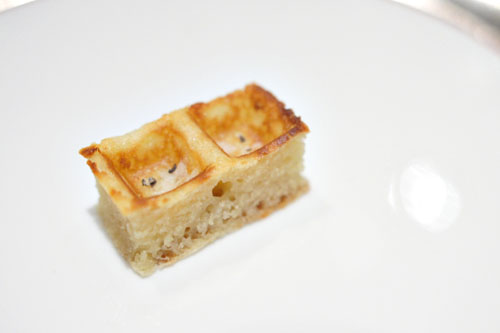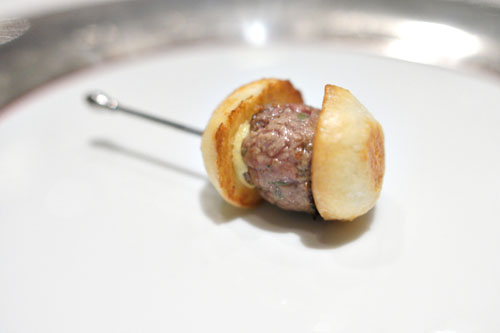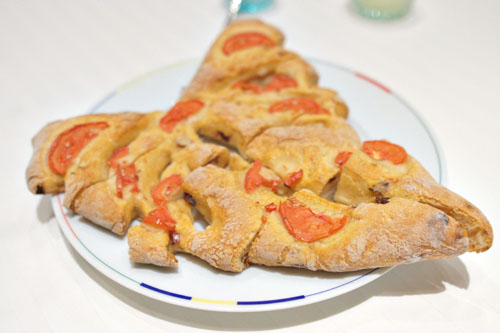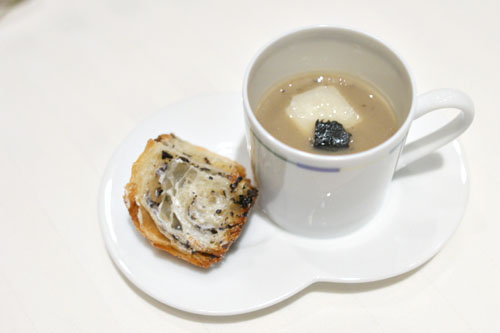 1: Amuse Bouche
We commenced with a quintet of amuses. The first was a "French Club Sandwich" containing foie gras, sea salt, and a black truffle vinaigrette, all on a tiny triangle of French country bread. It was lovely, with the crisp toast moderating a quintessential expression of the liver. The fluffy Parmesan waffle, meanwhile, was also quite tasty, with a delectable cheesy character and a slight sweetness, all intermingled with a mignonette of black pepper. The "Petite Burger" with mustard and Parmesan was even better, with the mustard providing a delightful tanginess that offset the lingering beefiness of the "patty." Next was a tomato
fougasse
, a type of bread with a slight tomato tartness that recalled the taste of pizza! Finally, we enjoyed a demitasse of M. Savoy's famed artichoke soup with Parmesan and black truffle, served with a mushroom brioche. It was as good as you'd expect: a hearty, heady explosion of classic truffle goodness beautifully complemented by its accompanying bread--very satisfying.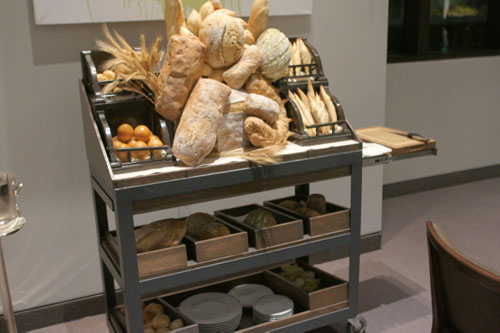 Speaking of bread, the restaurant provided no less than a dozen varieties for us to choose from: plain, caramelized onion, and seaweed ciabattas;
pain de campagne
; olive bread; lemon bread; basil bread; multigrain; baguette; plain and poppy seed baguettines; mustard seed bread; and Parmesan and bacon-sea salt
pain au laits
. Given the over-the-top nature of the cart, we opted for a bread pairing from "bread sommelier"-slash-server Andre, whom I recognized from my
first visit here
three years ago.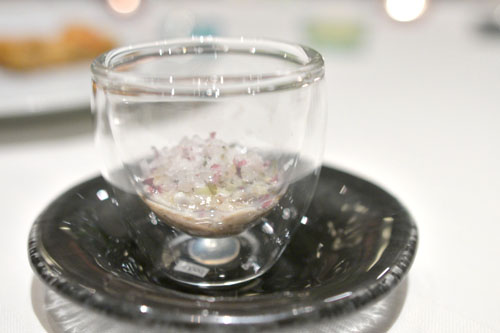 2: "Concassé" of Oysters, Seaweed, Lemon Granité
| « Concassé » d'Huître, Granite Algues et Citron
Alphonse Mellot,
La Moussière
, Sancerre, 2010
Our first course proper brought out a singular oyster, on top of which a spoonful of scallion, lemon, and seaweed-lemon granita was placed. The effect was pretty amazing, with the initial, bracing brine of the oyster transitioning beautifully to tart notes of lemon, while the finish was imbued once again with more salinity, but this time augmented by the ocean-y taste of the seaweed. Superbly well integrated, with a fantastic interplay of flavors.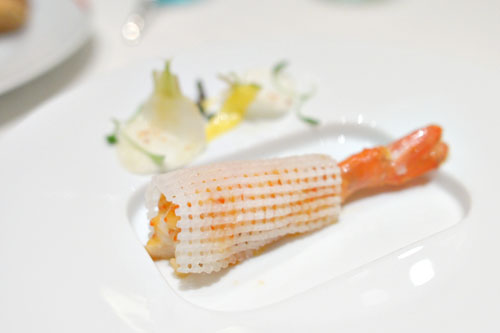 3: Santa Barbara Spot Prawn "Caught" in Sweet and Sour Fishnet
| Santa Barbara Spot Prawn et Navet en « Filet »
Eiko Fuji,
Glorious Mt. Fuji
, Yamagata, Namazake, Junmai Ginjo
Santa Barbara spot prawn arrived in flawless fashion, snappy and satisfying in texture, with a delicate brininess that paired surprisingly well with the sweet 'n' sour nature of the pepper gelée. At the same time, I enjoyed the crunch and levity imparted by the pickled turnip "net" (I'm curious as to how they achieved that effect), as well as the carrots and turnips on the side. In addition, I especially appreciated the pairing of sake here, as it had a certain sweetness that melded beautifully with similar notes in the dish.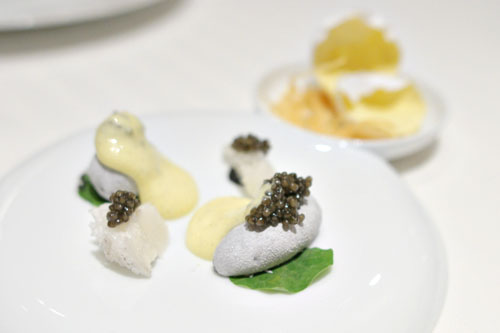 4: Fingerling Potato "Rocks", Caviar, Smoked Sabayon
| Pomme de Terre « Gallet », Caviar, l'Œuf en Sabayon Fumé
Laurent-Perrier, Tours-sur-Marne, 2002
Up next was perhaps my favorite course of the evening. We had "rocks" of fingerling potatoes covered in edible clay, joined by golden osetra caviar, caviar vinaigrette, squid ink, sponge cake, a dollop of smoked sabayon, and a nest of potato. The potatoes themselves were expectedly mild, yet gorgeously augmented by the creamy, eggy sabayon, intermixed with pricks of saltiness from the sturgeon roe. It was a classic combination of flavors, faultlessly reinvented. Wonderful Champagne here as well, with its substantial weight that really stood up to the course.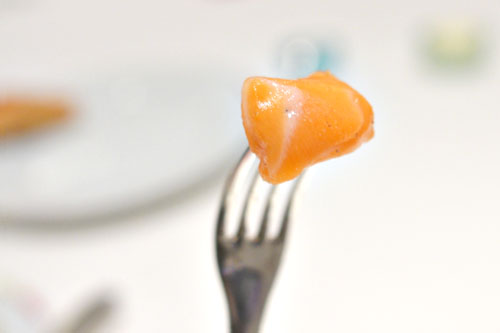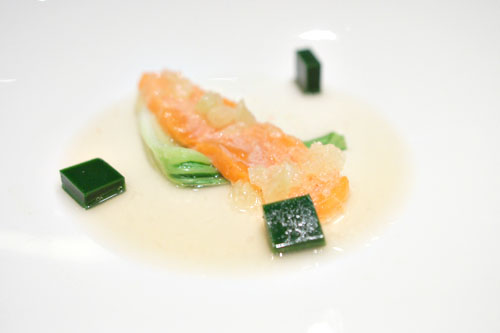 5: Salmon Iceberg
| Saumon « Iceberg »
Domaine Billaud-Simon,
Vaillon
, Chablis, 2009
In preparation for this course, we were each handed a tiny chunk of raw salmon to sample and form a baseline for texture and taste. Then, our server proceeded to "cook" larger portions of the fish on a slab of dry ice tableside, then served it on some rather hot plates, thus "cooking" the salmon once more. Accoutrements included blocks of chervil gelée, lemon, lime, finger lime, and bok choy, all set in a vegetable-based broth. The end result was quite something. I adored the hot-cold temperature contrast, which also resulted in a gradient of texture throughout the fish, as well as how the salinity inherent was balanced by the distinctly citric notes present. The bok choy, meanwhile, provided a fitting counterpoint to things, and the wine pairing was superb as well, with the lemony notes in the Chablis playing off the dish in commendable fashion.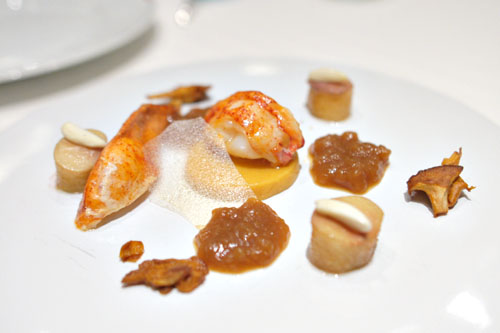 6: Lobster and Peaches, Chanterelles and Warm Gelée
| Homard aux Pêches, Girolles et Gelée Tiède
Yves Cuilleron,
Viognier
, Collines Rhodaniennes, 2010
Lobster tail and lobster claw were joined by a disk of peach
blancmange
(which hid a "surprise" of even more diced lobster), white peach, chanterelle, almond slivers, and dollops of warm lobster gelée. The
homard
itself I found pretty flawless, with both parts showing off some wonderful textures, as well as the crustacean's natural brine. I was actually a bit concerned at first about the use of peach here, afraid that its sugariness would overwhelm the dish, but it actually functioned surprisingly well, accenting the inherent sweetness of the lobster admirably.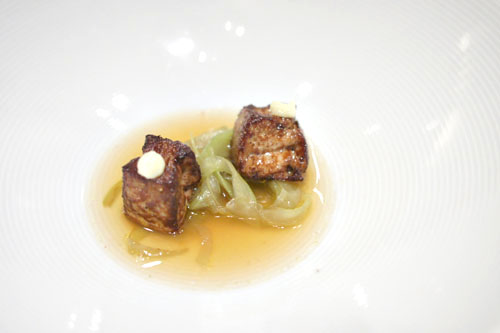 7: Seared Dices of Foie Gras with Horseradish, "Braised-Grilled" Celery Stalk Serpentines, Potato Chips Bouillon
| Dés de Foie Gras de Canard Poêlés au Raifort, Serpentins de Céleri « Braisé et Grillés », Bouillon de Chips de Pommes de Terre
Domaine Gauby,
Les Calcinaires
, VdP des Côtes Catalanes, 2003
Another highlight of the meal for me was the foie gras. The cubes really did a great job displaying the classically rich, decadent nature of the liver, and I loved the bitterness imparted by the touch of char here. The crux, though, was the use of potato, which was sheer genius, lending an earthy, tempering element to the dish that contrasted the foie in stellar fashion. Similarly, the celery (which I usually don't care for) also offered up a bright, bracing counterpoint to the liver, and I appreciated its crunchiness as well. One of the best preparations of foie that I've had all year.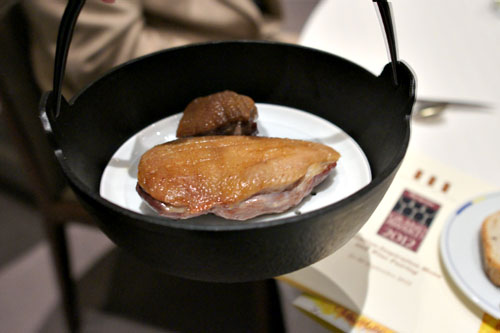 8: Smoked Roasted Duck, Citrus and Star Anise Flavor
| Canard Rôti et Fumé, Parfum d'Agrumes et Anis
Féraud-Brunel, Châteauneuf-Du-Pape, 2009
The duck was beautifully presented tableside, but unfortunately, was my least favorite dish tonight. I found the bird rather tough in consistency, though it did have a wonderfully savory, fatty skin, and its flavor was spot on--rich and hearty, and keenly accented by the spicy notes of star anise. The carrot purée, though, was too overtly sweet for me, and it actually served to distract me from the otherwise pleasant flavors at play.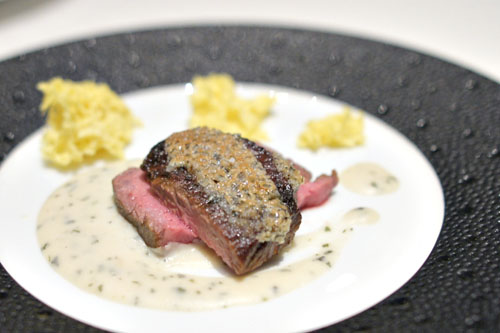 9: Wagyu, Cannellini Bean Purée, Saffron and Marjoram Crust, Sponge Cake
| Wagyu, Coco en Purée, Croûte de Safran et Marjolaine, « Sponge Cake »
Leviathan, California, 2009
Australian wagyu (they're getting the real deal Japanese beef soon, now that the ban is lifted) formed our final savory course of the evening. The meat was pretty much spot on, really just teeming with all the bovine goodness that you'd expect. It easily stood alone on its own merits, but I also appreciated the subtly sweet, herbaceous crust of marjoram. My favorite element here, though, was that fantastic cannellini bean purée, which showed off an amazingly earthy, heady, profound depth of flavor that complemented the beef marvelously--I could've eaten a whole bowl of the stuff. Rounding things out were bits of fluffy sponge cake, which reminded me of the various preparations of microwave
aerated brioche
that I'd had before.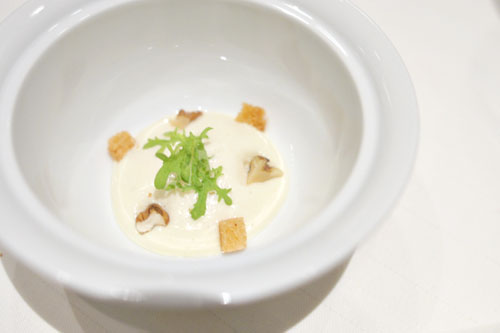 10: Mousse de Comté
Domaine J.-M. Boillot,
Macherelles
, Chassagne-Montrachet, 2010
Bridging the gap between savory and sweet was this excellent cheese course. Comté was turned into an uncommonly light, airy, ethereal mousse, which conveyed the full flavor and tang of the cheese, but without its substantial heft. Croutons, walnuts, and mustard greens were provided as counterpoints to the
fromage
, with the salty kick of the crouton working especially well.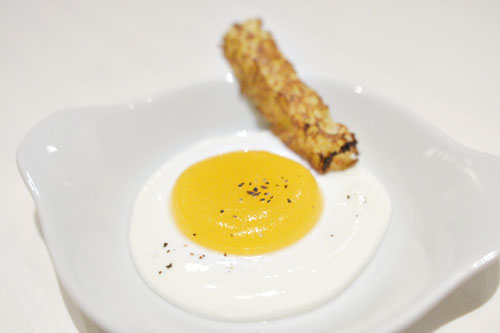 11: "Sunny Side Up"
| « l'Œuf au Plat »
Charles Hours,
Uroulat
, Jurançon, 2010
Playing the role of a sunny side up egg was a "yolk" of mango purée, set in a "white" of Greek yogurt (
labneh
I assume), all with a dash of cracked pepper and served with a side of French toast. It was a fun little dessert, with the unabashed sugariness of the mango duly offset by the sour, lactic tartness inherent in the yoghurt, while the toast served to ground the dish. Humorously, one of my dining companions actually mistook this for an
actual
sunny side up egg initially.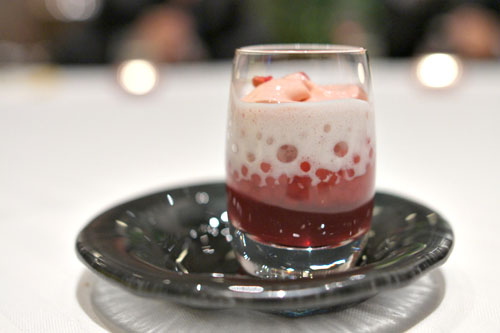 12: Raspberry
| Framboise
Inniskillin,
Cabernet France Icewine
, Niagara Peninsula, 2009
Raspberry arrived in tapioca, gelée, mousse, and freeze-dried forms, accompanied by almond foam and an almond ice cream. The flavors here were certainly mellifluous, with the tartness of the berry integrated well with the mild, nutty notes present. It was great to experience the various facets of the
framboise
, and see how they interacted with the duet of almond. This was almost like a dessert version of Guy Savoy's famed "Colors of Caviar" dish that I'd had
previously
.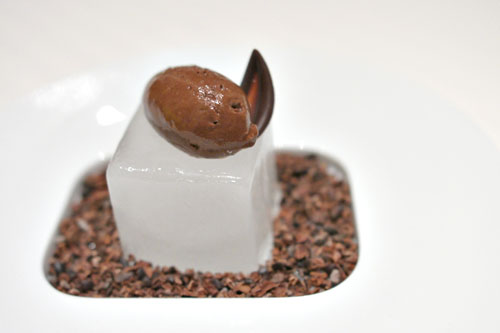 13: Chocolate
| Chocolat
The requisite chocolate dessert brought us a chocolate sorbet and chocolate tuile, set atop a block of ice in a field of cacao nibs. This was as pure of an expression of chocolate as you're going to get, a super focused, decadent expression of the treat that was lush, luxurious, and on the verge of being too much.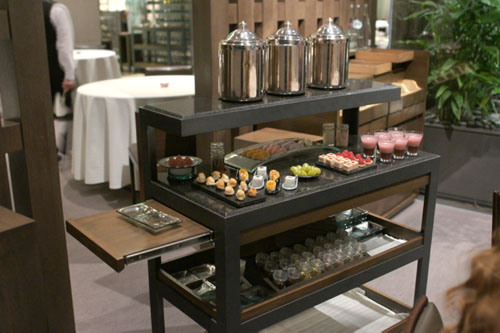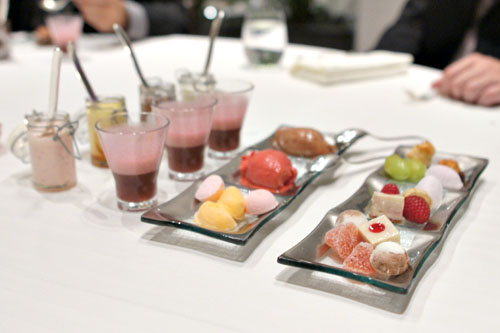 Then came the candy cart, loaded with the following goodies: coconut macarons, caramelized bananas,
blancmanges
, apricot-stuffed grapes, raspberry cheesecake, raspberry-mango phyllos, fresh grape soda,
pâtes de fruits
, marshmallows (butterscotch, bubble gum, jasmine-root beer, creme caramel), chocolate mousse, rice pudding (French vanilla, pink praline), sorbet (raspberry, cherry), and vanilla ice cream. We tried to restrain ourselves here, but still ended up requesting pretty much one of everything.
Despite a misstep in the form of the duck, Guy Savoy delivered a strong meal, one that firmly reiterated the restaurant's place at the top of the Las Vegas dining scene. I do enjoy the Signature Menu and its parade of M. Savoy's more straightforwardly satisfying "greatest hits," but at the same time, I really do like the direction that the Innovation-Inspiration menu is heading. It's a slightly more contemporary expression of the food that the restaurant is known for, and really allows the local kitchen staff to show off a bit more. Speaking of the new staff, it appears that they're on track at the moment, continuing on the proud tradition that I initially experienced with Eric Bost. It has been said, though, that Chef Chartron will eventually return home to France to run his familial restaurant, taking home all the experiences that he's gathered here in Vegas along with him. I'm not worried, however, as, if history's any indication, the show here will go on just fine.