Plate by Plate 2012 (Los Angeles, CA)
Plate by Plate 2012
214 S Main St, Los Angeles, CA 90012
www.platebyplate.org/la/
Sat 08/04/2012, 06:00p-10:00p

On Saturday, August 4th,
Project by Project
hosted its 10th Annual Tasting Benefit,
Plate by Plate
, at the
Vibiana
cathedral and event space in the heart of Downtown Los Angeles. For the uninitiated, PbP is a nationwide not-for-profit organization focused on issues relating to the Asian-American community, and as always, the event showcased the culinary chops of some of the City's most popular and up-and-coming eateries, all washed down by a selection of liquor, wine, beer, sake, and even non-alcoholic beverages from a wide array of purveyors.

The requisite group photo of all the participants.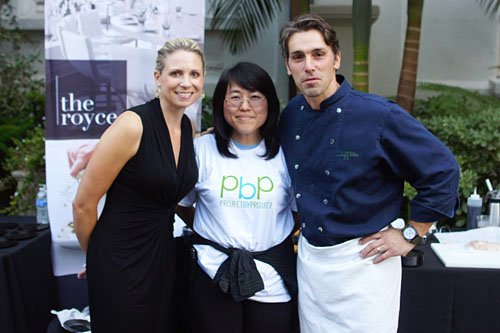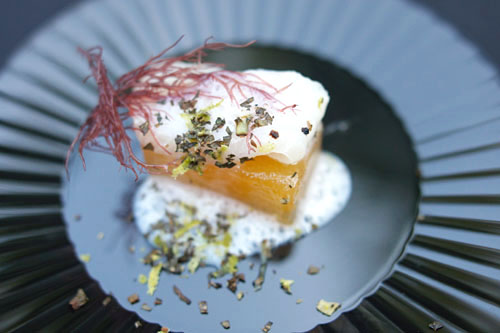 Accompanied by The Langham's Director of Communications
Elsa Schelin
, Chef
David Féau
of
The Royce
presented an attractive plate of
Marinated Cantaloupe, Kampachi, Toasted Ginger
.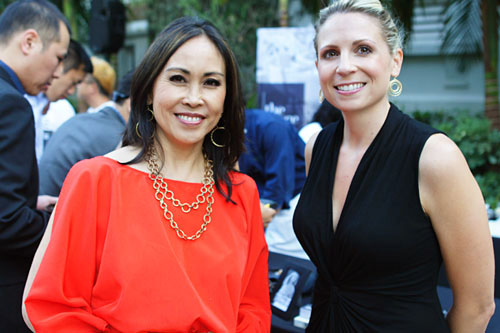 Elsa is joined by FOX 11 News anchor/reporter
Susan Hirasuna
, whom I actually ran into during the recent
C.H.E.F.S. foie gras dinner
held at The Royce.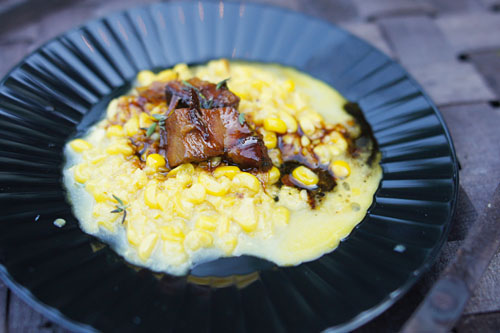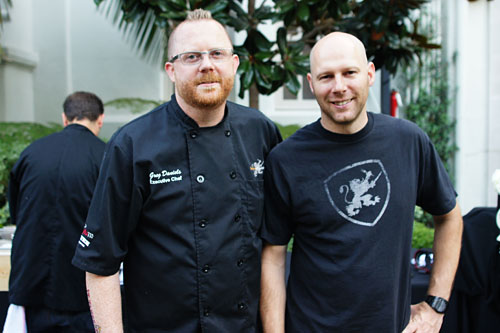 Chef
Greg Daniels
of
Haven Gastropub & Brewery
was on hand with his
Cola-Glazed Berkshire Pork, Smoked Cream Corn, Garroxta, Thyme
.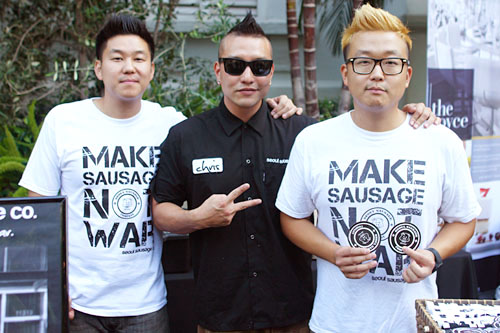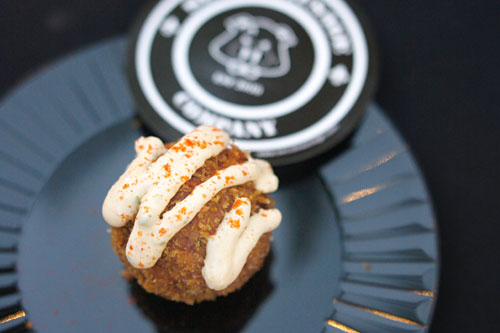 The
Seoul Sausage
team--
Ted Kim
, Chris Oh,
Yong Kim
--served up their
Flaming Fried Balls: Deep Fried Spicy Pork Seoul Sausage Cheesy Kimchi Fried Rice Balls topped with Da "DMA" Sauce (Kimchi Sriracha Garlic Jalapeño Aioli)
. The trio recently competed on Season 3 of the Food Network's
Great Food Truck Race
, which they may or may not have won, and which may or may not have anything to do with their upcoming brick & mortar store in Little Osaka.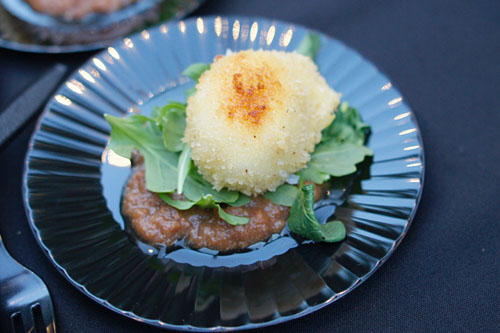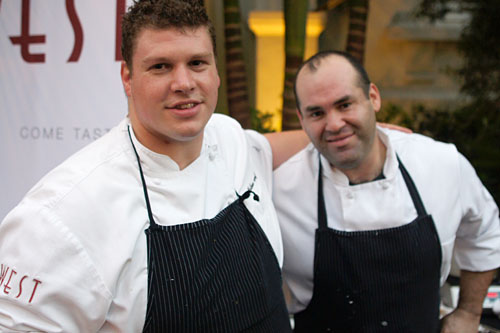 Chef
Mathew Woolf
of the revamped
West Restaurant & Lounge
had his
Crispy Egg, Bacon Jam, Arugula
on offer, which seemed to go over well with guests.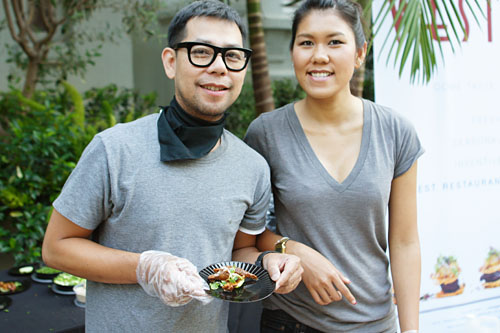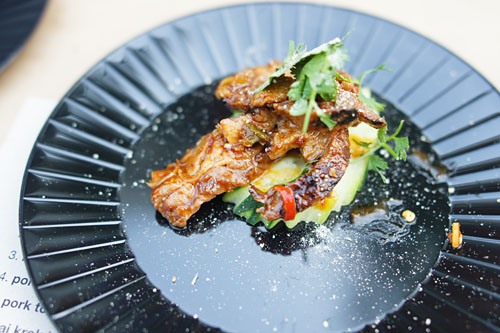 Though Chef/Owner Kris Yenbamroong was over at that other food festival across town,
Night+Market
had another "Kris" in tow: Sous Chef Chris Napaamporn. To eat, think
Moo Sadoong "Startled Pig": Grilled Pork Shoulder, Lime, Fish Sauce, Bird Eye Chile, Basil, Lemongrass, Kaffir Lime Leaves, Sugar, Rice Powder
.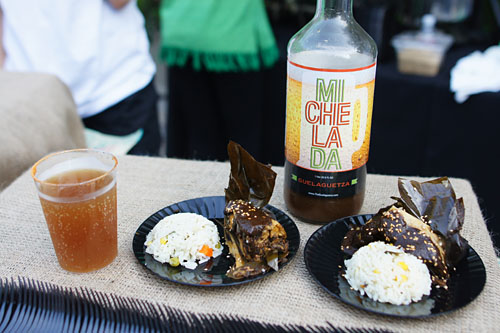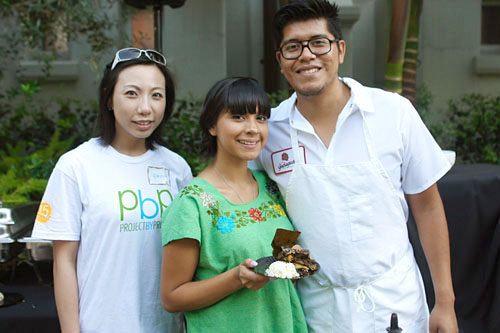 Guelaguetza
was
en la casa
with their
Tamales Oaxaqueños: Black Mole and Chicken Breast Tamales wrapped in Banana Leaf
, as well as their famed
Michelada
.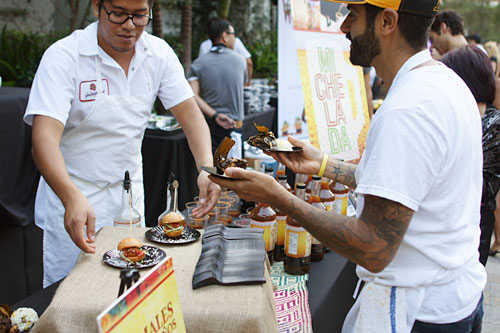 Sharing is encouraged between participants. Here, Jason Mattick of
Milo & Olive
swaps his sliders for some of Guelaguetza's mole-drenched tamales.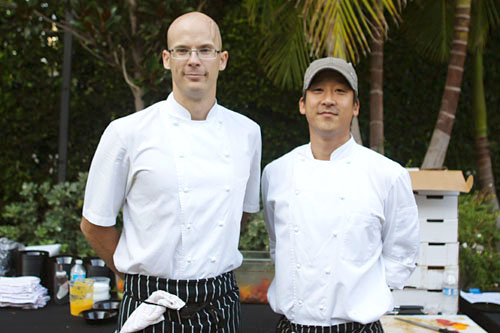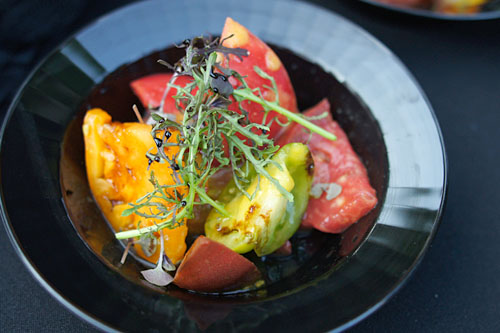 Chef Jeremy Berlin has been doing a fine job over at
Church & State
, and tonight he gave us a refreshing
Heirloom Tomato Salad, Charentais Melon, Vinaigrette with Greens and Reduced Balsamic
.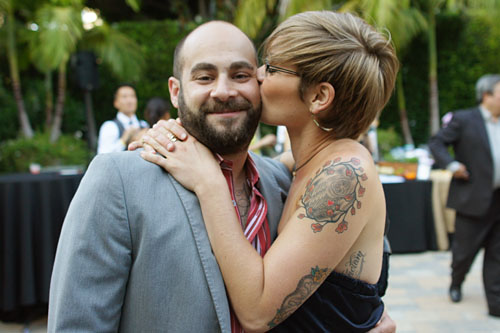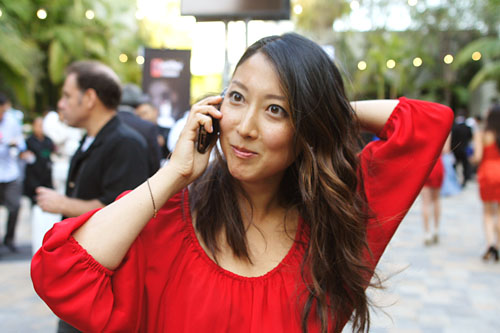 Left:
Former
ink.
GM-
cum
-Sommelier
Josh Goldman
looks rather contented here, and for good reason.
Right:
Sauce LA
's
Mary Park
, looking lovely in red.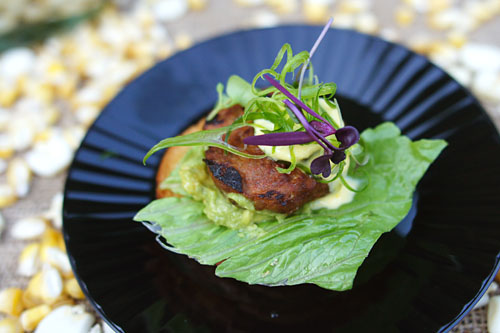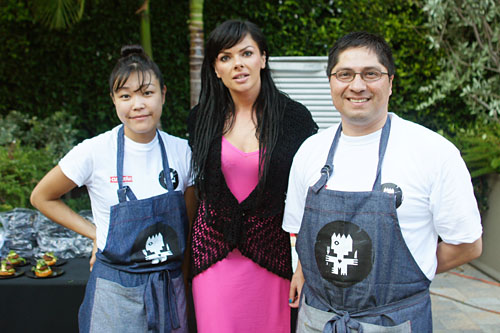 The award for the most interesting protein of the night goes to Team
Mo-Chica
and their
Alpaca and Lamb crostini, Pickled Cucumbers, Avocado, Aji Amarillo Yogurt dressing
.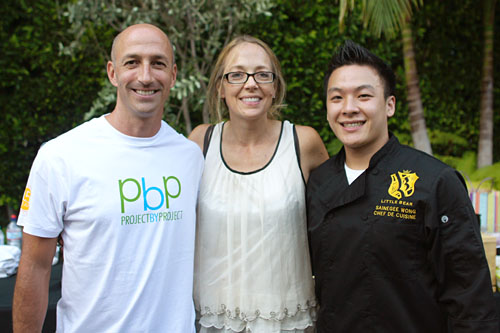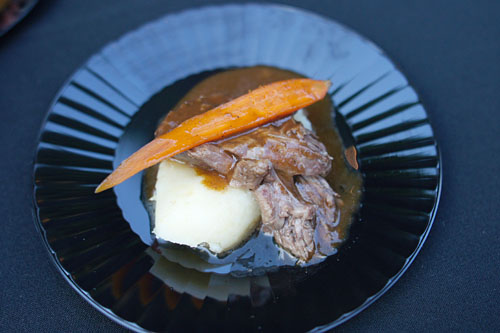 With Andre Guerrero out of town,
Little Bear
was repped by Chef de Cuisine Sainegee Wong and Pastry Chef Jan Purdy. Their dish? A
Carbonnade de Flamande
.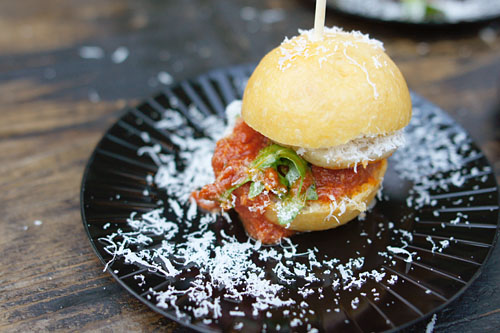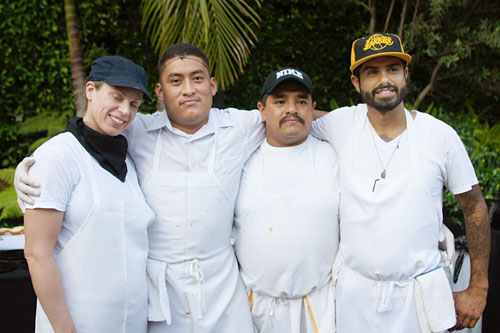 Recently replacing Walter Manzke at Josh Loeb and Zoe Nathan's
Milo & Olive
is Chef Jason Mattick, who showed off his
Mini Chicken Meatball Sandwiches with Fresh Mozzarella and Country Line Harvest Arugula
.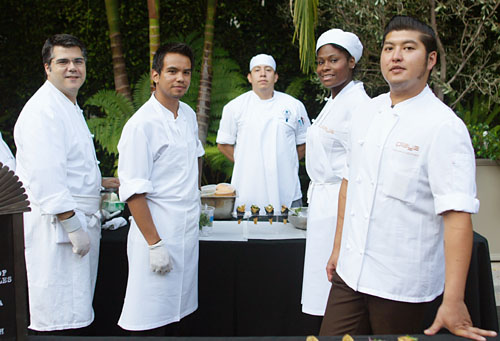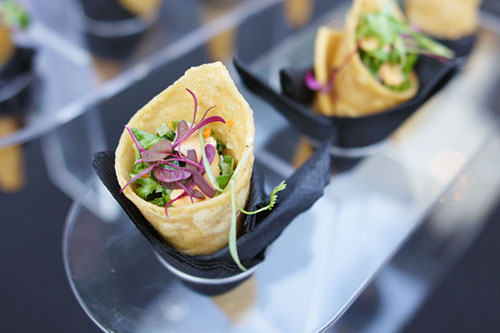 Chef de Cuisine Kevin Luzande of
Playa
rolled deep, serving up a svelte dish of
Maize Cornet, Chopped Salad of Rooftop Vegetables and Lettuces, Chipotle Crema, Avocado, Micro Amaranth
.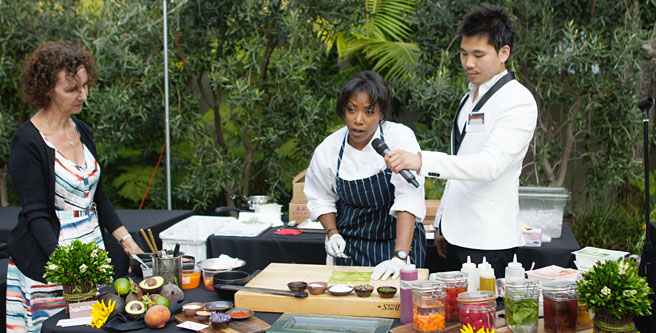 A highlight of the VIP hour was a cooking demo hosted by Chef
Nyesha Arrington
of
Wilshire
restaurant (and
Top Chef
Season 9 contestant), who utilized tofu from producer
AFC
.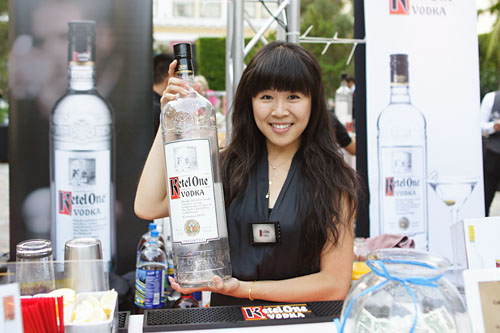 An open bar sponsored by
Ketel One
was certainly a big draw.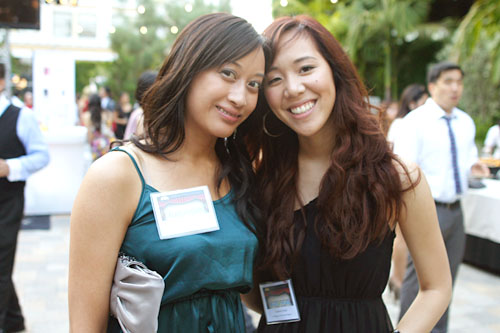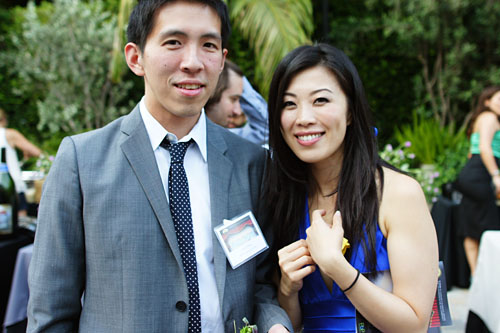 Left:
PbP's Manager of Campaign Partner Relations Jackie Fung and Co-Manager of Past Partner Relations Stephanie Huynh.
Right:
Justin Wang, Director of Events for Project by Project New York, along with Los Angeles Legal Counsel Annie Lin.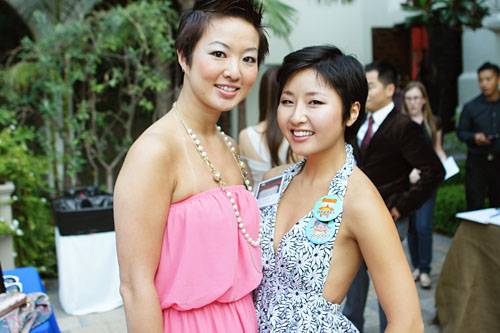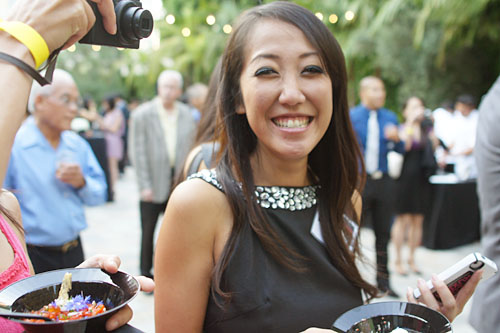 Left:
Short-haired Asian girls stick together!
Right:
PbP's Manager of Design Risa Yanai looks happy.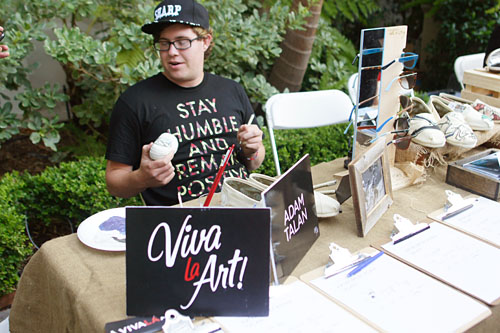 PbP partnered with
TOMS
and
Viva La Art
to have some specially-decorated shoes auctioned off at the event. Artists included Adam Talan and
Nora Martin-Hall
, and I hear
Eater LA
editor Kat Odell even
won a pair
.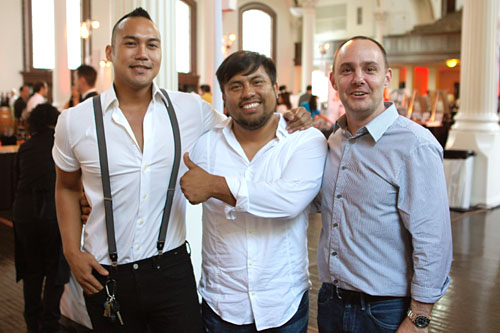 Stepping inside of the Vibiana now, whom do I see first but the
Mo-Chica
/
Picca
duo of
Ricardo Zarate
and
Stephane Bombet
, along with noted
Pour Vous
barman
Devon Espinosa
.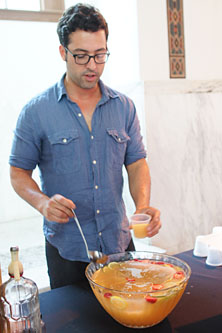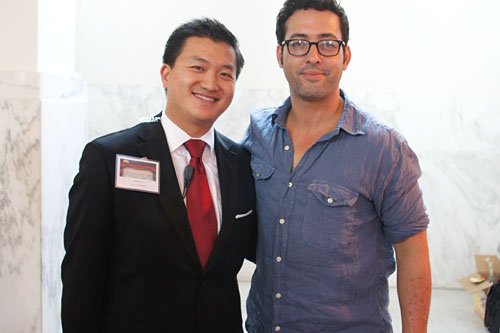 I first headed over to the VIP area, where
Pablo Moix
was repping
Black Market
with his
Pisco Punch
.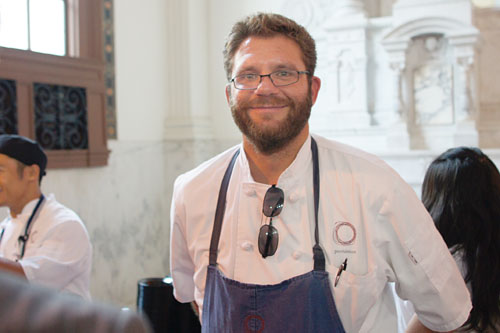 The
Cured Wild King Salmon Tartare, Crispy Buckwheat, Nori Crème Fraiche and Ikura
from
Providence
's
Michael Cimarusti
was regarded by many as the prettiest plate of the evening.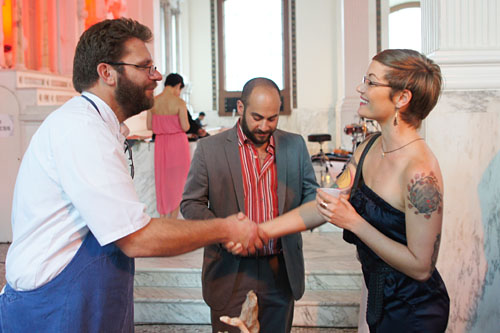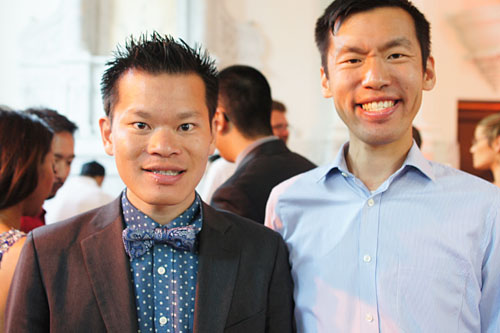 Left:
Michael introduces himself; Josh checks his phone.
Right:
Brothers Eric Tung and David Tung. Getting a sort of
American Gothic
vibe on this one.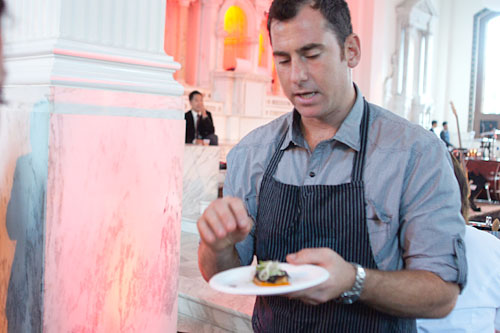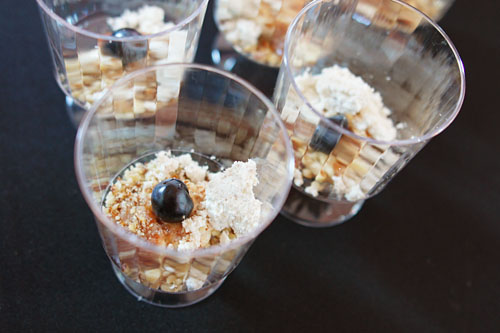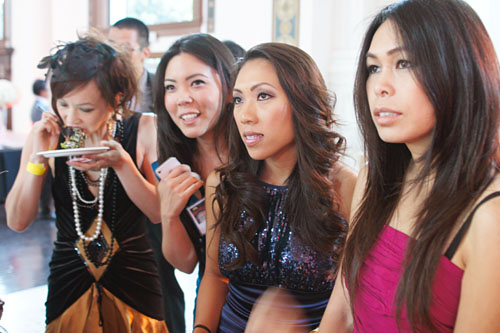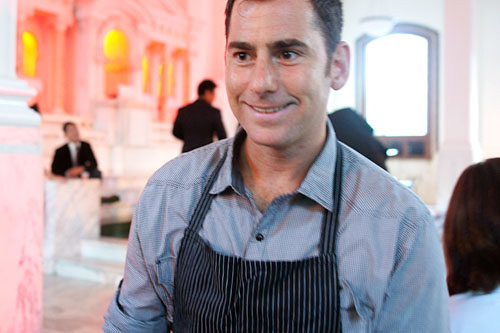 Kali Dining
's Kevin Meehan served a trio of dishes:
Duck Mousse, Grapes, Gel, Almond Powder
; a
Savory Corn Pudding, Vegetable Chips, Zucchini, Olive Dust
; and
Lamb Belly with Onion Ash, Carrot-Ginger Jam, Crispy Pea-Sesame Soil
.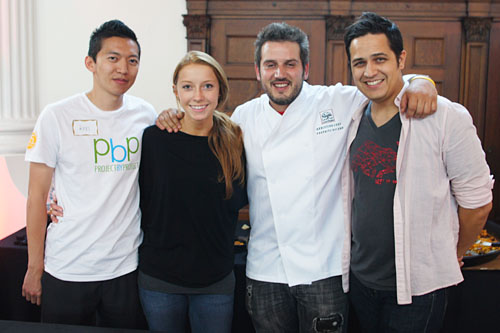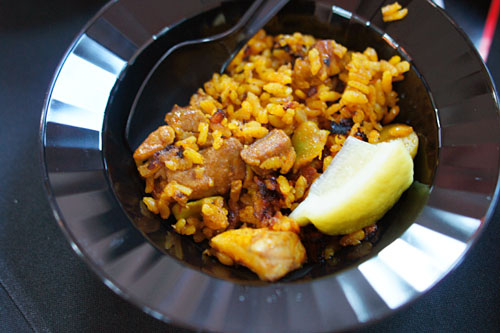 Here was an
Artichoke and Fava Paella with Chicken and Pork
, courtesy of Chef
Perfecto Rocher
of
Lazy Ox Canteen
.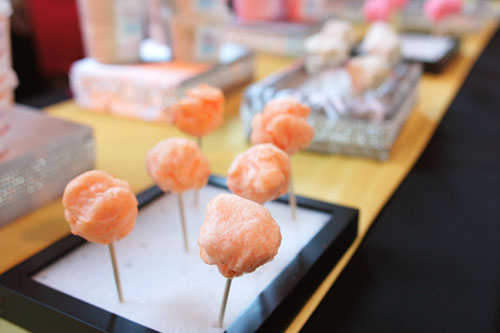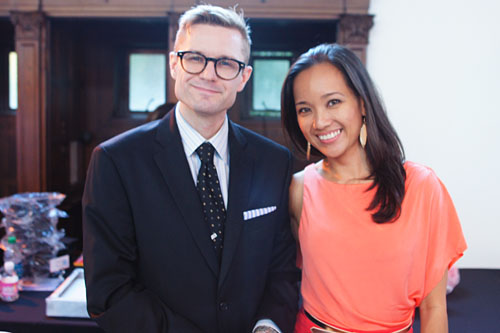 Tasty Clouds
' founder Nina Rodecker was on hand to offer up a variety of her haute cotton candies.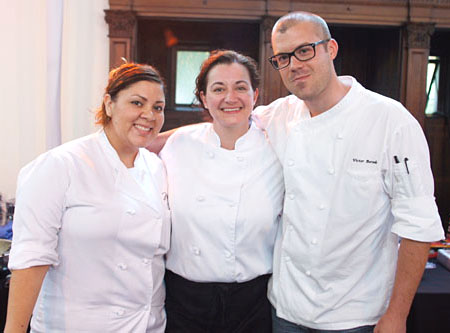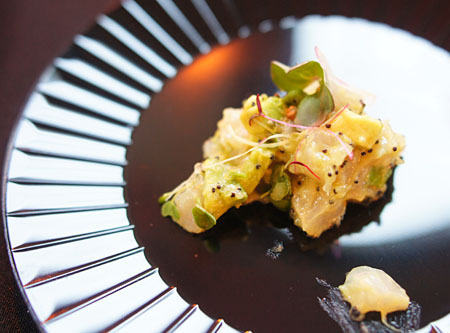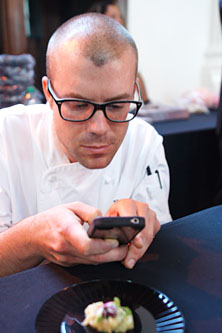 Scarpetta
at Montage Beverly Hills sent a dish of
Branzino
as well as Sous Chef
Victor Boroda
(quite the shutterbug himself it seems).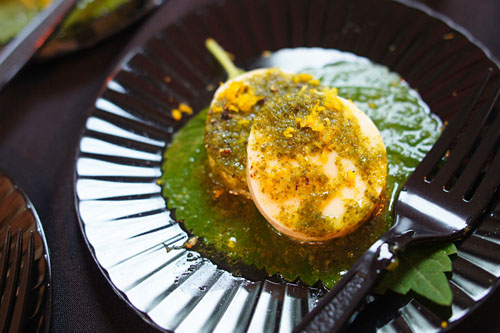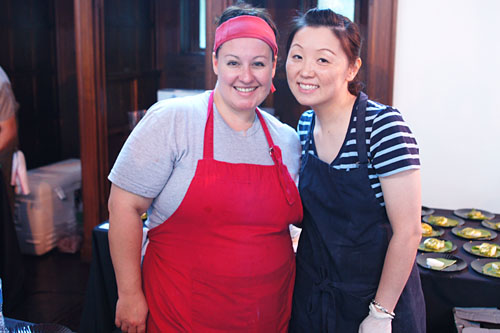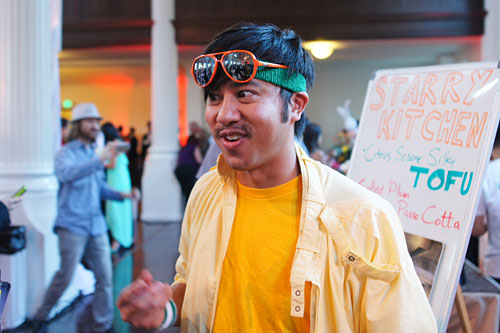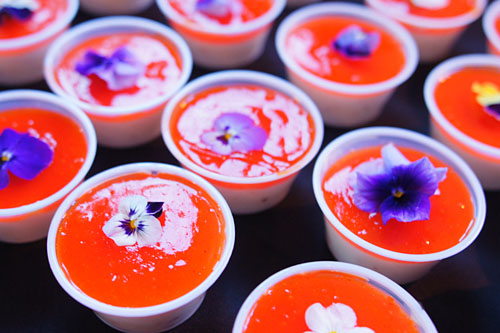 The ever-ebullient Nguyen Tran was of course all about getting people to sample
Starry Kitchen
's
Citrus Sesame Tofu
and
Salted Plum Lychee Panna Cotta
, prepared by his wife and chef
Thi Tran
.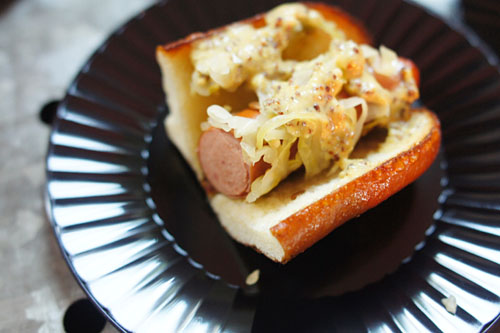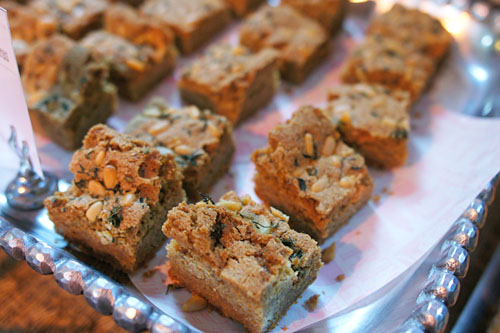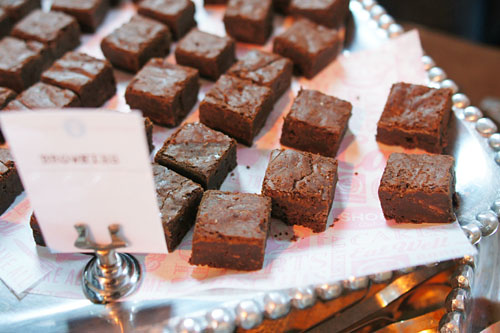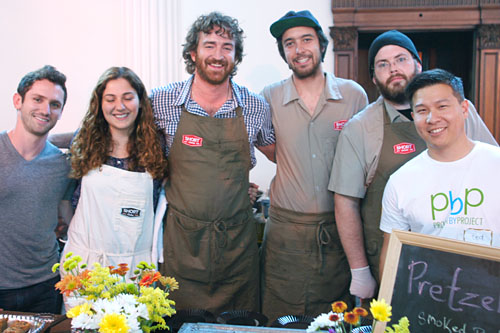 Sharing a table were
Short Cake
and
Short Order
. Short Order, helmed by Chef
Christian Page
, presented
Pretzel Pups: Smoked Beef & Bacon Link, Sauerkraut, Grainy Mustard, Pretzel Bun
, while Short Order's Head Baker Hourie Sahakian brought along a variety of baked treats.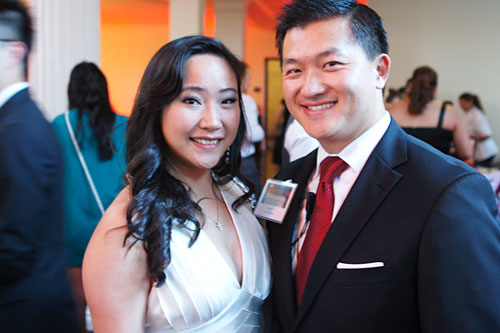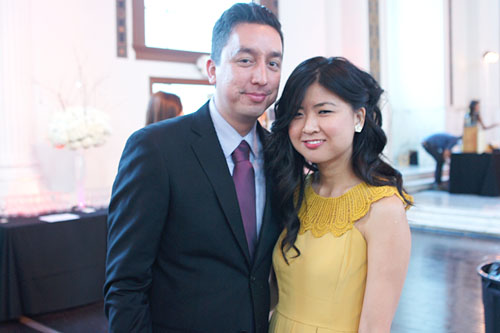 Left:
Restaurant Relations team member Danny Li and Margaret Lin.
Right:
Director of Operations Ray Warriner with his date Theresa Kiang.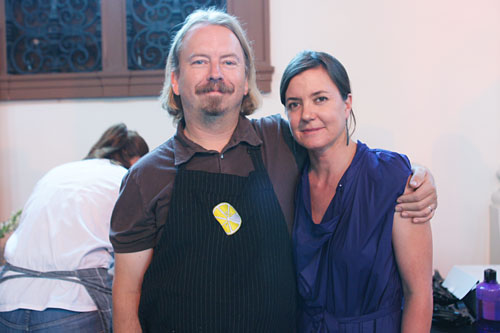 Neal Fraser
and Amy Knoll Fraser's
Fritzi Dog
will be launching soon, but the even bigger news is that Grace's replacement (which will
not
be named Grace) will finally be getting off the ground, taking over the space currently occupied by the Vibiana's rectory building. Plans call for both indoor and outdoor dining rooms, a bar, a separate bar/lounge on the second floor, and a number of private dining rooms.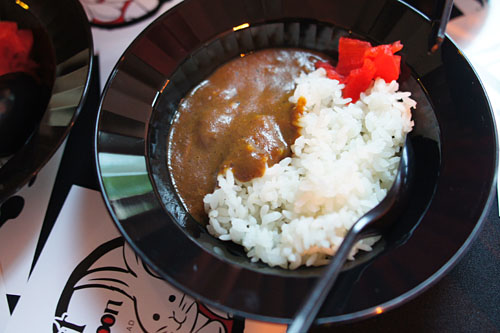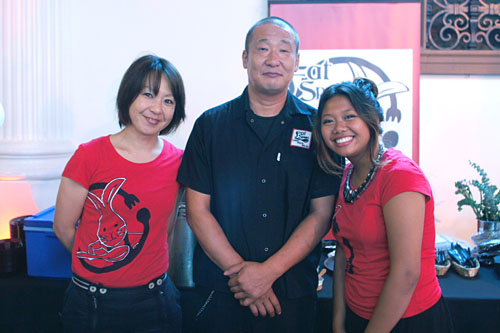 Chef Hiroyuki Fujita served up a hearty
Beef Tongue Curry: Chopped Beef Tongue with White Rice, Curry Sauce and Pickles
for Downtown Japanese curry slinger
Fat Spoon
.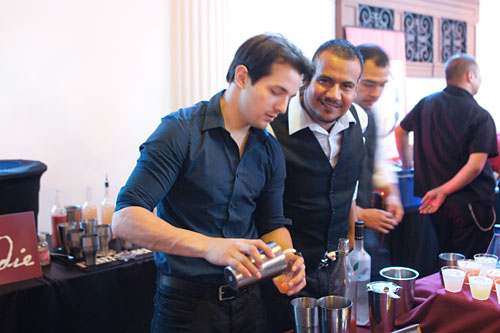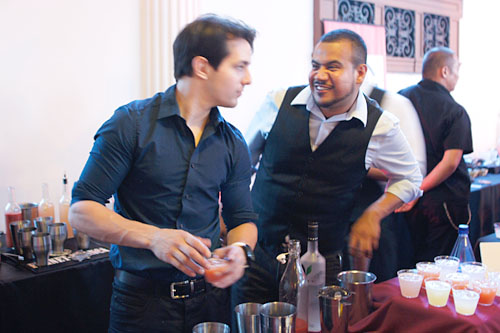 Sadie
Chef Jason Petrie injured himself recently, and thus had to pull out as a food purveyor at the last moment. However, the Hollywood newcomer still managed to deliver with a selection of three cocktails: the
Friar Fresh (Plymouth Gin, Velvet Falernum, Lemon Juice, Grapefruit, Honey)
, the
Veev Gveev (Vodka, Chartreuse, Grenadine, Lemon, Fresh Berries, Orange Juice)
, and the
Guayabera (Basil Infused Avion Tequila, Lemongrass, Watermelon Syrup, Lime Juice, Soda, Chili Salt Rim)
.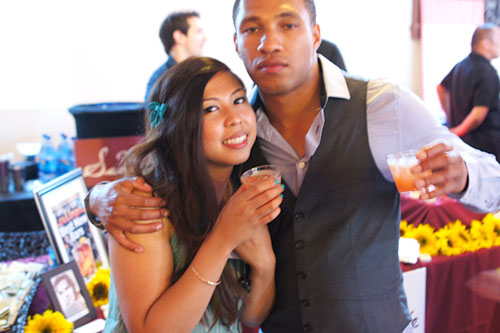 PbP Co-Manager of Event Productions Risa Abarientos and her boyfriend seemed to have enjoyed Sadie's cocktails.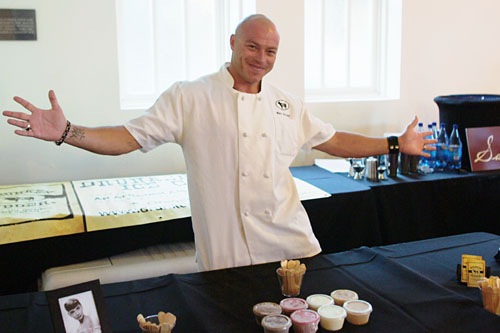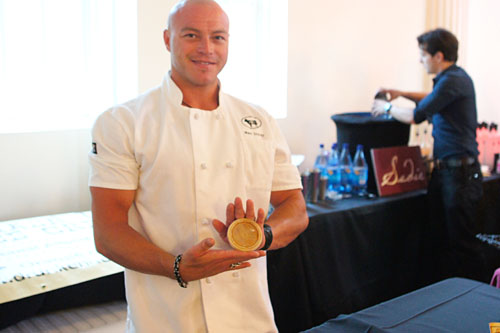 Drunken Udder Ice Cream
's Matt Donley was on hand to serve up his company's alcohol-infused frozen treats in four flavors:
Bourbon Salted Caramel Ice Cream
,
Lemon Basil Sherbet with Lemon Vodka
,
Raspberry Orange Sorbet with Orange Vodka
, and
Chocolate Espresso Sorbet with Espresso Vodka
. Booze and ice cream? How has anyone not thought of this before?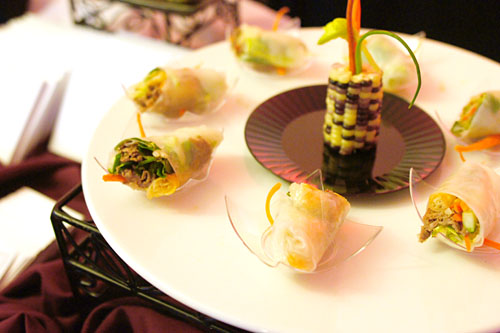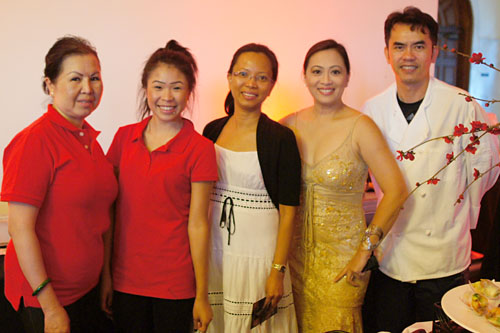 Celebrity caterer
Jack Lee
's
Chinoise Cuisine
put out some
Filet Mignon & Grilled Shrimp fresh wraps with Mint Leaves with sweet and tangy dipping sauce
.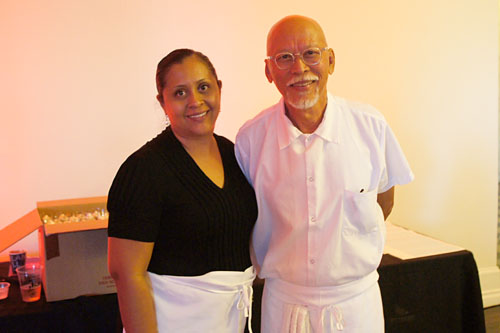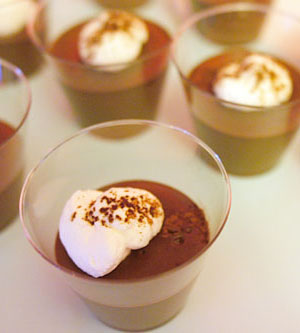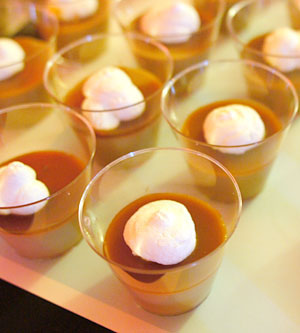 Jar
's Chef de Cuisine Preech Narkthong offered up a duet of desserts: their signature
Jar Chocolate Pudding
and a
Butterscotch Pudding, Salted Caramel
.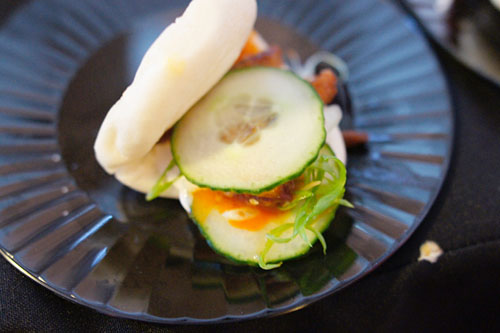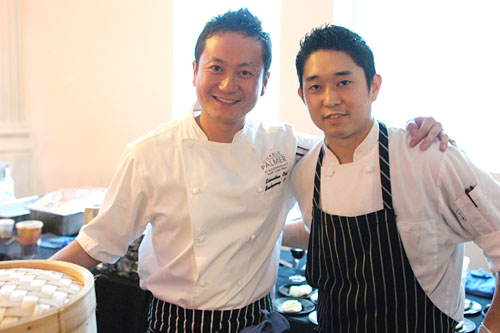 Chef
Seakyeong Kim
from
Charlie Palmer at Bloomingdale's
embraced his Korean heritage with his
Gochujang Glazed Lamb Belly in Steamed Bun
.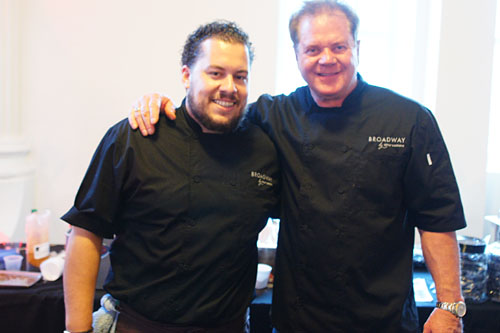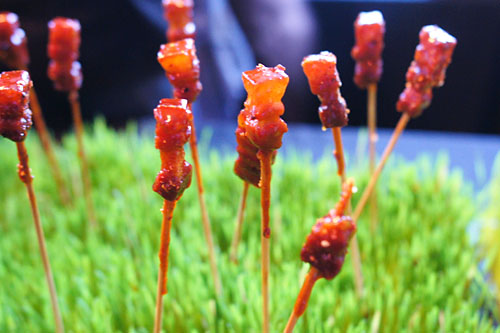 Right next door to Charlie Palmer was
Broadway
, the new-ish restaurant by CP's former head chef
Amar Santana
. His sticks of
Crisp Pork Belly, Miso-Caramel Togarashi
, set in a bed of grass, may have been the evening's most interesting presentation of food.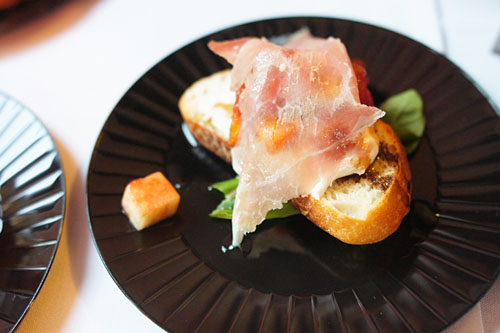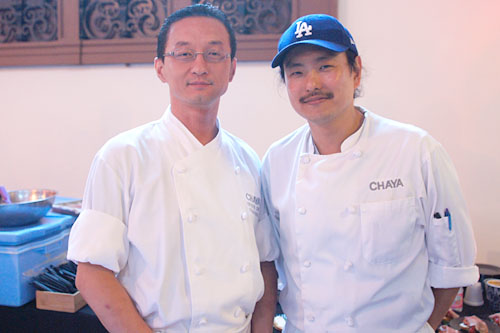 Chaya Downtown
's Chef Atsushi Kenjo cooked up a plate of
Stone Fruit & Fromage Blanc, Jamon Serrano with Sherry, Vinegar Gastrique
.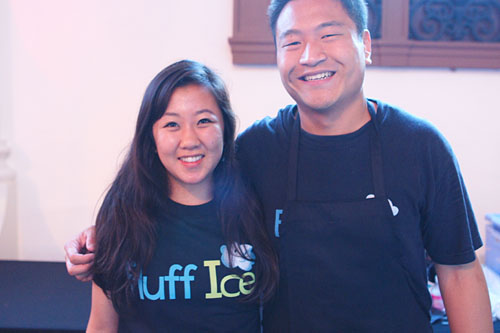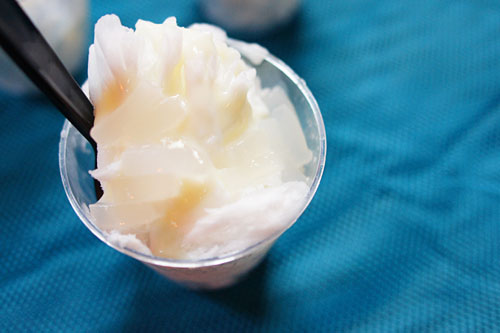 Fluff Ice
co-founder Matthew Hui was on deck with four varieties of his shaved ice:
Honeydew
,
Original
,
Mango
, and
Thai Tea
, all served with a bevy of accompaniments.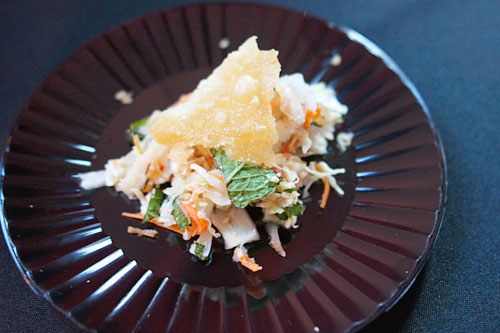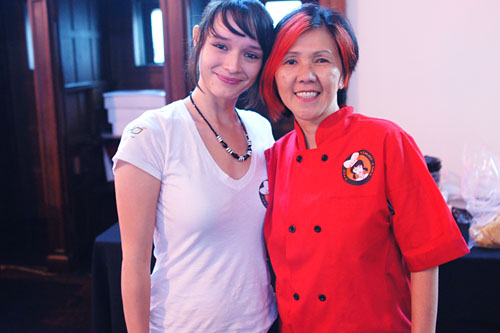 Surprisingly,
9021Pho
's Kimmy Tang wasn't slanging pho, but rather her version of a
Chicken Salad
.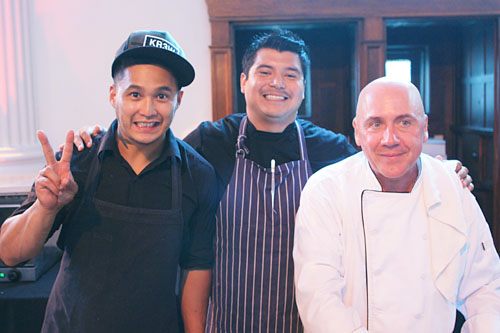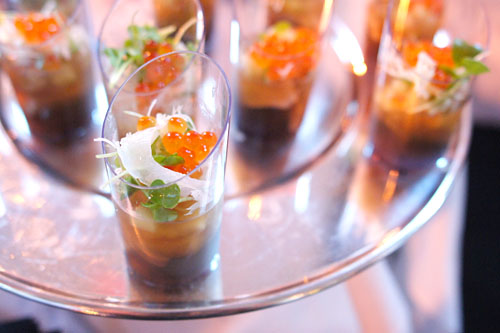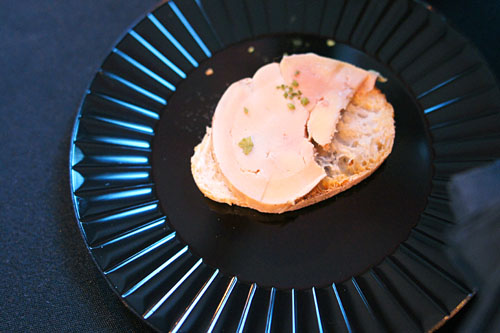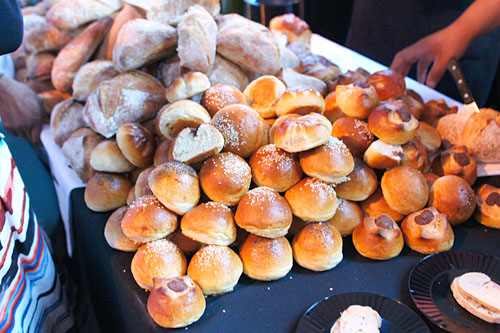 Laurent Quenioux
was defiant in his serving of foie gras at the event. It came as a
"Hure" of Foie Gras, Salmon Roe, Smoked Eel, Lobster Gelee, Vietnamese Shiso
as well as in "sashimi" form. He also featured bread from newcomer bakery
B1 Breadshop
, with dozens of pieces available for patrons to take home.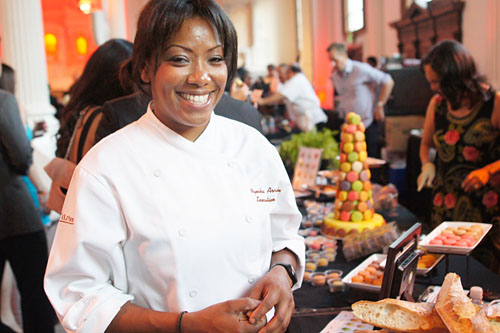 With her cooking demo done, Chef
Nyesha Arrington
came over to sample some of Laurent's wares.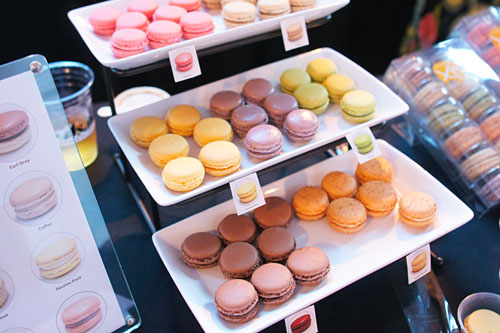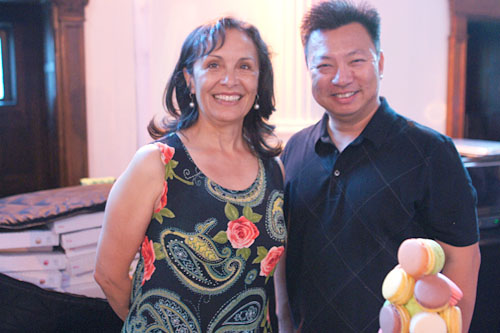 XT Patisserie
co-owner Tuan Trinh had a colorful spread of macarons for us to try.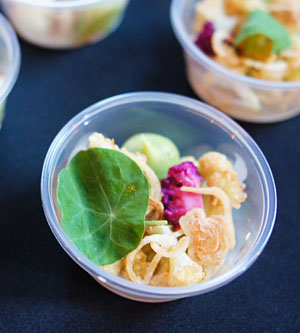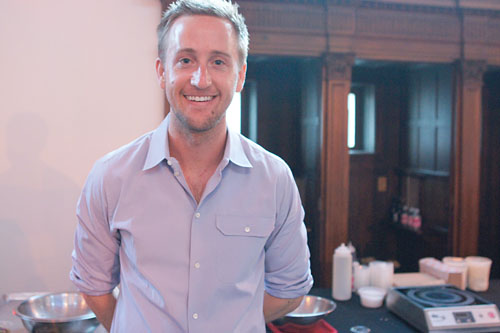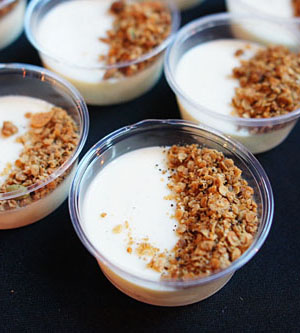 Beverage Director-slash-Partner Jeffrey Faust for
fundamental LA
had two dishes for guests to consume: the
Pickled Floret, Avocado, Crispy Shallot, Thai Coconut Sauce
and the
Vanilla Panna Cotta, Black Pepper Granola, Sorrel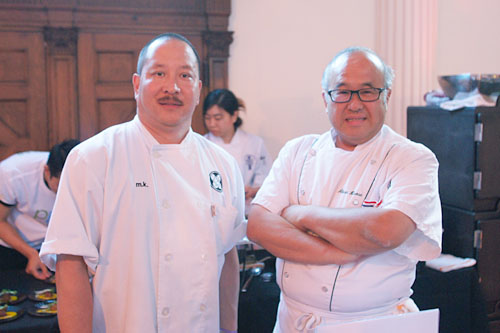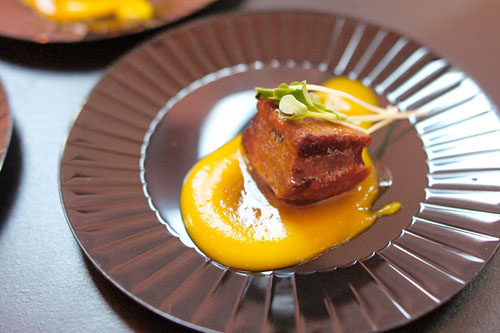 Longstanding Plate by Plate participant Akira Hirose and his restaurant
Maison Akira
gave out a
Braised Pork Belly "Kakuni" with Yuzukosho Kabocha Coulis
.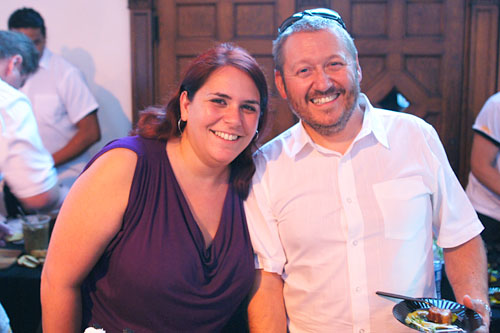 Marcus Baird's
Feast Catering
presented several dishes, including a
Blue Cheese Studded Yorkshire Pudding with Slivered Beef and Horseradish Crème Fraiche
.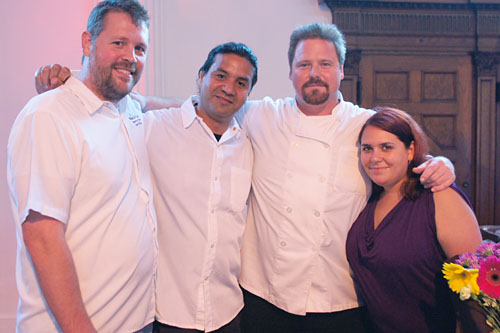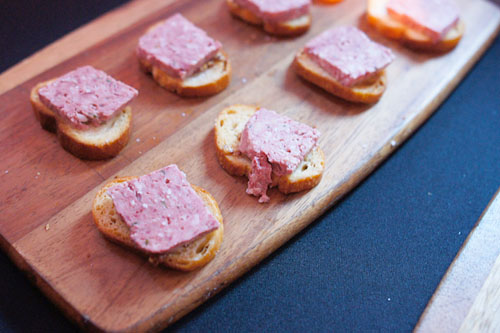 The charcuterie program over at
Wood & Vine
is arguably the best in the City, and we were happy to have Chef
Gavin Mills
present a trio of his
House-Made Charcuterie
at the event.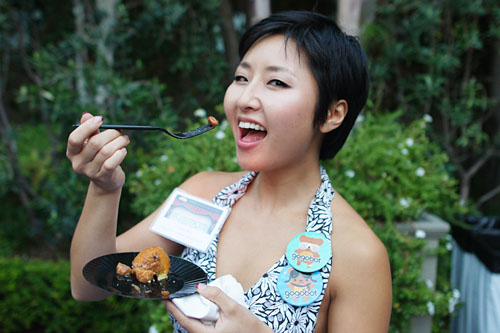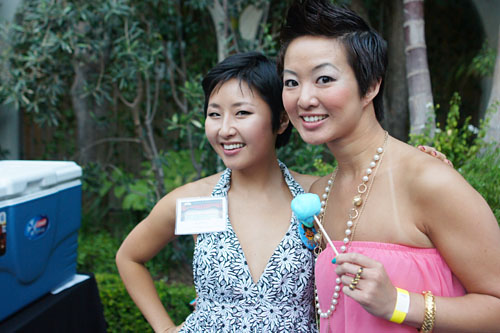 Stepping back outside now, I ran into former Project by Project team member
Yulree Chun
, who was here representing
Gogobot
, a new socially-focused travel site.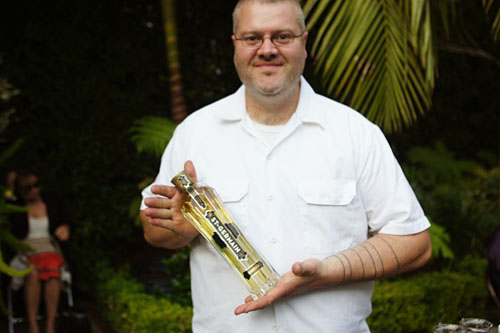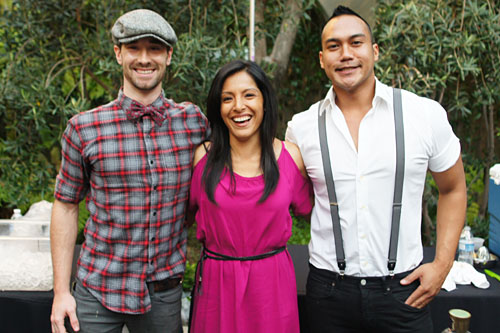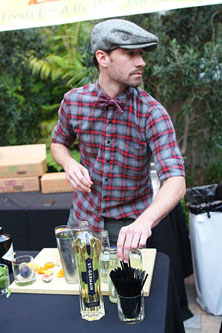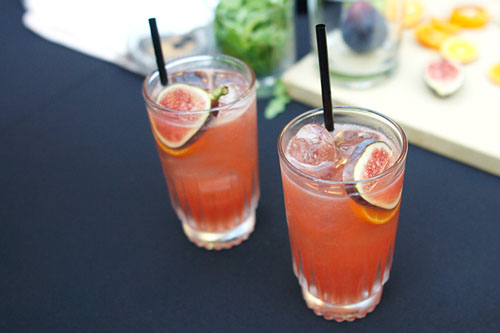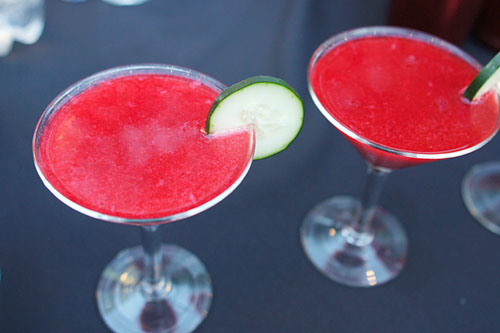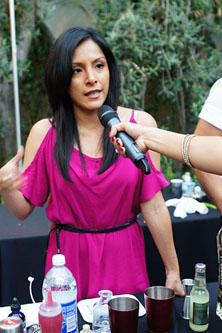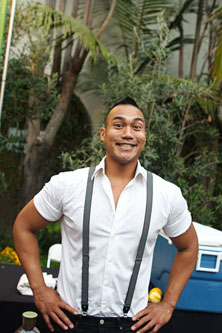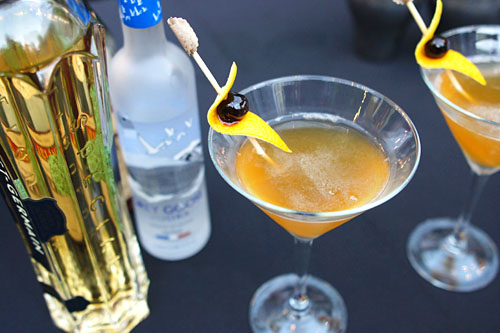 The
St. Germain
-sponsored cocktail challenge got underway, pitting Chris Hewes, Gia St. George, and Devon Espinosa against each other to see who would prevail with the top cocktail incorporating the elderflower liqueur. When all was said and done, it was
Library Bar
's Chris Hewes who would reign supreme with his whimsically-named "Gettin' Figgy With It."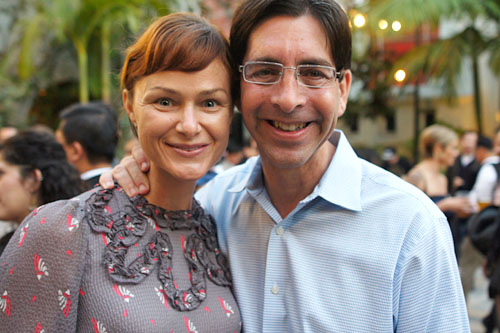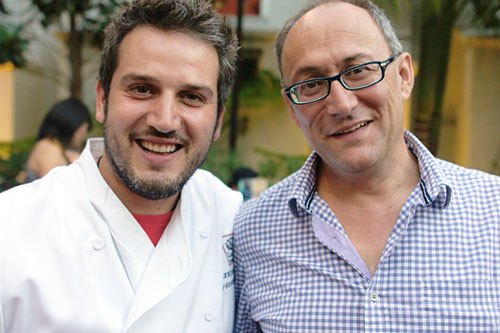 Left:
Restaurateur-of-the-moment Bill Chait was in attendance with girlfriend Julie. As reported earlier, he's partnering with Neal Fraser to take over the Vibiana.
Right:
Perfecto Rocher with
Ibérico Fresco
's José Ignacio Martínez-Valero, importer of fresh 100%
jamón ibérico
products from Spain.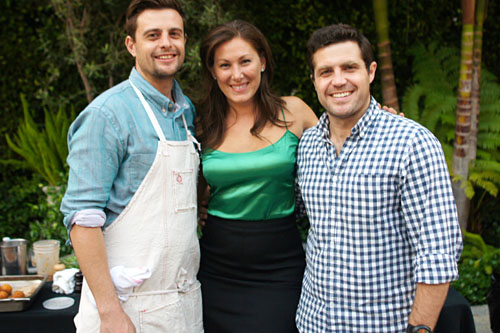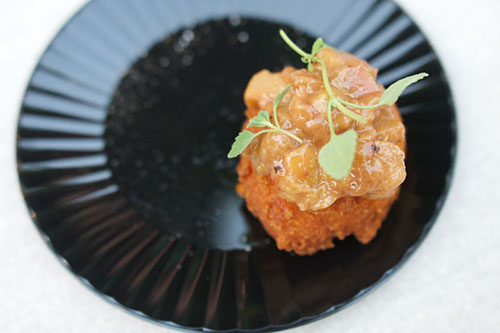 Somehow, during my first sweep through the garden area, I'd managed to miss
Rustic Canyon
. The restaurant offered a dish of
Sweet Corn and Rosemary Fritter with Honey Crème Fraiche
, presented by new head chef Jeremy Strubel.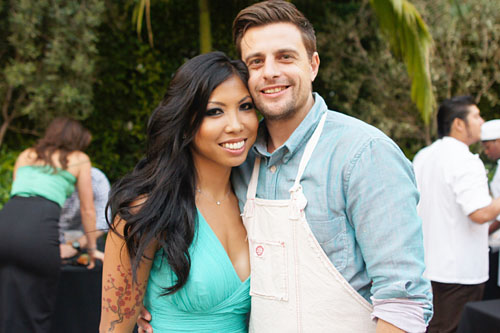 Co-Manager of Restaurant Relations Joy Bitonio just happens to be the girlfriend of Chef Jeremy.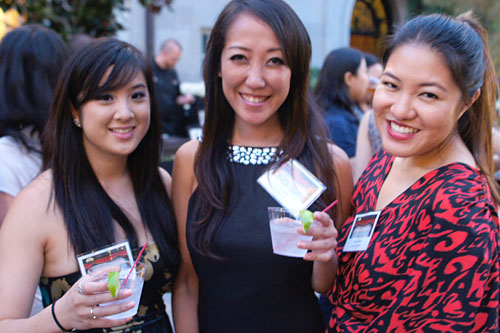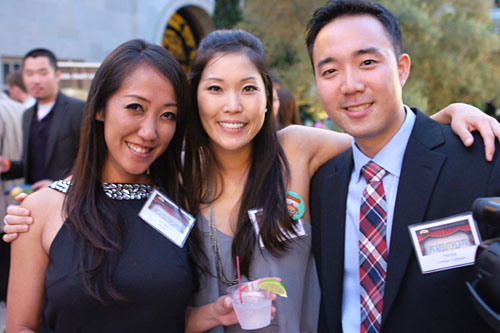 More PbP'ers: Manager of Design Risa Yanai, Director of Marketing Rosanna Huang, Co-Manager of Team and Leadership Development Irene Choi, and Co-Manager of Multimedia Paul Kim.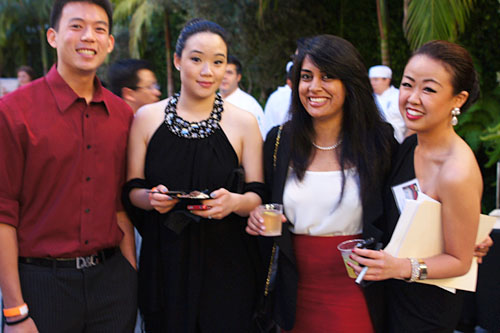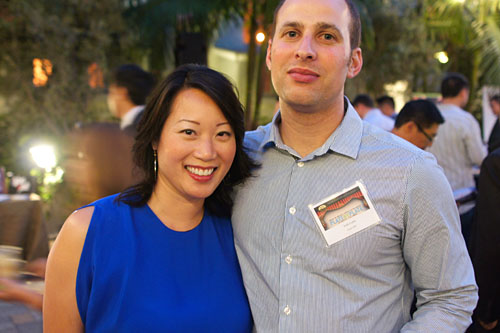 Left:
Our Director of Fundraising Sunny Chung and friends.
Right:
DineLA
director
Stacey Sun
, with beau
Josh Lurie
of
Food GPS
.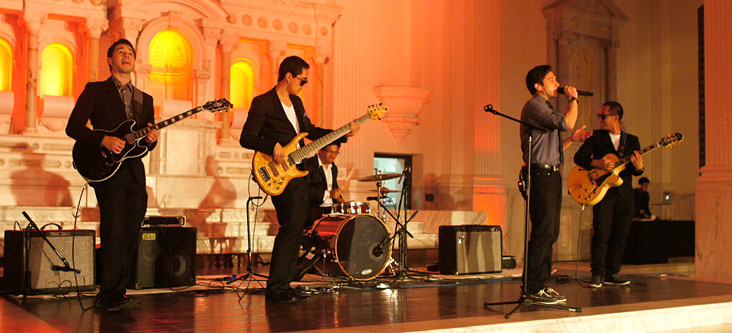 Jeremy Crooks
on stage performing, in between sets by DJ
Freddy Ruxpin
.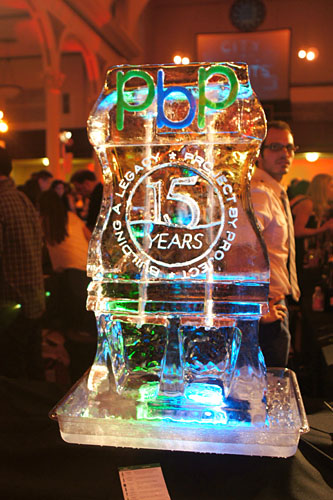 This year, the Plate by Plate ice sculpture doubled as an ice luge.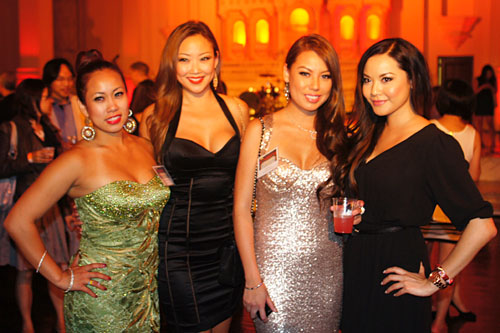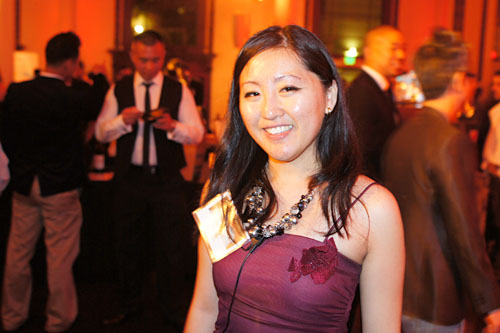 Left:
Director of Events Marian Bacol-Uba along with National Director of Events Oanh Nguyen (and previous Los Angeles Director of Events), with Lindsey Wang.
Right:
Events Team member Vickie Chan.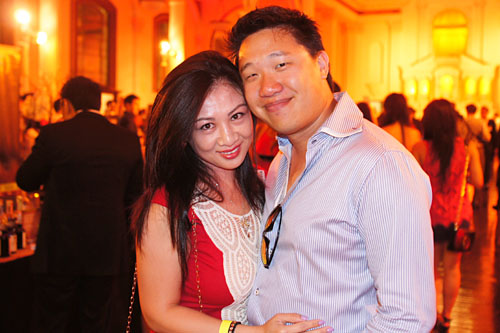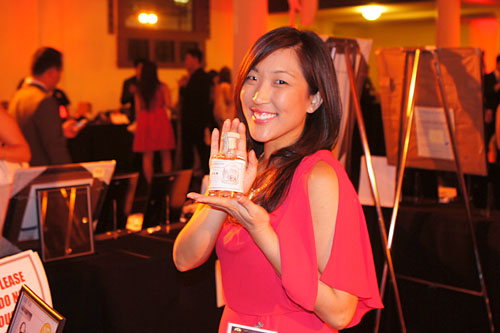 Left:
Event planner
Amy Ling
with husband Paul Lee, VP Director of Purchasing at
Hing Wa Lee Jewelers
.
Right:
Angela Park working it at the silent auction station.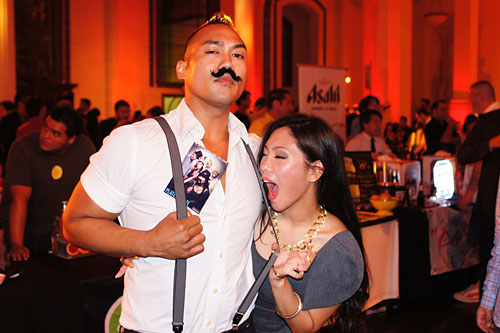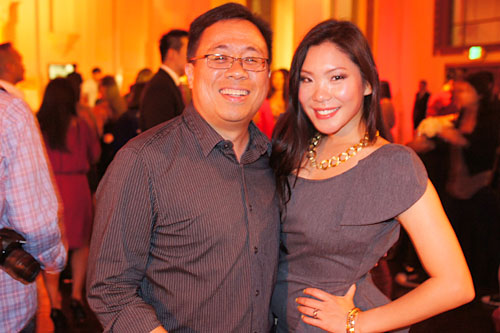 Left:
Devon Espinosa looking quite smug with his stache.
Right:
Longtime PbP fixture
Sherwin Goo
, along with former PbP team member Helen Kim.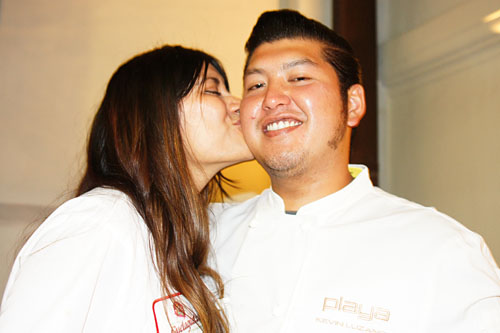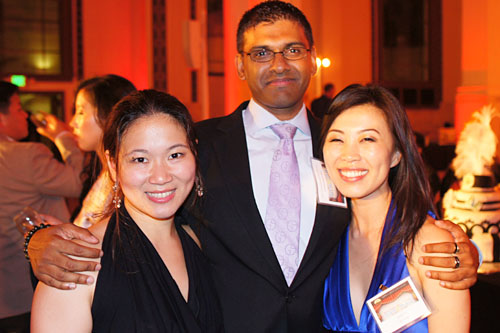 Left:
Playa CdC Kevin Luzande is smiling for a good reason.
Right:
PbP NY President Eleanor Lem, PbP National General Counsel & Secretary Nirendran S. Kathirithamby, and PbP LA Legal Counsel Annie Lin.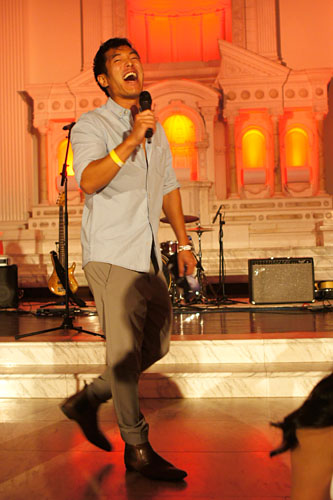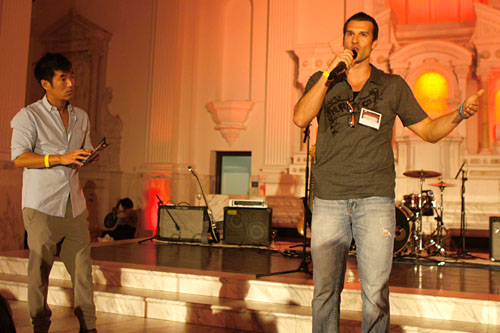 Taking the stage: Argentine-Australian-Korean actor
Leonardo Nam
.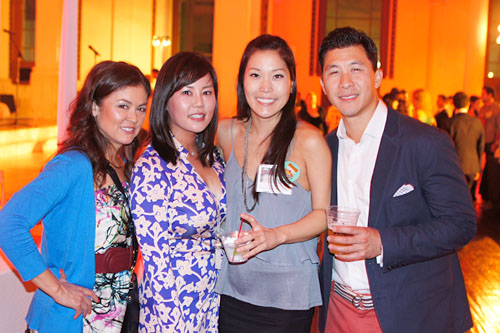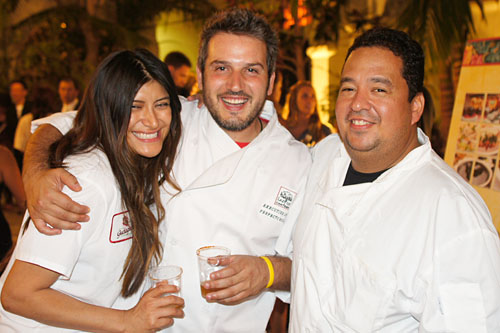 Left:
Irene Choi and budding restaurant investor Caroline Choe, along with Jennifer Sanderson.
Right:
Bricia Lopez
having a good time with Perfecto.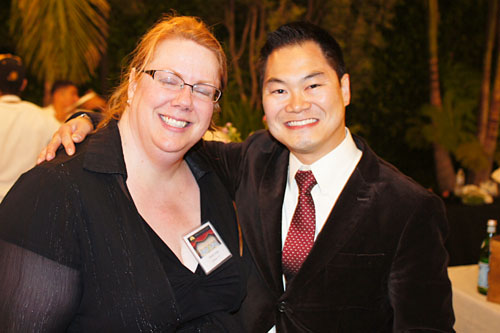 Director of Partner Outreach Eden Tol with past partner Michelle Freridge, Executive Director of the
Asian Youth Center
.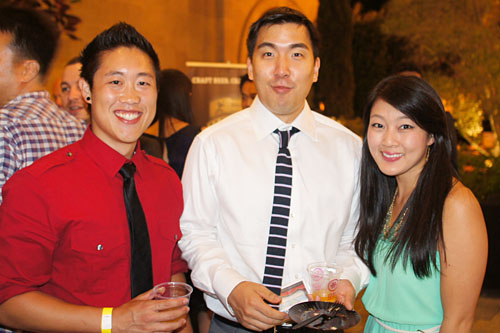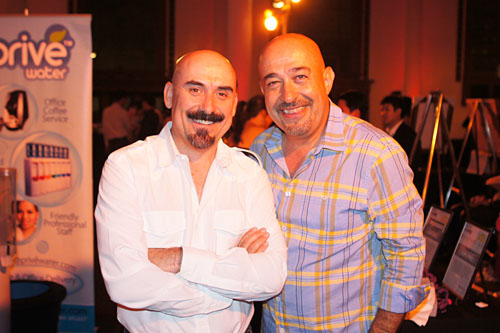 Left:
PbP PR/Social Media Manager Camellia Cheng and acquaintances.
Right:
The unmistakable duo of Ramiro Arvizu and Jaime Martin del Campo from
La Casita Mexicana
.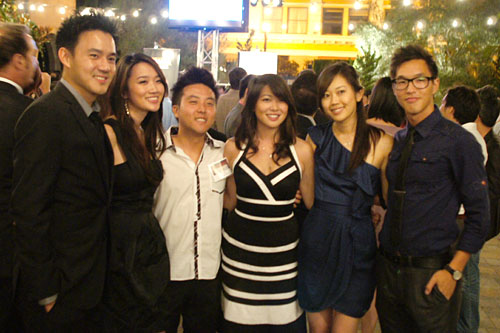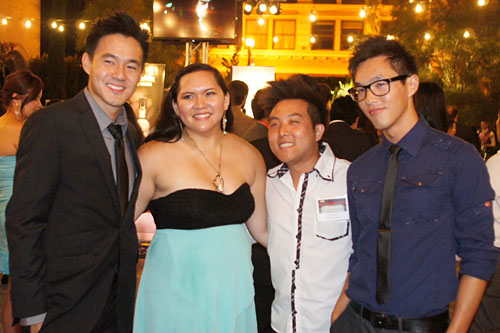 Wong Fu Productions
in the house.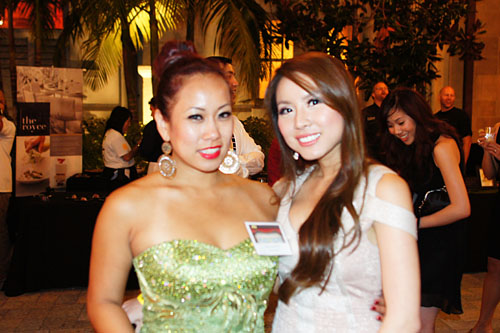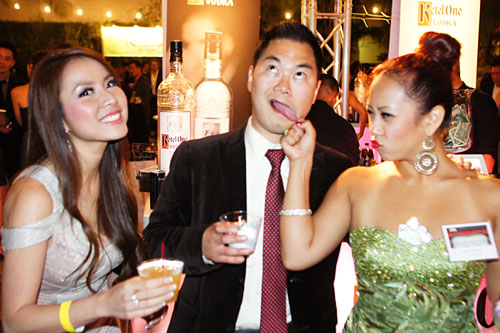 Left:
Director of Events Marian Bacol-Uba with PbP team member and noted Hello Kitty fiend Kayla Vu.
Right:
Is she pulling Eden's tongue?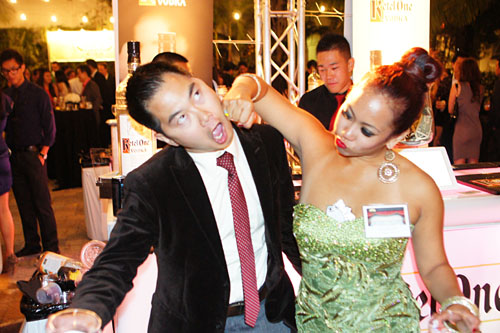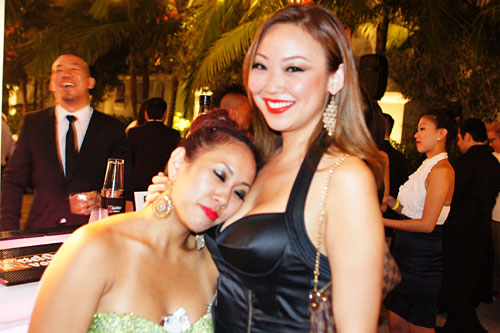 Left:
Perhaps a punch is more effective.
Right:
Soft like pillows.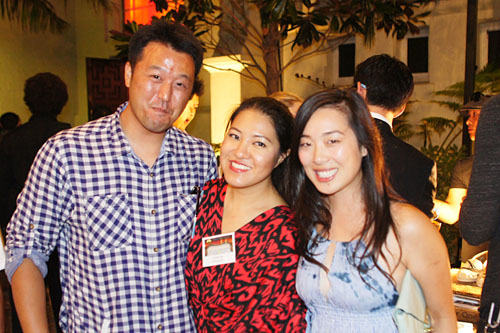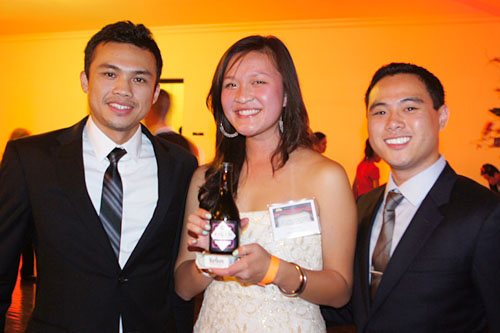 Left:
National Director of Marketing Grace Hsiang with LA Director of Marketing Rosy Huang.
Right:
PbP Operations team member Christie Liu, with Clayton Tran.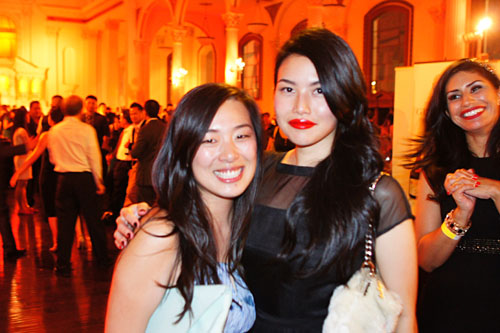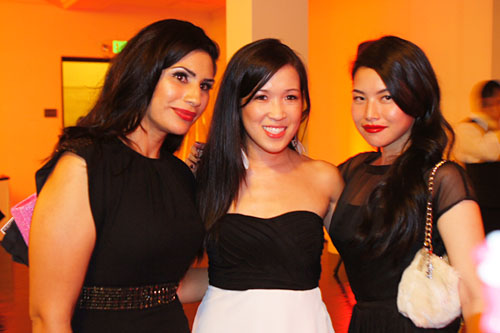 Yes, that's none other than former
MasterChef
Season 3 contestant
Felix Fang
(who works at Katsuya here in LA). It's too bad she got the boot on the last episode; I was really rooting for her to win the whole thing!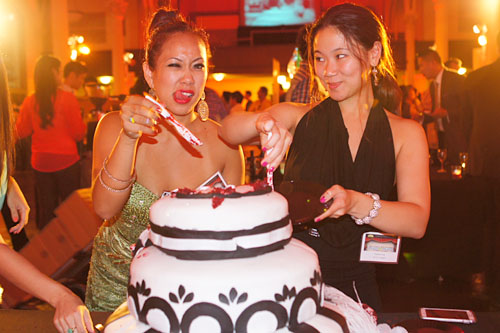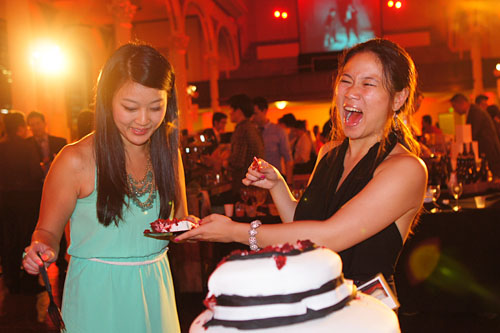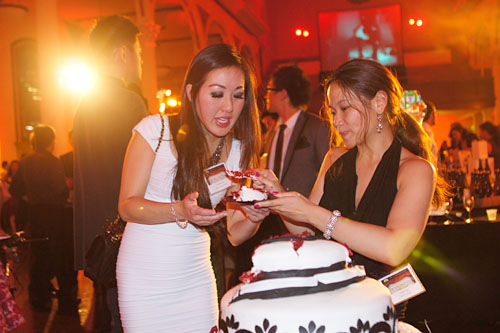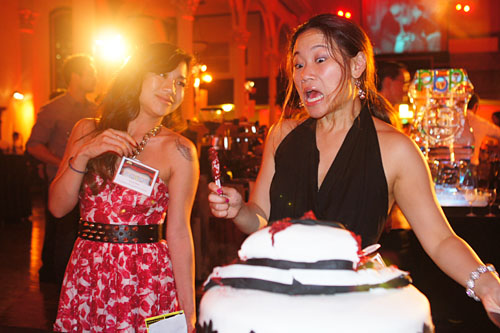 Having fun with cake toward the end of the night.

Previous Plate by Plate posts: 2011, 2010