The Parish (Los Angeles, CA)
The Parish Restaurant
840 S Spring St, Los Angeles, CA 90015
213.225.2400
www.theparishla.com
Tue 08/14/2012, 08:40p-11:20p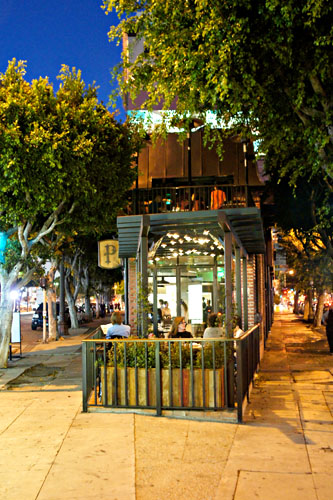 The last thing LA needs is another gastropub.
Despite that, one of the year's most anticipated openings is The Parish, a "true gastropub" from
The Tasting Kitchen
's Casey Lane. Plans for the Downtown eatery were revealed way back in September last year, and though the restaurant debuted just weeks ago on July 27th, it's already fast becoming one of the summer's hottest tables.

The Parish is situated in a skinny sliver of land bounded by Main and Spring streets. The space, in fact, was the former home of Angelique Cafe, but has since been completely redone by Venice-based firm Bishop Pass (
Gjelina
, M Street Kitchen, Abigaile). It's split into two levels: a bright, casual cafe on the ground floor highlighted by the open kitchen, and the dark, clubby, masculine main dining room up top (pictured).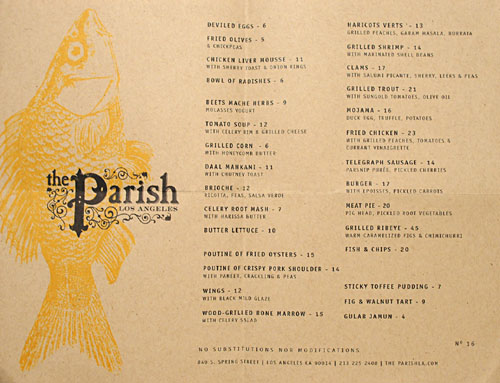 The Parish's menu reads gastropub-y for sure (with a definite Indian slant to boot), serving up an appealing selection of booze-centric fare. Apparently, there's even a breakfast menu in work. Click for a larger version.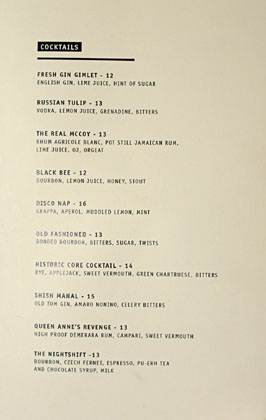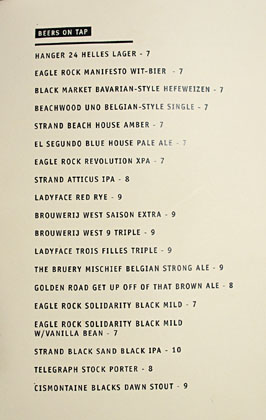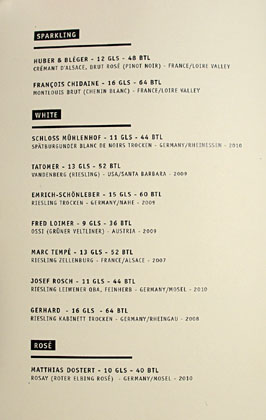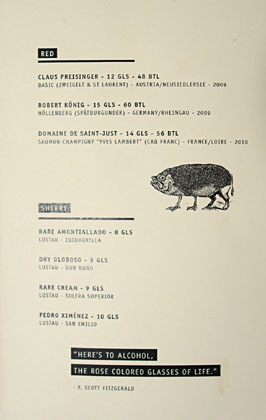 As for the tipple, we have John Coltharp (
The Tasting Kitchen
, Copa d'Oro, Seven Grand,
Sona
) in charge of the beverage program. He offers up around a dozen classically-leaning cocktails, along with 20 or so craft beers on draft, as well as a smattering of wines by the glass or bottle. Aiding Coltharp is none other than Brian Summers, who we may remember from Harvard & Stone,
Sotto
,
Test Kitchen
, Library Bar,
The Bazaar
, and Comme Ça. Click for larger versions.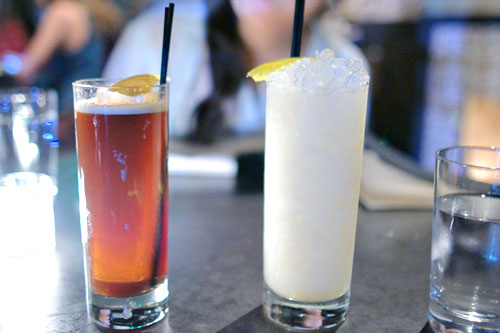 Black Bee [$12.00]
| Bourbon, Lemon Juice, Honey, Stout
The Real McCoy [$13.00]
| Rhum Agricole Blanc, Pot Still Jamaican Rum, Lime Juice, OJ, Orgeat
While waiting for our table to clear, we started things off with a cocktail twosome. The Black Bee was quite something, with a really complex, multifaceted character that subtly conveyed the chocolate-y, malty essence of the stout/porter, while the lemon added a well-placed touch of levity to things. The Real McCoy, on the other hand, showed off a fruity, tropically-tinged sweetness up front, transitioning to the booziness of the rum on the midpalate, all with tangy, overarching notes of citrus accenting the entire drink.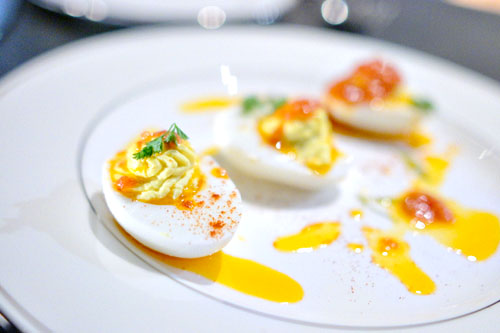 Deviled Eggs [$6.00]
I'm known to be quite the egg slut, so these deviled darlings--tarted up by the inclusion of curry, chile, fennel, vinegar, and a crème fraîche aioli--were naturally a must-try. They were certainly tasty, and rather unlike any other preparation I'd had before, with an aromatic, spicy, curried attack leading to a satisfyingly creamy egginess, all with a piquant undercurrent from the vinegar.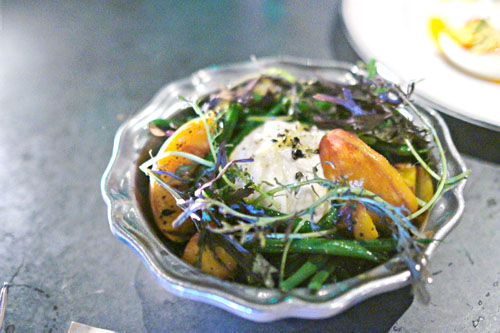 Haricots Verts [$13.00]
| Grilled Peaches, Garam Masala, Burrata
Haricot verts were crunchy, waxy, and on point, with bright, verdant flavors that actually went surprisingly well with the sweetness of the peaches. Bits of potato added a definite heft to the dish, and, of course, I appreciated the burrata as well, its luxuriousness offering up a keen counterpoint to the levity of the green beans. Very nice.
Wood-Grilled Bone Marrow [$15.00]
| With Celery Salad
Bone marrow was exactly what you'd expect: fatty and trembling, classic in design, with great depth in the flavor department, all tempered by the bright, peppery smack of celery. Bone luging is an option here.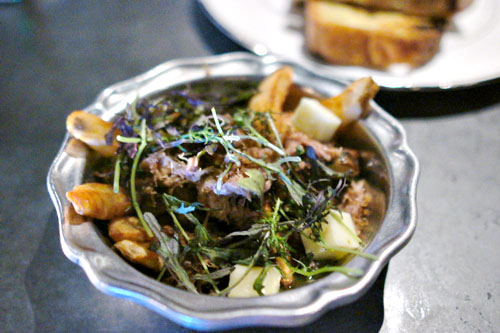 Poutine of Crispy Pork Shoulder [$14.00]
| With Paneer, Crackling & Peas
The poutine over at
Animal
has pretty much become legendary by this point, but Lane's version may be an icon in the making. The fries themselves were spot on, forming a delectably savory, yet moderating base to the dish. On top of that we had positively scrumptious shards of crispy pork and supple cubes of cheese, a winning combination that was duly offset by the inclusion of peas (I tasted flashes of
mattar paneer
), as well as a delightful herbiness that lingered on through the finish. Definitely one of the best poutines that I've had.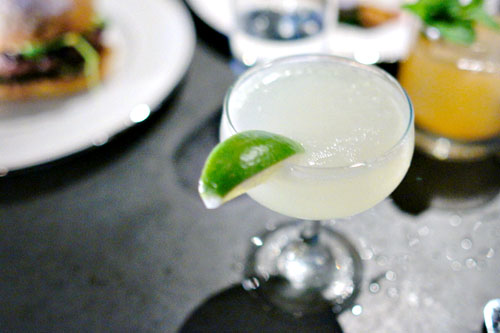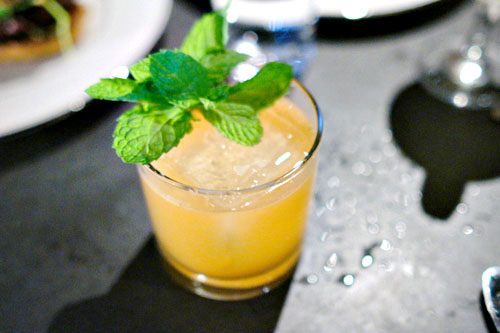 Fresh Gin Gimlet [$12.00]
| English Gin, Lime Juice, Hint of Sugar
Disco Nap [$16.00]
| Grappa, Aperol, Muddled Lemon, Mint
Time for some more cocktails. First up was the Fresh Gin Gimlet, which was very classic in style, really conveying the inherent nature of the gin, while perfectly balancing it against the tart-ish lime. The Disco Nap, meanwhile, was also quite tasty, with a deft mix of bitter and sweet flavors that melded seamlessly with the aromatic, grape-y essence of the grappa.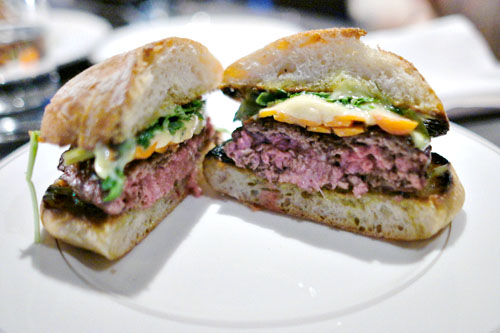 Burger [$17.00]
| With Epoisses, Pickled Carrots
Now here we have The Parish's requisite hamburger, the simply titled "Burger." The real crux of the course was the utilization of Époisses, which happens to be one of my favorite types of
fromage
. Those of you who've had the cheese will know that it's got quite a pungency to it, and in fact, here it added just enough funk to augment the potency of the patty (seriously, if you're not a fan of stinky cheeses, you might want to stay clear of this one). Simultaneously, the pickles and greenery in the burger provided a much needed shot of brightness and acidity to the fray, making for an enjoyable, though not typical eating experience. My only concern was the bun, a rosemary ciabatta bread; it was perhaps a touch too chewy.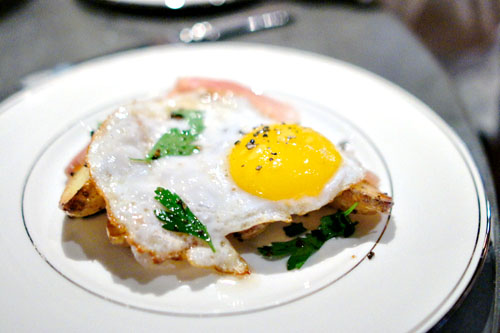 Mojama [$16.00]
| Duck Egg, Truffle, Potatoes
Here's something new:
Mojama
is basically salt-cured tuna of the Spanish variety. I'd never had it before, but took to it rather quickly. I appreciated its unmistakable saltiness, a nice counterpoint to the intense truffled notes present, while potato provided a hearty, savory component to the dish. And the runny, gooey duck egg? Yeah, hard to go wrong with that.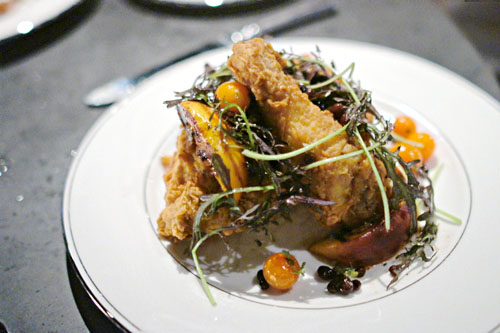 Fried Chicken [$23.00]
| With Grilled Peaches, Tomatoes & Currant Vinaigrette
Fried chicken arrived in breast, thigh, and drumstick form. I picked up the latter, and thoroughly enjoyed its tender, succulent, and oh-so savory character, the meat encased in a light, but not
too
light crust that almost recalled a KFC-like goodness. The various fruits and veggies here added some tart, tangy counterpoints in the dish, but really, the bird stood alone on its own merits. Yum.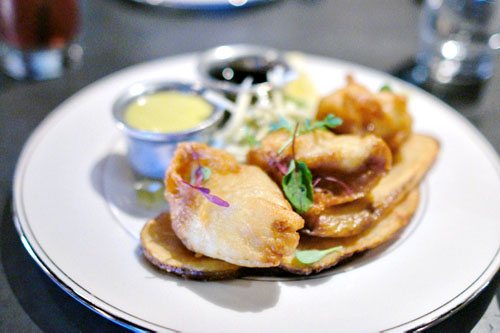 Fish & Chips [$20.00]
Our last savory item of the night was Lane's take on the traditional fish & chips, featuring battered cod, celeriac remoulade, cornichon gelée, and malt vinegar aioli. It was actually quite wonderful, probably the best interpretation of the dish I've had. The fish itself was tender and almost
fluffy
in texture, with a light coating of lager-infused batter and a lip-smacking flavor that really showed off the nature of the cod. The large, flat slices of potato were commendable as well, and I really appreciated the cool, refreshing crunch of that remoulade. A great change of pace from your everyday fish 'n' chips.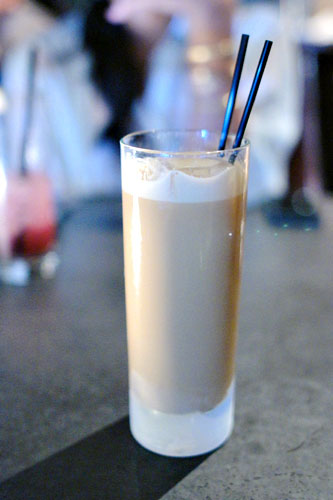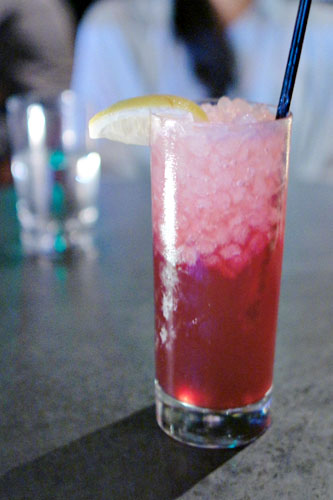 The Nightshift [$13.00]
| Bourbon, Czech Fernet, Espresso, Pu-Erh Tea and Chocolate Syrup, Milk
Housemade Pomegranate-Lemon Soda [$6.00]
Next up, we ordered up The Nightshift, which had an appealing mix of boozy, coffee, and chocolate flavors that really went swimmingly with dessert. We also tried The Parish's delicious pomegranate and lemon soda, made in-house of course.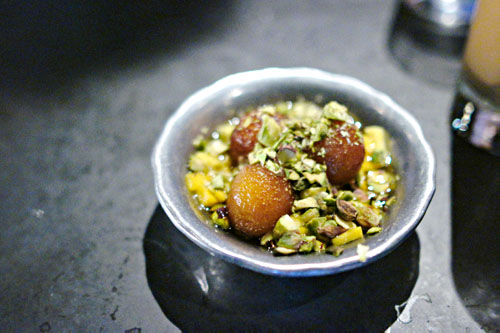 Gulab Jamun [$4.00]
For the sweet stuff, first was Pastry Chef Brooke Mosley's take on the ubiquitous Indian dessert of
gulab jamun
. It was actually a pretty straightforward version of the dish: not too sweet, with a nice floral character from the rosewater and a marked nuttiness from the sprinkles of pistachio.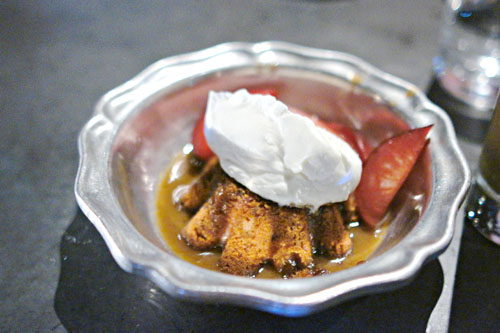 Sticky Toffee Pudding [$7.00]
We closed with a sticky toffee pudding. It was everything that I'd expected from the dessert: deep, dark, and unabashedly saccharine flavors with a mouth-watering caramel component, all balanced out by the tartness of plum.
I may be sick of gastropubs, but Lane's got a good one on his hands here. For the most part, the flavors were robust and heady, perfect for alcoholic consumption, and the cooking shows a certain sensibility and aesthetic that seems to jive with LA's current culinary
Zeitgeist
. It really is a welcomed addition to the Downtown dining scene. The Chef is not content with just The Parish, though. Come October, he plans to debut Itri, a pasta and rotisserie concept set in the building formerly home to Evan Kleiman's Angeli Caffe. I'm guessing that that one should be worth the wait, too.