The Fat Cow (Los Angeles, CA)
The Fat Cow Restaurant
189 The Grove Dr, Los Angeles, CA 90036
323.965.1020
www.facebook.com/fatcowla
Sun 09/30/2012, 07:30p-11:00p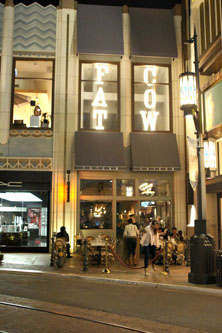 Hot on the heels of my surprisingly good visit to the new
Gordon Ramsay Steak
is the unfortunately-named Fat Cow, Gordo's newest venture set in The Grove. The restaurant is one of the most widely anticipated debuts of the year, and is yet
another
gastropub-y concept to hit LA. Word is that, early on, GR Steak's Chef Kevin Hee was supposed to have a significant role in opening the place, but ended up being forced out by investors, which also resulted in the departure of
Hell's Kitchen
Sous Chef (and GR Holdings Corporate Executive US Chef)
Andi Van Willigan
(remember, they were both part of the Mina group for several years). With all the chef shuffles, the kitchen is now helmed by one
Mathew Woolf
, late of West Restaurant & Lounge.
About the Chef
: Woolf was born and raised in the UK, and the Chef was exposed at a young age to the benefits of good eating, as his grandparents ran a produce shop that supplied some of the best kitchens in London. He began his professional culinary career at age 16, when he took on a dishwasher role at The Ship Inn in Burnham-on-Crouch, Essex; just eight months later, he was promoted to head chef. During this period, he also attended culinary school at the Hospitality Plus College of Catering in Chelmsford, graduating in 2000. From there, Woolf became demi-chef de partie at the famed Claridge's Hotel in London, working under Chef John Williams.
In October 2004, he followed Williams to The Ritz Hotel, where he served as Sous Chef, staying there until the end of 2007. The next year, Woolf moved to the United States to cook at Sixteen Restaurant at Trump international Hotel and Tower in Chicago, a gig that lasted until August 2009. In 2010, he relocated to the West Coast, landing a Chef de Cuisine role at Ray Garcia's FIG Restaurant at the Fairmont. The following August, Woolf secured his first Executive Chef position, taking the reins at West Restaurant and Lounge at the Hotel Angeleno, a role that he would keep for a year before finally decamping to helm The Fat Cow.

The Fat Cow takes over the spot formerly held by the mediocre Farm of Beverly Hills. The space has be redone by
AK Design Network
, and is described by marketing materials as an American "roadhouse" eatery. As is par for the course these days, the aesthetic aims for warmth and rusticity, but with an industrial-country-chic type panache. Naturally, communal dining tables are utilized to full effect here, as are reclaimed wood, Edison bulbs, and other various vintage, eclectic touches.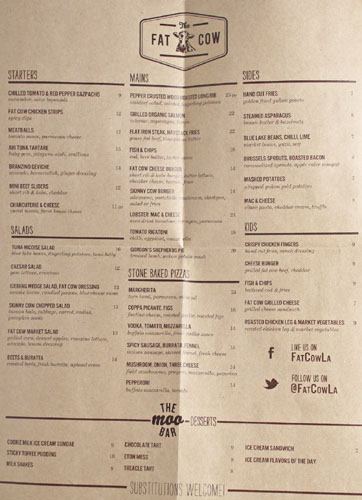 The Fat Cow's menu, like many others these days, takes a "classic-yet-modern" approach to cooking, featuring traditional comfort food stylings, but hopefully taken up a notch. There's even a children's menu (usually not a good sign), while the Moo Bar up front handles the old-timey desserts (and will eventually offer to-go items as well). Click for a larger version.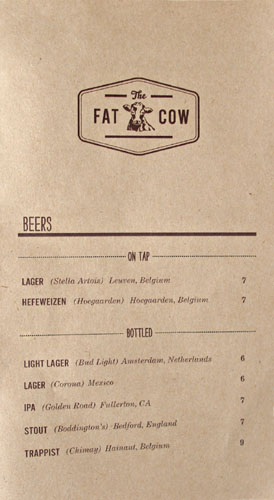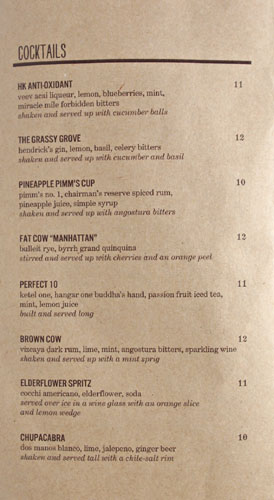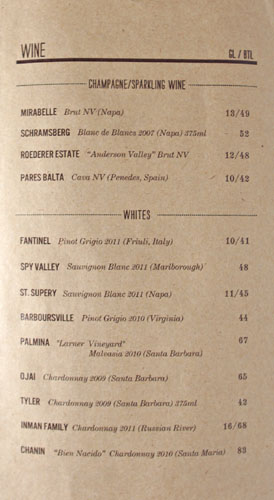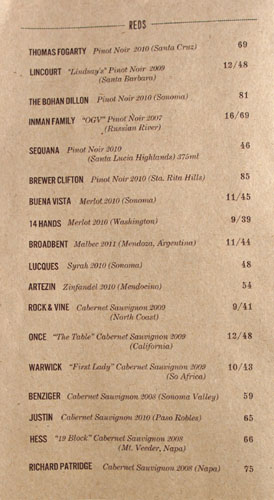 To drink, there's a full bar available, in addition to a small selection of beers and Cali-centric wines. Click for larger versions.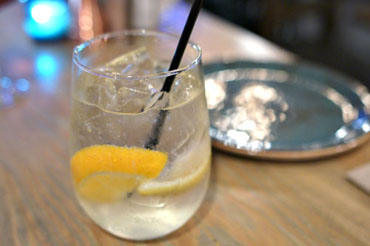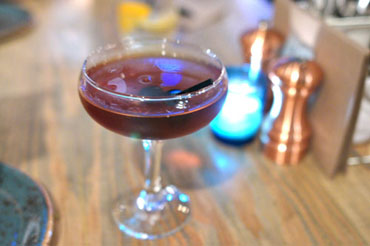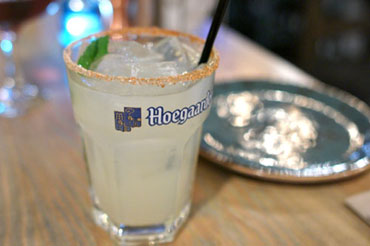 Elderflower Spritz [$11.00]
| cocchi americano, elderflower, soda, served over ice in a wine glass with an orange slice and lemon wedge
Fat Cow "Manhattan" [$12.00]
| bulleit rye, byrrh grand quinquina, stirred and served up with cherries and an orange peel
Chupacabra [$10.00]
| dos manos blanco, lime, jalapeno, ginger beer, shaken and served tall with a chile-salt rim
As usual these days, a trio of cocktails marked the start of our meal. I went with the Elderflower Spritz, which I found to be a great summer quaffer: fruity and floral in essence, with a lively carbonation. On the other end of the spectrum was the Fat Cow's version of a Manhattan, which was also quite delicious, with a classic, yet contemporary character and a good balance of spicy fruit over the base of rye. Last up was the Chupacabra--no slouch either. This one played the aggressiveness of the agave nicely against the contrasting tartness of citrus and ginger, all while the chile-salt rim added a well-placed piquancy to things.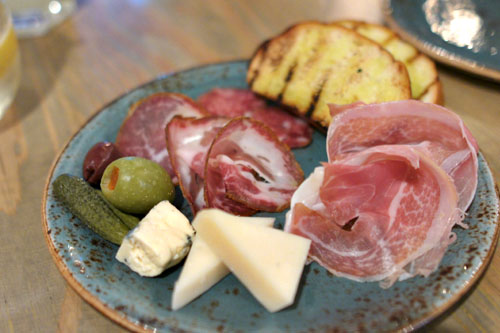 Charcuterie & Cheese [$11.00]
| cured meats, farm house cheese
A cheese and charcuterie plate brought together tasty cuts of coppa, prosciutto, and salami on the meat side, along with two cheeses: a Lamb Chopper blue from California and one that unfortunately I didn't catch the name of (though it was quite tasty--creamy, nutty, and subtle).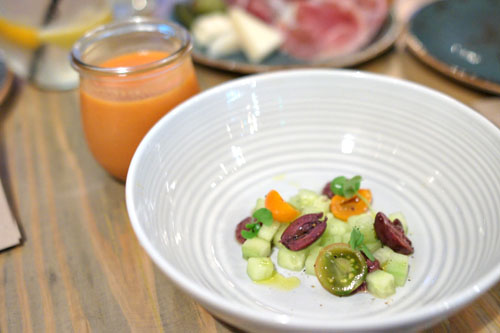 Chilled Tomato & Red Pepper Gazpacho [$9.00]
| cucumber, olive tapenade
The gazpacho was a refreshing jolt to the palate: summer-y and bright, with a lovely mix of tangy and spicy flavors. I also appreciated the weight of the olive here, while the cucumber imparted a great crunch and lightness to the dish.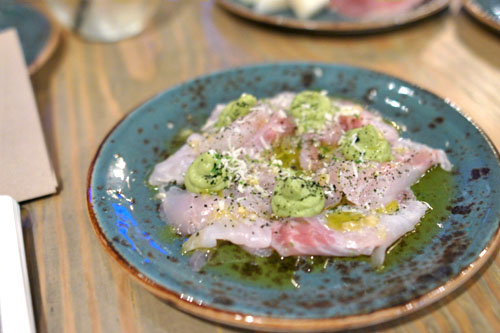 Branzino Ceviche [$14.00]
| avocado, horseradish, ginger dressing
A ceviche came out more like a
crudo
. The use of avocado here added a significant weight and lusciousness to the fish, and, combined with the dressing, made the branzino sit heavy on the palate. I really would've liked more brightness, more acidity to the dish to balance things out.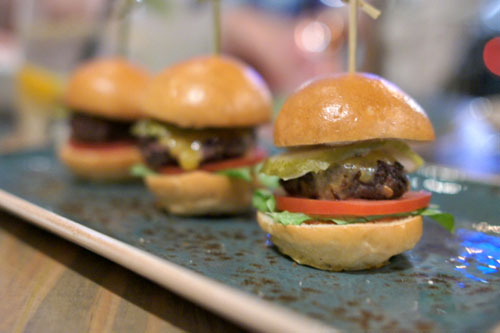 Mini Beef Sliders [$12.00]
| short rib & kobe, cheddar
The sliders were arguably the smallest I've seen, though rather tasty (I would have no problem popping a few of these during a meal). They were classic in presentation, with traditional ingredients and a nicely charred, beefy patty and a delightfully tangy crunch from the pickle.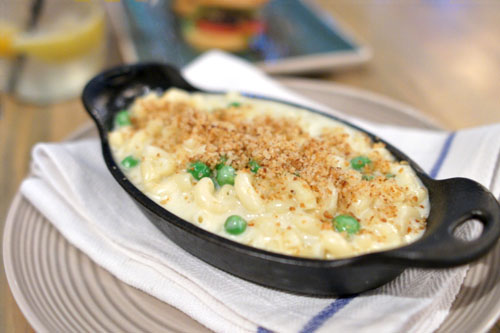 Mac & Cheese [$8.00]
| elbow pasta, cheddar cream, truffle
A side of macaroni and cheese was excellent. The pasta showed off just the right texture--supple, yet with a good bite--and I loved the crunchy bits on top. The integration of the cheese with the subtle hints of truffle was spot on as well, and I really enjoyed the light, bright counterpoint provided by the peas.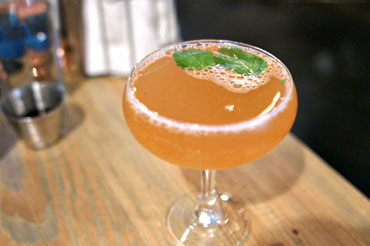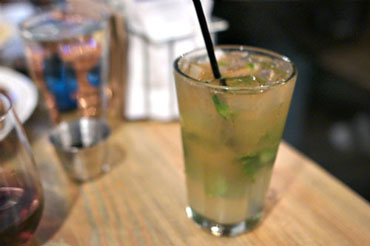 Brown Cow [$12.00]
| vizcaya dark rum, lime, mint, angostura bitters, sparkling wine, shaken and served up with a mint sprig
Perfect 10 [$11.00]
| ketel one, hangar one buddha's hand, passion fruit ice tea, mint, lemon juice, built and served long
Our second round of cocktails brought us the Brown Cow, which, according to one of my dining companions, had an almost
suanmei
-esque kick to it, with a distinct tart fruitiness playing off of the rum. The Perfect 10, meanwhile, was too sweet for my liking, with its sugary, candied character that actually recalled the taste of Skittles.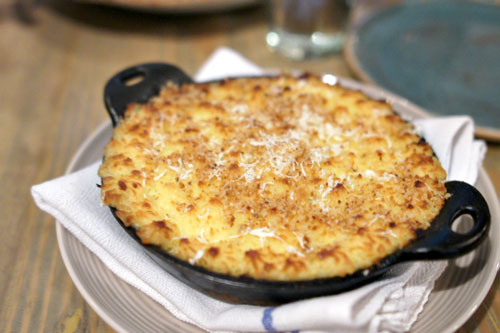 Gordon's Shepherds Pie [$20.00]
| braised lamb, yukon potato mash
Here was a very traditional shepherd's pie, basically a type of meat pie filled with lamb and topped with a mashed potato crust. We're talking "meat & potatoes" here, and the dish was all that you'd expect: hearty, filling, and comforting, with the tender, richly-flavored meat melding well with the comparatively mild potato.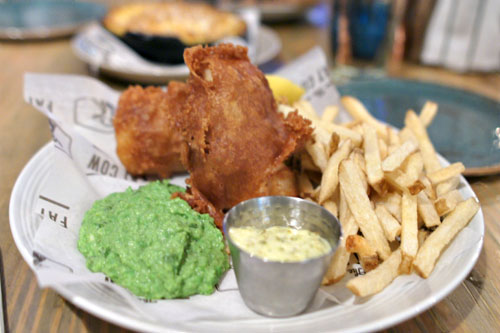 Fish & Chips [$18.00]
| cod, beer batter, tartar sauce
Next was a quintessential preparation of fish and chips. Made with the traditional choice of cod, the fish was on point, nicely moist, flaky, and delicately saline on the inside, with a lovely, golden crust to boot. The paired tartar sauce worked beautifully here, though I would've liked a bit more crispness on the fries.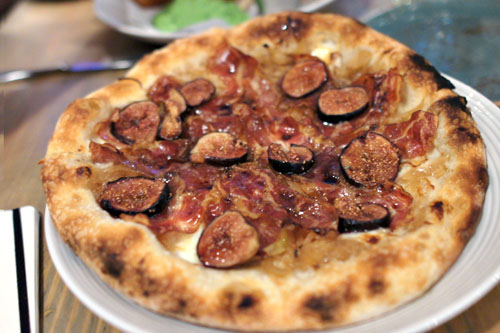 Coppa Picante, Figs [$16.00]
| fontina cheese, roasted garlic, roasted figs
The restaurant features a number of pizzas on the menu, so naturally we had to give one a go. Our server recommended this particular pie, and though it was a touch on the saccharine side for me, I still enjoyed it. The sweetness came from both the caramelized onions and the figs, with those two elements serving as a fitting contrast to the savory meat. The crust was also quite nice, with a pleasing crunch and great hint of char bitterness.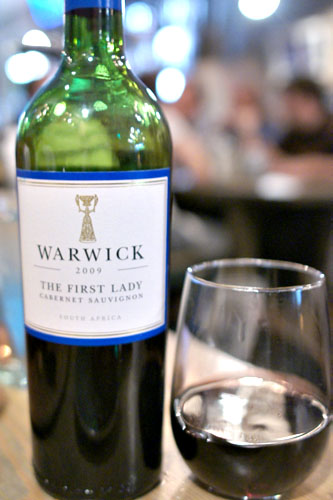 For our heavier beef courses to follow, we ordered up a bottle of the
Warwick "First Lady" Cabernet Sauvignon 2009, South Africa [$43]
. It was a solid Cab, with pretty much everything in place, though it did come off as particularly spicy.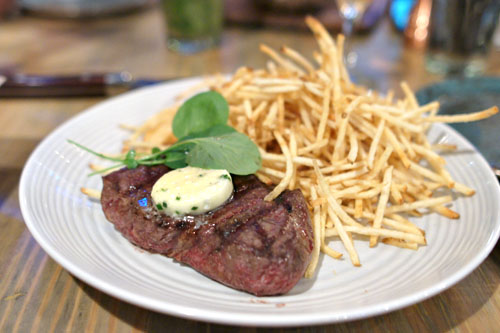 Flat Iron Steak, Haystack Fries [$22.00]
| grass fed beef, bleu cheese butter
A flat iron was served sous vide, making for a surprisingly tender, delicately-flavored steak. The compound butter was aptly incorporated here, adding a well-placed touch of saltiness to the dish. I also appreciated the huge mound of matchstick fries, too.
Pepper Crusted Wood Roasted Long Rib [$50.00]
| waldorf salad, minted fingerling potatoes
The long rib was appropriately massive, and a bit intimidating. Fortunately though, the meat was falling-off-the-bone tender, heavy, and unapologetically rich, with the crust contributing a countervailing astringency to the beef, as well as a hint of what tasted like lemongrass. The minted fingerlings were fitting accoutrements to the rib, but I wasn't as crazy about the Waldorf, which seemed too weighty and substantial--I wanted something brighter, more acidic to cut the fat of the meat.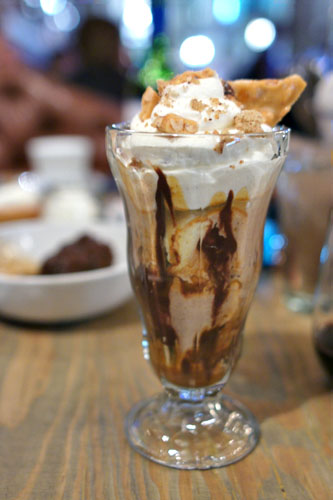 Cookie Milk Ice Cream Sundae [$9.00]
Our first dessert came as a recommendation from our server, and it was as delicious as you'd expect, with a deft interplay between sweet and nutty flavors and a lovely mélange of disparate textures.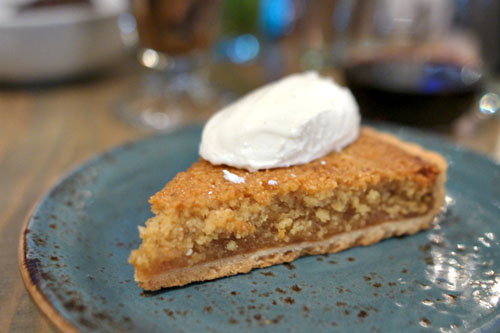 Treacle Tart [$8.00]
Next was The Fat Cow's version of a classic English dessert. I rather liked it, finding the sweet, fruity, jammy treacle (a sugar syrup) a good match against the dense pastry.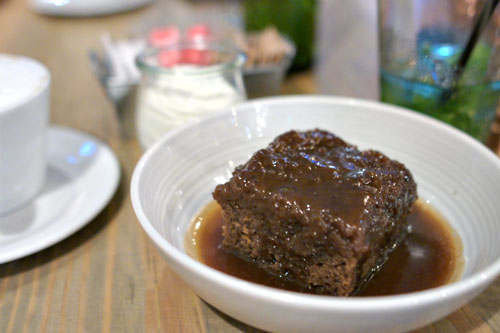 Sticky Toffee Pudding [$10.00]
We closed with a sticky toffee pudding. Though not quite up to the lofty level of the one at
Gordon Ramsay Steak
, it was still nonetheless quite delectable, with the dense, decadent cake conveying deep, dark, sugary notes that we all enjoyed. I'd love to see this paired with some ice cream (brown butter perhaps?).
According to press materials, Ramsay's idea here was to have an uncomplicated, "neighborhood restaurant" type of place. In that regard, The Fat Cow appears to be mostly successful, serving up comfortable, cozy dishes that, for the most part, satisfy (though there are a few tweaks that I'd like to witness). I think it's a fitting concept for The Grove that'll do well. However, at the same time, I really would like to see the kitchen stretch a bit more, play it a bit less conservative with some of the dishes, and perhaps show us some of the haute, three-star flair that made Gordo famous in the first place.