Raku (Las Vegas, NV)
Aburiya Raku Restaurant
5030 Spring Mountain Rd, Las Vegas, NV 89146
702.367.3511
www.raku-grill.com
Sat 09/22/2012, 11:30p-01:25a
To wrap up this latest Las Vegas outing, we headed on over to the City's premier late-night dining destination: Raku. Situated in a sad-looking (though not quite as sad as
Lotus of Siam
's) strip mall in Chinatown, Raku calls itself an
aburiya
, which is sort of like a slightly fancier version of an
izakaya
. You might liken it to a Japanese gastropub (god I'm starting to hate that term), serving up
binchotan
charcoal-fired,
robatayaki
-esque grub with plenty of booze. The place is the brainchild of Mitsuo Endo, and since opening in 2008, has become the quintessential anti-Vegas restaurant, a favorite haunt of local chefs. I've been wanting to try Raku for a while, so we made sure to make the extra effort to visit this time around.
About the Chef
: Chef Mitsuo Endo was born in 1971 in the sprawling metropolis that is Tokyo. He began his culinary career in 1988 as an apprentice, and immersed himself in the highest form of Japanese cuisine:
kaiseki
. After working at a number of restaurants throughout the City, he decided to relocate Stateside in 2001, settling in Seattle initially. He moved to New York the following year, and began working with chef-slash-restaurateur Koji Imai (who owns over 30 properties), later helping his mentor open Megu Tribeca and offshoot Megu Midtown, even becoming head chef in the latter half of 2005.
Then things got ugly. In September 2006, a former waitress named Satomi Southward (née Onikura) filed a $20 million lawsuit against Megu and its parent company, Food Scope. Hailing from Fukuoka-shi, Japan, she was an acquaintance of Endo's back in Seattle, and the Chef brought the divorcée over in 2004 when he was starting out at the restaurant. The suit specifically accused Endo of groping her, harassing her, and molesting her with kitchen utensils (that spatula has been
where
?), starting in the spring of 2005 (to make things worse, he was married at the time). Even more disturbingly, it also details an alleged date rape drug-induced sexual assault by one of Endo's line cooks, Lawrence Herman (who's been the subject of sexual abuse charges before), after a holiday party at the Tribeca Grand Hotel. Unsurprisingly, Southward left the restaurant biz, and has since taken up nursing. See
here
for all the salacious details.
Though I don't believe Endo was ever found guilty, he left his post at Megu after the debacle, taking refuge in the desert. In 2007, he moved to Las Vegas and helped open En Sushi & Robata Grill as head chef, and the following year, debuted his seminal Aburiya Raku, achieving cult status almost overnight. Though he worked at both places simultaneously for a time, his efforts today are solely focused on his solo project. This dedication appears to have paid off. Raku was nominated by James Beard for "Best New Restaurant" in 2009, and Endo himself was up for "Best Chef: Southwest" in both 2011 and 2012.

Raku started life as a tiny place with only a five-place counter and seating for perhaps 30, but has since expanded to accommodate 48 guests, and even features small private dining rooms now. The decor, awash in dark wood, is clean and calming, a fitting setting in which to enjoy the precise cooking going on.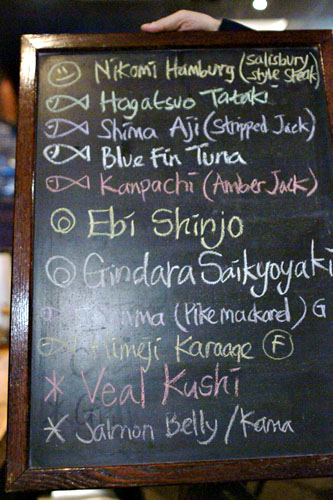 As far as Raku's menu goes, diners are treated to a wide array of appetizers, grilled items,
oden
, rice/noodles, and desserts. There's even an multi-course, by-special-request-only
kaiseki
option available at $100 and $150 price points, and be sure to pay special attention to the specials board. To drink, think beers and a nice list of sakes. Click for larger versions.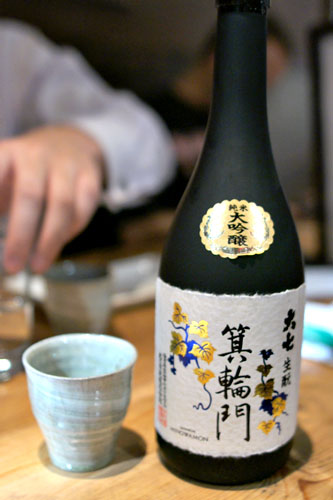 To drink, we opted for sake, specifically a bottle of the
Dai Shichi Minowamon "The Gate" [$150]
, a
junmai daiginjyo
from the Daishichi Sake Brewery in Fukushima prefecture. This was a refined, complex sake, fairly dry, but with a balance of sweetness, alcohol, and acidity. Quite nice, especially with the delicate sashimi courses.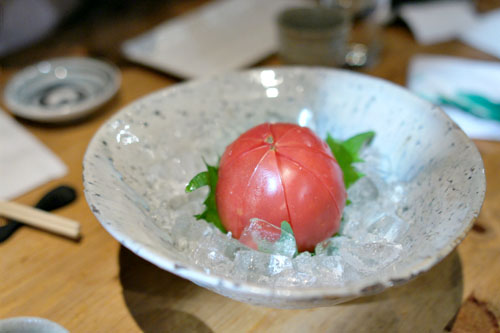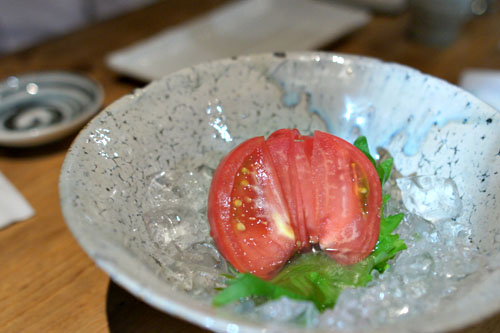 Momotaro Tomato [$4.00]
We commenced with a gorgeous
momotaro
tomato, a varietal that I'd first discovered at the clandestine
Totoraku
. Just as I expected, the fruit was eminently juicy, and showed off a great blend of sweet and tangy that made for a great palate cleanser after a course of strongly-flavored meat or fish.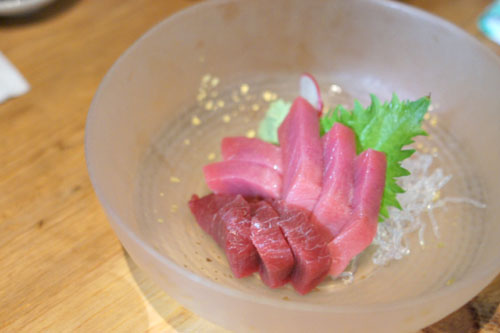 Blue Fin Tuna Sashimi [$31.00]
Two types of tuna sashimi were presented. The first was toro, the lighter belly cut, which was just what I wanted: fatty, oily, and melt-in-your-mouth supple, with a rich flavor that was keenly brightened up by a dab of house-made soy sauce. The leaner, darker
akami
was also tasty, with a less luxurious consistency and more focused brine.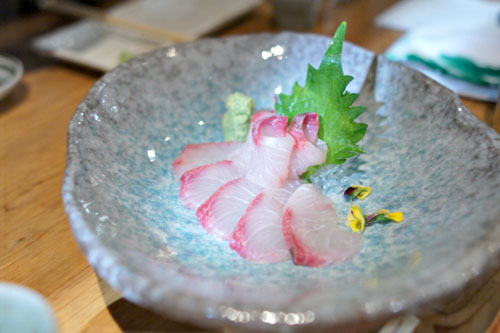 Kanpachi (Amberjack) Sashimi [$23.00]
Kanpachi was presented beautifully, and was a joy to eat: clean and delicate-tasting, with a satisfyingly snappy bite. Fantastic with a touch of soy and wasabi.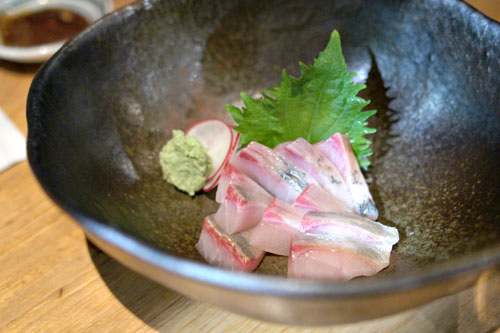 Shima Aji (Stripped Jack) Sashimi [$25.00]
The shima aji, on the other hand, had a much firmer, slightly chewy consistency to it, while the fish's flavor was much more saline and full-bodied, with a subtle metallic tinge.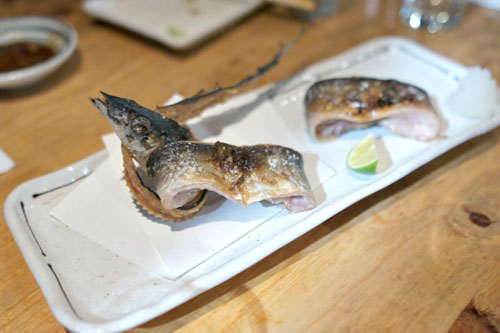 Grilled Sanma (Pike Mackerel) [$20.00]
Grilled mackerel pike arrived in two variations: one with salt, the other with soy. I tried the former, and it was fantastic. The fish was tender, smoky, and loaded with ocean-y goodness, with lovely pricks of saltiness to boot. As good as it was, the fried bone
senbei
might have been even better, with its mouth-watering savoriness and pleasing crunch--I'd love a whole bag of the stuff.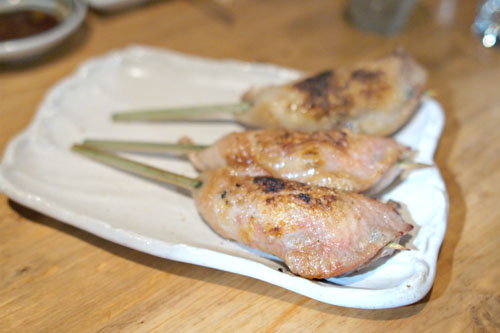 Chicken Teba Wing [$3.00]
Moving on to some yakitori now, we had here Raku's
tebasaki
. It was excellent, one of the tastiest presentations of chicken that I've had recently in fact. I found it immensely satisfying and just teeming with goodness, and loved its smoky, savory, succulent, salty character. A must try.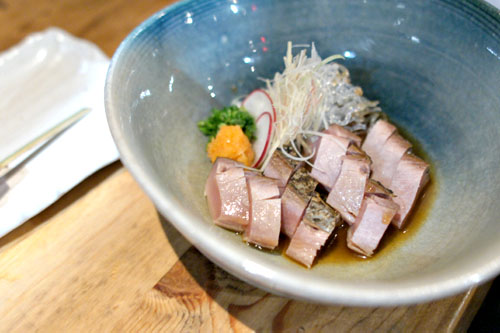 Hagatsuo (Bonito) Tataki [$25.00]
A lightly seared plate of katsuo was delightful. Texturally, it was tender, yet satisfyingly meaty, with a rich taste that was perfectly counterbalanced by the piquant threads of ginger here.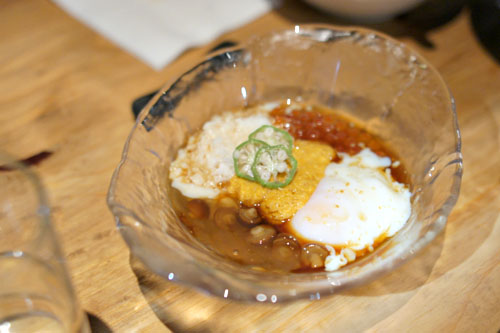 Poached Egg with Sea Urchin and Salmon Roe [$9.00]
Our next course married sea urchin,
yamaimo
, salmon roe, and
nameko
mushroom, all topped with a few slices of okra. Taste-wise, I quite liked how the sweet, saline richness of the uni worked with the salty ikura, all while the mountain yam served to ground the dish. However, we also had here the trinity of
nameko
, okra, and
yamaimo
, three of the most mucilaginous items around, and the resultant, gooey consistency was rather disconcerting.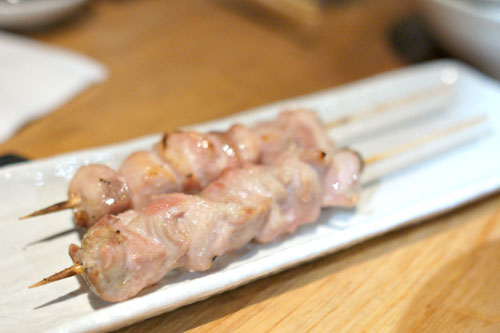 Chicken Thigh [$2.75]
Momo
, or chicken thigh, was served here solo, though it's often found paired with
negi
in
momo negima
. I rather liked it, finding the bird tender, juicy, and easy-eating--a great starter stick.
Agedashi Tofu [$10.00]
Chef Endo makes his own tofu daily, and Raku's
agedashi
variety is a thing of legends. Tonight it managed to live up to the hype. In fact, I'm going out on a limb and deeming this the best tofu I've had,
ever
. The
age
tofu showed off an utterly perfect crispness, hiding an interior that was creamy, pillow-y, almost fluffy in body. On the palate, the tofu was mildly savory, melding flawlessly with the salty spheres of ikura, tangy scallion, and umami-rich sprinkles of nori, all while the broth of
tentsuyu
added a delightful touch of piquancy to things. If you only order one thing at Raku,
make this it
.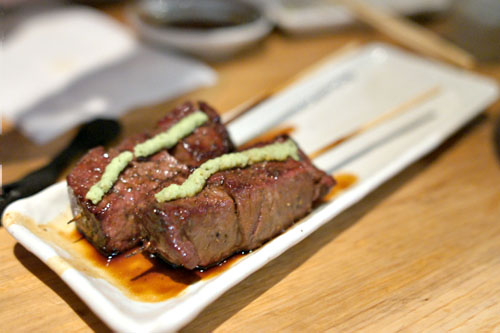 Kobe Beef Filet with Wasabi [$10.50]
Kushiyaki skewers of wagyu beef were a pricey indulgence, but delicious and oh-so tender. I adored their amalgam of savory and sweet flavors, accented by a marked hint of smoke, while the line of wasabi on top served as a consummate exclamation point.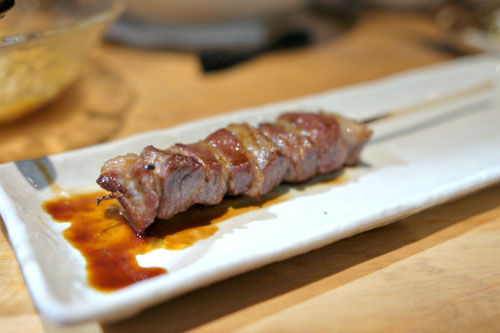 Ibérico Pork [$10.00]
Ibérico pork was available off-menu. Ask for it if you ever find yourself here, as the meat was super decadent, nearly oozing fat and oil, with a rich, pork-y relish and delicate sweetness that was dutifully tempered by a bit of astringent char.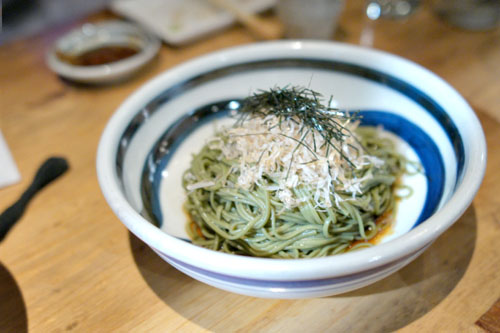 Cold Green Tea Soba with Poached Egg [$8.50]
A cha soba made with green tea powder was of the
bukkake
variety, served cold in a piquant
tsuyu
broth. The noodles were quite nice, with a very focused, somewhat bitter green tea flavor that was duly enhanced by the poached egg, all while the nori and bonito on top contributed to an enveloping umami-soaked savor to the dish. Though we enjoyed the noodles with its intended sauce, interestingly enough we also experimented with dipping it in the leftover agedashi broth, and
loved
the results.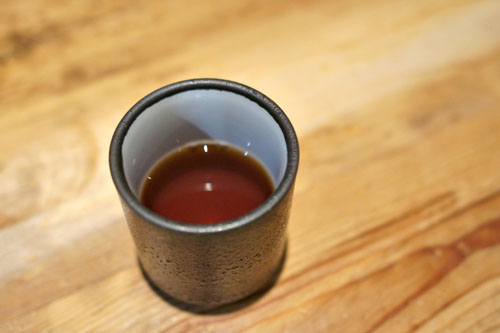 To close, a hot cup of
hojicha
, à la
Urasawa
.
Raku did not disappoint, serving up a near flawless meal that managed to delight and satisfy, even though every one of us was already full from our previous meal at
Gordon Ramsay Steak
mere hours prior. It might just be the best Japanese restaurant in Las Vegas, and really challenges
Lotus of Siam
as the City's top off-strip darling. I'd love to return, next time with an empty stomach, and give the kaiseki menu a go. In the meantime, Chef Endo is reportedly planning to open a Japanese bakery in the vicinity, so be on the look-out for that.