A.O.C. (Los Angeles, CA) [2]
AOC Restaurant
8700 W 3rd St, Los Angeles, CA 90048
310.859.9859
www.aocwinebar.com
Mon 02/18/2013, 07:30p-10:45p

Since debuting in 2002,
A.O.C.
has been a benchmark for wine bars here in LA, and after 10 years in business, the restaurant has just gotten some brand new digs. Yes, earlier this month,
Suzanne Goin
and
Caroline Styne
's acclaimed eatery moved into the space once occupied by Il Covo, Orso, and Walter El Nagar's pop-up
Barbershop
(which, coincidentally, is relocating to the old A.O.C. space). It'd been over three years since my last visit to the place, so I figured that this rebirth of sorts was a good excuse to return.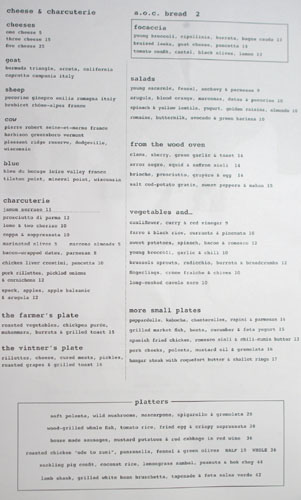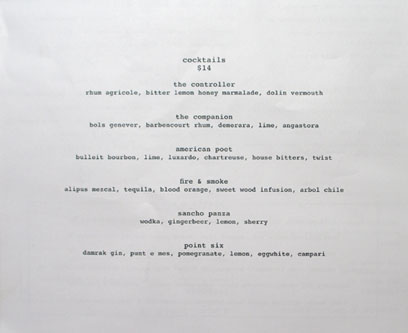 A.O.C.'s menu has been tweaked a bit, though it still features Goin's Cal-Med stylings, as executed by Chef de Cuisine
Lauren Herman
. Meanwhile, there's been more flux on the beverage side of things. The wine list remains the realm of Styne, but there's a new cocktail program in place, courtesy of barman Christiaan Rollich. Click for larger versions.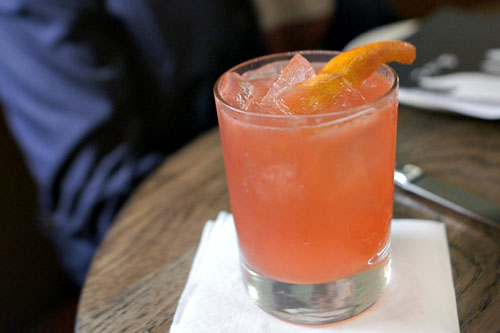 fire & smoke [$14.00]
| alipus mezcal, tequila, blood orange, sweet wood infusion, arbol chile
Naturally, I had to give the newly installed cocktail program a go, and started off with the aptly-named
fire & smoke
. The woody, smoky essence of the mezcal/tequila combo absolutely made sense with the sweet, tart citrus notes present, and the
chile de árbol
added a lovely, overarching heat to the drink. Overall, nicely integrated, and surprisingly quaffable. Following, we went with wine, specifically a rather spectacular bottle of
gigondas domaine la bouissieres '09 [$104]
, a big, fruity southern Rhône that I unfortunately forgot to snap a photo of.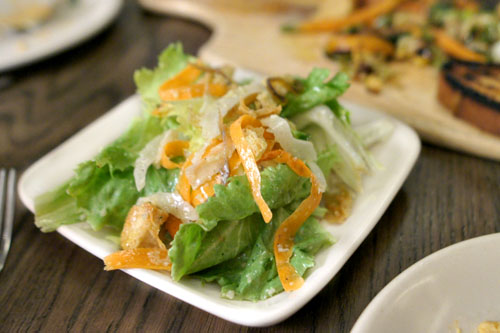 young escarole, fennel, anchovy & parmesan [$9.00]
The meal started off light with this escarole salad, the bright, bitter greens pairing well with the crisp, focused flavors of shaved fennel and carrot. Anchovy and Parm, meanwhile, contributed a much-needed gravity to the course that did a nice job in tying everything together.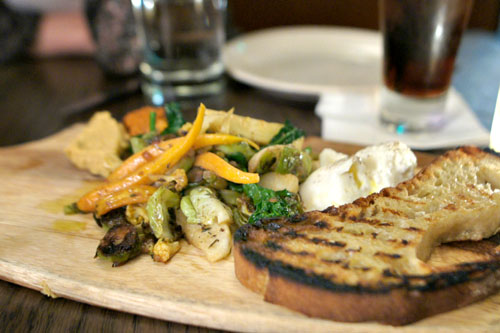 the farmer's plate [$15.00]
| roasted vegetables, chickpea purée, muhammara, burrata & grilled toast
The requisite veggie plate, meanwhile, was actually pretty delicious, with the troika of burrata, hummus, and muhammara working hand in hand with the perfectly roasted, true-to-form vegetables. A pleasant surprise.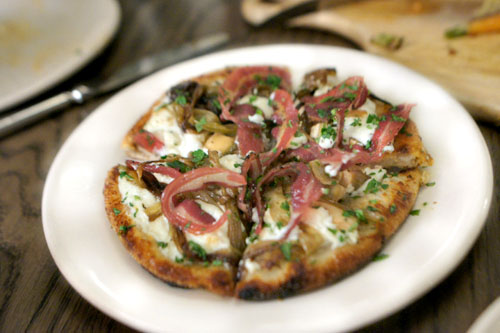 braised leeks, goat cheese, pancetta [$14.00]
Next up was an item from A.O.C.'s newly-instituted "focaccia" portion of the menu. The dish came out looking more like a pizzetta than what you'd typically expect from the bread, but was enjoyable nonetheless. I really appreciated how the sweetness of the leeks complemented the goat cheese here, as well as the salty kick of those crunchy pancetta strips. Lovely crispness on the crust, too.
clams, sherry, green garlic & toast [$14.00]
Clams were on point as well, with a pleasantly supple, yet substantial bite to 'em, while their subdued brine was augmented by the paired nuances of sherry and green garlic. They had just a delightful depth that I really appreciated. Very nice.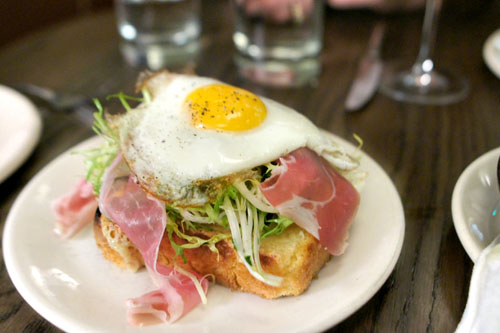 brioche, prosciutto, gruyère & egg [$14.00]
Bread, ham, cheese, egg. It's pretty hard to go
too
astray with these ingredients, and this course was no exception. We're talking classic flavors, with the prosciutto, egg, and cheese all coming together for a hearty, salty, satisfying mélange, only partially moderated by the light frisée and toasty bread. Foolproof.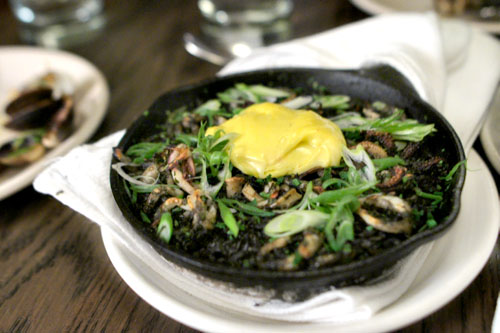 arroz negro, squid & saffron aïoli [$14.00]
Rice arrived black as night, a touch below
al dente
, with a heady, ocean-y relish that amplified the soft, supple pieces of squid strewn within. The use of saffron added a distinct piquancy to the dish that I liked, and the astringency of the onions was even better.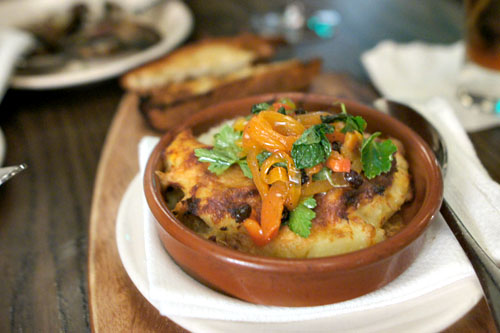 salt cod-potato gratin, sweet peppers & mahon [$15.00]
A gratin of salt cod was utterly delectable, wonderfully fishy as you'd expect, with an almost fluffy consistency and a chewy, salty complement in the form of the Mahón cheese. At the same time, the peppers lent a certain brightness to the dish that kept things from going too monotone. Yum.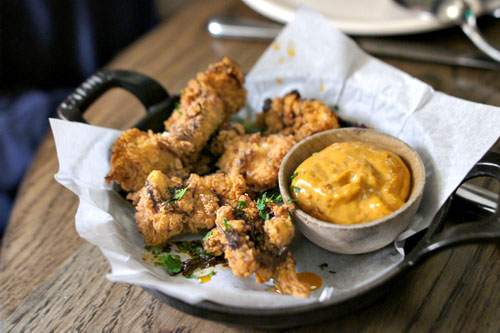 spanish fried chicken, romesco aïoli & chili-cumin butter [$13.00]
I have a hard time
not
ordering the fried chicken when I see it on a menu, so this was no surprise. The bird itself was expertly prepared: crisp and crunchy on the outside, yet still moist and tender on the inside. The nuggets were delish alone, conveying a pretty remarkable depth and complexity, but became even better with a dab of that romesco.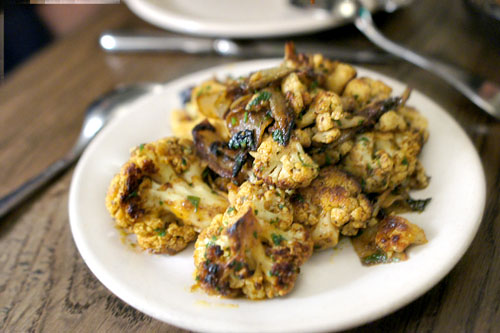 cauliflower, curry & red vinegar [$9.00]
Being the cauliflower slut that I am, this was a must-order. The course didn't let me down, delivering all the cauliflower goodness that I was hoping for, intermingled with the aromatics of curry and a whisper of acidity from the vinegar. Great texture on the veggie, too.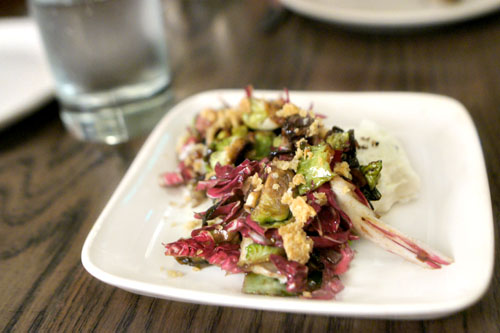 brussels sprouts, radicchio, burrata & breadcrumbs [$12.00]
Brussels sprouts are another fetish of mine, and presented here with radicchio, they were wonderful, forming a bevy of crisp, bright flavors that melded beautifully with the richness of the burrata, all while the breadcrumbs offered up a superb textural play to the dish.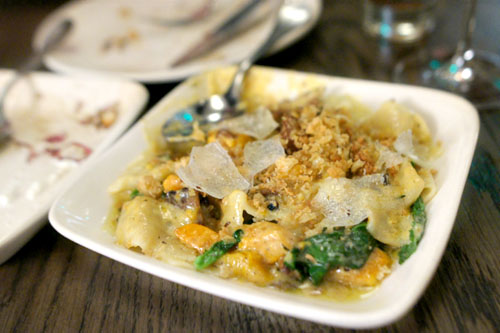 pappardelle, kabocha, chanterelles, rapini & parmesan [$14.00]
Pappardelle, unfortunately, managed to be the weakest dish of the evening. Certainly, the pasta was well cooked, but the dish just seemed overly salty to me, and I wasn't a fan of the kabocha here either. I would've liked to have tasted more from the rapini, which I think would've provided a little more balance to things.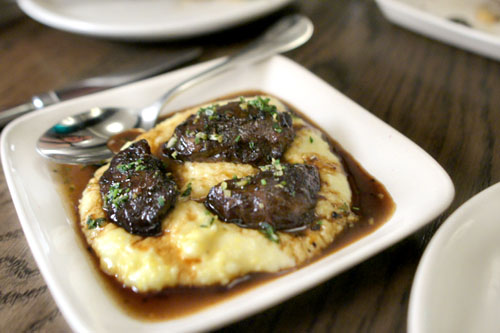 pork cheeks, polenta, mustard oil & gremolata [$16.00]
Pork cheeks were as falling-apart tender, rich, dark, and heavy as one would expect, with the polenta serving as a sort of temper to the meat. It was tasty, though I wanted more lightness and acidity from the gremolata here to provide some contrast on the plate.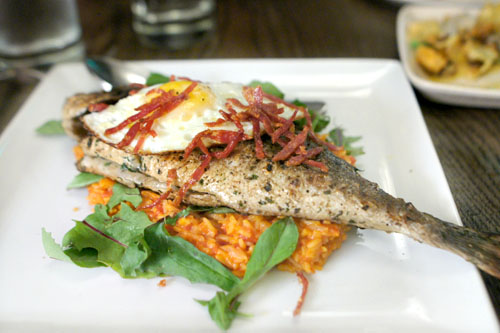 wood-grilled whole fish, tomato rice, fried egg & crispy sopressata [$38.00]
We now move on to the "platters" portion of the menu, also a new addition. Up first was a whole sea bream, a magnificent specimen that I was quite fond of. The fish was spot on, with a mouth-watering, yet restrained brininess and a delightfully crisp, savory skin. It was delicious alone, but a fried egg makes everything better, and that was the case here for sure.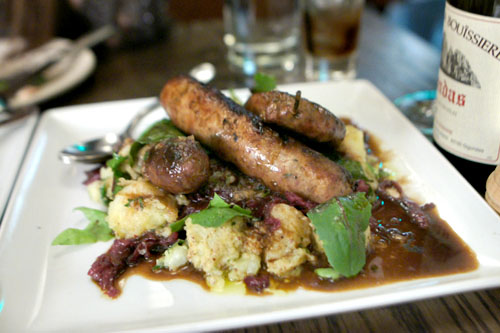 house made sausages, mustard potatoes & red cabbage in red wine [$36.00]
Sausage and potato--two of my favorite comestibles, together at last. We had a couple varieties of tubed meat here, and each was unique and delicious in its own right. Pair that with some hearty taters, tangy kraut, some red wine, and you have yourself a hell of a dish.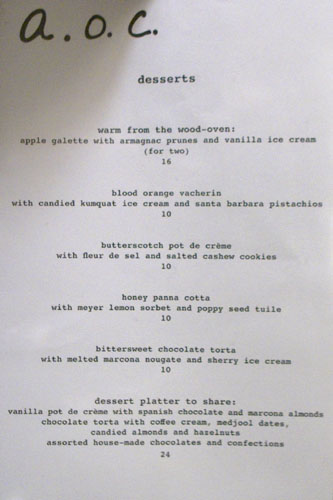 Desserts remain the charge of longtime Pastry Chef
Christina Olufson
. Click for a larger version.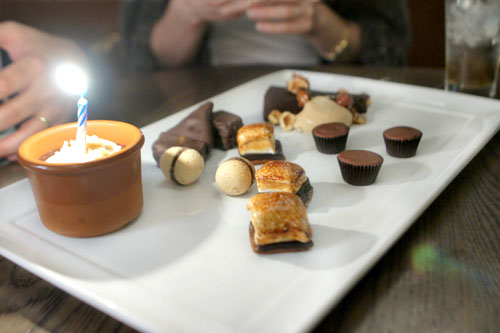 dessert platter to share [$24.00]
| vanilla pot de crème with spanish chocolate and marcona almonds / chocolate torta with coffee cream, medjool dates, candied almonds and hazelnuts / assorted house-made chocolates and confections
Given that we were already burstingly full by this point, we went easy on the desserts, and just ordered a platter to share. There was a nice variety of sweet treats here, and I was particularly enamored with the s'mores and that chocolate-covered honeycomb toffee, which recalled a grown-up Butterfinger.
A.O.C. seemed to have lost none of its verve in the move. The restaurant is back and better than ever, serving up old standbys, new favorites, and cocktails(!), all in a comfier, cozier environment. It's a winning combination that's going to make the place a fixture in the neighborhood for years to come. As for what's next for Goin and Styne, following the success of The Larder at Maple Drive (which bowed in fall 2011 and also serves as home base to Lucques Catering), the duo is planning another café-
cum
-bakery in the form of The Larder at Burton Way, as well as a restaurant in the wealthy enclave of Montecito. And that's not all: a version of The Larder at Tavern is set to debut this year inside the Tom Bradley International Terminal at LAX. Big things poppin'.