chi SPACCA (Los Angeles, CA)
chi SPACCA Restaurant
6610 Melrose Ave, Los Angeles, CA 90036
323.297.1133
www.chispacca.com
Mon 02/11/2013, 09:00p-11:35p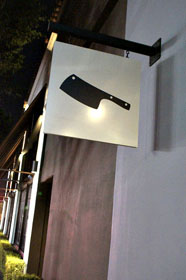 The
Mozza empire
continues to expand. Yes, the holy trinity--Batali, Bastianich, Silverton--have just opened the butchery-focused chi SPACCA ("cleaver" in Italian) in the space once occupied by their Scuola di Pizza. The long-awaited restaurant debuted on February 4th, and features Chef Chad Colby's well-regarded housemade salumi and other meat-centric plates.
For those unfamiliar with what's been going on, it all started with a private dining room, one situated inside Mozza2Go and featuring an exhibition kitchen and plenty of seating. Nancy Silverton and Matt Molina started out teaching cooking classes there (hence the name Scuola di Pizza), but in late 2010, Silverton tapped Manhattan Beach native Chad Colby to hold weekly family-style, prix fixe dinners in the space. These became quite the sensation, and during this period, Colby had also been experimenting with preserving his own meat. He even built a special walk-in dry-curing room in the back, and established LA's first fully legit, fully legal salumi program.
As such, Colby began serving his resulting product at the Scuola dinners, and then, in May 2012, started a special Salumi Bar night on Thursday evenings. He even won 2011's Cochon 555 tasting along the way. At the beginning of 2013, the Salumi Bar expanded its days of operation, all seemingly in preparation for the launch of chi SPACCA. Apparently, due to alcohol licensing restrictions, the restaurant will only offer two seatings of 30 diners a night, starting at 6:00 and 8:00, Monday through Friday, though there'll be room for walk-ins at the bar. Saturday nights, meanwhile, will be reserved for "nose-to-tail" dinners. As for the pizza and pasta classes formerly held at the Scuola di Pizza, they'll be moved to daylight hours during the weekends.

The Scuola di Pizza hasn't changed much from its days hosting the family dinners, with the open kitchen clearly taking center stage.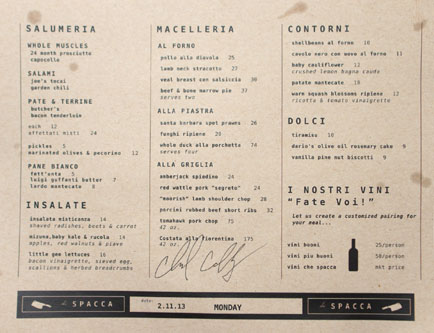 The chi SPACCA menu, unsurprisingly, focuses on meat of multiple forms, though there are a few requisite salads as well. Desserts are handled by Mozza Pastry Chef Dahlia Narvaez, and to drink, you'll find a small, reasonably-priced chalkboard wine list featuring selections by the
quartino
. Click for a larger version.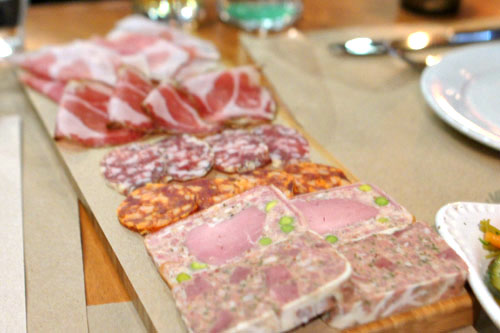 affettati misti [$24.00]
You'd be remiss if you didn't start with a big platter of Colby's salumi, and perhaps the best way to experience it is to order the assortment of cold cuts. Going from top to bottom, we had:
Whole Muscles: Colby specializes in whole muscle curing, and his expertise was evident here. The 24 month prosciutto was a superb example of the style, slick and soft, showing off a slightly sweet, nutty character balanced by fatty, savory notes in the ham. The capocollo (made from pork neck) was even more intense, with a deeper, meatier relish and a more substantial body.
Salami: Moving on now, joe's tocai was a version of salami ostensibly cured with Tocai wine, which seemed to impart a slight floral character to the sausage. The garden chili variety, as the name would imply, showed off a delightfully kick of heat that I quite enjoyed.
Pate & Terrine: The first forcemeat was Colby's bacon tenderloin, a spot-on terrine that beautifully highlighted the meat while contrasting it with the nuttiness and crunch of the included pistachios. Finally, we had the butcher's pâté, a finer, more aromatic preparation with a heady, liver-y flair to it. Yum.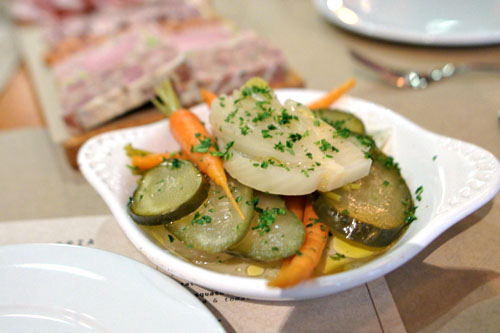 pickles [$5.00]
A plate of pickles was useful in cutting some of the weight of the meat. I especially enjoyed the crisp carrot and cabbage varieties.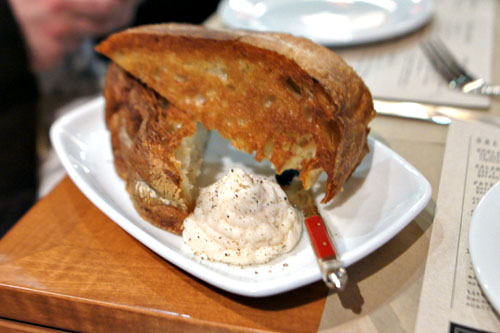 lardo mantecato [$8.00]
The accompanying bread was superb, displaying a certain sweetness that recalled the essence of Chinese
youtiao
. It was delicious alone, but the whipped lardo added even further luxuriousness to the dish.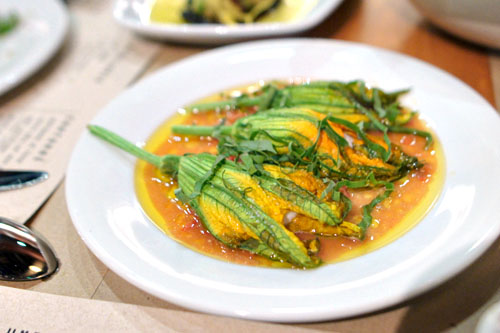 warm squash blossoms ripiene [$12.00]
| ricotta & tomato vinaigrette
Squash blossoms arrived brimming with ricotta, its lush, creamy, subtly sweet taste working well with the tart tomato. However, I really wanted more textural variation in the dish, as everything seemed to have a sort of uniform mouthfeel.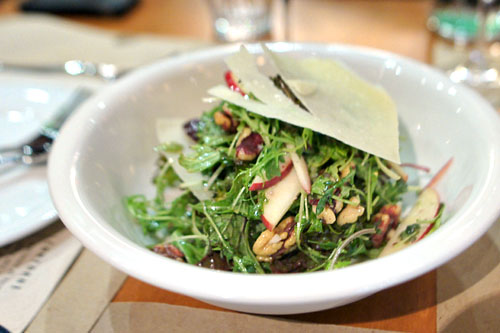 mizuna, baby kale & rucola [$14.00]
| apples, red walnuts & piave
The kitchen then sent out a complementary salad course. The bitterness of the mizuna-kale-arugula combo was nicely played here, with a bright, bracing astringency that made sense against the contrasting flavors of the apple and walnut, all while the cheese added a weighty, salty overtone to the dish. Vegetarians may do alright here after all.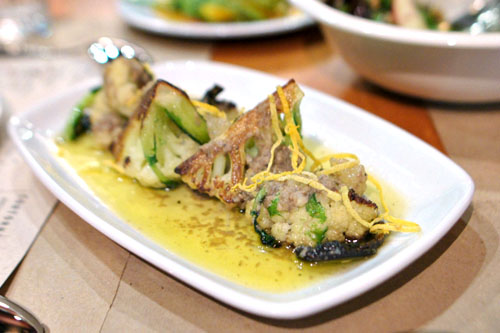 baby cauliflower [$12.00]
| crushed lemon bagna cauda
I'm quite the cauliflower fiend, so this was a must-try for me. The
bagna cauda
sauce really added a fantastic depth and complexity to the vegetable, with the lemon providing a sort of overarching tartness that worked too. My only concern was that I would've liked the cauliflower to have a crisper, crunchier consistency.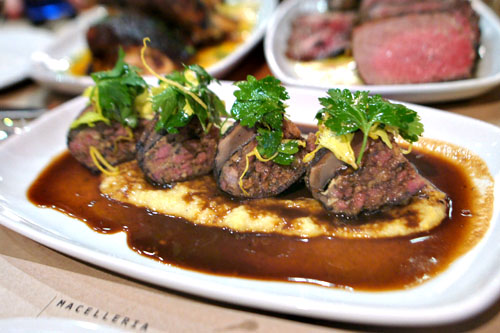 funghi ripiene [$20.00]
I ordered this dish thinking that it would be one of our lighter mains, but I should've known better! Instead, the mushrooms arrived stuffed with pork sausage and veal that was rolled in caul fat. It sure was tasty though, showing off some really deep, dark, satisfying flavors that were only partially moderated by the greenery on the plate.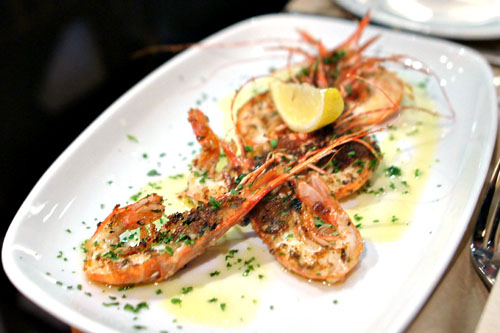 santa barbara spot prawns [$26.00]
Santa Barbara spot prawns arrived simply prepared, with a drizzle of lemon and olive oil working well with the sweet, saline relish of the crustaceans. Unfortunately, the prawns
were
on the smaller side, so they weren't quite as satisfying as I would've liked, especially when compared to a version that I'd just had at
Providence
.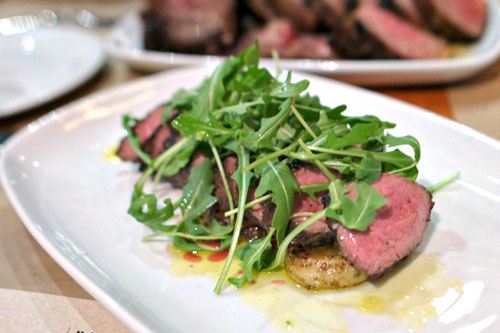 red wattle pork "segreto" [$24.00]
Is the "segreto" here the same as the "secreto" cut of pork I'd enjoyed at
Playground
and
é by José Andrés
? Obviously this wasn't Ibérico, but the meat was delicious nonetheless: lean, yet immensely flavorful, with a delectable char bitterness and an aromatic counterpoint prominently featuring what I believe was rosemary.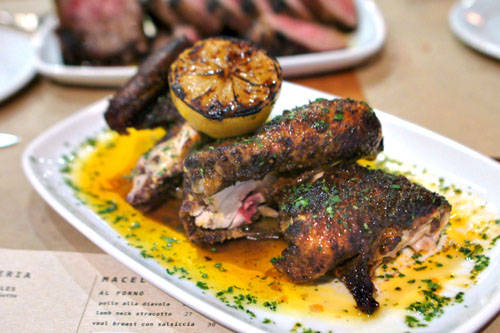 pollo alla diavola [$25.00]
The chicken, meanwhile, was the surprise hit of the night. An entire half-bird was presented to us, and I eagerly went for the drumstick portion. I found the meat tender, juicy, and very pleasing to the palate, with a marked pepper-y kick and a wonderful jolt of creeping, lingering heat.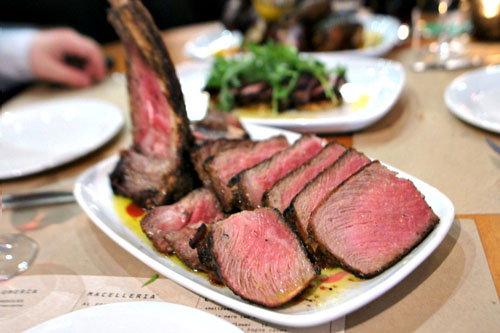 costata alla fiorentina [$175.00]
| 42 oz.
Finally, we come to the evening's
cavallo di battaglia
, a massive 42oz T-bone that managed to be the priciest steak I'd ever eaten (though not on a per-ounce basis--that would have to be at
CUT
). The
bistecca alla fiorentina
was done up in classic fashion, cooked via chi SPACCA's wood-burning grill and simply seasoned. It was a tasty cut of meat, with a straightforwardly satisfying beefiness to it, along with a lovely char savoriness from the outer crust. I enjoyed being able to compare and contrast the tenderloin and strip sections too, finding the former to be expectedly more tender in consistency, but the latter having a more assertive flavor.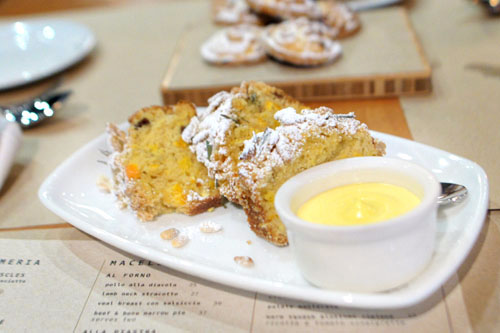 dario's olive oil rosemary cake [$9.00]
Moving on to desserts now, chi SPACCA had a threesome on offer, and, despite being rather full of meat by this point, we went for the trifecta. The first sort of reminded me of a fruitcake, with the herb-y, subtly savory components in the dish melding well with the tasty bits of dried fruit sprinkled within.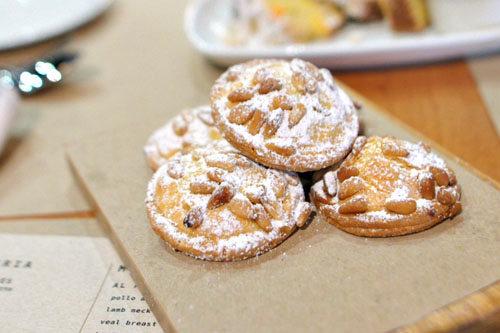 vanilla pine nut biscotti [$9.00]
The biscotti, meanwhile, was probably our favorite of the three. In fact, it was probably the best version of the biscuits that I'd ever had, crumbly in texture, and conveying a sweet, delectable sapor that reminded me of Chinese
dan juan
egg rolls.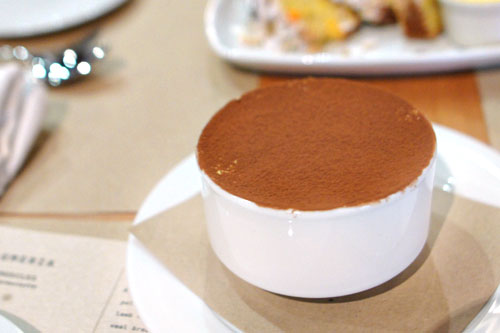 tiramisu [$10.00]
The tiramisu, lastly, was also a very strong interpretation of the iconic dish, with a deft balance between sweet, boozy, and coffee-like flavors. Definitely get it if you're a fan of the dessert.
Chad Colby has garnered considerable acclaim for the quality of his salumi, and for good reason. His preparations were spot on, some of the tastiest bites of cured meat I'd had in a while actually, and his curing program should easily find its way among the City's best. In fact, chi SPACCA is worth a visit solely to try the charcuterie, though the rest of the menu is no slouch either. The place definitely represents a unique dining experience vis-à-vis its sister restaurants, and unsurprisingly, seems well on its way to becoming yet another hit for the Mozza group.