The Royce (Pasadena, CA) [5]
The Royce at The Langham "30 Ways in 3 Days: Foie Gras Farewell"
1401 S Oak Knoll Ave, Pasadena, CA 91106
626.585.6410
www.roycela.com
Sat 06/30/2012, 07:50p-01:20a

Sadly, by the time you read this, the sale and production of foie gras will be outlawed in California. To bid
adieu
to the controversial fatty liver, restaurants all over the Southland have been hosting foie-centric dinners over the past several months. I attended a few of them--at
n/naka
and
Melisse
notably--but for this final day of foie freedom,
The Royce
, one of the sole temples of French haute gastronomy around, was perhaps the perfect backdrop for such an occasion. Helmed by
Guy Savoy
protégé David Féau, the restaurant has become sort of a bulwark for fine dining in a City overrun with gastropubs, and is probably the only place around with enough gumption and resources to present to diners
thirty courses of foie gras
(yes, 3-0) to protest the ban of this most luxurious of ingredients.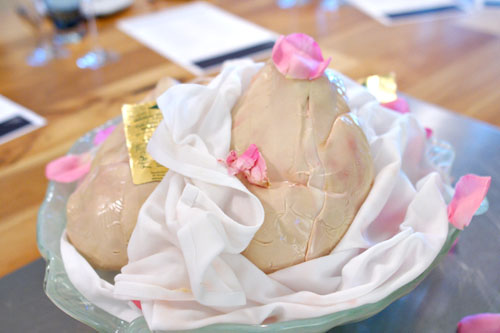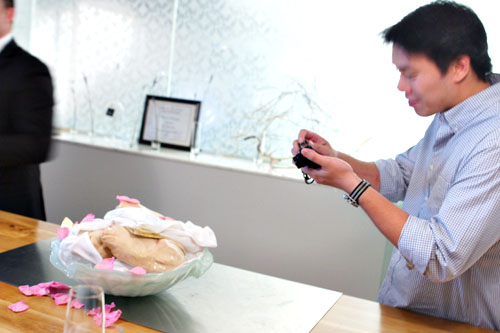 We arrived at the Chef's Table to find a bowl containing three whole lobes of Hudson Valley foie gras, all of which, ostensibly, would be used to craft our meal tonight. The mound of liver even attracted the glances of random passersby, one of whom (Asian, natch) asked to take a photo of the spectacle.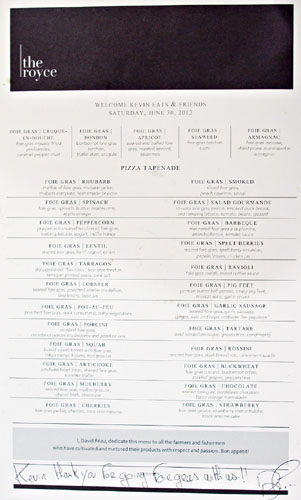 And here was the menu, all thirty courses of it, priced at a very reasonable $180 per head. Note that the courses presented in columnar format were split amongst two diners each (a necessary accommodation to prevent us from becoming ridiculously full). Click for a larger version.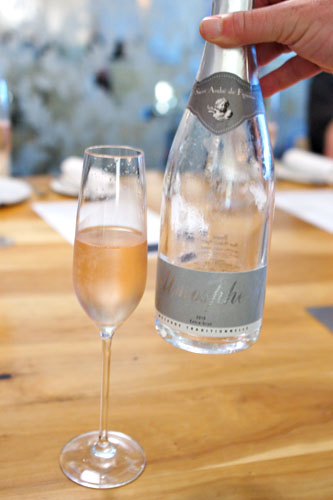 GM-
cum
-Sommelier Eric Espuny opened several bottles tonight to pair with the meal, and started us off with the
2010 Domaine Saint André de Figuière Côtes de Provence Atmosphere [$60]
. This was a sparkling rosé, a dry blend of Cinsault and Grenache that was perfect for summer with its light, crisp character and delicious mix of strawberry and citrus flavors, all with a good backbone of minerality.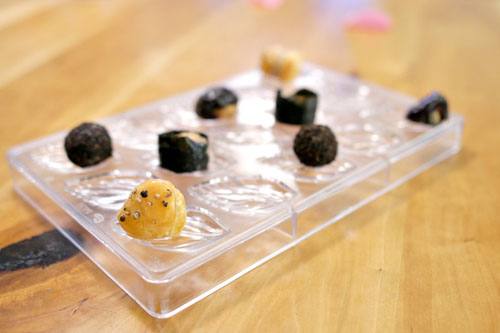 1: FOIE GRAS | CROQUE-EN-BOUCHE
| foie gras mousse filled profiteroles, caramel pepper crust
2: FOIE GRAS | BONBON
| bonbon of foie gras torchon, truffle dust, arugula
3: FOIE GRAS | SEAWEED
| foie gras torchon sushi
4: FOIE GRAS | ARMAGNAC
| foie gras mousse, dried prune macerated in armagnac
Bite-size portions of foie comprised our first four courses, and arrived on a plastic mold used to make The Royce's signature leaf-shaped chocolates. I began with the
croque-en-bouche
, which possessed a delightfully crunchy, caramelized, sugary shell laced with a wonderful pepperiness, the sum of which melded beautifully with the foie gras mousse inside. The bon bon was also thoroughly enjoyable, pairing a lush, creamy center of the liver with the heady, aromatic essence of black truffle. A seaweed-wrapped preparation, meanwhile, showed off some great flavors, with the algae playing surprisingly well with the foie; I just wish that it were crispier to better balance out the creaminess of the torchon. Finally, we had an armagnac-soaked prune, stuffed with foie gras mousse, a deft presentation of the ingredient that perfectly married the heft of the liver with the sugary, boozy relish of the fruit.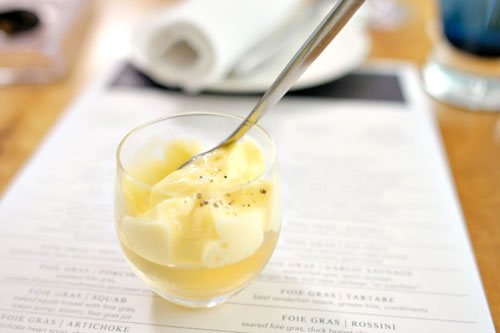 5: FOIE GRAS | APRICOT
| seared and balled foie gras, roasted apricot, sauternes
This course presented the classic pairing of foie gras with Sauternes, but reimagined. I usually don't like my foie overly sweet, but the combo of apricot and Sauternes jelly really worked here, forming a sugary element that balanced out the heft of the liver nicely, while also serving as a great textural counterpoint.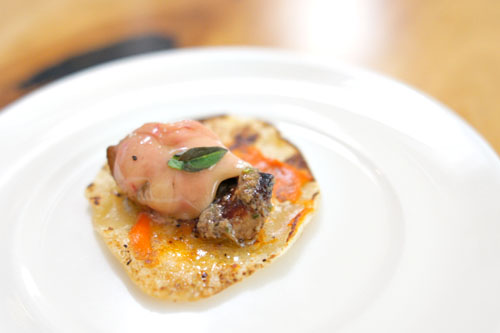 6: PIZZA TAPENADE
Féau's miniature pizza was clearly one of the highlights of the meal for me. I loved the temperature contrast between the raw and cooked foie here, and how the combination of olive-y tapenade and tangy "pizza sauce" formed a perfect, piquant foil to the livers. We can't forget about the tortilla "pizza dough," though, which was wonderful in grounding and moderating the dish. Truly one of the best bites of foie that I've had all year.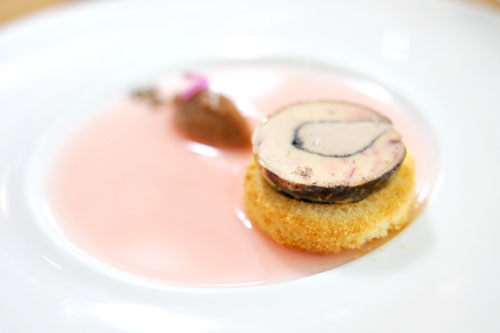 7: FOIE GRAS | RHUBARB
| marble of foie gras, rhubarb gelée, rhubarb compote, homemade brioche
Here we had a course that was very similar to one that I had during the recent
C.H.E.F.S. dinner
. It was a foie gras torchon, rolled in leek ash, then wrapped in pan-seared foie gras. As was the case before, I experienced the sweetness of the rhubarb initially, which then transitioned to a fascinating interaction between the two preparations of liver, both of which offered up different interpretations of both taste and texture. Meanwhile, the layer of leek ash contributed some astringency to the mix, while the brioche served to temper the otherwise strong flavors at play.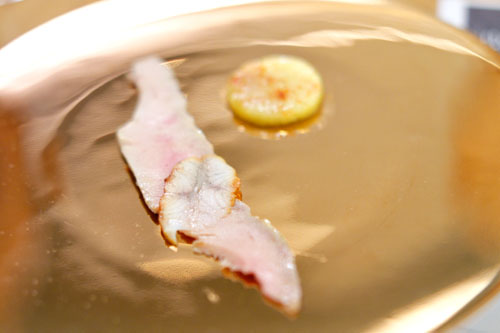 8: FOIE GRAS | SMOKED
| sliced foie gras, peach cayenne, unagi
A thin slice of beechwood-smoked foie gras was stupendous, easily one of my favorite courses of the meal. The smoking imparted a fantastic "hamminess" to the liver, giving it a rather profound savoriness that was further enhanced by the chip of
unagi
eel. At the same time, the medallion of peach provided a wonderful, offsetting acidity and spicy kick that completed the course flawlessly.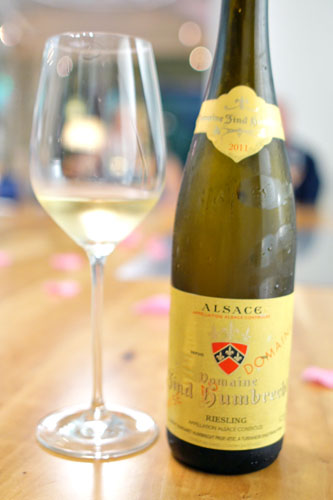 Our next wine was the
2011 Zind-Humbrecht Riesling [$60]
from France's Alsace region. This was a relatively dry interpretation of the varietal, with a marked minerality to be sure, but with still a good amount of soft fruity character. Yum.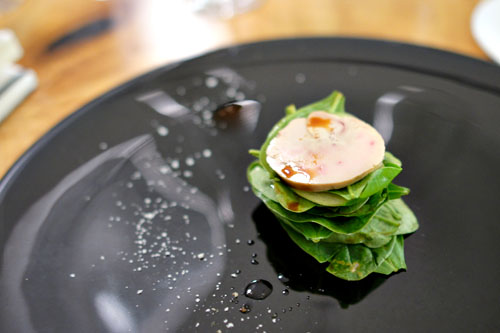 9: FOIE GRAS | SPINACH
| foie gras, spinach, button mushrooms, apple vinegar
Here, we had a disk of foie gras terrine, placed atop a stack of alternating strata of spinach and apple. The foie itself was spot on, just as you'd expect, but counterpoised by the levity and crunch of the fruit, with the apple vinegar added just enough tanginess to the mix.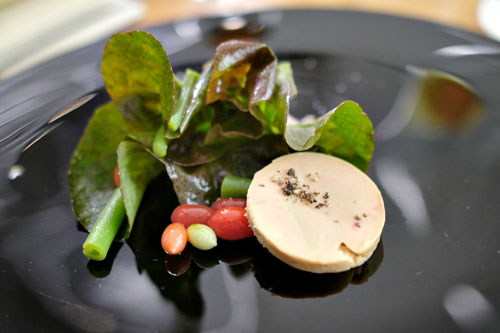 10: FOIE GRAS | SALAD GOURMANDE
| shaved foie gras terrine, smoked duck breast, red romaine lettuce, tomato, beans, gizzard
The next salad (seemingly inspired by the "Salad Lauraguaise" from a
previous visit
) presented duck in three different ways, with perhaps the foie gras actually taking a back seat to the two other preparations. The house-made
jambon de canard
was tremendous, conveying a rather profound savoriness that left me wanting more, while the gizzard displayed an immense depth of flavor that was simultaneously earthy, heady, and intense, but with a lot of finesse as well. Combined with the foie, these two incarnations of duck put forth some truly intense flavors, and thus the balance provided by the various veggies here was absolutely key. Probably one of my favorite salads,
ever
.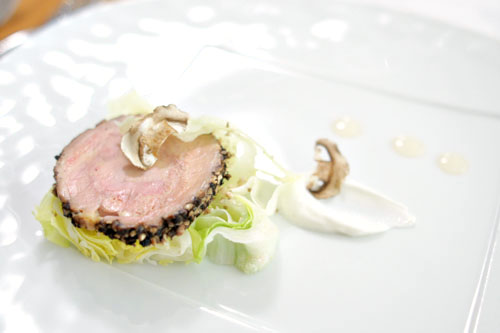 11: FOIE GRAS | PEPPERCORN
| peppercorn crusted torchon of foie gras, iceberg lettuce, yogurt, truffle honey
A disk of foie gras torchon was superb, its weight adroitly counterbalanced by the sheer pepperiness of its outer crust, forming a delectable combination of flavors that lingered long on the palate. At the same time, I loved the crunch and lightness imparted by the lettuce here, and appreciated the lactic tanginess from the yogurt as well. Very nice.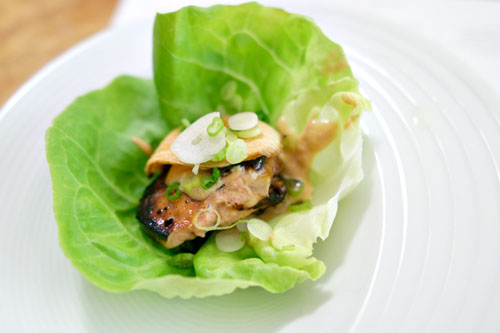 12: FOIE GRAS | BARBEQUE
| marinated foie gras a la plancha, asian barbecue, tomato sauce
Now we come to quite possibly my favorite item of the night. It was almost like a version of
ssam
, with Korean BBQ-marinated foie gras, seared on only one side, presented with Thai-inspired peanut sauce, scallion, and raw garlic. The end result was pretty amazing, a perfect bite of simultaneously sweet, spicy, and savory flavors that faultlessly married the liver with a harmonious medley of disparate tastes and textures.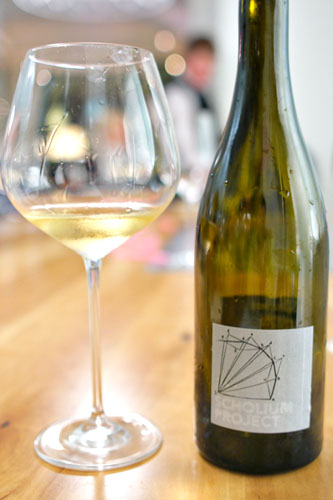 Here was the
2008 Scholium Project Chardonnay Choêphoroi Los Olivos Vineyard [$80]
from right here in California. I'm generally not huge into California Chards, but this I liked, with its great complexity, powerful sweetness, and tempering acidity.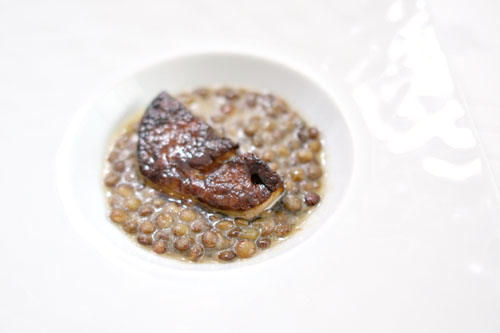 13: FOIE GRAS | LENTIL
| seared foie gras, lentil ragout, onion
A classically seared foie gras showed off a delightfully salty, savory flair, with its supple body contrasted against a wonderfully crisp crust. Lentils, meanwhile, did an admirable job in balancing out the sheer gravity of the liver with their earthy austerity.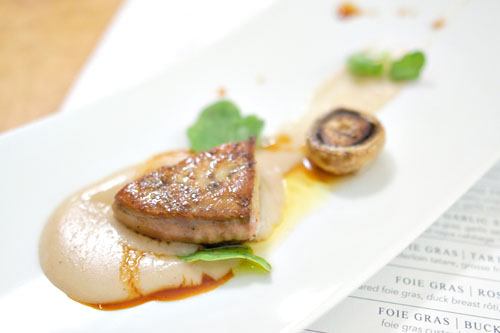 14: FOIE GRAS | SPELT BERRIES
| seared foie gras, spelt berry emulsion, papalo leaves, chicken jus
Spelt berry formed the base of this next course, with its light, nutty taste melding well with the textbook presentation of seared foie. I appreciated the mushroom here, but the crux of this dish was the
papalo
, or Bolivian coriander, which lent a positively intriguing piquancy to things that just made everything work.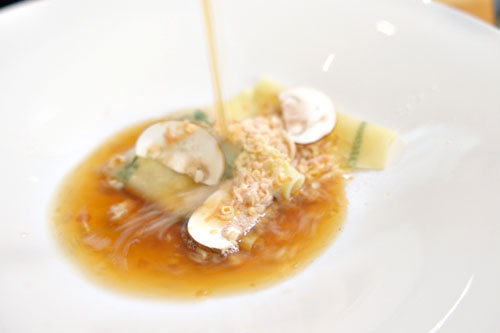 15: FOIE GRAS | TARRAGON
| dry aged beef "bouillon," foie gras fondue, tarragon printed pasta, pink salt
Another reworking of a dish from the
C.H.E.F.S. dinner
made an appearance here. The heady, mouth-watering relish of the foie gras was amplified by the umami-rich savor of the beef "bouillon," while the pasta served to moderate the dish, and also provided a keen textural contrast to the liver as well. At the conclusion of the course, we all made sure to sup up the remaining liquid.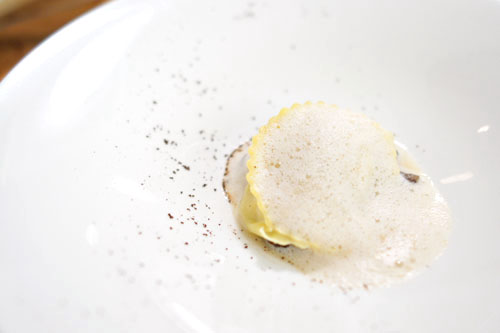 16: FOIE GRAS | RAVIOLI
| foie gras ravioli, morel coffee sauce
A singular raviolo stuffed with foie gras was tasty indeed: lush, creamy, and teeming with a delicate foie flavor, yet deftly counteracted by the light, ethereal essence of morel and just a hint of astringency from the coffee.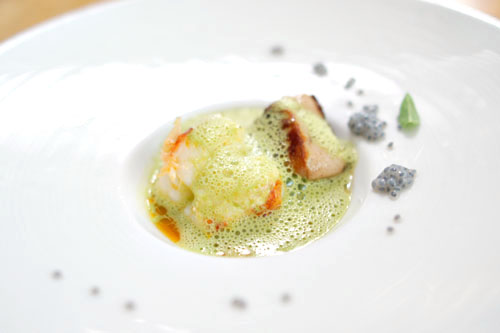 17: FOIE GRAS | LOBSTER
| seared foie gras, poached lobster medallion, fava beans, basil jus
Olive oil-poached lobster arrived expertly cooked, still springy and snappy in consistency, with a light, sweet salinity that paired gorgeously with the vegetal flavors of the favas and basil. The foie was spot on here, too, but actually wasn't even necessary in my eyes.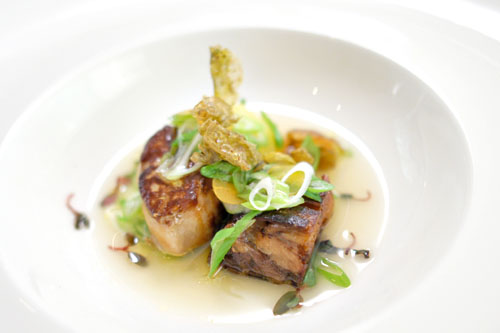 18: FOIE GRAS | PIG FEET
| german butter ball potato, crispy pig feet, muscat wine, garlic chives
Pig's feet rarely disappoints, and this was certainly no exception. The trotter was cooked à la plancha, and was remarkably light, with a subtle yet robust flavor and a delightful tenderness. It combined nicely with the foie here, and both elements were skillfully accented by the light, bright garlic chives, while the potato served to ground and moderate the dish. Nice!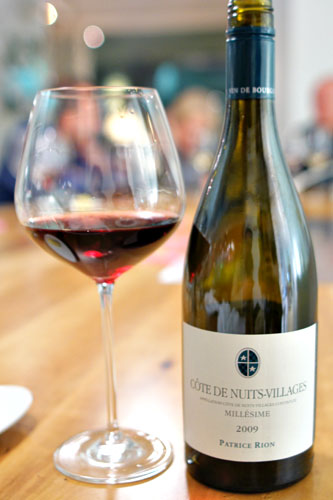 Our sole red wine of the evening hailed from Burgundy, the
2009 Patrice Rion Côte de Nuits Villages [$68]
. It was fairly prototypical of its type, with dark cherry flavor, a bit of gravel-y minerality, and an earthy, savory flair.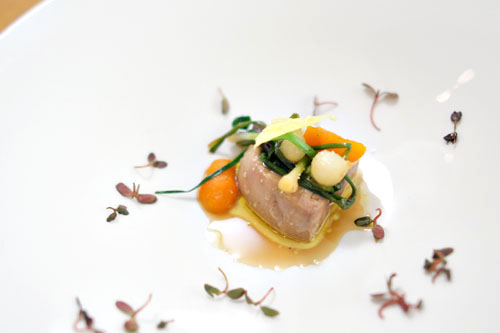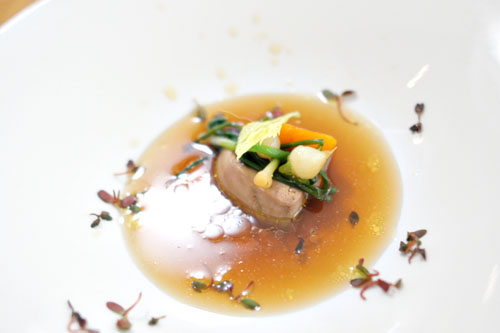 19: FOIE GRAS | POT-AU-FEU
| poached foie gras, duck consommé, baby vegetables
Here, Féau presented a refined version of the traditional
pot-au-feu
stew. The foie itself was poached to a supremely satisfying bite, with a robust relish that was adeptly paired with the deep, heady, subtly sweet-yet-spicy smack of the duck consommé. Meanwhile, baby vegetables served to brighten the dish, adding a well-placed crunch in the process.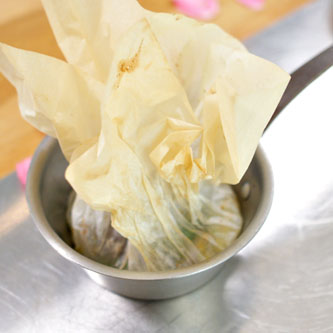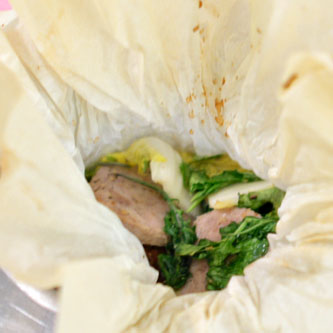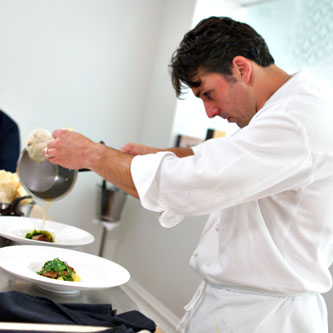 The Chef presents his foie gras
en papillote
tableside.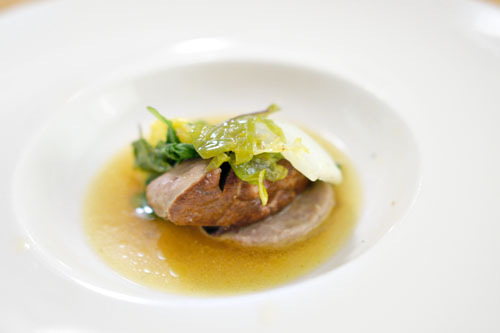 20: FOIE GRAS | GARLIC SAUSAGE
| seared foie gras, garlic sausage, ginger, kale and napa cabbage "en papillote"
Slices of foie gras cooked in parchment paper were pretty awesome, with a perfect texture and delicate flavor that paired in stellar fashion with the lip-smacking garlic sausage. The whole amalgam was then accented by a ginger-y broth, imparting an Asian tinge to the dish, while the combo of kale and cabbage provided the perfect offsetting crunch and lightness. Just superbly integrated, and clearly one of the tastiest incarnations of foie that I've had in a long while.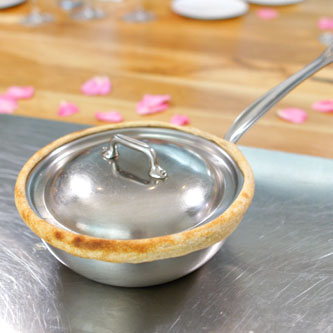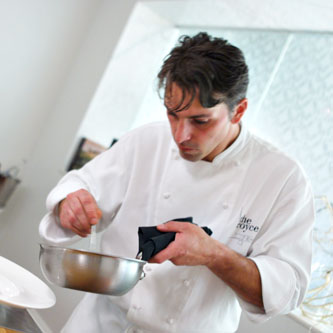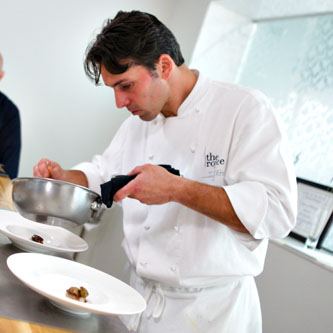 Féau once again steppedx outside to present his dish of foie gras and porcini
en cocotte
.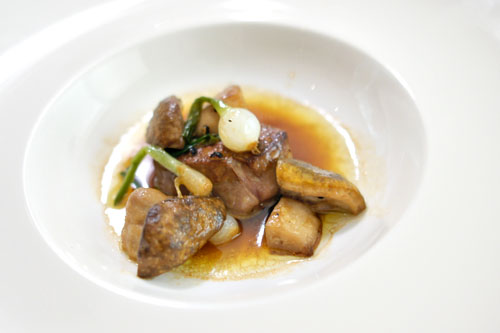 21: FOIE GRAS | PORCINI
| sautéed foie gras, cocotte of porcini mushrooms and pearl onions
Seared foie gras arrived utterly on point, with a great, offsetting char and full-bodied flavor. What was even more commendable, though, were the mushrooms, which showed off a tremendous amount of earthy, smoky, umami-laden sapor, with the pearl onions providing just a whisper of countervailing astringency.
Quite
good.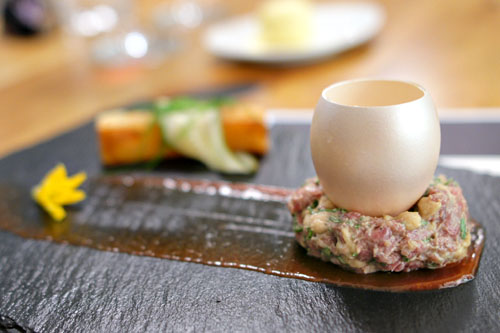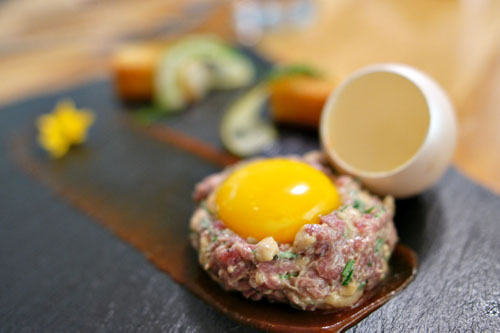 22: FOIE GRAS | TARTARE
| beef tenderloin tartare, grosse frite, condiments
A steak tartar, blended with foie gras, was yet another standout of the meal. The liver was just so expertly integrated into the beef, adding, along with the marvelously yellow egg yolk, a palpable luxuriousness to the meat that took it to the next level. Vinegar, shallot, chive, as well as pickle lent a wonderfully piquancy that counteracted the heft of the tartar, and I adored the tangy "ketchup" as well. Last but not least was the "big French fry," with its hot, hearty, savory character that complemented the dish impeccably.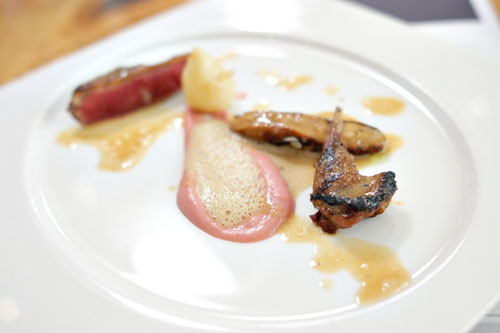 23: FOIE GRAS | SQUAB
| baked squab breast with foie gras, tokyo turnip, kinomi, foie gras jus
On display here was the classic pairing of squab and foie gras: savory, undeniably aromatic, and unmitigated in intensity, harmonized by the bittersweet smack of the turnip. My major concern here was that the leg of the squab was a bit on the salty side.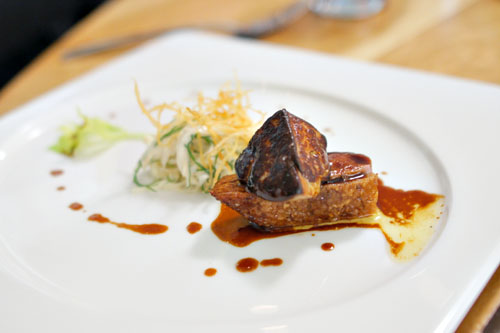 24: FOIE GRAS | ROSSINI
| seared foie gras, duck breast rôti, celery remoulade
Duck breast came to the table beautifully cooked, with a crisp layer of fatty skin and a slightly chewy body, just bursting with duck-y savor. The foie contributed further luxuriousness to the dish, and the whole shebang was duly moderated by the fantastic celery "coleslaw," with its cool, creamy crunch.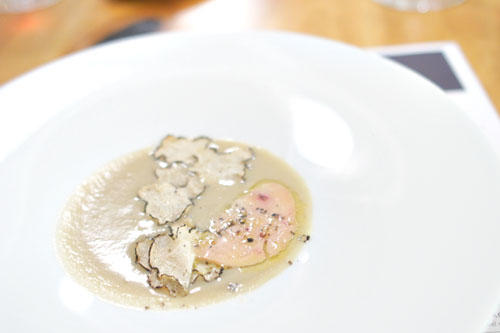 25: FOIE GRAS | ARTICHOKE
| artichoke heart soup, shaved foie gras, summer truffle
A soup of artichoke was hot, homey, and heartwarming, teeming with artichoke flavor and possessing of a peppery bite that wonderfully counterpoised the lushness of the foie. Meanwhile, shaved summer truffle provided an overarching veil of earthiness that just tied everything together.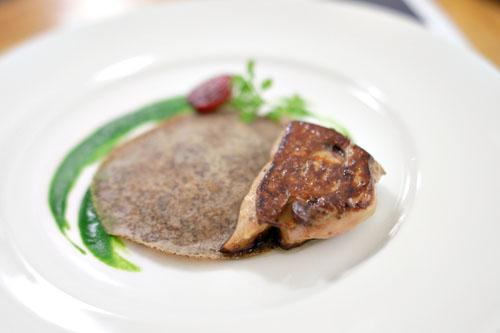 26: FOIE GRAS | BUCKWHEAT
| foie gras custard, buckwheat crêpe, pickled grapes, peppercress
The quintessence of seared foie gras was nicely captured here, a compound of both power and finesse, equalized by the austerity of the buckwheat and zing of the peppercress, all while the grape served as a sweet, juicy counterpoint to the interaction.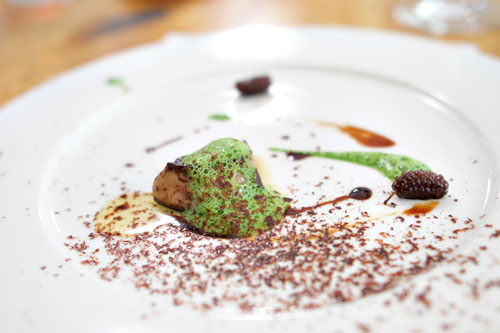 27: FOIE GRAS | MULBERRY
| seared foie gras, mulberry sauce, chervil froth, chocolate
Up next was the first of two transitional courses, which acted as bridges between the savory and sweet sections of the degustation. The use of mulberry here was pretty effective, adding, along with the bittersweet chocolate, a good modicum of sweetness to the foie gras. However, the aniseed tang of the chervil was too apparent here, overwhelming the foie somewhat.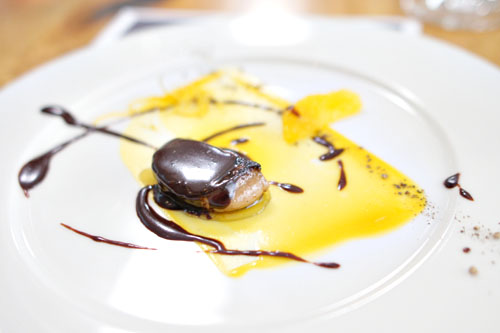 28: FOIE GRAS | CHOCOLATE
| seared foie gras, bordelaise chocolate, bitter orange marmalade
The chocolate-covered foie gras was more to my liking, conveying the classic combo of chocolate and orange, but with a base of the liver adding an additional layer of complexity.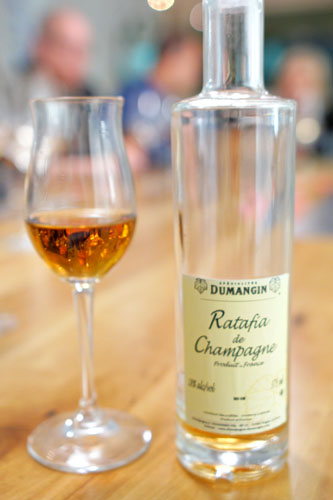 For dessert, Espuny paired a half-bottle of
N.V. J. Dumangin Fils Ratafia de Champagne [$88]
. It was my first experience with such a drink, which is basically unfermented Champagne grape juice fortified by grape brandy. I rather enjoyed it though, finding its almost sherry-like quality and fruity-spicy character a good match to the sweet courses to follow.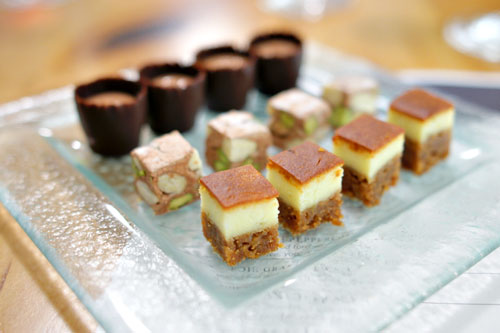 Pre-dessert mignardises comprised some delectable cheese tarts (think cheesecake), chewy chocolate-pistachio nougatines, and sweet-nutty chocolate-gianduja "
pots de crème
."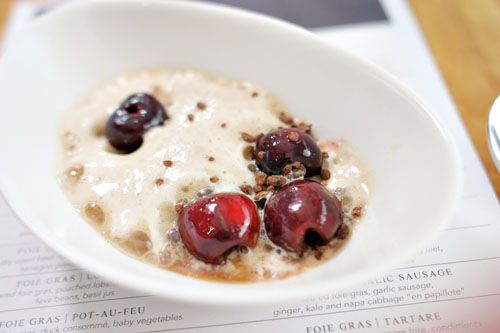 29: FOIE GRAS | CHERRIES
| foie gras parfait, cherries, coca cola espuma
A parfait of foie gras conveyed the subtle essence of the liver, which actually paired well with the fruity sweetness of the cherries, while a cola foam provided a somewhat disconcerting flavor that enveloped the entire dessert (I wasn't quite convinced). I was much more enthused about the cocoa nibs, which added a wonderful bitterness to the fray and also mixed things up texturally.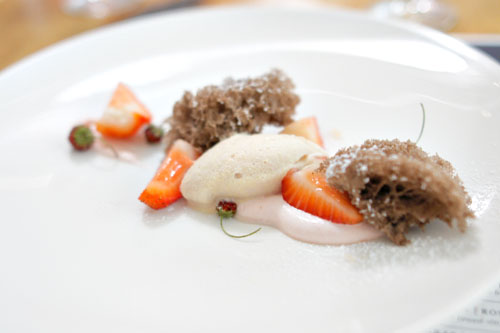 30: FOIE GRAS | STRAWBERRY
| foie gras gelato, strawberry crème fraîche, black sesame cake
The meal ended on a high note with this dessert, which perfectly married a subtly sweet gelato of foie gras with the creamy, fruity bits of strawberry. It was a match made in heaven, duly accented by the airy, savory shards of sesame cake.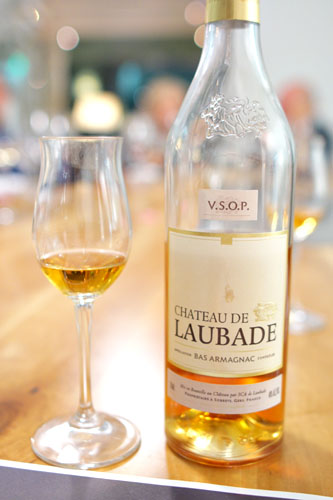 With the dinner over, it was time to bust out some of the hard stuff, specifically a bottle of
N.V. Château de Laubade Bas Armagnac VSOP [$80]
. This was like some good cognac, soft and delicate, with a delectable fruit and floral character that went down easy.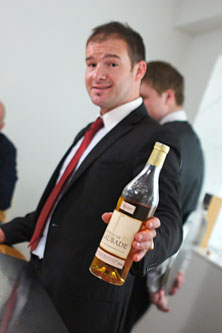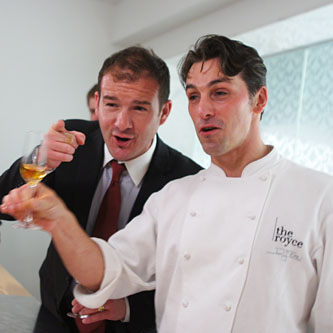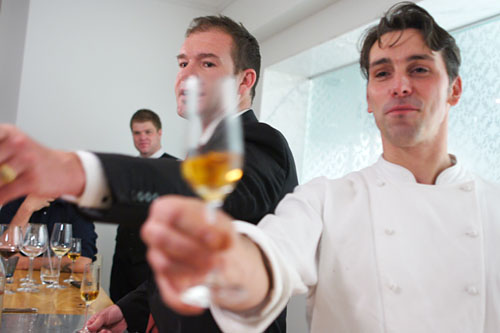 Of course, when the armagnac comes out, it means it's time for some singing (in French no less), courtesy of Féau and Espuny.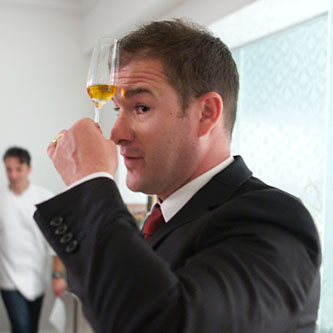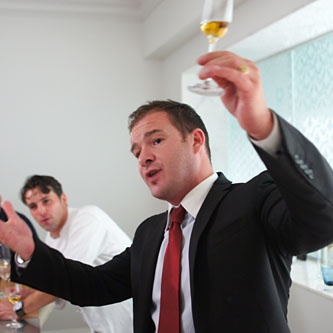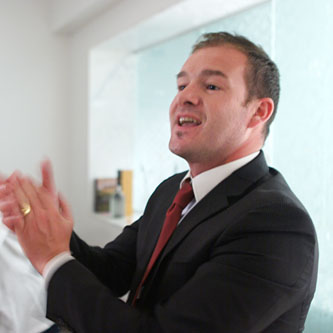 At this point, we were the only diners left in the restaurant, which meant that Espuny could start belting out in full operatic glory.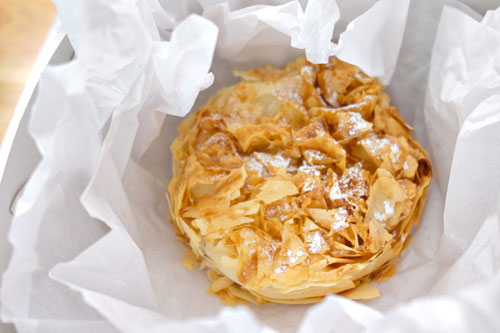 Before leaving, Chef Féau sent us home with a
pastis gascon
(a sort of flaky apple pie), which I'd enjoyed here
previously
. Five to 10 minutes in the oven at 350°F and it should be good to go!
I could not think of a more perfect place to say
au revoir
to foie gras. Féau and company were able to deliver thirty distinct preparations of the liver that really showed off the creativity and versatility of the kitchen, as well as the many faces of foie. The plates ranged from traditional to modern, with a few fusion-y twists thrown in for good measure, and several of the dishes rank amongst the top presentations of foie that I can remember. It was an experience worthy of the ingredient, a final blow-out dinner to mark the end of an era, and an evening of great joy and revelry, but also sadness, knowing that we may never get to enjoy such a meal ever again.