The Bazaar (Los Angeles, CA) [3]
The Bazaar
465 S La Cienega Blvd, Los Angeles, CA 90048
310.246.5555
www.thebazaar.com
Mon 01/03/2011, 05:30p-10:30p

Ferran Adrià. José Andrés. Juan Mari Arzak.
These are arguably the three most important names in Spanish cookery today, and all three were assembled last night before a sold-out crowd at the SLS Hotel for a panel discussion entitled "Ideas of Today, Foods of Tomorrow," a talk sponsored by appliance manufacturer
Fagor
and vodka producer
Stolichnaya
.
Adrià, of course, is known as the mastermind behind perpetual "best restaurant in the world"
El Bulli
, and is the de facto spokesman for avant garde gastronomy today. Andrés is Spanish cuisine's most vocal proponent here in the States, and oversees a constellation of restaurants around the country under his
ThinkFoodGroup
umbrella, The Bazaar included.
Arzak
, for his part, is chef-owner of San Sebastian's three-star Arzak, as is considered the father of "New Basque Cuisine," a
nouvelle cuisine
-influenced movement that has largely defined Spain's current haute cuisine identity. In celebration of The Bazaar's second anniversary, the chefs were gathered here to discuss recent innovations in gastronomy, a subject that all three men are intimately familiar with.
Others in attendance this evening included: Aaron of
The Savory Hunter
, Adam Fleischman from Umami Burger and
Red Medicine
, Chef Anthony Zappola (formerly) from
Craft
, Betty Hallock from
Daily Dish
, Bill of
Street Gourmet LA
,
Test Kitchen
co-founder Brian Saltsburg and photographer
Ryan Tanaka
, Esther of
e*star LA
, Hadley Tomicki and Tatiana Arbogast from
Grubstreet
, Jo of
My Last Bite
with husband
Peter
, Chefs Joachim Splichal and Tony Esnault from
Patina
, Chef
Jon Butler
, Josh of
Food GPS
, Chef Josiah Citrin from
Melisse
, publicist
Joy Limanon
, Julie Wolfson and Sam Kim from
LAist
,
Rivera
/Playa investor
Ken Hwang
, Lesley Balla from
Chow Balla
, Lucy of
Ladles and Jellyspoons
, Chef Ludo and Krissy Lefebvre from
LudoBites
, Chef
Marcel Vigneron
, Chef
Michael Voltaggio
(joined by his chefs
AJ Ramirez
,
Cole Dickinson
, and
Klein De Bow
), Chef Neal Fraser from
Grace
, Nicole of
Cake & Heels
, SBE biz dev head
Saul Cooperstein
(who helped me secure an invite), The Bazaar Pastry Chef
Waylynn Lucas
, and Yulree of
YFT
.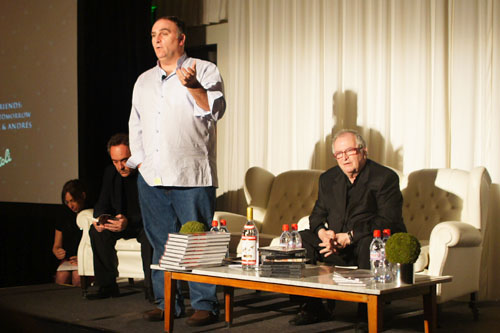 Andrés, ever his energetic self, got the ball rolling in spirited manner, referring to this panel discussion as a way to allow people to "see how we disagree in public."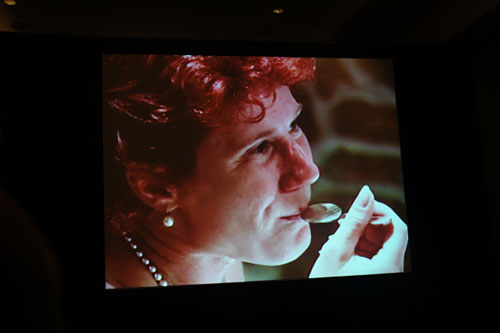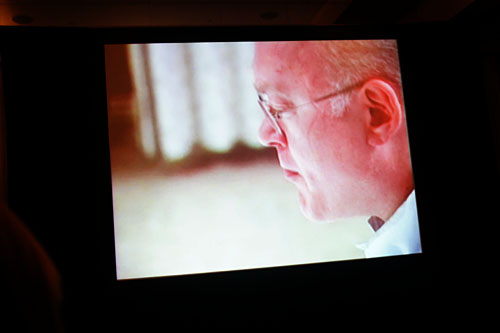 Adrià then took center stage, explaining how difficult it is to talk about eating, at the same mentioning that the last great book on the matter was Brillat-Savarin's
Physiologie du goût
, published over 150 years ago. He then played a "music video" of an older couple dining at his restaurant, later revealing that the two had eaten at El Bulli
over 100 times
(1700 courses!) over the past 25 years. This was an astonishing achievement that resulted in audible gasps in the room. And to think, most of us would be lucky to go just once!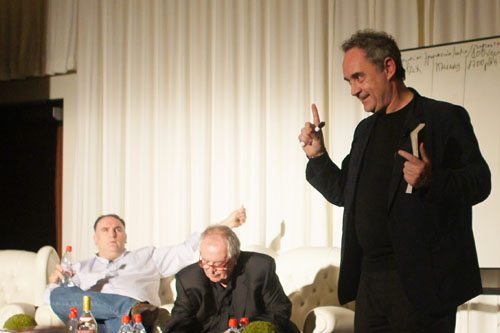 At this point, Adrià commandeered the whiteboard, first enumerating the various "levels" of eating: sustenance, business, social, romantic, hobby, all the way up to "experience," in which the focus of the diner rests squarely on the food. The Chef followed that up by explaining the importance of expectations in dining, the necessary dichotomy between amateur and professional cooking, and the continuum of cooking starting from the likes of hospitals and airports, to fast food, to cuisine that conveys a sense of humor, that provokes, that elicits emotion and reflection--cooking that's all about the
experience
. It's life, translated to the kitchen, or as Adrià put it, "cuisine for non-cowards."
Andrés, humorously, was quick to register his objection to those words. He then explained to us the important of Juan Mari Arzak's contribution to contemporary gastronomy, about how Arzak's groundbreaking work paved the way for the likes of Adrià and his contemporaries. Andrés extolled the fact that Arzak's generation and Adrià's generation collaborated, instead of clashed, thus empowering the entire generation of chefs that followed.
Arzak then talked about how he, Adrià, and Andrés represented three generations of spearheads, always moving forward, but importantly, never forgetting their roots. He warned against cuisine losing its distinctiveness, a loss he likened to the decline and homogenization of popular music. Arzak closed by recognizing the positive work that he's seen Andrés accomplish here in the States.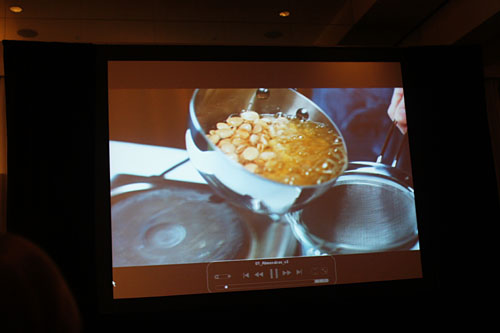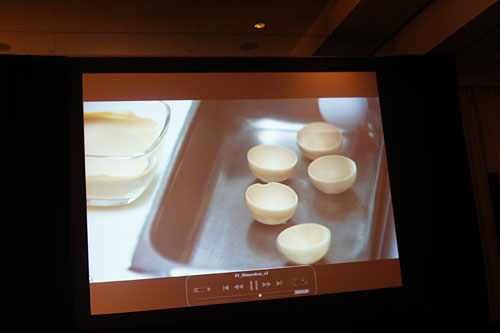 Following was a brief video in which Andrés guided us through the process of reimaging the tradition Spanish pairing of cheese and almonds.
At this point, the floor was opened up to questions, the first of which queried the chefs on their favorite wine. Arzak responded succinctly: "good wine."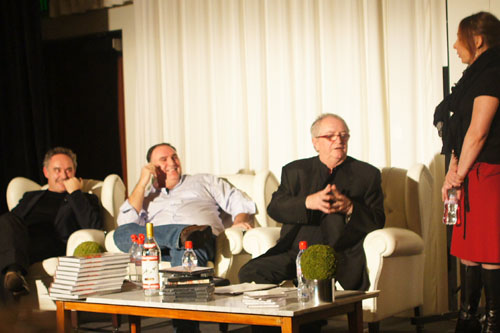 Another attendee, a cooking instructor, was curious as to what today's culinary students should be focusing on. Andrés emphasized the importance of the basics, while Adrià expressed wonder at the global breadth of haute cuisine these days, and declared that it was impossible for one chef to be well versed in everything. Arzak, finally and wisely, stressed the importance of accepting error, fear, and mistakes in order to set oneself free in the kitchen.
Josh of
Food GPS
then took the mic, asking the trio about what else they wanted to accomplish as chefs. Adrià was excited about learning how other disciplines--such as art, design, and science--can contribute to cooking. He also lamented the fact that we still have a long way to go in terms of embracing the cuisines of lesser known cultures. As a stunning example, he promised a reservation at El Bulli to anyone who could name 20
dishes from Hungary
. No one, even in a room of foodies, could do so. Andrés then chimed in, expressing his hope that the restaurant community could be more active in dealing with issues regarding food (such as tackling hunger and environmental impacts).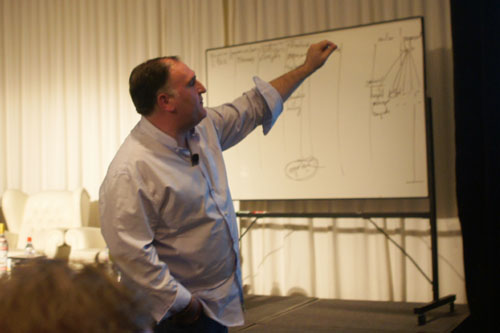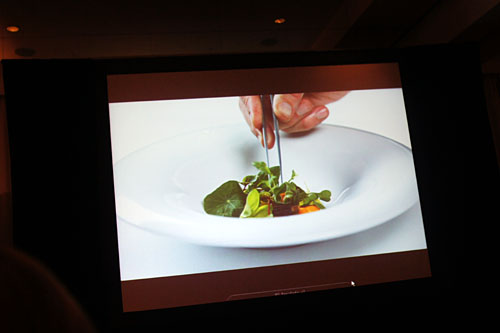 The next question dealt with advice for restaurant patrons and home cooks. Arzak summed up his point of view in one word: "humility." Adrià, meanwhile, mourned the decline of the tradition of cooking at home, then teased us by hinting that he wanted to release a cookbook of what the chefs themselves eat at El Bulli. Andrés rounded things out with a plea to be more "logical" when feeding oneself, and decried rote subscription to the mantras of local and seasonal produce (though Arzak disagreed somewhat here), while also underlining that cooking should be simply divided into "good vs bad," not "modern vs traditional." He then took us through a video detailing the creation of a
gargouillou
-esque salad paying homage to glass sculptor Dale Chihuly.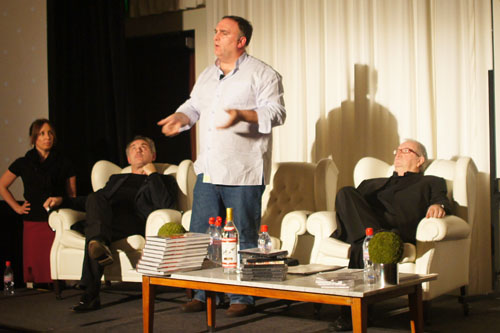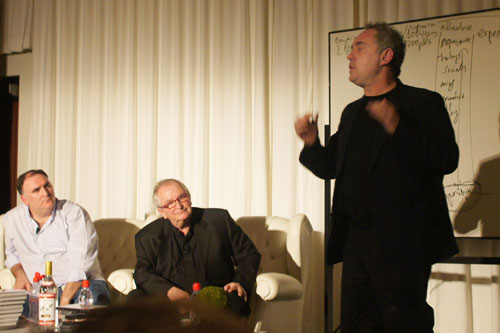 Following was a provocative query concerning culinary plagiarism, a touchy issue for Andrés especially. Adrià took the first swing here, declaring that there are around 10 chefs in the world that are truly
creating
. Among these elite few, plagiarism should not be tolerated the least bit, but for younger chefs, chefs just starting out, he had no problems with a bit of duplication--just don't pass off the dish as your own invention. Andrés then stated that 95% of the culinary innovations that we've seen in the past 25 years have come from El Bulli, a bold claim, but not unbelievable. He then praised Adrià's willingness to share his discoveries with other chefs, an important act that, according to him, has improved
all
food, fine dining and everyday eats alike (giving a shoutout to Umami Burger in the process; I saw more than a few heads turn toward Fleischman!).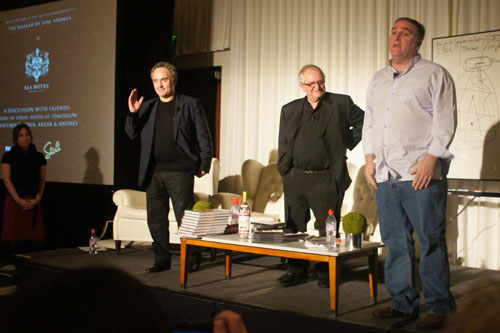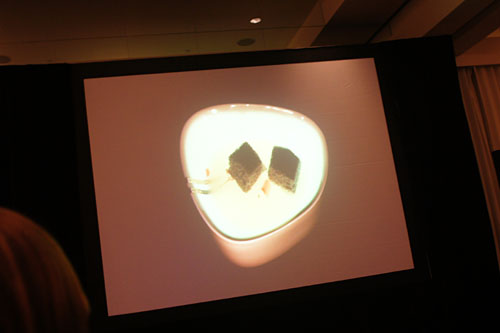 Someone then inquired about the dining scene here in Los Angeles. Andrés was quick to praise the diversity of cultures and cuisines in the Southland, and lauded the ability to "learn the world, one plate at a time." The discussion closed with a brief discussion about the future of cooking ("talent"), including a video of Arzak's experiments with light-emitting tableware!
---
A cocktail and canapé reception followed the discussion, but some more formidable fare was certainly in order. Wandering over to The Bazaar...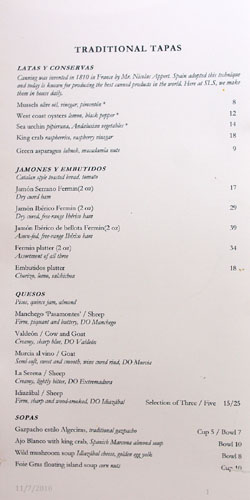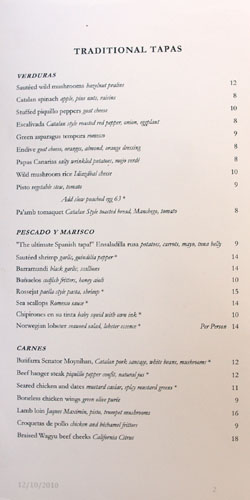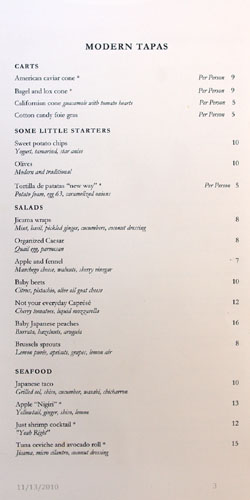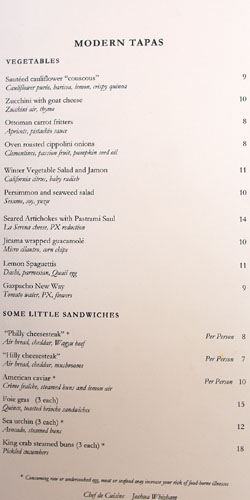 The night's menu, expansive and bewildering as always. Click for larger versions.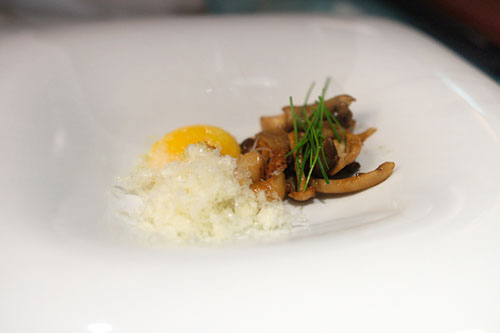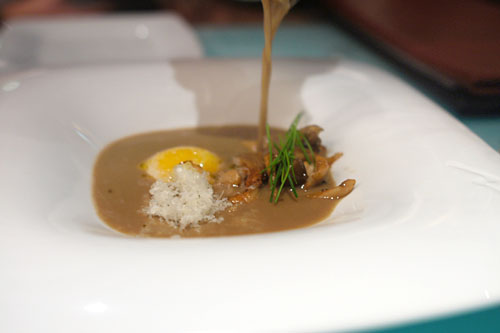 Wild mushroom soup [$8.00]
| Idiazábal cheese, golden egg yolk
Soup arrived teeming with the heady, earthy savor of mushrooms, augmented in moment by the sharp flavor of Idiazábal and the lusciousness of that runny yolk. A nice way to start things off.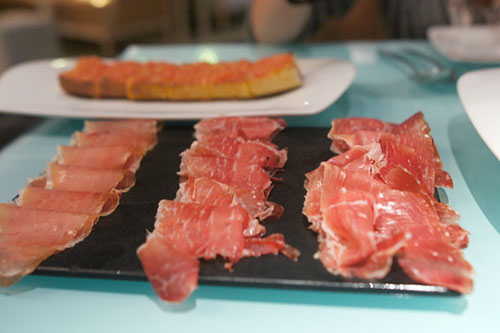 Fermin platter [$34.00]
| Assortment of all three
Being in a "hammy" mood, some
jamón
from producer
Fermin
was called for. First up was the standard dry-cured
Jamón Serrano
, relatively lean but still very tasty, with a pleasing saltiness. The
Jamón Ibérico
was a noticeable step up in richness and depth of flavor, and had a silkier mouthfeel as well. Meanwhile, the acorn-finished
Jamón Ibérico de bellota
was similar to the standard version, albeit with a nuttier tinge on the finish. All three meats were accompanied by
pa'amb tomaquet
, a Catalan-style dish of toasted bread, topped with tomato and olive oil. It was a perfect pair, and I really appreciated how the sweet succulence of the tomato balanced the heft of the hams.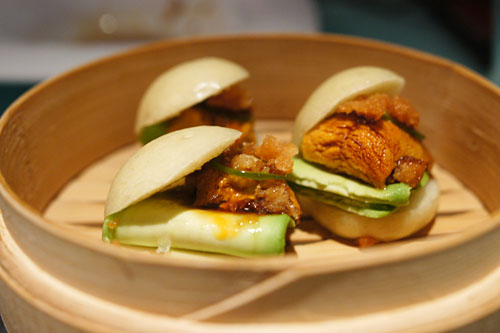 Sea urchin [$15.00]
| Avocado, steamed buns
These miniature sea urchin buns were delectable. I loved how the briny sweetness of uni was so faithfully presented here, yet beautifully accented by the creaminess of avocado and a subtly sugary sauce. The buns, meanwhile, did a great job in tempering the flavors.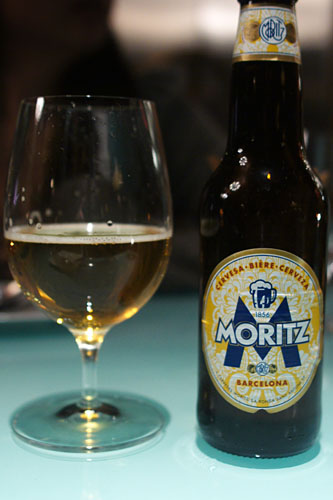 I'd originally wanted to try the Estrella Damm Inedit, a
witbier
specifically designed by Ferran Adrià to pair well with food. Unfortunately, they'd run out of it, so I went with a Moritz instead. A pale lager from Catalonia, the Moritz actually exceeded my expectations, with an almost apple-like sweetness backed by a pleasant acidity and slight bitterness.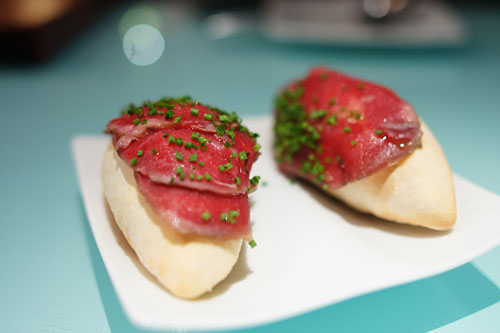 "Philly cheesesteak" [$8.00]
| Air bread, cheddar, Wagyu beef
Andrés famed "Philly cheesesteak" was tastier than I remembered. The beef was smokier, meatier in savor, and the cheese softer and more refined, making for a more well-balanced, integrated flavor profile. The "explosion" from the air bread was, naturally, as delightful as ever.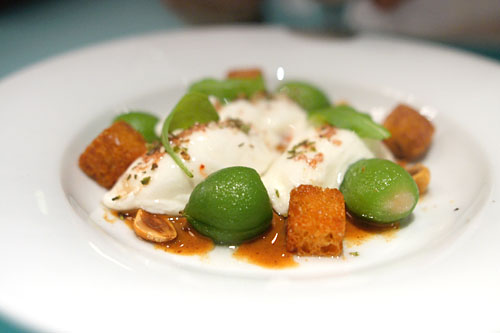 Baby Japanese peaches [$16.00]
| Burrata, hazelnuts, arugula
The tartness of the peaches was a fitting match to the creamy weight of the burrata, while the bits of toasty bread added a well-placed bit of saltiness to the fray. I was surprised at how deftly the flavors worked together here. Nice textural interplay, too.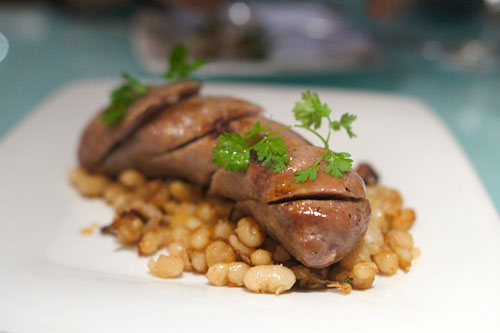 Butifarra Senator Moynihan [$12.00]
| Catalan pork sausage, white beans, mushrooms
Faithfully presented here,
butifarra
is a classic sausage in Catalan cooking. The sausage was somewhat fine-grained, with a restrained, delicate savor. An interesting aspect of this dish was the white beans, which had slightly crunchy consistency that I really appreciated.