IO by Playground (Santa Ana, CA) [2]
Invitation Only at Playground 2.0
220 E 4th St, Santa Ana, CA 92701
www.playgrounddtsa.com
Sat 06/15/2013, 07:00p-09:45p

My last experience at
IO
was something to behold, an ambitious, playful, and uncompromisingly delicious dinner that I deemed the best dining experience in Orange County. As such, it wasn't a question of
if
I'd return, but rather,
when
. Now, as we should know by now, a normal meal at IO is priced at $250 a head, inclusive of all food, beverage, tax, and service. However, for this series, entitled "I've Got Friends in Low Places," the price was reduced to a mere $180, a relative bargain that gave me a good excuse to go back. The reason for the discount? The focus of these dinners was placed squarely on vegetables and other underappreciated ingredients in the kitchen. Sounds interesting.

Like
last time
, we got started with team introductions by Jason Quinn and a brief spiel on what IO was all about.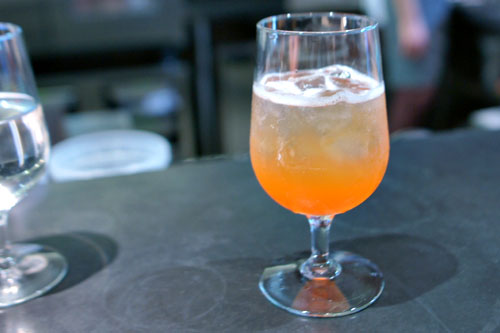 1: WELCOME COCKTAIL
| aperol solace spritz
Our aperitif this evening was a reimagined Spritz, made with Firestone Walker's Solace wheat beer in place of prosecco. It really was a fitting substitution, with a blast of wheat-y, yeasty, spicy beer notes initially, which then transitioned gracefully to the bittersweet Aperol. Light, fun, refreshing, with a pretty cool color to boot.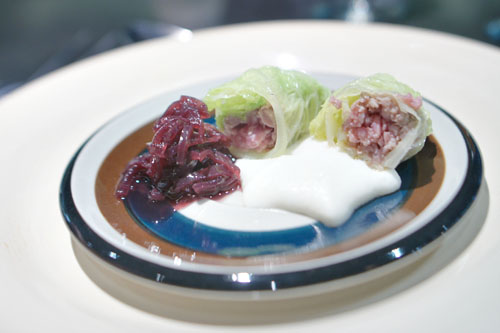 2: EPIC FIRST BITE OF MEAT
| stuffed savoy cabbage, Iberico de bellota collar, and ???? ???? filling, port caramelized shallots, potato purée
Our first course really was sort of epic, name aside. I loved the delicate, yet profoundly earthy, overarching nuances of foie gras here, which really played beautifully against the lingering, pork-y flavors of the Ibérico. The cabbage worked perfectly as a light, crisp counterpoint to the meat, and I much appreciated the tempering effect of that potato purée as well (though I could've done without the shallots). Yum.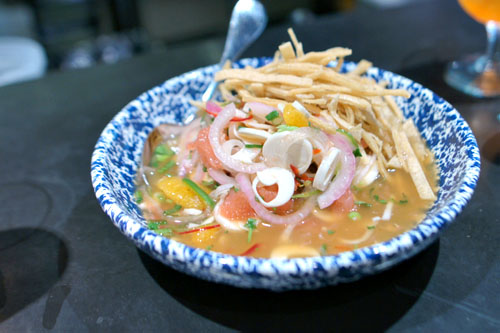 3: FRESH HAWAIIAN HEART OF PALM CEVICHE
| grapefruit, orange, jalapeño, tortilla
I'm generally not a fan of heart of palm, but really enjoyed this dish. In fact, it was probably the strongest preparation of the ingredient I've had, with the contrasting forces of sweet, sour, savory, acid, and a creeping undercurrent of spice working in perfect harmony. The textures here were also superb, and I especially enjoyed the crispy strips of tortilla. So here we have it: proof that it's perfectly possible to have a great ceviche without any sort of seafood, or even meat.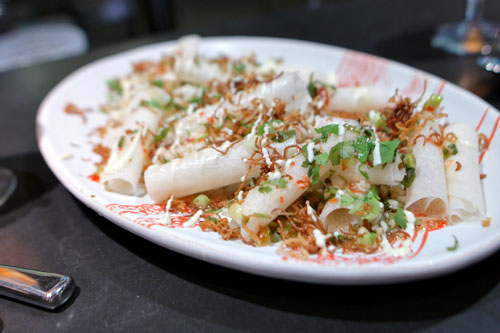 4: JICAMA: AN UNEXPECTED HERO
| fish sauce, palm sugar, crispy shallots, lime, serrano aioli
A lot of what I wrote about the ceviche above can also be said for the jicama, which I'm also typically none too fond of. Here, I adored the textures as well, and the interaction between the lime, serrano, and fish sauce was spot on, really coming together cohesively to breathe life into an otherwise boring ingredient. Fantastic savoriness from the shallots as well, which really underscored the dish.
Best. Jicama. Ever.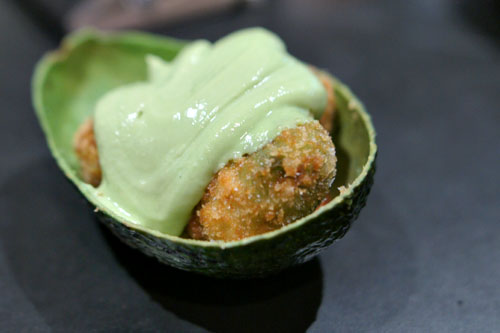 5: GUACAMOLE INSPIRED BY MAX
| fried avocado, corn nuts, lime-jalapeño-avocado mousse, tomato, cilantro, red onion
Here was what amounted to a reconstructed guacamole. It really did convey the essence of the classic dish, rendered in differing textures and temperatures, though I would've liked some more onion, tomato, and cilantro to give the dish a bit more acidity. Loved the crunch of the Corn Nuts here.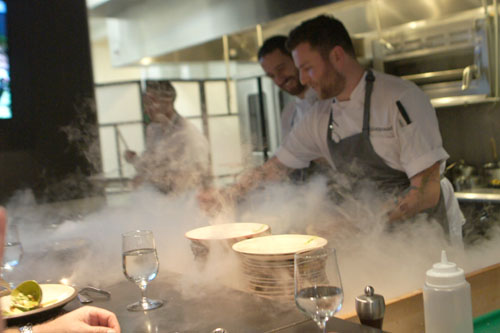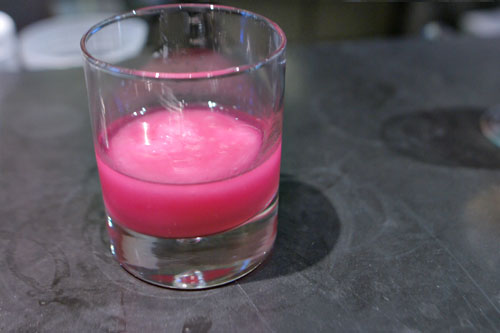 6: NITRO CACTUS PEAR MARGARITA
The staff then busted out the liquid nitrogen and mixed up a prickly pear margarita with 7 Leguas Blanco tequila (the real deal progenitor to Patrón), Cointreau, and lime. Taste-wise, this was pretty classic, with a great balance between sweet and sour flavors. What struck me most was the blazing magenta hue of the drink, as well as the soft, almost fluffy textures present.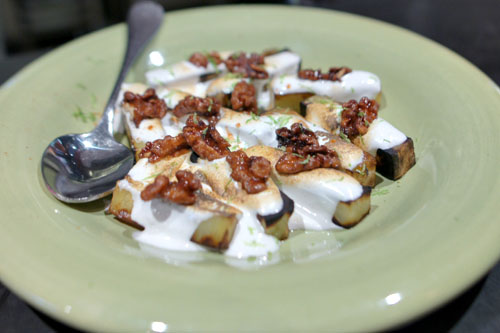 7: GRILLED SWEET POTATO
| lime marshmallow, hatch chile powder, pecan
I'm no fan of sweet potato (finding it, unsurprisingly, overly sweet generally), but Quinn and company worked it out, tempering its sugariness with some countervailing flavor profiles, the heat of the chile being particularly apropos. As one of my fellow diners remarked, this "tastes like Thanksgiving."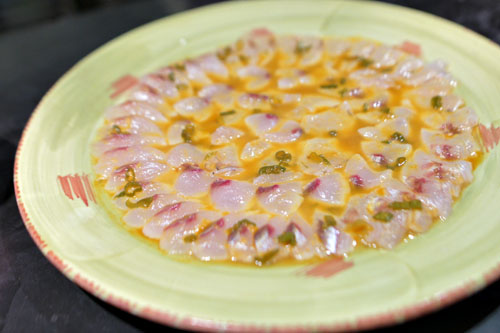 8: AJI AMARILLO TIRADITO
| flute fish
We then commenced with a string of sashimi-style courses, with this first one serving as a sort of bridge between the influences of Latin America and Japan. It was none other than flute fish, or
yagara
, a real rarity that I'd only had before in sushi form at
Shunka
. It's a mild, delicate fish, serving here as a base on which the tangy, spicy
aji amarillo
could really sing.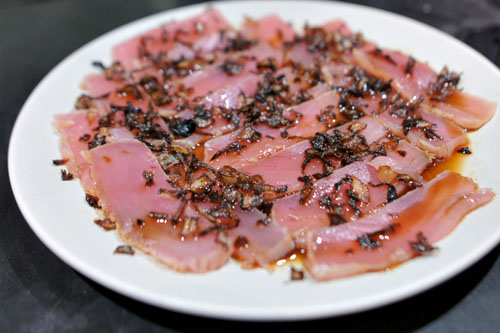 9: BURNT MAUI ONION
| albacore gently poached in ponzu, ponzu
Next, we had slices of albacore, lightly seared by being doused with hot ponzu, thus making for a great meaty bite to the fish. I also appreciated the sweet-savoriness imparted by the ponzu here, as well as how the onion gave the dish a sort of overarching char astringency.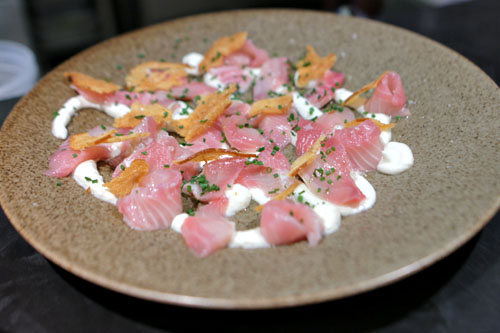 10: BEET STAINED IVORY
| ivory king salmon, horseradish, lemon, brioche, chive
Ivory king salmon is a variety of the standard fish that has an inability to process carotenoids, thus leaving its flesh white instead of orange. Here, it was given a splash of color via a beet cure. What surprised me was how well the horseradish cream cheese fared, imparting a lush, tangy character to the dish that really went along well with the fattiness of the fish. You could almost think of this as a sashimi-fied version of bagels and lox.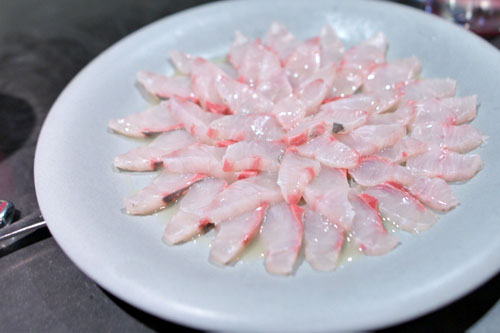 11: YUZU IS THE BEST CITRUS
| shima aji loin, white soy
A beautiful platter of Japanese
shima aji
arrived next, dressed simply in yuzu and white soy. The pure, clean taste of the striped jack was dutifully highlighted here, accentuated by a splash of
shiro shoyu
and a fantastically ethereal whisper of citrus-y tartness from the yuzu.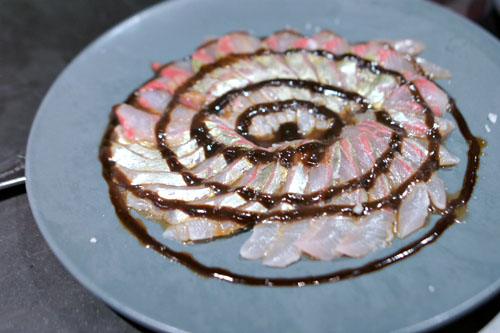 12: BLACK GARLIC: BETTER THAN THE ORIGINAL
| shima aji belly
Next, the belly of the striped jack was presented to us, doused in a black garlic vinaigrette. Here, the slightly more assertive relish of the belly actually stood up to the sweet-ish, syrupy sauce, which I was afraid would be completely domineering.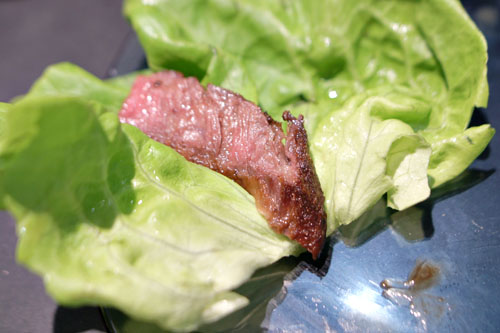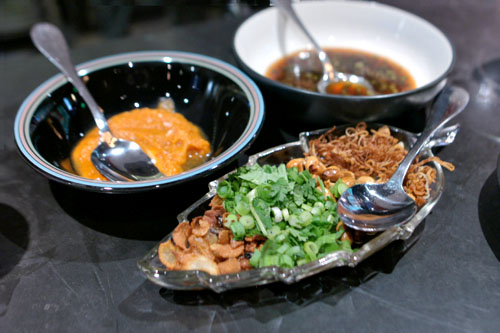 13: BUTTER LETTUCE WRAP
| akaushi outside skirt, kimchi, ginger, scallion, peanut, crunchies
In my experience, I've found that American-grown wagyu just doesn't compare to its Japanese counterparts, but the
Akaushi
served tonight just might be an exception to that rule. I first tried the beef alone, and found it immensely flavorful, fatty, fantastically charred, and, unlike many skirts, properly tender. It was delicious to be sure, but the addition of the various accompaniments here really took the meat to the next level, adding beautiful layers of spice, astringency, and crunch.
So good
.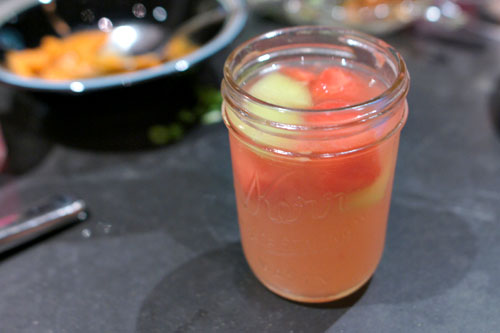 14: CAVA SANGRIA
A sangria of cava, white wine, vodka, and melon served as a perfect counterpoint to the heady flavors at play, and also the marked the start of our Spanish adventure. It really was delightful, showing off light, fruity, refreshing nuances with just a hint of boozy weight.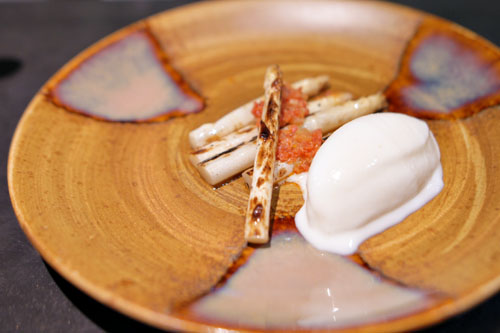 15: WHITE ASPARAGUS
| chorizo vin, marcona almond ice cream
I'm quite the fan of asparagus, and the presentation here was one of the most intriguing I've had. The bitterness of the veggie was proudly displayed, masterfully offset by the tang of the chorizo. The crux of the dish, though, was that marcona ice cream, which was fantastic, really conveying the true taste of the almond while tying the course together beautifully.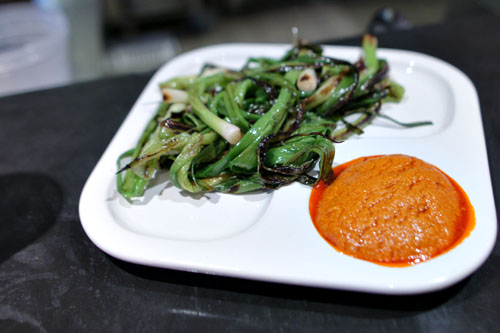 16: CALÇOTADA EN SANTA ANA
| grilled scallion, romesco, porron
Next, a homage to the classic Catalonian ingredient calçot. The scallions were grilled, and thus imbued with a marked char and bitterness that made absolute sense when taken with a dab of spicy, tangy romesco.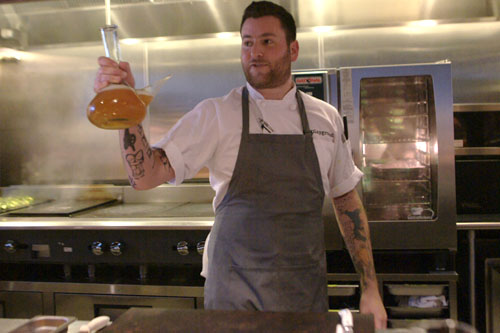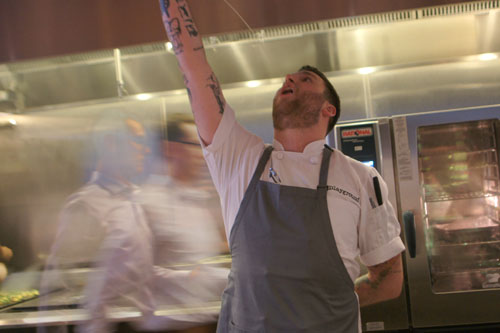 Along with the calçots came a
porrón
of beer, which Chef Quinn eagerly demonstrated for us.

Others, however, were not nearly as graceful with it.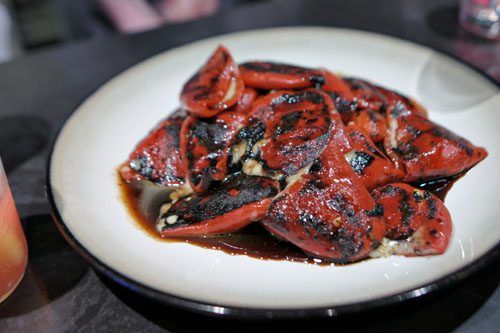 17: GRILLED STUFFED PIQUILLO PEPPER
| idiazabal, pedro ximinez
Here was a spot on rendition of a traditional tapas dish, with the piquillo coming out sweet, smoky, and utterly juicy, a perfect complement to the salty, gooey Idiazabal hidden within.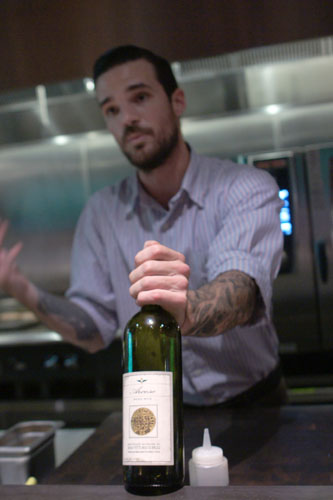 18: ITALIAN WHITE WINE
| 2010 Bera Vittorio E. Figli, Arcese, IGT
With this, we transitioned to Italy. This was a drinkable wine, thick on the palate, with an apparent fruitiness initially that's cut by a certain stone-y minerality and bright hit of acid.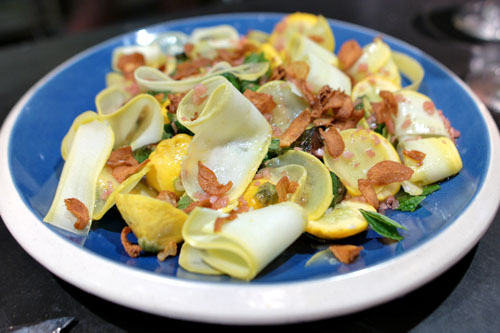 19: THE SCHIZOPHRENIC ZUCCHINI aka THE RAW ZUCCHINI EXPLOSION
| different textures and subtle nuances a la Ryan Carson
I'm generally not a huge fan of zucchini, but the dish really showed off the vegetable in the best possible way. It arrived in grilled, pickled, smoked, and raw forms, dressed in a red wine vinaigrette and topped with garlic chips. It was nice to experience the various forms and facets of the zucchini, a bevy of textures and tastes overarched by a focused smoky character, all leading to a lingering finish redolent of mint.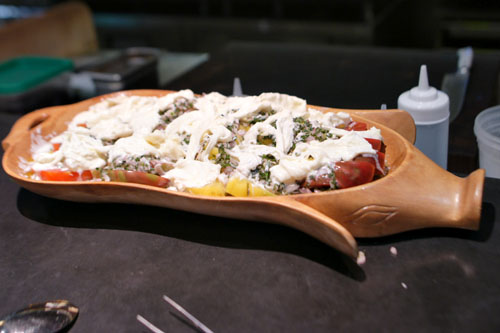 20: MILK SKIN CAPRESE
| heirloom tomatoes, maldon, herb lemon vin
Here was a take on the classic
insalata Caprese
, but one constructed from an admixture of milk skin, olive oil, and heavy cream instead of mozzarella or burrata. The result really was reminiscent of the real deal, with the "cheese" serving as a great platform on which to enjoy the meaty cuts of tomato and the zesty herb-lemon dressing.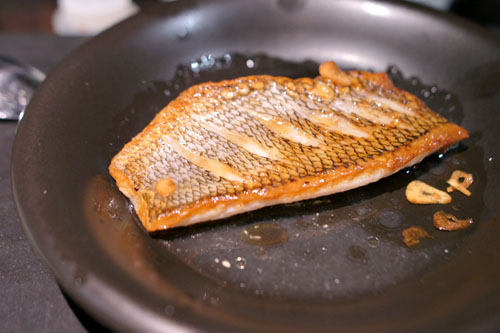 21: THE POWER OF LEMON AND OLIVE OIL
| atlantic black sea bass
One of the highlights of the meal was certainly this black sea bass, which I'm going to say was the best version of the fish I've had. It arrived pretty much flawlessly prepared, firm, yet yielding to the bite, with a delicate, yet delectable taste that paired in stellar fashion with its accoutrements, making for a perfectly balanced dish. The power of lemon and olive oil
indeed
.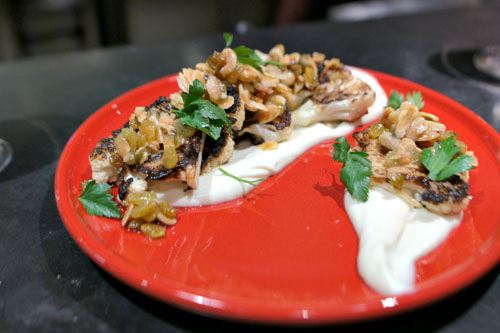 22: GRILLED CAULIFLOWER STEAKS
| sultana- almond- caper relish, cauliflower purée
"Steaks" of cauliflower were firm, dense, and yes, even "meaty," amplified in essence by the surrounding purée. They showed off the inherent goodness of the vegetable commendably, accentuated by the tangy, sweet, nutty notes of the accompanying relish.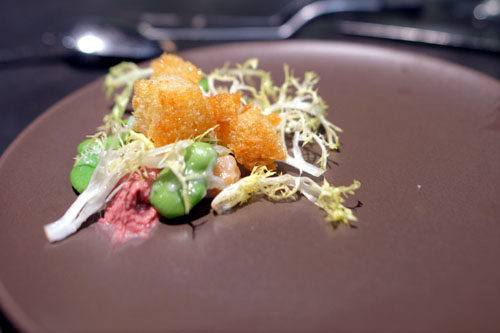 23: FAVA BEANS, LIVER, A NICE CHIANTI
| frisée, croutons, lemon, bacon
"A census taker once tried to test me. I ate his liver with some fava beans and a nice Chianti."
If somehow you've been completely out of touch with pop culture for the last 20 years, that's the famous line from Hannibal Lecter that inspired this dish. Of course, we were merely talking about chicken liver here, not that of
people
, but it was tasty nonetheless. The liver conveyed all the deep, earthy notes you'd expect, countered here by lemon and frisée, all while the bacon added some well placed jolts of saltiness to the fray.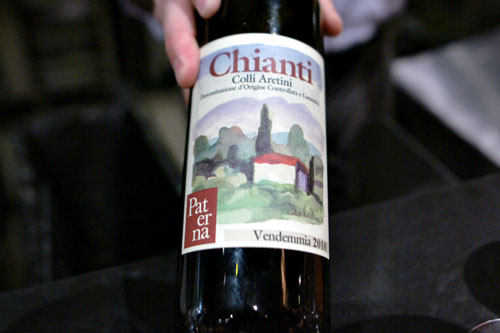 24: A NICE CHIANTI
| 2010 Paterna, Chianti Colli Aretini DOCG
And here we have the aforementioned Chianti, nice indeed with its dry, somewhat tannic nature and loads of dark fruit.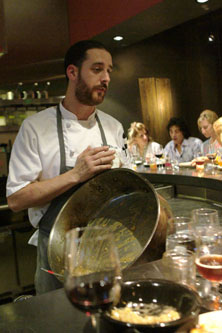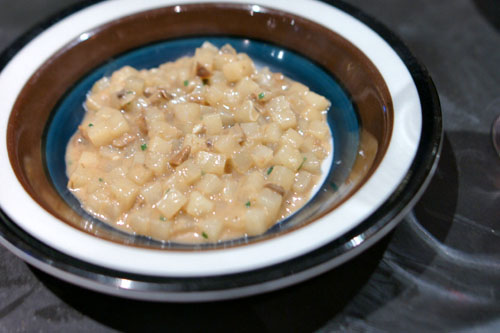 25: POTATO & PORCINI RISOTTO
| as simple as it sounds
As we know from my
previous meal
here, Max Hirsch is quite the risotto maven, and tonight he presented a version made not with rice, but with potato. It was as simple as it sounds, but also as delicious, with the potato and mushroom forming a delectable combination that worked wonders with the lush, creamy base of the dish. Fantastic texture on those cubes of
patate
, too. I wanted a larger bowl of the stuff!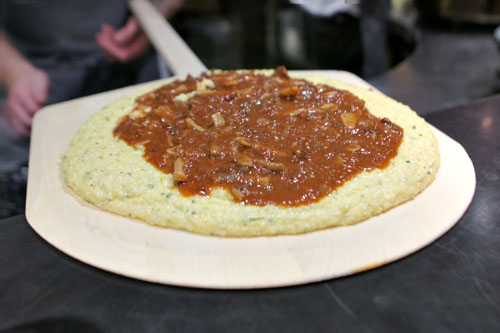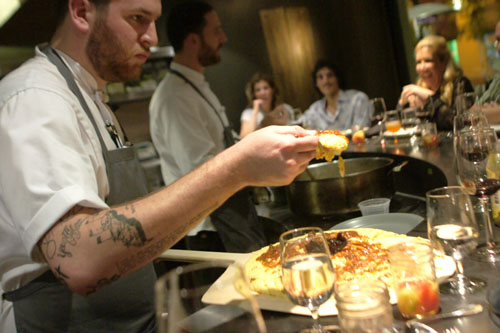 26: BRAISED ARTICHOKE AND MUSHROOM RAGU
| creamy polenta board, San Marzano
No, that's not a pizza, but rather a disk of polenta topped with a "ragù" of artichoke, mushroom, and San Marzano tomato. The lack of meat (a key part of ragù) didn't stop this from being delicious. In fact, I had a second serving of it, and reveled in the sauce's tangy, yet uncompromisingly savory relish, masterfully moderated by that creamy polenta.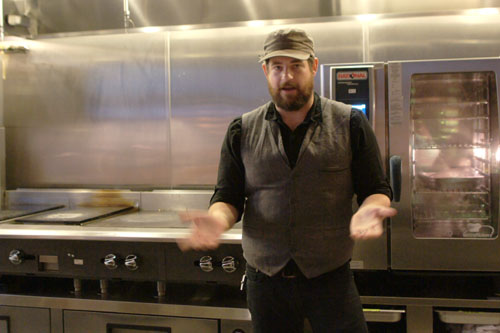 27: CRAFTSMAN PERSIMMON SOUR
At this point,
Playground
's Beverage Director Jarred Dooley came out to introduce our next libation. It was, unsurprisingly given his background, a beer, specifically a Persimmon Sour from Pasadena's Craftsman Brewing Co. I rather enjoyed it, really appreciating its classic interplay between sour, sweet, and funky forces.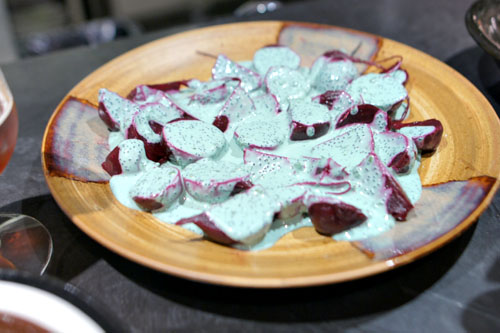 28: ROASTED BEETS
| caviar ranch dressing a la Richard Blais
The meal then took on a more "American" inclination, beginning with a caviar-ranch concoction inspired by a
recipe
from Richard Blais's cookbook
Try This at Home: Recipes from My Head to Your Plate
. Of course, Quinn took the extra step to make his own ranch, and the results were promising. As regular readers will know, I generally abhor beets, but the dressing here actually made them palatable, moderating the vegetable's blunt sugariness with a blast of salty, creamy, blue-tinted goodness.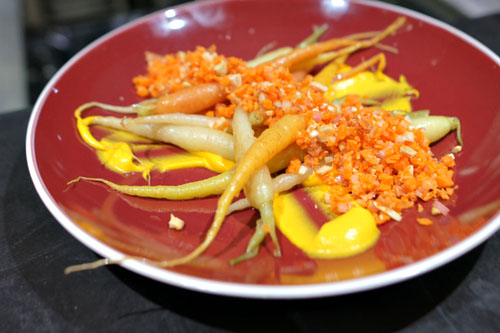 29: CITRUS GLAZED COUNTY LINE CARROTS
| purée, pickled tartare
This is one for the carrot fiends out there. There was a lovely crunch here from the glazed presentation, but the key for me was the tartar, which showed off a pretty remarkable tanginess that managed to effectively counteract the sometimes overbearing sweetness in the vegetable.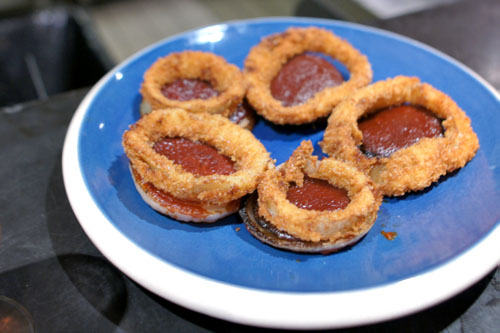 30: WESTERN BACON CHEESEBURGER
| hold the bacon cheeseburger
Imagine a Western Bacon Cheeseburger from Carl's Jr (I'm sure we've all tried it at one point in our lives); now take away the beef, bacon, bun, and even the cheese. What you're left with is something that does a pretty remarkable job of mimicking the flavor profiles of the original burger.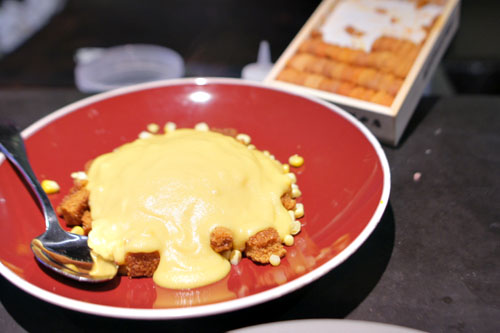 31: UNICORN
| bread, raw, roasted, pudding, hokkaido
We ended the savory section of the meal with a commixture of raw and roasted corn and cornbread, set against an enveloping dressing featuring Hokkaido uni. The corn really was the star of the show here, putting forth a sweetness that sort of melded along with the flavors of the sea urchin. Nice textures from the bread, too.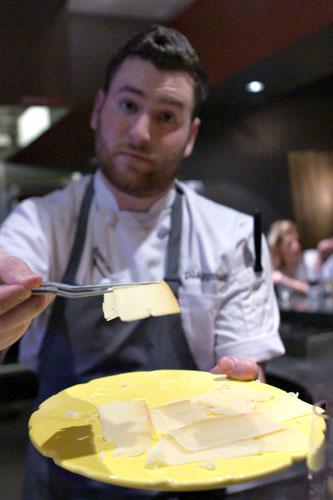 32: KOKOS COCONUT CHEESE
Our "cheese" course comprised a convincing preparation made from 90% coconut. Texturally, it was pretty much spot on, and taste-wise, it wasn't far off either, really conveying the flavors of cheese, but with a marked coconut-y undertone.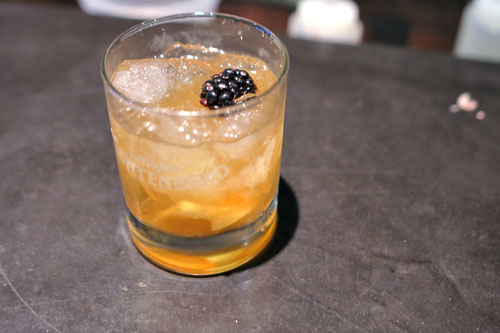 33: COBBLER D'MONTENEGRO
Quinn mentioned that one of his favorite cocktails is this here cobbler, and I can see why. It's a straightforward marriage of Amaro Montenegro, lemon, and simple syrup that somehow manages to be more than the sum of its parts. I just loved the aromatic, herb-y qualities in the drink, and how that worked against the sweet-n-sour nuances present.
34: BEET CHEESECAKE AMUSE
| salt roasted beets, Granny Smith vinaigrette, cream cheese curd, pine nuts
Somehow, I managed to forget to snap a pic of this course (it happens on rare occasion), but you can see a photo of it
here
from Andy Gavin's
report
on IO. That's a shame, though, as I thoroughly enjoyed it. The lactic tanginess of the cream cheese was spot on, serving as a fantastic counterweight to the heft of the beet, all while the pine nuts added a delightful crunch to the dish. Just a great, well-integrated little bite.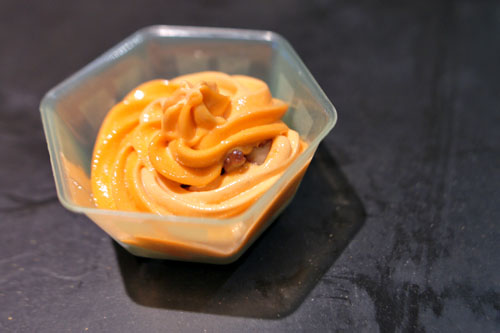 35: CARROT AND CITRUS
| Valencia orange cake, carrot and ginger marshmallow sorbet, candied walnuts
Here, we're talking the bold, spicy zing of ginger paired with the sweetness of carrot, all over a lovely base of citrus cake, with the walnut acting as an interesting focal point to boot. Fun, and a surprise to the palate.
36: CHOCOLATE AND REPURPOSED COFFEE
| Bittersweet cremeux, coffee cream, chocolate-almond shortbread
We then began an exploration of the various faces of coffee. Here, coffee grounds were mixed with a cream sauce, making for a bittersweet counterpoint to the classically chocolate-y flavors at play.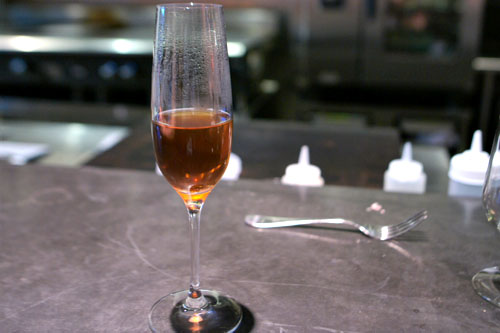 37: WHOLE BEAN COFFEE
Next, whole coffee beans (sourced from Portola Coffee Lab if I recall) were steamed for over two hours in the restaurant's combi oven. The result was a coffee experience unlike any other I've had, with an herbaceous, almost tea-like quality to the liquid that nonetheless conveyed the quintessence of the bean. Very cool.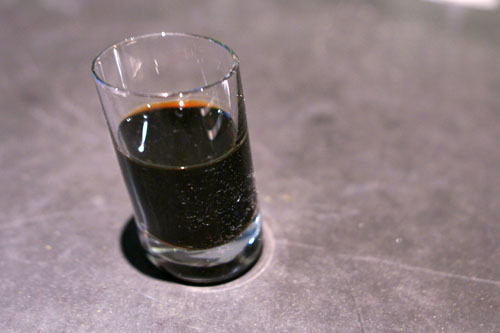 38: COFFEE AVERNA
Finally, we were given ground coffee steeped in Amaro Averna. In this case, the taste of coffee was front and center, keenly complemented by the sweet, viscous liqueur.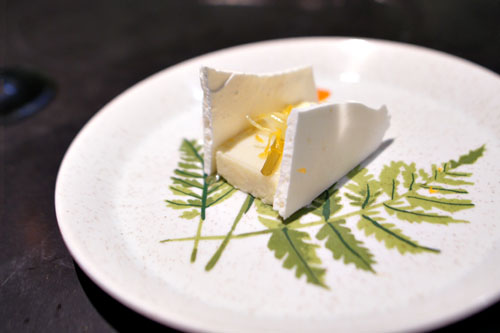 39: LEMON AND FENNEL REFRESHER
| frozen lemon mousse, dehydrated lemon meringue, pickled baby fennel
Our last plate perked up the palate with its zesty blend of fennel and lemon...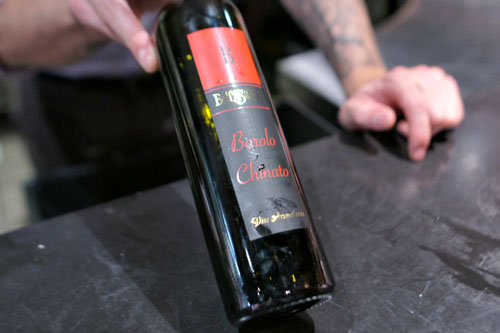 40: GOOD NIGHT
| Beni di Batasiolo. Barolo Chinato
...Thus clearing the way for this 100% Nebbiolo Barolo Chinato, a perfect digestif and after dinner sipper with its minty, herbaceous, spicy facets.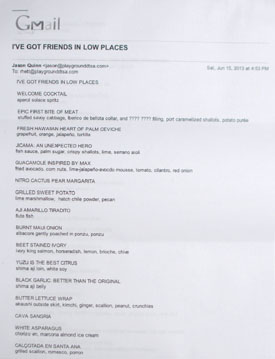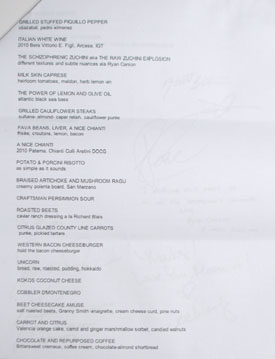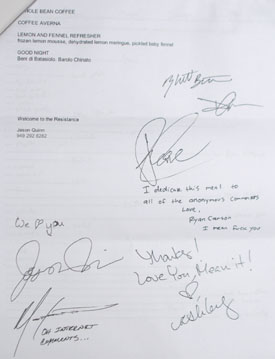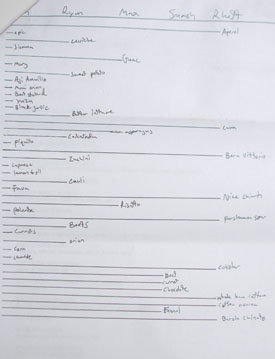 This time around, we were given a printed menu at the conclusion of the dinner (a welcomed addition). Click for larger versions.
Quinn and his team once again delivered a standout episode of kitchen theater, melding modernity with tradition, highlighting ingredients in their best possible light while taking us on a trip to Mexico, Japan, Spain, Italy, and back. It was eye opening at times to see how some of the produce tonight was utilized and presented, and the overall experience tended toward fun, flippant, and facetious, yet was underscored by some serious cooking. I said it before and I'll say it again: this place needs to be on your culinary radar.