Connie & Ted's (West Hollywood, CA)
Connie & Ted's Restaurant
8171 Santa Monica Blvd, West Hollywood, CA 90046
323.848.2722
www.connieandteds.com
Tue 06/04/2013, 08:00p-11:50p
One of 2013's most anticipated debuts has been a long time coming. News of Michael Cimarusti's reimagined New England clam shack first broke in March last year, and the place is named after the Chef's maternal grandparents, immigrants from England who married in 1940, hence the "est'd" date. Ted was an avid fisherman, and he passed his love of seafood down to his grandson, a fact that's clearly evident in the menu here. You'll find a straightforward selection of traditionally prepared fish and shellfish, executed by Executive Chef Sam Baxter, the former
Providence
CdC who started his career under Cimarusti at Water Grill. Speaking of Providence alums,
David Rodriguez
takes up Pastry Chef duties, while Matthew De Marte serves as General Manager. Rounding out the team are partners Donato Poto (a bit hard to recognize in an apron), Craig Nickoloff of Claim Jumper fame, as well as Cimarusti's wife Crisi Echiverri.


Connie & Ted's occupies the site of the old Silver Spoon, though the former building's been completely torn down. The new wavy-roofed, 140-seat structure reads sleek, with a hint of Mid-Century flair, but still pays homage to its fish house roots. Diners inside get a view of the kitchen, but my guess is that tables on the covered patio will be the most coveted.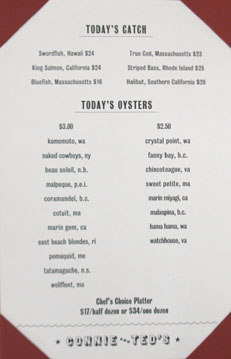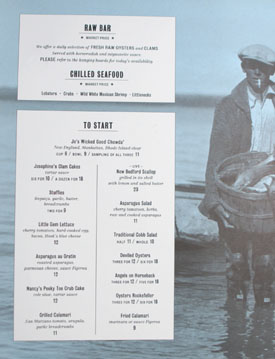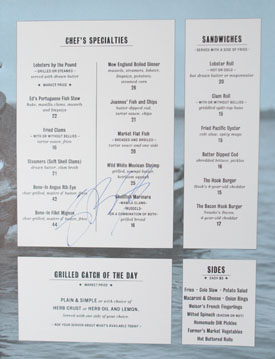 Connie & Ted's menu features a wide swath of dishes befitting its inspiration. The raw bar was done proper, with easily the largest selection of oysters I'd ever encountered. Even more appealing were the array of fun, shareable starters, while simply-prepared mains and sandwiches added some heartier fare to the mix. Click for larger versions.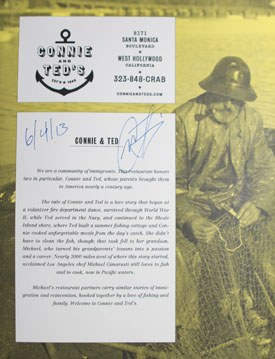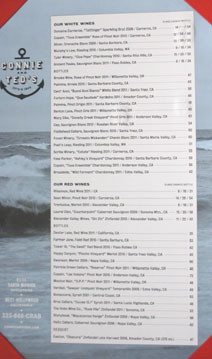 The drinks, meanwhile, didn't take a back seat either. The beer list was commendable to be sure (both bottled and draught), and you'd be remiss if you didn't try some of
Laura Lindsay
's cocktails. For you winos, there's also a California-centric wine list to choose from. Click for larger versions.
Down East Punch [$12.00]
| cognac, rum, housemade lamill coffee syrup, whole milk
Ted's Cup [$12.00]
| housemade scotch-based liqueur, mint, cucumber, citrus, birch beer
Indian Summer [$12.00]
| tequila, cocchi americano rosa, valerian tea, lime, blood orange
We made our way down the cocktail list, beginning with this threesome. The
Down East Punch
wasn't very punch-like at all, but was really, really good nevertheless, with a wonderfully creamy, coffee-laced flair that tempered the booze flawlessly--this one could be dangerous. Speaking of dangerous, we also had
Ted's Cup
, which was reminiscent of an adult root beer, with a fantastic sweet, spicy note to it that paired perfectly with the minty overtones present. Last up was the
Indian Summer
, which showed off a bittersweet, tangy character that transitioned to a savory, almost cheese-like taste on the close, thanks to the valerian.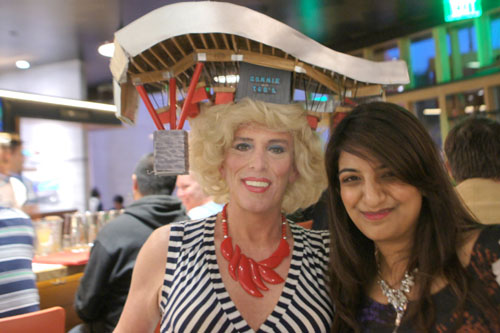 Hey, we
were
in West Hollywood after all.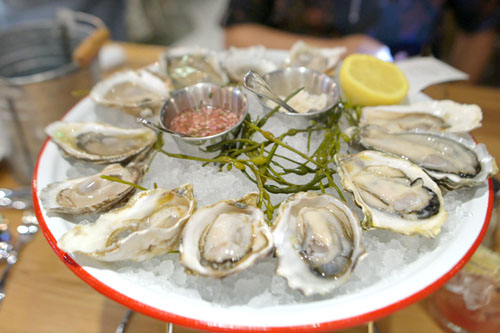 Chef's Choice Platter [$34.00]
Given that there were a whopping
19
oysters on offer, we opted for two orders of the Chef's Choice Platter, specifying that we wanted six varieties so that everyone in our party of four could try one. That point was lost on our server though, and we ended up with two platters of a dozen types each, served with horseradish and mignonette sauce. Here's what I tried:
Malaspina, B.C. - Meaty, salty, but delicate, with a lingering salinity.
Fanny Bay, B.C. - Milder, sweeter, with a brief, clean finish.
Coromandel, B.C. - Creamy, almost buttery in consistency, yet mild in flavor.
Beau Soleil, N.B. - Classic in essence, with a focused, easy-to-like brine.
Cotuit, MA - Very nice, very fruity, very well-balanced.
Sweet Petite, MA - Creamy and subtly sweet, with a bracing freshness--yum.
Overall, an exceptional lot of oysters that made me want to try 'em all.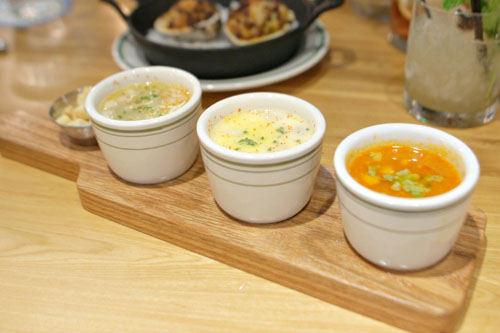 Jo's Wicked Good Chowda' [$11.00]
| New England, Manhattan, Rhode Island clear
Connie & Ted's features three types of chowders, so naturally we had to sample them all. The standard New England variety was prototypical of the style, utterly satisfying and particularly enjoyable when taken with the oyster crackers. The Manhattan variety was sort of the polar opposite, being thinner, with a more pronounced tanginess from the tomato and veggies. My favorite of the troika was actually the Rhode Island version, which gave me the most pronounced clam flavor, but one balanced by the application of potato.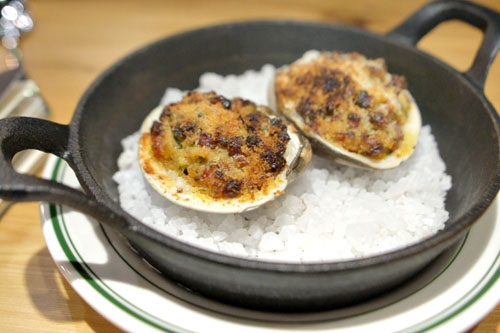 Stuffies [$9.00]
| linguiça, garlic, butter, breadcrumbs
Stuffies were tantalizing, with a meaty, spicy kick from the sausage that was easy to like. However, the clams weren't all that apparent, being more pronounced as a textural component here.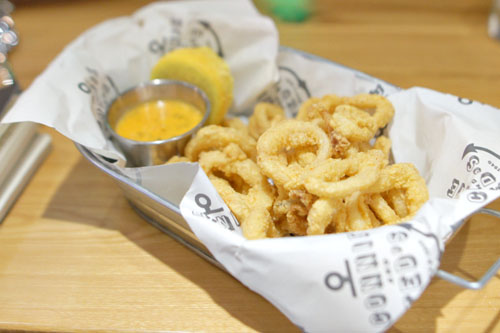 Fried Calamari [$9.00]
| marinara or sauce Figeroa
Fried squid served as a lovely example of the dish, a deft mix of crunchy and supple textures that was able to demonstrate the inherent goodness of the calamari without overwhelming it with batter. Tasty alone, and even better with a dash of lemon and dab of that tangy Figeroa condiment.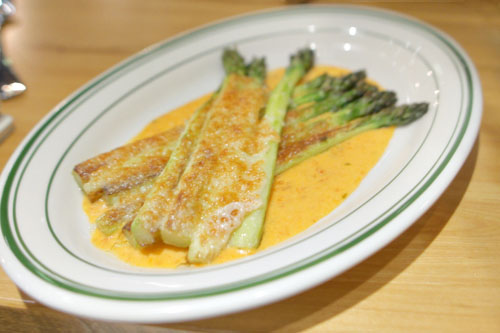 Asparagus au Gratin [$12.00]
| roasted asparagus, parmesan cheese, sauce Figeroa
Asparagus was quite fetching, with the bitterness of the spears pairing surprisingly well with the cheesy weight of the Parm, all while the Figeroa added an undercurrent of spice to the dish.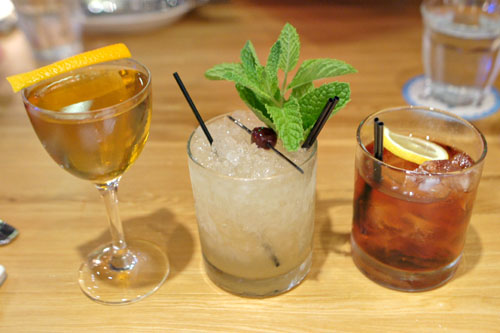 The Dickerson [$12.00]
| rye, gran classico, dry vermouth, citrus peel
Catalina Eddy [$12.00]
| Jamaican rum, white demerara rum, house made banana cordial, honey, lime
Royal Treatment [$12.00]
| gin, dubonnet rouge, lemon
Round #2 got us started with
The Dickerson
, which just
sounds
stiff. Indeed it was, but the drink also conveyed a candied sweetness to it that we likened to an apricot-flavored Jolly Rancher! The
Catalina Eddy
, meanwhile, was definitely tropical-leaning, with a banana-coconut tinge to it that made sense with the weightiness of the rum; I quite appreciated the levity imparted by the mint in this one. Last up was the
Royal Treatment
, which really showed off the gin against the backdrop of bittersweet, herb-y Dubonnet.
Josephine's Clam Cakes [$10.00]
| tartar sauce
Clam cakes were fun and fluffy, with the salinity, as well as the texture of the bivalves really showing through. I didn't mind eating them alone, but a touch of tartar and a sprinkle of lemon made them all the better.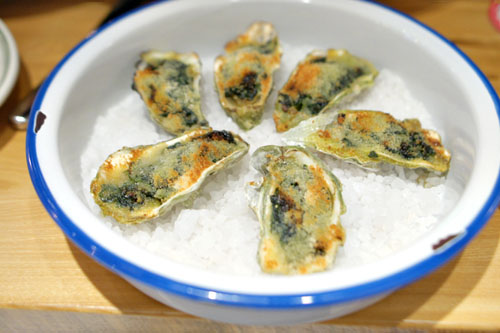 Oysters Rockefeller [$18.00]
Oysters Rockefeller was a straightforward presentation of the New Orleans classic--rich and savory, with a strong vegetal component from the spinach (or parsley?) present. I would've liked the oyster to be more apparent however.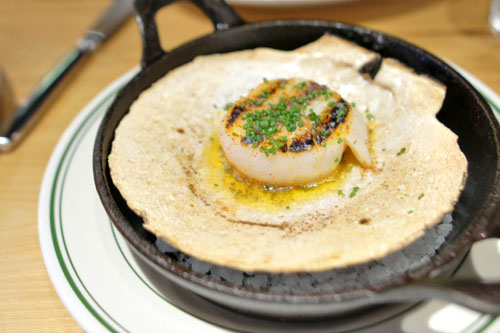 New Bedford Scallop [$23.00]
| grilled in its shell with lemon and salted butter
A singular live scallop was spot on, buttery and sweet, with a dense, satisfying bite to it that we all really enjoyed. Beautiful shell on this one as well. Pricey, but worth it.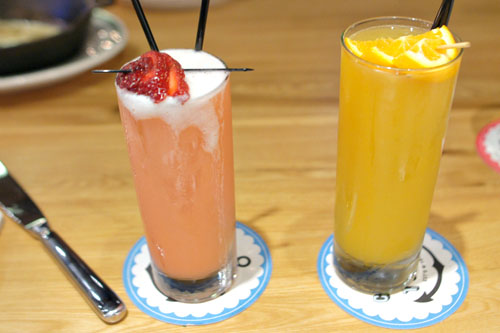 Sailor's Delight [$12.00]
| dry gin, strawberries, rhubarb, lemon, egg white, soda
Narragansett Cooler [$12.00]
| bourbon, orange juice, ginger ale
Our last two cocktails brought us the
Sailor's Delight
, which, indeed, was rather delightful, with a juicy, fruity sweetness that melded seamlessly with the egg white and gin. The unfortunately-named
Narragansett Cooler
, finally, I found quite refreshing, with a citrus-y, somewhat herbaceous zing that was unabashedly gluggable, perfect for those summer nights on the Rhode Island coast.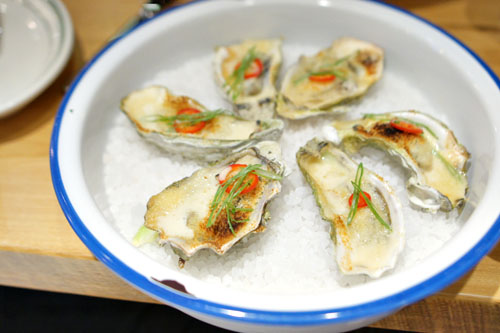 Deviled Oysters [$18.00]
Creamy, salty, a lil' spicy, and utterly delicious, with the oyster still shining through despite the accoutrements. One of the best presentations of cooked oyster I've had, in fact.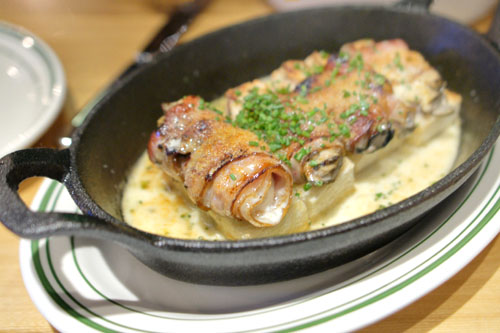 Angels on Horseback [$18.00]
Tonight was actually my first time having this whimsically-named dish, which comprises bacon-wrapped oysters atop bread. The natural salinity of the oyster was really quite pronounced here, and worked well with the saltiness of the bacon, all while the toast served as a sort of moderating base to the course.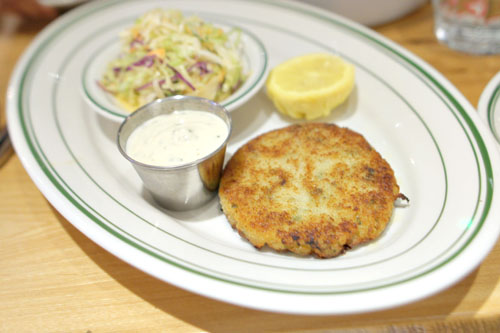 Nancy's Peeky Toe Crab Cake [$12.00]
| cole slaw, tartar sauce
The crab cake arrived rather thin. Though it didn't look like much, the sweet, ocean-y relish of the crab was nicely displayed here, not overly hidden by the requisite filler. Great slaw here as well.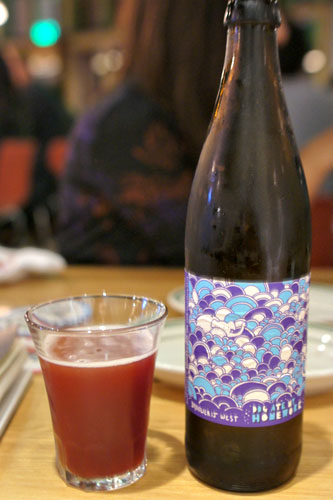 With the cocktails all drunk up, we moved on to beer, specifically the
Brouwerij West, Dog Ate My Homework, Blackberry Saison [$18]
, which is brewed right here in Palos Verdes. Despite what you may think, this wasn't a sweet beer. Rather, the dry, refreshing crispness of the base saison really made itself known initially, with the sugary berry nuances creeping up only on the finish.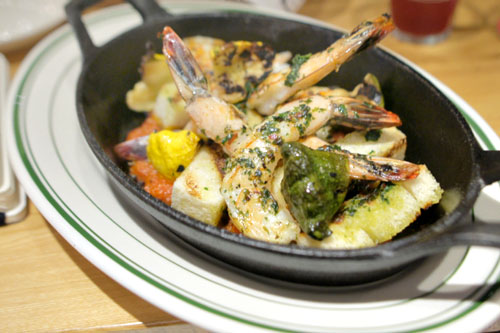 Wild White Mexican Shrimp [$25.00]
| grilled, scampi butter, heirloom squash
I usually shy away from cooked shrimp, but these were
quite
to my liking. Texturally, they were totally on point--not overdone, with a firm, snappy, springy consistency--while tastewise, I loved their sheer salinity, augmented by that wonderfully aromatic butter and hints of astringent char.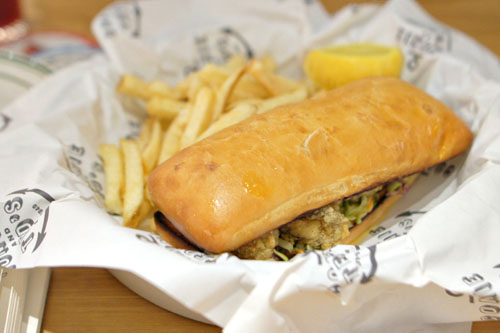 Fried Pacific Oyster [$15.00]
| cole slaw, spicy mayo
A fried oyster sandwich was a pretty much flawless presentation of the dish. The oysters themselves gave us a perfect blend of crunchy and creamy consistencies, while their signature brine was proudly conveyed as well. The mayo and slaw formed fitting counterpoints to the seafood, and the sweet bread (baked in-house, natch) here worked wonders too.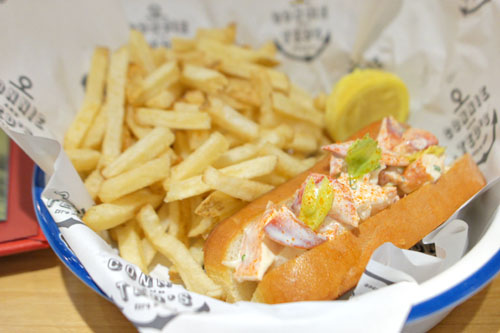 Lobster Roll [$20.00]
| hot drawn butter or mayonnaise
I think you pretty much have to get the lobster roll here, and we ended up with the cold version. The lobster itself arrived in sizeable, satisfying chunks, firm, yet springy to the bite, with a great blend of sweet, saline, and subtly spicy flavors. It worked beautifully with the buttery bread here, making for yet another laudable version for us Angelenos to try. The fries were lovely as well, sort of like In-N-Out's, but thicker, crisper, and better.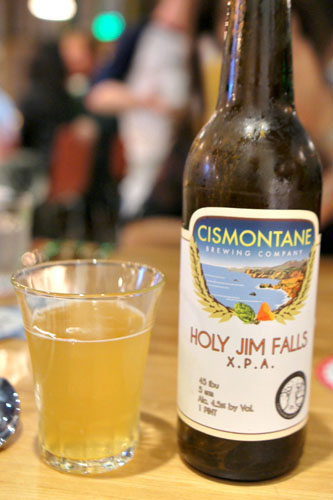 Our second beer was the
Cismontane, Holy Jim Falls EPA [$11]
, from down in Rancho Santa Margarita. I really liked this one, finding it superbly crisp and well balanced, with bitter, aromatic, hoppy nuances leading to a grassy, lingering finish.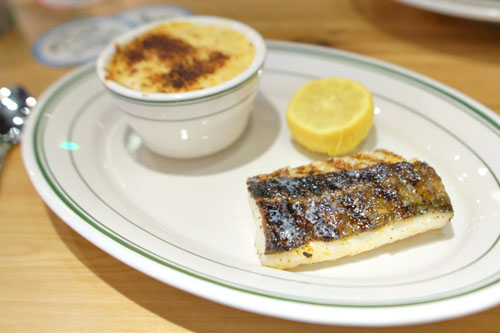 Grilled Catch of the Day [$23.00]
| True Cod, Massachusetts
For our catch of the day, we chose Massachusetts cod, prepared "Plain & Simple." "Herb Crust" and "Herb Oil and Lemon" are also options, but we wanted the fish to shine here, and that it did. It was a pretty much flawless preparation of cod, with the fish coming out moist, dense, and flaky, with a mild savor that was superbly countered by the astringent char of the skin. Simple, yet uncompromisingly effective. The dish also came with a choice of side, and we opted for the Macaroni & Cheese, which was nicely balanced, though it could've been more
al dente
to the bite.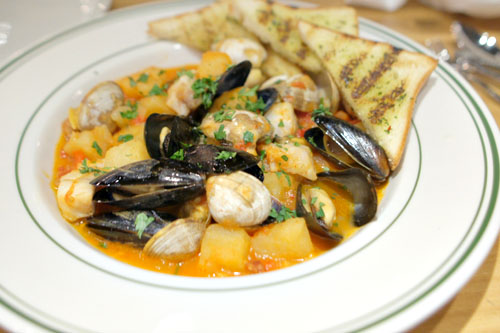 Ed's Portuguese Fish Stew [$22.00]
| hake, manilla clams, mussels and linguiça
The fish stew was also to my liking, with the saline notes from the seafood tied together by the tanginess of the tomato broth, all while the sausage added a wonderful spice and savoriness to underscore the course. I also enjoyed the potatoes here, which served to temper some of the stronger flavors at play while adding textural differentiation and heft to things.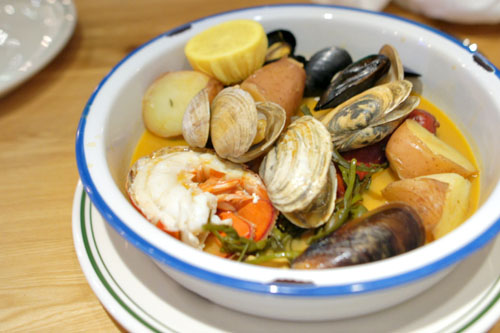 New England Boiled Dinner [$26.00]
| mussels, steamers, lobster, linguiça, potatoes, steamed corn
Next was Connie & Ted's homage to the classic New England Clam Boil. It was a rustic, home-y sort of dish, with the various items of seafood beautifully presented, their sweet, briny flavors dutifully displayed, and the linguiça once again providing a delightful whisper of heat. I especially appreciated the broth here, which was positively imbued with the essence of the ocean, perfect for sopping up with some leftover bread. You should probably get this.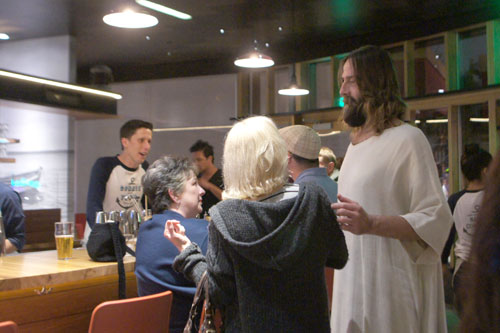 Hell, even
Hollywood Jesus
made it out.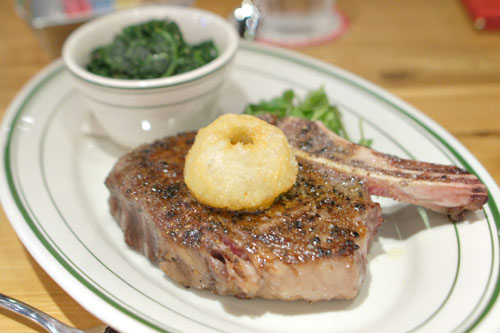 Bone-In Angus Rib Eye [$42.00]
| char-grilled, maitre d' butter, fries
I'm happy to report that Connie & Ted's can produce a fine steak as well, if seafood's not your thing (but then why would you be here?).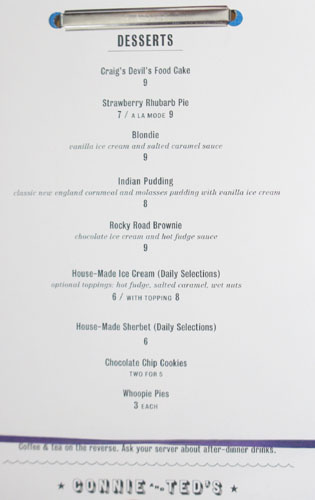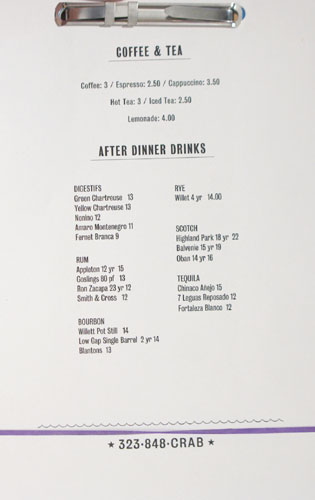 Classic American desserts are the work of David Rodriguez. Click for larger versions.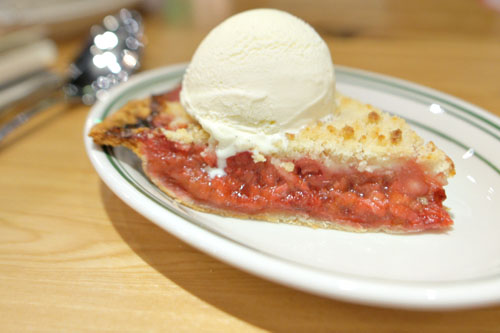 Strawberry Rhubarb Pie [$9.00]
| a la mode
The pairing of strawberry and rhubarb seems to be showing up on menus more and more often these days, but damn, it works. Here, we had a sugary, almost jammy sweetness from the combo that functioned seamlessly with the crust, all while the ice cream offered up a bit of countervailing lightness.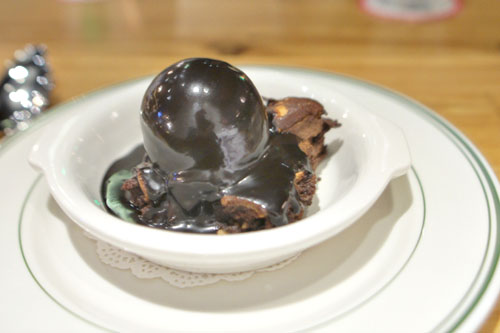 Rocky Road Brownie [$9.00]
| chocolate ice cream and hot fudge sauce
A Rocky Road brownie was exactly like you'd expect: sweet, rich, and nutty, a bonanza for you chocolate lovers out there.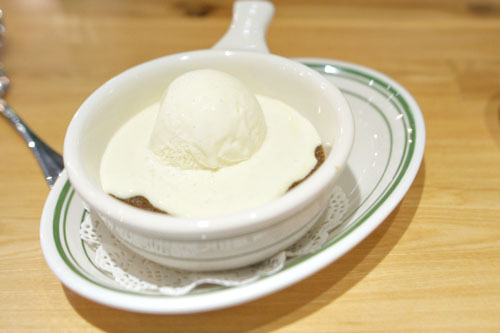 Indian Pudding [$8.00]
| classic new england cornmeal and molasses pudding with vanilla ice cream
Though this dessert was originally inspired by the use of native American cornmeal (hence the "Indian" in the name), it actually showed off a sweet spice that made me think of
India
Indian.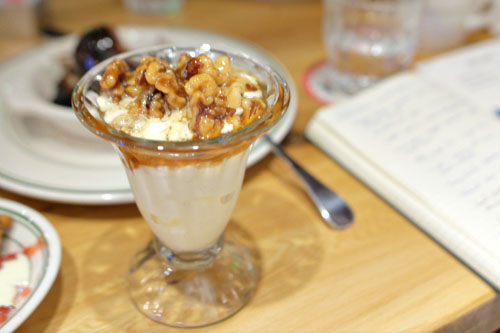 House-Made Ice Cream [$8.00]
| wet nuts
Cimarusti insisted that we try his wet nuts, so here we had a standard vanilla ice cream, but topped with a commixture of walnuts and syrup. It was surprisingly delicious, especially given that I'm not a fan of walnuts, with the intensely sweet, yet nutty topping working hand-in-hand with the ice cream.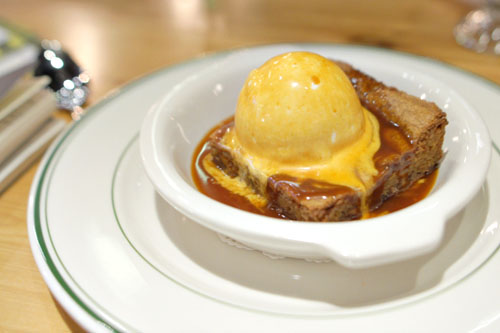 Blondie [$9.00]
| vanilla ice cream and salted caramel sauce
To conclude the meal, the Chef sent out a Blondie, which is basically a brownie minus the chocolate. It was fantastic, my favorite of the bunch, with the salty caramel pairing gorgeously with the confection. A must try.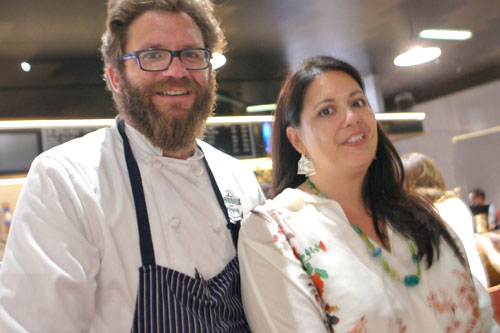 Michael Cimarusti with his better half and business partner, Crisi Echiverri.
I've heard some people bemoan the fact that Cimarusti's opened up "yet another" traditionalist seafood type joint, but when you achieve something on the level of
Providence
, I think you can pretty much do whatever the hell you want. The place is indeed off to a strong (and very busy--it was jam packed most of the evening) start. Though there were a couple service quibbles on this opening night, the food itself was almost all on point, yielding familiar, comforting sensations that nonetheless displayed the deft touch that you'd expect from a brigade that cut its teeth at the pinnacle of fine dining in Los Angeles. You could tell that there was a certain finesse, a certain clarity of flavors to the cooking here, making for a worthy sophomore effect from one of the City's most respected chefs.