LQ Foodings at Vertical Wine Bistro (Pasadena, CA)
LQ @ Vertical Wine Bistro
70 N Raymond Ave, Pasadena, CA 91103
213.610.9882
www.bistrolq.com
Sun 05/19/2013, 08:30p-11:35p
Since shuttering his namesake
Bistro LQ
in March 2011, you could say that Laurent Quenioux has been exploring his culinary wanderlust. Though he's been stationed at Vertical Wine Bistro since November 2010, the Chef has staged a number of popular "Foodings" throughout the Southland. The pop-up dinners
kicked off in 2011
at
Starry Kitchen
, with Quenioux wrapping up that year with a stint at Le Saint Amour with
Walter Manzke
, a brief appearance on
Top Chef: Texas
, and a completely over-the-top 18-course white truffle dinner. In March 2012, the Chef ended his tenure at SK, but soon thereafter, paired up with the Trans again at a couple of controversial
weed/herb dinners
. Then, in May, he held another fooding at Good Girl Dinette in Highland Park, which was followed up by a run at Beverly Hills' Barney Greengrass a couple months later. This current series at Vertical extends a number of dinners he did in February this year, and lasts through early June. Quenioux is joined here by Sous Chef Daniel Vasquez and Pastry Chef Anthony Huynh, both longtime veterans of Bistro LQ.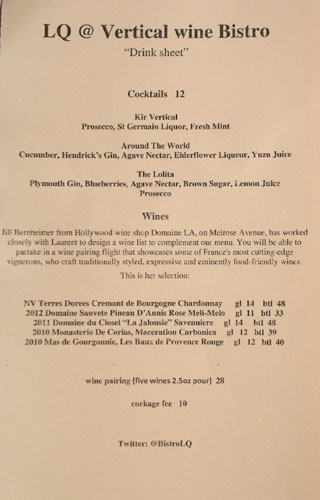 The LQ "Fooding" menu comprised five courses at a reasonable $48, while wine pairings by
Domaine LA
added on another $28pp. And of course, there was also the option of Quenioux's legendary, probably-best-in-the-City
cheese cart
and its 38 selections of imported, mostly-non-pasteurized, French
fromage
. Click for larger versions.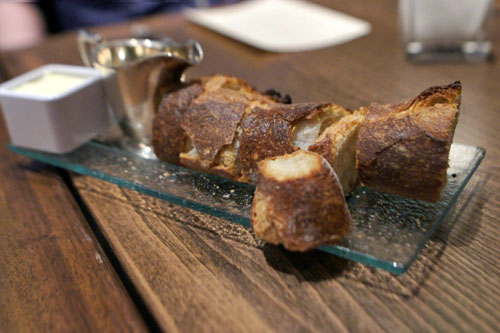 A crusty, rustic sourdough from upstart baker
Bread Lounge
(located right around the corner from Downtown hot spot
Bestia
) was served with a sweetish butter and olive oil by
41 Olive
.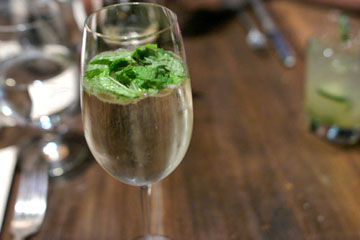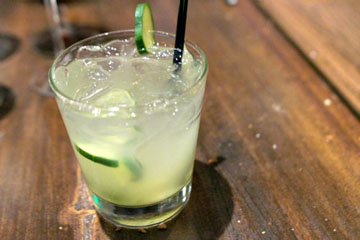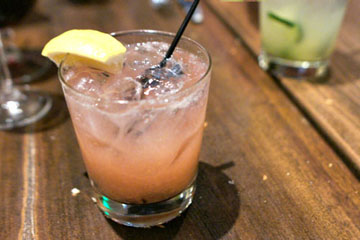 Kir Vertical [$12.00]
| Prosecco, St Germain Liquor, Fresh Mint
Around The World [$12.00]
| Cucumber, Hendrick's Gin, Agave Nectar, Elderflower Liqueur, Yuzu Juice
The Lolita [$12.00]
| Plymouth Gin, Blueberries, Agave Nectar, Brown Sugar, Lemon Juice, Prosecco
To whet our appetites, we commenced with all three of the evening's cocktails. The
Kir Vertical
was pretty standard fare, giving us a back and forth between the prosecco and mint over an undercurrent of St. Germain sugariness. Meanwhile, the
Around The World
was a prototypical cucumber cocktail, with a classic interplay between the vegetable and the elderflower, all while the yuzu added a pinch of levity to the mix. My favorite of the bunch was
The Lolita
, a well-integrated drink which had a great fruity sweetness to it, all balanced by an intriguing spiciness and an interesting element in the form of that agave.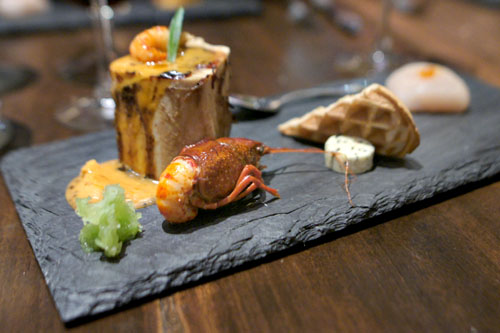 Mise en Bouche: Hokkaido Scallop smoked for 6 hours; Toasted Waffle, Nori Butter; Roasted Bone Marrow, Crayfish, Grated Celeriac
NV Terres Dorées Cremant de Bourgogne Chardonnay
Our amuse bouche course featured a trio of treats. Moving front to back per our server's direction, I started with the bone marrow. It displayed all of the slick, fatty flair that you'd expect from the stuff, which, combined with the crayfish, formed a rich, lush, almost bisque-like experience that complemented the seafood without overwhelming it. I appreciated the hit of brightness from the celeriac as well. Moving on, that nori butter was fantastic, showing off all of the seaweed's ocean-y, umami-laden savoriness against a light, fluffy waffle background. Last up was the scallop, a dense, sticky example that was positively imbued with an almost hammy smokiness; it was pretty intense alone, but the
yuzukosho
-esque condiment on top was a stupendous counterpoint.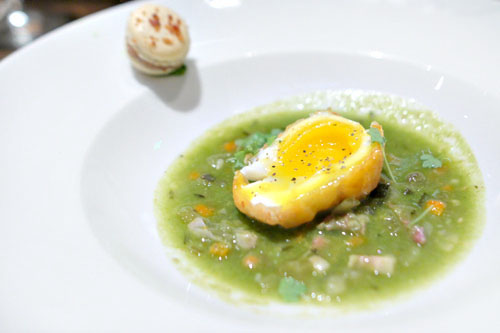 1: Minestrone, Serrano Ham, Ramps Hazelnut Pesto, Amy's Farm Duck Egg, Rillette FG Macaron
2012 Domaine Sauvete Pineau D'Aunis Rosé Meli-Melo
Our first proper course featured Quenioux's take on minestrone. It was a delicious interpretation of the dish, an immensely savory potage with delightful points of piquancy and a wonderfully crisp egg in the middle. The foie gras-stuffed duck rillettes macaron was also appreciated, conveying a deft blend of sweet and salty flavors, finishing with a distinct tinge of pork.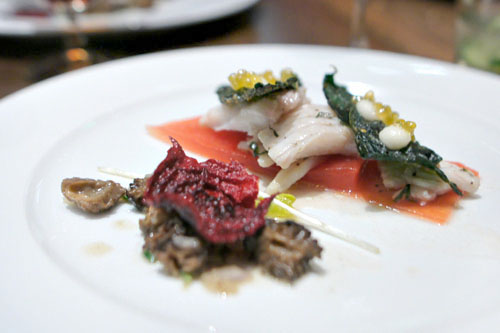 2: Cold Poached Skate, Fried Capers, Watermelon Pico, Bonito Emulsion, Dehydrated Kale, Blis Char Roe, Dehydrated Beets, Morels
2011 Domaine du Closel "La Jalousie" Savenniere
The Chef's skate was a standout for me. The fish itself was spot on, supple and mild, yet full of flavor, delicious alone and even better when taken with the juicy slab of watermelon and those earthy morels. It was one of the tastiest preparations of the fish I've had. My only concern was that the char roe was a touch smoky at times, and could easily dominate the subtleties of the skate.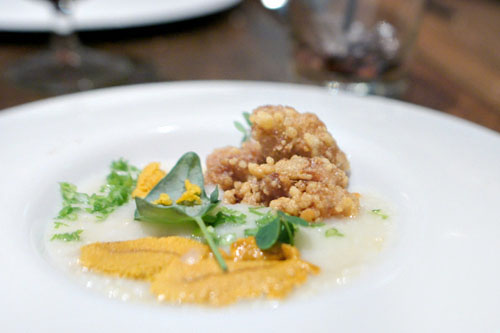 3: Rice Porridge, Veal Sweetbreads, Uni Bottarga, Uni, Wood Sorrel
2010 Monasterio De Corias, Maceration Carbonica
A lot of people seemed to love this course, and for good reason. It was a cozy, hearty dish, with the comfy flavors of the porridge working perfectly against the bright, green nuances of the sorrel, all while the uni offered up further luxuriousness to the dish. Perhaps the best part here, though, were the nuggets of sweetbreads, which showed off a flawlessly crisp texture and a mouth-watering savoriness that was easy to like. This was something I could just eat a big bowl of.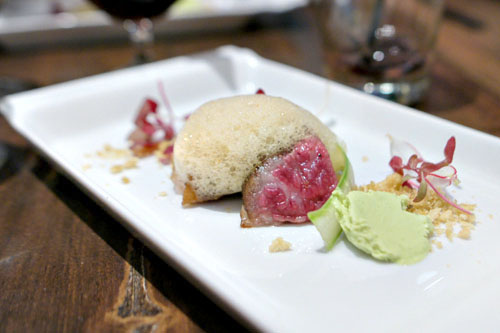 4: A3 Japanese Wagyu, Pan Drippings, Green Garlic Soil, English Pea Frozen Yogurt, Harissa Emulsion, Shaved Asparagus, Shaved Radish
2010 Mas de Gourgonnie, Les Baux de Provence Rouge
The most substantial course of the evening featured super fatty (arguably
too
fatty, depending on the piece you got) cuts of real-deal Japanese wagyu. The beef was as lush and decadent as you'd expect, an explosion of bovine flavors that was expertly countered by a focused kick of harissa spice. Loved the offsetting bitterness and crunch here of the slivers of radish and asparagus as well.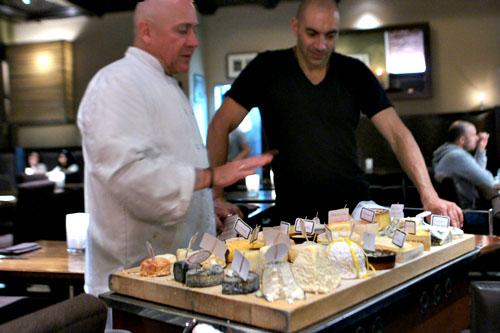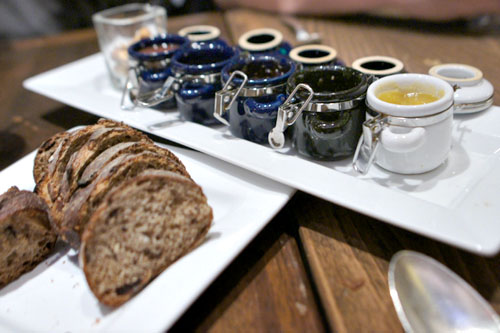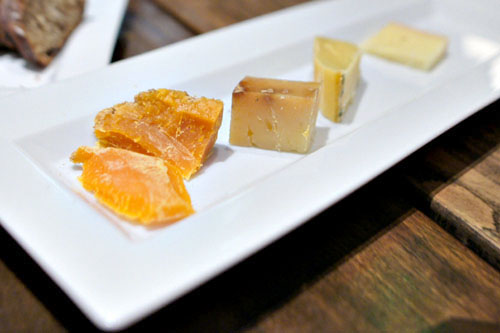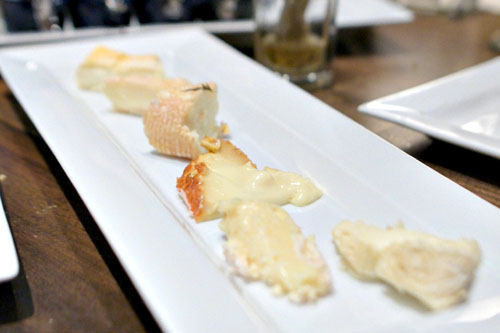 It just wouldn't seem like a proper LQ meal without an appearance from the famed cheese cart. You can get three cheeses for $12, five for $20, seven for $28, or the whole shebang for $120 (crazy!). We asked the Chef to choose for us, and he came up with the following, divided into hard and soft selections:
Mimolette - Salty, nutty, dry, crumbly, with an almost caramel-like tone and replete with "illegal" cheese mites.
Gruyère - Relatively mild and gritty, with a nice earthy character to it.
Fumaison - Fun and funky, with a hint of wood and smoke.
Tomme de Belloc - Rich and savory, with a dense, yet appealing body. This is one I could probably eat a lot of.
Carré Mirabelle - Salty, soft, and smooth. Nice!
Munster - Sharp and floral, with a strong-tasting, yet appealing quality to it.
Filetta Corsica - Earthy and herby, with a mushroom-y character to boot. Very cool.
Chambertin - Époisses-like in both appearance and taste.
Camembert - One of my go-to cheeses: creamy, rich, and always a good decision.
Reblochon - One of the most intense cheeses of bunch--zesty with a palpable earthiness to it.
The decet was served with fantastic homemade accompaniments of butternut squash with ginger, tomatillo, blueberry gelée, Okinawan sweet potato with maple, strawberry with balsamic, as well as an optional truffle honey [$3], in addition to toast and nuts.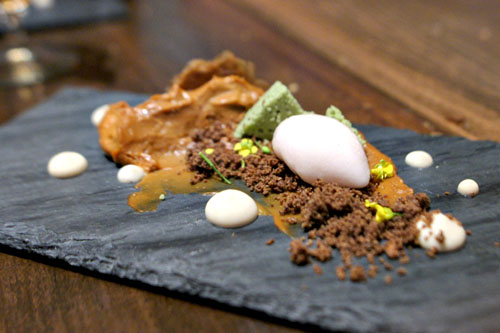 5: Caramel Miso Goat Cheesecake, Black Sesame Graham Cracker Crumb, Tofu Cream, Grapefruit Sorbet, Brown Butter Croquant
Dessert starred a delightfully savory miso-caramel that formed the base to the dish, working well with the bright, citric flavors of the grapefruit while the sesame Graham cracker crumbles moderated the interaction. There was an intriguing bitter undertone to the dessert that I liked, and texturally, the croquant was key, adding a well-placed crunchiness that absolutely made sense to me.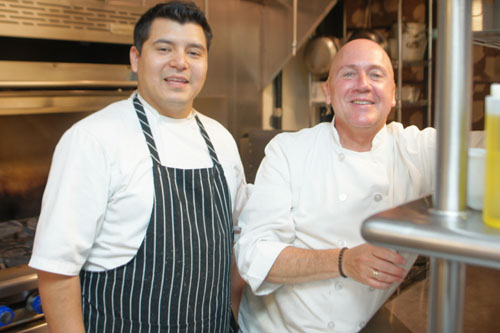 Laurent Quenioux, with Sous Chef Daniel Vasquez.
A chef popping up in his own restaurant may be a bit odd, but the event was largely a success, and judging from how crowded the room was, I'm guessing I'm not alone in that sentiment. It was nice see how Quenioux's food has evolved over the years, becoming noticeably more cohesive, more nuanced, but still imbued with his signature eclectic style. As for what's next, the Chef will be doing a few more stints around down, and will also be traveling and cooking in Europe in late summer. No word yet though on his long-awaited permanent spot.