Nozawa Bar (Beverly Hills, CA)
Bar Nozawa at Sugarfish
212 North Canon Dr, Beverly Hills, CA 90210
310.276.6900
www.nozawabar.com
Wed 06/05/2013, 08:00p-10:10p

Sugarfish Beverly Hills opened recently in the old
Madame Chocolat
space, and the most interesting part of the debut was the acknowledgement of a "secret" bar in the back that would give diners a taste of the draconian practices of the original
Sushi Nozawa
. Indeed, the so-called Nozawa Bar is reservations-only; there's no menu--you eat what the Chef serves; no young kids are allowed; there are no modifications or substitutions; a minimum cancellation fee of $100 applies; and you eat fast, at a pace decided upon by the Chef. Just like old times right?
Kazunori Nozawa, though, is not to be found behind the bar (though he still does help buy the fish I'm told). Instead, the kitchen is helmed by one Osamu Fujita. Chef Fujita was born in Japan to a culinary family, and took an interest in the craft at an early age. He eventually made his way to the US, where he worked for Nozawa-san in Los Angeles before traveling around the country and opening various Japanese restaurants. The two have known each other for over 30 years.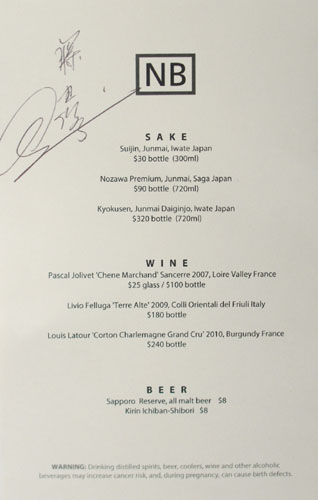 Nozawa Bar doesn't have any sort of written menu, but you can expect an omakase of roughly 18 courses, priced at $150 a head, plus 18% service and 9% tax (there's also a cheaper $130 lunch option). You'll find a very abbreviated list of beverages available, and unfortunately, there is no option for corkage at the moment (which I hope will change). Click for a larger version.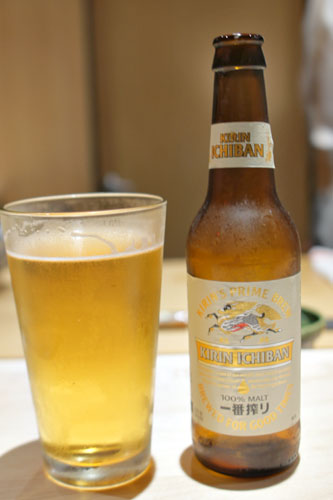 To drink, we started with a round of
Kirin Ichiban-Shibori [$8]
, a prototypical Japanese beer that was almost perfect for the situation: crisp, light, dry, a bit malty, yet with just enough substance to it.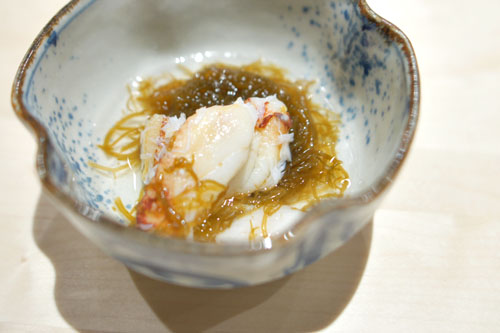 1: Mozuku to Kani
Dungeness crab leg arrived sweet and supple, its pure, delicate goodness highlighted against the tangy, gelatinous base of
mozuku
seaweed in Japanese rice vinegar.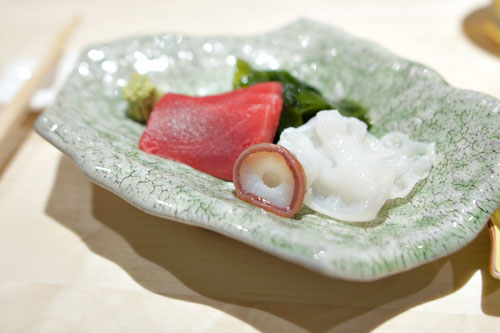 2: Kuromaguro to Tako no Sashimi
Next, a duo of sashimi, presented in Hokkaido
wakame
seaweed. Bluefin tuna came out soft, creamy almost, with a subtle, yet omnipresent salinity that was deftly brought out by a dab of soy. The live octopus was even better, showing off a beautiful texture, along with a mild taste that was perfectly accented by pinpoints of lemon and salt. We also enjoyed the suckers, or
kyubaan
, which had a delightful mix of crunchy and slimy consistencies.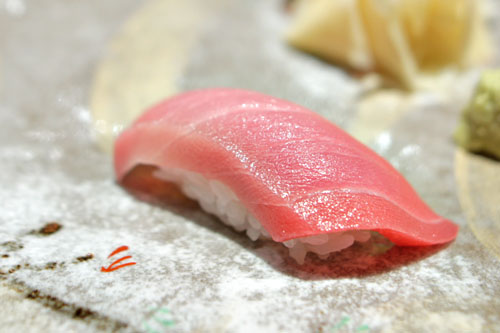 3: Kuromagurotoro
Blue fin toro, meanwhile, was a beautiful example of the fish: melt-y and buttery, with a wonderfully briny finish. Great with a brush of
murasaki
.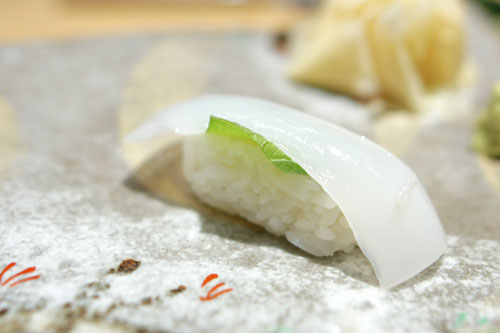 4: Ika
Japanese squid was very solid as well, with a creamy, sticky body and a delicate taste, expertly perked up by pricks of salt and a finish redolent of shiso.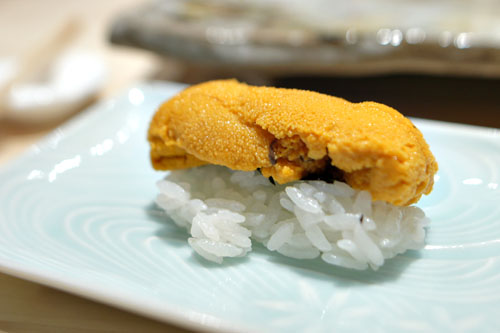 5: Uni
Sea urchin came from Santa Barbara, and was a paradigmatic presentation of the ingredient, conveying a cool, sweet, luscious flair that went perfectly with the umami-rich essence of the
nori
here.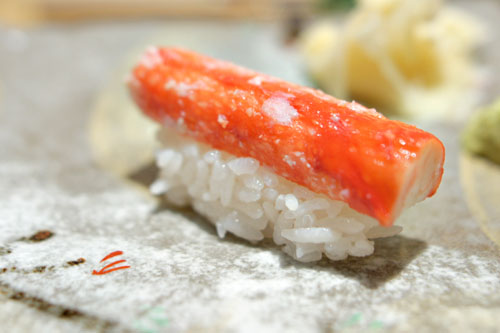 6: Tarabagani
King crab was pretty fantastic, quite possibly the best piece of
kani
sushi I've had in fact. It blows the doors off the imitation crab that's so prevalent these days, displaying an utterly focused, true-to-form experience that I loved.
With the beers drunk up, we moved on to a bottle of the
Nozawa Premium, Junmai, Saga Japan [$90]
. It was a commendable sake: floral, fruity, and easy-drinking, with a smooth, yet dry character that transitioned to more boozy notes toward the close.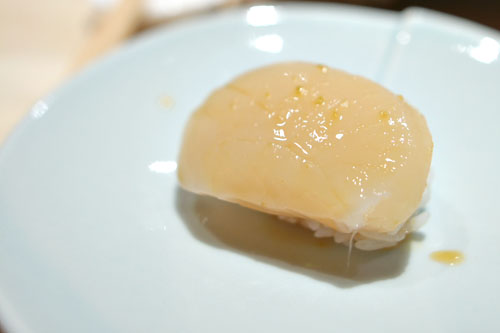 7: Hotate
Hokkaido scallop was lovely, sweet and cool by itself, but divine when paired with that sour-salty
yuzukosho
-ponzu sauce drizzled on top.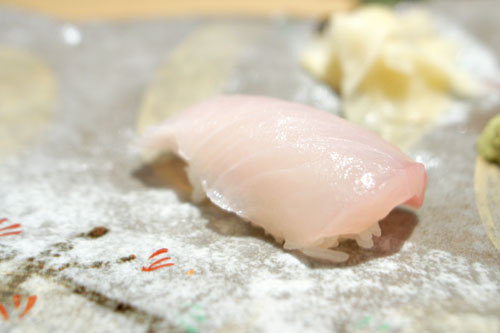 8: Kanpachi
Japanese amberjack was a great example of the fish: firm, snappy even, with a refined, creeping brine to it.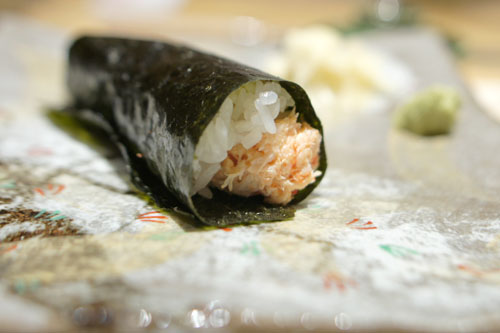 9: Isebi no Temaki
Our first hand roll of the night featured lobster, and was pretty spectacular. The cool, creamy bits of the crustacean were delish, conveying a certain sweetness that paired gorgeously with the rice and the roll's crisp, savory seaweed wrapper.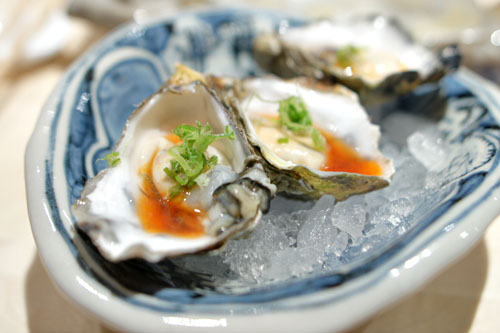 10: Kumamoto Kaki
The Kumamoto was the oyster that made me like oysters, and tonight they were in perfect form: crisp, firm, meaty examples that blended their ocean-y goodness with the heat of the chili ponzu, all while the scallions made for some great astringent overtones.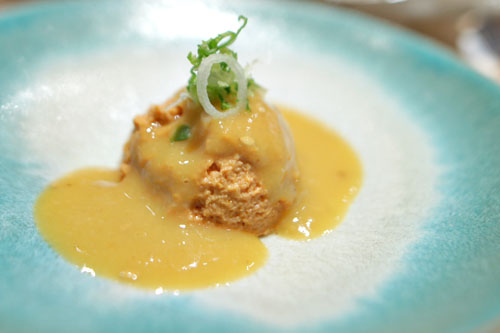 11: Ankimo
It'd been a while since I'd had monkfish liver, so this was a nice treat, one that came out looking a bit like apricot ice cream! The dish certainly did give us a sweetness though, with the miso-vinegar-egg yolk dressing providing a strong (almost too strong) counterpoint to the subtle, earthy-briny relish of the ankimo.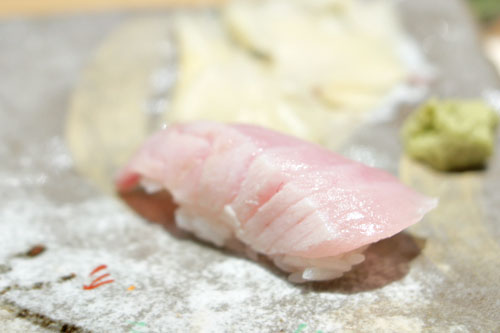 12: Kinmedai
Getting back to the
nigiri
now, golden eye snapper was simply superb texturally--soft, yet with substance--and conveyed a very balanced, very well-integrated salinity.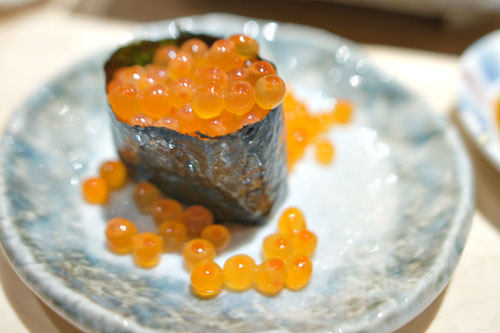 13: Ikura
Salmon roe was marinated in dashi, resulting in an amalgam of smoky, salty flavors that literally popped in your mouth. Very nice when taken with the
nori
.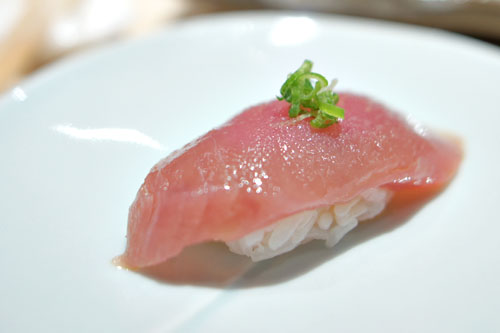 14: Katsuo
Also to my liking was the skipjack tuna, served with a garlic ponzu. All the flavors here just came together beautifully, with the fish accentuated by its accompanying sauce while the scallion added an exclamation point on the back end.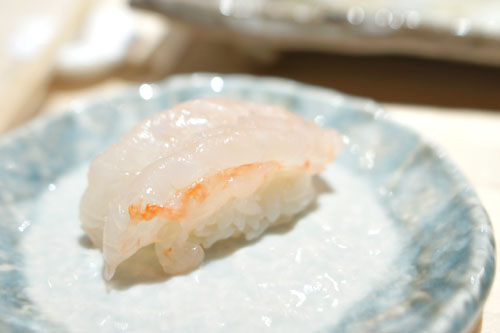 15: Amaebi
Sweet shrimp was prepared with
yuzu
and
shio
, making for a spot on presentation of crisp, snappy amaebi that faultlessly balanced salt with a citric tartness.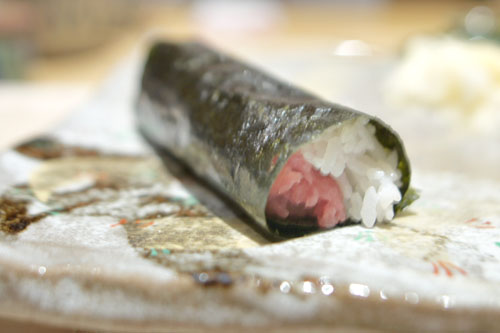 16: Toro no Temaki
The toro hand roll was a textbook preparation of the dish, with the tuna, heightened by a dip in
shoyu
, really shining through as the star of the show.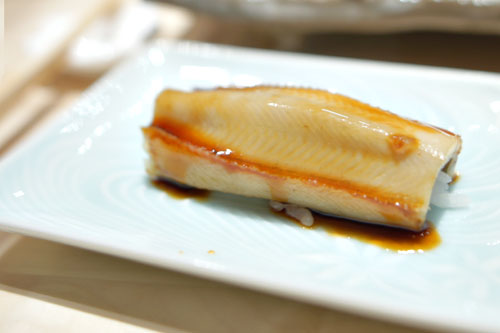 17: Anago
A uniform cut of sea eel came out soft and hot, with a lovely sugary component in the sauce that made sense against the brininess of the fish.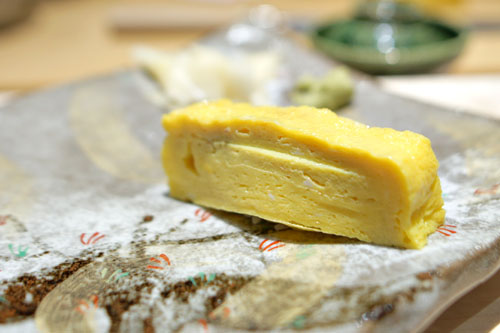 18: Tamago
We ended our parade of sushi with the traditional closer of egg, only this time, it wasn't quite the version that we were used to. Instead, the omelet here came stuffed with both
shiso
and
umeboshi
, making for an experience that melded sweet and sour flavors over an eggy base, all with an overarching essence of mint. Very cool!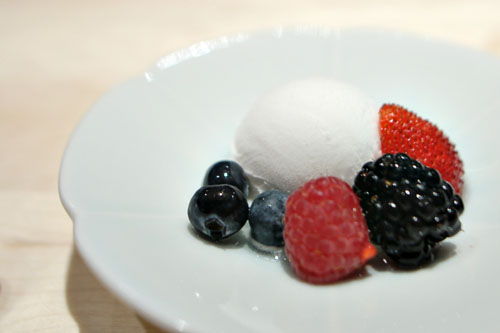 19: Raichi no Aisukurimu
Dessert comprised a sphere of stark white lychee ice cream, its refined, yet almost candied sweetness working well enough with the tart, juicy morsels of strawberry, blackberry, raspberry, and blueberry.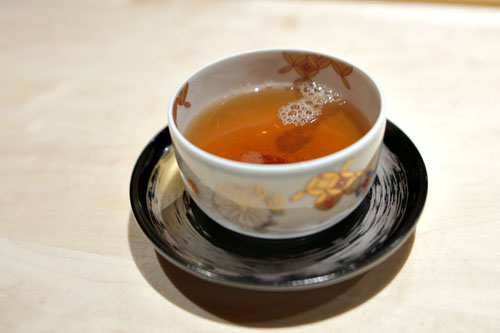 20: Hojicha
An excellent roasted green tea (à la
Urasawa
) was a natural ending to the meal.
Our meal tonight was a strong one to be sure. The food was pretty much spot on the entire night, with high quality ingredients near-impeccably prepared, and service was similarly on point as well (I also appreciated the lighthearted demeanor of Chef Fujita-san). It's like what I'd always wanted the
original restaurant
to be like, and is a fitting experience to carry on the Nozawa legacy. Sushi fiends take notice: there's another contender in the pantheon of top sushi joints in LA.
I think things could be
even better
, though, with a few minor tweaks. I like the change of pace here with the vaunted warm rice, but it does make the sushi harder to eat. What I think should be done is to have Fujita-san apply soy sauce and any other accoutrements before serving (the preferred
modus operandi
for high-end places such as
Mori
and
Zo
). This way, diners wouldn't have to struggle with the rice breaking apart as they dip pieces (an issue that I definitely struggled with). Maybe I've been spoiled by the likes of
Ohshima
and
Shunka
, but I'd also like to see a selection of more exotic fish, as well as more variation in the menu day-to-day, both of which would make for more replay value. Finally, it'd be nice to slow down a bit as well. Things aren't as hasty as they were in Studio City, but the pacing could've certainly been more leisurely, in order to allow us to better savor the experience.