Badmaash (Los Angeles, CA)
Badmaash Restaurant
108 W 2nd St, Los Angeles, CA 90012
213.221.7466
www.badmaashla.com
Mon 07/22/2013, 09:30p-11:20p

I'm beginning to get sick of the whole gastropub thing by this point, but one that's caught my attention in recent times in Badmaash ("naughty" or "badass" in Hindi, roughly) in Downtown. Set inside the former site of The Charcoal Grill, the DEX Studio-designed restaurant opened on May 13th and is helmed by Executive Chef Pawan Mahendro, along with his two sons Nakul and Arjun. The goal here is to present a sort of Indian gastropub, churning out Indian-inflected cuisine as seen through a casual, cliché-busting, "kids of immigrants" type of lens.
About the Chef
: Born to a food-centric family in the Punjabi city of Amritsar, Mahendro was trained in classic cuisine at Mumbai's Institute of Hotel Management, Catering Technology and Applied Nutrition. After graduating in 1977, he secured a job at the Taj Mahal Intercontinental, then moved to the Centaur Hotel. In 1978, he formed a business running a corporate cafeteria in Mumbai, then came to Canada in 1982 to train at the Holiday Inn. Mahendro decided to stay, and went on to work at several restaurants in Toronto, including the well-regarded Daily Planet. In 1995, he opened a French restaurant in New York's Rockland County, then traveled the world as a restaurant consultant before returning to Toronto. He served as Corporate Executive Chef at events company ByPeterandPauls.com before starting Jaipur Grille in October of 2002, which was widely lauded for its refreshing take on traditional Indian cuisine. Following the Chef's retirement, the family moved to Southern California in 2010, and by July 2011, had severed ties with the restaurant. Nakul and Arjun convinced their father to come out of hibernation, however, to help them realize their vision for a neo-Indian eatery, and Badmaash is the result of that collaboration.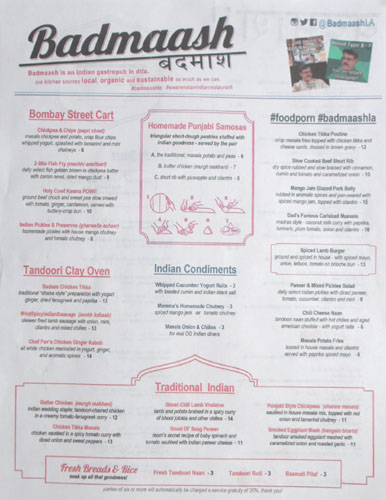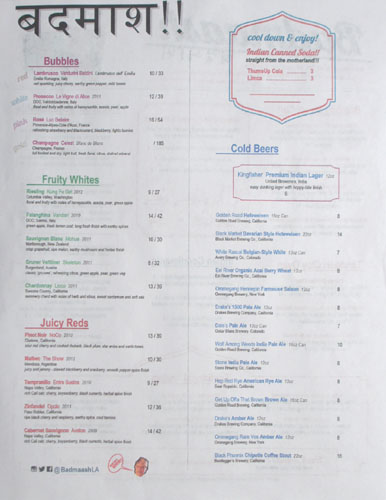 Badmaash's menu may be the first I've seen with hash tags, a nod to the influence that social media has on food these days. It features a good number of Indian classics, but also some more fusion-y, gastropub-y dishes as well. We also sampled items off of the special
dineLA menu
that was being offered this evening. To drink, think a smattering of surprisingly-interesting beers (almost always a good decision when it comes to Indian), as well as a handful of wines as well. Click for larger versions.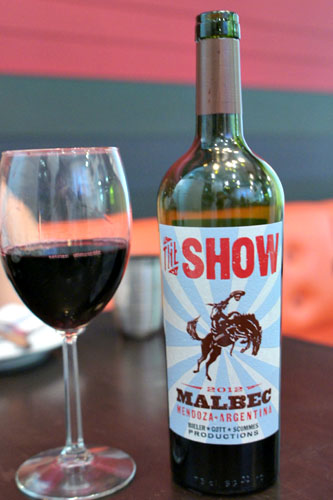 Speaking of wine, we opted for the
Malbec The Show 2012, Mendoza, Argentina [$30]
. I'm not sure if I've ever had Malbec with Indian before, and I'm not really yearning to have it again. The wine was fairly typical for the varietal, spicy and jammy, with a certain earthiness to it. There wasn't anything wrong, I'm just not sure it paired all that well with the food. Maybe a Kingfisher would've been a better idea after all.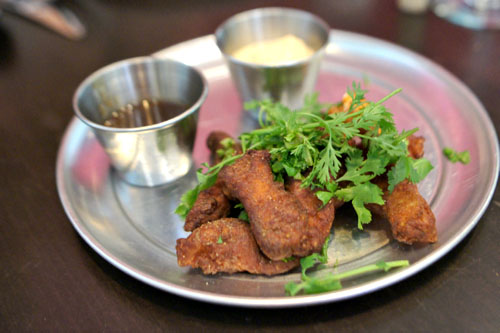 2-Bite Fish Fray (machhi amritsari) [$8.00]
| daily select fish golden brown in chickpea batter with carom seed, dried mango dust
We began with the restaurant's take on
macchi amritsari
, basically fried fish fritters. They were well-spiced, with a nice crunch on the crust, though the fish itself tended toward the dry side. I did appreciate the levity imparted by the herbs here, though.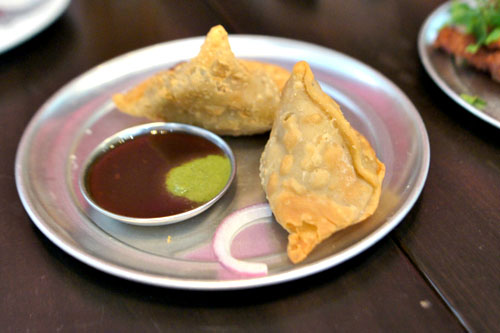 Homemade Punjabi Samosas [$8.00]
| short rib with pineapple and cilantro
Samosas were quite good, and were the first ones I've had to feature beef. The meat was hearty and satisfying, and went surprisingly well with the slight sweetness imparted by the pineapple. Lovely texture on the pastry here, too.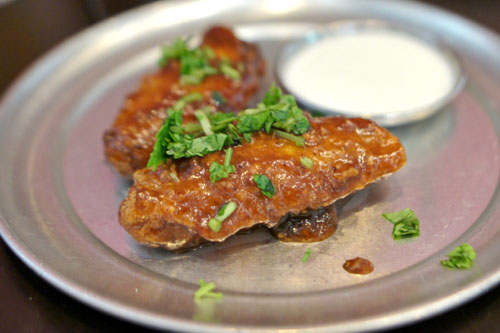 Chicken Wings a la Badmaash
| #fuckingawesome; chickpea dusted and flash fried to a crisp, with homemade 5-pepper and tamarind glaze
The wings weren't necessarily as awesome as their hashtag would imply, but they were tasty nonetheless: nicely crisp, with an appealing combination of sweet and spicy flavors. I wouldn't mind a bucket of these.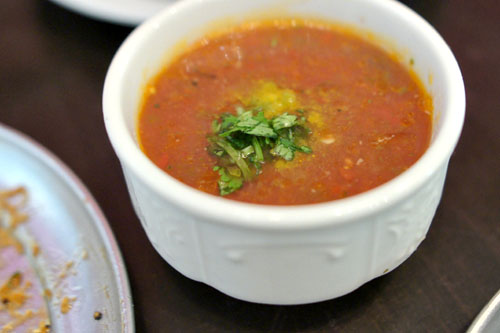 Tomato & Watermelon Gazpacho
| garnished with masala shrimp - plum tomato, fresh watermelon, red and green sweet peppers, red onion, serrano chili, cilantro
Serving as a sort of intermezzo in the dineLA menu, the gazpacho arrived tasting much like a salsa, a blend of cool, subtly spicy flavors underscored by a trace of watermelon-y sweetness. The shrimp actually worked out quite well here, adding a bit of textural interest to the pseudo-course.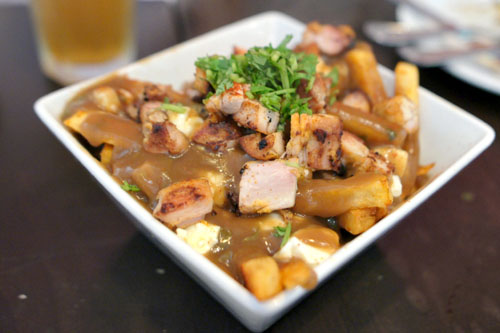 Chicken Tikka Poutine [$12.00]
| crisp masala fries topped with chicken tikka and cheese curds, doused in brown gravy
The poutine was unquestionably the star of the show this evening, and quite possibly the best poutine I've had (the owners' Canadianess showing through I suppose). The combo of the masala fries with the gravy and curds was spot on, and if that wasn't enough, the chicken was beautifully cooked--coming out tender, flavorful, juicy, and with a slight char bitterness--the perfect topping to the dish. An absolute must try.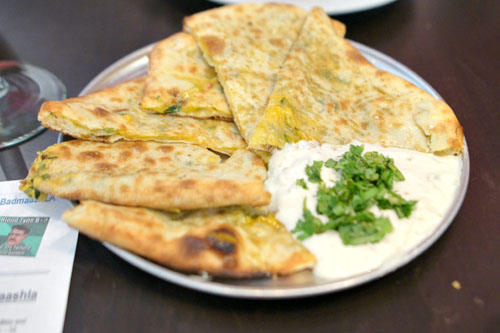 Chili Cheese Naan [$6.00]
| tandoori naan stuffed with hot chilies and aged american cheddar - with yogurt raita
Cooked in the traditional
tandoor
, the chili cheese naan functioned as your basic preparation of the bread, but with a subtle incorporation of the headlining ingredients that made it much more interesting. Very nice when taken with the
raita
.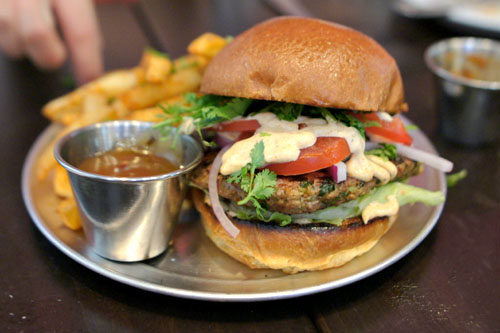 Spiced Lamb Burger [$13.00]
| ground and spiced in house - with spiced mayo, onion, lettuce, tomato on brioche bun
Another item that should be on your short list here is certainly the lamburger. The meat arrived properly rare, with a great Indian-inspired spice to it that should make it palatable even to you lamb haters out there (and I know there are a lot of you). It went swimmingly with the cilantro, various veggies, spiced mayo, and even with the sweetness in the brioche, making for a deft marriage of disparate culinary traditions.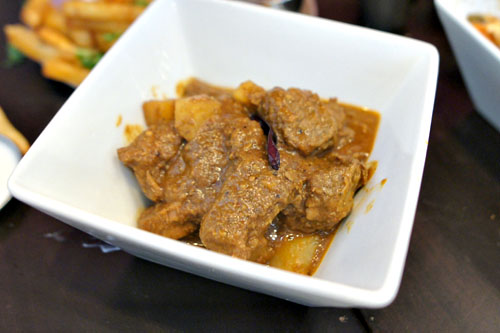 Ghost Chili Lamb Vindaloo [$14.00]
| lamb and potato braised in a spicy curry of bhoot jolokia and other chilies
The classic vindaloo was done up here with the much bandied about
Bhut Jolokia
. The dish was spicy, but not ridiculously so, the heat arriving on the palate fast and focused, with a particular quality to it that worked wonders with the sweet, almost tart flavors in the dish--a smart accent to the lamb. I will point out that the potatoes here were undercooked, resulting in a sort of firm, crunchy texture, but I actually enjoyed it against the near falling-apart tenderness of the meat.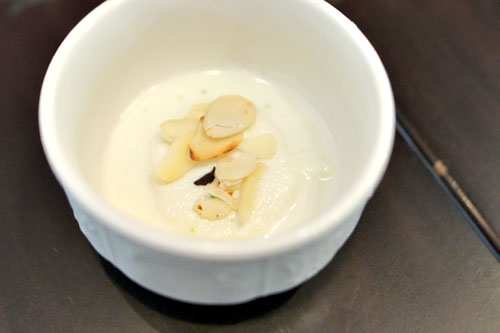 Cheese Dumplings in Sweet Cream (ras malai)
| traditional indian dessert - fresh paneer cheese dumplings soaked in sweet cream and whole milk, with rose and salted pistachio
Time for the sugary stuff. Chef Pav's version of
ras malai
(my favorite Indian dessert) was on point: cool and creamy, with a floral, sweet spice that really hit the spot.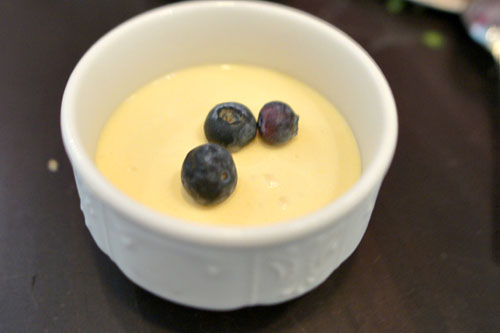 Alphonso Mango Mousse
| light and airy; fresh mango mousse that has had the aunty-ji's singing Chef Pav's name for years
The Alphonso mousse was sweet and tart, showing off a focused blast of fruity mango goodness accented by those blueberries.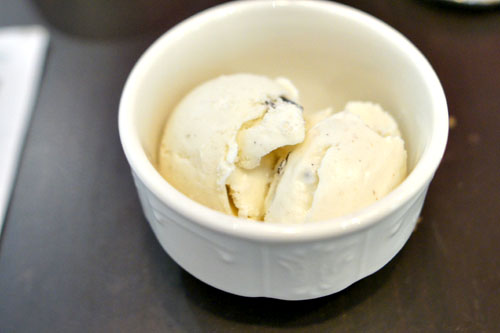 Peddler's Creamery Daily Selection [$5.00]
| local DTLA icecreamery! made with organic, fair-trade, local exotic ingredients... BICYCLE CHURNED IN SMALL BATCHES!!!!
Tonight ice cream selection from local producer
Peddler's Creamery
was a fantastic cardamom-cocoa nib variety. The spicy, aromatic nuances of the cardamom were on proud display, a perfect accompaniment to the smooth, sweet ice cream, all while the nibs added a touch of crunch and bitterness to the fray.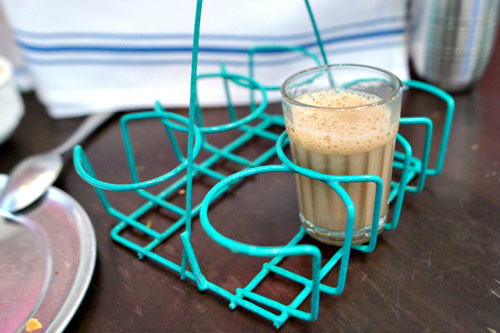 We closed with a wonderful preparation of warm cutting chai, a beautiful blend of sweet, spicy flavors that might've been the best chai I've ever had. I appreciated the brightly-colored wire holder here, reminiscent of the ones used at roadside stands in India.
I wasn't quite sure what to expect coming in here, but overall I was pretty happy with the experience. Barring a couple quibbles, the food was on point, sort of blending traditional Indian flavors with a fun, casual, youthful swagger befitting Badmaash's environs. I applaud the Mahendros for doing something different with the genre, and am curious to sample more of the menu and see where this all goes.