Mori Sushi (Los Angeles, CA) [2]
Mori Sushi
11500 W Pico Blvd, Los Angeles, CA 90064
310.479.3939
www.morisushi.net
Sat 07/13/2013, 08:00p-10:20p

Since debuting in 2000, Morihiro Onodera's eponymous restaurant has firmly established itself as one of the premier sushi spots in the Southland, second or third behind the epicness that is
Urasawa
. My
last visit
back in 2011 was spot on, really great, and, coincidentally, occurred right before Mori-san sold the place to his second-in-command, one Masanori Nagano. Now, Nagano had been a chef here from almost the very beginning, so I'm sure that the restaurant was left in good hands. Two years into this new ownership regime, a revisit made sense.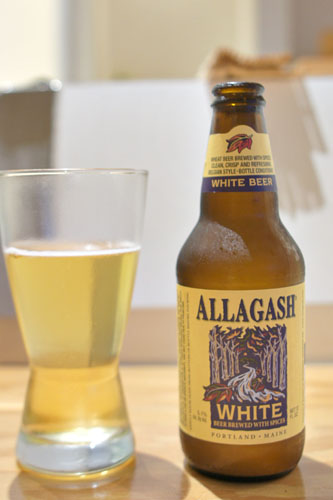 To drink, I started off with the
Allagash White [$7.50]
, a refreshingly crisp, spicy witbier that paired quite well with the food.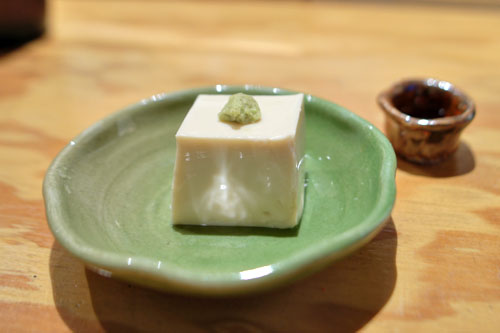 1: Tofu
As before, things commenced with a block of homemade tofu, topped with a dollop of freshly-grated wasabi and accompanied by a thimble of
shoyu
. The tofu, unsurprisingly, tended toward mild, with the soft, silken curd playing off of the dark flavors of the soy sauce, all while the wasabi added a crucial accent to the dish.
2a: Edamame
Next was a long plate holding five little bites (the
zensai
). I worked my way right to left, and first up was the edamame, a "special" preparation that was exactly what I wanted, with the soy beans melding with the tangy strands of
miyoga
in laudable fashion.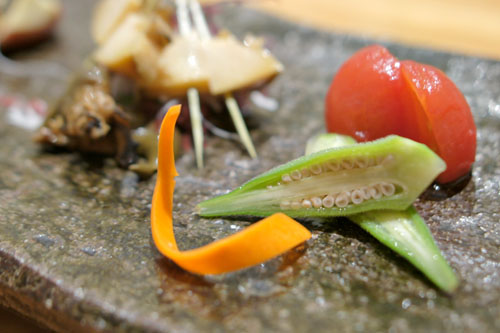 2b: Tomato to Okura
A singular tomato (from the Santa Monica Farmers Market) set in a vinegar-y sauce, meanwhile, was superb: utterly juicy and sweet, but with a bit of tartness, as well as a texture that was quite unlike anything I'd experienced before. The okra was similarly on point, subdued and almost dainty, restrained in its mucilaginous qualities.
2c: Awabi
Abalone arrived satisfyingly chewy, with a great bite to it and an umami-laced brine that was augmented by the earthiness of the gastropod's liver.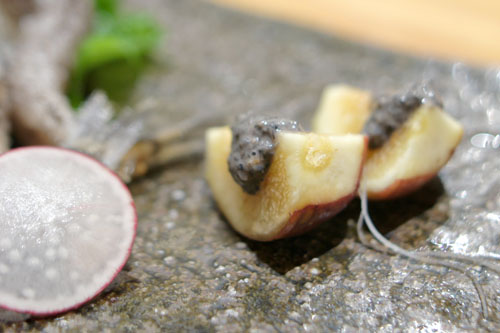 2d: Ichijiku
Figs were also excellent, their sweetness commingling beautifully with the nuttiness of the accompanying black sesame condiment.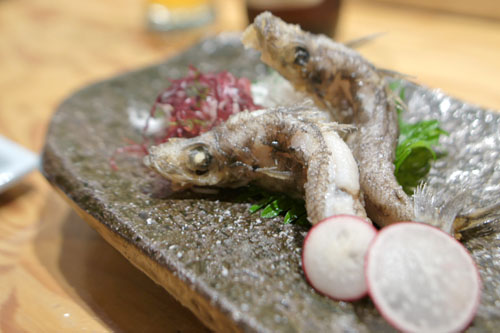 2e: Mehikari
We ended with my favorite item of the quintet, a fried preparation of a deep sea fish known as "round greeneyes." It was fantastic, a symphony of disparate textures (as the
mehikari
was eaten whole, soft bones and all) joined by a delicate, yet completely satisfying ocean-y relish.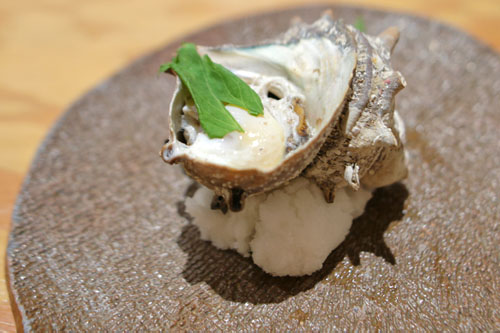 3: Sazae
This impressive looking specimen is known as the horned turban, or turban shell. It was cooked
tsuboyaki
style, and topped with a quail egg. The resulting dish was quite something, the flesh of the sea snail coming out firm, snappy, and satisfying, with a delightfully subtle bitterness to it, all moderated by the lushness of that egg. When we were all done with the meat, we eagerly supped down the remaining "liqueur," all briny and umami-laden, from the shell.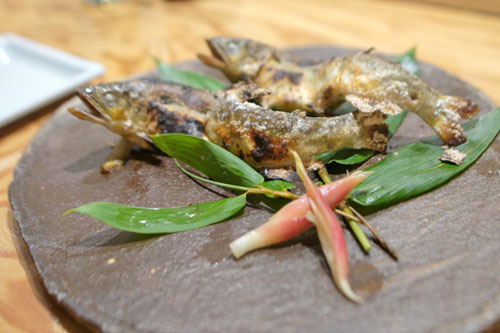 4: Ayu no Shioyaki
Sweetfish from Japan was grilled simply in the
shioyaki
manner. As the name would imply, its soft, delicate flesh conveyed a certain sweetness to it, one that melded seamlessly with the salty, savory notes and bitter char nuances present. Note, too, the wavy shape formed by the fish, a traditional flourish meant to evoke the act of swimming. Yum.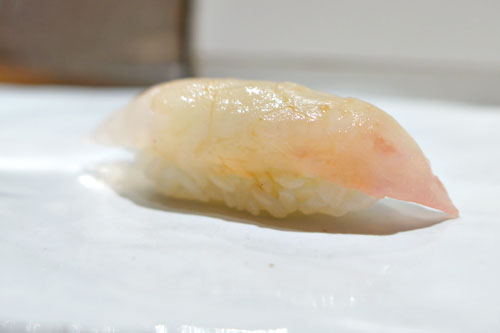 5: Tai no Kobujime
Wild Japanese snapper came out
kobujime
style, which means that the fish was treated with kelp. Indeed, the essence of the
kombu
was very apparent initially, but then gave way to the lingering heat of wasabi over an austere, complex base of
tai
.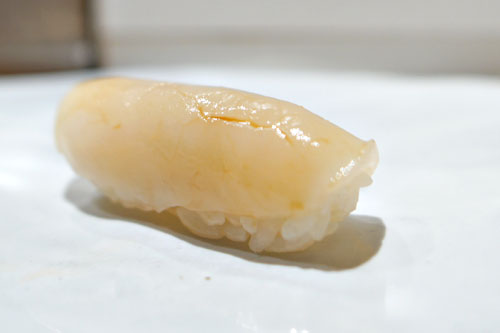 6: Hotate
Hokkaido scallop was pure and sweet, with a bit of wasabi spice at the beginning along with a fantastic ocean-y taste on the close.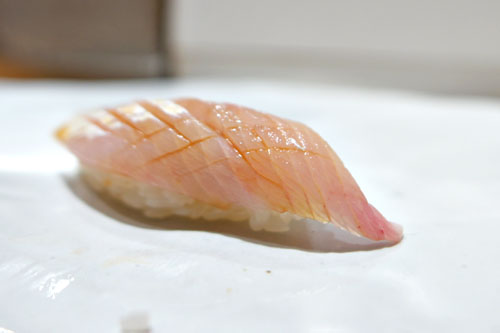 7: Hiramasa
Yellowtail kingfish from Japan was a summertime treat, firm with a bit of bite and a delicate, slightly sweet taste that played off the 'sabi commendably.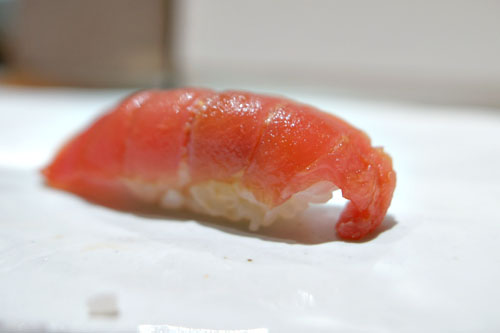 8: Kuromaguro
The first of three tunas was a wild blue fin varietal that was delightfully melty on the palate, with a focused flavor that was duly enhanced by the
murasaki
drizzled on top.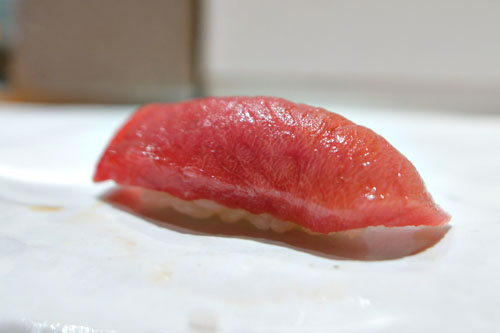 9: Mebachi
Big eye tuna came from Ecuador, and was even silkier in consistency, with a lighter, livelier taste to it vis-à-vis the preceding cut.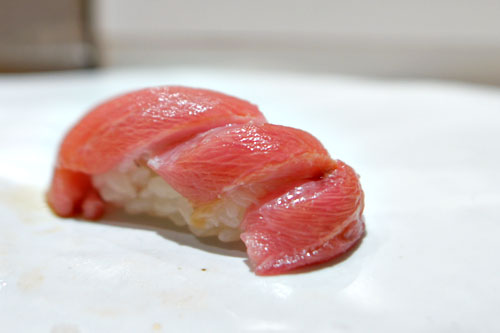 10: Kuromaguro Chutoro
Bluefin toro was of the "medium-plus" type, and was indeed wonderfully fatty, creamy almost, and verging on melt-in-your-mouth.
11: Kamasu
The
kamasu
(oft described as "barracuda") was fantastic, with a pretty profound richness and depth to it that was joined by a delightful smoky component.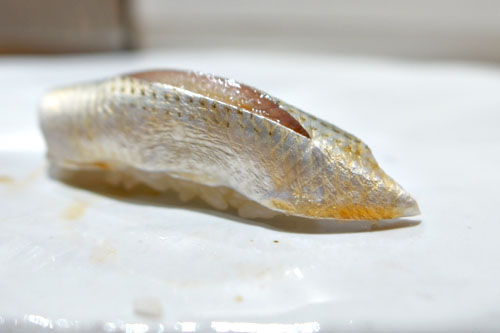 12: Kohada
Gizzard shad was beautifully presented, its silvery skin glistening. It was cured in vinegar, as is typically done with the fish, and was firm to the bite, with a strong, assertive salinity to it that paired well with the tangy notes present.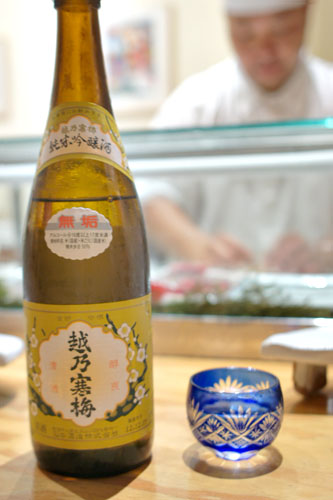 With the beer gone, we went with a bottle of sake, specifically the
Koshino Kanbai Muku Junmai [$87]
, brewed by Ishimoto Shuzo out of Niigata. The "Pure Realm" came recommended by our server, and he didn't lead us astray. Think a base of rice-y goodness, very balanced, with an omnipresent, yet restrained fruity sweetness and just a touch of boozy heat toward the end.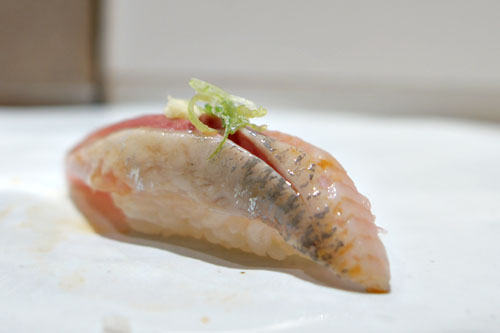 13: Iwashi
It was great to see sardine presented, the fish coming out wonderfully slick on the tongue, with a focused brine to it that mixed beautifully with the bright combo of ginger and scallion.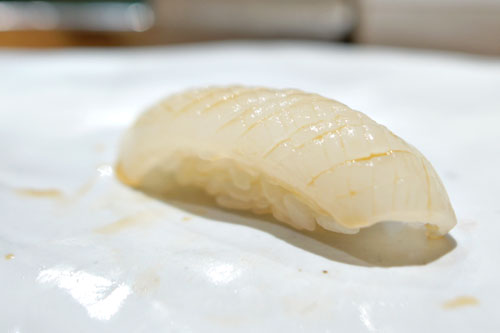 14: Aori Ika
Japanese bigfin reef squid was creamy and sticky, with a very subtle taste to it that was nicely complemented by the soy sauce.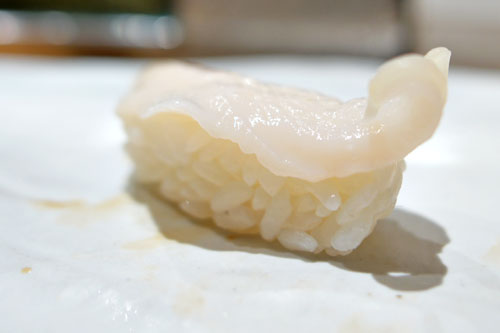 15: Mirugai
Crisp, crunchy geoduck came with a sprinkle of salt and a splash of yuzu, perfect accoutrements to the clam's inherent sea-like savor.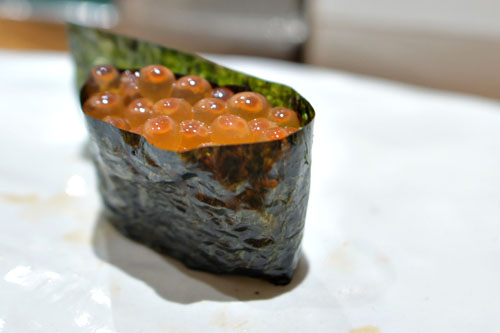 16: Ikura
Salmon roe was marinated in a soy-based broth, which did a great job augmenting the natural salinity of the eggs. These had a lovely "pop" to them as well, and the nori wrapper was great in tempering the strong flavors at play.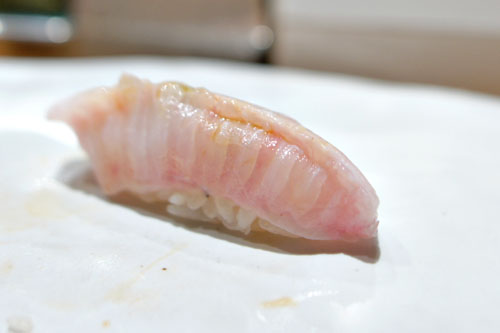 17: Karei Engawa
Now, as we all know by now,
engawa
usually refers to the chewy fin muscle of halibut. However, in this case, we had the fin of Japanese flounder, or
karei
. To me, this one was all about texture. I found it even crisper, even more tendinous than halibut fin, with a very subtle flavor.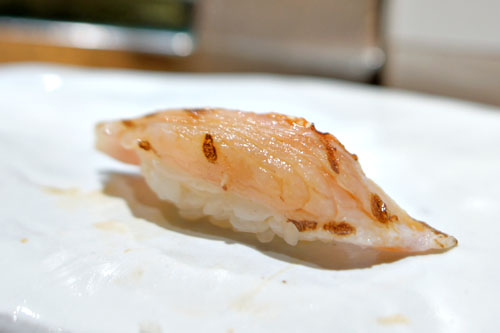 18: Kinmedai
Golden eye snapper from Japan was delicious, with a fantastic char-like bitterness to it that made for an eminently balanced bite.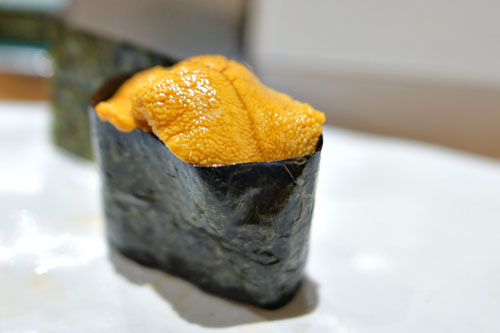 19: Santa Barbara Uni
Mori is somewhat known for its presentation of two types of uni back-to-back. In this corner we had the Santa Barbara variety, which was cool and creamy, though not as sweet as I was expecting. Quite nice, especially when taken with the seaweed.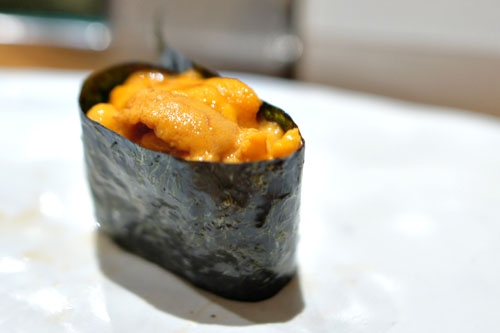 20: Hokkaido Uni
The Hokkaido version was sharper, with a more focused brine and a steelier consistency. I'd actually have to give it the victory on this night, a reversal from the decision
last time
.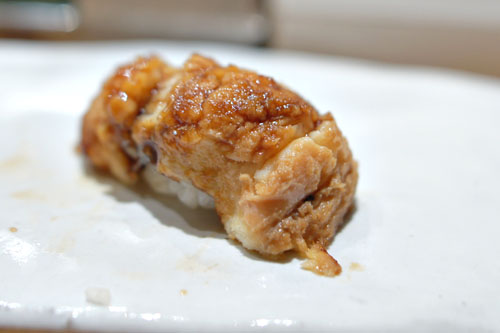 21: Anago
The Japanese sea eel was quite unlike any other I've had. It was literally falling-apart tender, with a marked sweetness to it that transitioned to a more ocean-y character on the close.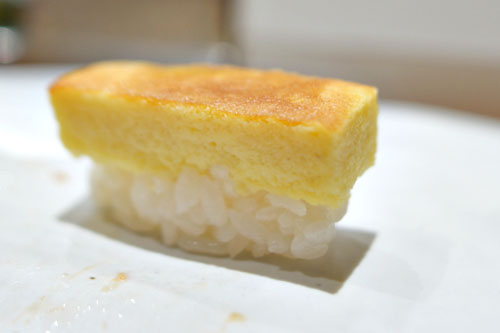 22a: Tamago
The appearance of
tamagoyaki
almost always signifies the end of a sushi meal, and tonight we were presented two varieties. The first was the more traditional preparation, arriving cool, sweet and eggy, with a firm, juicy, somewhat dense texture.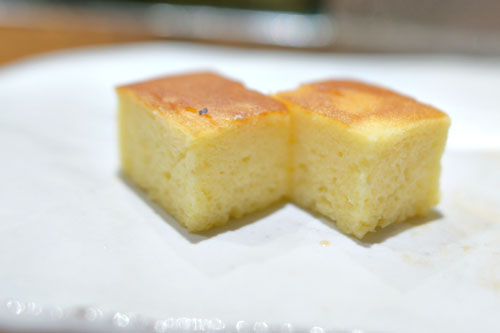 22b: Tamago
The second was
Urasawa
-esque, almost cake-like and made using shrimp purée. It had a more multifaceted taste to it, with less sugariness and more salinity.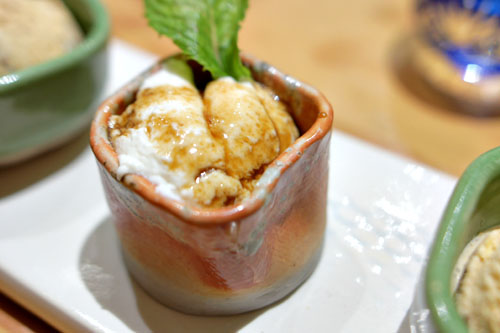 23a: Tofu Blancmange
Our first of two desserts was a
blanc-manger
, which perfectly blended the essence of tofu with a wonderful sweetness, all balanced by a sort of overarching piquancy.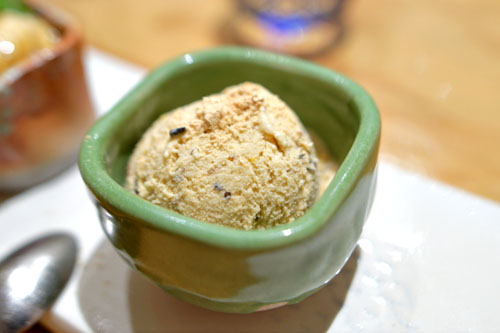 23b: Shoyu Aisukurimu
The soy sauce ice cream, meanwhile, was something else, and by something else, I mean all sorts of awesome. There was a chocolate-y sweetness at first here, but the crux was the whisper of
shoyu
savor that really underscored the dish. Could this be the new salted caramel?
Chef/Owner Masanori "Maru" Nagano in the middle, flanked by Yoshiyuki "Yoshi" Inoue (who made the desserts) and Taketoshi "Take" Azumi (our capable
itamae
for the evening).
I'm very happy (and relieved) to report that Mori's going as strong as ever under Nagano's leadership. The meal tonight was near-flawless, and the new owner's doing a great job executing Mori-san's original vision here, turning out top notch traditionalist sushi and some stellar cooked dishes to boot. If that wasn't enough, Maru-san seems to have instilled a bit more fun into the demeanor of the chefs here, whom I found lighthearted, easy to deal with, and not afraid to crack a joke. For all you sushi fiends out there, this place
still
needs to be on your bucket list.