Lukshon (Culver City, CA) [2]
Lukshon Restaurant
3239 Helms Ave, Culver City, CA 90034
310.202.6808
www.lukshon.com
Wed 07/10/2013, 08:15p-11:10p

Since opening at the start of 2011, Sang Yoon's
Lukshon
has stood as sort of the bastion of modern southeast Asian cooking in LA. I really enjoyed my first meal here, and figured that it was time for a revisit, now that opening chefs Jacob Kear and Johnny Yoo have been replaced by Executive Chef Ted Hopson.
Hopson, for his part, is a graduate of the University of California at Riverside ('03), and attended culinary school at CSCA/Le Cordon Bleu in Pasadena. From there, he landed a position at Downtown's longstanding Water Grill, working under
David Lefevre
. He eventually reached the rank of Executive Sous Chef, but would follow Lefevre out the door in August of 2010. A few months later, Hopson became Exec Chef at
Father's Office
, then took over at Lukshon as well in June 2011. He is joined in the kitchen by Chef de Cuisine Nathan Macaulay (
The Tasting Kitchen
), while Laurie Pesce (Wilshire, Cafe del Rey, Wolfgang Puck) remains on as General Manager.
An interesting note: both Hopson and Yoon will be competing in the new season of
Top Chef Masters
, premiering on July 24th. They'll be joined by LA's very own
Neal Fraser
, as well
Los Angeles
magazine's Lesley Suter (who's serving as one of the judges). Oh yeah, and the whole series was filmed in LA too. You can bet I'll be watching.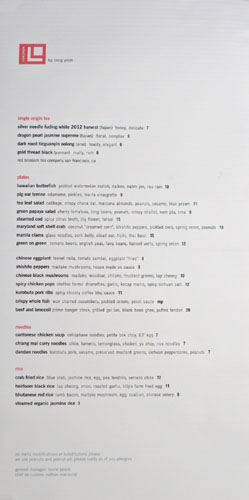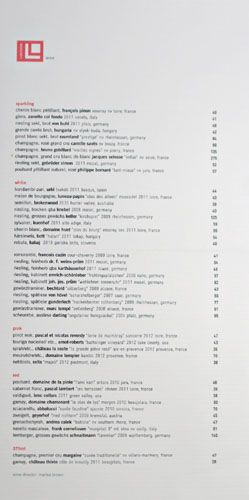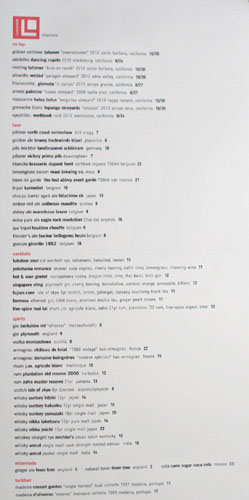 Lukshon's menu has been tweaked to put more of an emphasis on shareable small plates, though the overall aesthetic remains. On the boozy side of things, Wine Director Marisa Brown has replaced Eduardo Porto Carreiro, though his reasonably-priced, Riesling-centric wine list remains. Cocktails, of course, are worth trying as well, and I can't complain about the beers, either (after all, this is where I discovered the fabulous Hitachino XH). Click for larger versions.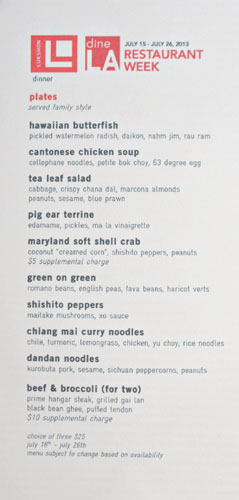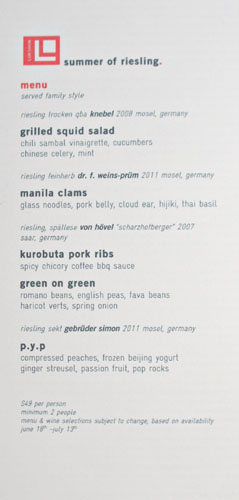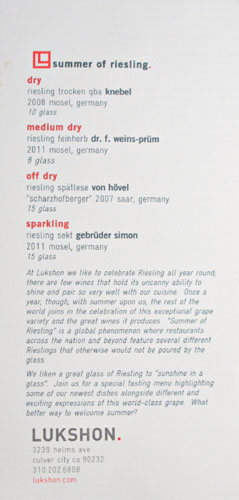 This evening, Lukshon's standard bill of fare was joined by a special
dineLA
deal, as well as a "Summer of Riesling" tasting menu, featuring Rieslings that would typically not be poured by the glass. In line with the event, we were treated to the
riesling sekt gebrüder simon 2011 mosel, germany
, as well as the
riesling spätlese von hövel "scharzhofberger" 2007 saar, germany
.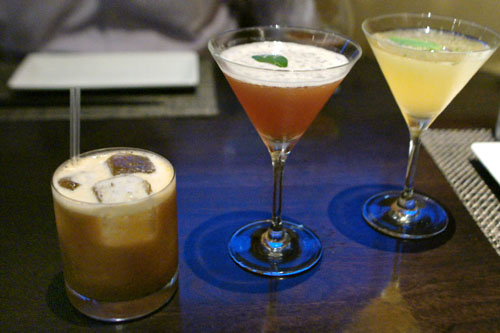 lukshon sour [$11.00]
| old overholt rye, kalamansi, tamarind, lemon
yokohama romance [$11.00]
| prunier vsop cognac, cherry heering, kaffir lime, lemongrass, shaoxing wine
hot & sour gimlet [$12.00]
| monopolowa vodka, dragon chile, lime, thai basil, kinh gioi
We made sure to work our way down the cocktail list, beginning with this threesome. The
Lukshon Sour
was a viscous, creamy concoction featuring an appealing mix of sweet and sour that came together in a flavor profile reminiscent of banana. The
Yokohama Romance
, meanwhile, showed off a complex, boozy weight from the Prunier against a backdrop of dark fruit tartness, while the
Hot & Sour Gimlet
was all about a fantastic blast of aromatic, herb-y nuances up front leading to a sour-ish close tinged with heat.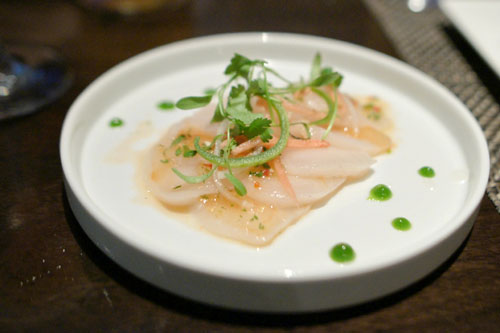 hawaiian butterfish [$10.00]
| pickled watermelon radish, daikon, nahm jim, rau ram
The meal got off to a strong start with a plate of butterfish. It was an eminently balanced course, with the clean flavors of the fish forming a perfect base on which the bright, multifaceted notes from the
nam jim
and
rau ram
could really sing. Lovely textures too between the supple slices of sashimi and the crunchy veggies.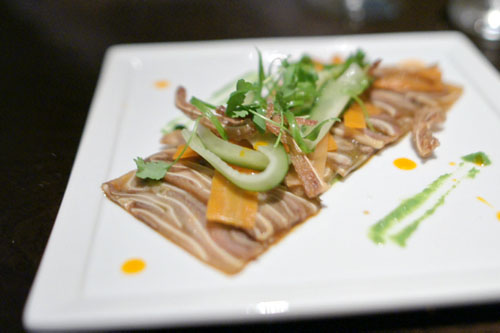 pig ear terrine [$9.00]
| edamame, pickles, ma-la vinaigrette
Our next course reminded me a bit of the classic Sichuan specialty
fuqi feipian
. The terrine arrived cool and gelatinous, with a pork-y relish to it that worked flawlessly with the slight undercurrent of heat in the dish, all while the pickles added a fantastic lightness and crunch to things. Even better? The crisp, salty slivers of fried pig ear tossed in.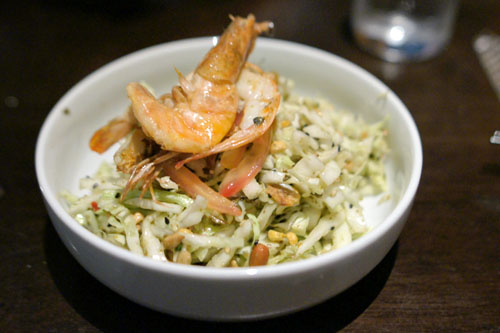 tea leaf salad [$11.00]
| cabbage, crispy chana dal, marcona almonds, peanuts, sesame, blue prawn
The tea leaf salad was pretty fantastic, the crunchy shards of cabbage forming a base on which to appreciate the counterbalancing blasts of sourness and acid, interjected by a gorgeous nutty crunch and a hit of umami-rich goodness from bits of
xia mi
. The prawn arrived perfectly cooked as well--buttery, briny, and delicious.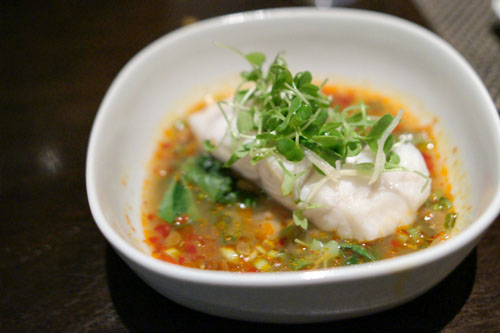 steamed cod [$15.00]
| spicy citrus broth, lily flower, tatsoi
Hopson then sent out the cod. I rather liked this one as well, its stark white, soft, springy, moist flesh and mild taste serving as a counterpoint to the spicy, herbaceous, and wonderfully aromatic broth that managed to succinctly capture the essence of the traditional dish.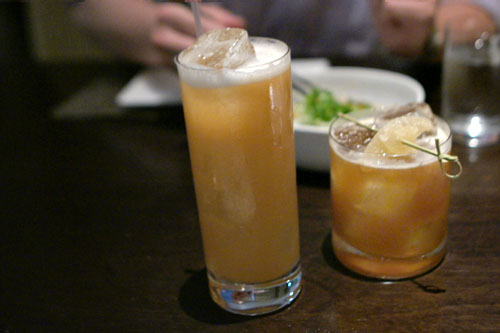 singapore sling [$13.00]
| plymouth gin, cherry heering, benedictine, combier orange, pineapple, bitters
fujian cure [$11.00]
| isle of skye 8yr scotch, lemon, galangal, lapsang souchong black tea
More cocktails. The
Singapore Sling
was a great rendition of the recipe, with a strong pineapple-y character backed by tasty notes of sweetness and herby spice--very drinkable. Meanwhile, the
Fujian Cure
was even better, with a fantastic, lingering smokiness that just permeates a backbone of saccharine tartness.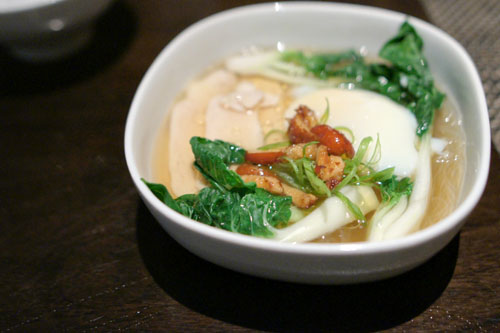 cantonese chicken soup [$7.00]
| cellophane noodles, petite bok choy, 63° egg
The chicken soup was superb, really capturing the quintessence of Cantonese flavors. The bird itself was spot on, and I loved the crisp, crunchy bok choy here and how the egg just added a marvelous, enveloping richness to things. Lovely tanginess too from the pickled jujubes.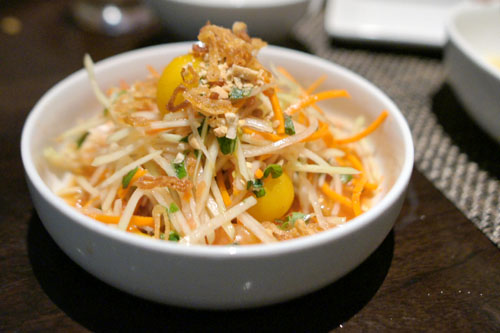 green papaya salad [$9.00]
| cherry tomatoes, long beans, peanuts, crispy shallot, nam pla, lime
The
som tam
was another winner, a texturally wonderful dish that married sweet and sour flavors beautifully, all underscored by the pungency of that fish sauce. Fantastic savoriness from those shallots and peanuts, too.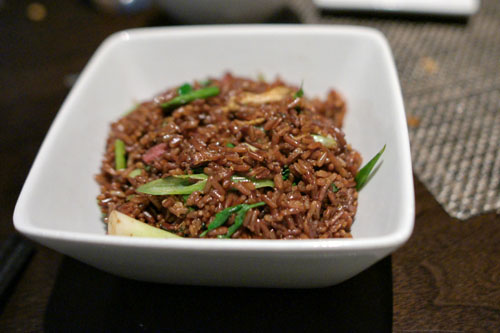 bhutanese red rice [$9.00]
| lamb bacon, maitake mushroom, egg, scallion, chinese celery
The red rice conveyed an intense, heady savoriness on the nose, though on the palate it was much more muted, with a buttery, somewhat nutty character laced with salty bits of bacon, all while the scallion and celery imparted just enough levity to the mix.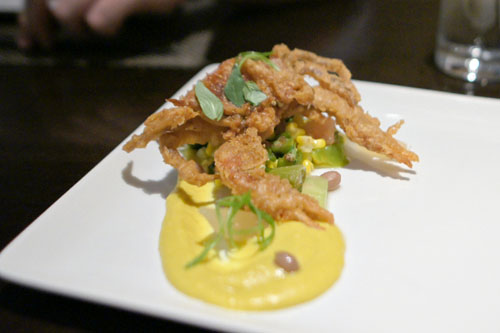 maryland soft shell crab [$13.00]
| coconut "creamed corn", shishito peppers, pickled okra, spring onion, peanuts
Soft shell crab was surprisingly nice, one of the strongest preparations I've had to date in fact. The crab itself was wondrously crunchy, with a great brine to it along with an unobtrusive shell. The coconut and corn combo formed a sugary component in the dish that worked well with the inherent sweetness in the crustacean, and I loved the fragrant whispers of what I believe was basil in the dish.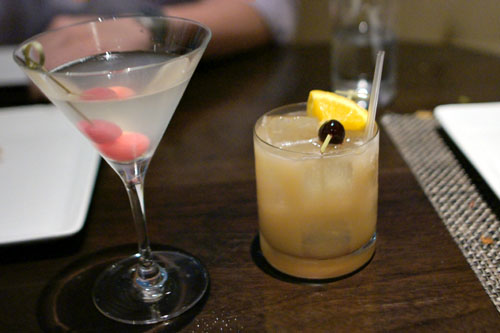 formosa [$11.00]
| ethereal gin, lillet blanc, atomized mizhiu tou, ginger pearl onions
five-spice mai tai [$13.00]
| rhum j.m. agricole blanc, zafra 21yr rum, plantation '00 rum, five-spice orgeat, lime
Our final round of cocktails began with the
Formosa
, which displayed very apparent notes of gin over a complex, subtle base of bittersweetness--a stiff one. The
Five-Spice Mai Tai
, meanwhile, was pretty much the polar opposite, with a fruity blast of tropical, spicy sweetness over a boozy rum backbone.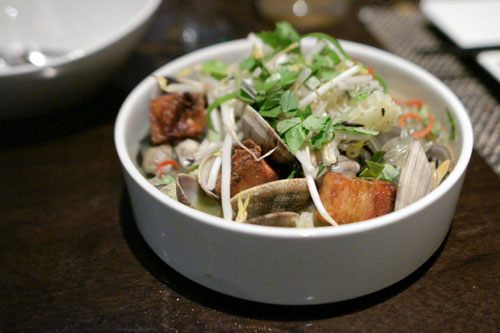 manila clams [$15.00]
| glass noodles, pork belly, cloud ear, hijiki, thai basil
We had here what sort of amounted to a clam pho, and indeed, it was
pho
-ntastic, with the bright, aromatic flavors really melding well with the inherent goodness of those clams. I also appreciated the slippery, crunchy texture on the wood ear here, and the salty hits from the pork belly just took the dish over the top.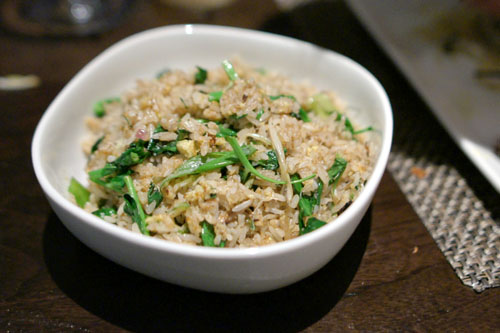 crab fried rice [$12.00]
| blue crab, jasmine rice, egg, pea tendrils, serrano chile
The prosaic-sounding crab fried rice was actually
maaahvelous
, one of the best I've had actually. What struck me here was how forcefully the ocean-y nuances of the crustacean were conveyed, as well as how well-integrated the egg was. At the same time, the pea and serrano were key in providing a modicum of lightness to the course, making for a balanced, cohesive rice dish overall.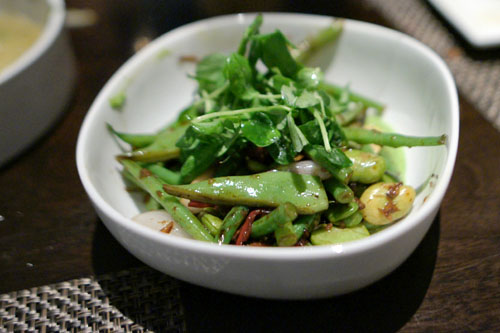 green on green [$12.00]
| romano beans, english peas, fava beans, haricot verts, spring onion
This whimsically-named dish brought together a quintet of disparate veggies, each one distinct in terms of both taste and texture, but all coming together nicely, integrated by an overarching savoriness and spice.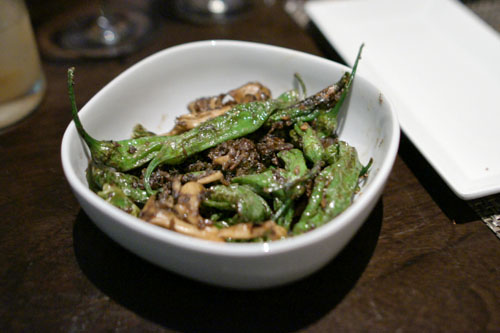 shishito peppers [$9.00]
| maitake mushrooms, house made xo sauce
Shishitos were classic in essence, with light pin pricks of heat augmented by an in-your-face blast of umami goodness from the combo of mushrooms and XO.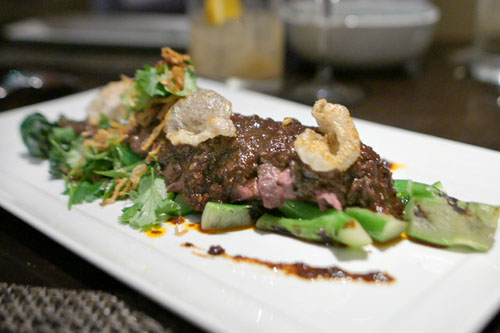 beef and broccoli [$28.00]
| prime hanger steak, grilled gai lan, black bean ghee, puffed tendon
The kitchen then sent out the night's
pièce de résistance
, the priciest, biggest, and perhaps most amusingly-named item on the menu. The hanger itself was spot on: just teeming with beefy goodness and surprisingly tender to boot. I thoroughly enjoyed it alone, but the pungency of the black bean made sense too, though you had to be careful with it, lest the ghee overwhelm the natural beauty of the meat. Even more key was the use of
kai lan
, which imparted a well-placed crunch and bitterness to things.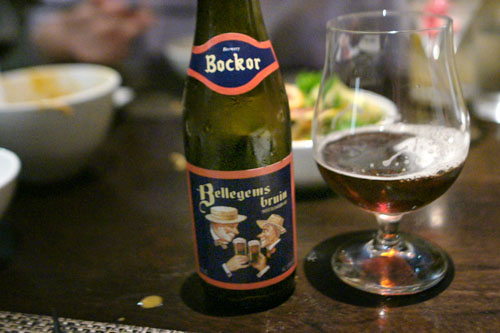 With the cocktails dispensed with, we opted for beer next, specifically the
flander's ale. bockor bellegems bruin. belgium [$9]
. It was a pretty prototypical example of
oud bruin
, so think funky and tart, with an almost wine-like quality to it. Quite nice.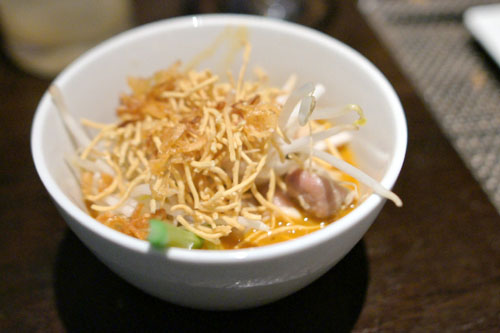 chiang mai curry noodles [$7.00]
| chile, turmeric, lemongrass, chicken, yu choy, rice noodles
Here, we were presented with classic
khao soi
-esque flavors, resulting in a comfy, familiar curry experience, with the chicken and the veggies in perfect harmony. Lovely textures on this one, too.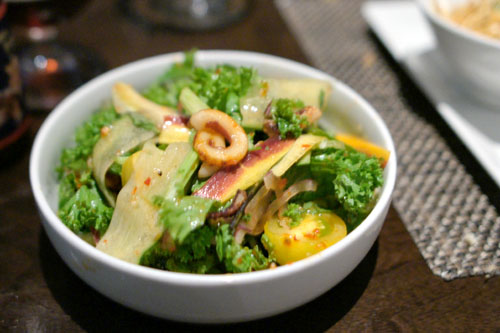 grilled squid salad
| chile sambal vinaigrette, cucumbers, chinese celery, mint
The squid salad was something off of the special Riesling menu, and showed off some really bright, bitter, minty flavors, all underscored by the zing of that sambal. As such, the squid, surprisingly, wasn't really the star of the show, becoming more of a textural component to pair with the various greenery.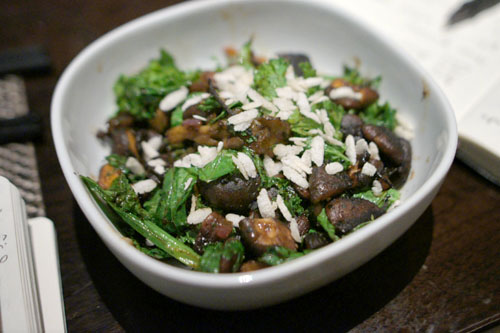 chinese black mushrooms [$10.00]
| maitake, woodear, shitake, mustard greens, lap cheong
The medley of 'shrooms was a veritable umami bomb, blending together the earthy, heady savor of the various fungi and commingling it with the sausage-y savor of
lap cheong
, all while the mustard tried in vain to rein things in.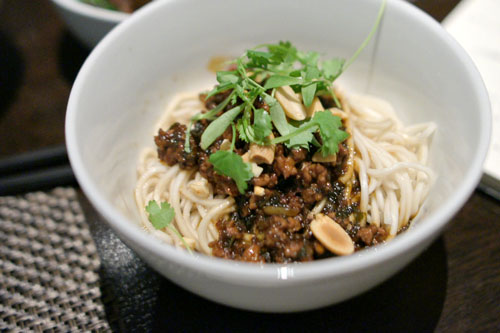 dandan noodles [$7.00]
| kurobuta pork, sesame, preserved mustard greens, sichuan peppercorns, peanuts
Dandanmian
was just as good as I remembered (albeit slightly more subdued), a blast of spicy, mouth-numbing flavors that go along oh-so well with the mustards greens and peanuts.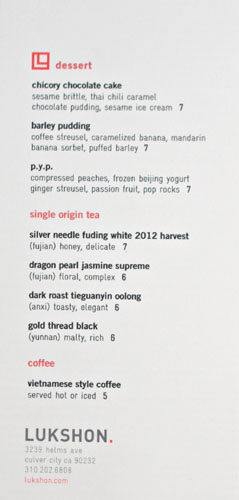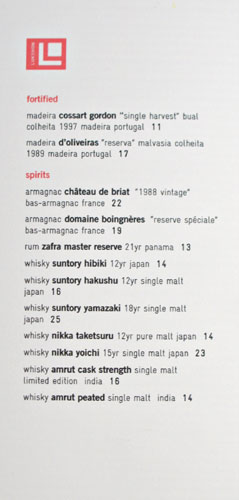 Up until this point, Lukshon had never had a dessert menu, operating on the principle that, in Asian restaurants, dessert is often included for free. However, opening Pastry Chef John Park (
XIV
under
Jordan Kahn
,
Providence
, Water Grill) left recently to open Quenelle ice cream shop in Burbank. He's been replaced by Jessica Perez, and the restaurant has used this changing of the guard as an opportunity to install its first dessert menu. Click for larger versions.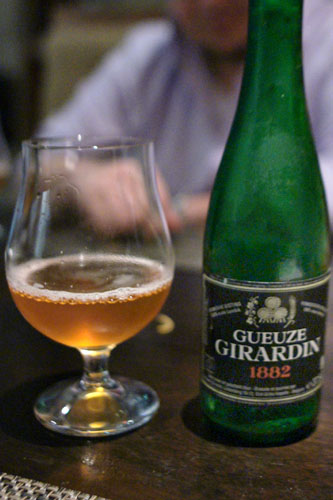 With the
oud bruin
all drunk up, we went for something even more sour, the
gueuze. girardin 1882. belgium [$18]
. It was a classic interpretation of the style, a torrent of lactic, tart, acidic flavors that finished utterly crisp and dry.
chicory chocolate cake [$7.00]
| sesame brittle, thai chili caramel, chocolate pudding, sesame ice cream
Dessert started strong with this sort of awesome chicory cake. The cake itself displayed a restrained sweetness with a bitter tinge, and went beautifully with the savory, spicy, nutty notes in the caramel and ice cream. I was particularly a fan of the sesame brittle, which I would've easily demolished on its own.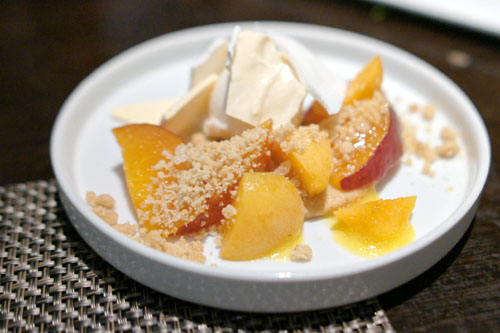 p.y.p. [$7.00]
| compressed peaches, frozen beijing yogurt, ginger streusel, passion fruit, pop rocks
I can only assume that this dessert was a nod to MJ's
P.Y.T
. It was pretty indeed though, with the sweet, juicy fruit pairing perfectly with the buttery, spicy combo of streusel and yogurt. Superbly well balanced, with a bit of whimsy from those pop rocks.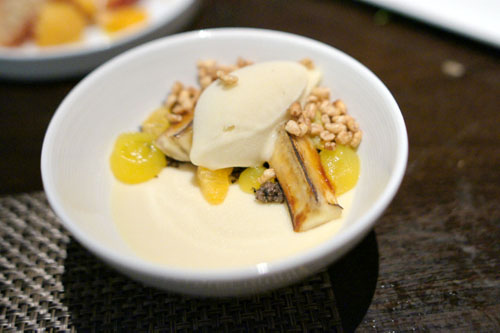 barley pudding [$7.00]
| coffee streusel, caramelized banana, mandarin banana sorbet, puffed barley
The barley pudding was yet another winner. I loved the banana sweetness here, and how that played off the bitterness of the coffee so succinctly, all while the barley tempered the interaction while adding a delightful crunch to boot.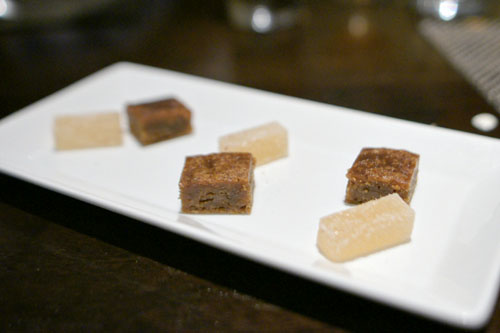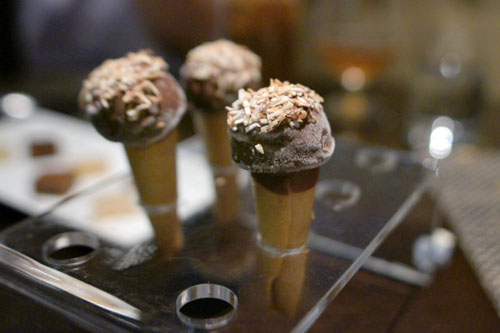 Mignardises comprised some mouth-watering palm sugar brownies and lychee
pâtes de fruits
. Even better were "Drumsticks" of coffee ice cream, chocolate glaze, and toasted coconut.
It's been too long. I really was quite happy with this dinner. The kitchen's interpretation of Southeast Asian cookery remains true to its essence--bold, lusty, not shy about flavor--but at the same time, there's an uncommon emphasis on precision, finesse, modernity here. Add to that a more focused, more manageable menu, and a fantastic selection of desserts, and it seems to me that, with Hopson now firmly at the helm, Lukshon's going stronger than ever.
---
A couple weeks before this meal, I paid a visit to Lukshon to attend a special lunch put on by the
Hong Kong Tourism Board
featuring three well-regarded Hong Kong chefs. The event was aimed to promote "
Hong Kong Live at The Grove
," a three-day series of performances, exhibits, music, classes, and of course, food. Now, I normally don't do these types of things, but I made an exception this time around due to my curiosity about top-level Chinese cooking. It's an area that I don't know much about, but would love to experience more from.

Here we see Lukshon's gleaming, open kitchen shortly before the start of the luncheon. An interesting note: despite all the high-end, high-tech cooking tools available here, I was told that the Chinese chefs tended to prefer to do things old school, eschewing the deep fryer for the wok, as an example.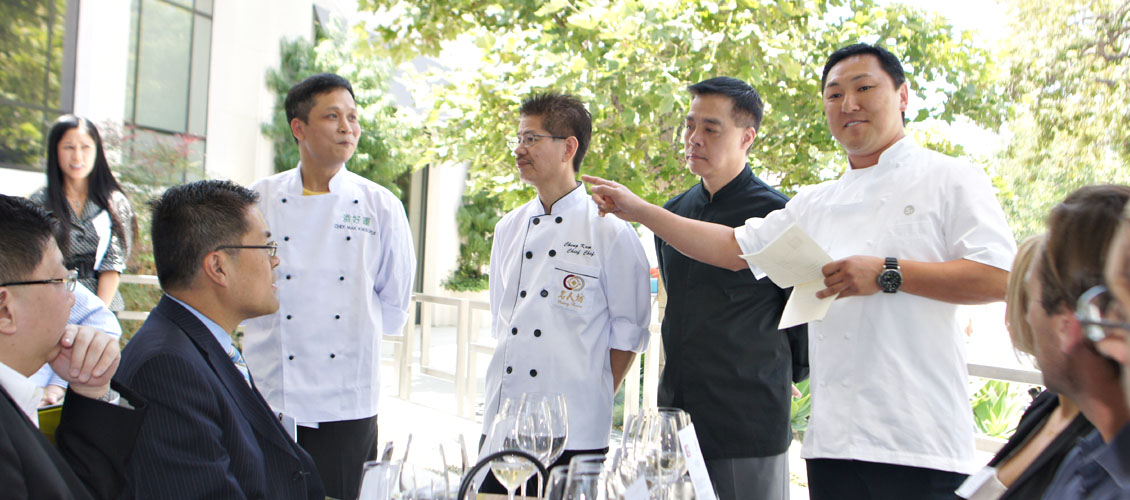 Sang Yoon introducing the three visiting chefs.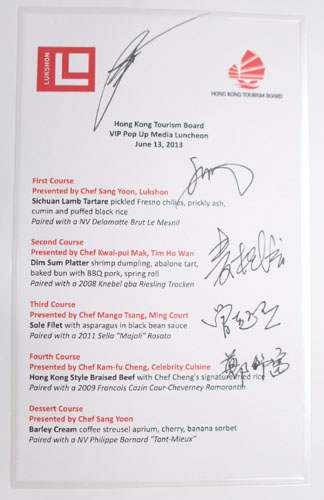 Our five course menu with wine pairing, signed, natch. Click for a larger version.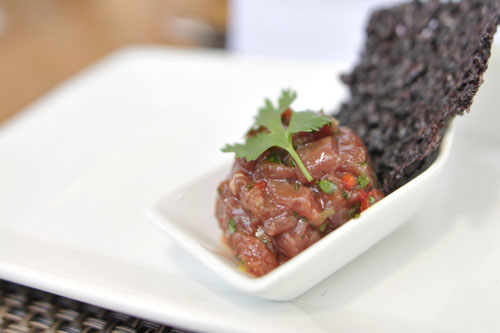 1: Sichuan Lamb Tartare
| pickled Fresno chilies, prickly ash, cumin and puffed black rice
[Sang Yoon, Lukshon]
NV Delamotte Brut Le Mesnil
Serving as a sort of amuse bouche, the tartar was pretty stupendous, with the supple, snappy dices of lamb melding beautifully with the multifaceted notes of spice in the dish. Really well integrated and balanced, with a fantastic textural component from the puffed rice. A promising start to the meal.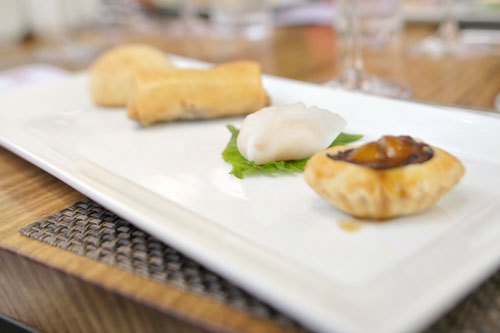 2: Dim Sum Platter
| shrimp dumpling, abalone tart, baked bun with BBQ pork, spring roll
[Kwai-pui Mak, Tim Ho Wan]
2008 Knebel qba Riesling Trocken
Up next was former Lung King Heen chef Mak Kwai-Pui (a.k.a. Pui-Gor) of the famed dim sum eatery
Tim Ho Wan
, widely known as the cheapest Michelin-starred restaurant in the world. Going from right to left, I started with the
baoyu ta
, which showed off the sweetness of the abalone against the backdrop of sugary, crumbly pastry. Next was the
har gow
, a commendable presentation of the dim sum classic, with the essence of the shrimp proudly conveyed amidst its delicate wrapper. The
chunjuan
was also on point, with a wonderfully thin, crispy exterior hiding a delicious filling combining the earthiness of mushroom with the sweetness of what I believe was crab. I ended with the restaurant's famed
cha siu bao
, and it did not let me down. What struck me about it was the texture, how it was so crumbly, so light, as well as the perfectly balanced filling, which blended the savoriness of pork with a great saccharine note.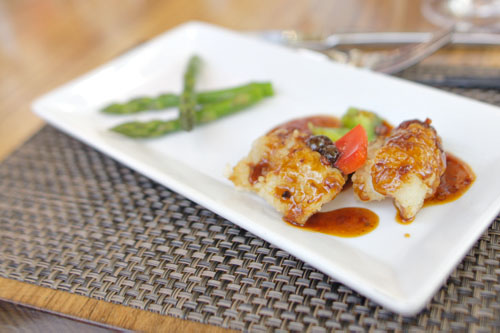 3: Sole Filet
| with asparagus in black bean sauce
[Mango Tsang, Ming Court]
2011 Sella "Majoli" Rosato
Following, we were presented a course from Executive Chef "Mango" Tsang Chiu-Lit of the two-star
Ming Court
at the Langham Place hotel. Even though Tsang scrapped his initial plans to steam the sole (instead of frying it), I quite enjoyed the results, finding the fish delightfully crisp on the outside, yet delicate on the inside, with a mild relish that paired beautifully with the black bean. Lovely counterpoint from the vegetables, too. Yes,
I can-a have-a de Mango
.
4: Hong Kong Style Braised Beef
| with Chef Cheng's signature fried rice
[Kam-fu Cheng, Celebrity Cuisine]
2009 Francois Cazin Cour-Cheverney Romorantin
Hailing from the two-star
Celebrity Cuisine
was Cheng Kam-Fu, who's known for his classic Cantonese stylings. Braised beef was just as you'd expect: almost falling-apart tender, with a good depth and richness to it, along with a subtle undercurrent of spice. The fried rice served as a fitting accompaniment, not too greasy, not too soft, with a classic flavor profile thanks to the egg, shrimp, and ham (
Jinhua
I believe) folded in.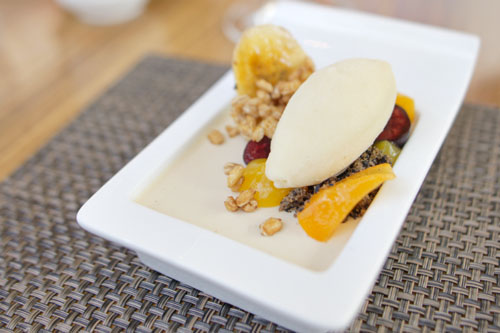 5: Barley Cream
| coffee streusel, aprium, cherry, banana sorbet
[Sang Yoon]
NV Philippe Bornard "Tant-Mieux"
Dessert, finally, didn't disappoint either. It was a smart, modern presentation, the barley cream forming a base on which the interplay between the coffee and fruit flavors could really sing, with the banana notes creeping in and out. Very cool.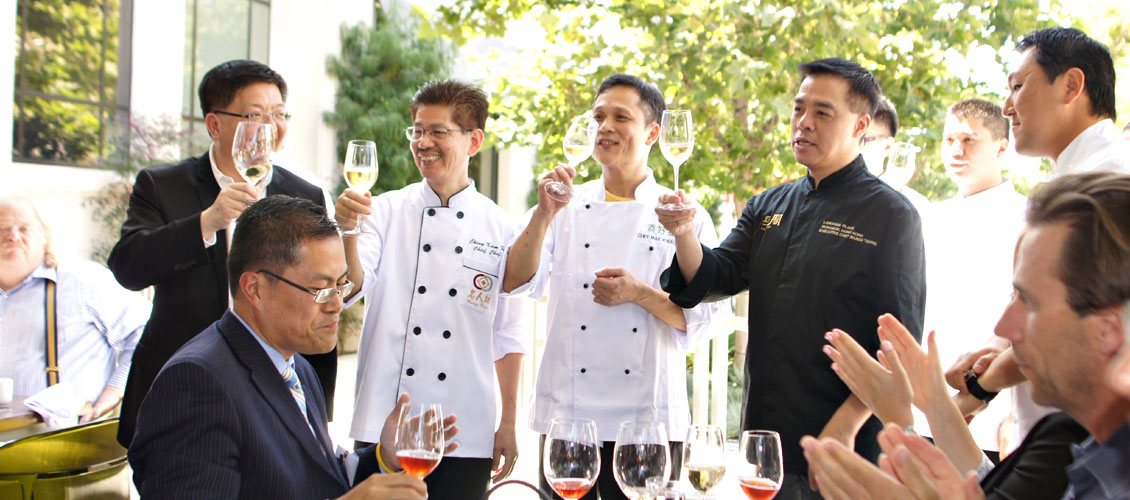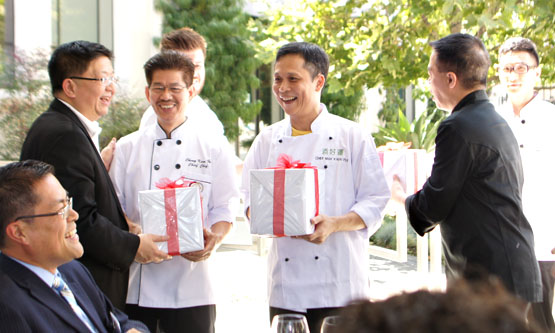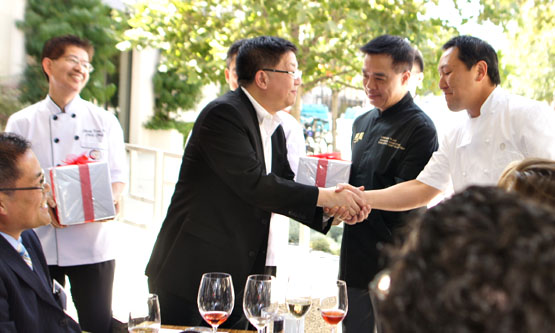 A toast, thanks, and gift giving from HKTB's Executive Director Anthony Lau.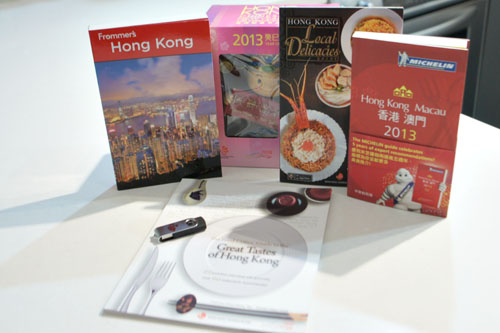 One of the nicest, and most useful swag bags I've encountered. I know I've been saying it for years, but I really do need to get my ass over to Hong Kong sometime.