Hangari Kalgooksu (Garden Grove, CA)
Hangari Kalgooksu Restaurant
9916 Garden Grove Blvd, Garden Grove, CA 92844
714.537.0100
Wed 09/10/2014, 08:35p-09:55p

One of the more random meals of recent times went down when an unexpected craving for Korean landed me at Hangari Kalgooksu in Garden Grove's Little Seoul district. The place opened 2000 (according to the lady who was working there), and as its name would imply, specializes in
kalguksu
, or knife-cut noodles.

The space looks like a proper Korean restaurant with all that wood.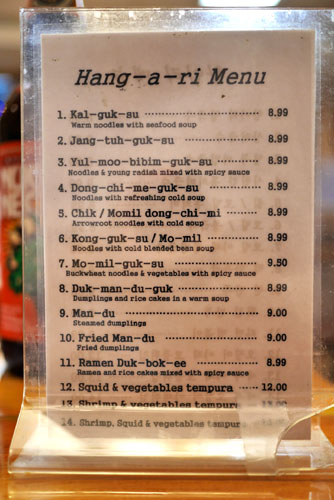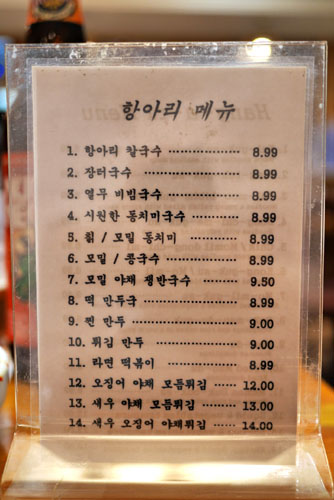 As for Hangari Kalgooksu's menu, you of course have the namesake dish listed up top, joined by about a dozen or so other, mostly noodle-y items. Simple. Click for larger versions.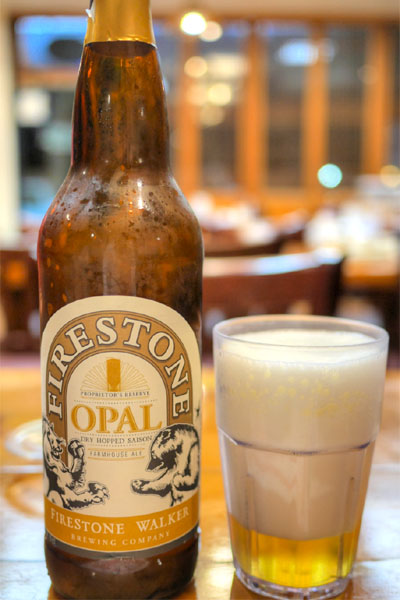 Given the pretty much nonexistent beverage selection here, I decided to do it BYOB style. My first drink was the
2014 Firestone Walker Opal
, a refreshing saison that worked well with the food. Think light citrus-y notes intermingled with a bit of spice and a touch of farmhouse funk, finished with a tinge of bitterness.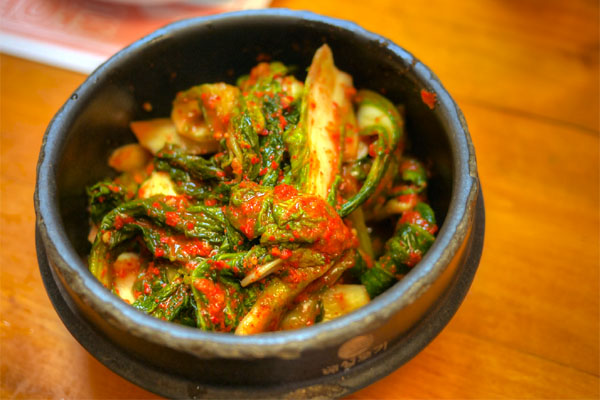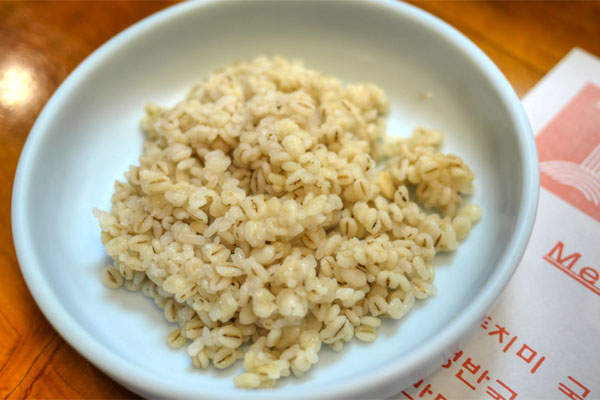 Hangari Kalgooksu is well-known for its kimchi, the young radish greens (
yeolmu
) variety in particular. A summertime treat, this one was delight, showing off all your spicy, pungent kimchi flavors, but with a very pleasing bite to it. Accompanying the dish was a serving of
bori bap
, or barley rice.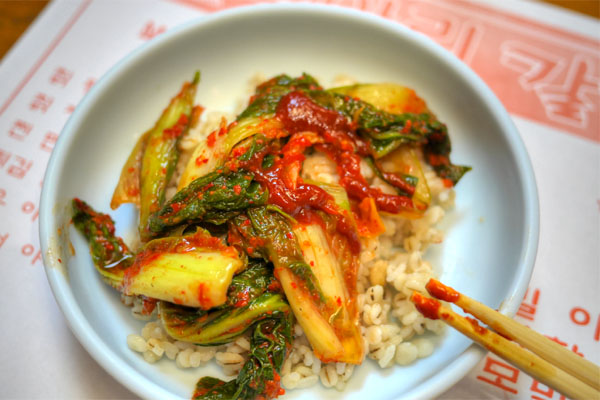 The idea is to mix the
yeolmu
into the barley rice, add some sesame oil,
gochujang
, and enjoy. And enjoy we did, the mildness of the
bori
working as a perfect foil to the headiness of the kimchi.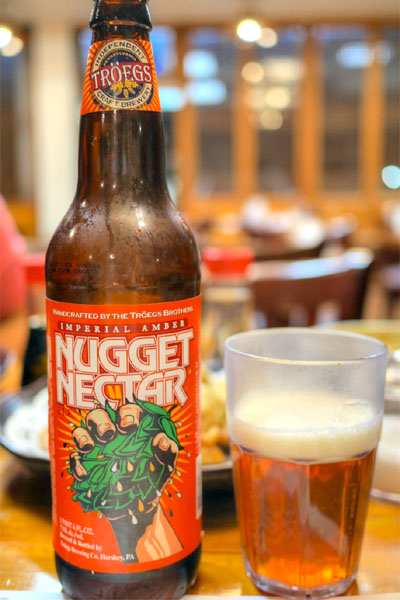 Our second beer was the
2014 Tröegs Nugget Nectar
, which I likened to a cross between an amber ale and an IPA with its hop bitterness and strong citrus-y notes, joined by a palpable spice and countering malt presence.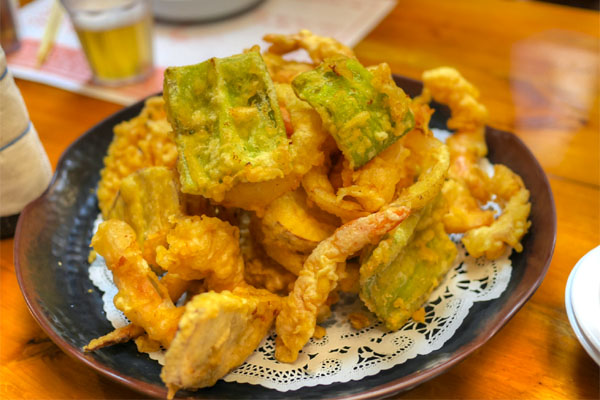 Shrimp, Squid & Vegetables Tempura [$14.00]
Oddly enough, the restaurant's tempura also receives considerable acclaim, so we had to get our fill of course. We opted for the most luxurious preparation, which brought together shrimp, squid, bell pepper, onion, carrot, kabocha squash (
danhobak
), and Korean sweet potato (
goguma
). It was an impressive spread, and really tasty too, with each ingredient clearly conveyed, yet superbly balanced by the light, yet crisp batter. Even better when taken with a dab of soy-vinegar-chili.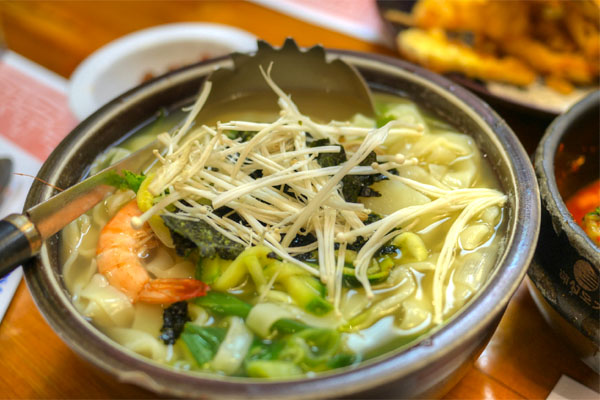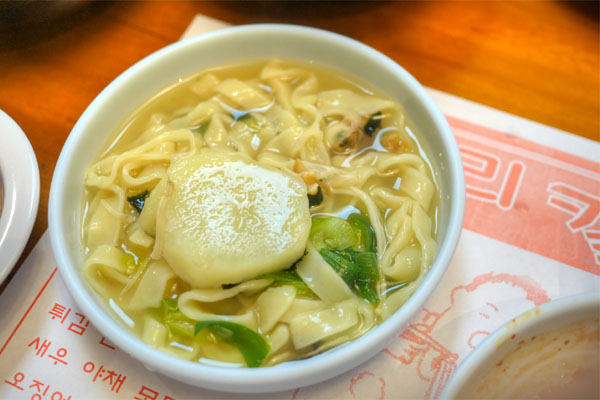 Kal-guk-su [$8.99]
| Warm noodles with seafood soup
Naturally, we had to give the place's namesake dish a twirl as well.
Kalguksu
's traditionally a summertime specialty, and features knife-cut flour noodles served in a special
hangari
pot. The noodles themselves were tender, yet slightly springy and quite satisfying, and went swimmingly with the dish's broth, a deeply aromatic liquid imbued with the essence of the ocean. A rich, comforting sort of dish, and for a bit more heat, you could even toss in some of the included chili paste.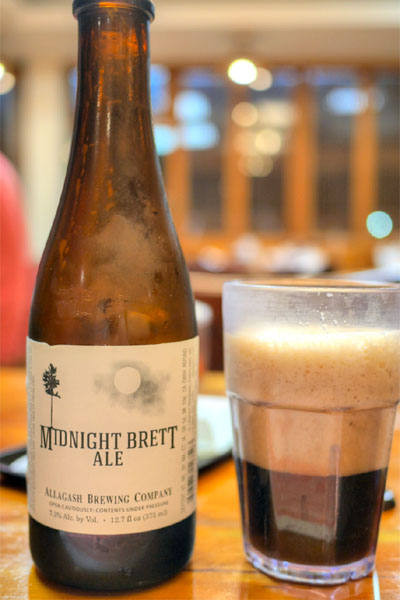 Our final beer here brought out a sour, the
2013 Allagash Midnight Brett
. It wasn't quite as tart as I'd expected, giving up a noticeable fruity character and a surprising roasty/chocolate quality to pair with the funkiness of the yeast.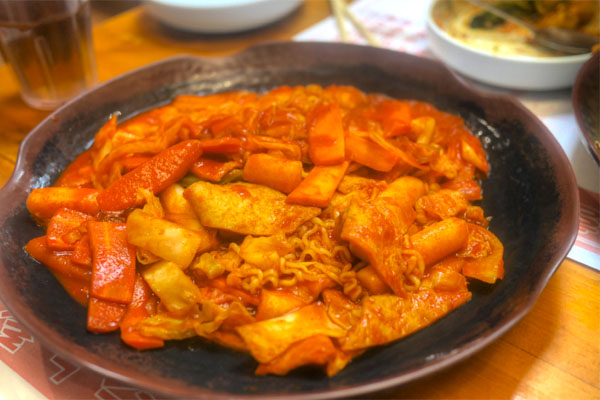 Ramen Duk-bok-ee [$8.99]
| Ramen and rice cakes mixed with spicy sauce
Here we had
tteokbokki
, a staple dish of rice cake, fish cake, and two types of noodles (
ramyeon
and what I believe was
dangmyeon
), set in a red chili sauce. Think classic flavors of spicy and sweet, though the whole thing was a bit one-note. I would've liked egg or some more veggies thrown in here to provide more balance.
Fried Man-du [$9.00]
| Fried dumplings
Last up were the fried
gunmandu
, a favorite of ours thanks to the dumplings' savory filling and delightfully crisp exteriors. Excellent with a dash of the same dipping sauce we used for the tempura above.
This ad hoc excursion turned out rather well, as we enjoyed a tasty, filling, and cheap meal that introduced me to the joys of
kalguksu
. Can't complain too much.
---
Since Hangari Kalgooksu didn't seem to offer any sort of dessert, we headed down the street to
Frozen Bar
for some ice cream.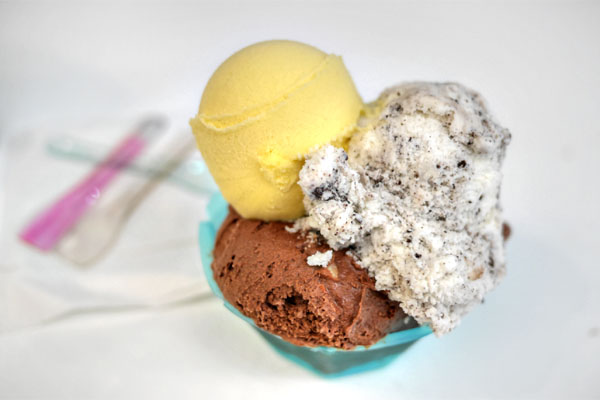 We opted for a
Large [$4.55]
with four flavors: Peach, Cookies 'n Cream, Rocky Road, and Lavender Milk Tea. It was a decently solid, though not outstanding quartet, with the Cookies 'n Cream being my favorite of the bunch.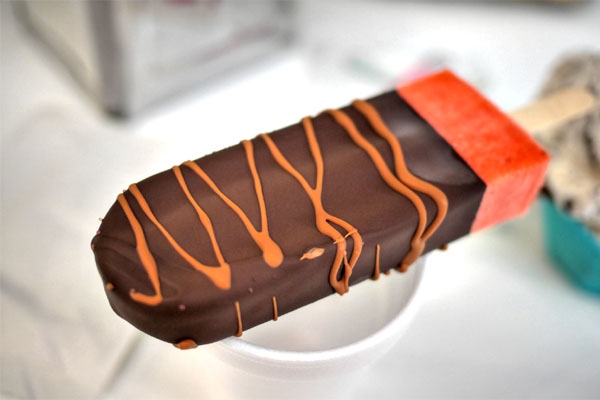 We also went for a strawberry
Dipped Pop [$3.00]
with chocolate. The actual popsicle part was quite tasty, though we weren't quite as enthused with the chocolate coating.
To pair with our ice creams, I opened a bottle of
2014 Beachwood BBQ & Brewing Udder Love
, which was just released a few weeks ago. A hefty milk stout, this one was loaded with your classic coffee and chocolate flavors, but with the addition of a distinct lactic creaminess to round things out. Appropriately "dessert-y."