Plate by Plate 2014 (Los Angeles, CA)
Plate by Plate 2014 at Petersen Automotive Museum
6060 Wilshire Blvd, Los Angeles, CA 90036
www.platebyplate.org/la/
Sat 08/02/2014, 06:30p-10:00p

Over the weekend,
Project by Project
hosted its 12th annual
Plate by Plate
tasting benefit at the
Petersen Automotive Museum
. For the unfamiliar, Project by Project is a nationwide non-profit focused on issues relating to the Asian-American community. Each year, the group chooses a particular theme to concentrate on--health, education, the arts, and so on--and partners with a charitable organization in that space. With 2014's theme of mental health, the partner chosen was
Pacific Asian Counseling Services
, a local non-profit dedicated to providing counseling services for immigrant families. As in years past, Plate by Plate showcased the culinary talents of some of the City's most popular and up-and-coming eateries, all washed down by free-flowing beverages of various types.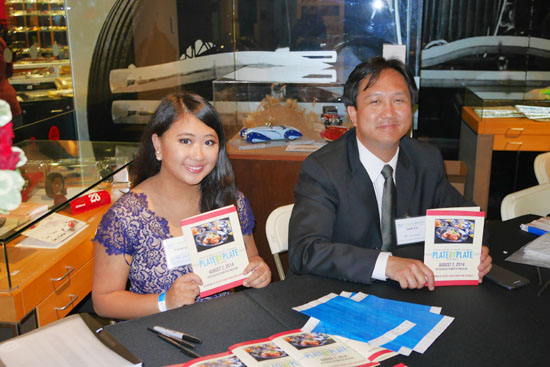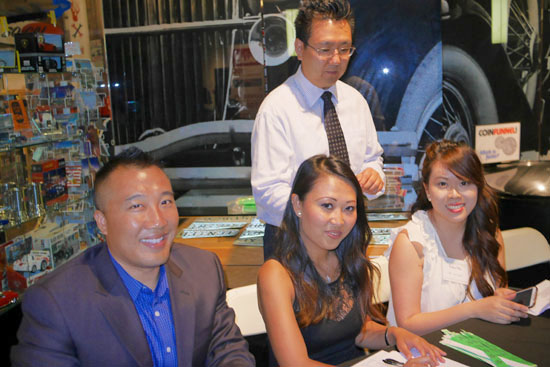 The first faces greeting guests were those of PbP members Victoria Lee (Events), Andy Lo (Marketing), Marcus Lee (Operations), Kristy Lu (Operations), Billy Kang (Operations), and Esther Phu (Events) at the check-in table.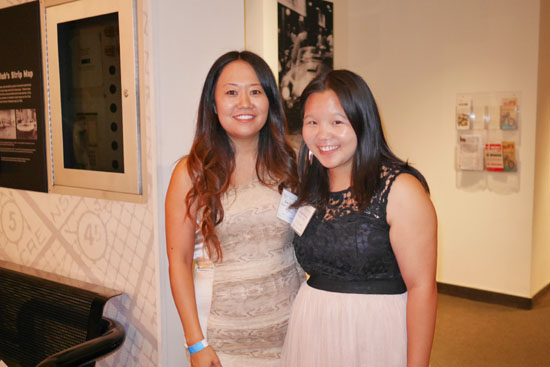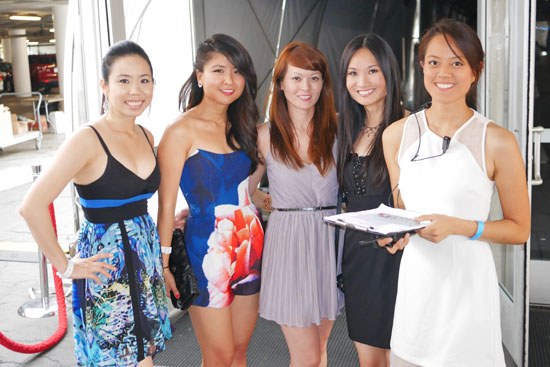 L:
Manager of Team and Leadership Development Emi Fukuoka, along with Manager of Outreach Michelle Weng.
R:
Volunteer Team member Julie Yu with Theresa Kiang and friends.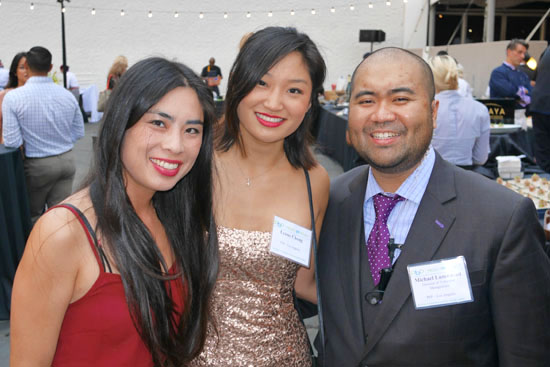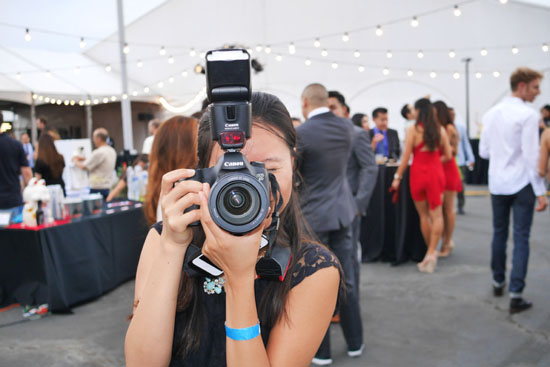 L:
Events Team member Lynne Cheng and Director of Leadership & Team Development Michael Lumunsad.
R:
Photographer
Jane Sha
, who, interestingly enough, won my
ticket giveaway
last year.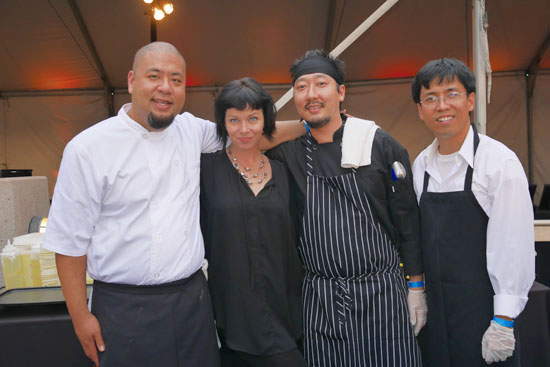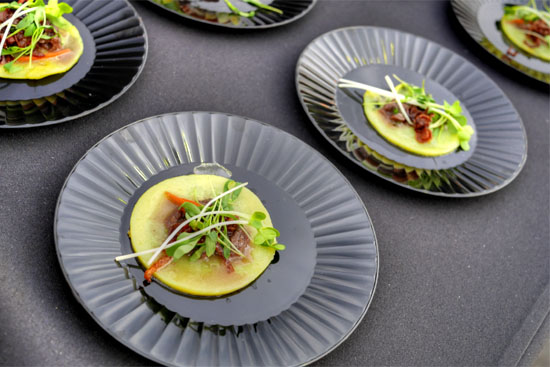 Chef James Ta of
Fickle
presented a
Banh Xiao (Cambodian Mung Bean Crepe) with Shallot Beef Tartar
.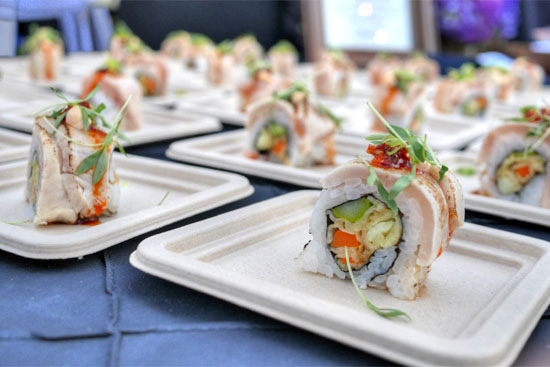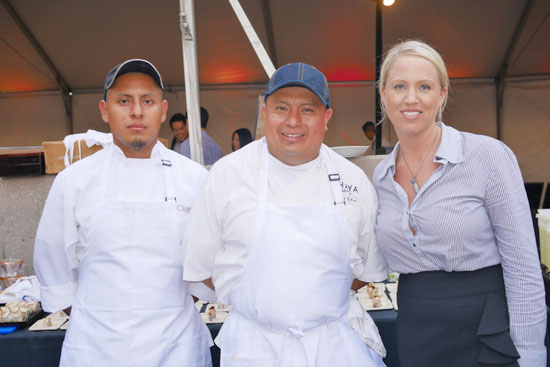 Erika Breitkopf and the team from
Chaya
had an
Aburi Albacore Roll with Sushi Rice, Tempura Asparagus/Sweet Potato/Carrot, topped with Seared Albacore & Chili Oil
.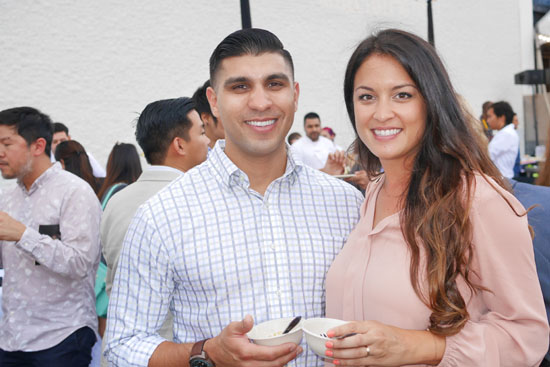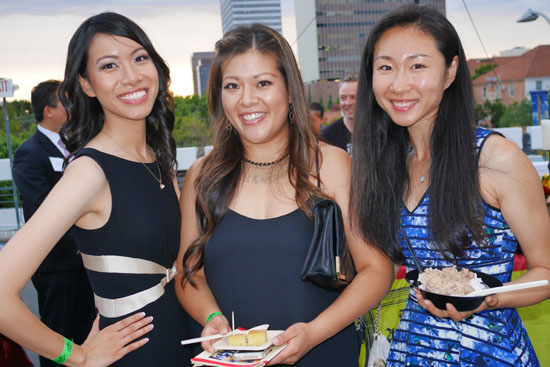 Happy guests.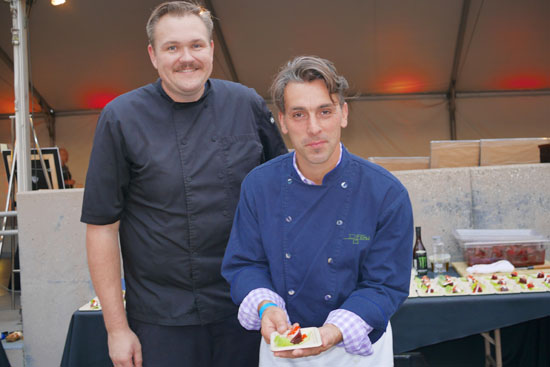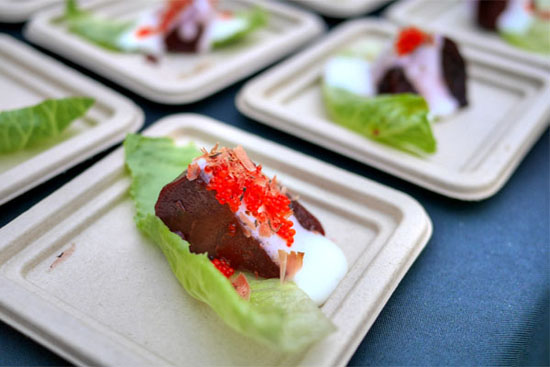 Chef David Feau from the recently-shuttered
Lexington Social House
served a dish that's representative of the type of cuisine that you'll find at his upcoming restaurant (yes, he's finally opening a place):
Smoked Cello Beets, Yuzu Creme Fraiche, Shaved Bonito, Chili Tapioca
.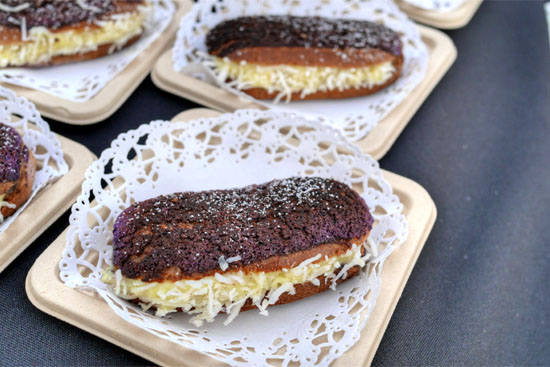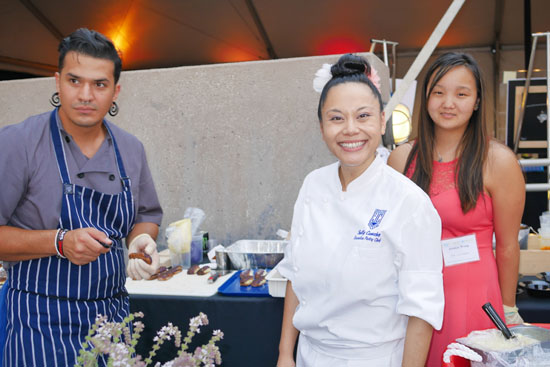 Top Chef: Just Desserts
alum Sally Camacho Mueller was repping the
Jonathan Club
and served up a duo of desserts: an
Ube Coconut Éclair
and
Halo-Halo with Milk Ice, Pandan Crème, Sweet Corn Glace, Flan, and Black Rice
.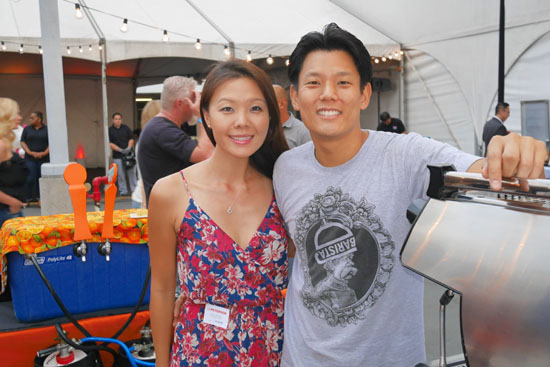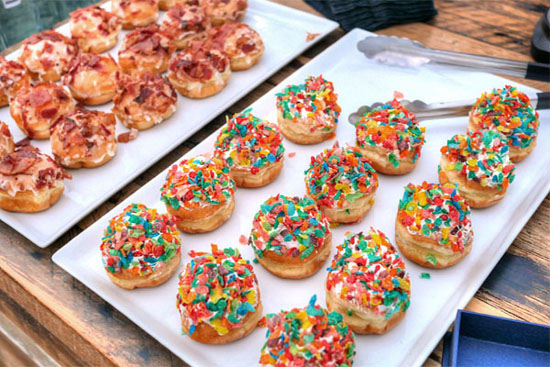 James and Cindy Choi of
Cafe Dulce
had a variety of coffee and sweets on hand.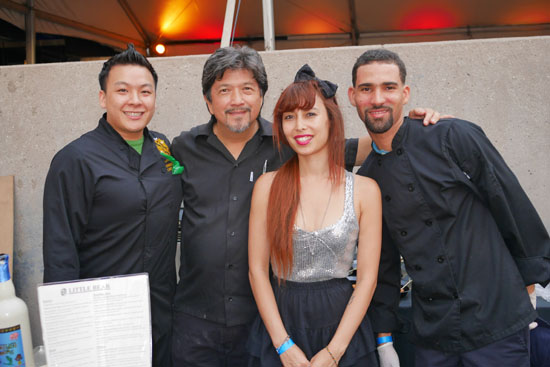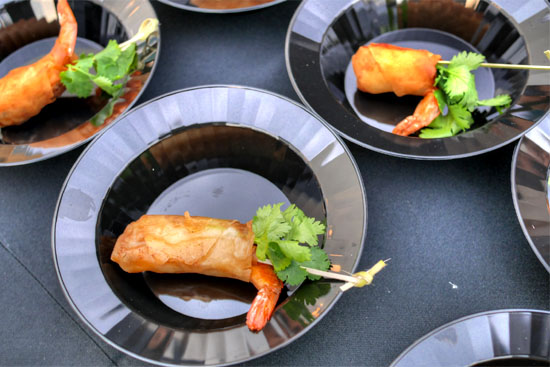 Andre Guerrero and Chef de Cuisine Sainegee Wong of
Little Bear
, joined by their lovely hostess Tara, presented
Firecracker Shrimp: Fried Shrimp Spring Roll, Shiitake Mushrooms, Scallions, Garlic, Oyster Sauce with a Thai Lime Dipping Sauce
and
Billionaire's Shortbread
for dessert.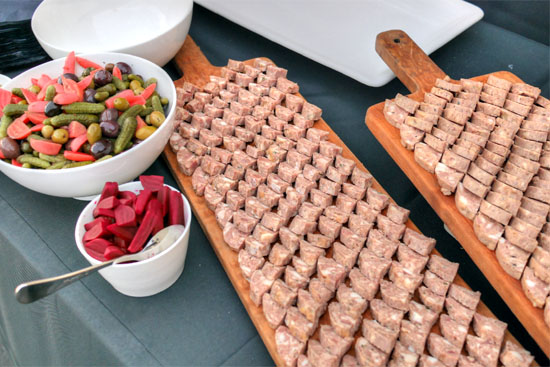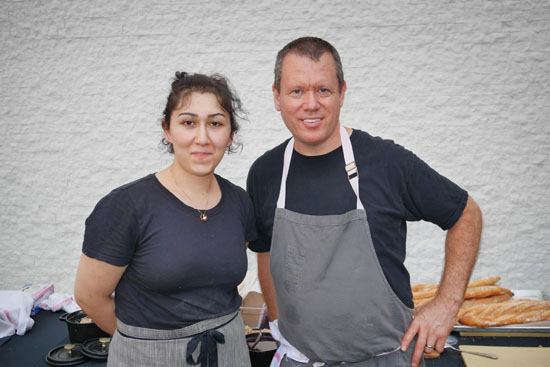 Chef Walter Manzke of
Republique
busted out an impressive charcuterie spread, served on one of his famous long wooden boards.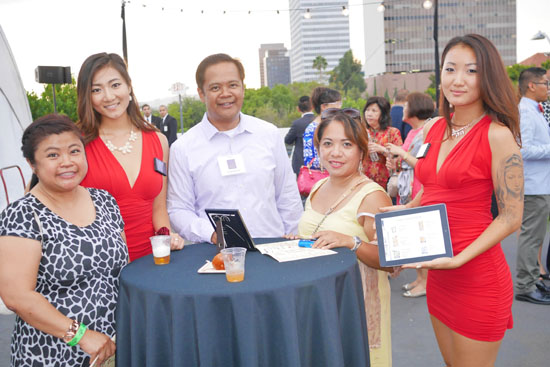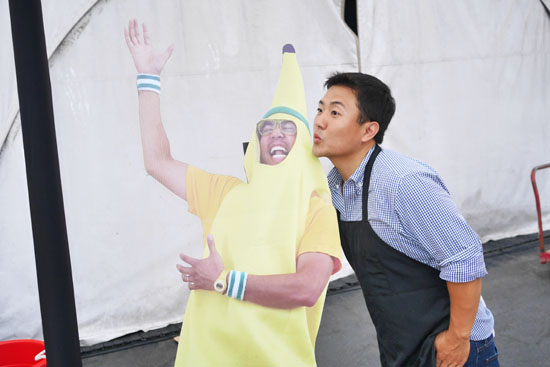 L:
The Ketel One girls were hard to miss.
R:
Sadly, Starry Kitchen's Nguyen Tran was out of town during the event, but his 7/8th scale, banana suit-clad stand-in was a worthy replacement.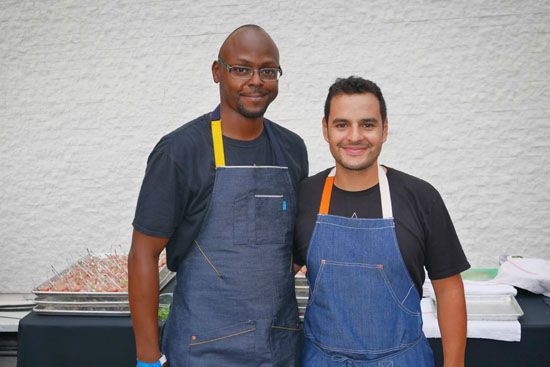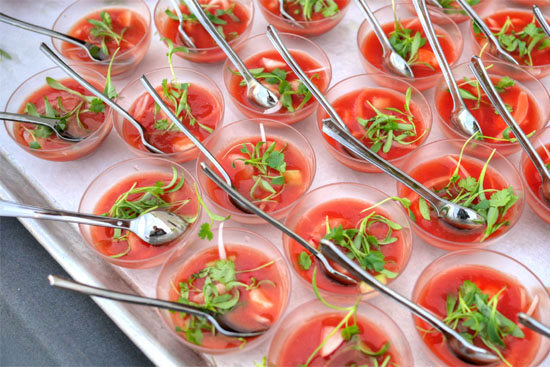 Next to Republique was Manzke's other place,
Petty Cash
, helmed here by Chef Fabian Gallardo. On the menu: a refreshing
Aguachile
.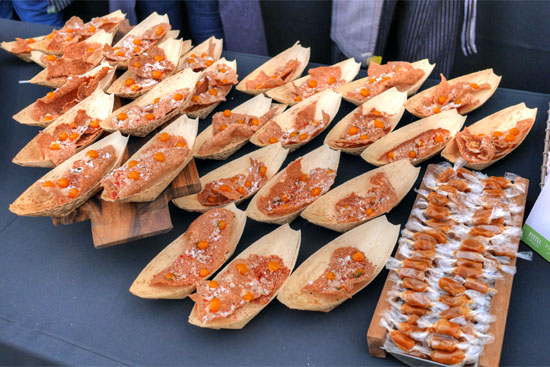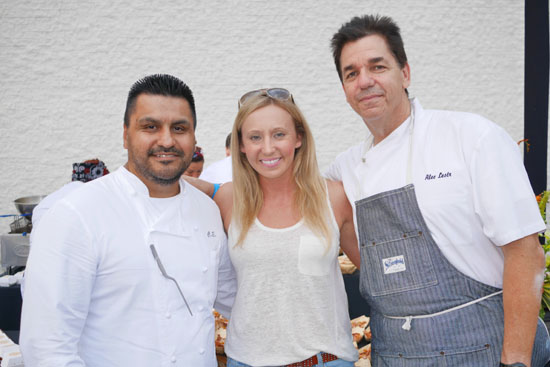 Repping
Patina Group
were Corporate Pastry Chef Carlos Enriquez, Marketing Manager Jen Sorlie, and Patina Catering Executive Chef Alex Lester. Their trio of goodies included a
Pork Belly Sandwich (Pain au Lait, Pickled Veggies, Jalapeño Crème Fraiche)
, a
Vegan Chicharron (Puffed Rice, Coconut, Finger Lime, Verbena, Espelette)
, and
Yuzukosho Caramels
in edible wrappers.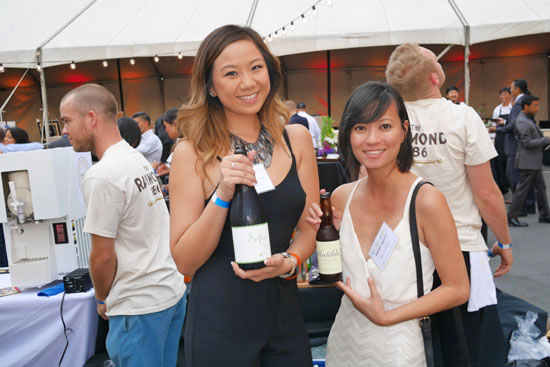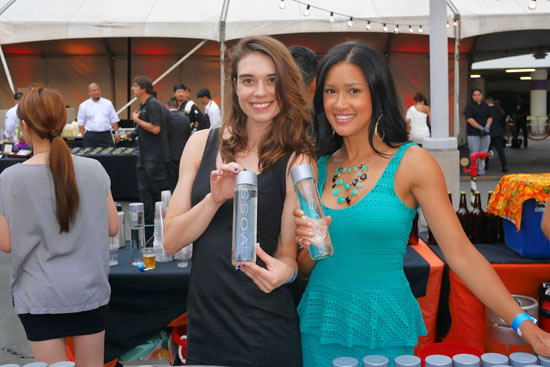 L:
Goose Island
had a troika of brews available: 312 Urban Pale Ale, Sofie Belgian Style Farmhouse Ale, and their Matilda Belgian Style Pale Ale.
R:
Voss
was the event's official water sponsor, and had both sparkling and still varieties on tap.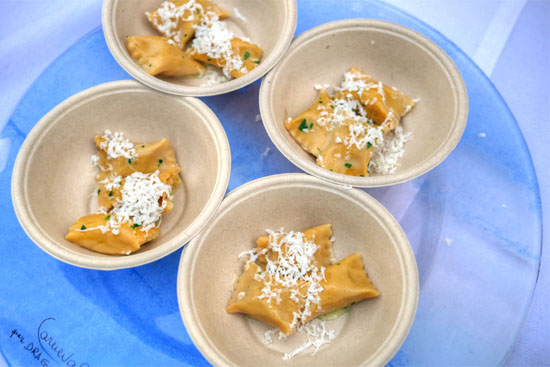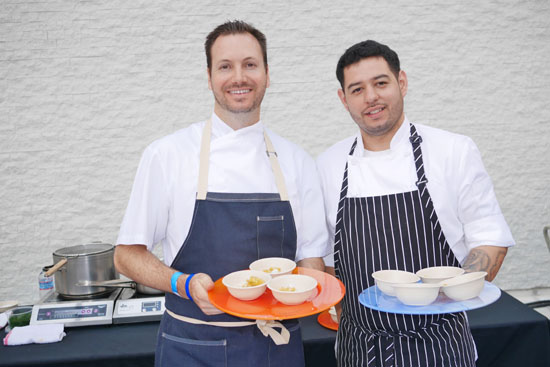 Drago Centro
's Chef Ian Gresik served up a popular pasta dish with his
Rabbit Agnolotti with Zucchini and Parmesan
.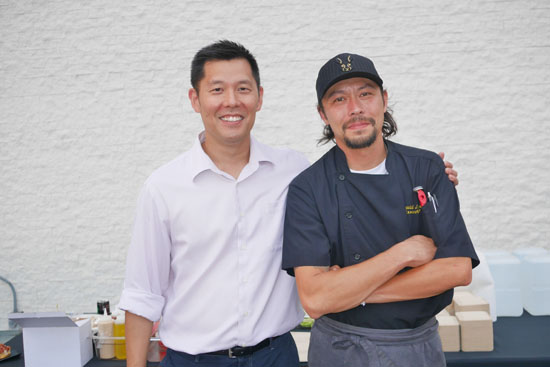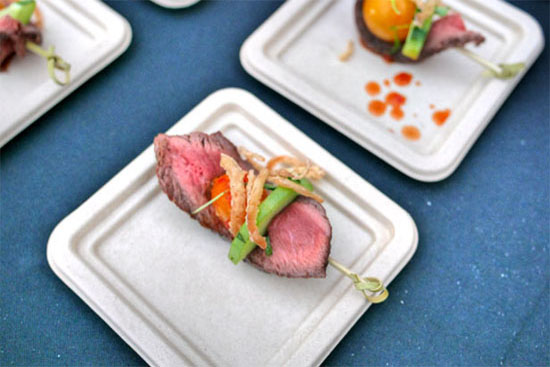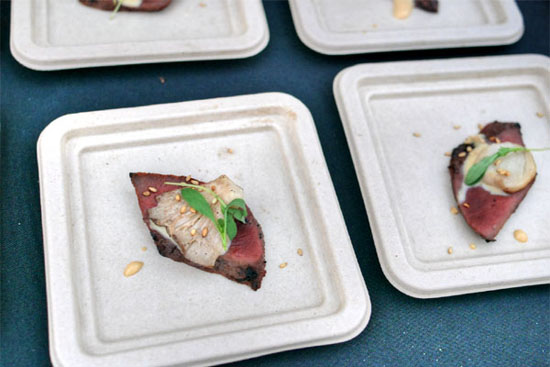 Beef-centric newcomer
b.o.s.
had Chef David Bartnes and GM Jun Isogai on hand dishing up both
Flat Iron Thai-taki
and
Grilled Miso Heart
.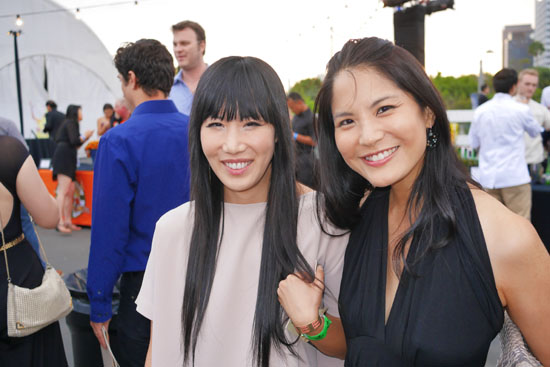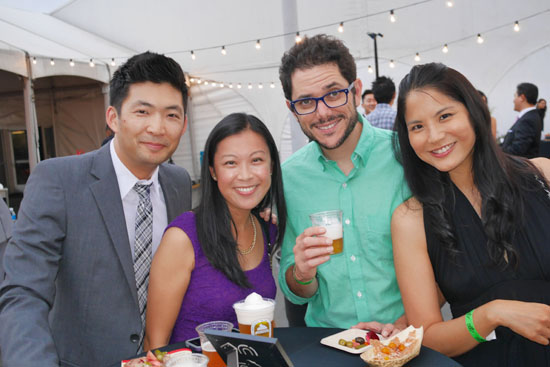 Actress and perennial PbP fixture
Lynn Chen
was in attendance of course.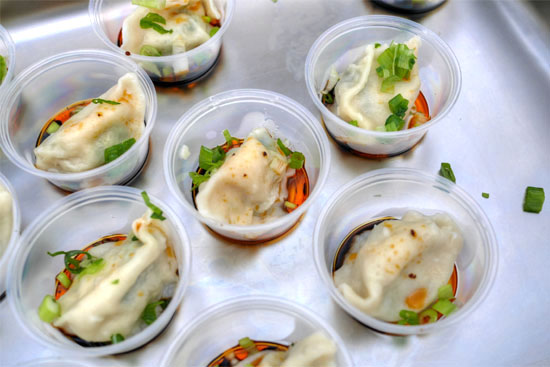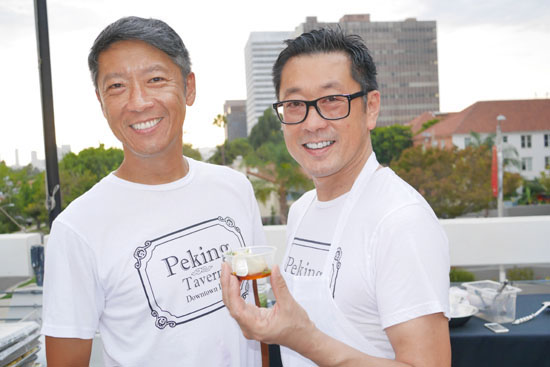 Andrew Chiu and Andrew Wong's DTLA newbie
Peking Tavern
had some delightfully spicy
Sichuan Fish Dumplings
on offer.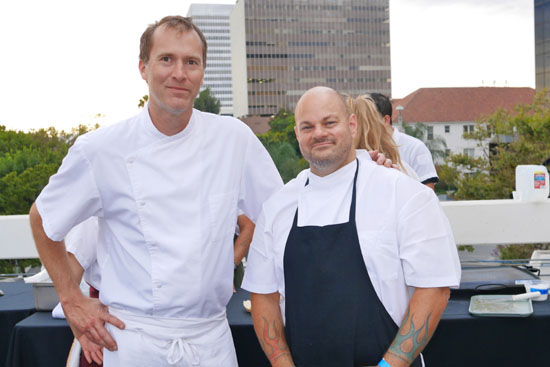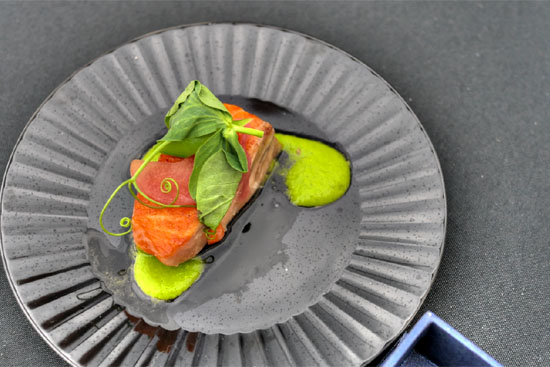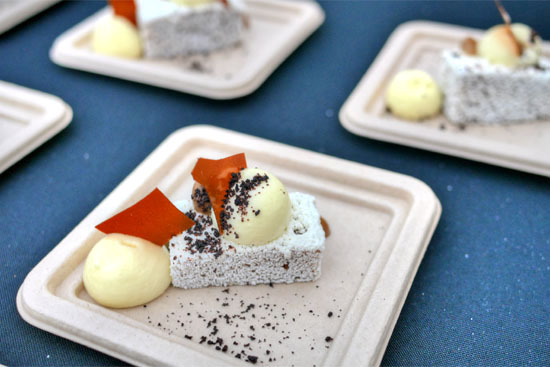 Chef Jason Travi and Pastry Chef Lincoln Carson made a strong case for
Superba Food + Bread
with the one-two punch of
Arctic Char with Peas and Pickled Rhubarb
and Carson's dessert.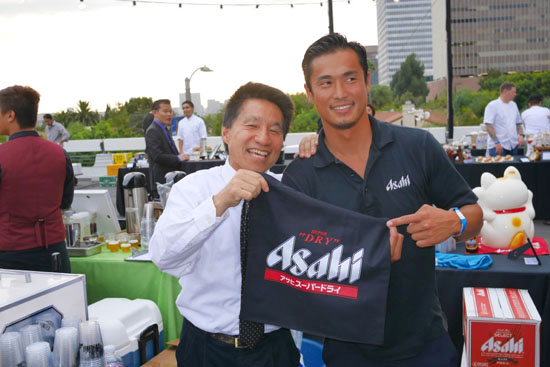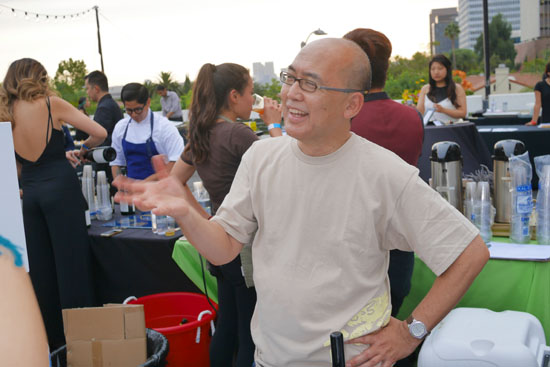 L:
Events Team member Billy Wing had a good time at the
Asahi
booth with sales rep Taichi Seki.
R:
Next door, coincidentally, was arch-rival
Kirin
. Their secret weapon? A frozen beer slushie machine.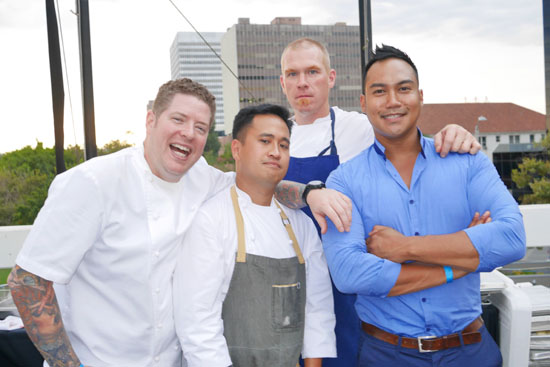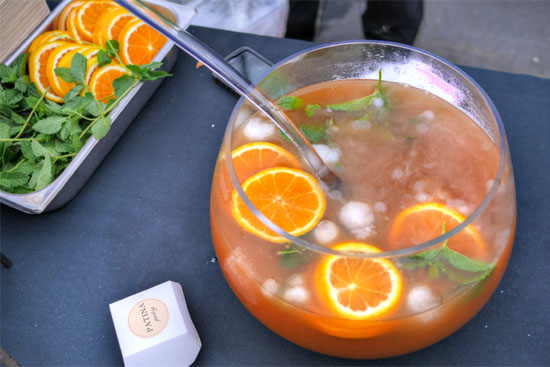 The Church Key
made a good showing with Executive Chef Steven Fretz, Pastry Chef Ian Opina, Chef de Cuisine Ryan Ososky, and Bar Director Devon Espinosa. On the menu was one of Espinosa's cocktails as well as some freshly-fried donuts that managed to land the team second place in Plate by Plate's "best dish" competition.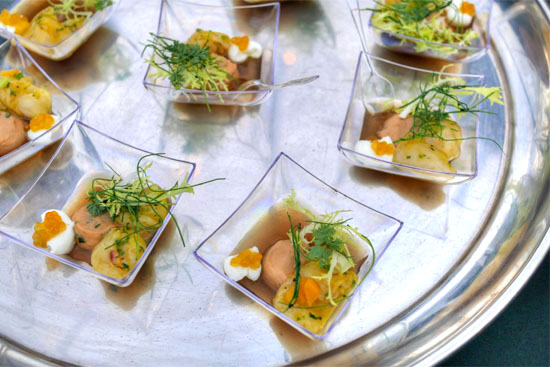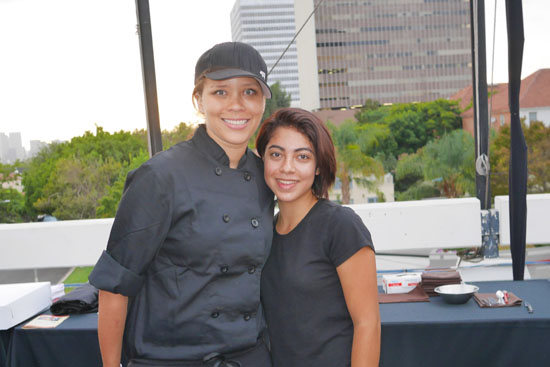 Longtime PbP supporter Laurent Quenioux couldn't make it tonight, but
Bistro LQ
was represented by his dish of
Tarbais Bean Hummus, "Gelee de Volaille", Bay Scallops, Mezcal Whipped, Smoked Steelhead Roe
. Look for Quenioux to debut his own spot in the old Vertical space coming up.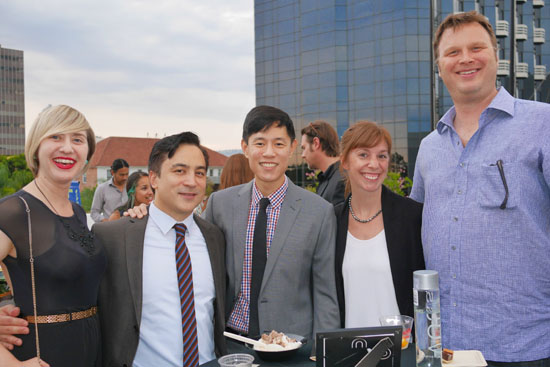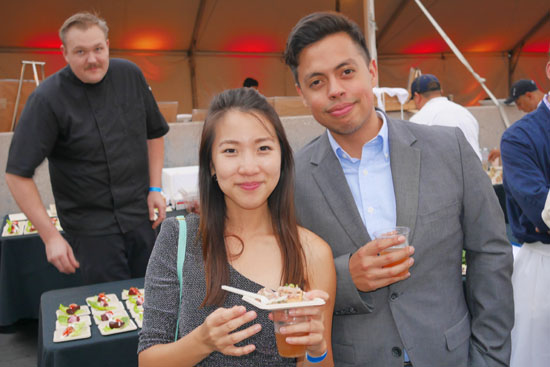 Photos with one very tall person.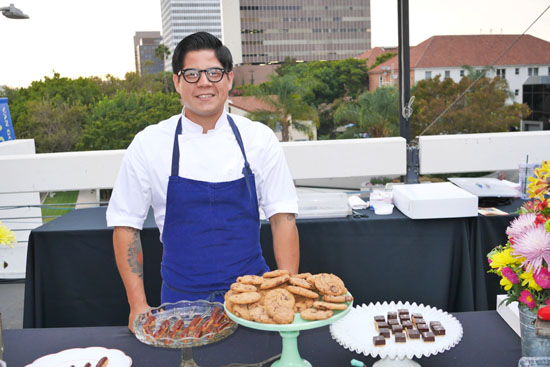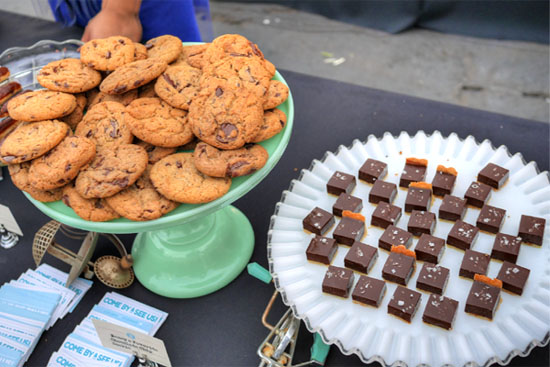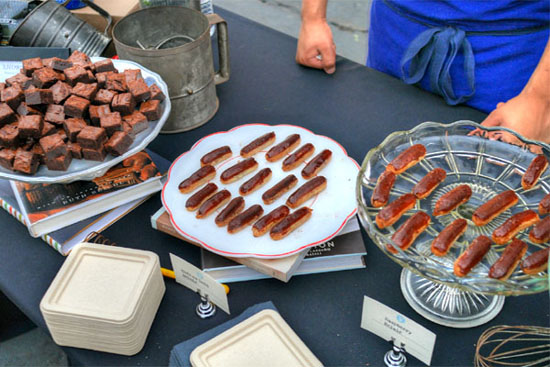 Short Cake
's Ivan Marquez brought us a number of treats:
Nancy's Famous TCHO Chocolate Chip Cookies
,
Salt & Pepper Ganache Tarts
,
Brownies with Verve Coffee
, and
Cafe au Lait Eclairs
.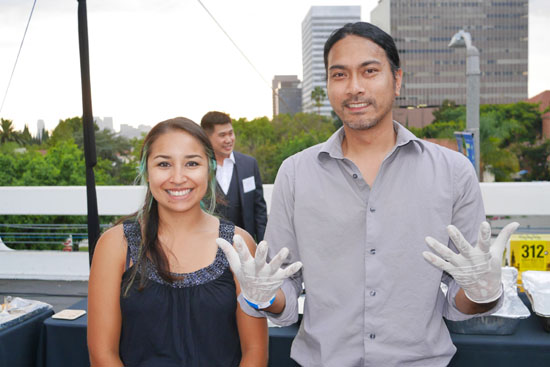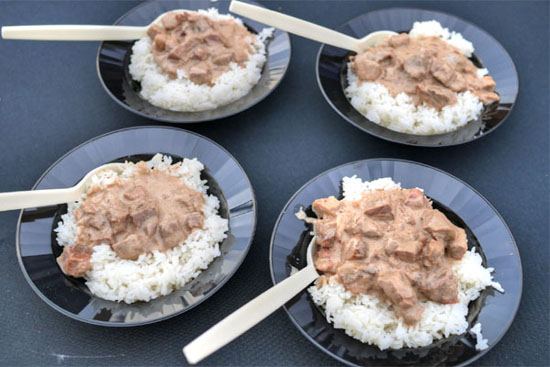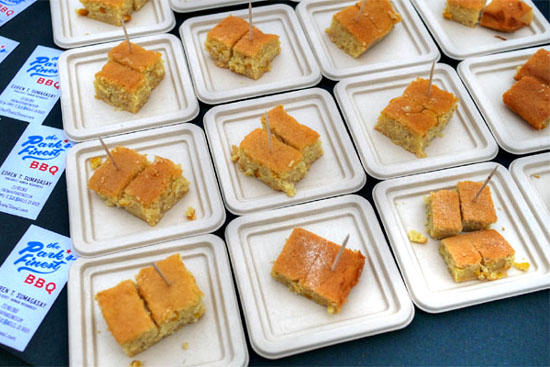 Coconut Beef and Rice
and
Cornbread Bibingka
were served by Edren Sumagaysay's team from
The Park's Finest
.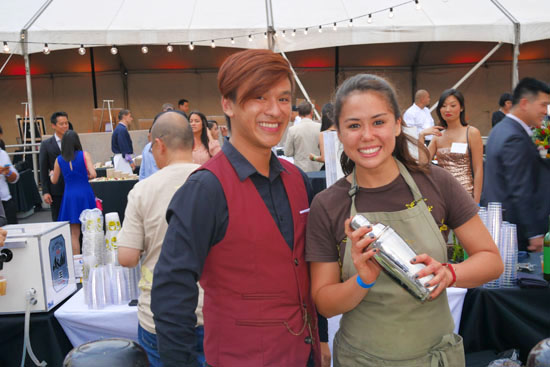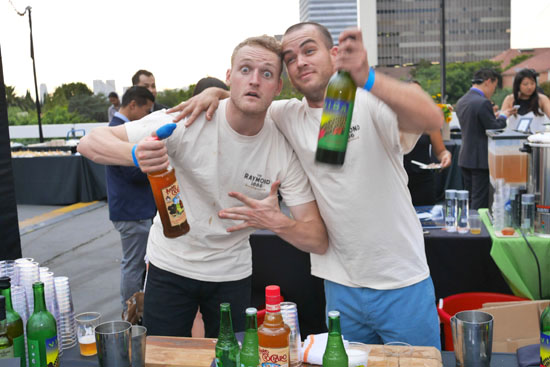 L:
Bird Pick Tea & Herb
's Ryan Trinh was here serving up an assortment of teas.
R:
1886 at The Raymond
had a great cocktail in the form of the
Bucky O'Hare (El Silencio Mezcal, Cio Ciaro, Fresh Lime & Ginger, Grapefruit Soda)
.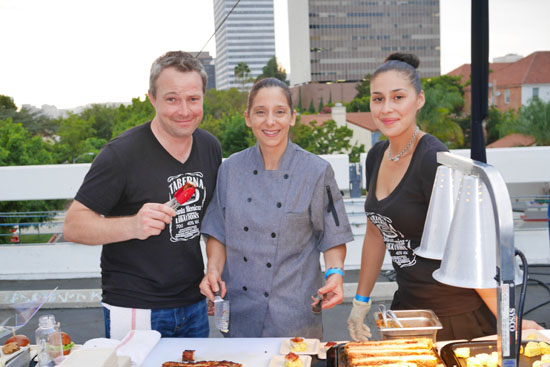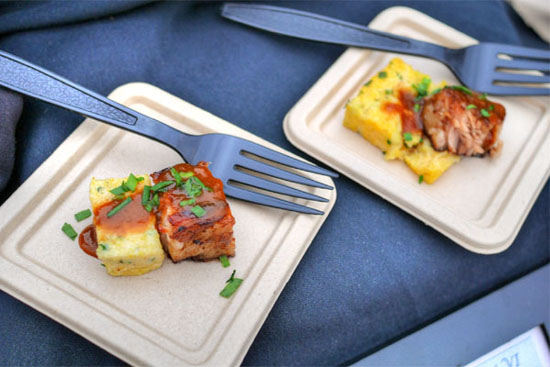 People were saying some good things about
Taberna Arros y Vi
's
Harissa Cured Pork Belly on Chive Polenta
. I spied GM Wes Zelio and Verite Mazzola, though owner Michael Cardenas was curiously absent.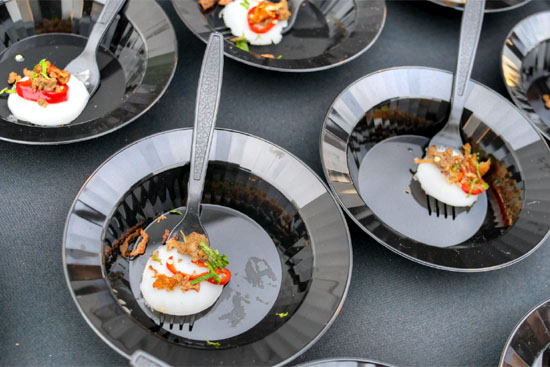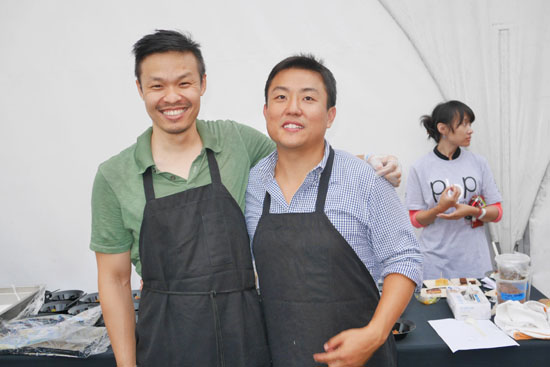 In Nguyen's absence, the
Starry Kitchen
booth was helmed by Matt Kim and Eric. Their dish?
Steamed Vietnamese Rice Crepe with Confit Chicken Skin, Curry Beef, Fried Shallots, Scallions and Fish Sauce
.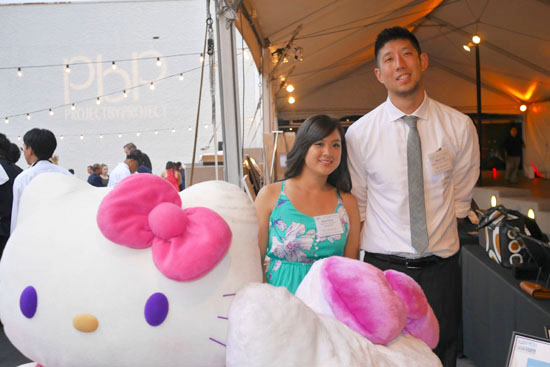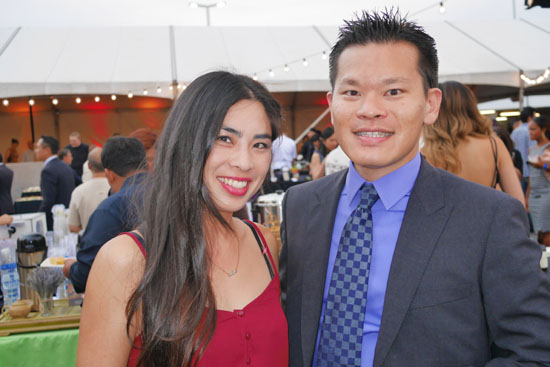 L:
Project by Project San Francisco's Director of Volunteer Management Jennifer Chen and Manager of Auction Donations Albert Chiu helped man the silent auction tables this evening. In related news, that is one big-ass Hello Kitty head.
R:
Let it be known that Eric Tung most certainly did not come to the event alone.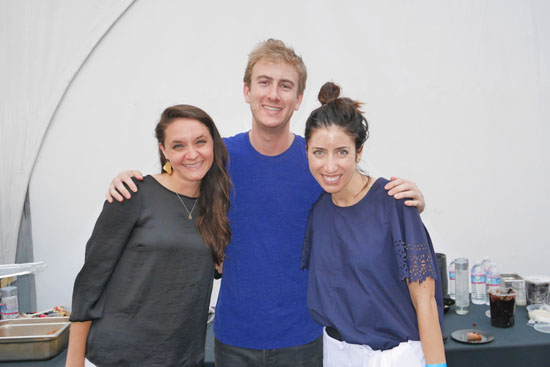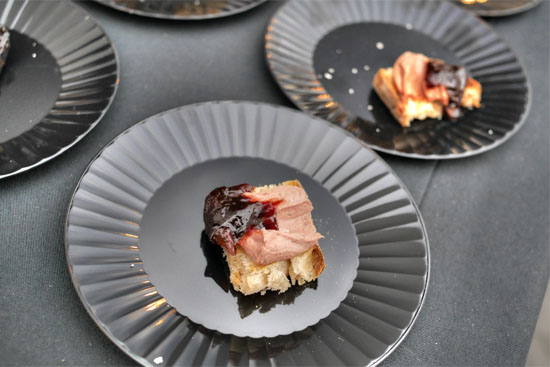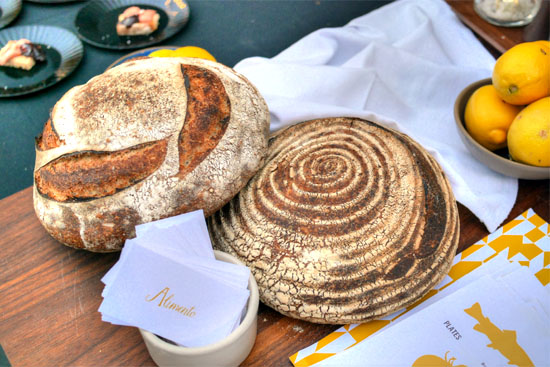 Alimento
's Zach Pollack had to step out early to take care of things at his new place, though the team did a great job serving up his
Chicken Liver Crostone with Black Plum Mostarda
. That's some nice looking housemade bread there, too (Pollack's quite the baker I'm told).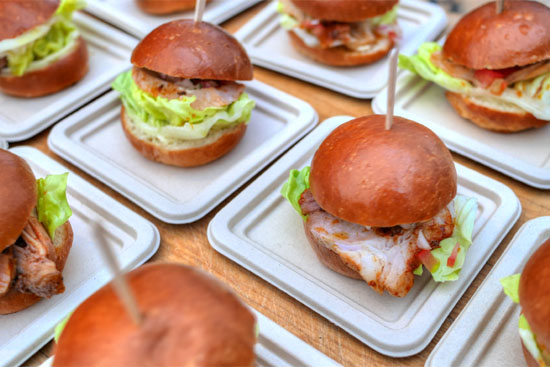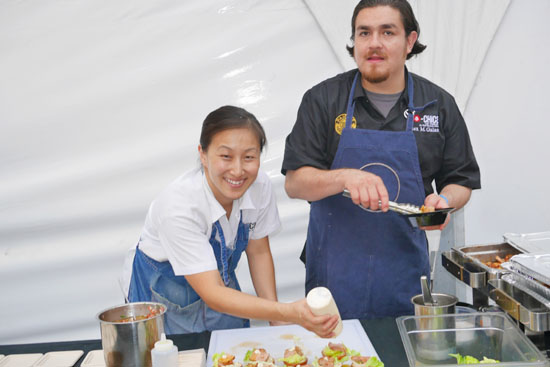 Yummy looking
Jamon Del Pais
sliders came from
Zarate Restaurants
' Corporate Executive Chef Alex Galan. This year saw a rare no-show from Ricardo, who's been involved with PbP since at least '09.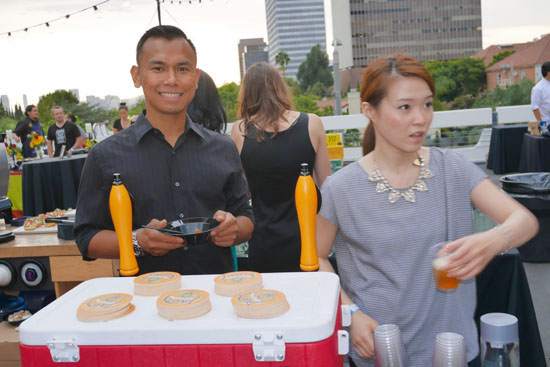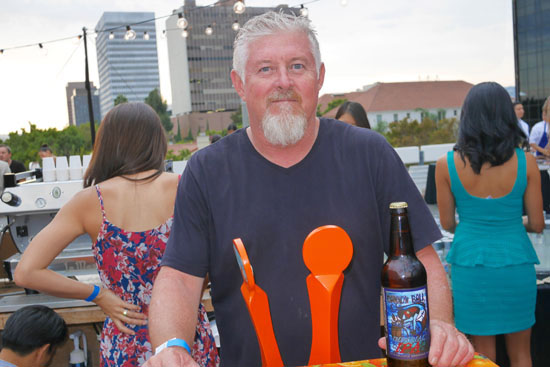 L:
Now for some more beer:
Tap It Brewing
from San Luis Obispo had both their IPA and APA on tap.
R:
Old Orange Brewing Company
's head brewer Brian Lambros, meanwhile, showed off his Thumb Master DIPA and orange hef.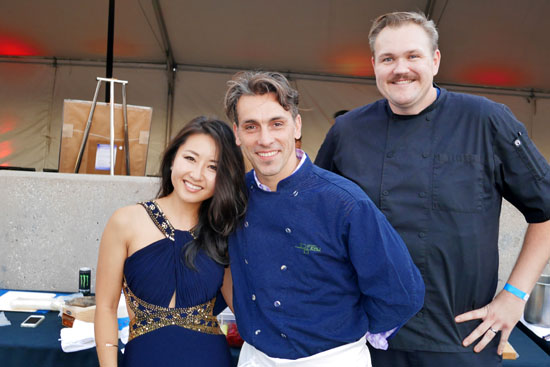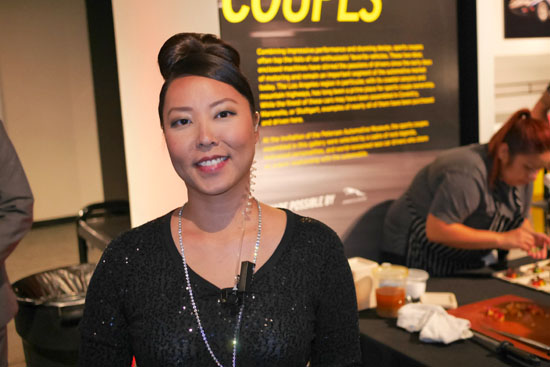 L:
PbP LA President Yulree Chun looking lovely with Chef David Feau.
R:
Floor Manager (and fellow restaurant recruiter) Cathy Hong regulated.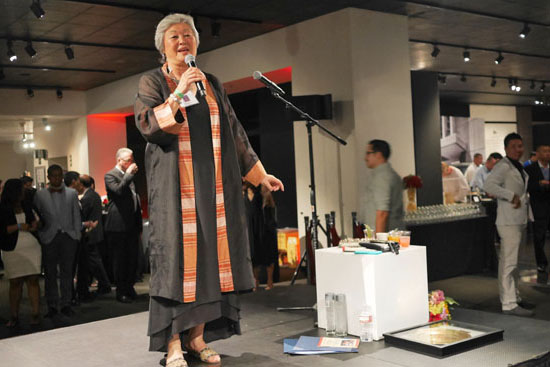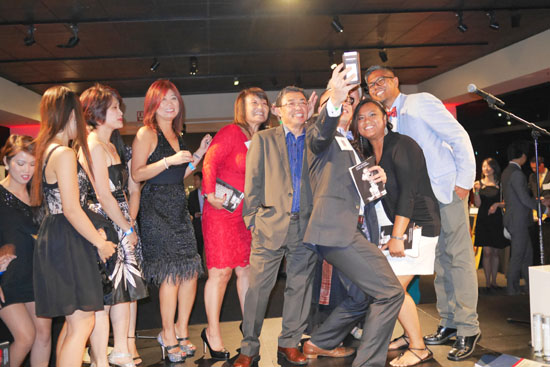 PbP partner
Pacific Asian Counseling Services
rolled deep this year.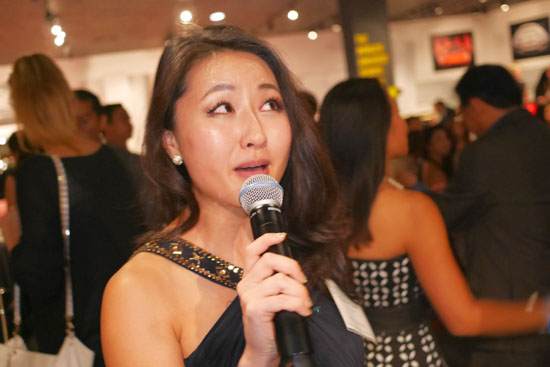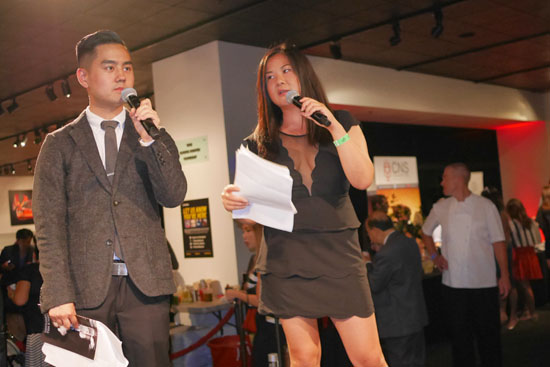 And now, a word from President Yulree and co-MCs
Sean Miura
and
Jenny Yang
.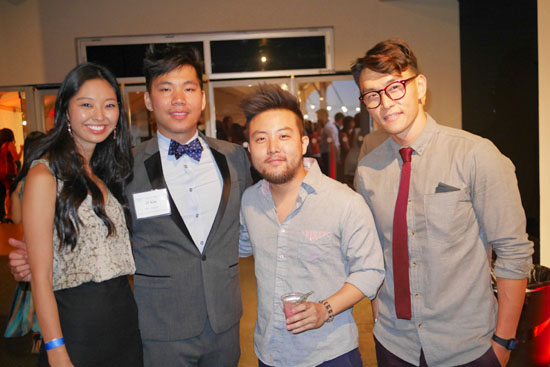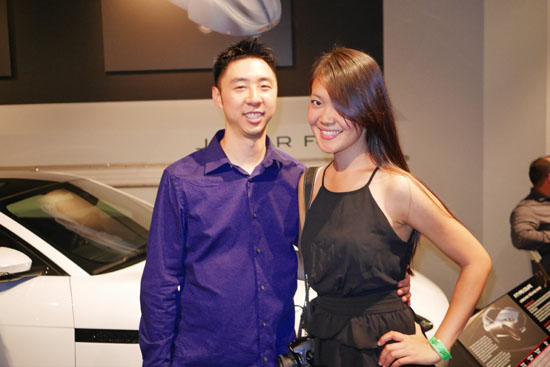 L:
Project by Project National President JT Kim with PbP NY Director of Outreach-slash-model Anna Gu and musician
David Choi
.
R:
Blogger extraordinaire
Darin Dines
, with girlfriend Shirley Hsu.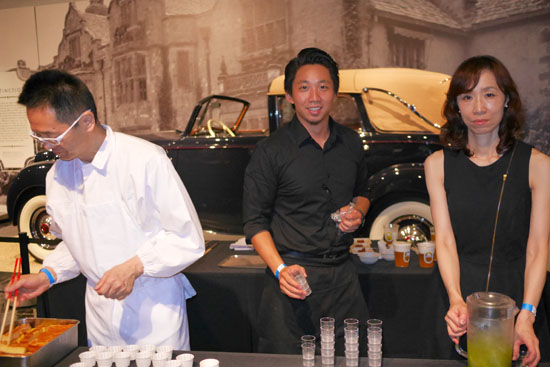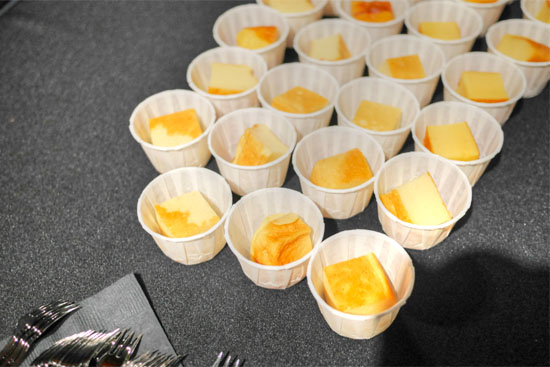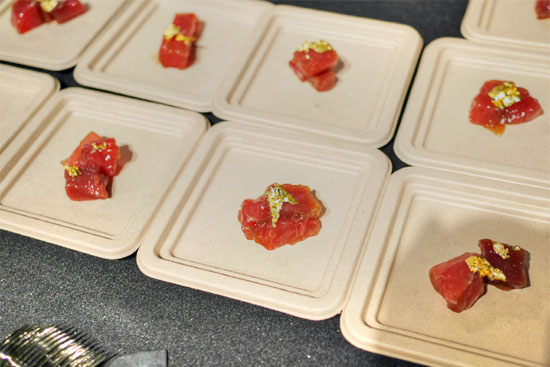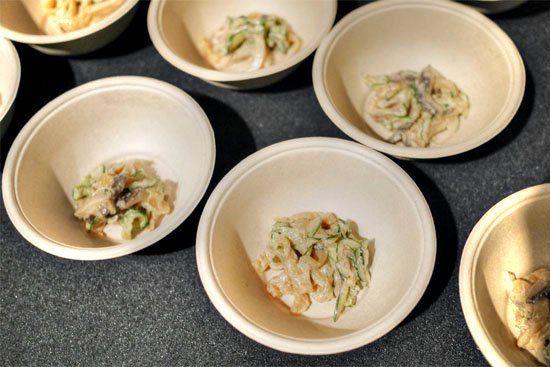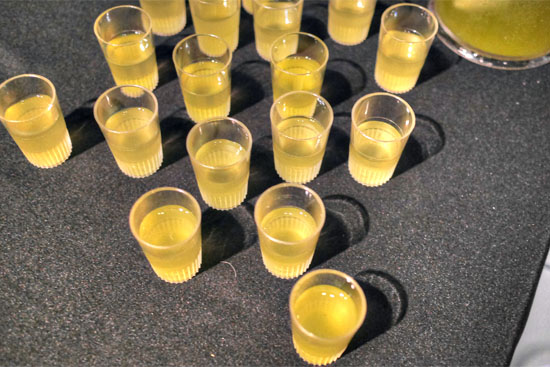 Hiroyuki Naruke from stellar sushi newcomer
Q
was joined by wife Kyoko and served
Tamago (Egg with Bay Shrimp)
,
Kurage (Jellyfish with Sesame Sauce)
,
Gold Leaf-topped Tuna
, and
Iced Green Tea
.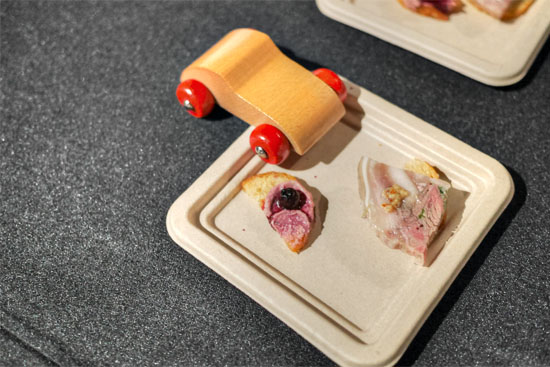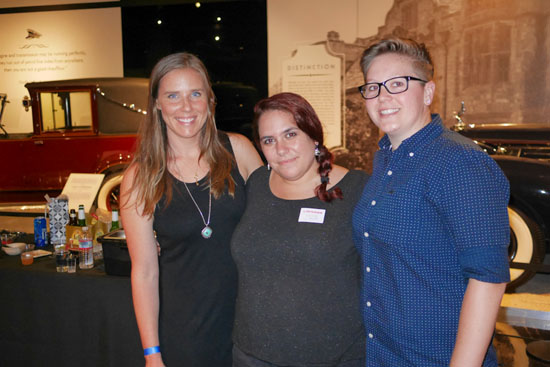 Gavin and Jessica Mills' eponymous
Mills & Co
once again delivered with a duo of charcuterie:
Chicken Liver Mousse with Pickled and Spiced Blueberries
and
Porchetta di Testa with Lost Soul Ale Mustard
.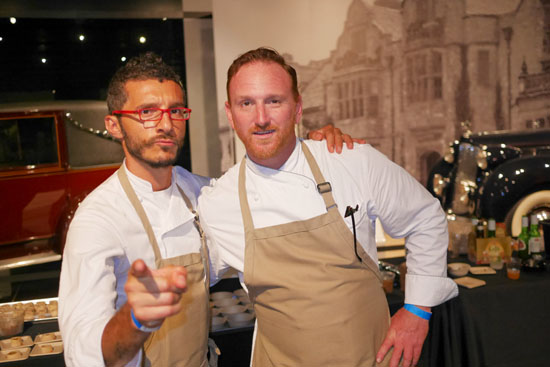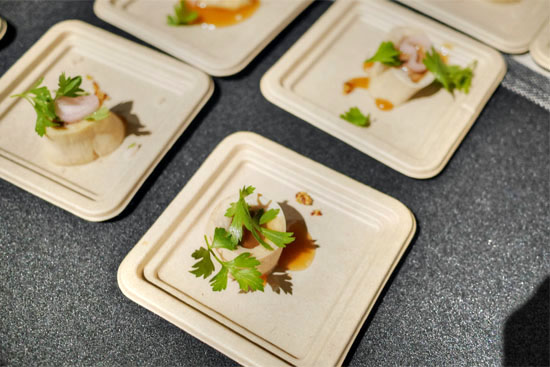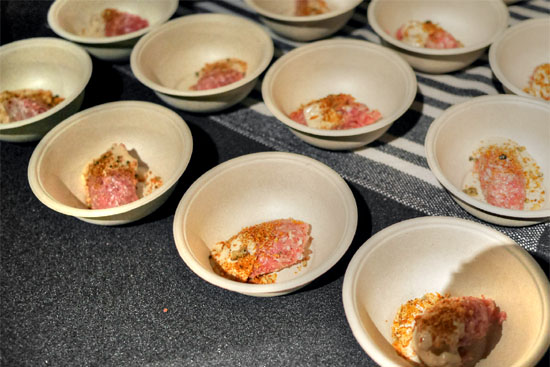 Walter el Nagar's modern Italian stylings were showcased by vegan
Mushroom "Bone Marrow"
and a rendition of
Vitello Tonnato
. Look for one more iteration of his
Barbershop
pop-up before a permanent spot opens.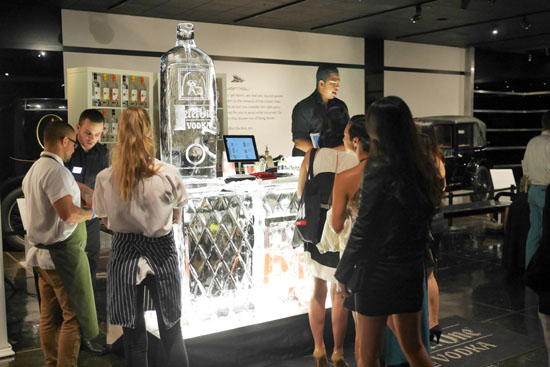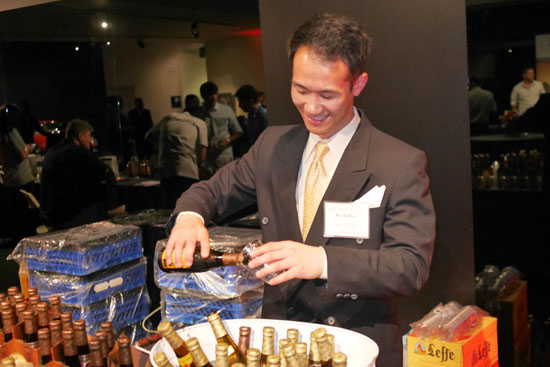 L:
Ketel One
made an impressive showing once again with their translucent bar carved out of solid ice.
R:
Plenty of
Leffe
(Blonde and Brun) was available for the Belgian beer fans out there (of which I am one).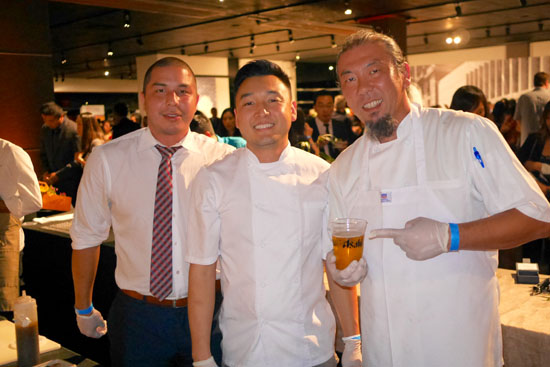 GM Jesse Duron, Executive Chef Wonny Lee, and Executive Sushi Chef Yoya Takahashi showed up for
Hamasaku
and gave us an
Albacore Sashimi with Ginger Soy Vinaigrette and Fried Onions
.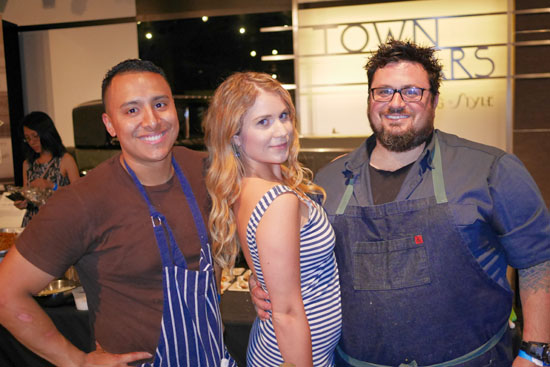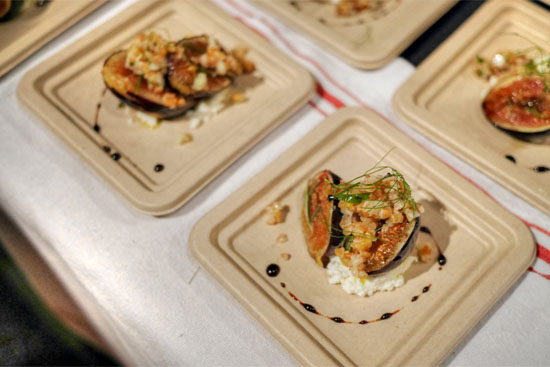 Bruce Kalman and his Pasadena newcomer
Union
doled out an appealing dish of
Black Mission Figs and Ricotta, Rosemary, Wildflower Honey
.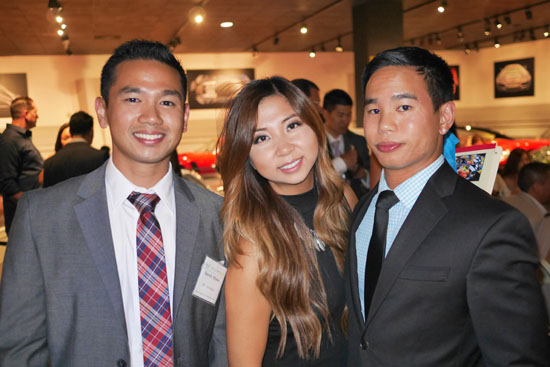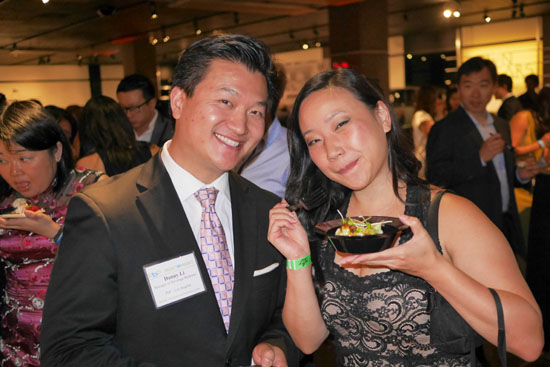 L:
VIP area bouncers Darrel Alfonso (Marketing Team), Lily Tran (Marketing Team), and Phil Alfonso (Volunteer Team).
R:
Manager of Beverage Relations Danny Li, with wife Margaret Lin.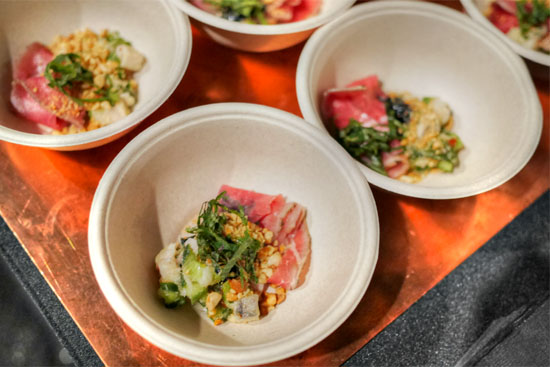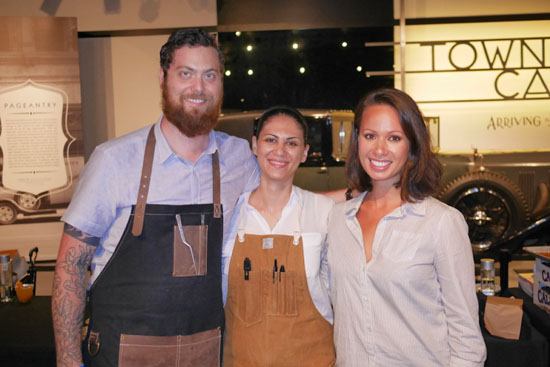 Chef-in-Residence Joshua Drew and Pastry Chef Sahar Shomali from
Fifty Seven
plated a lovely
Salt and Sugar Cured Beef with Preserved Swordfish, Squid Ink, Thai Basil, and Cucumber
.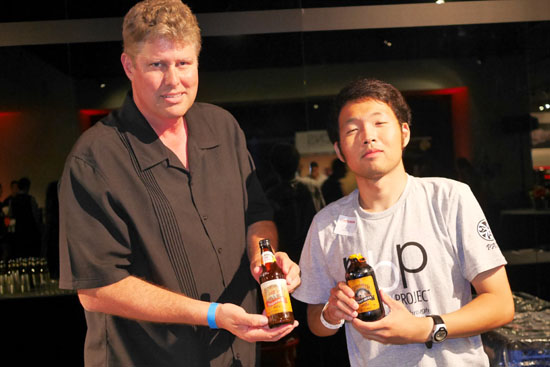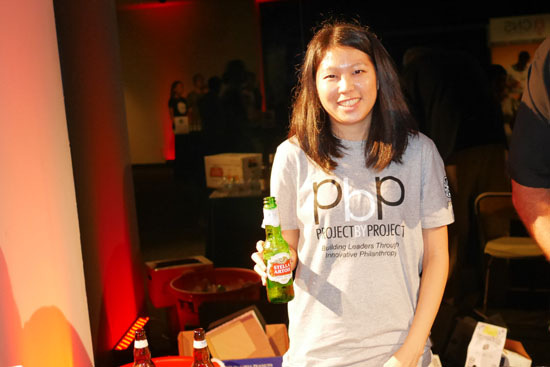 L:
Bundaberg
's refreshing ginger beer was a nice change of pace.
R:
For some lighter Belgian beers, you had the duet of
Hoegaarden
and
Stella Artois
available.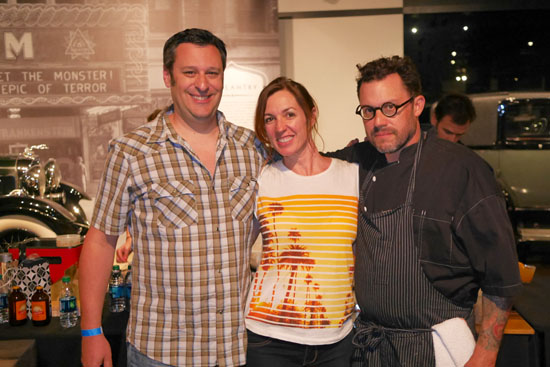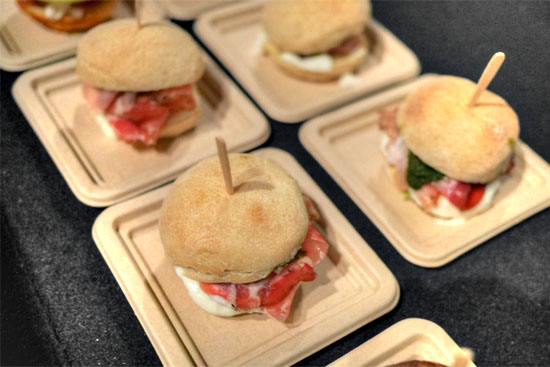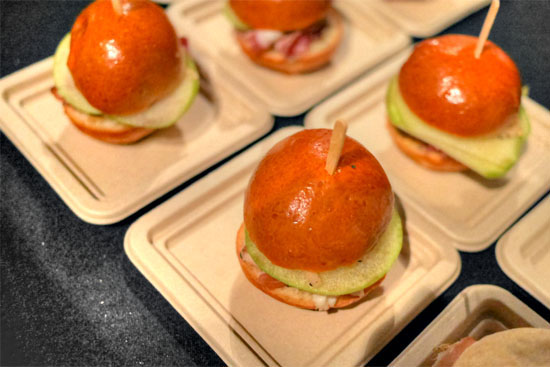 Some of the most substantial plates of the evening came from
Del Rey Deli
's Tim Edwards, Corrina Murdy, and Chef Vince Howard:
Lambcetta on Salted Pretzel Roll
,
Lomo, Beets and Burrata Cheese
, and
Pork Belly, Pickled Shallot, Local Mustard
.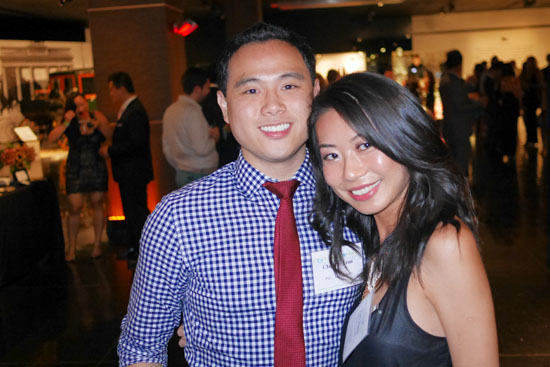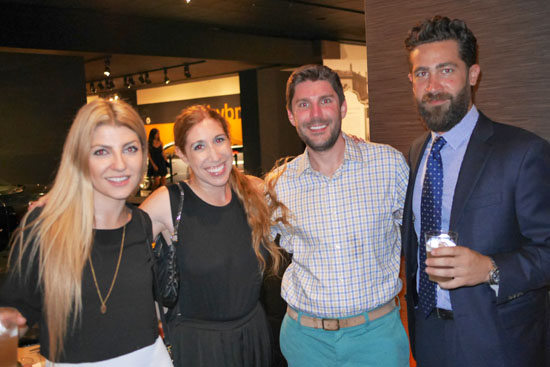 L:
Fundraising Team lead Clayton Tran, along with Project by Project San Francisco's Director of Events Mary Zhang.
R:
PR firm Wagstaff Worldwide was out in full force tonight with Aleksandra Baranova, Elise Freimuth, Andrew Cosgrove, and Alex Melelian all in attendance.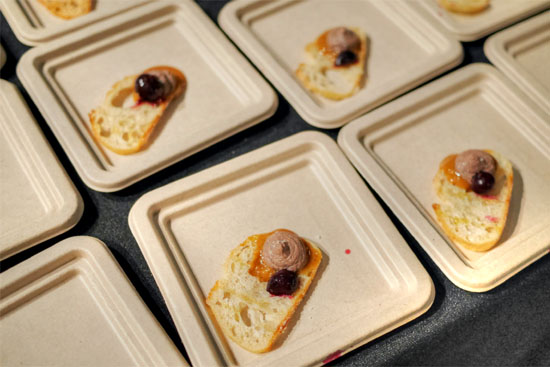 Chef Nick Erven's hot K-Town newcomer
Saint Martha
had a
Chicken Liver Mousse with Shaved Baguette, Pickled Blueberry and Hazelnut Praline
.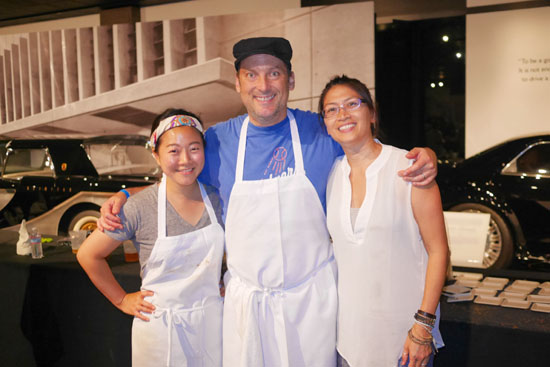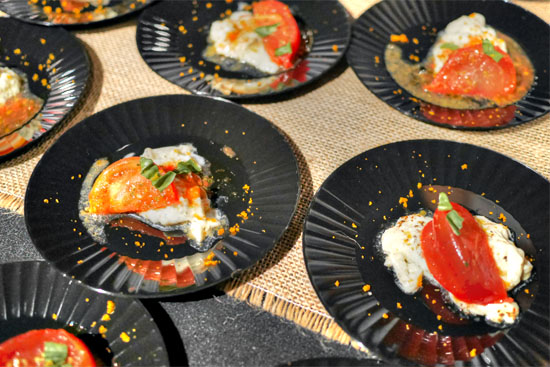 Steve Samson and Dina Pepito from Southern Italian staple
Sotto
had a dish of
Stracciatella, Marinated Tomatoes, Bottarga
.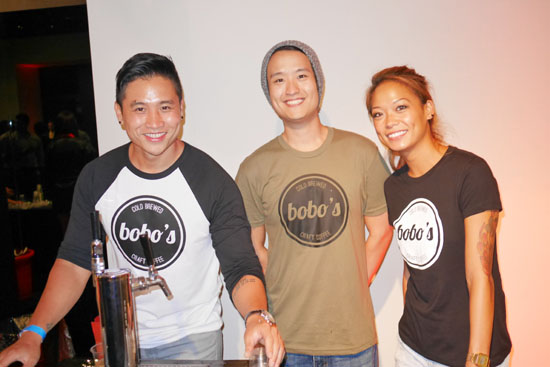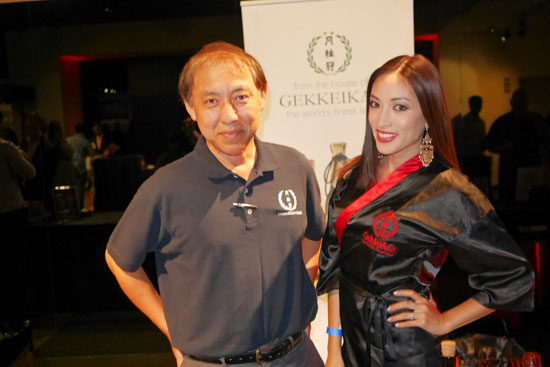 L:
Vankhoa "Mike" Le's
Bobo's Cold Brew
poured their Cafe Den (Vietnamese style black coffee).
R:
Meanwhile, sake service tonight was provided by
Gekkeikan
.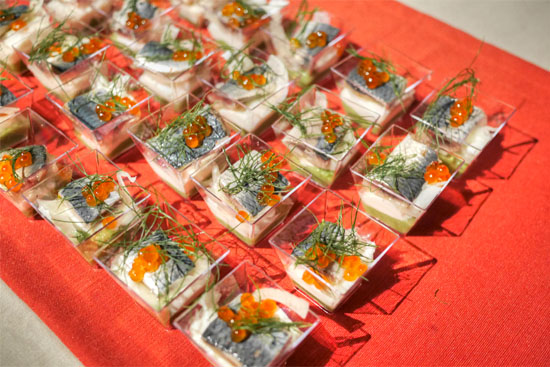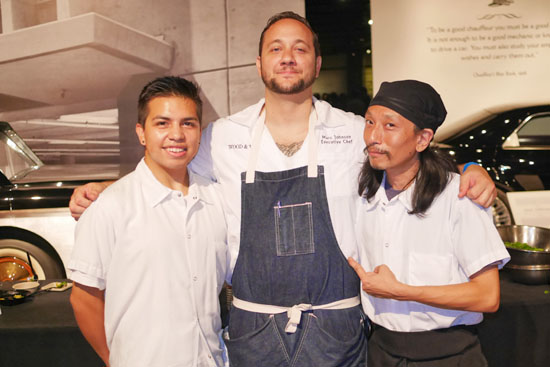 Wood & Vine
's Marc Johnson went a little risky with his
Cured Sardines with Smoked Salmon Roe, Fava Bean Puree, Radish and Blossoms
, but worked it out.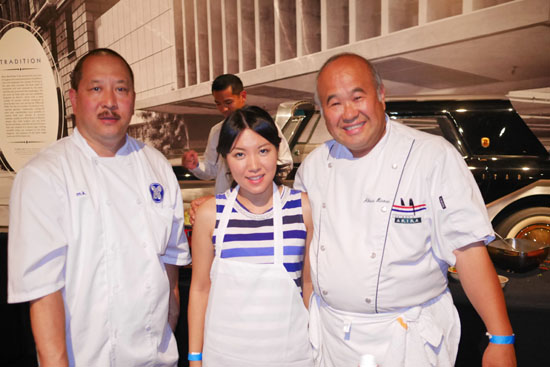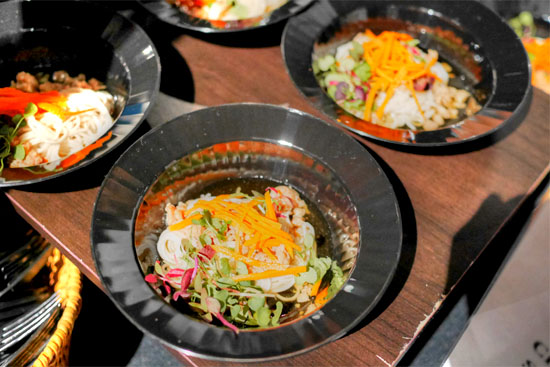 Akira Hirose's longstanding
Maison Akira
did well with its combo of
Chilled Somen with Chicken Soboro with Truffle Flavor Tsuyu
and
Braised Pork Belly with Wasabi Potato Mousseline
.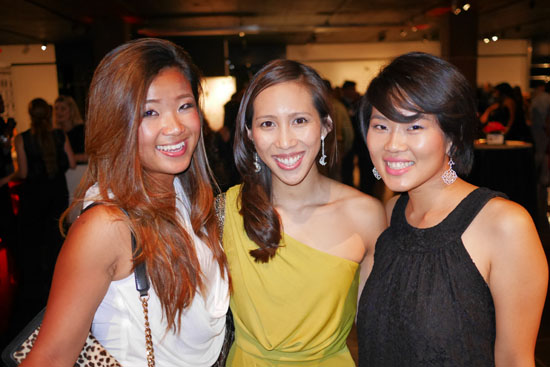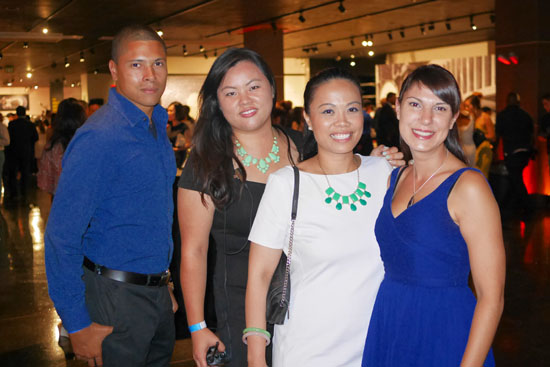 L:
All the single ladies.
R:
Events Team member-slash-Floor Manager Tuyet Nguyen is joined by Becca S, Cherisse Cleofe, and a smoldering Bryan Wilkerson.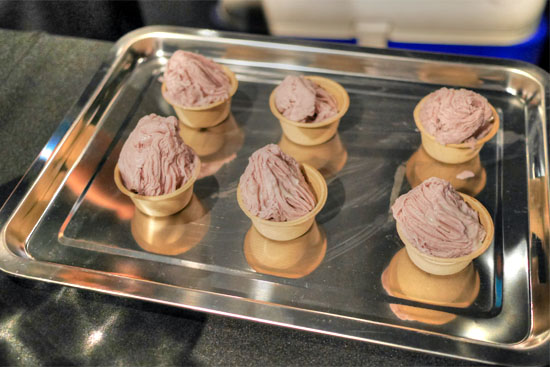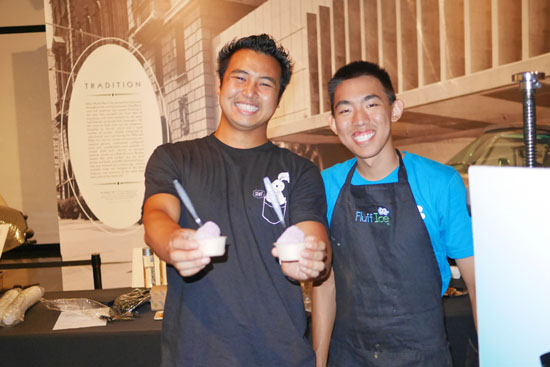 Fluff Ice
had cups of silky ube-flavored shaved ice.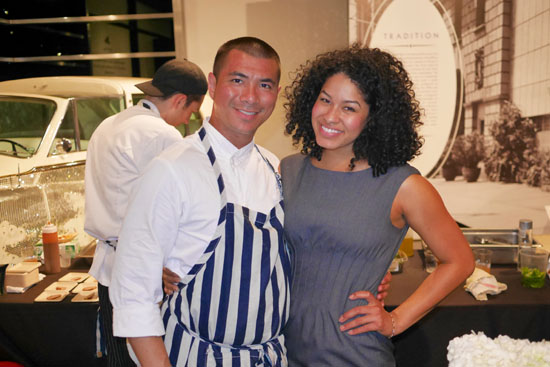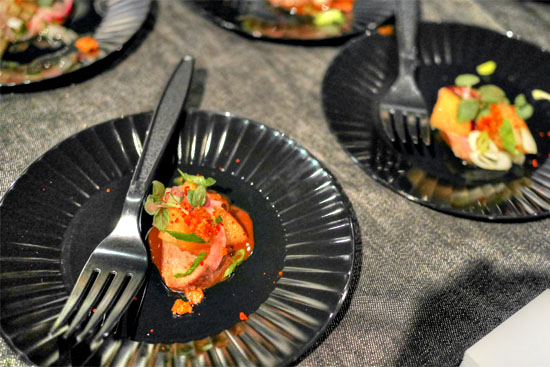 Stephane Bombet and Executive Chef Hung were here to represent DTLA's new
Faith & Flower
. The dish:
Duck Breast Escabeche, Black Soy, and Plum Confit
.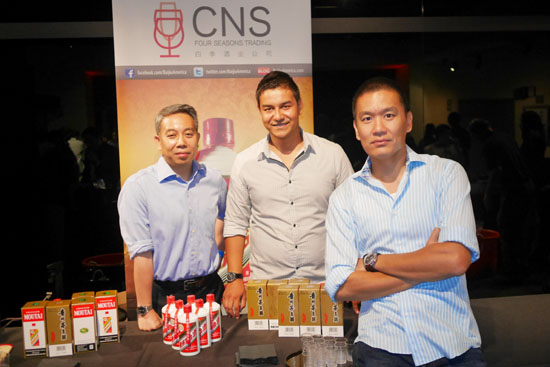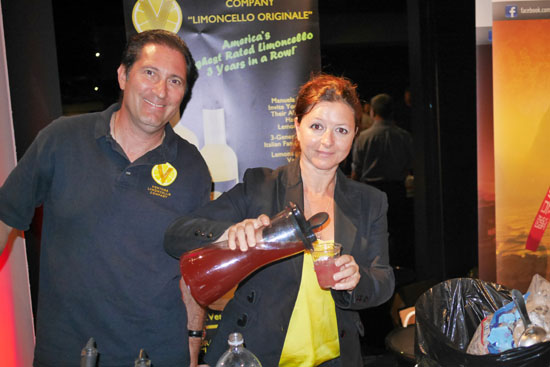 L:
CNS Enterprises
kept it O.G. with Shui Jing Fang and Moutai
baijiu
.
R:
Last but not least was
Ventura Limoncello
. Pouring were none other than co-founders James Carling and Manuela Zaretti-Carling.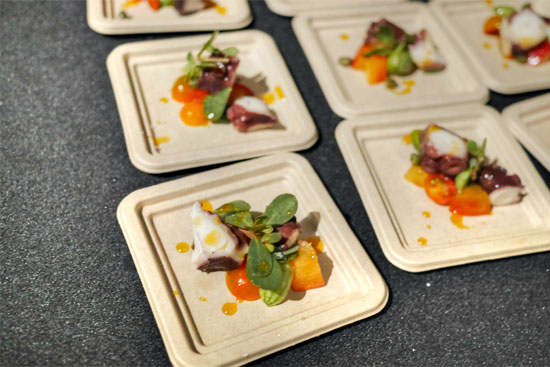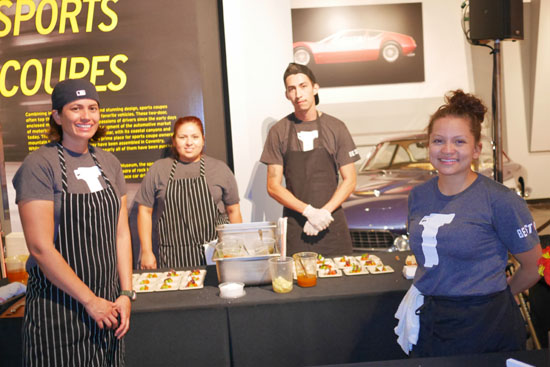 Time to visit the VIP area. First up was
Bestia
, which still just might be the hottest restaurant in town. New father Ori Menashe couldn't make it this evening, though Michelle Myrick was certainly able to hold down the fort in his absence. Bestia's octopus is oft-regarded as some of the best in the City, so their
Octopus, Plums, Cherry Tomatoes, Capers, Purslane, Chile Anchovy Oil, Pickled Mouse Melons
this evening was promising to be sure.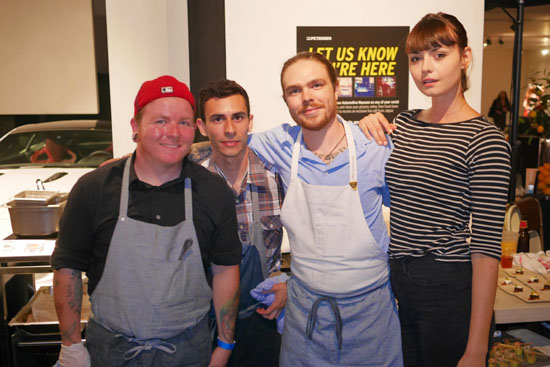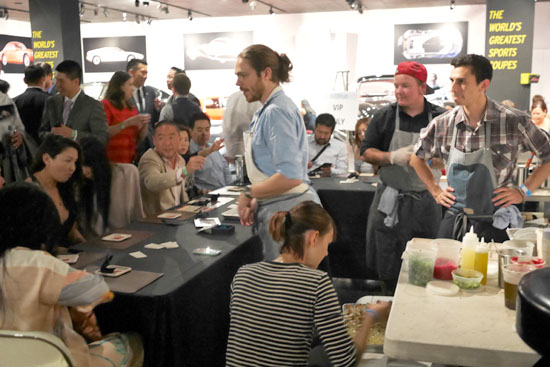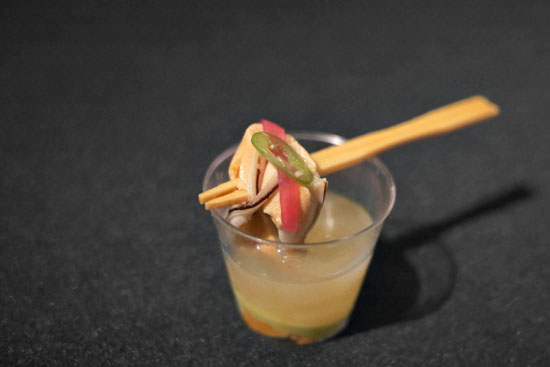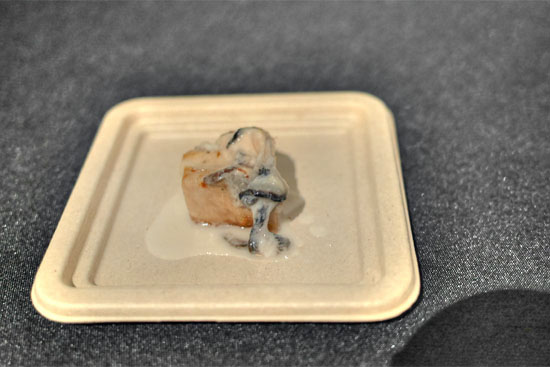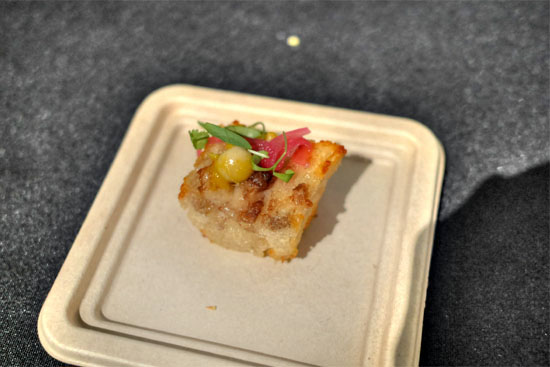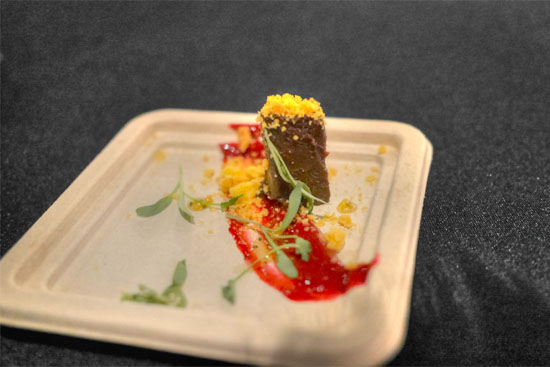 Chef Phillip Frankland Lee and Pastry Chef Margarita Lee from
Scratch Bar
, meanwhile, went completely outside the box this time around, and it paid off. Instead of your typical setup, the team opted to do a mini four-course tasting menu for a dozen people at a time. Think
Green Mussel & Sea Urchin Sake Shooter
, the signature
Pork Belly & Raw Oyster
,
Bone Marrow n' Sourdough
, and a finishing
Dark Chocolate & Cayenne Candy Bar
. They managed to serve around 180 guests in a roughly three-and-a-half hour period.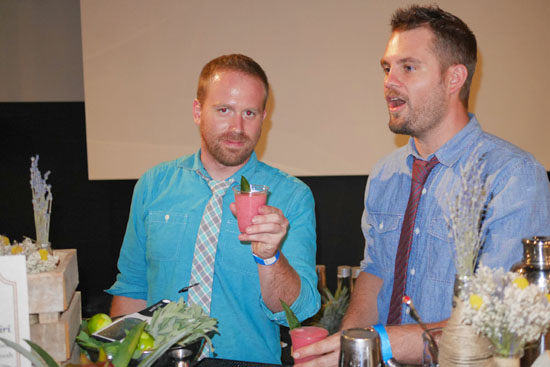 L:
VIP bar duties this year were handled by
Harlowe
. Kyle Ackley served a delicious
Spiced Berry Daiquiri (Selvarey rum, seasonal berries, cinnamon and spice syrup, fresh lime, blended)
.
R:
Volunteer Team member Kay Vu, looking lovely with a custom 1948 Jaguar coupe.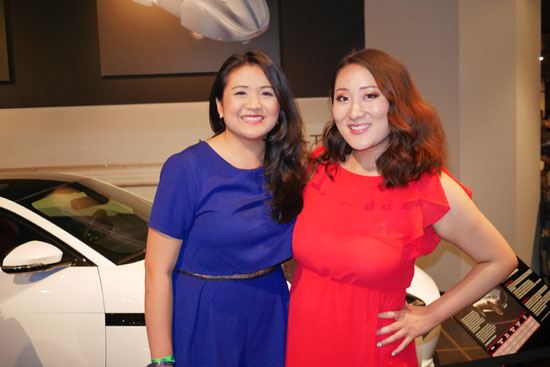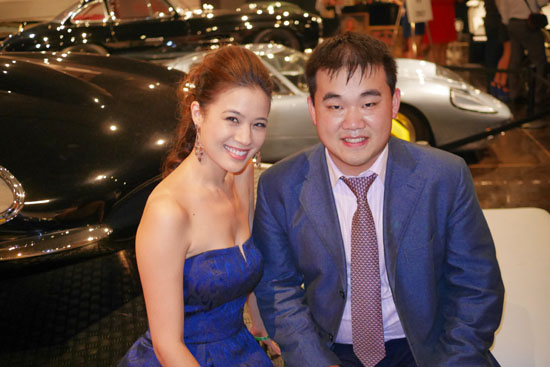 In the VIP.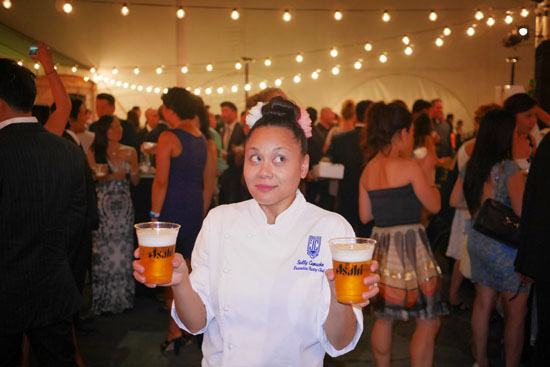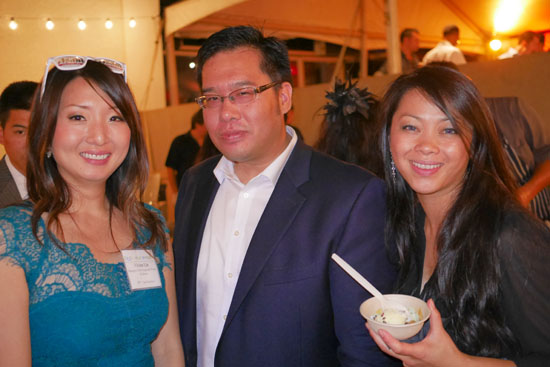 L:
One of my favorite photos of the night: Sally Camacho caught double fisting.
R:
PbP SF Manager of Beverage & Winery Relations Vivian Lin and PbP LA Beverage team member Jannie Phang.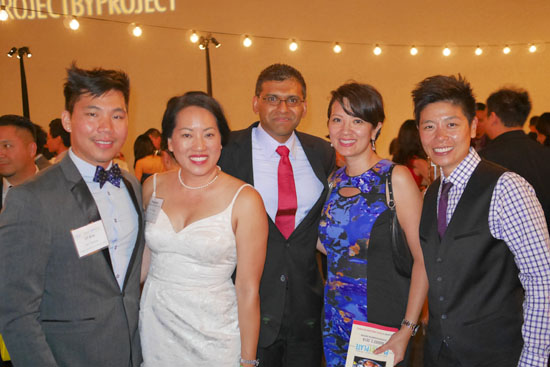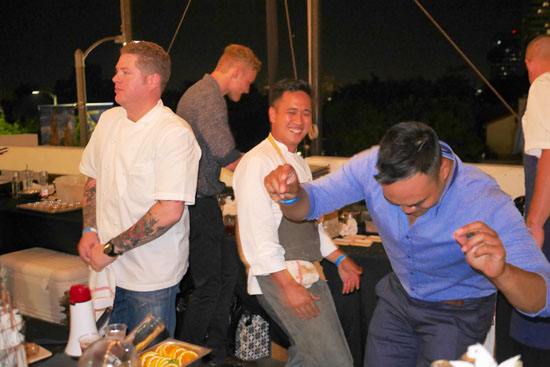 L:
The power players: PbP National President JT Kim, PbP Board of Directors Chair Michelle Ko, PbP Director Nirendran Kathirithamby.
R:
The Church Key crew gettin' jiggy with it (and yes, Devon's as good of a dancer as you would imagine).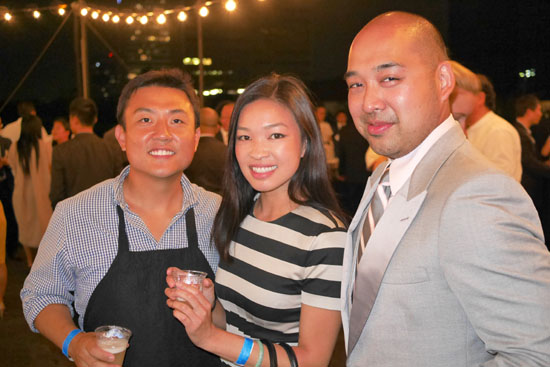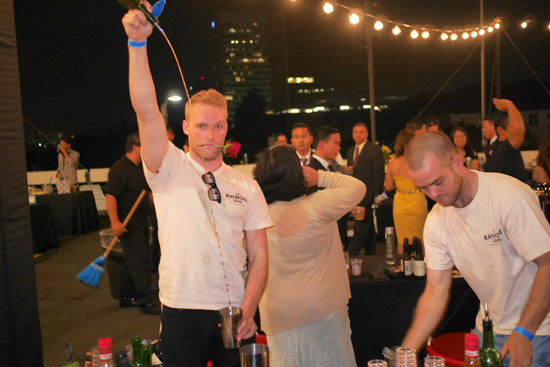 L:
SK's Matt Kim, Darin Dines associate Kristen Jue, and prolific Yelper
Vinh N
.
R:
One high-ass pour.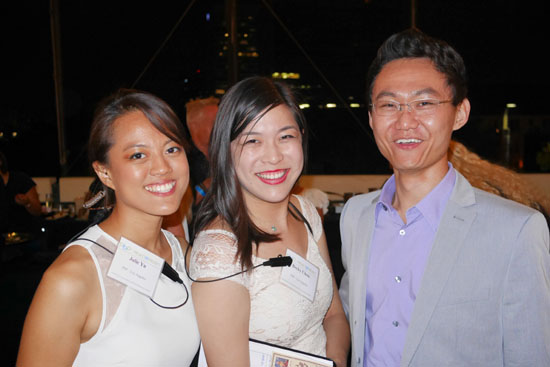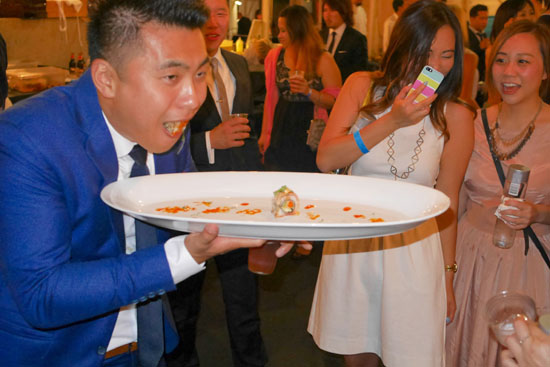 L:
Volunteer Team members Julie Yu and Becky Chou.
R:
One guest took "plate by plate" literally, and polished off Chaya's rolls, hands-free, in one fell swoop.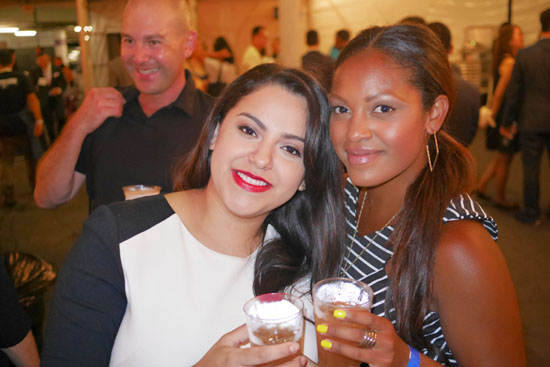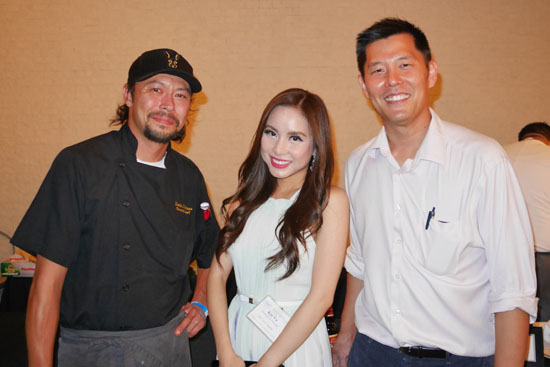 L:
Emely Cubias and Teresa Brown from The Raymond definitely enjoyed themselves.
R:
"Hello Kitty" Vu with the b.o.s. team.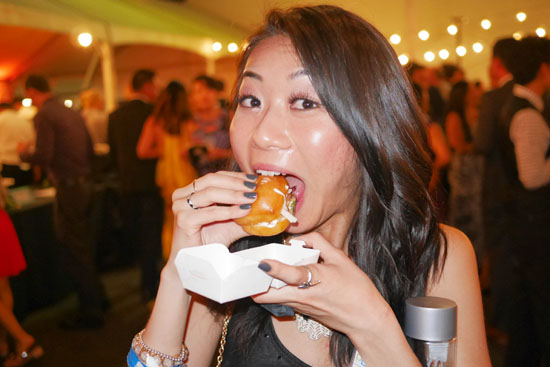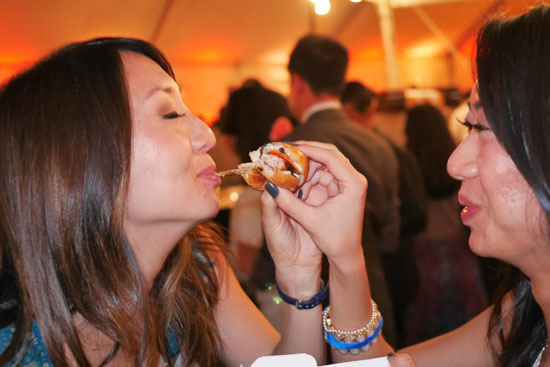 PbP SF's Mary Zhang and Vivian Lin turn Patina's Pork Belly Sandwich into sexy feeding time.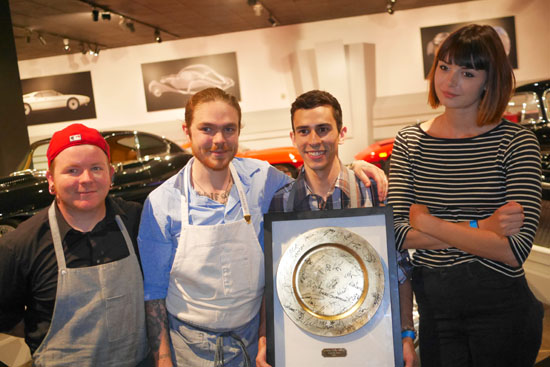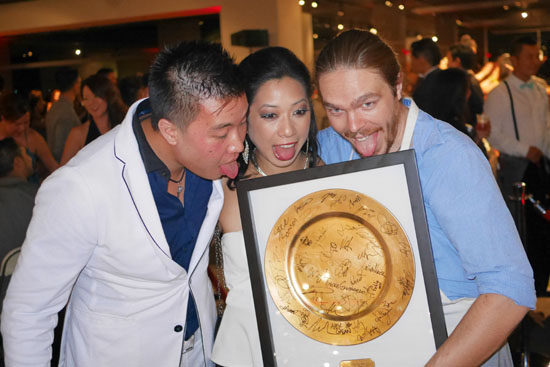 Scratch Bar ended up winning the coveted "Golden Plate" award for their considerable efforts tonight. In related news, Chef Phillip's
Gadarene Swine
should be opening up soon in Studio City, so be on the lookout for that.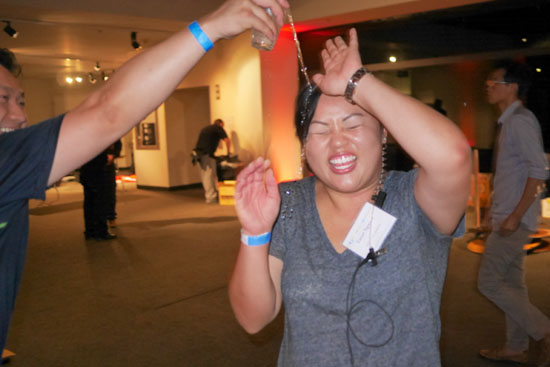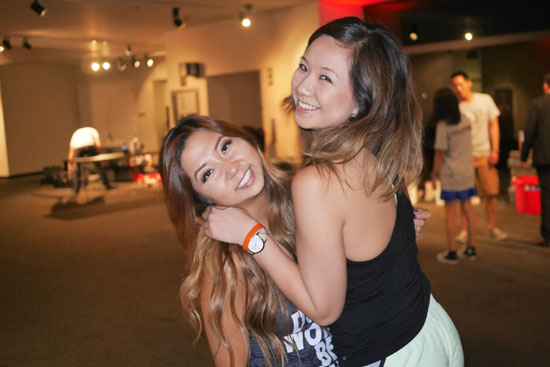 Post-event shenanigans.
Previous Plate by Plate posts: 2013, 2012, 2011, 2010