Petit Trois (Los Angeles, CA)
Petit Trois Restaurant
718 N Highland Ave, Los Angeles, CA 90038
www.petittrois.com
Mon 07/28/2014, 05:30p-07:45p

I think it's not too far of a stretch to say that
Trois Mec
was the most widely-anticipated debut of 2013, so I guess it's not too surprising that its follow-up, Petit Trois, would wind up in a similar position this year. Yes, this is the long-awaited
bar à la carte
concept from Ludo Lefebvre and his
Animal
partners Vinny Dotolo and Jon Shook, the one that had been teased since last December. Petit Trois bowed earlier than expected on the evening of the 23rd after about a month of friends & family type dinners that saw the likes of Nancy Silverton and, oddly enough,
Justin Timberlake
come in for a meal.
Petit Trois's a simple, casual place, a neighborhood-y type joint ostensibly reminiscent of similar bars in France, with day-to-day operations run by none other than Sydney Hunter III, who's looking much cleaner-cut these days. Hunter, if you recall, first cooked with Ludo at L'Orangerie, then worked at Bastide under
Giraud
, Ludo,
Manzke
, and Shoemaker. He then went over to Riva and
Fraiche
, then got back together with his old mentor at LudoBites (
5.0
and
6.0
) before returning to
Bastide
as head toque. His last post was at Cafe Pinot in Downtown, where he replaced
Kevin Meehan
.

Petit Trois takes over the address of the middling Tasty Thai next door to Trois Mec. Construction began in earnest at the end of February, and the whole space was penned by
Estee Stanley
. It's a cozy, classic, vaguely French-ish sort of affair, with 21 stools plus some standing room for both the marble-topped counter and narrow wooden bar along the wall.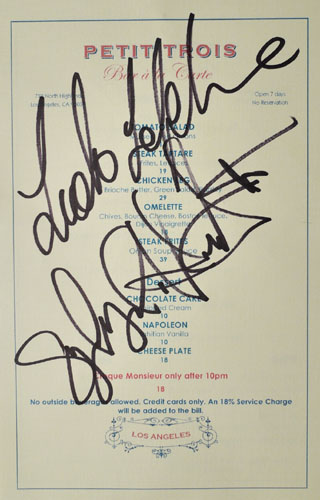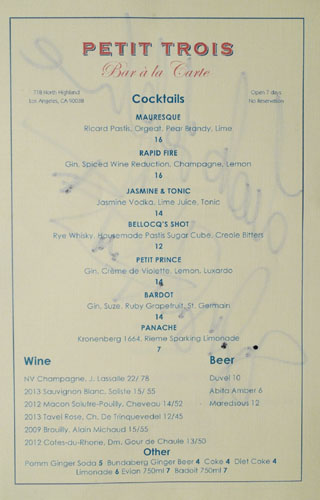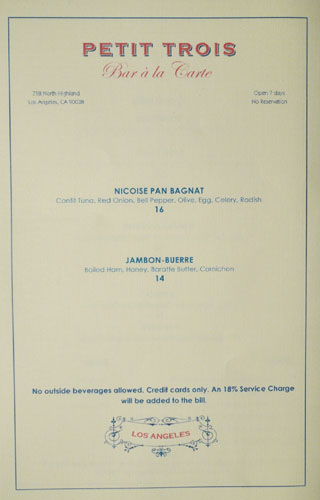 As for Petit Trois' menu, expect spendy, traditional-tending bistro-y fare at dinner, executed with aplomb (I guess that rumored burger never materialized). Lunch is composed of two sandwiches (starting off with a
jambon-beurre
and
pan-bagnat
), which are limited to 200 portions apparently, available for dine-in or to-go. Meanwhile, a "late night menu" (served past 10:00p) comprises a single dish, the iconic
croque monsieur
. To imbibe, you'll get a smattering of beer and wine, as well as old school-leaning cocktails from Bar Manager Danielle Motor. Click for larger versions.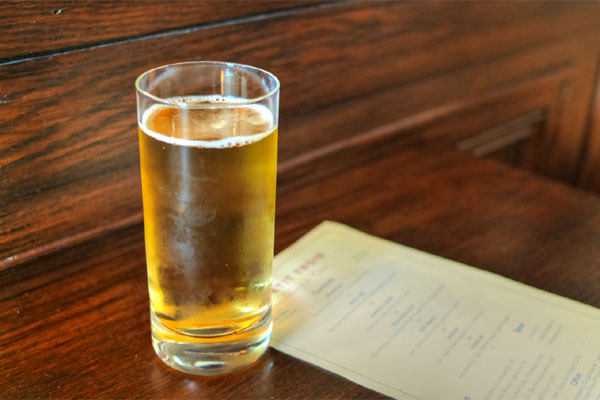 PANACHE [$7.00]
| Kronenberg 1664, Rieme Sparkling Limonade
Speaking of those cocktails, we began with two of the lighter ones. The
Panache
(pronounced with the accent on the "e") was basically a shandy of sorts. It's a combo of beer and sparkling lemonade that worked out beautifully, with its sweet-n-sour citrus flavors really mellowing out the inherent bitterness in the Kronenberg. Super refreshing, and super well integrated.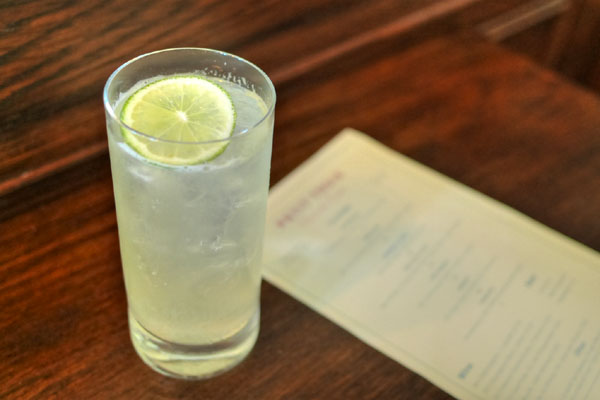 JASMINE & TONIC [$14.00]
| Jasmine Vodka, Lime Juice, Tonic
The
Jasmine & Tonic
was similarly light, bright, and effervescent, with a strong lime character to even out the weight of the vodka. I would've liked to have tasted more from the jasmine, though.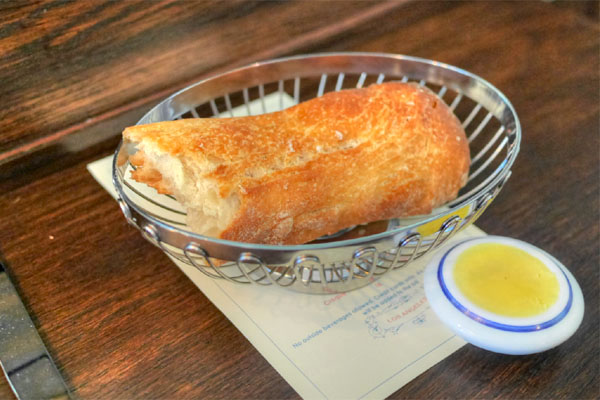 Bread was suitably crusty out the outside, but fluffy on the inside, and went swimmingly with the particularly lush butter included. Note that bread & butter used to be on the menu for $3, but has apparently been taken off and turned into a complimentary item.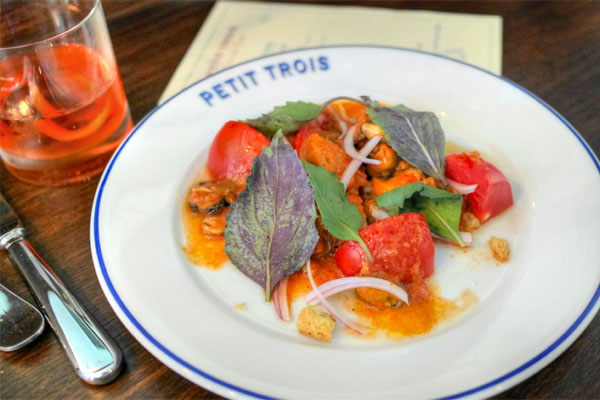 TOMATO SALAD [$14.00]
| Mussels, Red Onions
Tomato salads are typically pretty dull, but this one managed to be perhaps the most interesting version I've encountered. The key was the use of mussels, which imparted a briny, savory depth to the dish that definitely worked with the juicy sweetness of those tomatoes. I also appreciated the astringency and crunch provided by the onions, and the basil aromatics were a great finishing touch. Very pleasantly surprised here.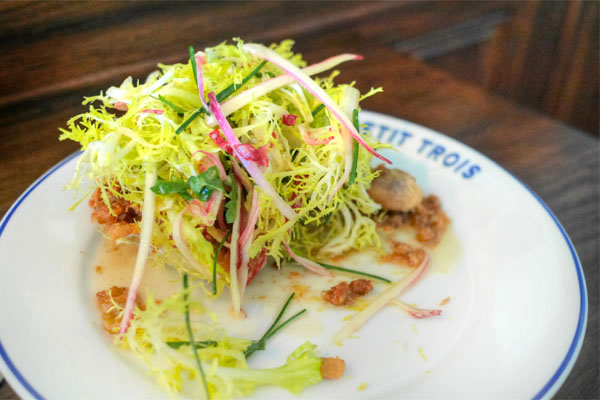 CHICKEN LEG [$29.00]
| Brioche Butter, Green Salad, Parsley
The confit(?) chicken leg-thigh was also one that surprised us with how tasty it was. The bird conveyed a pretty marvelous, super buttery flavor, and the brioche breadcrumbs were a welcome accompaniment as well. Lovely use of the frisée salad here too, which had a light, acidic zing to it that really balanced out the chicken.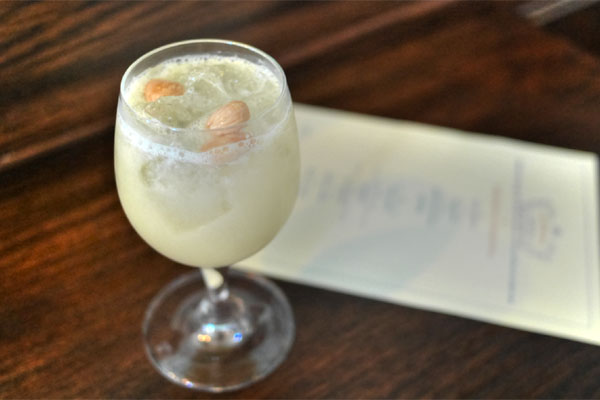 MAURESQUE [$16.00]
| Ricard Pastis, Orgeat, Pear Brandy, Lime
French for "Moorish," the
Mauresque
is a traditional beverage from the south of France. It's definitely worth a shot if you're a fan of anise-y flavors, with the assertive taste of the liqueur melding well with the moderating sweetness of orgeat, the lime imparting a bit of an exclamation mark to the cocktail.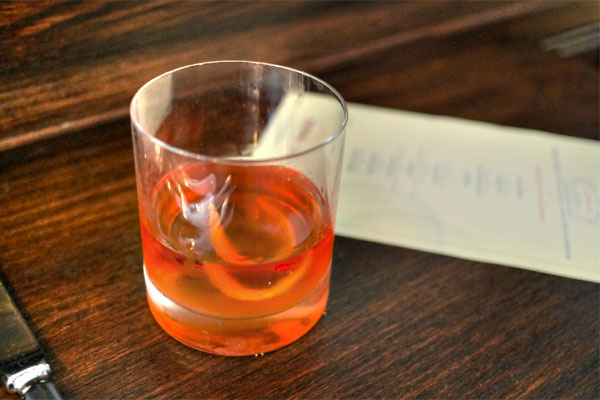 BELLOCQ'S SHOT [$14.00]
| Rye Whisky, Housemade Pastis Sugar Cube, Creole Bitters
A variation on the traditional Sazerac, the
Bellocq's Shot
was the booziest cocktail of the bunch, with a strong whiskey character tempered somewhat by the astringency of the bitters.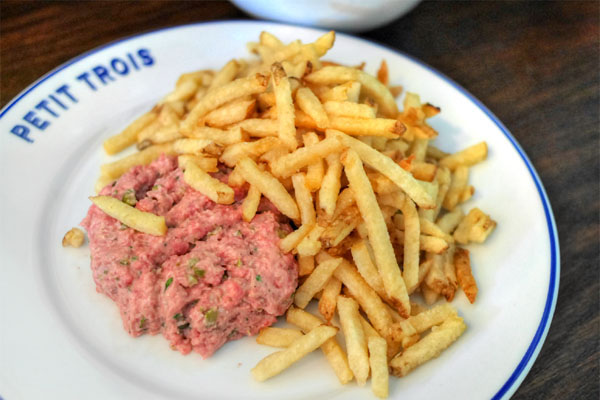 STEAK TARTARE [$19.00]
| Frites, Lettuces
The tartar was a must-get for us, and was one of the stronger versions I've tried, with a fine-spun, almost silken texture. Tiny, pickle-y bits mixed in provided an offsetting piquancy to the beef, and the fries were a natural accompaniment. Great with the toast below, too. Yum.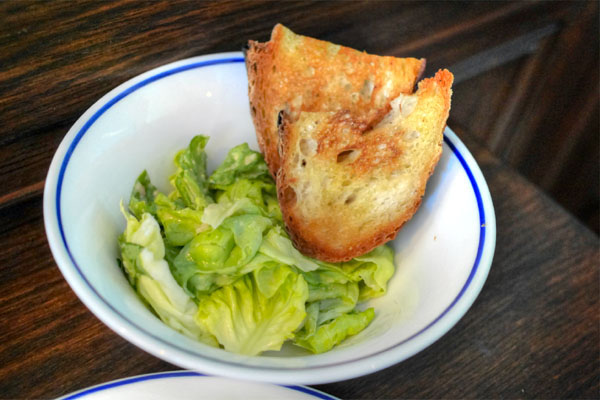 Accompanying the tartare was a Boston lettuce salad (I believe with a Dijon vinaigrette), which used to be a standalone dish on the menu. The leaves were appropriate buttery, making for a soft, slick, tangy salad that effectively countered the potency of the meat above.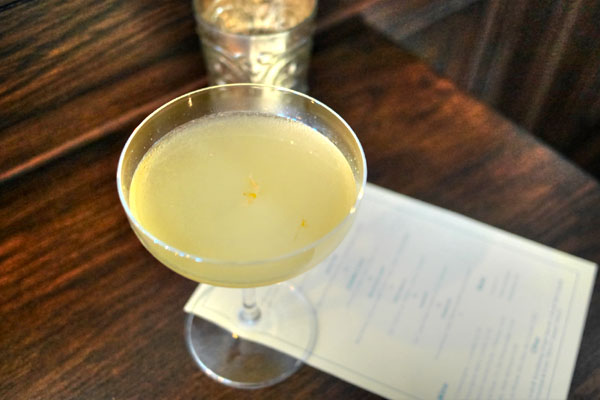 BARDOT [$14.00]
| Gin, Suze, Ruby Grapefruit, St. Germain
My favorite cocktail of the evening was the
Bardot
, thanks to its delightfully sweet, citrus-y character perfectly balanced out by the bite of the Suze.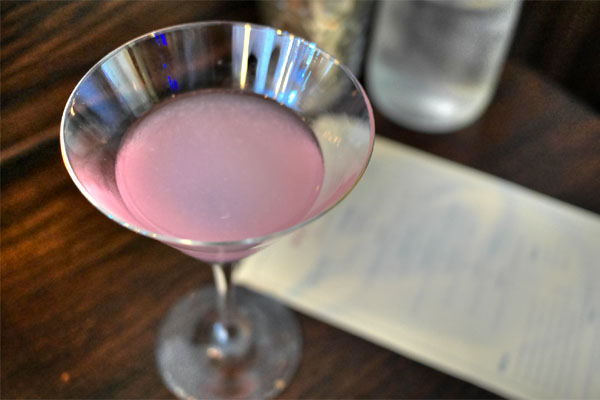 PETIT PRINCE [$14.00]
| Gin, Crème de Violette, Lemon, Luxardo
The
Petit Prince
also made use of gin, though wasn't quite as successful. I appreciated the sweet, floral nature of the violette here, though the lemon was a bit too forward for my liking.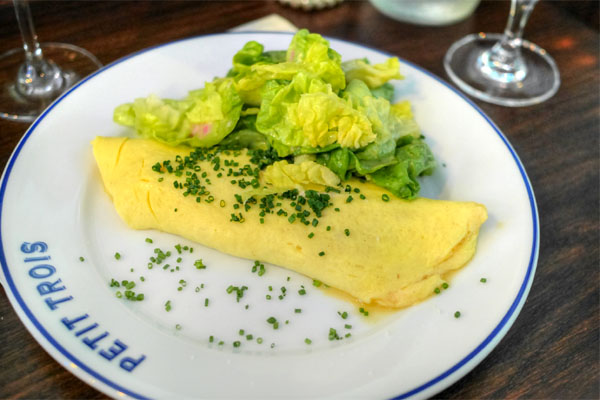 OMELETTE [$18.00]
| Chives, Boursin Cheese, Boston Lettuce, Dijon Vinaigrette
Petit Trois' omelet is quickly becoming the restaurant's signature dish, and it's not hard to see why. I don't think I'd ever had a version quite so decadent, with the omelet just dripping with lush, runny Boursin, a dash of black pepper doing a fantastic job in moderating the experience. Great counterpoint from the butterhead lettuce to boot. Damn good, and a must-try.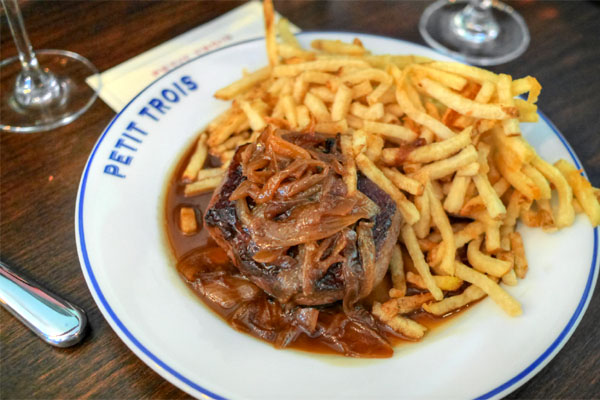 STEAK FRITES [$39.00]
| Onion Soup Sauce
Our final savory brought out Petit Trois' rendition of the classic steak frites. Made with the traditional rump steak instead of a rib-eye or strip loin, the meat wasn't as tender as I'd expected, but was loaded with plenty of bovine flavor. A sauce recalling
soupe à l'oignon
added further savoriness and sweetness to the mix, but I preferred to enjoy the steak unadorned. And as with the tartare above, some lovely fries to go along.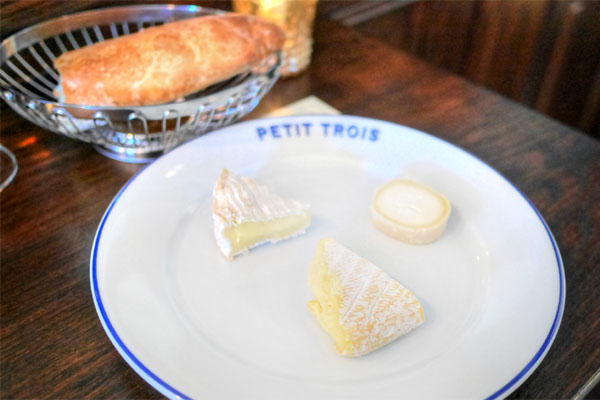 CHEESE PLATE [$18.00]
The cheese course comprised three selections, all to my liking: a creamy smooth goat's milk Chabichou; a rich, palate-coating Reblochon; and a particularly pungent presentation of Camembert.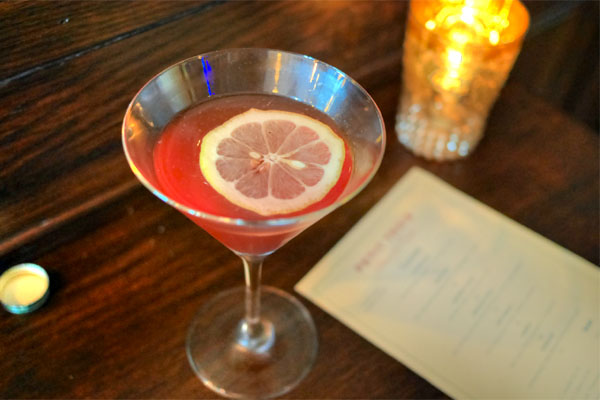 RAPID FIRE [$16.00]
| Gin, Spiced Wine Reduction, Champagne, Lemon
At this point, we'd had six of the seven cocktails, so we decided we might as well run the gamut. I quite like the
Rapid Fire
, with its palpable touch of sweet spice playing nicely off the zing of lemon, the bubbly adding a touch of vivacity to the mix.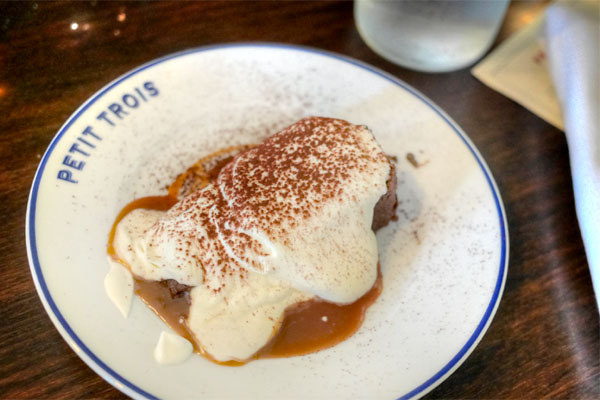 CHOCOLATE CAKE [$10.00]
| Whipped Cream
And now for the sweet stuff. Petit Trois' chocolate cake was fairly prototypical, the dark, sugary notes from the cake lightened up quite a bit by the fluffy dollop of whipped cream up top.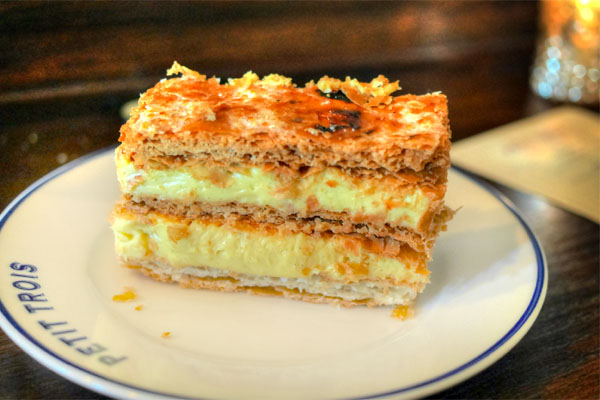 NAPOLEON [$10.00]
| Tahitian Vanilla
Our meal ended on a very high note with this Napoleon, a perfectly executed version of the classic dessert that blended crisp, crusty strata of puff pastry with luscious layers of vanilla cream, the whole thing teeming with a delectable sweet spice. Fantastic textural contrast here as well, in probably the tastiest
mille-feuille
type dessert I've had.
Petit Trois is a place that's almost bound to be mired in hype and controversy, what with its credit card only-no phone-no reservations-mandatory tip policies and whatnot, not to mention the whole aura of Ludo looming over. If you can just try to strip away all that, you're left with some really solid
brasserie
-esque French cookery, which is a pretty drastic change from the food next door at Trois Mec. It'll be interesting to see how this places evolves, whether or not it'll become the type of neighborhood-y place originally envisioned.