Pine & Crane (Los Angeles, CA)
Pine & Crane Restaurant
1521 Griffith Park Blvd, Silver Lake, CA 90026
323.668.1128
www.pineandcrane.com
Sun 09/07/2014, 07:55p-11:35p

The Silverlake dining scene scored its first legit Taiwanese/Chinese restaurant at the end of March with the debut of Pine & Crane. Situated in the old Cru space across the street from
El Condor
and
Cliff's Edge
, the place is described as a "fast-casual" concept, though methinks it's definitely a step up from Pei Wei and its ilk. It's the work of Chef/Owner Vivian Ku, who named the restaurant after her grandfather's 1950's era noodle shop back in Taiwan.
About the Chef
: Ku's family eventually emigrated from Taiwan and settled in California, and she grew up in the Bakersfield region, where her family runs Asian produce specialist Sunfield Farm. Following graduation from Highland High School in 2005, Ku attended Harvard, focusing on a pre-med track. After finishing up there, she got her start in the restaurant industry as front-of-the-house, then went on to study at the Culinary Institute of America at Hyde Park. This was followed by an internship at
Chez Panisse
in Berkeley and a stint at Full Plate, a restaurant consulting firm. Work on Pine & Crane began in earnest last year, and Ku has brought on Allan Lai to serve as her right hand man in the kitchen, while San Diego area native Moonlynn Tsai (who comes to us from San Jose's Original Gravity Public House) serves as GM.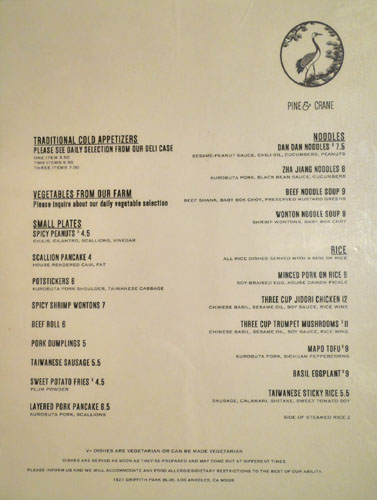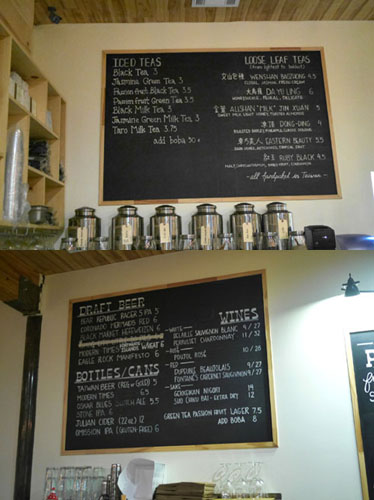 As for Pine & Crane's menu, you can expect all your Taiwanese-y favorites joined by seasonal produce sourced from the family farm. The restaurant's alcohol license finally arrived in July, so now you can enjoy a small draft/bottled beer list and a handful of wines to go along with the teas, both iced (with a boba option, natch) and loose leaf. Corkage, meanwhile, is a very reasonable $8 a bottle. Click for larger versions.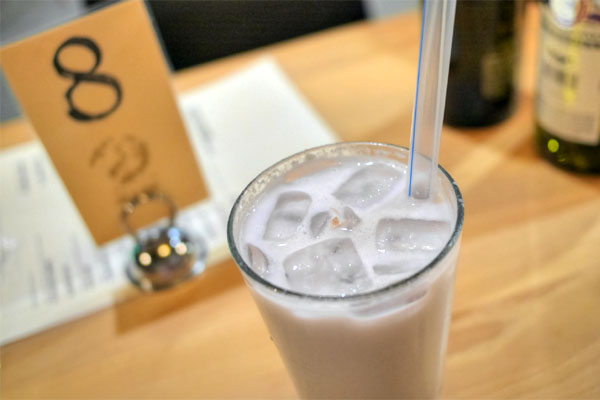 Before we started to booze, we tried the
Taro Milk Tea with Boba [$4.25]
, a delightfully gritty drink that really showed off the sweet, nutty taste of the root vegetable.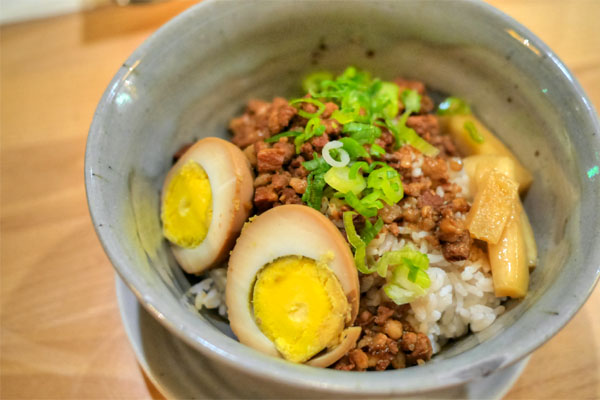 Minced Pork on Rice [$8.00]
| Soy-Braised Egg, House Daikon Pickle
We commenced with Pine & Crane's take on
lu rou fan
, a tasty preparation that balanced the sweet, savory pork over a backdrop of white rice, with the excellent soy egg and firm pickles adding further goodness to the dish. Cozy.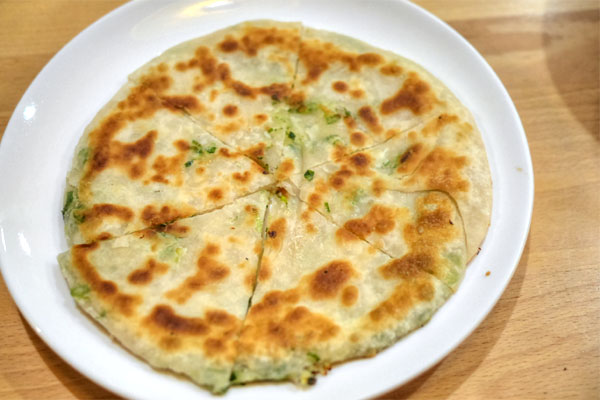 Scallion Pancake [$4.00]
| House Rendered Caul Fat
The staple of
cong you bing
was up next. It was a well-textured rendition of the flatbread, though I wanted the actual scallion to stand out more here.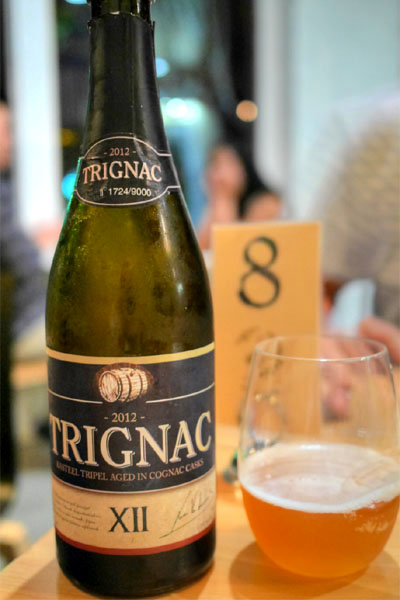 Given the BYOB policy, we brought along a couple bottles to enjoy, the first of which was the
2012 Van Honsebrouck Trignac XII
, basically Kasteel tripel ale aged in cognac casks, bottle #1724 of only 9000 ever produced apparently. I hadn't had anything quite like it before, but found it to my liking, with its classically yeasty, slightly hoppy Belgian-y flavors underpinned by a vinous, woody character from the barrel aging.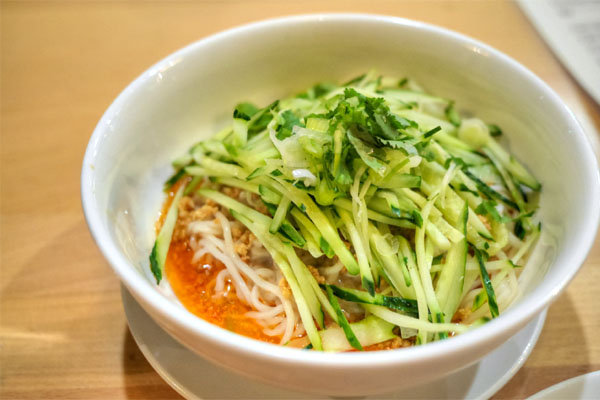 Dan Dan Noodles [$7.50]
| Sesame-Peanut Sauce, Chili Oil, Cucumbers, Peanuts
Our first noodle dish was the
dandanmian
, a Taiwanese style version that's far less spicy than the Sichuan original. It still was rather good though, with the sweet-nutty pairing of sesame and peanut underscored by an unexpected jolt of heat, the whole thing tempered by the light, bright spears of cucumber.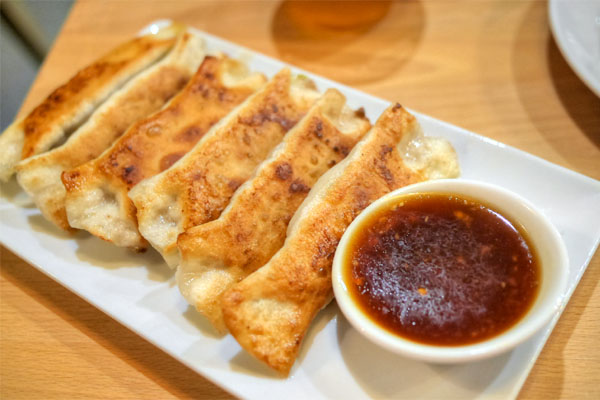 Potstickers [$6.00]
| Kurobuta Pork Shoulder, Taiwanese Cabbage
The
guotie
were on point, beautifully textured dumplings that held hot, juicy centers of pork and cabbage. Tasty alone, and even better with a brush of that piquant dipping sauce.
Sweet Potato Leaves [$7.50]
One of the featured produce dishes this evening was the sweet potato leaves, which I don't think I'd had before. They were quite good though, with a grassy, bright, slightly bitter quality complemented by the use of garlic, along with a somewhat mucilaginous consistency.
For our next beer, we stayed in Belgium and enjoyed the
2011 Rodenbach Vintage Ale
, a sour aged for two years in oak. Think a perfect balance of fruity and tart notes, both on the nose and the palate, with an undercurrent of oak-y and wine-like qualities toward the back end. No doubt a prime example of the Flanders Red style.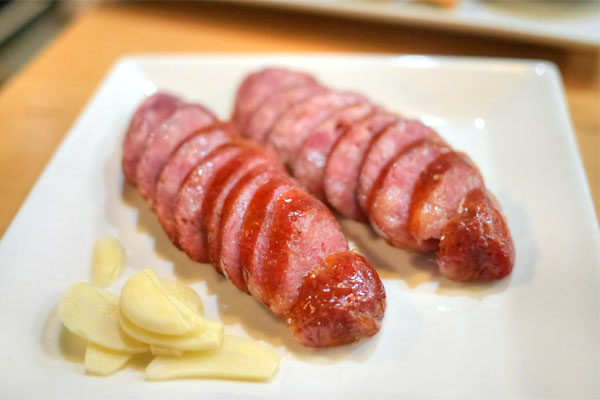 Taiwanese Sausage [$5.50]
The
xiangchang
was true to form, chewy little links displaying a mix of savory-yet-slightly sweet flavors to go against the sharply astringent shards of raw garlic.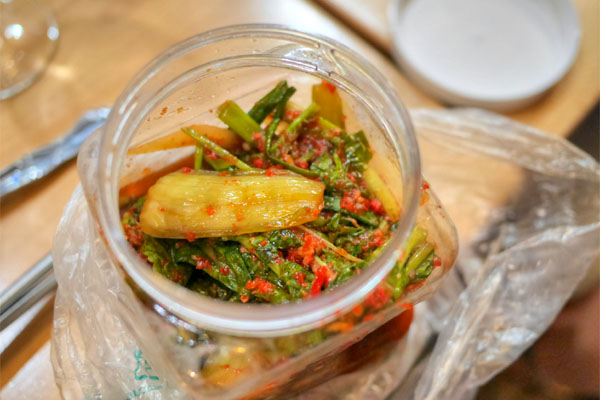 We happened to have a jar of homemade
yeolmu kimchi
along with us, a summertime favorite made with young radish greens. A superb side dish, I found it particularly apropos with the scallion pancake.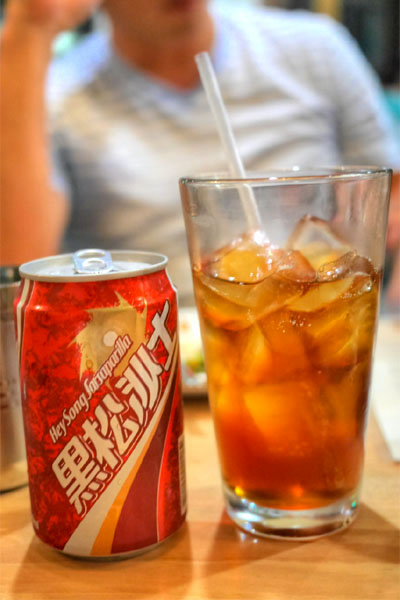 Here was a quintessential Taiwanese soda, the
HeySong Sarsaparilla
. Think of it as your typical root beer, but sharper, spicier, and superior.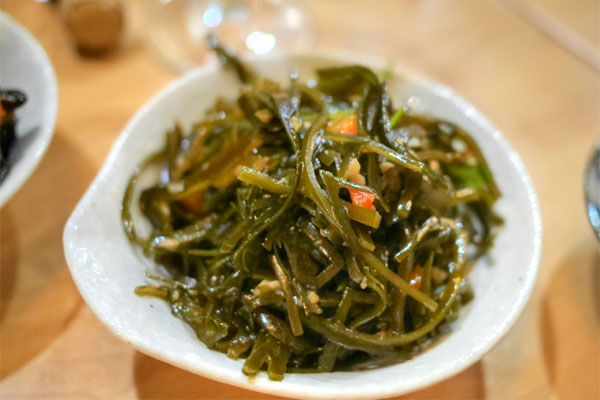 Seaweed Salad [$3.50]
| Ginger, Garlic, Scallions, Vinegar
We moved on to a trio of cold salads from Pine & Crane's display case. The first was spot on, the crisp strands of seaweed here really melding flawlessly with the trinity of ginger, garlic, and scallion to make for a tangy, tasty eating experience.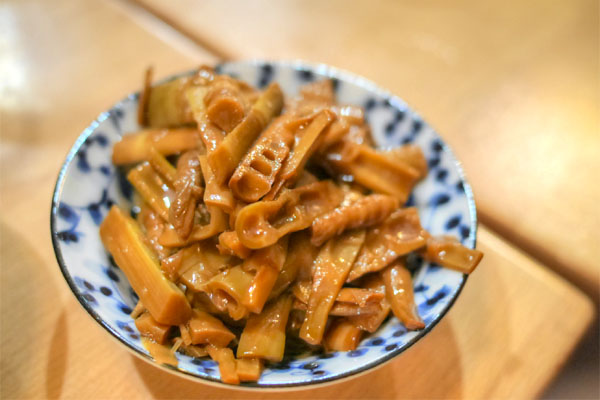 Bamboo Shoots [$3.50]
| Ginger, Sugar, Chili Oil, Vinegar
Bamboo shoots, meanwhile, were crunchy, yet not overly so, with a nice balance of sweet and umami flavors, overarched by a whisper of heat.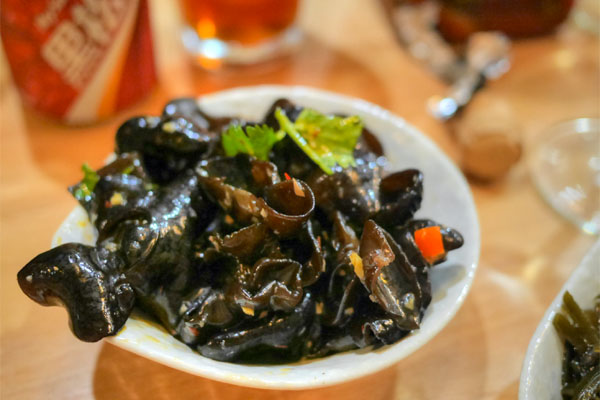 Woodear Salad [$3.50]
| Chili Oil, Cilantro, Red Bell Pepper
My favorite of this troika, though, was the
mu er
salad, which was probably the best example of the ingredient I've had. I found it beautiful texturally, with a slick, snappy bite, its mild taste smartly amped up by the zing of chili and cilantro.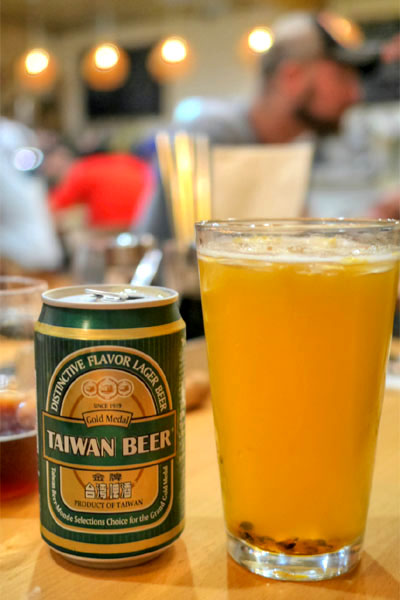 Our next drink was the
Green Tea Passion Fruit Lager [$7.50]
, one of Tsai's creations. It's basically a shandy of sorts, and one of the best I've had, a delicious mélange of Taiwan Gold Medal beer, green tea, and passionfruit jam.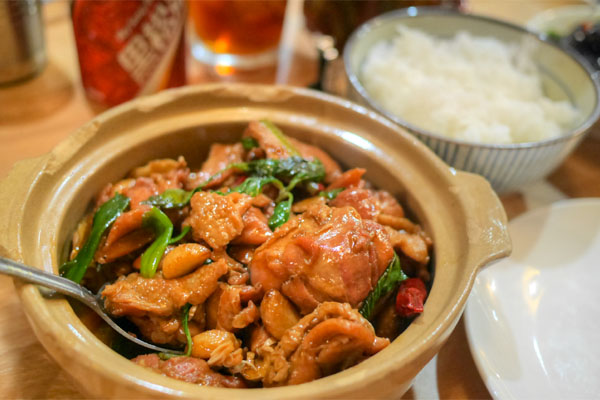 Three Cup Jidori Chicken [$12.00]
| Chinese Basil, Sesame Oil, Soy Sauce, Rice Wine
Pine & Crane's
sanbeiji
was another standout, the bird coming out positively imbued with the deep, heady, slightly sweet flavors of sesame, soy, and rice wine. It was a comforting combination to be sure, made even better by the aromatics of basil and a prick of heat from the chilies. Note that there's also a vegetarian version of the dish made with trumpet mushrooms.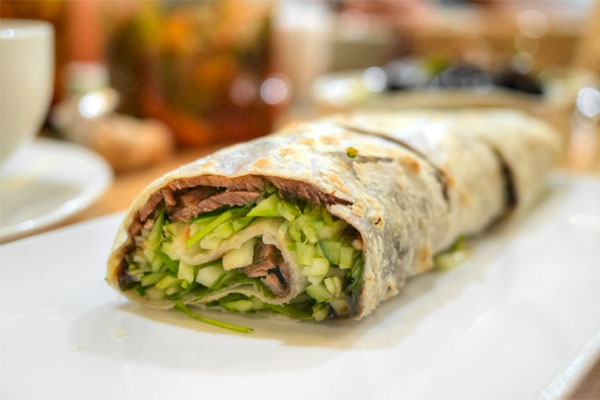 Beef Roll [$6.00]
The beef roll seems to be the Chinese dish
du jour
these days, and so unsurprisingly, it's one of Pine & Crane's most popular items. The wrapper delivered--thin, soft, yet a bit crispy--while the combo of savory-sweet, tender beef and light, crunchy cucumbers satisfied. I would've liked it a touch more "saucy" though.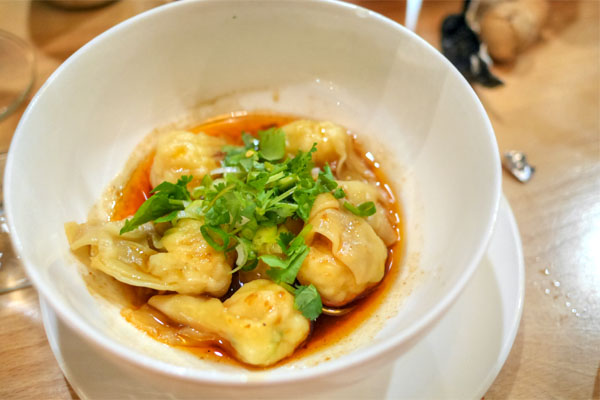 Spicy Shrimp Wontons [$7.00]
Wontons are a pretty prosaic dish by this point, but the ones here were some of the tastiest I've had, with the briny essence of the shrimp forcefully conveyed yet beautifully accentuated by the layers of heat in the dish. Great bit of levity provided by the greenery up top, too.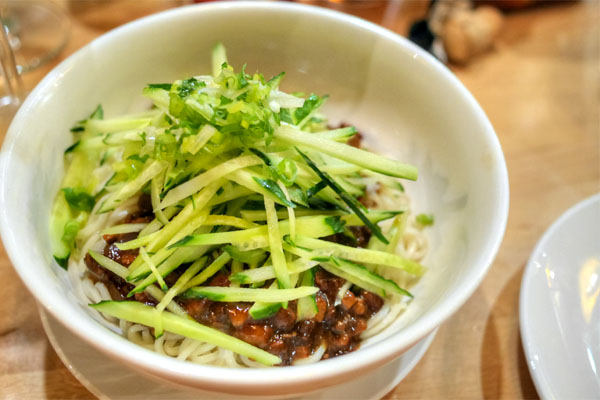 Zha Jiang Noodles [$8.00]
| Kurobuta Pork, Black Bean Sauce, Cucumbers
The
zhajiangmian
was up next, and P&C's was a lighter presentation compared to most. It still had the same classic flavor profile though, with a savory, softly sweet pork-sauce combo over a base of springy noodles, the whole thing evened out by the heap of cucumbers on top.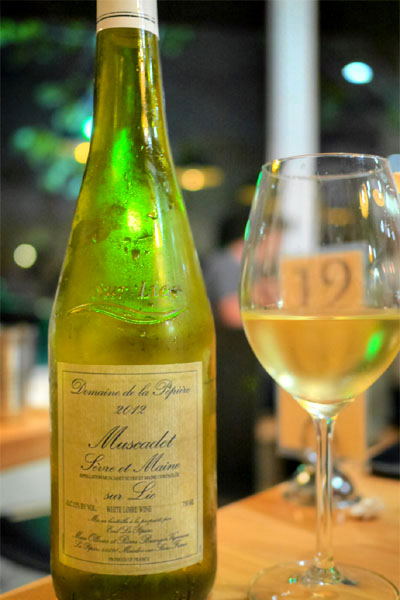 At this point, we moved on to wine, and popped a bottle of
2012 Domaine de la Pépière Muscadet de Sèvre-et-Maine Sur Lie
. It really was a great example of the style, a refreshing, uplifting Muscadet redolent of citrus, minerality, and brine that finished in lively fashion.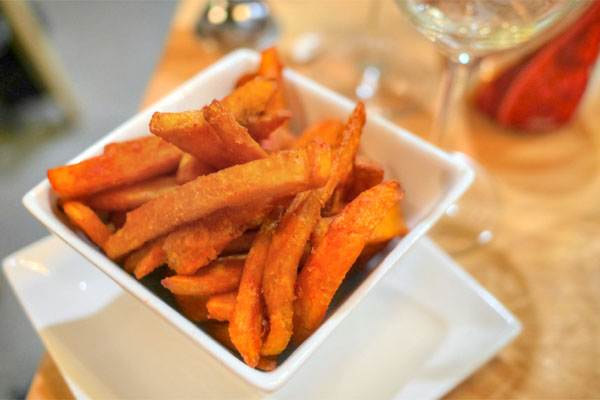 Sweet Potato Fries [$4.50]
| Plum Powder
I'm not generally a huge fan of sweet potato fries (much preferring the savory variety), but these were some of the strongest I've had, with the plum powder adding a great exclamation point to the dish.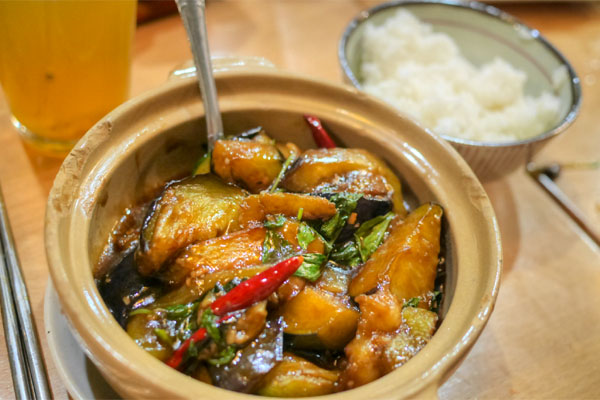 Basil Eggplant [$9.00]
I'm also not big on eggplant, but this just might've been my favorite presentation of the ingredient I'd experienced thus far. The key for me was how it was kept firm and satisfying to the bite (I hate when it gets too mushy), and I was also keen on the use of chilies and basil and how that augmented the rich, hearty taste of the aubergine. Easily the biggest surprise of the night (for me).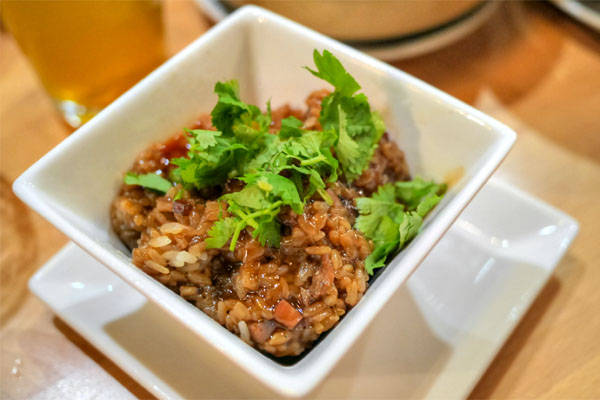 Taiwanese Sticky Rice [$5.50]
| Sausage, Calamari, Shitake, Sweet Tomato Soy
This was probably the most polarizing dish of the night. There was a lot going on, but that worked for me, with the deep flavors of the various ingredients really permeating the rice, joined by a palpable sort of sweetness while the cilantro on top imparted the perfect touch of levity.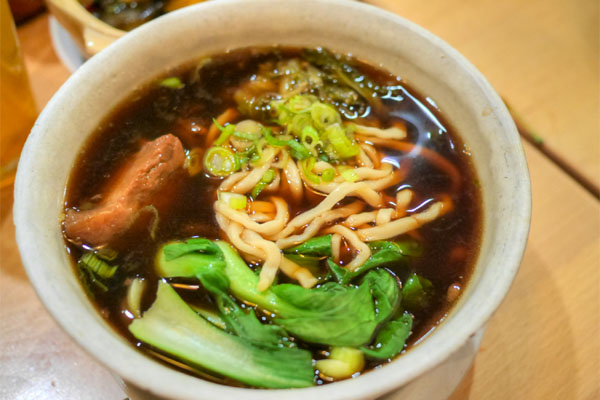 Beef Noodle Soup [$9.00]
| Beef Shank, Baby Bok Choy, Preserved Mustard Greens
Niurou mian
was obviously a must-try, and didn't let us down with its tender, hefty cuts of braised beef, well-textured noodles, and bright, bitter veggies, everything set in a deeply aromatic broth that we eagerly supped up.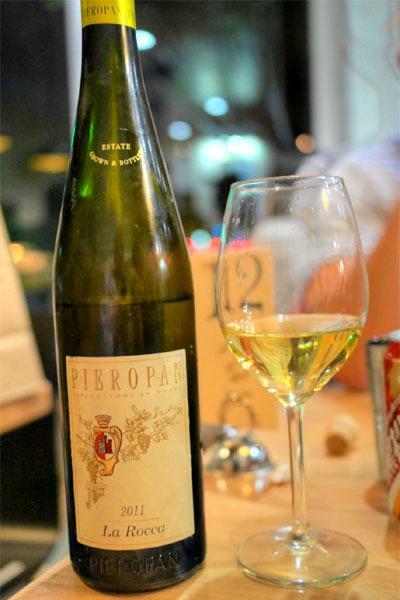 Next up was the
2011 Pieropan Soave Classico La Rocca
, a somewhat weightier wine, this one much more floral and fruity, but balanced by a dry minerality. Quite tasty.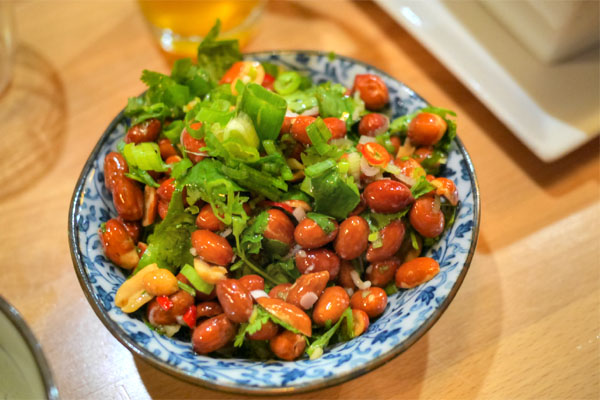 Spicy Peanuts [$4.50]
| Chilis, Cilantro, Scallions, Vinegar
These seriously might've been the best peanuts I've had, presented here still crunchy and nutty, with a great spicy kick to 'em that was countered by the duo of scallion and cilantro.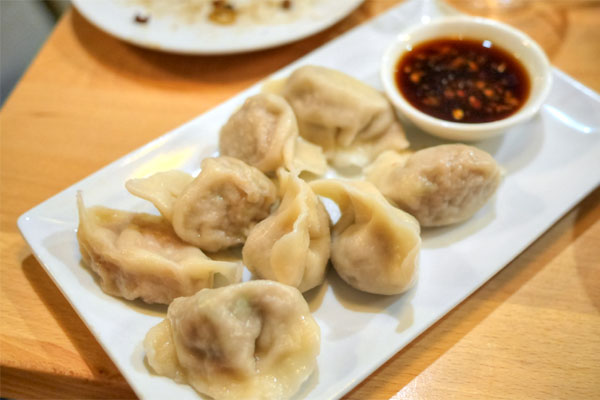 Pork Dumplings [$5.00]
Jiaozi
were filled with pork-y goodness, and made perfect sense with the paired, piquant dipping sauce, but their skins veered overly thick, distracting me from the stuffing inside.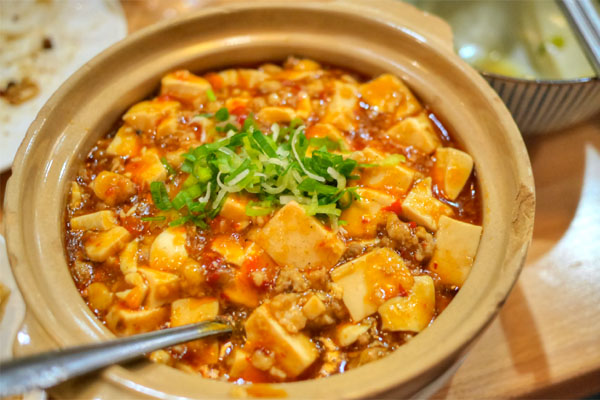 Mapo Tofu [$9.00]
| Kurobuta Pork, Sichuan Peppercorns
The ubiquitous
mapo tofu
was a slick, solid rendition of the dish that was perhaps a tad toned down, but still showed off the pungent zing of Sichuan pepper and chili oil. Great with some rice.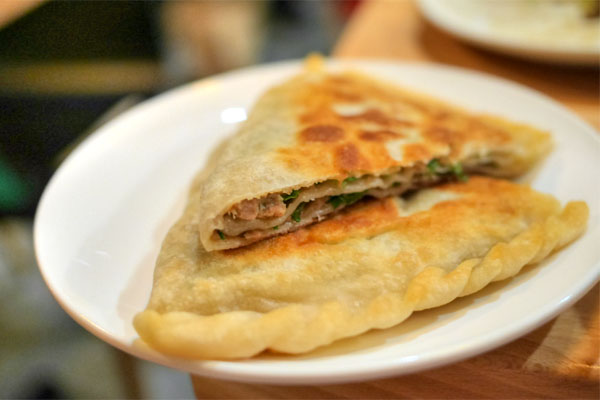 Layered Pork Pancake [$6.50]
| Kurobuta Pork, Scallions
Finally, we ended with a
xian bing
-like pancake, a hot, hearty dish that paired super juicy bits of pork with just the right amount of scallion.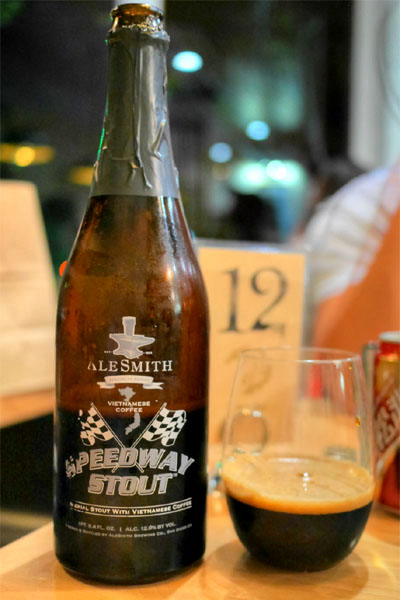 Our final drink was the
AleSmith Vietnamese Coffee Speedway Stout
, which, fittingly, went in a more "desserty" slant. Think classic stout-y notes, but intertwined with delightful flavors of roasty, spicy-sweet coffee that paired swimmingly with the chocolate-vanilla nature of the beer, the whole thing accented by a tinge of bitterness.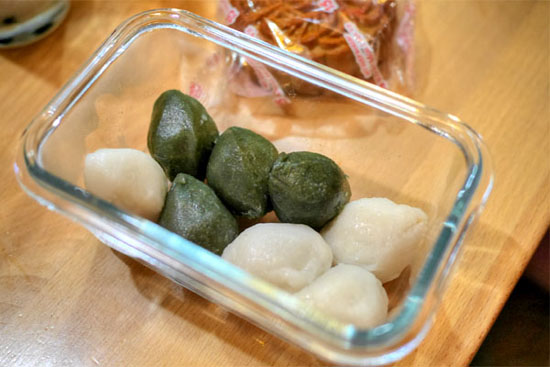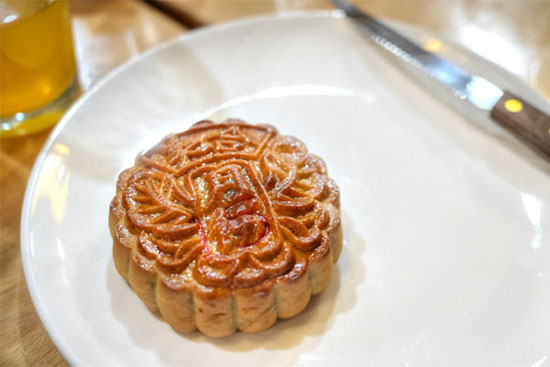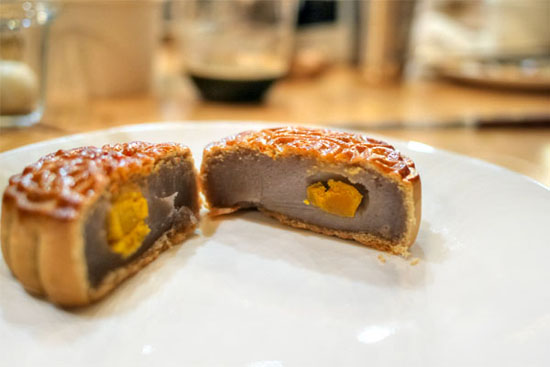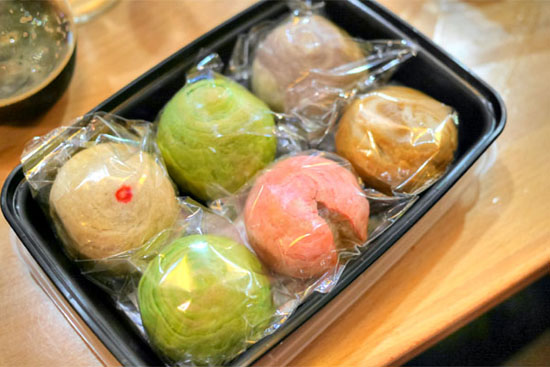 Since Pine & Crane lacks dessert of any sort, we brought our own in celebration of
chuseok
, the Korean autumn harvest festival. Homemade
songpyeon
rice cakes were called for of course, the traditional dish of the holiday, done up here with a filling of sesame seed and honey (the greens ones had
ssuk
, or mugwort powder, mixed in). Also on the table was a traditional Chinese/Vietnamese mooncake (
yue bing
/
banh trung thu
) stuffed with taro and salted duck egg, as well as colorful Taiwanese variants of the treat.
Against all odds, Silver Lake at last has some respectable Taiwanese, and the eats here were damn tasty and compared favorably to what you might find in parts east. The cuisine's classic in essence, but with a somehow modern, refreshing approach to it that definitely appealed to all of us (and a lot of other people too, judging from the crowds). I'm curious to see if Pine & Crane might eventually move away from the "fast-casual" mantra that they've been espousing and implement proper table service and reservations to elevate the experience. The food deserves it.