Fifty Seven (Los Angeles, CA) [2]
Fifty Seven Restaurant
712 S Santa Fe Ave, Los Angeles, CA 90021
213.816.8157
www.fiftysevenla.com
Tue 07/29/2014, 08:00p-11:20p
When we last caught up with Joshua Drew, he was still at Jeff Cerciello's
Farmshop
out in Brentwood. His cooking seemed too ambitious for the confines of that restaurant, and so it didn't come as a shock to me when he decided to decamp at the end of March, partnering with Cardiff Giant's Beau Laughlin to open Cordoba, an Argentinean eatery slated to drop in Los Feliz this fall. What I didn't expect, though, was for Drew to end up helming the kitchen here at
Fifty Seven
, but that's exactly what happened after opening chef David Nayfeld left earlier than expected in May.
About the Chef
: Josh Drew spent his childhood in northern New Jersey, and got his first taste of the kitchen while cooking with his Jewish mother and grandmother. He began working at local restaurants during his high school years, and eventually enrolled at Johnson & Wales in 2001. After graduating with an Associate's degree in 2003, he secured a three-month
stage
at
The French Laundry
. From there, Drew went to cook at
Bouchon
under Jeffrey Cerciello, and eventually made his way up to the rank of sous chef. He left Yountville in October 2005, and subsequently began working at Michael Tusk's Quince as sous. His next move brought him to Philadelphia in the fall of '07, and there, he cooked for Marc Vetri at both his eponymous Vetri and the more casual Osteria.
After a year, Drew relocated back to Yountville and reunited with Cerciello at
Ad Hoc
, where he stayed until opening Farmshop with his old mentor in early 2010. He served as Chef de Cuisine there for four years, and during that time period, was nominated by James Beard for "Rising Star Chef" and also made Zagat's list of "30 Under 30" in LA. Drew left Farmshop earlier this year to work with Cardiff Giant on both Argentine joint Cordoba as well as Fifty Seven. Here's, he's joined in the kitchen by Pastry Chef Sahar Shomali (
Spago
, Farmshop, Hotel Bel-Air) and Sous Chef Nico Sy (Little Dom's).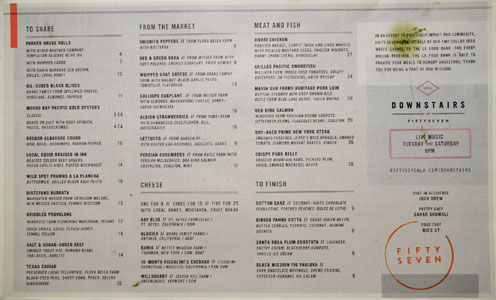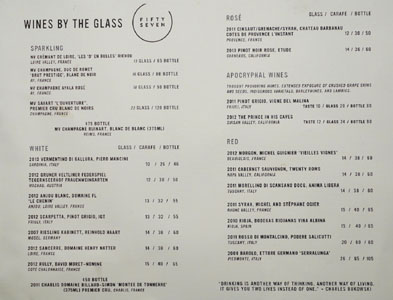 With Drew's residency in place, Fifty Seven's menu has moved to a purely à la carte format, in the familiar cadence of small plates-larger plates-cheese-dessert. Meanwhile, the wine/beer list has been revamped by new Beverage Director
Michael Nemcik
(Terroni,
Melisse
,
Sirena
, LudoBites
7
-
8
-
10
,
Farmshop
,
Sotto
,
Lucques
Catering,
AOC
,
Tavern
), and cocktails are now the charge of Proprietors LLC (Honeycut, Death & Co). Click for larger versions.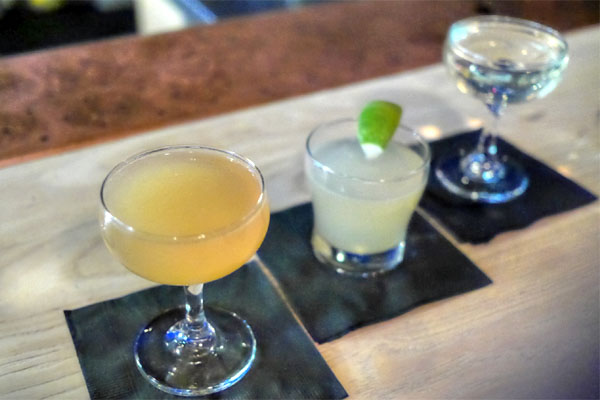 Peaches + Smoke [$13.00]
| cognac, Lillet Rose, Frog Hollow Farm peaches, crème de peche de Vigne, fresh lemon, Islay scotch
Lime + Honey [$12.00]
| rum, chamomile grappa, fresh lime, sugar
Celery + Silk [$13.00]
| gin, celery blanc vermouth, aquavit, celery bitters
Given the involvement of Proprietors, we of course had to give the cocktails a go, and went with this threesome while we were waiting for our table. My favorite of the group was the
Peaches + Smoke
, which was just teeming with peachy goodness on the nose, while taste-wise, think floral, slightly bitter, with a subtle underpinning of Islay smoke. The
Lime + Honey
, meanwhile, showed off a honeyed backbone that did a nice job counteracting the zing of the lime, all over a bracing base of booze. Finally, we had the
Celery + Silk
, which was also rather tasty, with a strong celery character that pervaded the drink, melding seamlessly with the spicy notes in the aquavit.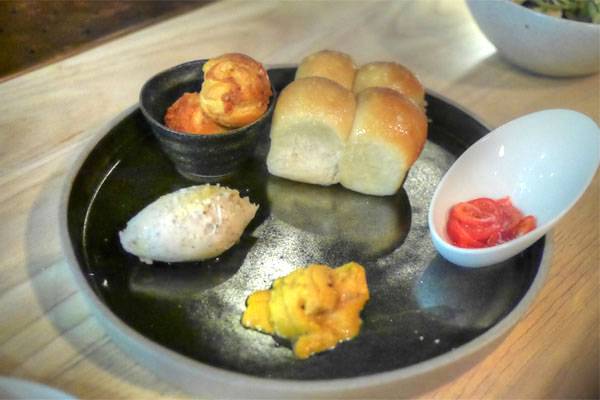 Parker House Rolls [$7.00 + $12.00]
| with whipped lardo + with Santa Barbara sea urchin, chiles, local honey
We got some food going at the bar with this order of Parker House rolls, delightfully soft, buttery little bites that were delicious all on their own. The uni was a nice accompaniment, but as much as I enjoy urchin, the lardo actually worked better, imparting a slick, lush, aromatic flair to the bread.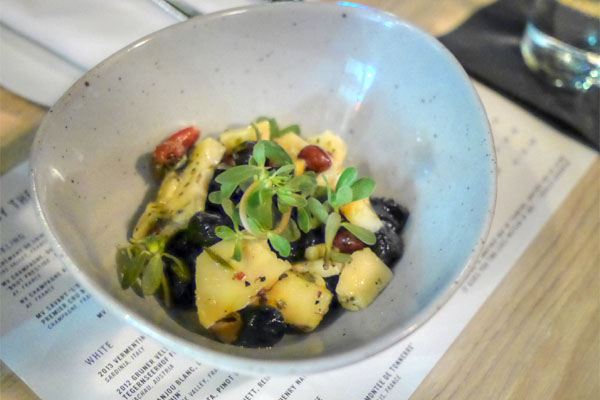 Oil-Cured Black Olives [$11.00]
| Drake Family Farm Idyllwild cheese, purslane, almonds, paprika
Olives were as tangy as you'd expect, but taken up a notch by the inclusion of hefty chunks of cheese as well as the sour kick of purslane.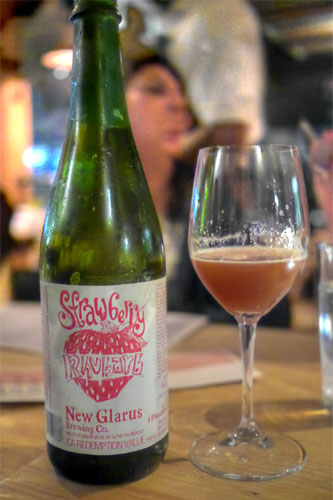 One of my dining companions and I brought along several bottles of beer tonight, and we began with the vaunted
2013 New Glarus Strawberry Rhubarb
, a fruit beer normally only found in Wisconsin. It was pretty amazing, its bouquet redolent of straight-up strawberry jam, while taste-wise, think more of the same, but cut by a palpable tartness from the incorporation of rhubarb. Damn tasty.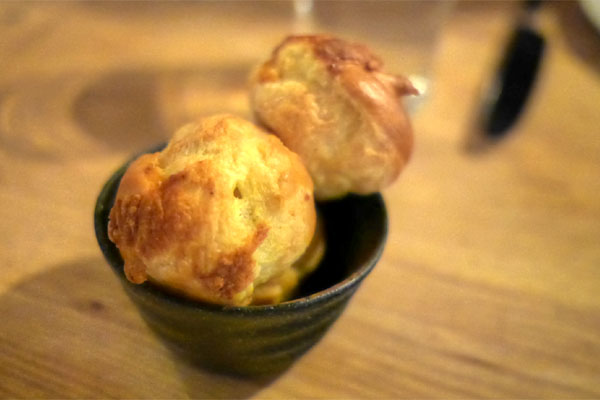 The complimentary gougères were some of the best I've had: light, fluffy, and oh-so cheesy.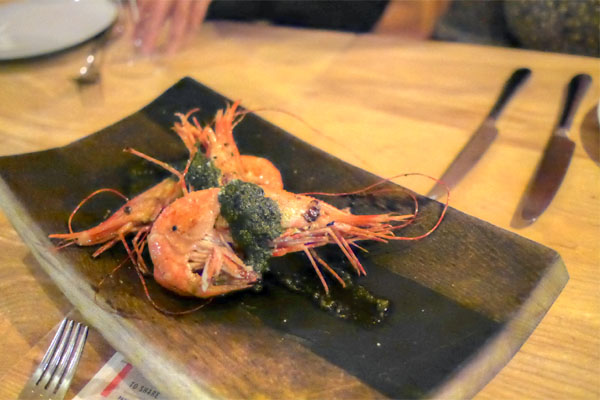 Wild Spot Prawns a la Plancha [$18.00]
| buttermilk, grilled black kale pesto
Spot prawns were done justice, arriving well-cooked to a supple, yet still-springy texture and loaded with ocean-y goodness. Made sure to suck the head, too.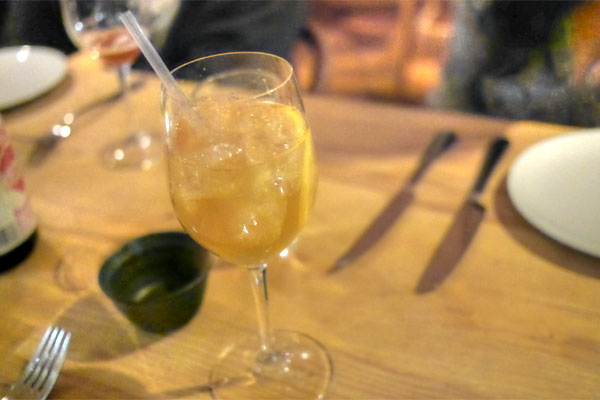 Birch + Bubbles [$13.00]
| Cocchi Vermouth di Torino, pear liqueur, birch, fresh lemon, sparkling wine
One last cocktail: the
Birch + Bubbles
was a clear winner, with a fantastic bit of woody sweetness from the birch that really made for a tightly integrated, eminently balanced drink with a lovely touch of effervescence to it.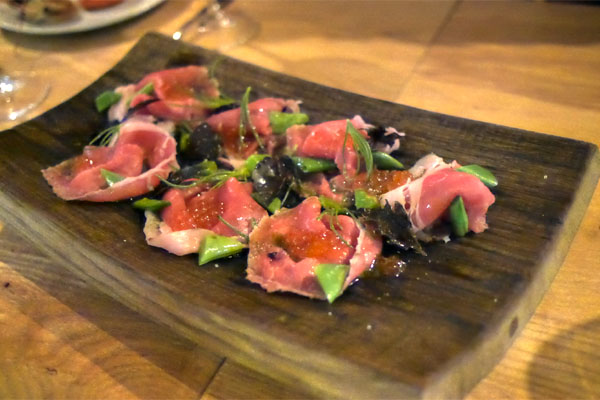 Salt & Sugar-Cured Beef [$14.00]
| smoked trout roe, romano beans, Thai basil, agretti
Now we come to arguably my favorite dish of the night. The meat itself undergoes a two-day cure in sugar, salt, and spices, making for a slick, soft texture and a really multifaceted flavor profile. To that, you add the smoky brine of trout roe and the astringency of
agretti
, resulting in a complex, yet satisfying eating experience, livened up by the bright crunch of those snap beans.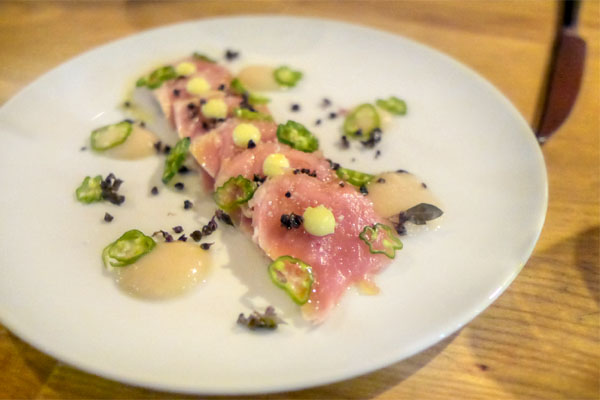 Oregon Albacore Crudo [$16.00]
| opal basil, cherimoya, padron pepper
Albacore was smartly presented here too, its clean, ocean-y qualities melding well with the fruity sweetness of cherimoya while peppers overarched the dish with just the right amount of heat.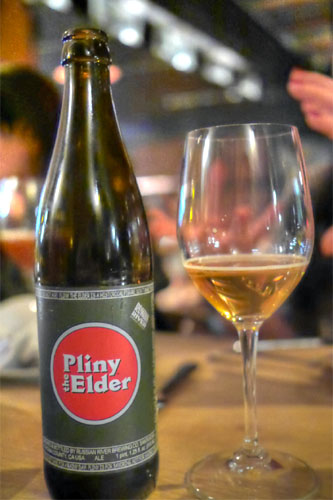 We moved on to a couple IPAs, and started with the king, the almost legendary-by-this-point
2014 Russian River Pliny The Elder
. This particular example was bottled just weeks prior, so it was fittingly fresh, hoppy and pine-y and citrus-y, pretty much the epitome of the West Coast IPA style. Bracing, biting, and bitter, yet not overwhelmingly so.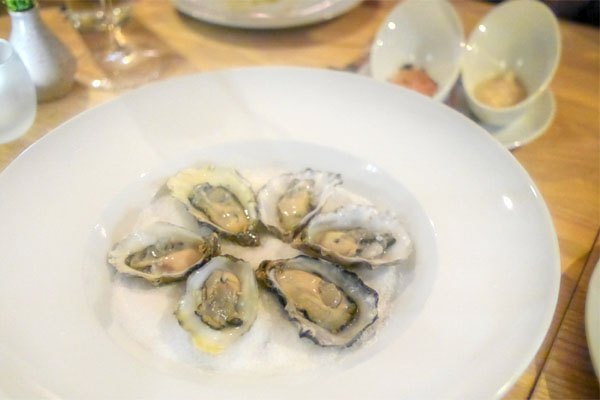 Morro Bay Pacific Gold Oysters [$18.00/half-dozen]
| classic
Pacific Gold oysters from Morro Bay were brimming with liquor, juicy, clean, decidedly ocean-y morsels that paired swimmingly with the traditional accoutrements of horseradish and mignonette.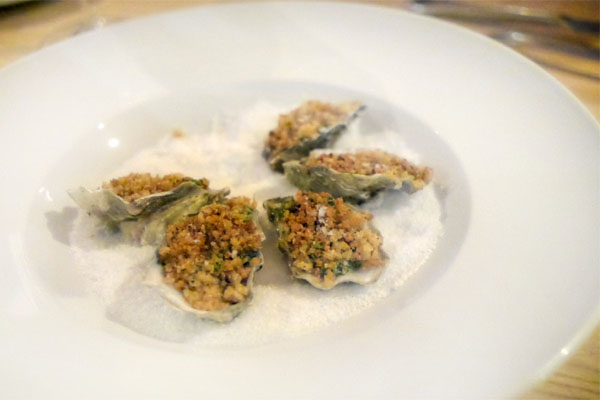 Morro Bay Pacific Gold Oysters [$24.00/half-dozen]
| baked on salt with root spinach, pastis, breadcrumbs
The same Pacific Golds were then presented in a cooked presentation. It wasn't as successful in my eyes, as the various elements here tended to overpower the inherent salinity and brine of the oysters.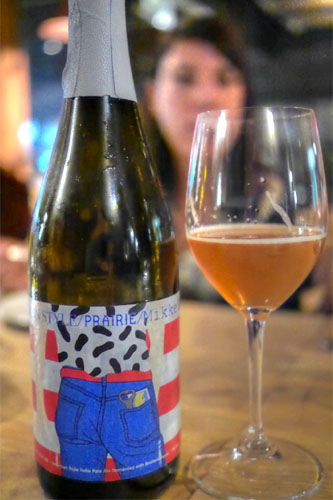 Our next IPA was a pretty different animal. The
2014 Mikkeller American Style
was a collaborative brew with Prairie Artisan Ales, one made with Brettanomyces thrown into the mix. The result was a very balanced, easy-drinking beer, showing off expected notes of tropical fruit and citrus balanced by the funky character of the yeast.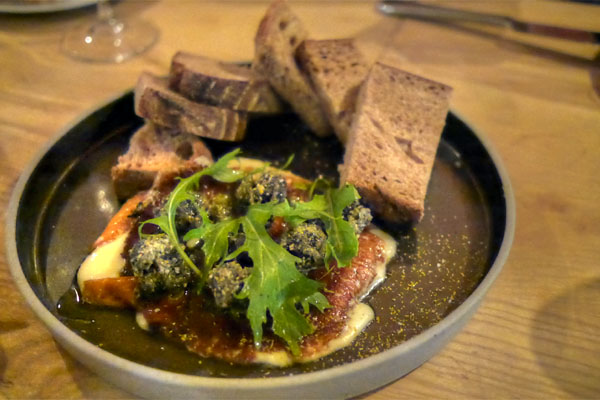 Griddled Provolone [$16.00]
| fried snails, local clover honey, fennel pollen
Ostensibly a take on
saganaki
, provolone was tasty as expected, and lovely with the included bread. Fried snails were spot on texturally, but veered a touch too sweet.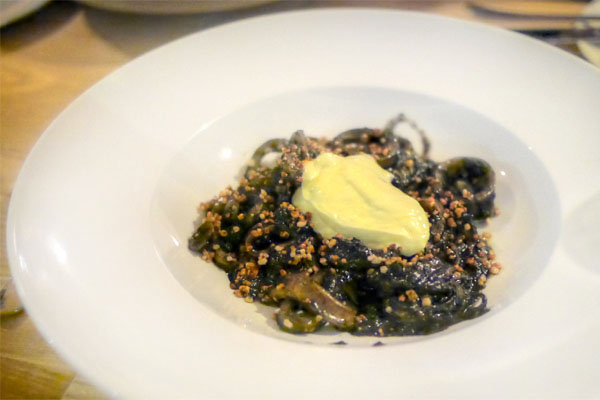 Local Squid Braised in Ink [$14.00]
| braised golden beet greens, green garlic aioli, puffed buckwheat
Squid was wonderfully snappy texturally, with a deep brine courtesy of the ink. Great counterpoint from the aioli, and the crunch of the buckwheat was much appreciated.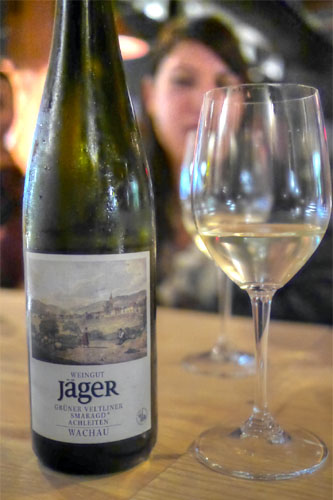 At this point, we moved away from beer for a bit and ordered up some wine from Mike Nemcik's updated beverage program, specifically the
2011 Weingut Jäger Grüner Veltliner Smaragd Achleiten [$60]
. It was a nice example of the Grüner Veltliner style, a weighty wine with tasty notes of stone fruit and citrus backed by a crisp undercurrent of minerality.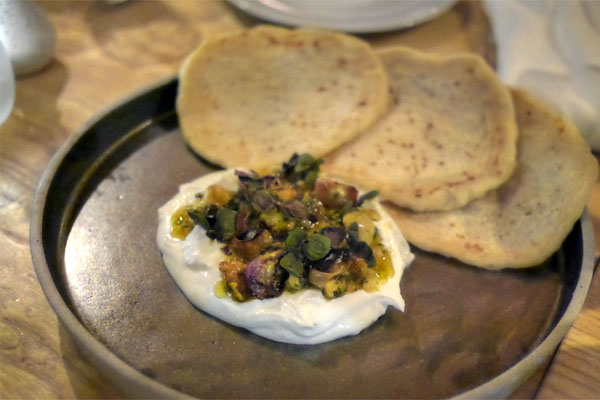 Whipped Goat Cheese [$13.00]
| from Drake Family Farm with walnut-black garlic pesto, tomatillo, flatbread
A large dollop of goat cheese showed off a smooth, creamy consistency, its pleasantly tangy flavors augmented by the nutty, piquant zest of the pesto and tomatillo. The thick, hearty flatbread, meanwhile, was a bit unexpected, but worked well in moderating things.
Albion Strawberries [$10.00]
| from Tamai Farm with romanesco cauliflower, dill, horseradish
Next up was very likely the most unconventional presentation of strawberries I've had. The tart sweetness of the fruit formed the base of the dish, and worked surprisingly well with the light, herbaceous nuances of the romanesco and dill, all while the horseradish added an overarching tanginess to the course. Very cool.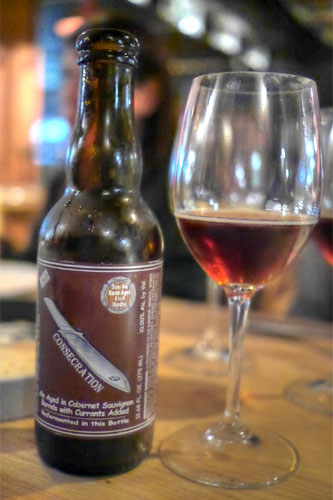 Now for some sour stuff. The
2014 Russian River Consecration
's a dark ale aged on black currants in Cabernet Sauvignon barrels. It was as delicious as its reputation would lead you to believe, the beer's base of tart, funky flavors amped up by concurrent fruity, spicy, vinous notes.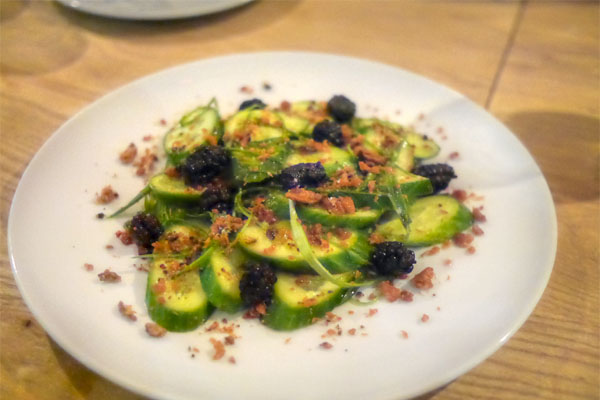 Persian Cucumbers [$12.00]
| from Rutiz Farm with Persian mulberries, Ora king salmon crackling, scallion, mint
The cucumbers didn't really speak to me on the menu, but I'm glad I got to try them, as they turned out to be one of my favorites of the evening. Think super fresh and super crunchy, their brightness heightened by the use of scallion and mint. The crux, though, was the fantastic bit of savory crunch from the salmon skin, and I really appreciated how the sweetness of mulberries tied it all together somehow.
Texas Caviar [$15.00]
| preserved local yellowtail, Flora Bella Farm black-eyed peas, sweet corn, peach, celery giardiniere
Black-eyed peas were delightful, their home-y flavors complemented by the sweetness of peach and corn while the strong presence of olive oil permeated the dish. The best part? The zesty, astringent bite of celery, which served as the perfect exclamation point to the dish.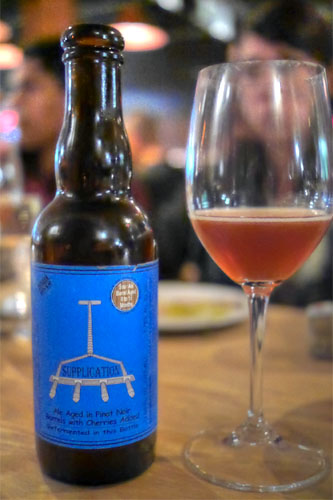 The
2014 Russian River Supplication
is the Consecration's sister beer and is a brown ale aged in Pinot Noir barrels along with sour cherries. I gave this one a slight edge, due to its tarter, tangier character, balanced out by the earthiness of Brett.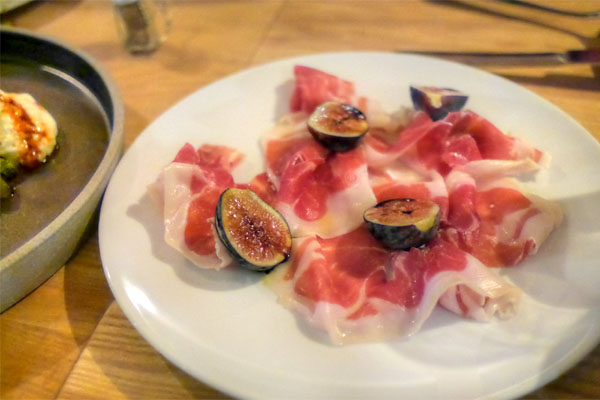 Ham with Figs [$22.00]
Here was an off-menu special that brought together cured pork shoulder with figs and seven-year balsamic. It was a classic combination to be sure, the slick, salty, nutty shards of ham working beautifully alongside the sweetness of fig, the vinegar adding just a touch of tartness to the fray.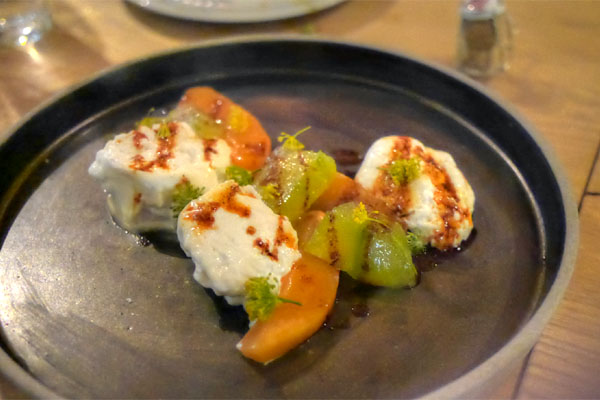 Distefano Burrata [$15.00]
| marinated Weiser Farm heirloom melons, New Mexico harissa, fennel blossom
And speaking of classic combos, melon and burrata were harmoniously paired here, the balance of lush and fruity flavors taken up a level by the inclusion of harissa spice.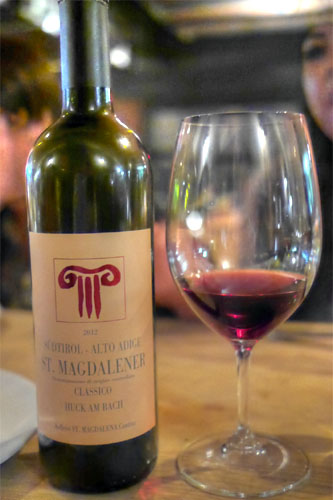 Our red wine this evening was the
2012 Cantina Produttori Bolzano St. Magdalener Classico Huck am Bach [$48]
, which I was rather fond of. Think loads of fruity, perfume-y, almost strawberry-esque nuances here, but with a bit of a spice-mineral character coming in toward the end. Very cool.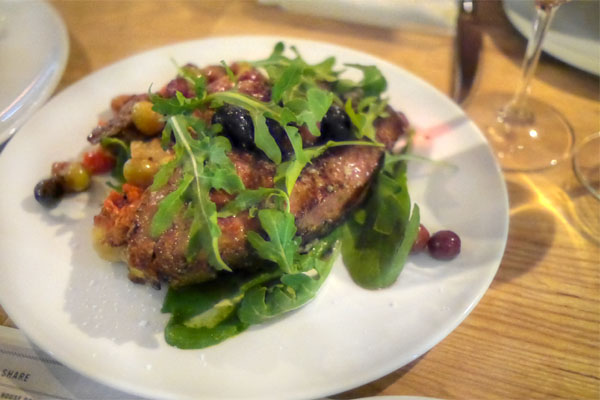 Dry-Aged Prime New York Steak [$36.00]
| smashed potatoes, Jerry's wild arugula, smoked tomato, Diamond Muscat grapes, ginger
And now, onto our mains. First up, hidden beneath the greenery was a pretty damn tasty steak, a roughly medium-rare, appropriately fatty cut teeming with concentrated beefy savor that worked hand-in-hand with the potatoes. Arugula served as a bit of a counterbalance, though I wasn't as sold on the grapes.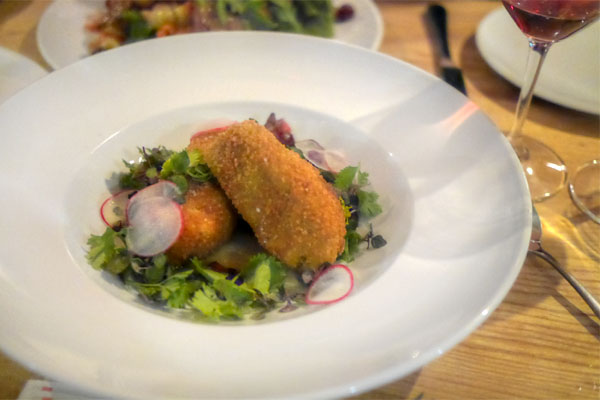 Crispy Pork Belly [$26.00]
| roasted mountain yams, pickled plum, shiso, smoked mackerel broth
Pork belly was superb, my favorite of our larger courses. The actual belly itself was as juicy and fatty as you'd expect, a blast of pork-y goodness encased in a wonderfully crisp, crunchy coating. It was delicious alone, and went seamlessly with the pickles and shiso, but the best part here was that mackerel broth, which imparted a smoky, deep umami savor to the dish that really took it up a notch.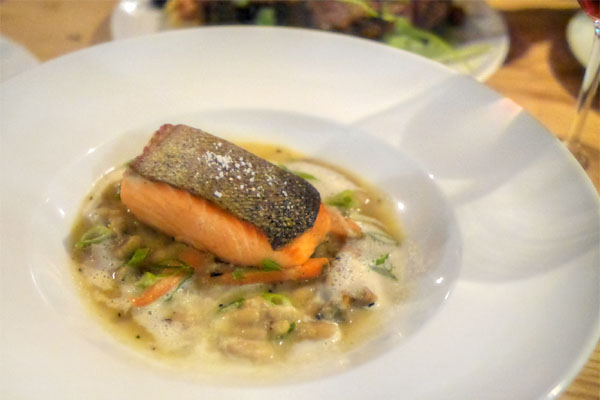 Ora King Salmon [$28.00]
| Windrose Farm Parisian round carrots, littleneck clams, flageolet beans, scallion
The salmon was also a winner, coming out super tender and super briny, with a rich, lush mouthfeel that spoke to me. Its intensity was heightened by the use of clams, too, and the balance from the flageolets was much appreciated as well.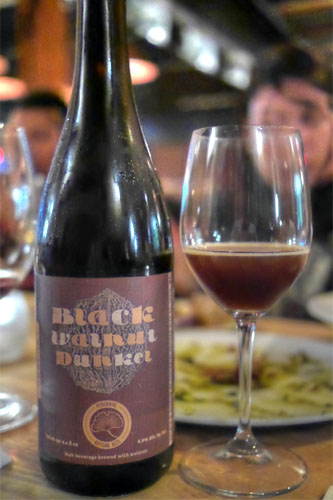 Going into the darker stuff now, here we had the
2014 Perennial Black Walnut Dunkel
, a dunkelweizen brewed with copious amounts of black walnut. It really was rather tasty, with classically malty, fruity dunkel flavors joined by an earthy, nutty blast from the walnut toward the finish.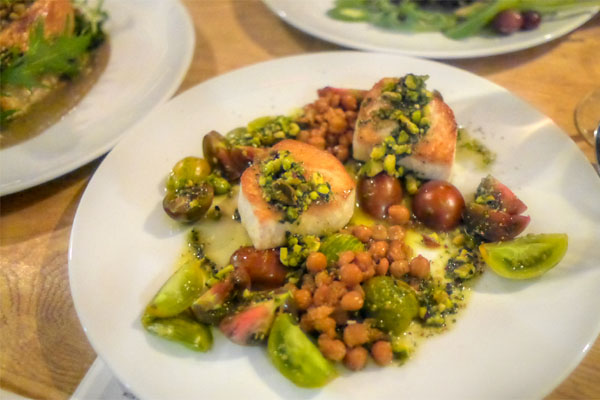 Grilled Pacific Swordfish [$34.00]
| Milliken Farm Indigo Rose tomatoes, crispy chickpeas, SB pistachios, anise hyssop
Cuts of swordfish were firm, meaty, and juicy, with a very pronounced brine to 'em that was really evened out by the inclusion of the tomatoes and garbanzos here.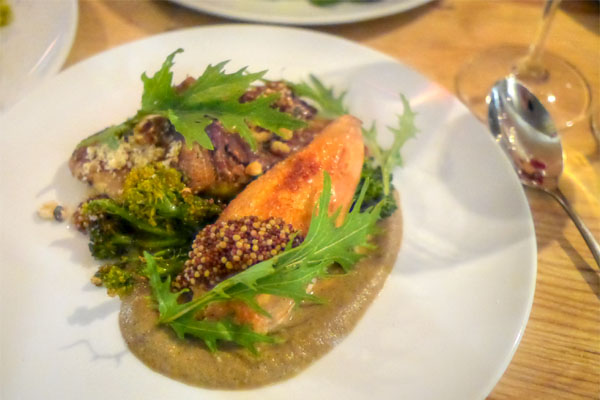 Jidori Chicken [$27.00]
| roasted breast, confit thigh and liver mousse with pickled mustard seeds, English walnuts, burnt onion crema, broccolini
Our last main brought out a spot on presentation of chicken, the bird arriving succulent, tender, and immensely flavorful, amped up even further by the incorporation of liver mousse. Great piquancy here from the mustard as well, and the bitter crunch of the broccolini was much appreciated too.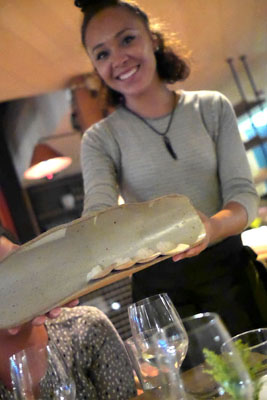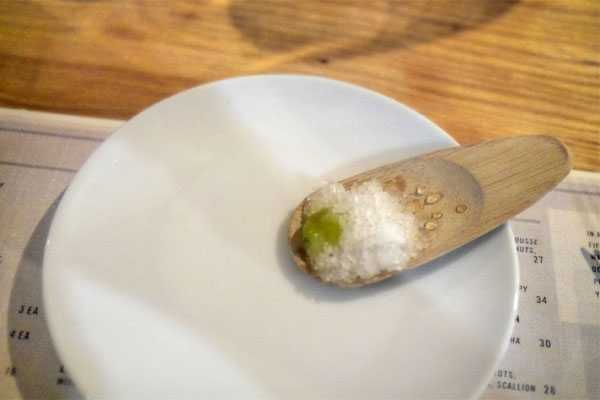 With our savories dispensed with, we enjoyed a bracing palate cleanser of jasmine granita with green grape.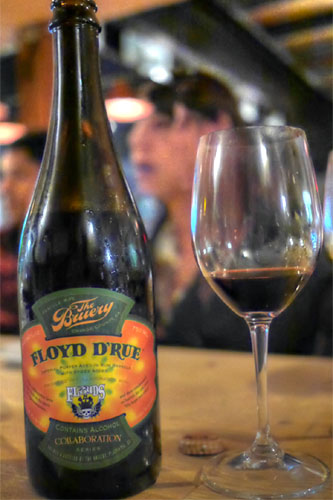 Lastly, we opened up a bottle of the
2014 The Bruery Floyd D'Rue
, a collaboration beer made in concert with Three Floyds. It was an imperial porter with various spices, aged in rum barrels. The idea for this one was to do a spiced rum sort of theme, but unfortunately, the beer reportedly got infected with Lactobacillus. It was actually quite a bit better than I expected, with a subtle tanginess to it resulting in a flavor profile that recalled a mixture of chocolate and spiced orange, overarched by a whisper of vanilla.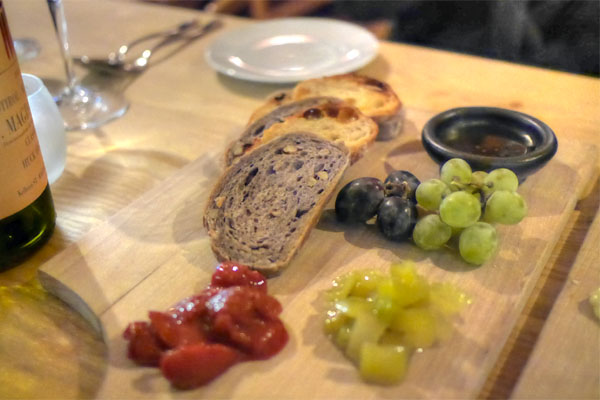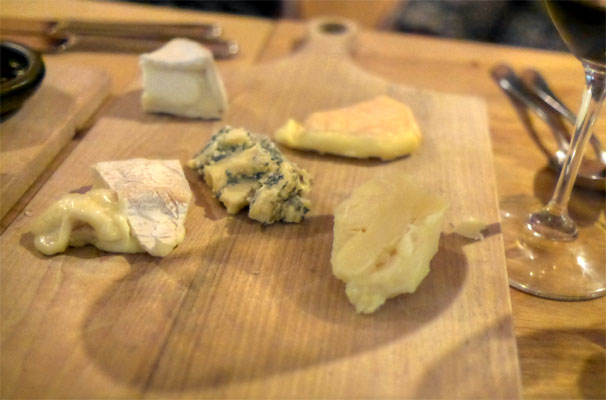 Cheese [$25.00/five]
| with local honey, mostarda, fruit bread
Before the desserts, we enjoyed an excellent fivesome of cheeses: Clockwise from top-left, we had:
Kunik // Nettle Meadow Farm / Thurman, New York / Coat, Goat
Willoughby // Jasper Hill Farm / Greensboro, Vermont / Cow
18-Month Fiscalini's Cheddar // Fiscalini Farmstead / Modesto, California / Raw Cow
Glacier // Drake Family Farms / Ontario, California / Goat
Bay Blue // Pt. Reyes Farmstead / Pt. Reyes, California / Cow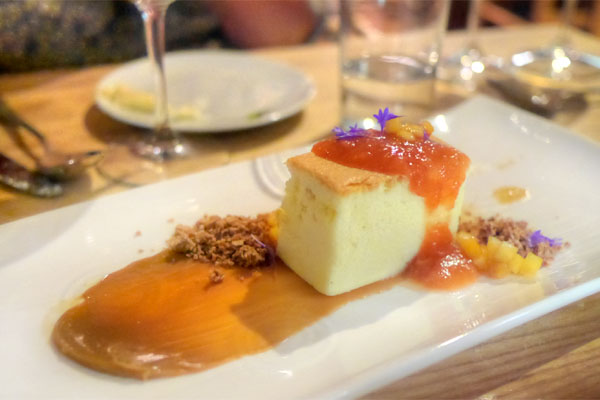 Cotton Cake [$9.00]
| coconut-white chocolate feuilletine, poached peaches, dulce de leche
Time for some sugar. It was Pastry Chef Sahar Shomali's time to shine, and the cotton cake was a great way to start things off. It was akin to a super light, fluffy cheesecake-pound cake hybrid of sorts, fantastic texturally, with a subtly sweet, slightly tangy flavor that matched well with its various accoutrements.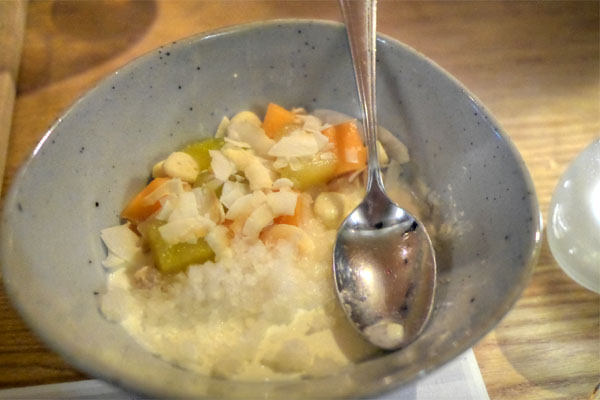 Ginger Panna Cotta [$9.00]
| Sugar Queen melon, butter cookies, peanuts, coconut, jasmine granita
The ginger panna cotta, meanwhile, really conveyed the essence of the rhizome, its unmistakable, pungent spice balanced out by the lush, sweet nature of the other elements present.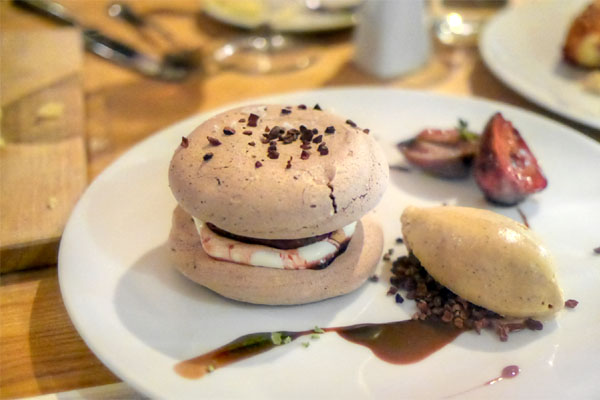 Black Mission Fig Pavlova [$9.00]
| dark chocolate meringue, creme fraiche, espresso-caramel ice cream
A twist on pavlova was well received, the crisp, airy meringue making perfect sense when taken with the combo of crème fraîche and ice cream.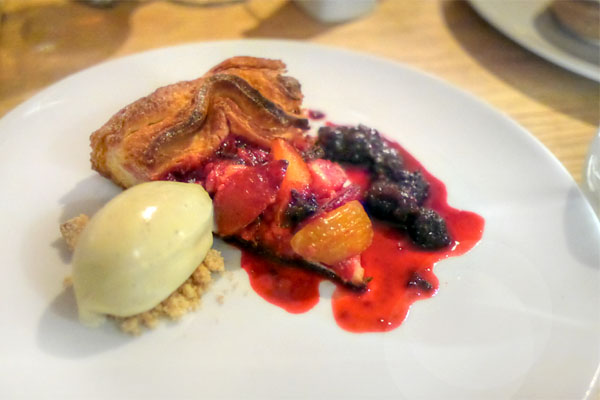 Santa Rosa Plum Crostata [$9.00]
| lavender, pastry cream, blackberry compote, vanilla ice cream
Finally, we had a delightful plum tart. Think traditional in essence, with the flaky pastry working great alongside the sugary fruit and creamy vanilla, all while lavender imparted an overarching floral character to the dessert.
Mignardises comprised some fun sesame and coconut chocolate bars.
I think we were all a bit surprised to see Josh Drew take the reins here at Fifty Seven so quickly, but he's making a strong showing for himself. The cooking shares common traits with what he was putting out at Farmshop, though the food has been elevated in terms of sophistication and ambition; however, there's still an ease, a casualness, a rusticity about it that works. Drew should be here for at least a few more months, so there's still time to check this place out, and it'll be interesting to see who takes the helm after his departure. Also, he's still working on Cordoba, so we can all look forward to that toward the end of the year as well.