Lunasia (Alhambra, CA)
Lunasia Chinese Cuisine
500 W Main St, Alhambra, CA 91801
626.308.3222
www.lunasiachinesecuisine.com
Sat 08/31/2014, 01:10p-03:00p
I don't get out to dim sum all that often, so it was nice to finally make it to Lunasia, which I'd been curious about for some time now. The restaurant is housed at the Alhambra Regency Plaza space that was once home to Triumphal Palace, one of the earlier second wave dim sum joints that eschewed traditional carts in favor of menu-based ordering. Triumphal debuted in June 2005 with considerable fanfare, and even secured a glowing
three-star review
in the
LA Times
from Irene Virbila.
However, the opening chef left not too long after, and the place entered into a steady decline, finally closing at the end of 2008. One of Triumphal's original co-owners, Betty Lau, bought out her partners and reintroduced the restaurant as Lunasia with the same kitchen, same FOH, and pretty much the same menu. However, she wound up selling the place in March 2009 to Shyi Kai Chang, whom I believe to be the current owner.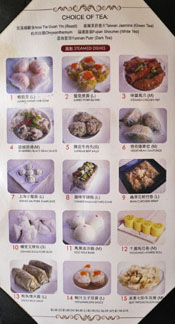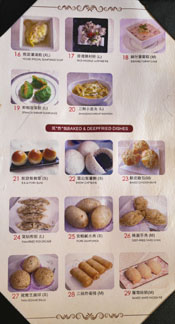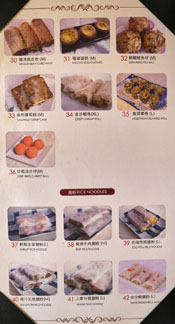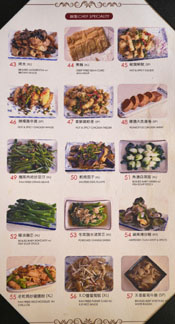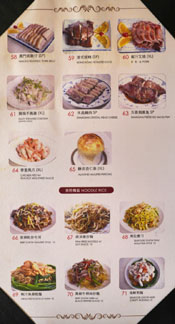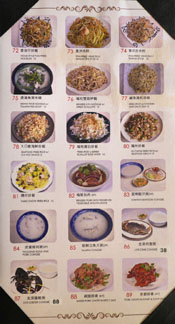 As far as Lunasia's menu goes, expect the usual suspects, joined by a variety of non-dim sum items as well. Note that there are no carts here (à la Triumphal), and that dim sum is
served all day
, a rarity (I wish more restaurants would do the same). There are also banquet options if you're hosting a special event. Click for larger versions.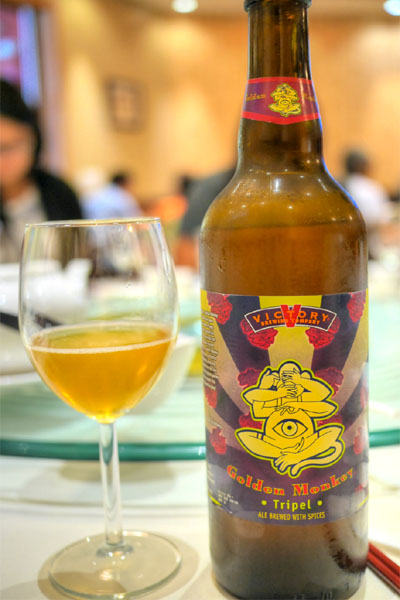 The boozing situation at Chinese restaurants tends to suck of course, so I brought along my own to enjoy. We began with the
Victory Brewing Golden Monkey
, a tripel-style ale that worked pretty well with the food thanks to its subtly spicy, herby flavors over a backbone of malty, Belgian-y ester character.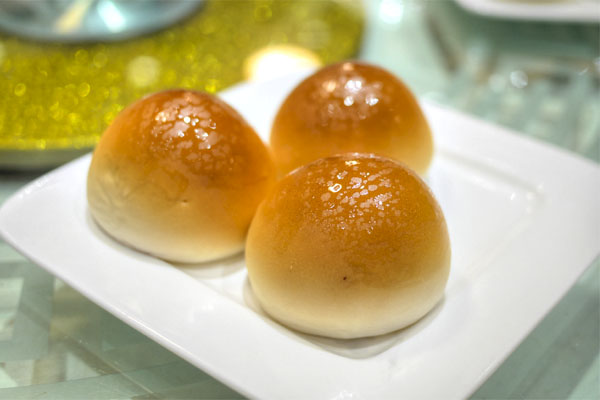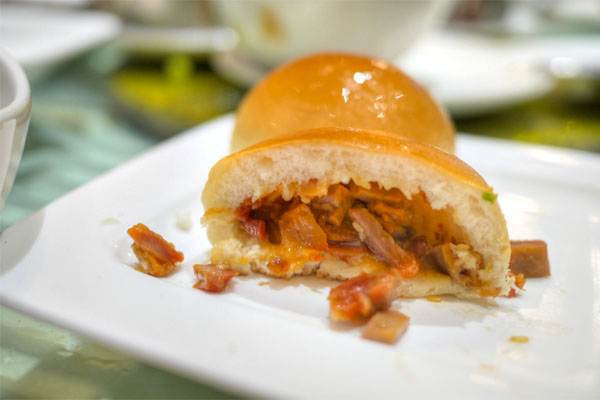 B.B.Q Pork Buns (#21) [$2.88]
Kicking things off were baked
cha siu bao
, workable renditions of the dim sum staple, with tender, sweet 'n' savory shards of pork working nicely with the light, yet substantial buns.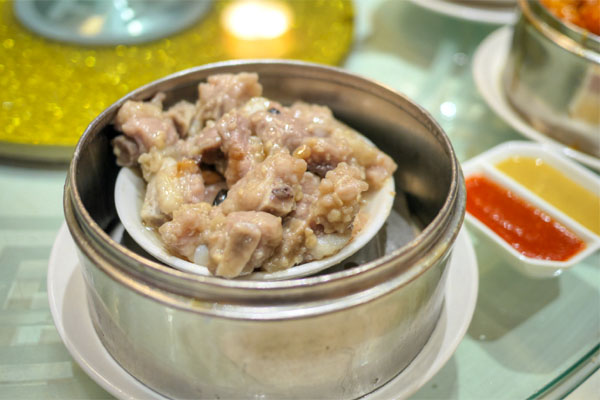 Spareribs/Black Bean Sauce (#4) [$3.88]
Paigu
were serviceable, tender and porky, though I would've liked a stronger black bean presence here.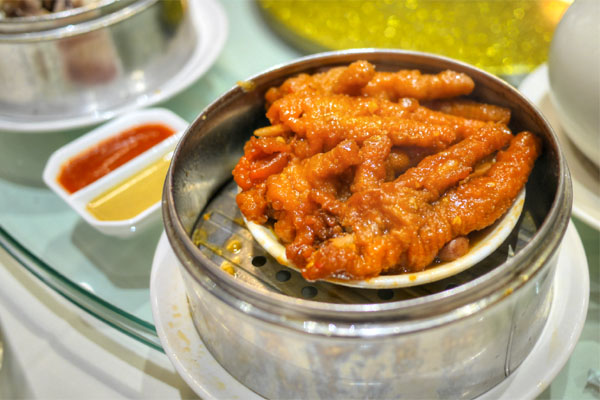 Steamed Chicken Feet (#3) [$3.88]
I've never been a huge fan of
feng zhua
, and thus abstained from our single order here and let some of my dining companions have their fill on this one. They seemed to enjoy it.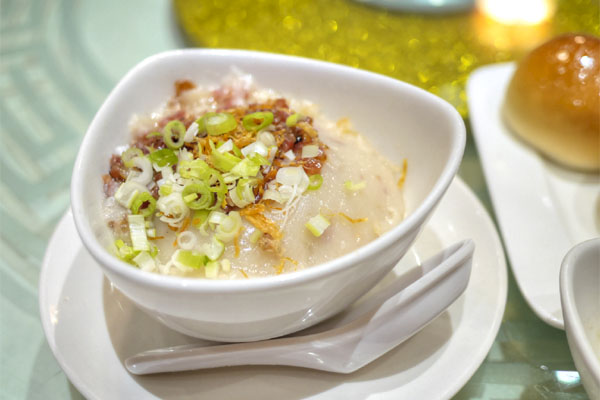 Steamed Turnip Cake (#18) [$3.88]
The steamed variant of
luobo gao
was gelatinous in consistency, with a mild relish to it that was amped up by the various sprinklings up top. Pretty good, though I'd still go for the pan-fried version.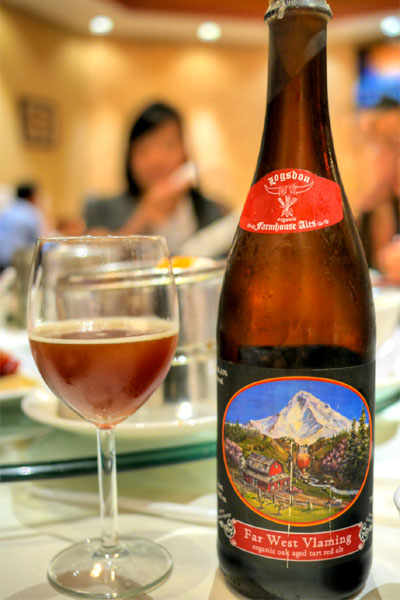 Next up was a sour, the oak-aged
Logsdon Far West Vlaming
. Done up in the Flanders Red style, this one was quite to my liking, tart of course, but with a tasty woody, malty, cherried quality intermingled with a distinct vinous slant.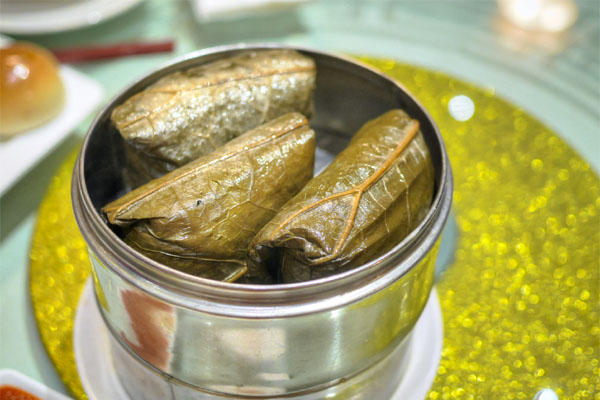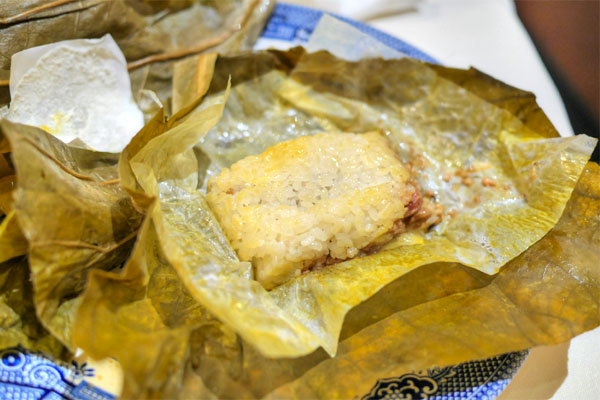 Sticky Rice Wrap (#13) [$4.88]
Lo mai gai
was one of the surprise standouts for me, with the glutinous rice here really working well alongside the wrap's savory stuffings.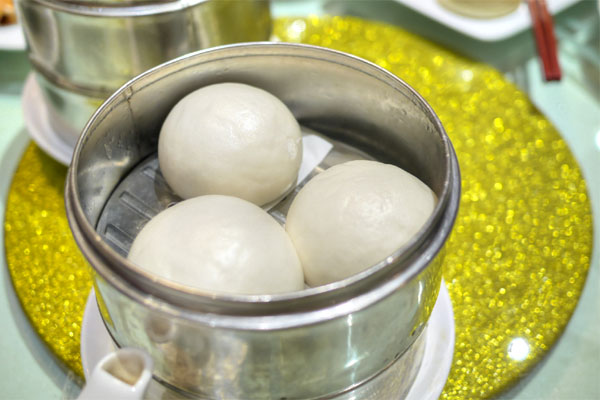 Egg Yolk Buns (#11) [$3.88]
Egg yolk buns looked innocuous from the outside, but held a lush, runny, slightly gritty filling of sweet, runny yolk. I wasn't a huge fan of these, as they veered overly sugary.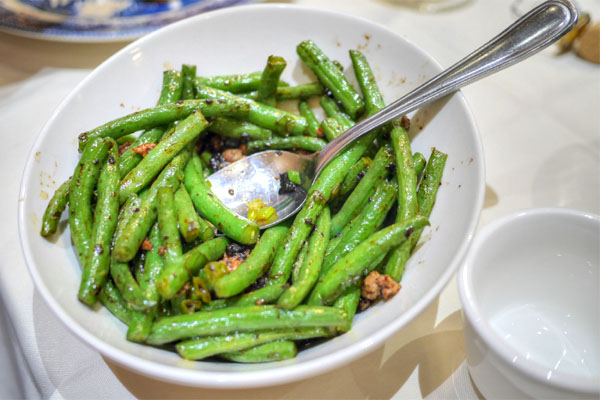 Pan Fried String Beans (#49) [$5.98]
Can't go wrong with green beans, crisp, crunchy, waxy pods that paired swimmingly with the deep, umami-rich flavors in the dish.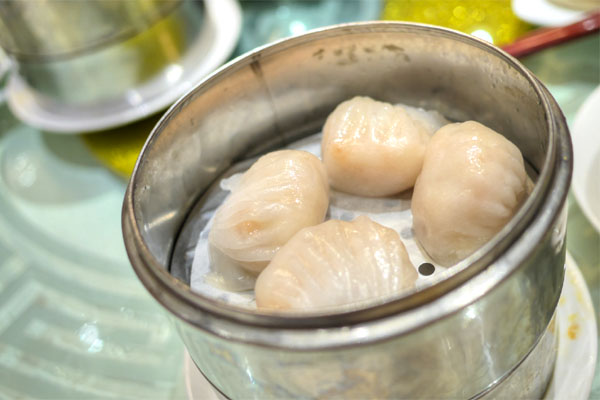 Jumbo Shrimp Har Gow (#1) [$4.88]
Xia jiao
were indeed a bit larger than usual, with well-cooked, still briny shrimp that I quite enjoyed. In terms of the wrapper, it could've been sturdier, as I experienced some breakage.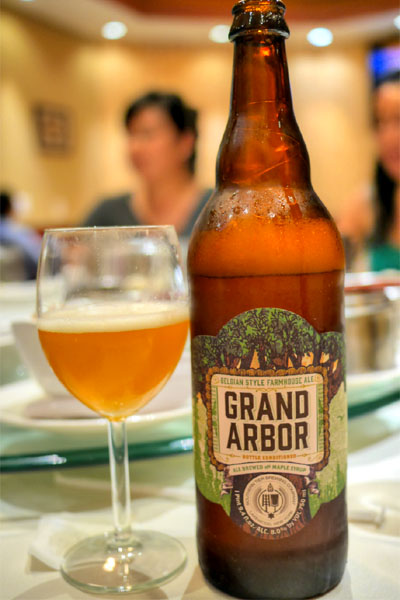 The
2013 Southern Tier Grand Arbor
is a saison brewed with maple syrup. You got that typical farmhouse character here--citrusy, spicy, earthy, dry, light hops--but with a delightful undercurrent of sugariness from the incorporation of that maple.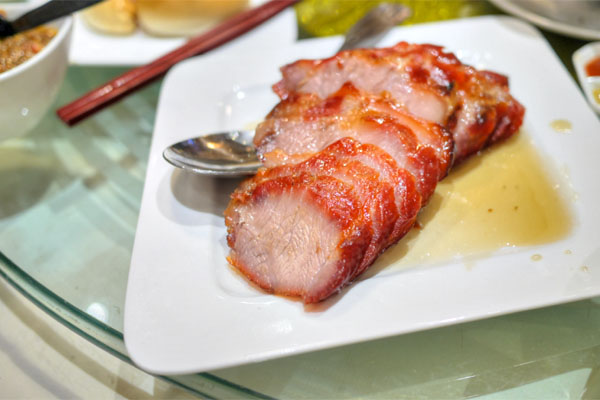 B.B.Q Pork (#60) [$5.98]
Char siu
pork showed off the classically sweet-savory flavors that you'd expect, making for a satisfying sort of eating experience, though I really wanted the meat more tender, juicier.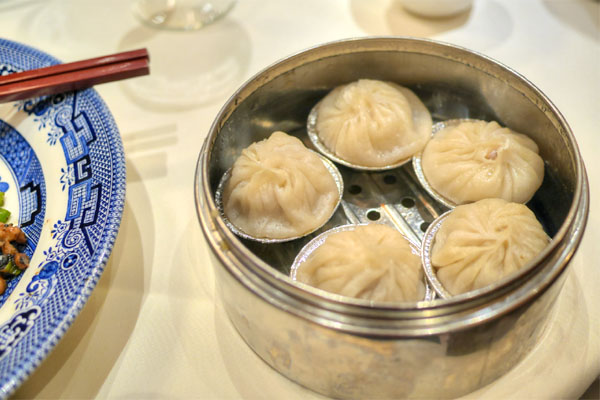 Shang Hai Pork Dumplings (#7) [$4.88]
Xiaolongbao
were passable, though not noteworthy. They were pretty good taste wise, though the wrappers needed to be more delicate, and the fillings soupier. I'm probably pickier now with my XLB given my recent experience at the
original Din Tai Fung
in Taipei.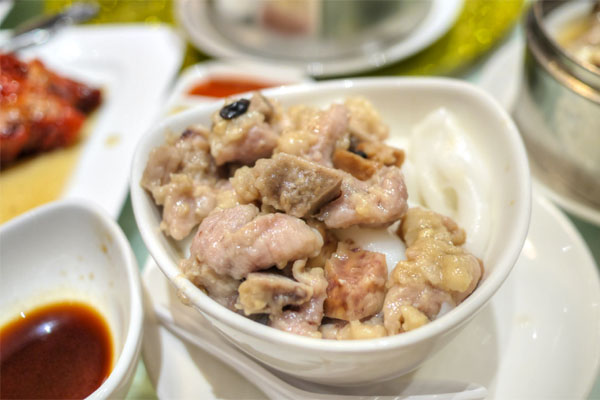 Rice Noodle w/Spare Rib (#17) [$4.88]
This was nearly identical flavor-wise to the spare ribs above, but with the addition of rice noodles as a base to the dish.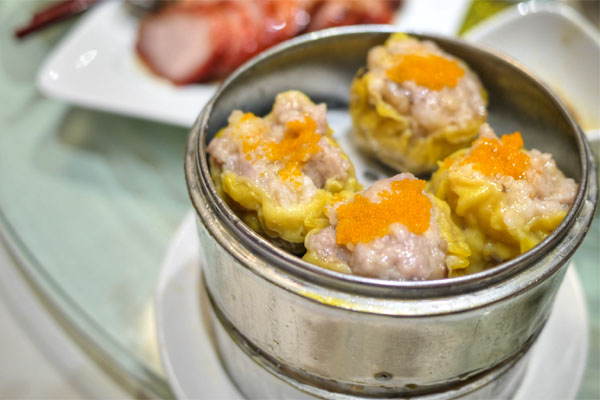 Jumbo Pork Siu Mai (#2) [$4.88]
We had to try the
shaomai
, natch, and the ones here were quite tasty, with the pork-shrimp combo really delivering. Their larger size did make eating slightly more awkward, however.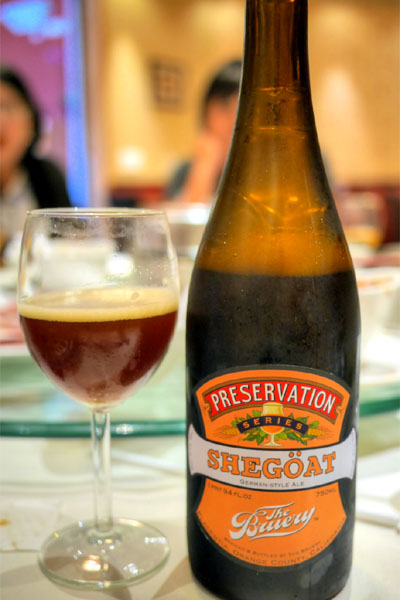 Our last beer was the
2013 The Bruery Preservation Series: Shegöat
, a German-style weizenbock. I wasn't a huge fan of the aroma on this one (it was somehow offputting), but taste-wise, it hit the mark, an expectedly hefty, malty brew displaying notes of banana, spice, and brown sugar.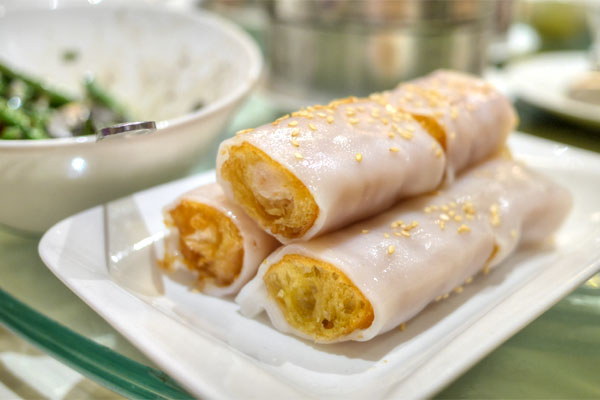 Egg Roll Rice Noodle (#39) [$4.88]
Our first of three rice noodle rolls was the
zhaliang
version, filled with what amounted to
youtiao
. It was pretty interesting texturally, with the gummy, slippery wrapper working well with its crisp, slightly sweet stuffing.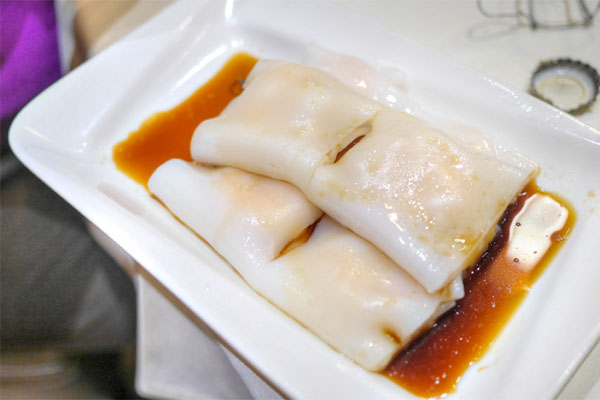 Shrimp Rice Noodle (#37) [$4.88]
The
har cheong
variant was your classic preparation, with the snappy shrimp eating well alongside the savoriness of the soy sauce.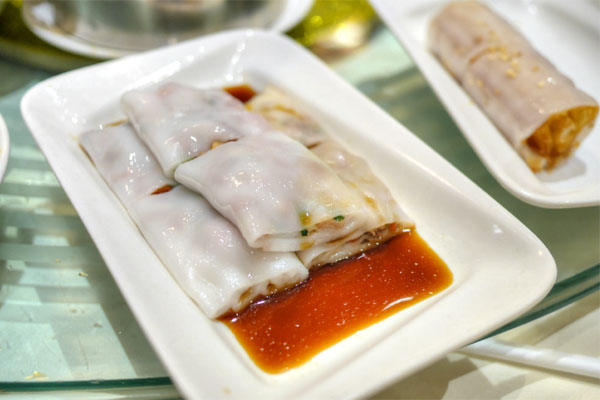 B.B.Q Pork Rice Noodle (#40) [$3.88]
Last up was the
char siu cheong
, stuffed with sweet slices of BBQ pork. I was sort of on the fence with this one, as I thought the actual barbeque character of the meat could've been more apparent.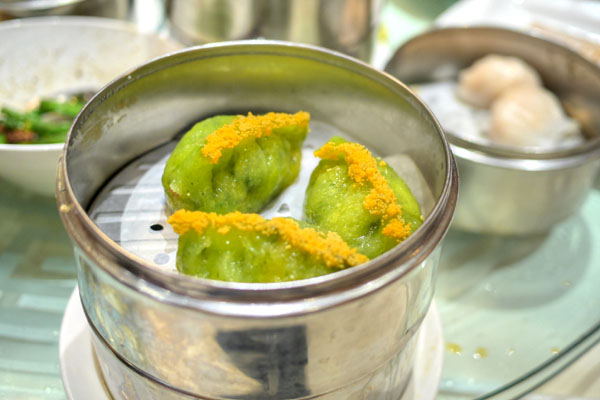 Spinach Shrimp Dumplings (#19) [$4.88]
Our last course before "dessert" managed to be one of my favorites, with the shrimp and scallop stuffing here doing a commendable job in conveying the ocean-y essence of the ingredients, all while spinach offered up a bit of a counterpoint.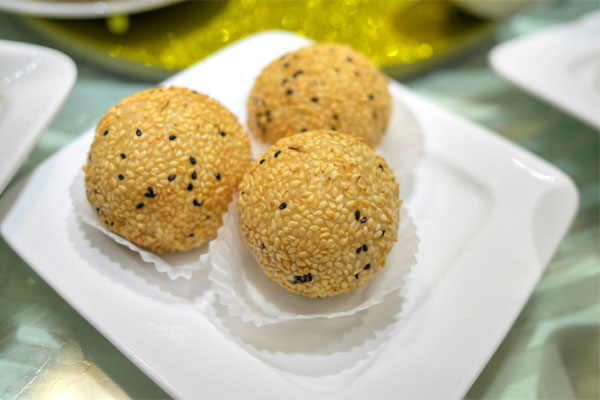 Twin Sesame Balls (#27) [$2.88]
Time for some sweet stuff. The
jian dui
were delish: crispy and chewy, nutty and sweet all at the same time.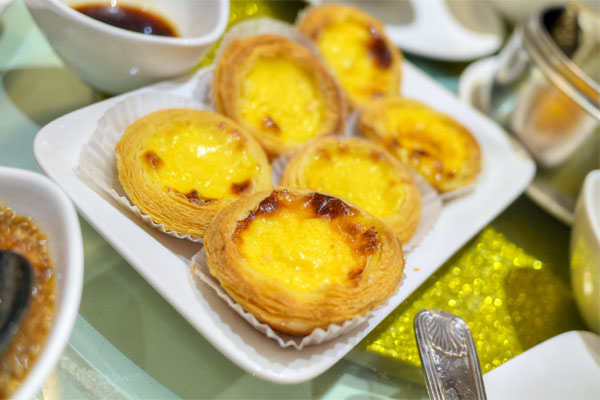 Macao Egg Custard (#31) [$3.88]
Of course, we had to close with
daan taat
, and Lunasia's were a strong example of the staple, with flaky crusts and smooth, creamy custard fillings imbued with just the right amount of sweetness. Easily some of the strongest I've had.
Overall, Lunasia was a solid dim sum experience for us, above average, though not at the level of the top places (my personal best:
Koi Palace
). A lot of people appreciate the value proposition here, and indeed, it was a pretty damn good value, coming in at $16.04 a head pre-tip. Next up on the list: seeing what all the fuss is about with Shi Hai...