Bigmista's Barbecue & Sammich Shop (Long Beach, CA)
Bigmista's Barbeque
3444 N Los Coyotes Diagonal, Long Beach, CA 90808
562.283.6590
www.bigmista.com
Tue 11/25/2014, 07:25p-09:30p

Followers of the LA BBQ scene will have no doubt been tracking the whereabouts of Bigmista's, the farmers' market staple helmed by pitmaster Neil Strawder and wife Phyllis, who manages the administrative/financial parts of business. The Strawders were supposed to open up earlier this year at The Medallion in Downtown (where Keizo Seki's
Zo
is situated), but a falling out with management scrapped those plans. Fortunately, the couple was able to secure another location in Long Beach, at the site of the old Ferraro's Bakery & Pastries, and the spot debuted in mid-November.
A bit of history for the uninitiated
: Strawder grew up in Texas, though he didn't learn to barbeque over there. And although his parents did instill in him an appreciation for food and cooking, he never really pursued the culinary arts in his earlier years. After attending Texas State University, Texas Southern University, and Lamar University, he worked various jobs including DJ, bartender, Web designer, bodyguard, and finally, Wells Fargo treasury services associate. It was right before he started at Wells when he really began getting in barbecue, spurred on by the helpful people on the
BBQ Brethren Forums
.
The year was 2004, and Strawder soon purchased his first smoker (which he put on his apartment's balcony), honed his technique, and formed a competition team called Four Q BBQ with online buddies Sylvie Curry, Luis Ramirez, and Shuji Sakai. He took only a slight break from competing after daughter Morgan was born in July 2007, and in October 2008, he and Phyllis decided to make Bigmista's into an official business. They started out at the Watts Farmers' Market, and eventually made their way to several more across the Southland, most notably the event at Atwater Village. By early February, Strawder was in five markets and was able to quit his job at Wells Fargo.
He then parlayed his local renown into a position as Grillmaster Spokesperson for Fresh & Easy in July that year. The next May, he became a finalist at the inaugural Vendy Awards, and then filmed an episode of
Over Your Head
for HGTV. This was followed by an appearance on Season 2 of
BBQ Pitmasters
, and
The Ultimate BBQ Showdown
in May 2011. In April 2013, it was announced that the Strawders were looking for a brick-and-mortar location in Long Beach, but it was soon teased that they'd be finding a home at The Medallion in DTLA instead. Bigmista was supposed to open by May this year, but disagreements about the build-out resulted in the Strawders walking away from the deal in October, which brings us to where we are today.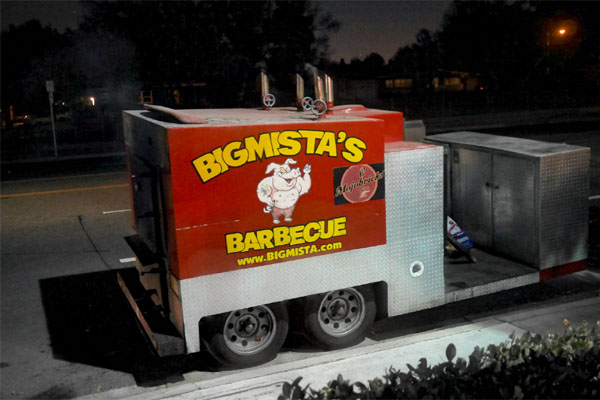 Bigmista's
Spicewine Ironworks
smoker ("Olivia J. PIMA") sat parked out in front of the restaurant, and toward the end of our time here, we even saw "Divalicious" Strawder starting on the next day's meats.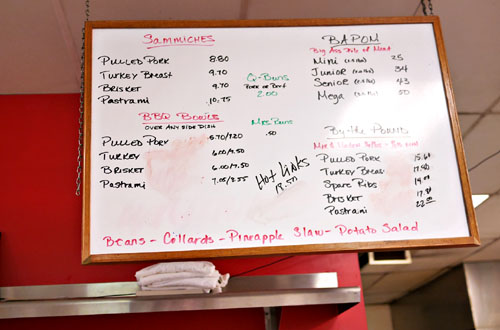 Here we see Bigmista's hand-written menu, which changes frequently, especially when things get sold out (which tends to happen). Sandwiches seem to be popular here, and are served on bread baked in-house, but we were here for the meat. Click for a larger version.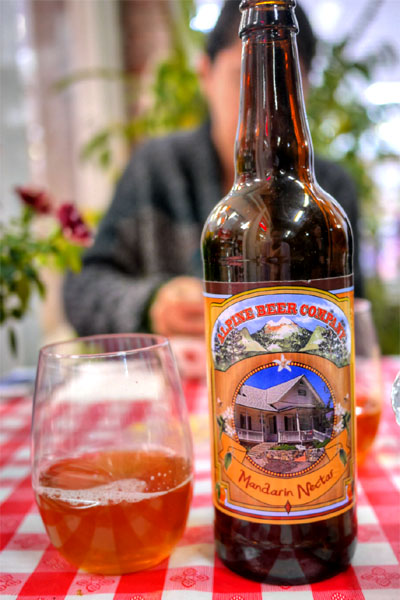 We sat outside and BYOB'd, starting with the
Alpine Mandarin Nectar
, one of their less celebrated beers. Brewed with honey, orange, and coriander, this one drank straightforwardly, with the beer's base of malty flavors accented by a citrus-y spice.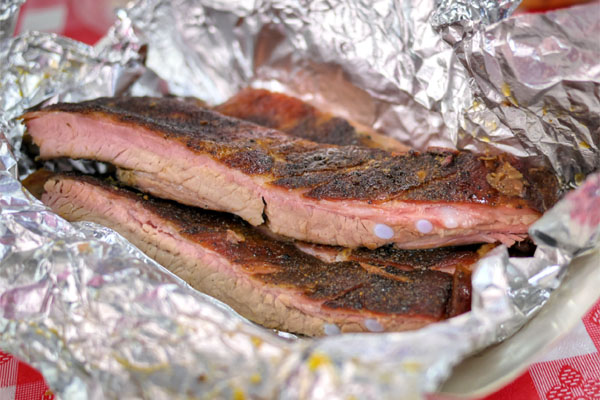 Spare Ribs [$7.00 / ½lb]
The food got off to a strong start with the spare ribs, which were some of the tastiest I've had in a while: super tender, toothsome, and nicely seasoned with a great mix of sweet, savory, and smoky flavors.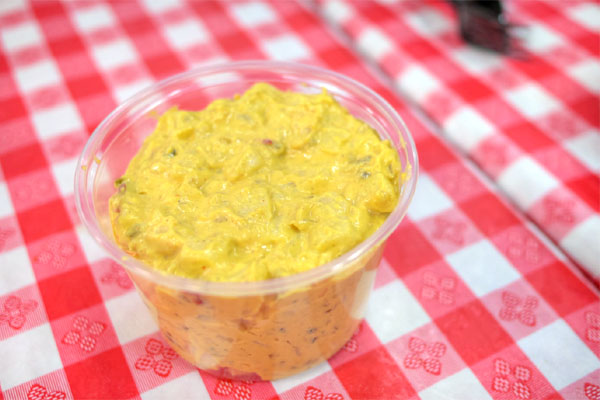 Potato Salad [$6.00 / large]
The potato salad was tangier than usual, due to the addition of what I believe was mustard.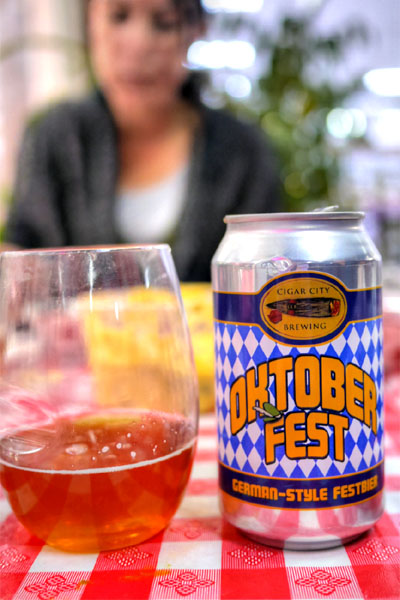 Our next beer was also on the lighter side, the
2014 Cigar City Oktoberfest Märzen
, a lager style that I don't drink all that often. It went down easy though, with its sweet, malty, bread-y character tempered by the right amount of hop bitterness.
Brisket [$8.90 / ½lb]
Brisket arrived supple and flaky, with a satisfying beefiness to it, though I wanted more smoke. I would've liked to have seen the meat wetter too, but the accompanying sweet/spicy sauces did help in that matter.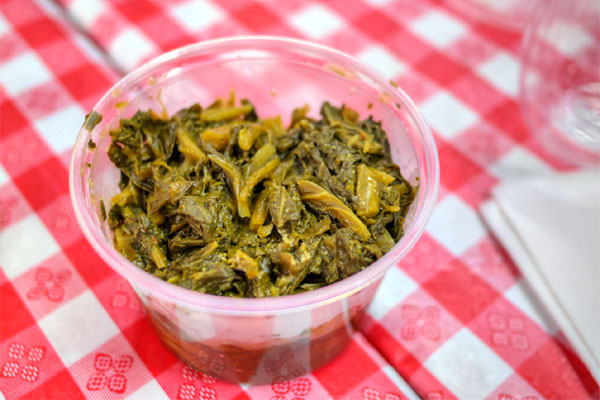 Collard Greens [$6.25 / large]
Collards were earthy and bitter, just as you'd want. One of my dining companions even remarked that these were the best she'd had in the state.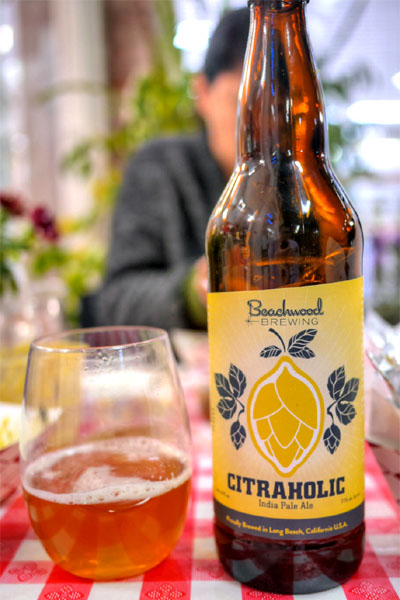 Next up was a super-fresh bottle of the
2014 Beachwood Citraholic
, which was, as the name implies, brewed with Citra hops, but also Columbus, Simcoe, and Warrior. Think super hoppy and citrus-y on the nose, with a taste that offered up more of the same, along with an increased pine-y character and not too much malt backing.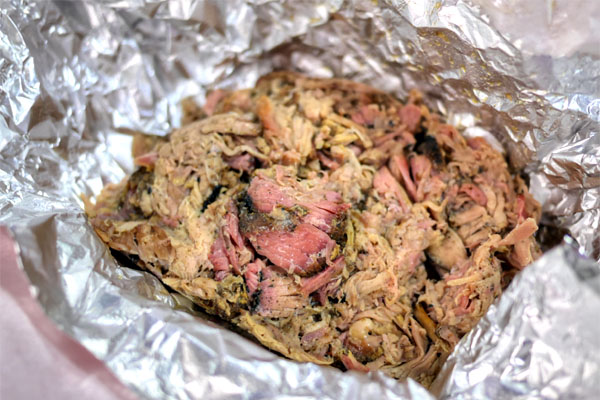 Pulled Pork [$7.80 / ½lb]
The pulled pork was another standout, and better than most, coming out really tender, porky, and with a subtle smokiness and tang that brought it all together. Some nice crispier bits in there, too.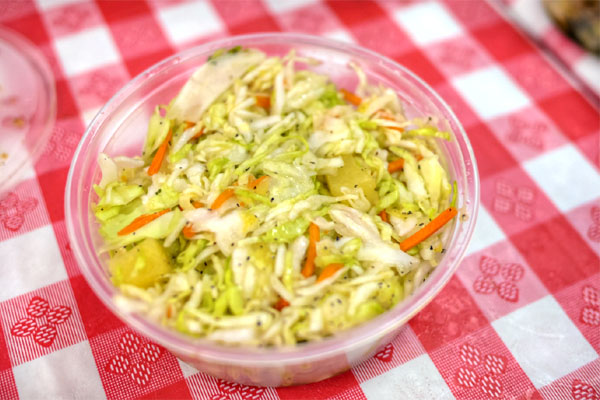 Pineapple Coleslaw [$3.50 / medium]
Slaw was crisp and bright, with a distinct tropical fruitiness to it. I found it sweeter than I'd prefer, though, and would've liked a creamier presentation.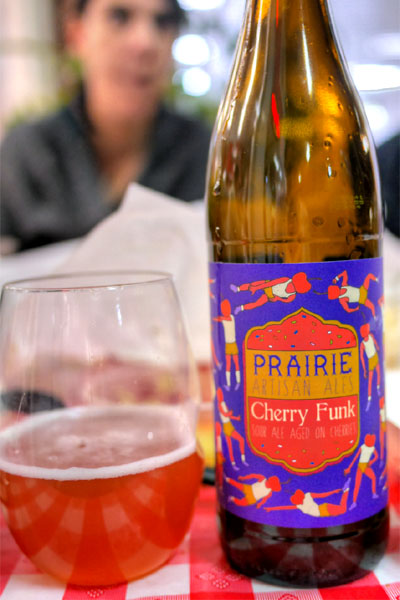 Our first sour of the night brought out the newly-released
2014 Prairie Cherry Funk
. The beer did indeed drink funky, with a farmhouse quality to it finished with the dry, tart zing of the fruit.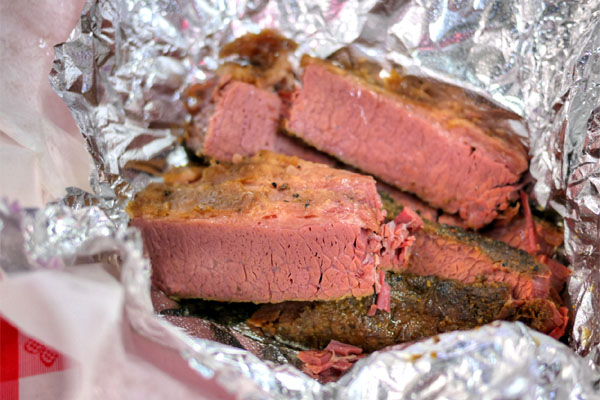 Pastrami [$11.00 / ½lb]
Pastrami was a table favorite, a well-textured, well-seasoned preparation that really showed off the goodness of the meat, along with a restrained combination of spice and smoke to round things out.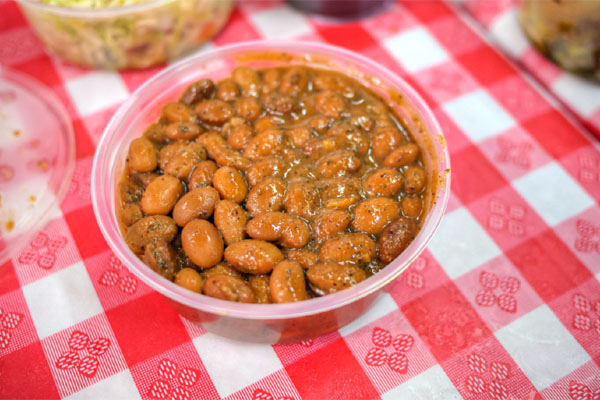 Barbecue Beans [$3.75 / medium]
The BBQ pinto beans managed to be my favorite side, really standing out above your typical preparations with its fantastic hit of peppery spice.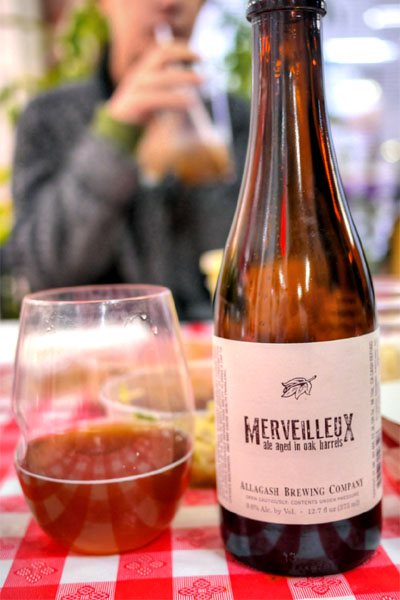 Time for more sour: the
2013 Allagash Merveilleux
was a blend of five beers fermented in both bourbon and wine casks, along with the holy trinity of
Brettanomyces
,
Pediococcus
, and
Lactobacillus
. The resultant brew showed off a mix of fruit and oak on the nose, which continued on to the palate, where it was accompanied by more acidity and some musty nuances.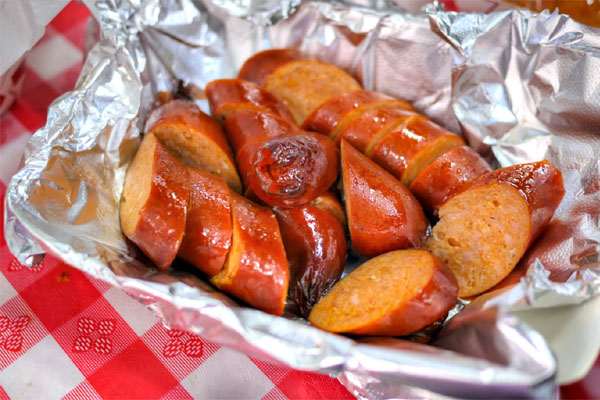 Hot Links [$9.25 / ½lb]
Hot links were snappy and lived up to their name, with a sharp, focused heat that creeped up on you.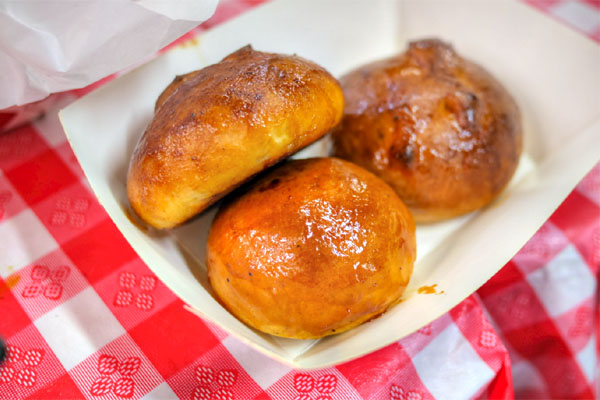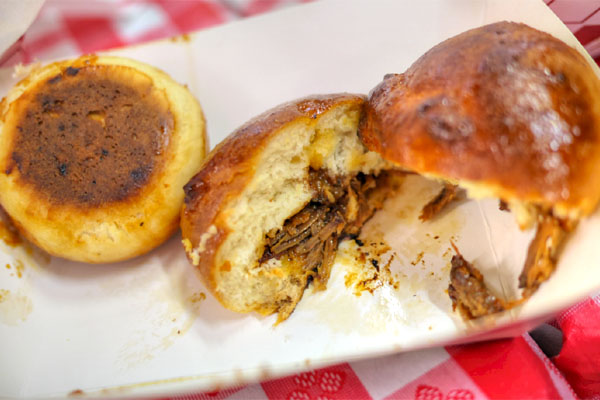 Q-Bun (Pork or Beef) [$2.00]
Mrs. Bun [$0.50]
Make sure to sample Bigmista's Q-Buns, too, which are rolls stuffed with your choice of pulled pork or brisket. We tried the brisket version and found it rather tasty, with a sweet-savory interplay that reminded me of a down south rendition of
cha siu bao
. Also available are the Mrs. Buns, which come unstuffed.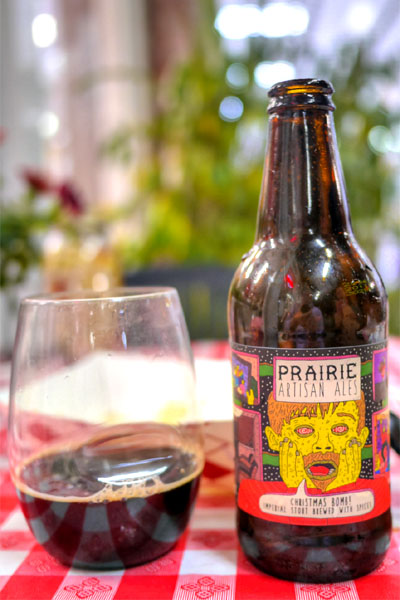 Our final beer was the limited edition
2014 Prairie Christmas Bomb!
. It's basically a Christmas-spiced version of the standard brew, and drank as such, with the classic flavors of coffee and chocolate here joined by an overarching sweet, cinnamon-y spice.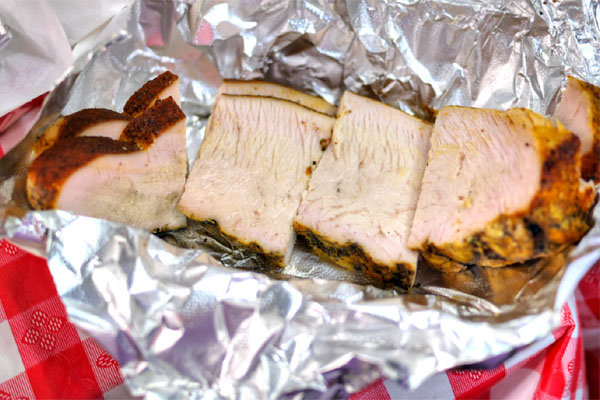 Turkey Breast [$8.90 / ½lb]
Given how close we were to Thanksgiving, turkey was an apropos choice, and was one of the better preparations of the bird I've had: moist, tender, and just smoky enough to keep things interesting.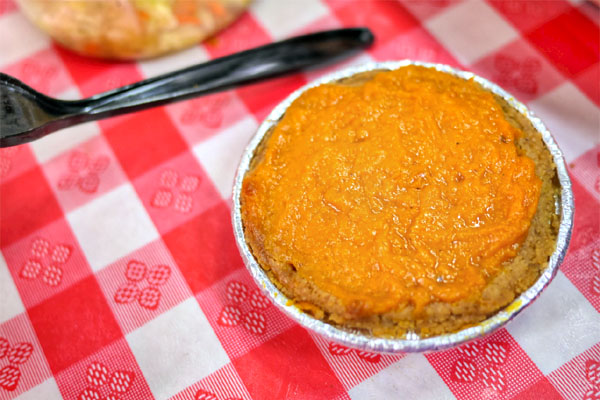 Mini Sweet Potato Pie
We ended, fitting, with a miniature sweet potato pie, which we all found surprisingly delicious. We're told that it's a secret family recipe from Phyllis' mother.
Unfortunately, I never sampled Bigmista's meat at the various farmers' markets, so I don't have a proper basis for comparison, but the Strawders seem to be off to a good start here, with the ribs, pulled pork, and pastrami being early favorites of ours. It's been quite a journey for the two, so it's great to see them finally settling down with the opening of this B&M shop--another step in growing LA's barbeque legitimacy I'm sure.