China Red (Arcadia, CA)
China Red Restaurant
855 S Baldwin Ave, Arcadia, CA 91007
626.445.3700
Sat 11/15/2014, 11:40a-01:00p

One of the more promising Chinese debuts of recent times has to be China Red, which opened last October after switching over from the similarly monikered Red Chamber (its Chinese name has remained the same). The restaurant is the work of one Carol Xu Zhang, and is meant to be a higher-end eatery, which means no push carts for dim sum. Apparently, the place opened with the former chef of Shanghai No. 1 at the helm, though I have no idea if he's actually still here.

Inside, things are probably nicer than you expect. Prior to its current incarnation, the space was formerly home to the aforementioned Red Chamber, Park Avenue, Hop Li, and supposedly started life as a Sizzler back in the day.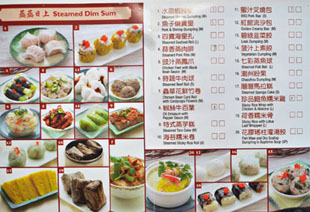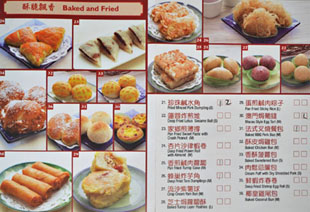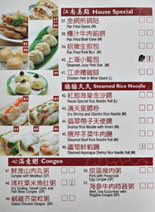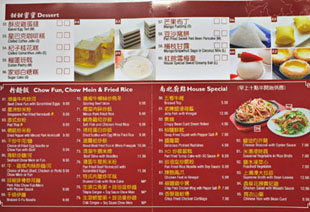 China Red's dim sum menu offers up all the standard selections (priced at $2.38-$3.38-$4.38-$5.38), along with a few more unusual/interesting/modern choices and a good number of your typical plated dishes as well. Click for larger versions.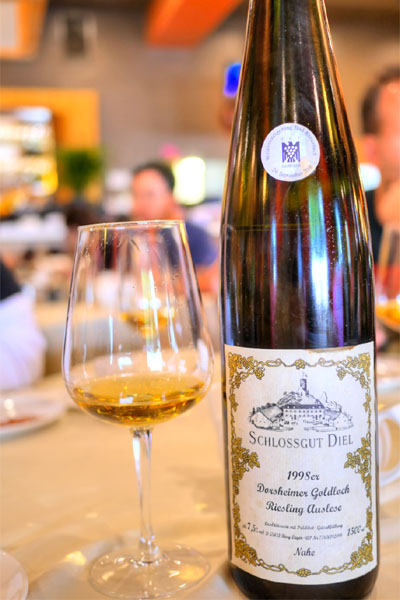 To pair with the food, we brought along a magnum of
1998 Schlossgut Diel Dorsheimer Goldloch Riesling Auslese Goldkapsel
that was purchased almost exactly four years ago at a
Bocuse d'Or USA benefit dinner
at
Providence
. We'd been waiting to open the bottle ever since then, and it didn't let us down. A robust shade of yellow, the wine was light on the nose, with a slight oxidative quality at first that soon dissipated. Taste-wise, you got sweet notes of citrus and apple, backed by a subtle undercurrent of minerality and just enough acidity to keep things fresh--very good. Corkage on the bottle was $15, as we had the staff open it (the wax seal was difficult to remove).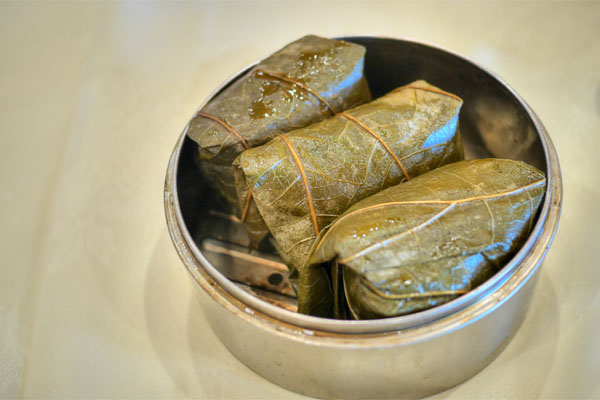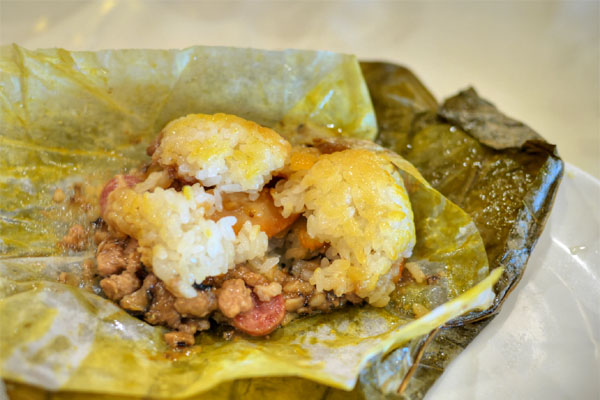 Sticky Rice Wrap with Chicken & Abalone (L) [$4.38]
We got things going with an impressive version of
nuomi ji
. It was one of my favorite items here, with a great interplay of sweet and savory over a base of sticky rice. Some very hearty, satisfying flavors going on, and I appreciated the unexpected addition of tender slices of abalone as well.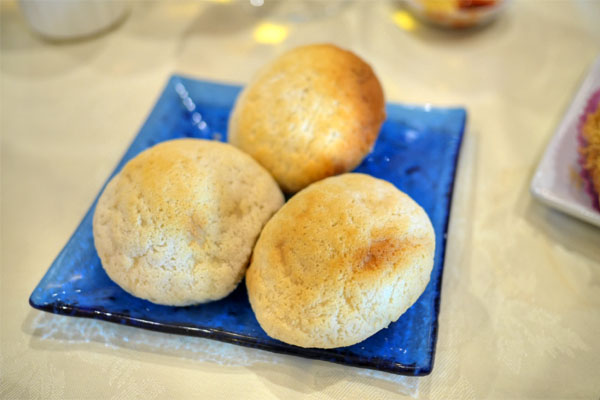 Baked BBQ Pork Bao (M) [$3.38]
The
cha siu bao
is a must-order at any dim sum place, but China Red's really was a pretty unique take on the baked variation. The filling I found a good mix of sweet and salty, but what set this apart was the actual bun, which was crumbly, flaky, and quite light. This is one to get.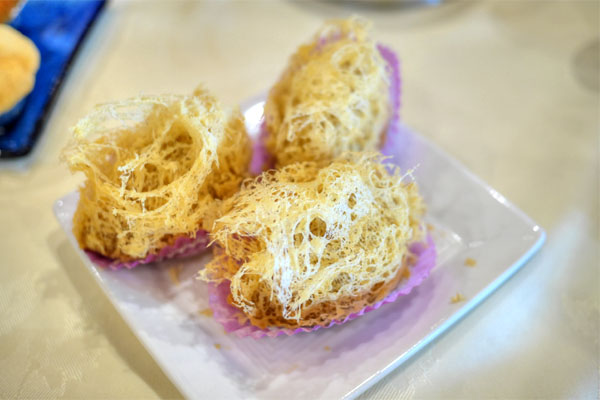 Deep Fried Taro Dumplings (M) [$3.38]
I enjoyed the
yutou jiao
too, with its delightfully airy crust leading to meaty insides countered by a slight taro sugariness.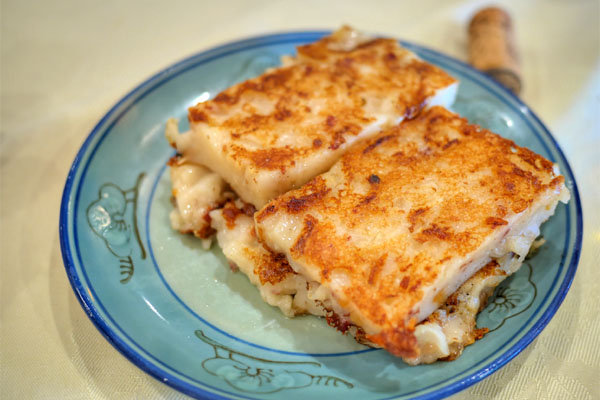 Pan Fried Turnip Cake (M) [$3.38]
Luobo gao
was one of the strongest I've had, with a great char and crispness on the outside and a particularly creamy, lush interior that smartly played the mild turnip against the brine of
xiami
.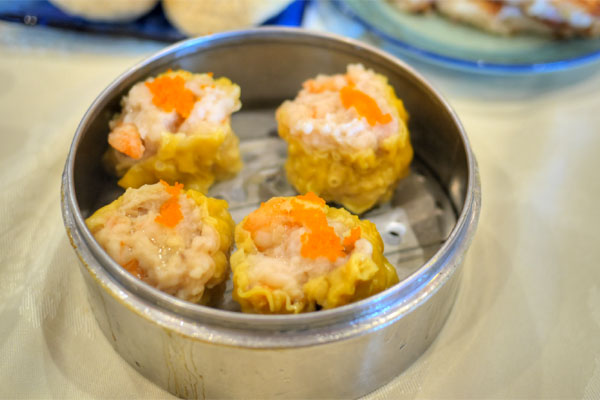 Pork & Shrimp Dumpling (M) [$3.38]
The staple of
siu mai
was on point: supple yet springy, with a good salinity conveyed by the shrimp.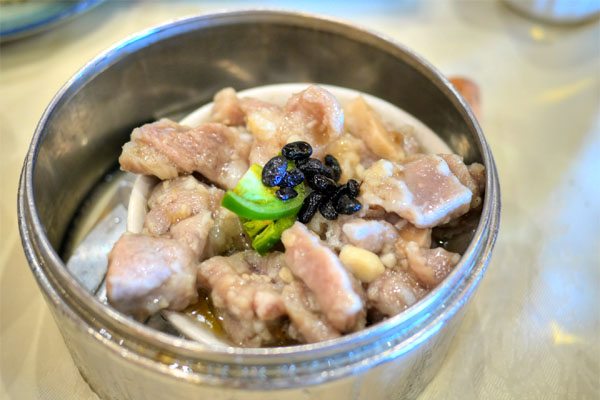 Steamed Pork Ribs (M) [$3.38]
The
paigu
was also one of the better preparations I've tasted, with a nice depth of flavor courtesy of the black bean.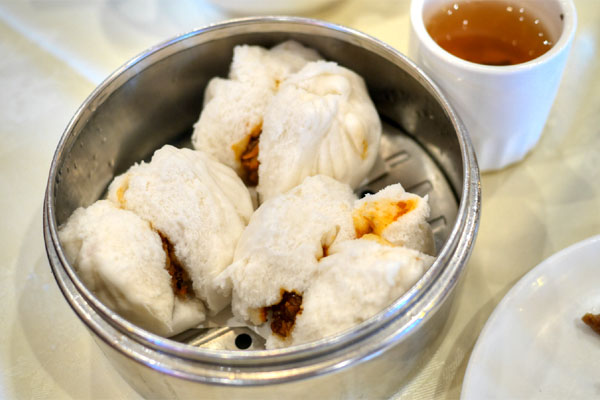 BBQ Pork Bao (S) [$2.38]
Compared to the baked
cha siu bao
above, the steamed versions were much more humdrum, though still tasty. I would've liked a lighter, slightly less dense bun though.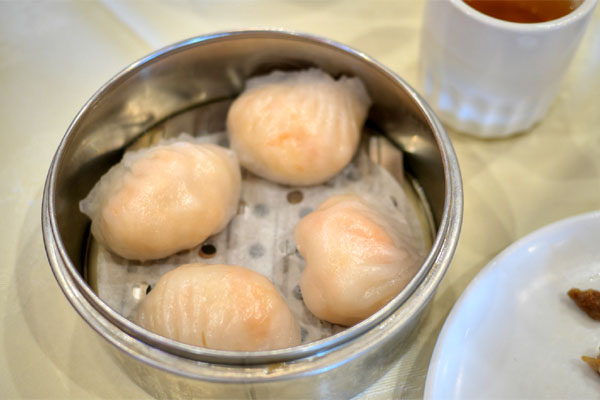 Steamed Shrimp Dumpling (M) [$3.38]
Har gow
were quite enjoyable, with a great filling of briny, snappy shrimp. Superb with a dab of mustard, but if I had to nitpick, the skins were perhaps a touch sticky.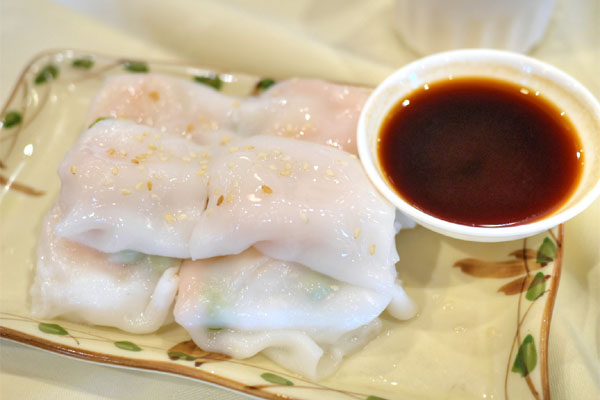 Steamed Asparagus Shrimp Rice Noodle Roll (M) [$3.38]
Xia chang
really delivered, with the asparagus providing an extra dimension of crunch and bitterness to offset the well-cooked stuffing of shrimp. I appreciated how they put the soy sauce on the side here, too.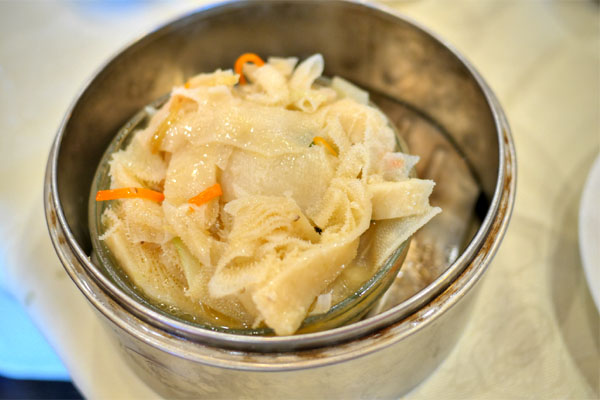 Ox Omasum with Pepper Sauce (M) [$3.38]
The
niu baiye
is basically cow stomach, and was very enjoyable here, delivering a satisfying bit of crunchiness and a mild earthiness augmented by great ginger-y notes in the dish.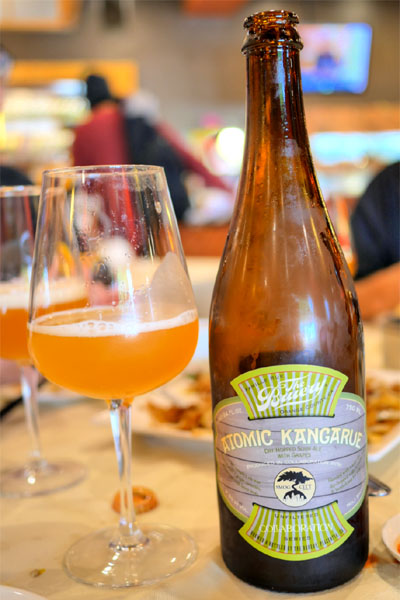 With the Riesling all drunk up, we moved on to a beer, the
2014 The Bruery Atomic Kangarue
, a collaborative brew produced with Smog City. Sticking with the wine theme, this one was a Belgian-style golden ale brewed with Semillon and Viognier grapes,
Brettanomyces
, then blended with a sour ale and dry-hopped with Amarillo. The beer hasn't been getting much love from critics, but I rather enjoyed it, finding it vinous on the nose, while on the palate, I got more of the same, joined by a dry, funky, mildly fruity character and an undercurrent of countering tartness.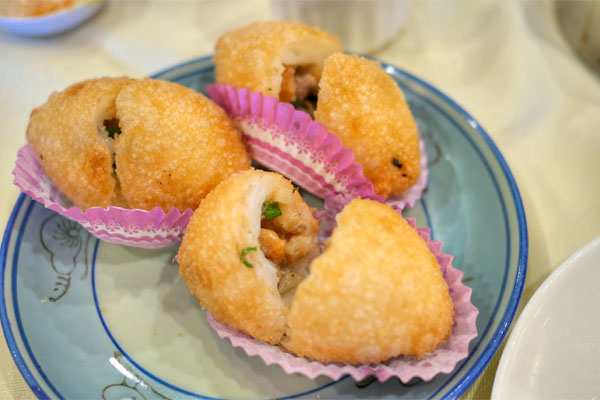 Fried Minced Pork Dumpling (S) [$2.38]
Xian shuijiao
were delectable, with their sweet-savory stuffing working nicely alongside their substantial, gelatinous-yet-crisp "football" skins. I would've liked a tad more filling here, however.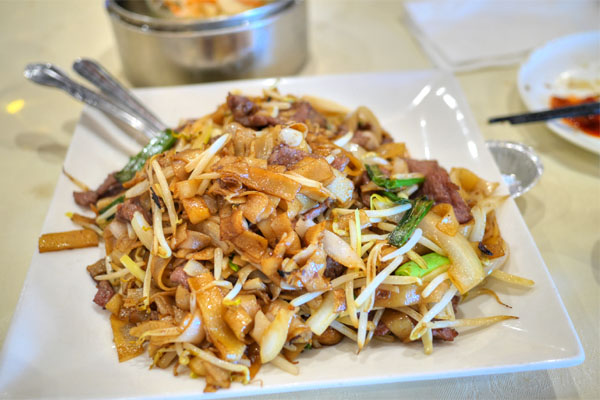 Fried Chow Fun with Beef [$9.98]
A plate of
gan chao niu he
was perfectly serviceable, and a nice change of pace from the dim sum.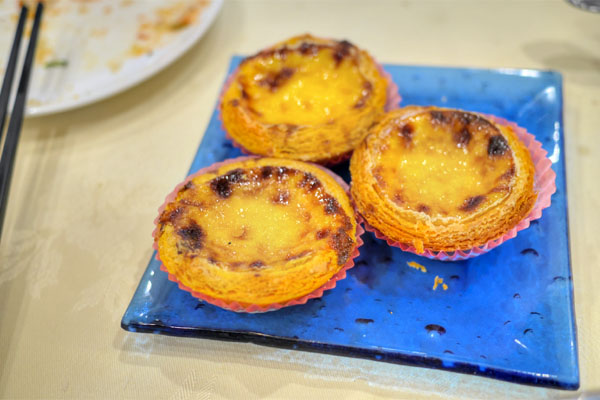 Macau Style Egg Tart (M) [$3.38]
We had to get the
daan taat
too, of course, and it was one of the tastiest I've had, with a great mix of sweet and eggy flavors set over a wonderfully flaky crust.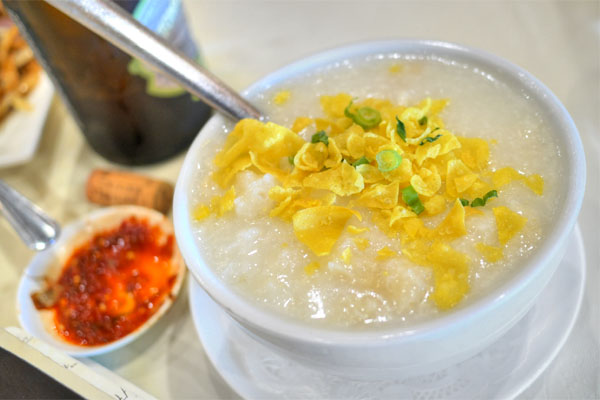 Dry Scallop, Sweet Corn, and Fish Maw Congee (SP) [$5.38]
We concluded with a bowl of
zhou
, a hot, homey porridge that had the richness of the scallop paired with the mild rice while the dish finished with the lingering sweetness of corn. Nice bit of zestiness from the chive here, too.
We actually had a really solid meal at China Red, and found only minor quibbles with the food. In fact, it's probably my best dim sum experience of recent times. Cost-wise, it was perhaps a touch pricier than usual, but still came in at a very reasonable $19.95 per person, pre-tax/tip (and that included a couple plates of
haam seoi gaau
to go, not to mention corkage). Be sure to put this one on your list if you haven't already.