Night + Market Song (Los Angeles, CA)
Night + Market Song
3322 W Sunset Blvd, Silver Lake, CA 90026
323.665.5899
www.nightmarketsong.com
Thu 11/06/2014, 08:50p-10:35p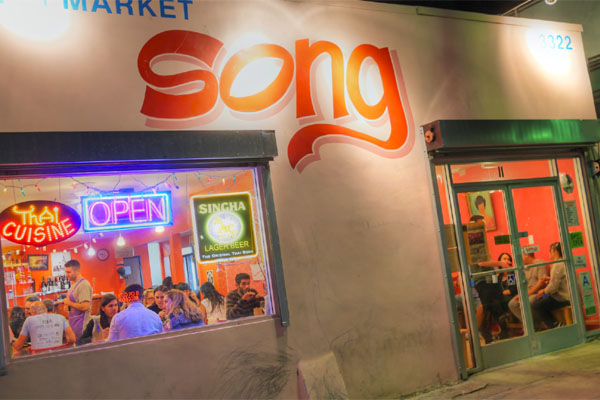 Kris Yenbamroong, in concert with Sarah St. Lifer, has continued on with his quest for
aharn glam lao
with the debut of Night+Market Song ("two") in Silver Lake. First teased in 2013 (right before my
last meal
at the original location), the place was supposed to open in December, but bowed this May, a grittier, brasher version of its sister restaurant.

Though originally rumored to go in the former Cru space (now
Pine & Crane
), N+M Song ended up settling just down the street at the old Zamora Bros Meat address. The vibe is appropriate for the food: a bright, cheerful, slightly beachy, countryside roadside cafe sort of aesthetic.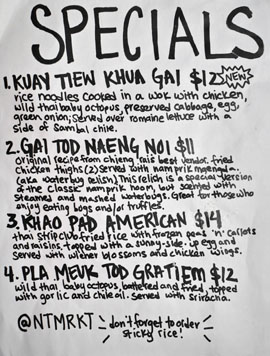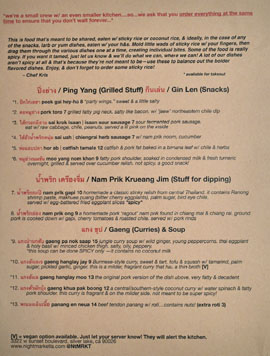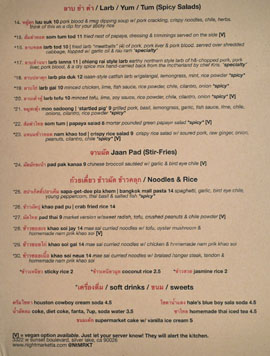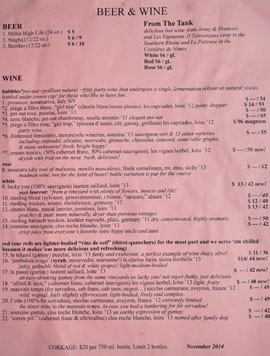 As for Song's menu, it's roughly two-thirds the same as the original's. Staples like the
sai krok Isaan
aren't going anywhere, but there are a number of new items, including the (in)famous
luu suk
and "Bangkok mall pasta." There's even a take-out option. To drink, they finally got their license in August, so you'll now find a fun little wine list and a smattering of beer. Corkage is $20, but is allowed for wine only unfortunately. Click for larger versions.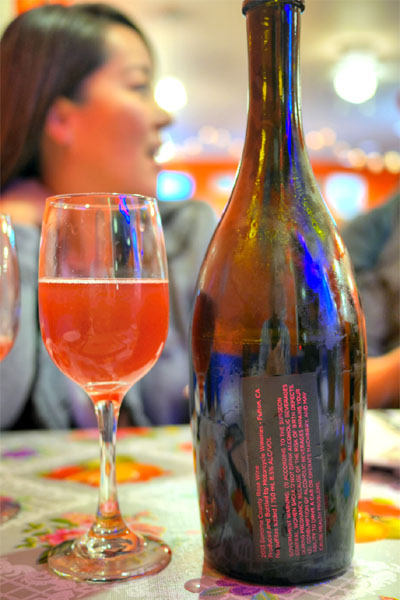 Yenbamroong's long been a vocal proponent of
pétillant naturel
, a single-fermented, sparkling type of wine that makes sense with the food here. Our first bottle was the
distressed femininity, motorcycle wineries, sonoma '13 [$55]
, apparently a blend of 16 different grape varietals. The esoteric rosé drank dry, with a pronounced earthy, barnyard character that I quite enjoyed.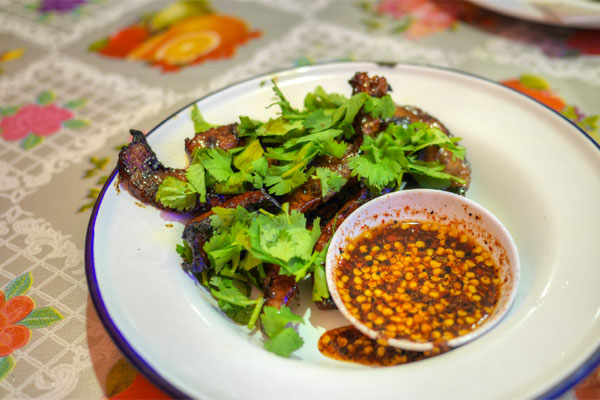 pork toro [$7.00]
| grilled fatty pig neck. salty like bacon. w/'jaew' northeastern chile dip
We commenced with one of the Chef's signature plates: chewy, firm, charred shards of fatty pork neck imbued with blasts of sweet, bitter, and spicy. Nicely finished by the included
jaew
.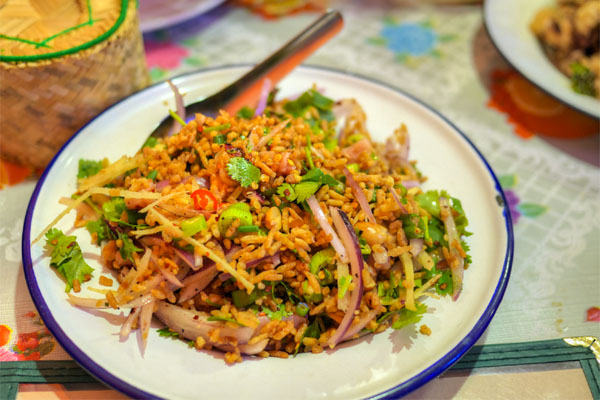 nam khao tod | crispy rice salad [$9.00]
| crispy rice salad w/ soured pork, raw ginger, onion, peanuts, cilantro, chile *spicy* [V]
Next was
nam khao tod
, quite possibly my fav Lao-Thai staple of all time. It was just what you'd want from the dish, a mish-mash of spicy, sour, salty, herby, and nutty flavors and disparate textures all set over a base of delightfully crunchy rice. Always a crowd pleaser.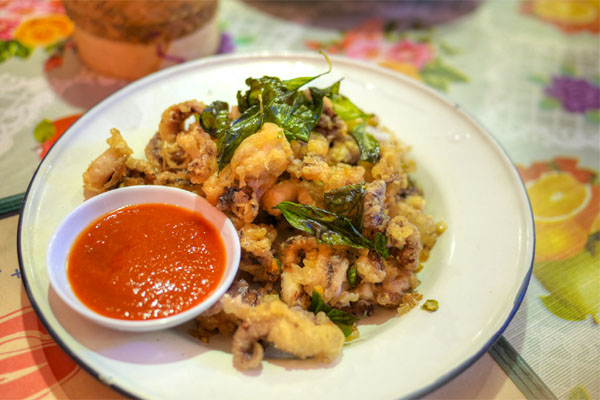 pla meuk tod gratiem [$12.00]
| wild thai baby octopus. battered and fried, topped with garlic and chile oil. served with sriracha.
I have a hard time skipping the octopus, and the version here didn't let me down, the
plahmuk
coming out wonderfully crisp and loaded with plenty of briny, savory goodness. Superb with a dab of the included sriracha.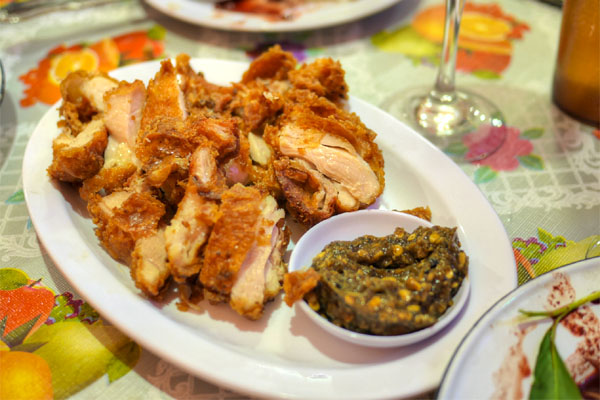 gai tod naeng noi [$11.00]
| original recipe from chieng rai's best vendor. fried chicken thighs (2) served with nam prik maengda. (aka waterbug relish). this relish is a special version of the classic namprik noom, but scented with steamed and mashed waterbugs. great for those who enjoy eating bugs and/or truffles.
Yenbamroong's fried chicken was on point, a juicy, tender, crispy, yet light preparation of the bird that was tasty alone, but even better when taken with the tangy, spicy condiment featuring those oft talked about water bugs. Yum.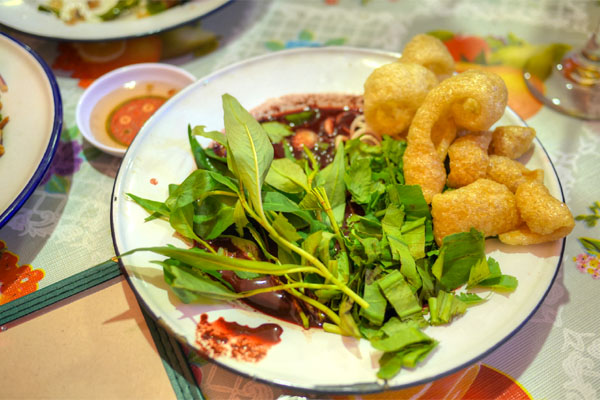 luu suk [$10.00]
| pork blood & msg dipping soup w/ pork crackling, crispy noodles, chile, herbs. think of this as a dip for your sticky rice
We of course had to sample the
luu suk
, easily the most notorious item on the menu by this point. The dish, which is relatively hard to find even in Thailand, is basically a pork blood and Ros Dee MSG-based sticky rice dip, and not nearly as off-putting as it may sound. In fact, it was pretty easy-eating, with the slight earthiness from the blood evened out by the myriad of spicy, herbaceous, and sweet (if you opt to use the side of
nam jim wan
) notes in the plate. Great crunch from those cracklins, too.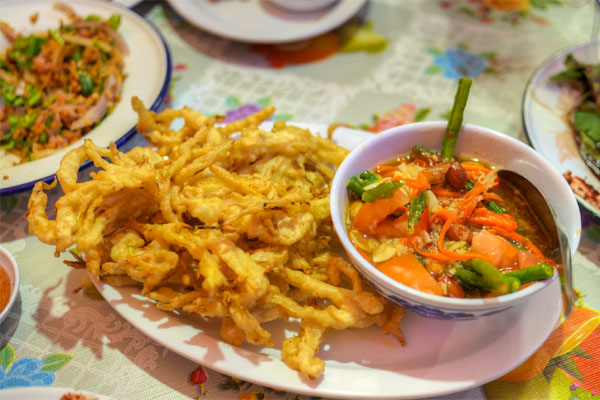 som tum tod [$11.00]
| fried nest of papaya, dressing & trimmings served on the side [V]
Yenbamroong then sent out this variation of
som tam
, in which papaya was fried to a form resembling Japanese
kakiage
. It was a nice change of pace for the dish, with the interesting textural play of the fritters working alongside the classic notes of sweet, sour, and spicy.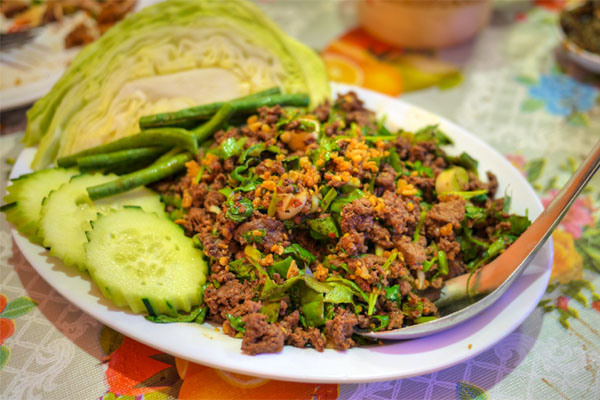 larb lanna | chiang rai style larb [$11.00]
| earthy northern style larb of h&-chopped pork, pork liver, pork blood, & a dry spice mix hand-carried back from the motherland by chef Kris. *specialty*
Most of us are probably familiar with the Lao/Isan style of larb with its fish sauce and tart, acidic tang. The Northern preparation served here, though, was quite a bit different, a darker, more intense dish with an earthy, savory flavor profile underscored by a palpable spice. The veggies were key here in balancing out the course.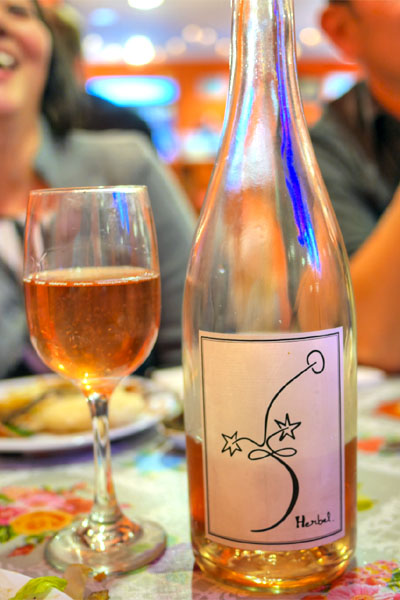 Our second bottle was also on the obscure side, the
jeunes mariés, les vignes herbel, loire '12 [$50]
. A blend of Cab Franc and Cab Sauvignon, this one was more floral, sweeter compared to the previous wine, but had a bit of an oxidative-funky quality to go along with the fruit present.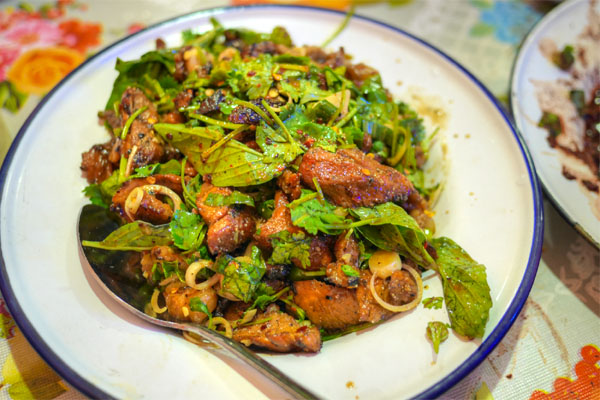 moo sadoong | 'startled pig' [$9.00]
| grilled pork, basil, lemongrass, garlic, fish sauce, lime, chile, onions, cilantro, rice powder *spicy*
This whimsically-monikered pork salad came out deeply aromatic and pungent, its powerhouse of spicy, herby flavors coming as almost a punch to the palate.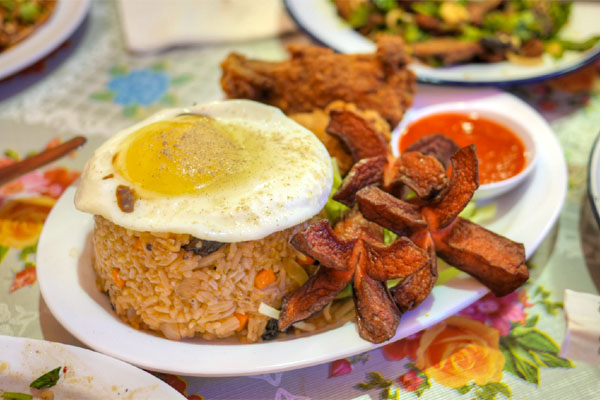 khao pad american [$14.00]
| thai strip club fried rice with frozen peas 'n' carrots and raisins. topped with a sunny-side up egg and served with wiener blossoms and chicken wings.
Outside of the pork blood, this is probably the most talked about item right now at NMS. It's apparently the type of dish they serve at Thai strip clubs, and given that context, it somehow makes sense. The sweetness imparted by the raisins actually worked with the slight curry character in the rice, and you can't go too wrong with a runny egg. The wieners were much appreciated as well, and the chicken wings were tasty, though a touch dry. Just the right amount of slutty.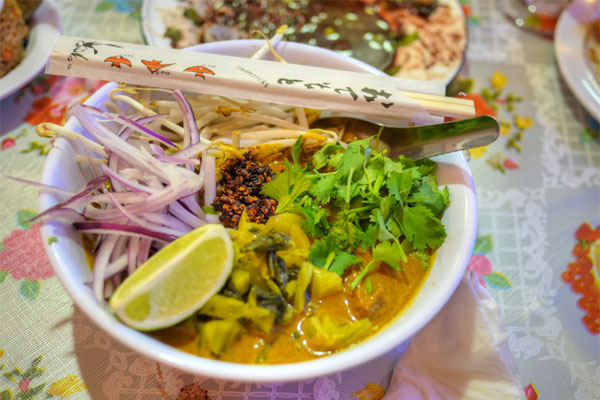 khao soi neua [$14.00]
| mae sai curried noodles w/ braised hanger steak, tendon & homemade nam prik khao soi
The
khao soi
came recommended by our server, and was a commendable rendition of the noodle soup, with the essence of the hanger really shining through alongside the comforting curried flavors present.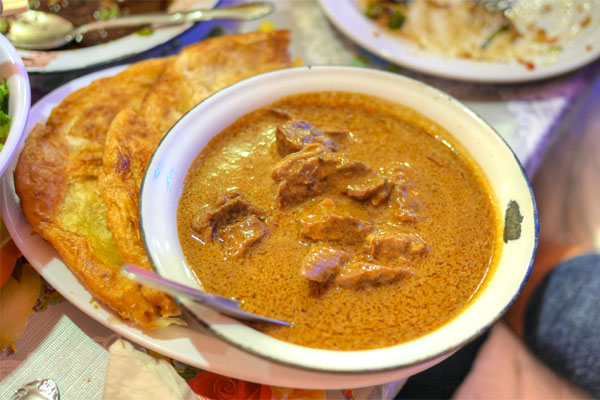 panang en neua [$14.00]
| beef tendon panang w/ roti...contains nuts!
N+M's panang was a tasty take on the ubiquitous dish, the beef coming out appropriately tender and satisfying, amped up by the sweet, savory, aromatic curry broth. Excellent roti as well--great for sopping up the leftover liquid.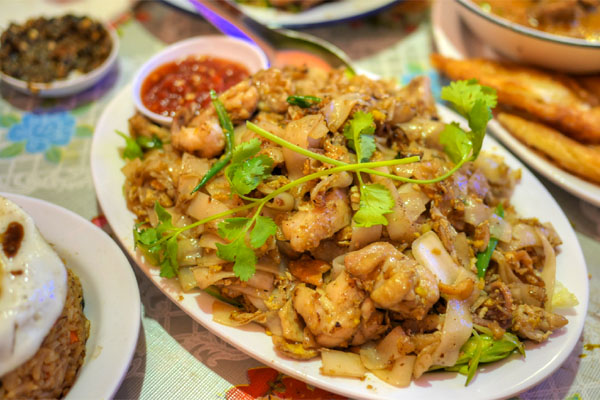 kuay tiew khua gai [$12.00]
| rice noodles cooked in a wok with chicken, wild thai baby octopus, preserved cabbage, egg, green onion; served over romaine lettuce with a side of sambal chile.
We ended with a pretty innocuous dish courtesy of the Chef. It was almost
pad see ew
-like, with the combo of octopus and chicken working swimmingly alongside the noodles while the greenery added a fantastic crunch and lightness to things. Something you could easily take down a big plate of.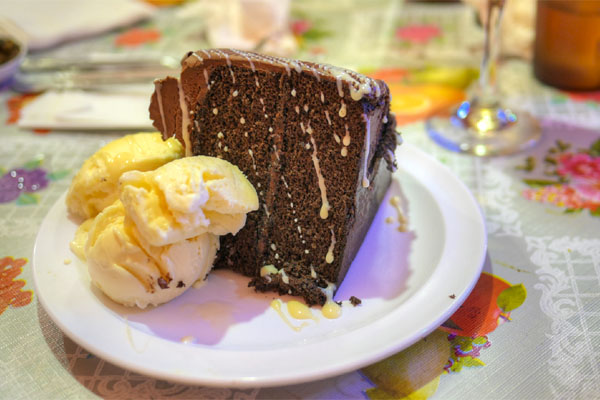 supermarket cake w/ vanilla ice cream [$5.00]
The lone dessert here is the supermarket cake, which is pretty much exactly as advertised (I'm curious which supermarket it's from). It's like something my mom would've put together for me in my youth, but somehow fits here with its subversiveness, the pairing of ice cream and cake gratifying in a simplistic sort of manner.
The Silver Lake dining scene has been taken up another notch with N+M Song, which brings much of what we like about the WeHo outpost out east. At its core, the restaurant certainly takes inspiration from the original location, but the food, the vibe make it read like a more rambunctious younger sibling. It's a bit more neighborhood-y, a bit more off-the-cuff, and just different enough to keep things interesting.
---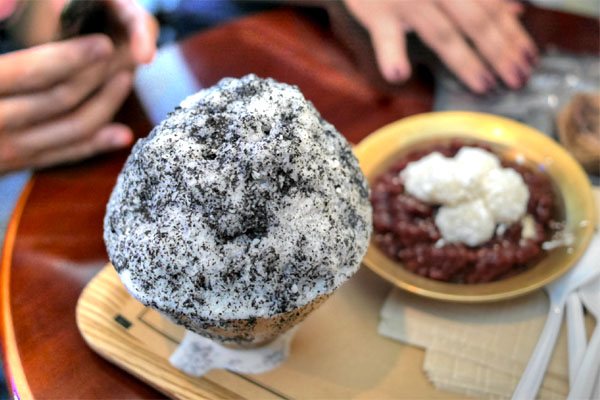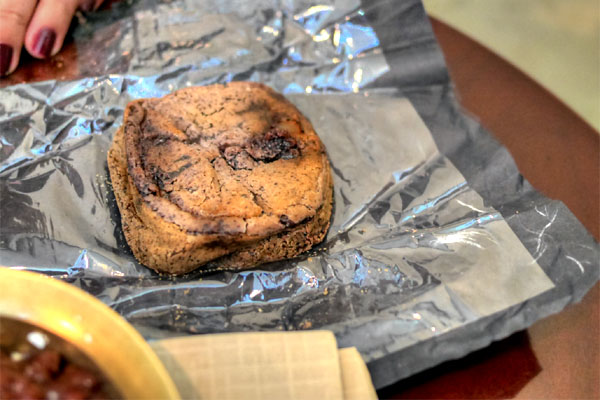 Afterwards, we headed on over to Okrumong in Koreatown and tried their
Black Snow Bowl with Red Bean [$8.25]
and
Fresh baked Rice Cake [$2.25]
. Pretty good, though I don't think it'll replace the Fruity Pebbles-enhanced versions at Mr. Coffee any time soon.