Zo (Los Angeles, CA)
Sushi Zo Downtown
334 S Main St, Los Angeles, CA 90013
213.935.8409
Fri 10/11/2013, 07:10p-09:20p

Since opening in 2006, Keizo Seki's
Sushi Zo
has resolutely established itself as one of LA's most beloved bastions of sushi, known for its pristine fish, warm rice, and marathon
omakases
, not to mention the Chef's sometimes reserved demeanor. Personally, I'd always thought that the place was top-notch, easily among the best in the City, so I was pretty excited to hear that a Downtown location, simply named "Zo," was opening up in September, set on the ground floor of the Medallion complex. A visit, naturally, was in order.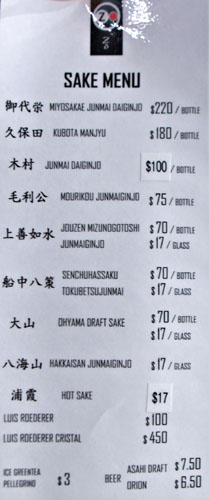 Unlike at the
original restaurant
, where going à la carte was a possibility at a table, it appears that the new Zo is an
omakase
-only sort of affair. I didn't try to test this, however, as I took a seat at the 10-seater bar and let the Chefs do their thing, which resulted in a 34-course tasting priced at a not-unreasonable $165.97. As such, I didn't see an actual menu, save for the beverage list above, which featured a smattering of higher-end sakes, two beers, and
Luis
Roederer Champagne, Louis' Spanish cousin apparently. Click for a larger version.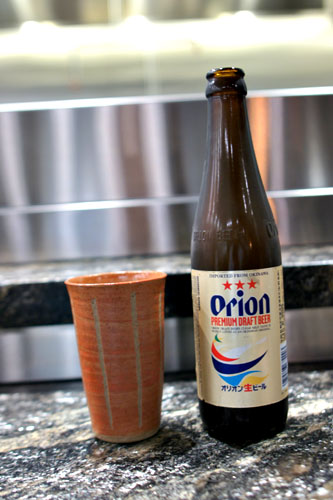 To start, we opted for a round of
Orion [$6.50]
, sort of your typical Japanese beer--always a crisp, refreshing, and safe choice with sushi.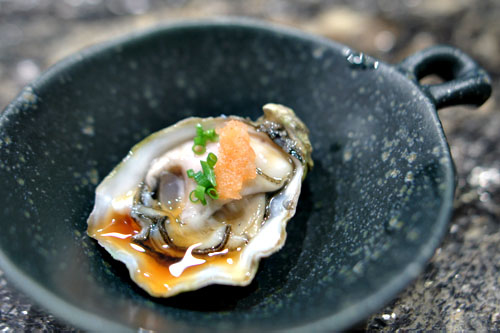 1: Kumamoto
Let the eating begin. From Washington state came none other than my go-to oyster. It was a shining example of all that's great about Kumamotos, with its creamy, yet somehow crisp bite and lingering brine, softened by the application of zesty ponzu, scallion, and
momiji oroshi
.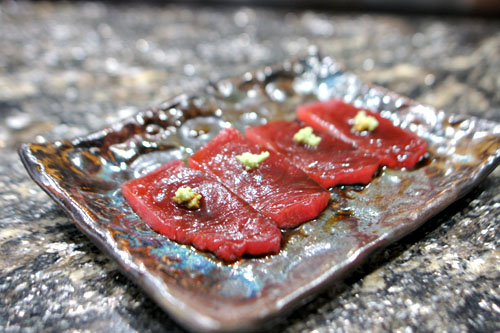 2: Mebachi Sashimi
Slices of Boston bigeye were meaty and satisfying, with a palpable, umami-rich depth courtesy of the soy sauce, along with a smart exclamation point of wasabi toward the end.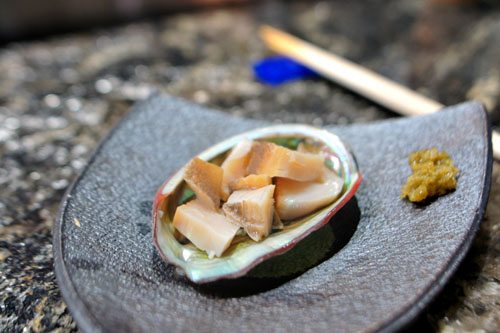 3: Akachan Awabi
Baby abalone from Morro Bay was split between our party of three, its crisp bite and sweet salinity tempered by blasts of salt and spice from the accompanying
yuzukosho
.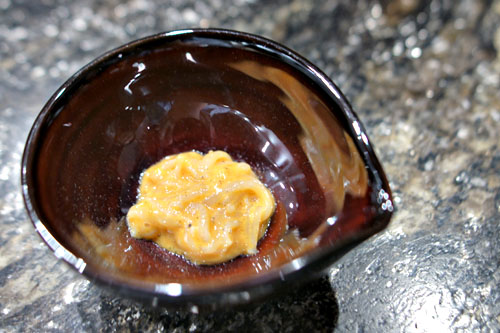 4: Uni Ika Somen
Baby squid noodles, tossed with sea urchin and dusted with truffle salt, were divine. They were absolutely delightful texturally--crisp, yet supple--with a delicate savor to them that blended beautifully with the lush, creamy, salt-laced roe, all while the earthy veil of truffle encompassed the entire dish.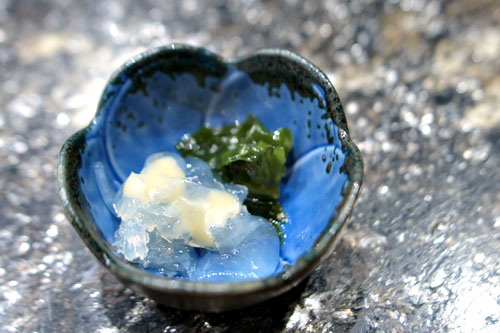 5: Kurage
Japanese jellyfish was next, and it was all about a study in textures, its slippery, crunchy consistency a delight for the palate. In terms of taste, the
kurage
didn't offer up much, so the combo of sweet vinegar miso paste and savory seaweed was absolutely key.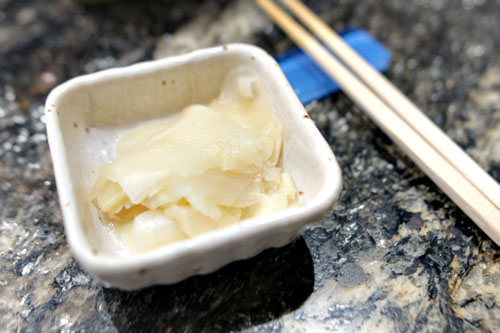 The appearance of pickled ginger signaled the start of our
nigiri
gauntlet.
6: Hirame
We commenced with something mild: East Coast halibut, sprinkled with salt. I found this one super tender, with a delicate base of flavor highlighted by the interplay between the
shio
and an almost citrus-y tartness present.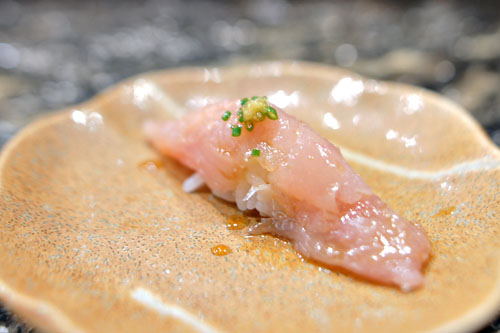 7: Binnaga
Albacore arrived doused in ponzu. Think focused, classic flavors, with a great accent piece from the ginger-scallion combination.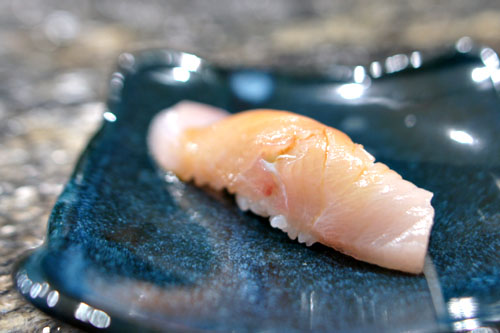 8: Hamachi
Japanese yellowtail was definitely a cut above what you typically get, with a clean, not overtly fatty character and an almost "hammy" savor to it.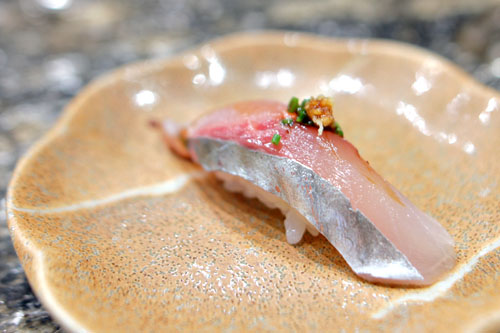 9: Aji
"Spanish mackerel" (really horse mackerel--I still don't get why they switch up the names all the time) was a great example of the fish, with a refined brine that went superbly with the integrating zing of the ginger.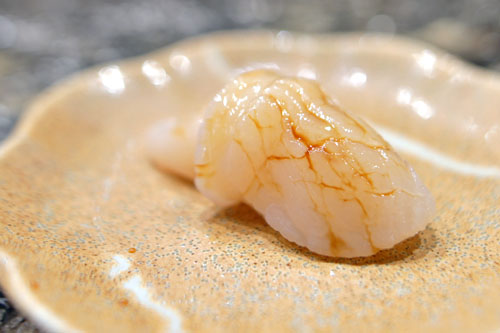 10: Hotate
Scallop from the East Coast was spot on: firm, yet yielding to the bite, with a mild sweetness and undercurrent of salinity that transitioned seamlessly to the heat of wasabi on the close.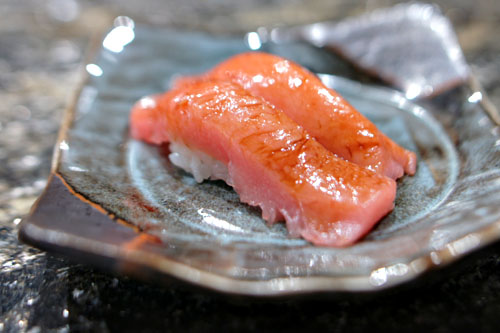 11: Mebachi Chutoro
The Boston big eye from above reappeared, this time in chutoro form. There was a distinct sweetness here that I rather liked, with a medium amount of marbling that was nicely set off by the depth and richness imparted by the soy sauce.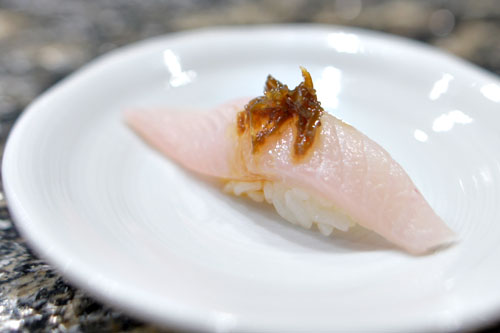 12: Koban Aji
Pompano from the East Coast was a rare treat, something that I believe I'd only had at
Nana San
(one of OC's best) prior. The crux here was that topping of roasted shishito, which imparted a fantastic smokiness and piquancy to the fish that was pure genius.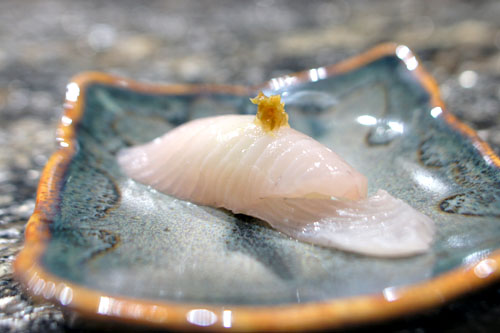 13: Kanpachi
Here was amberjack, as firm and substantial as you'd expect, with a gorgeous hit of
yuzukosho
and wasabi to go along with the fish's undertone of sweetness.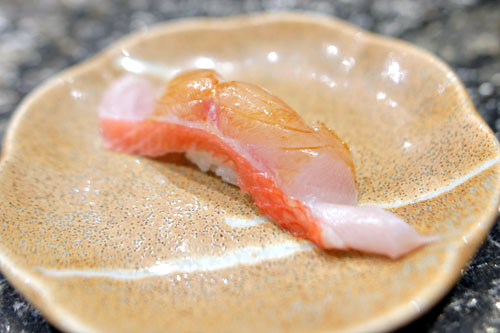 14: Kinmedai
The golden eye snapper was delicious, probably one of my favorites in fact, with its surprising luxuriousness and even more surprising saccharine quality on the finish.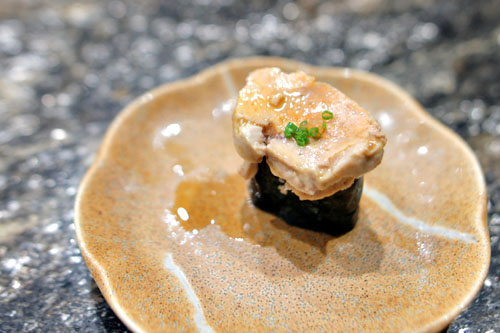 15: Ankimo
Monkfish liver came out warm, with a very delicate, subtle liver-y essence to it that I really liked, especially when paired with the contrasting combo of
nori
and
negi
. Interestingly, I swear I tasted flashes of
Jack in the Box tacos
when eating this, not necessarily a bad thing mind you (at three for 99 cents, they were a college staple of mine).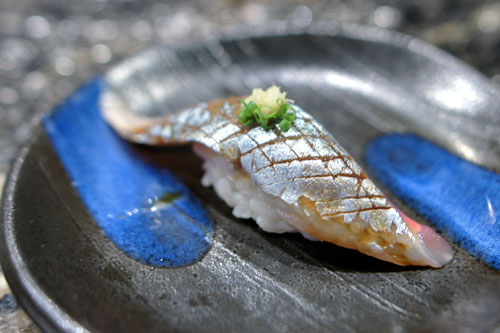 16: Sanma
Pacific saury, or mackerel pike, was another rarity, and a highlight as well. The fish was uncommonly fatty, oily even, with a firm body and a great counterweight from the ginger and scallion. Some beautiful scoring on the
sanma
's silvery skin here, too.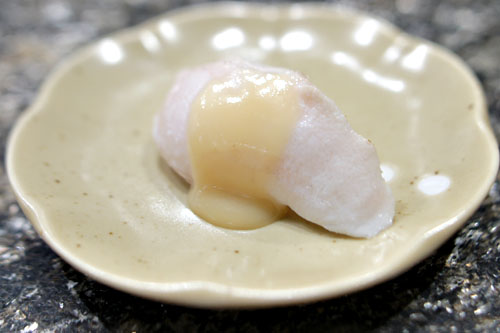 17: Tara
Black cod arrived seared and accompanied by a miso vinegar paste. I loved the soft, silken texture of the fish here, as well as its char savor. The miso imparted a definite sweetness into the mix, so you had to be careful not to use too much of it, lest you mask the main ingredient.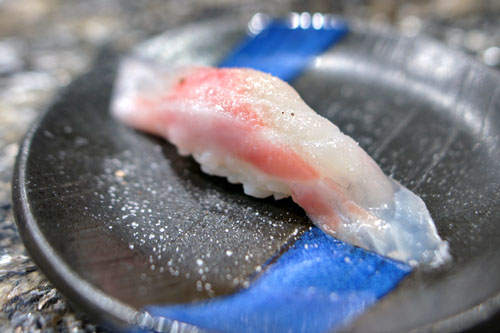 18: Kurodai
From Greece came black snapper, garnished with truffle salt. Texturally, the fish was a unique blend of creamy, yet firm, while its relish was subtle, duly enhanced by the earthy overtones in the course.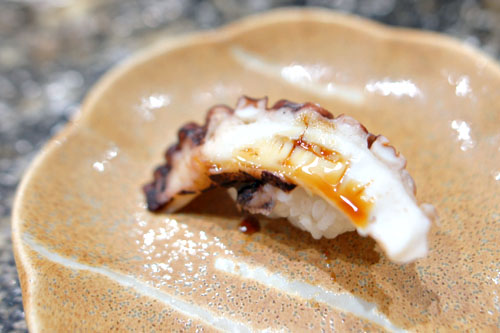 19: Tako
Steamed octopus hailed from Spain, and was drizzled with eel sauce. It was surely one of the strongest presentations of
tako
I've had, with the meat coming out tender and wonderfully smoky, moderated by the sugary sauce and a burst of 'sabi zip.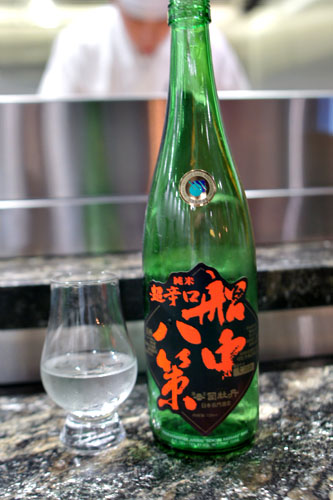 With the beers all drunk up, we moved on to sake, specifically the
Senchuhassaku [$70]
, which, coincidentally enough, was the exact same bottle we had on our
first Sushi Zo visit
. It was a
tokubetsu junmai-shu
class sake from Kochi prefecture's Tsukasabotan brewery, and I found it very light in body, with a distinct floral character over a base of dry, rice-y nuances.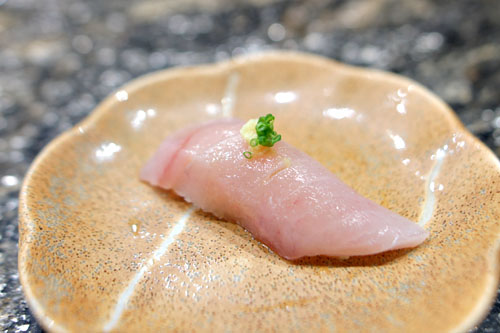 20: Sawara
The term
sawara
should refer to Spanish mackerel (itself oft mislabeled as
aji
), but here were told that this was king mackerel. Nomenclature aside, this was a delectable little bite: soft and sweet, with a great ginger-y smack.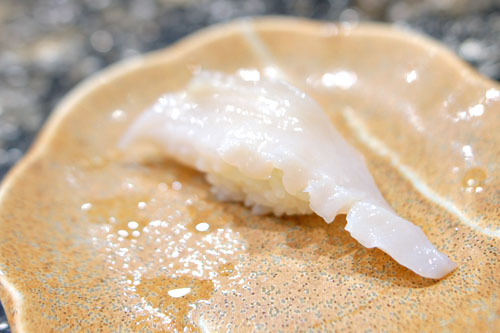 21: Mirugai
Geoduck was crunchy and unabashedly ocean-y, just as you'd expect, but also conveyed an apparent sweetness to it that went along great with the pinpoints of salt in the course.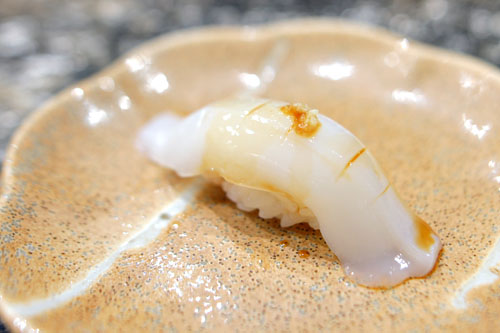 22: Sumi Ika
Ink squid was all that you'd want it to be: sticky and creamy on the palate, with a soft sweetness to it that melded well with the heat of wasabi.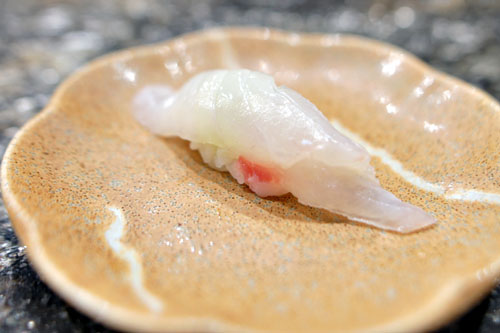 23: Madai
Red sea bream came with a brush of yuzu, its mild savor complemented by the competing forces of tangy citrus and spicy 'sabi.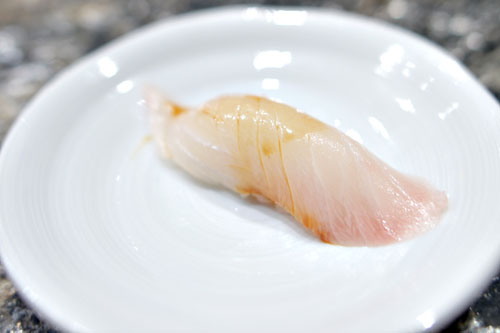 24: Shima Aji
Yellow striped jack is always a winner, with a wonderful soy-tinged depth to it and a real complexity compared to some of the other fish.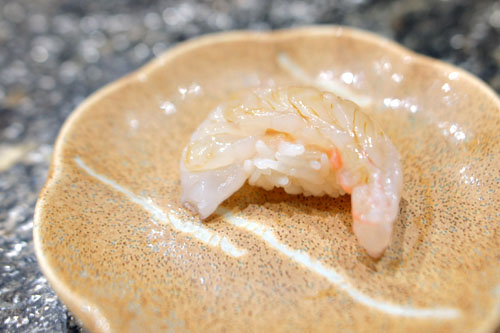 25: Amaebi
Sweet shrimp from Santa Barbara was delightfully snappy, and full of clean, sweet-saline flavors that made perfect sense with a dab of soy.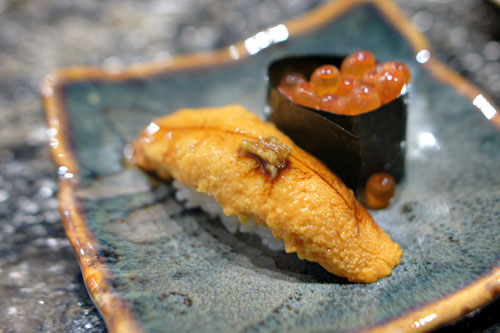 26: Uni & Ikura
Next up was some egg-on-egg action. Uni wasn't from Santa Barbara as you'd expect, but rather was sourced further south, from San Diego. It was sweet, but not as sweet as the SB variety, and had a steelier minerality to it that showed traces of its Hokkaido brethren. The salmon roe, meanwhile, was a marinated, classic example of the
gunkanmaki
, its saltiness arriving in glorious bursts of brine.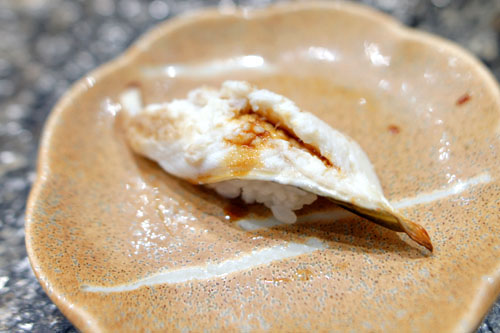 27: Anago
Sea eel made a strong case for itself. I found it hearty and satisfying, with a great char astringency to it that melded well with the sugary sauce drizzled on top.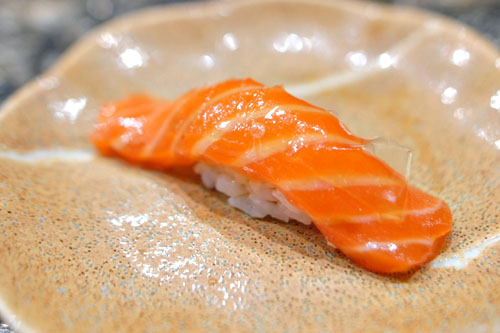 28: Sake
Scottish salmon was presented with a rectangle of translucent marinated kelp. Think sweet and oh-so fatty, with the seaweed serving as a piquant balance to the lushness of the fish.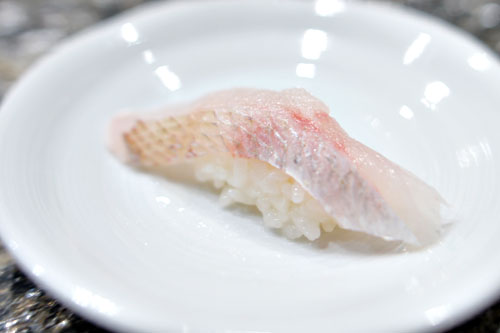 29: Akachan Madai
Baby sea bream was boiled briefly in hot water, which resulted in a particularly soft texture and a surprisingly complexity rendered in yuzu and salt.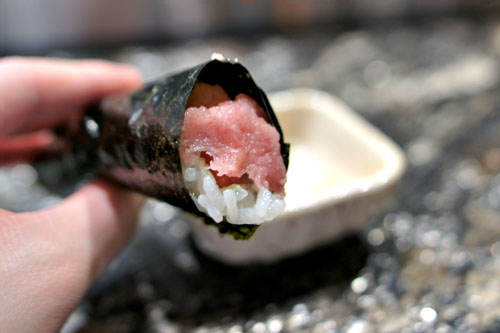 30: Chutoro Temaki
And the hand rolls begin. A tube of medium fatty tuna was creamy on the palate, with a strong hit of wasabi and a crisp, countering seaweed wrapper.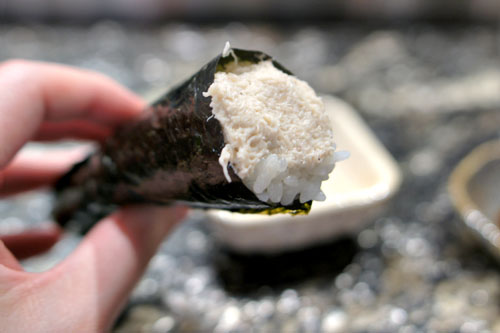 31: Watarigani Temaki
The blue crab hand roll (first popularized by
Sushi Nozawa
) was even better, with the sweet, cool crab on proud display, perfectly paired with the rice and
nori
.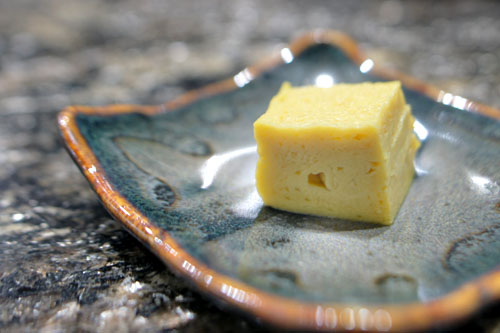 32: Tamago
You always end with tamago, and so here we were. It was a traditional rendition of the egg omelet--sweet, cool, and dense, with a ham-like savor that lingered on just below the surface.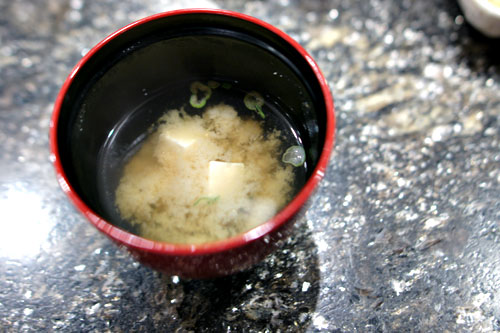 33: Misoshiru
A classic, comforting miso soup was well received.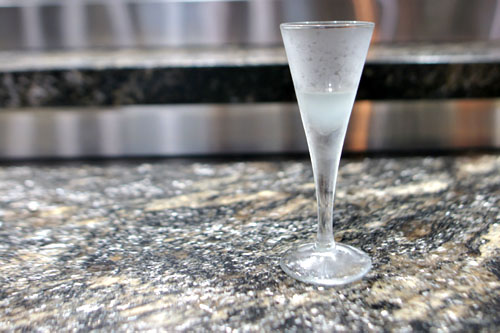 34: Yuzu Jusu
As always, a meal at Zo ends with a shot of yuzu juice, a sweet, sour, utterly refreshing liquid that doubles as an effective palate cleanser.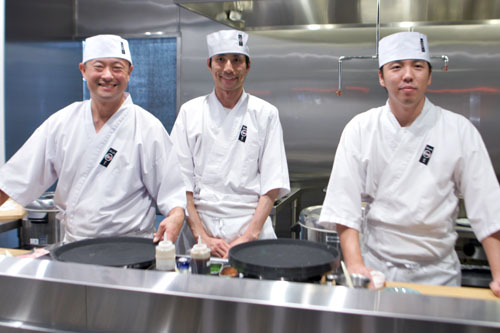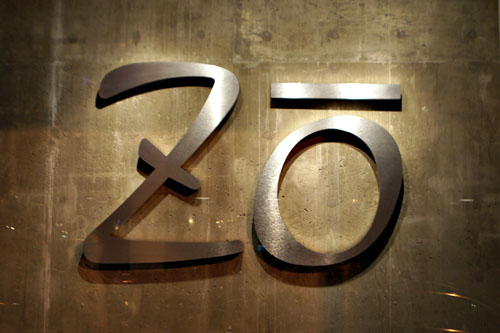 The Zo team: Keizo-san, Nori-san, Masa-san (our
itamae
for the night, a former
Nana San
chef who moved up to LA to work here).
All in all, a fantastic experience (and bonus points for running into
Food Club
Captain Eric Wareheim, who was seated at a table behind us). Have no doubt, the bar for sushi in Downtown has been raised, far, far beyond anything else that's being offered at the moment. There's nothing that even comes close in the area. In fact, I think I like this place even better than the original Sushi Zo. The fish, the
shari
, even the service, everything was pretty much spot on. It was one of my best sushi experiences
ever
in LA, and to top it all off, Keizo-san seemed rejuvenated, reinvigorated, with a friendlier demeanor (shared by all three chefs) that made the meal all the better. Sushi fiends, this is one that
has
to be on your hit list.
---
Sushi Zo, unfortunately, never really did desserts, so the
last time
we were there, we headed to the Rite Aid across the parking lot to pick up some Thrifty brand ice cream in order to cap off the night. To keep with tradition, we located a Rite Aid at 5th and Broadway and walked on over following dinner.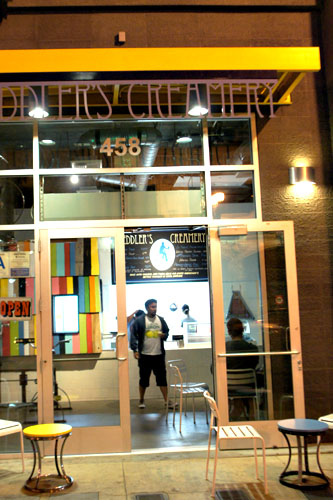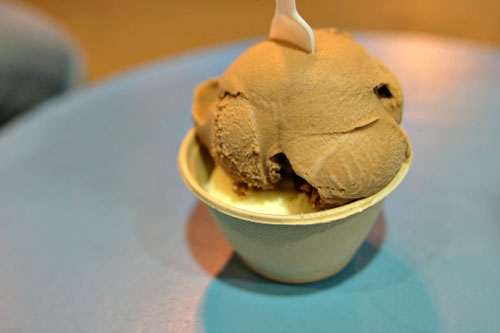 On the way, however, we stumbled upon
Peddler's Creamery
and decided to stop in. I opted for a
Double Scoop [$6.50]
comprised of their vegan Mexican Chocolate and Cardamom, which I also believe was vegan. The chocolate was tasty enough, but, unsurprisingly, didn't quite have the lushness or richness of a classic ice cream given its lack of dairy. This austerity was more apropos in the Cardamom, which showed off a wonderful sweet spice that I rather liked, especially when taken in concert with the chocolate.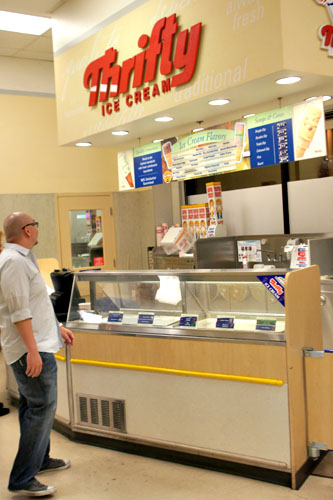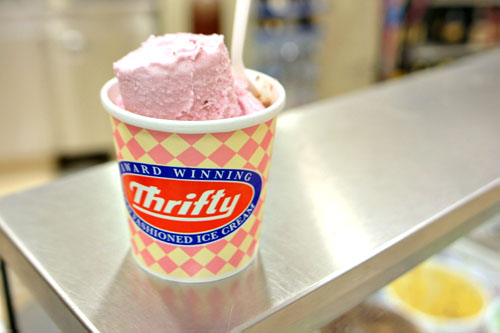 We did eventually reach our initial destination though. Again, I went with a
Double Dip [$2.49]
of Chocolate Malted Krunch (my childhood fav) and Black Cherry, the combo I enjoyed last time. I don't think Thrifty's and its signature cylindrical scoops will ever get old. It's a sort of old-school style of ice cream that always brings me back--a perfect, if somewhat nostalgic conclusion to the evening.